Posted on 4th July 2023 Categories Things to do
By: Author Julianna Barnaby
Things to do in Chinatown, London – An Insider's Guide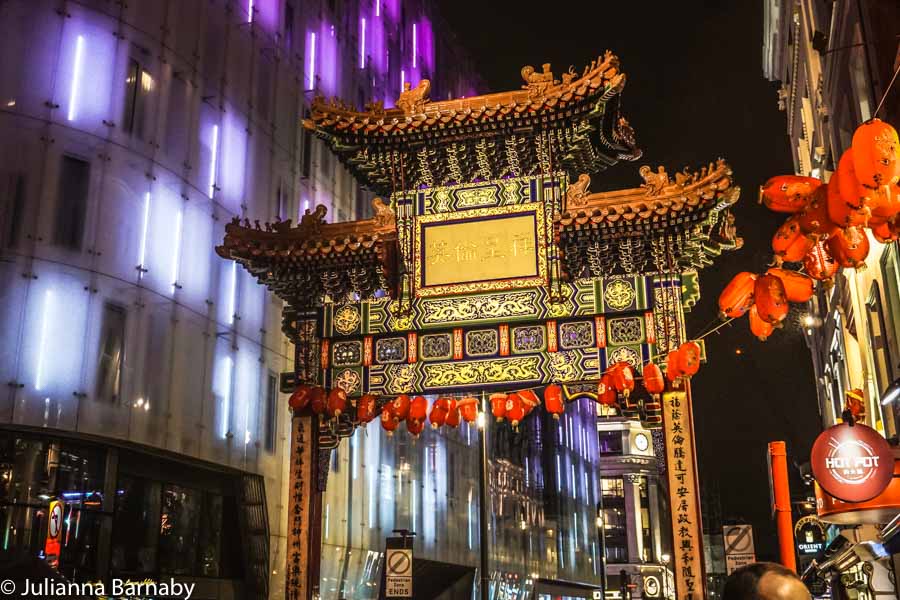 Love This? Save and Share!
Chinatown stands out – a vibrant and distinct part of London's West End it's beloved by locals and tourists alike. Planning a visit? Here's what you need to know.
Chinatown stands in the centre of London's West End, a distinct melange of paper lanterns, shops, restaurants and cafes, bounded by four gates that mark your passage into an area unlike any other in the city.
Stellar food, beautiful location, quirky finds. What's not to love?
Unmissable Things to do in Chinatown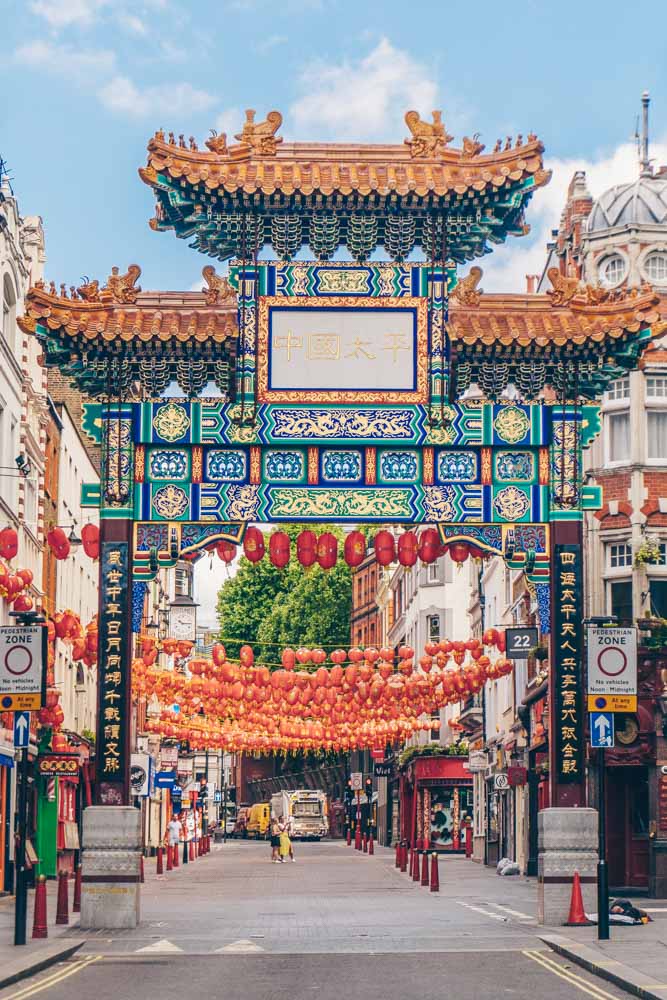 From its modest beginnings, Chinatown has grown to be one of the most vibrant and dynamic places in London. Don't skip these cool things to do in Chinatown.
The Four Gates
The four gates stand on the boundaries of Chinatown – ornate, imposing and impossible to miss – welcoming you to this frantic hub.
Designed in different styles, they're all beautiful – the newest – the so-called fourth-gate is the most striking of them all. Located on Wardour Street, the gate was added in 2016.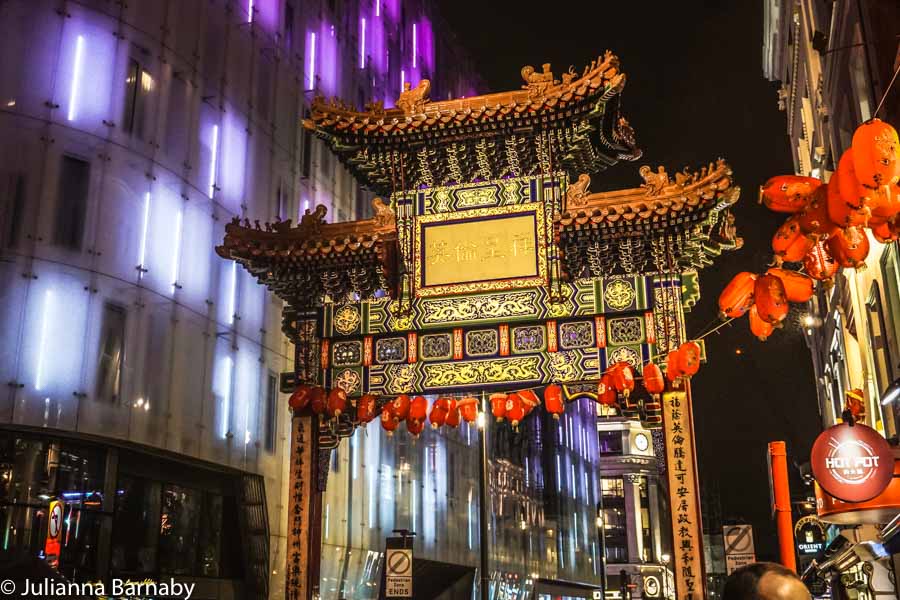 Its design is a homage to the influential Chinese Qing dynasty, and it is really spectacular – in fact, it's one of the most popular things to do in Chinatown. It is intricately decorated with dramatic shades of blue and green, and it is also the largest Chinese gate in the United Kingdom.
The three other gates are also beautiful in their own rights, although perhaps not quite as grand. They can be found on Gerrard Street. Interestingly, although they look old, they were actually built in the 1980s.
Read More: Cool Things to do in Soho
Shop for Traditional Goods
Shopping at Chinatown in Soho is quite the experience – take it from us. You're never exactly sure what you'll come away with but that's half of the fun.
From bakeries selling scrumptious treats to boutiques hawking all kinds of interesting trinkets and wares, there's amazing variety.
Some of the most well-loved items for sale include ornate paper lanterns and authentic maneki-neko (that's the cat with the waving paw, said to bring good luck and fortune).
It's also the place to go if you're looking for authentic and fragrant Asian spices and sauces to use in your at-home cooking.
You might not be able to cook up a storm like the chefs working away in the windows of Chinatown's restaurants, but you can't go that wrong if you start with the right ingredients (or so they say).
Celebrate Chinese New Year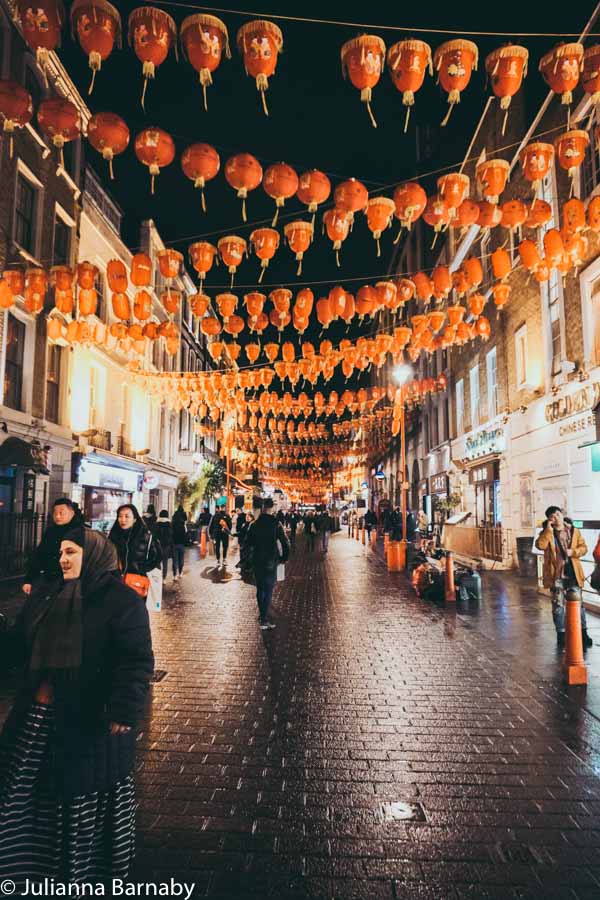 There's never a bad time to visit Chinatown in London, but it is really an incredible spectacle during the annual Chinese New Year festivities.
The entire area erupts into an exuberant burst of colour and life. Costumes, food, music, dancing – you name it, you'll find it in Chinatown during the Chinese New Year celebrations.
Chinese New Year is held according to the Chinese Lunar calendar, and so the date varies. It's usually held in January/February, so it's best to check the exact date in advance. Even if you have to move your travel plans around to fit it in, it's well worth it to see the celebration!
It's an amazing display of Chinese culture mixed with London vibes. Where else in London would you be able to watch a traditional dragon dance through the streets or a gorgeous Lantern Festival?
Karaoke at Plum Valley
View this post on Instagram A post shared by Plum Valley (@plumvalleyrestaurant)
Karaoke is an East Asian tradition (and one of the most popular Chinatown activities), with many joints staying open until the early hours of the morning. Plum Valley is home to some of the fanciest booths in London.
It's also a great place to eat, serving up delectable dim sum in an ultra-sleek restaurant. But, if i'm honest, the karaoke booths are why everyones here.
The rooms are insane – think a private nightclub with neon lights, a full dining table, and a flat screen TV, equipped with a wide selection of songs, ranging from popular Chinese music and K-pop to well-known Western tracks. Get those vocal chords warmed UP.
Catch a Film at the Prince Charles Cinema
Ok, we're very aware this isn't particularly Chinese, or even Asian, but The Prince Charles – the best cinema in London – belongs here because you absolutely can't beat stepping out of a good film and into the neon night of Chinatown.
The cinema tends to show old classics, but also shows new releases of films they deem fit for their glorious screens. They also whack on movie marathon nights and singalongs if you really want to get stuck right in. Our tip: catch something by Wong Kar Wai – Chungking Express or maybe In the Mood For Love (they're both on regularly) – then hit Cafe TPT down the street for a bowl of noodles and a perfect Hong-Kong-but-it's-London experience.
The Best Things to Eat and Drink in Chinatown
It's simply criminal to leave Chinatown without trying some delicious food, from street food snacks to petite desserts. Here are some of the best things to eat in Chinatown, Soho.
Once you've run out of stuff to do in Chinatown (although, it's pretty impossible), it's simply criminal to leave without trying some delicious food. From street food snacks to petite desserts, here are some of the best things to eat in Chinatown, Soho.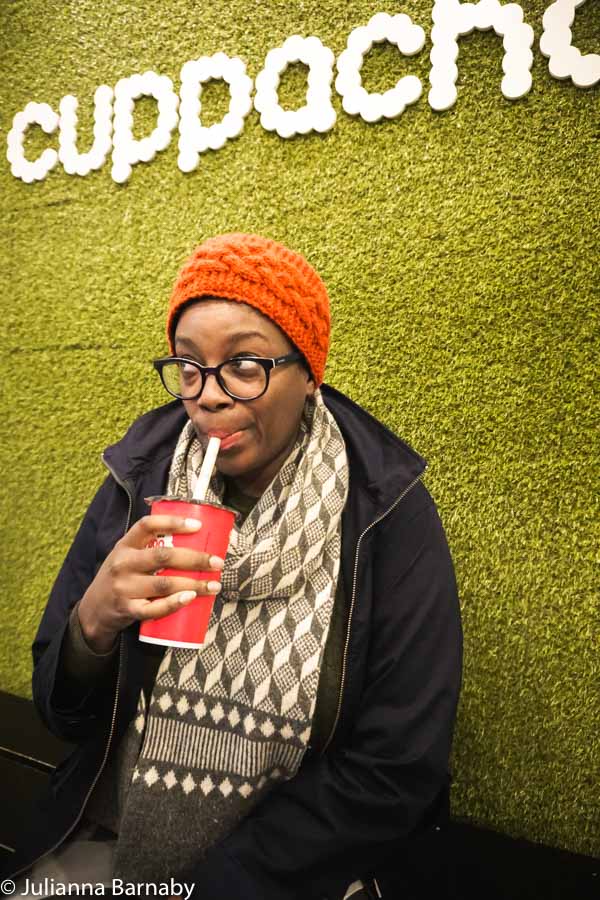 Is it a drink? Is it a snack? Is it a bit of both?
Who knows what Bubble Tea is, apart from a taste sensation that's taken the world – including Chinatown – by storm.
Traditionally, Bubble Tea is actually a Taiwanese drink made from tea and powdered milk, with flavoured jelly balls at the bottom. However, in Chinatown – and all of London – you can find many innovative twists!
There are a few bubble tea places dotted across the area, but we particularly love Cuppacha and their scrumptious Taro milk bubble tea with tapioca pearls.
The pearls take some getting used to, chewy and filling in a way that is pretty unusual but you should absolutely give it a go. Happy Lemon and Chatime are good bubble tea go-tos too.
Eat Roast Duck at the Four Seasons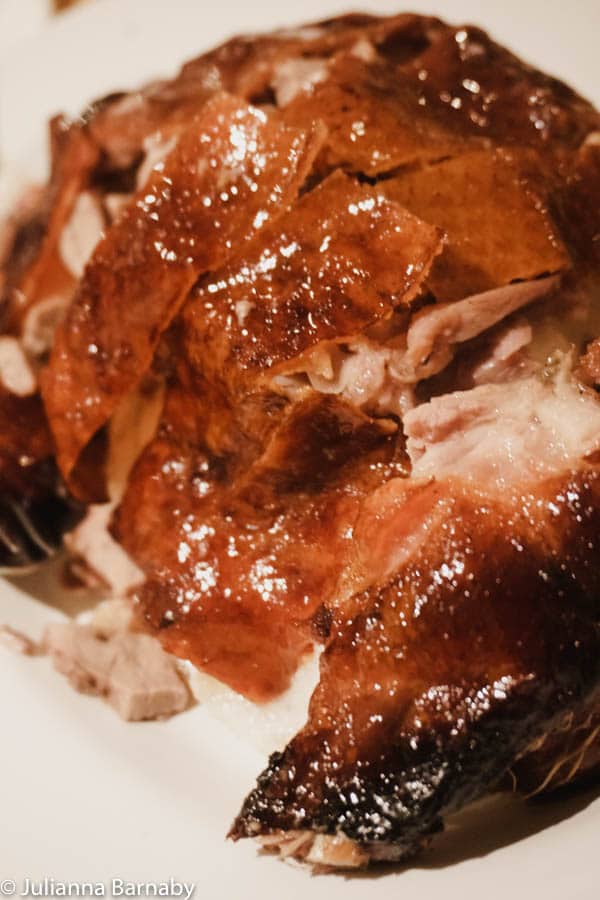 If you like duck then you have to try the Four Seasons in Chinatown. In fact, even if you don't like duck, you should see if this place changes your mind.
It's been named the best roast duck in the world by Financial Times magazine – so it's something pretty special.
While the recipe is distinctly Pan-Chinese, the ducks themselves are actually from Ireland. The best of both worlds combine to create a sublime dish with crispy skin yet melt-in-your-mouth tenderness underneath.
No wonder this is such a foodie hotspot in Chinatown, London – perfect for an evening feast on the town.
Cocktails at the Experimental Cocktail Club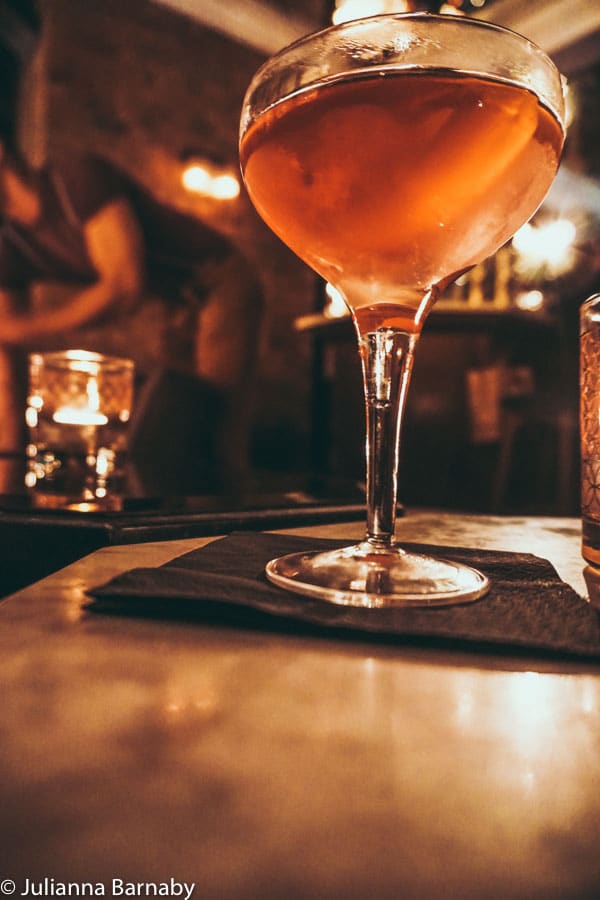 Londoners love a good speakeasy, and The Experimental Cocktail Club is no exception.
Hidden behind an unmarked door on Gerrard Street, you climb the stairs to be transported to a three-floored warren – filled with some incredibly skilled mixologists… and people more than willing to pay homage to that talent by slurping up cocktail after cocktail.
The menu is adventurous and the cocktails are perfection. Highly recommended.
Read More: These Are the Soho Drinking Spots You Shouldn't Miss
Hot Pot at Baozi Inn
View this post on Instagram A post shared by BaoziInn Chinatown l & ll (@baoziinn_chinatown)
I love Sichuan food – not only is the region in China known for its spicy, powerful tastes, but also for making eating a real experience.
Take the hot pot for example. For the uninitiated, a hot pot sees a large bowl of boiling water placed on the table, with various ingredients that can be skewered and cooked in the water. It's a meal best enjoyed as a group.
The hot pot at Baozi Inn is unique – while the classics vegetables and meats are available, you can also choose from more unusual choices like hot dog, kelp and pig intestine.
You can be as adventurous (or as unadventurous) as you like. The choice is yours.
Malaysian Cuisine at Rasa Sayang
View this post on Instagram A post shared by Rasa Sayang (@rasasayang_london)
Despite the names and decorations, Chinatown is actually distinctly multicultural. Inside, you'll find many different styles of cuisine (with an emphasis on Asian restaurants).
One of our favourites is Rasa Sayang , serving Malaysian favourites with just a slight Singaporean twist.
Unlike many other London restaurants, Rasa Sayang hasn't invested much into elaborate decor – it's pretty basic and not where you'd take your fancy date.
Who cares, because Rasa Sayang is all about the food, which is utterly delicious. Classics like char kway teow and beef rendang are authentic and mouthwatering, with fragrant spices and herbs.
Best of all, it's one of the most affordable places to eat in all of London. The tasty fried chicken wings here will set you back less than a single ticket on the Tube.
Taiwanese Fried Chicken at Ji Chickens
View this post on Instagram A post shared by JI (@jichickens)
I recommend finding a quiet time to visit Ji Chickens – a.k.a The Chicken Shop in Chinatown – as TikTok has lately got a hold of this gem, leading to longer queues.
But, make it through hordes of people and you will soon find yourself holding a small bag of the best fried chicken in central London. Just putting it out there .
Whether you opt for the basic variety, or venture out into a cheesy or spicy option is up to you, but we promise you won't be disappointed. The plum chips don't go amiss, either.
Japanese-American Fusion at Ichibuns
View this post on Instagram A post shared by ICHIBUNS (@ichibuns)
You're not short of places to go in Chinatown for delicious food, but if you've never heard of Ichibuns , we're about to change your life.
The cuisine is a blend of American and Japanese food – think katsu sandos, wagyu burgers (so good we've named them one of the best burgers in London ), and innovative sushi options. Drinks-wise, you've got everything from soft drinks, to milkshakes, and even some Japanese varieties of tea.
However, the decor is unapologetically Japanese-inspired, with lucky cats and retro Japanese packaging adorning the walls. Head there in the evening to see Ichibuns transform into Ichibar, a cool and cosy spot for cocktails in the centre of the city.
Bubble Waffles at Bubble Wrap London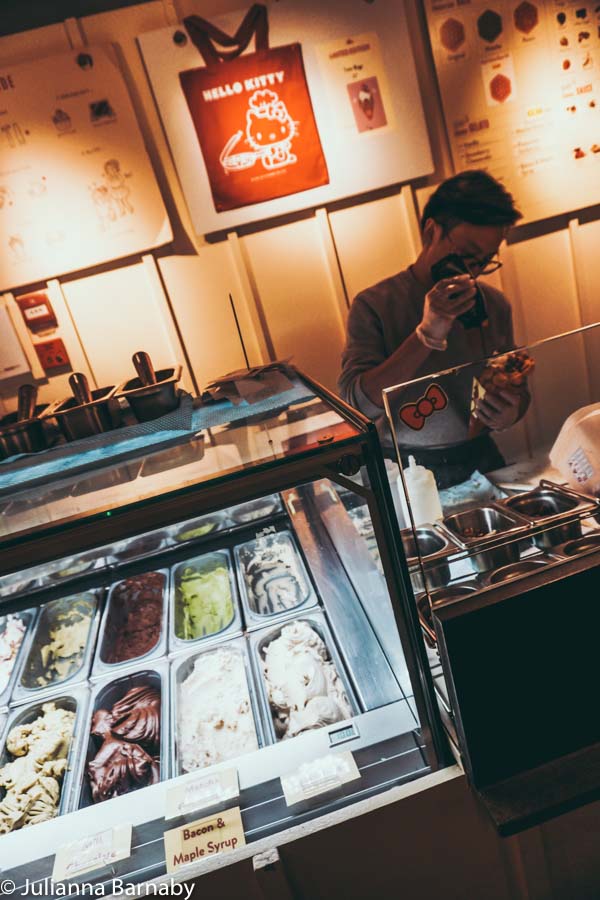 Okay, so waffles are delicious. But what is even more delicious than regular waffles? Ones filled with ice cream, of course (how did we not think of this, how).
That's what Bubble Wrap London serves up in Chinatown. Taking a classic Hong Kong street food and applying a London twist, their Bubble Waffles are melt-in-your-mouth delicious.
Filled with little pockets of a sweet batter that includes egg, milk and sugar, the waffles themselves are quite the revelation on their own.
But it doesn't stop there. Bubble Wrap then load the waffles with ice cream and add in scrumptious toppings like your classic banana split, oreos or peanut butter. If it sounds like the recipe for a seriously tasty treat, it's because it certainly is. Don't miss it while you're in Chinatown.
Cantonese at Cafe TPT
Nothing beats the transportative power of dinner in Chinatown, and one of the best spots for it is Cafe TPT . The pokey Cantonese Diner is a great rendition of the type of cafes you find all over Hong Kong and they do some very good food.
You should go for a bowl of wonton or noodle soup for the full experience, maybe throwing in a couple of sharing dishes if you're eating with a group. Wash it all down with a milk tea and then hit the streets to soak up more of that Chinatown atmosphere.
Just to sweeten the deal, Cafe TPT boasts some of the best prices in all of Chinatown.
Thai at Speedboat Bar
View this post on Instagram A post shared by SPEEDBOAT BAR (@speedboatbar)
If you want to kick things up a notch in the spice department, head down to Speedboat Bar . It's the Chinatown outpost of Chef Luke Farrell's Thai empire. Farrell is known for keeping his food traditional, not pandering to the tastes of the west and the cooking is excellent for it.
Dishes are often fiery hot, and always prepared with a quality that's hard to match in London. Speedboat Bar stays open late too, becoming as much a bar on weekend night as it is a restaurant.
Upstairs you'll find games to keep you entertained, freezing cold beer and a great menu of smaller bites and bar snacks.
Baos at Bun House
View this post on Instagram A post shared by Bun House (@8unhouse)
You'll see Bun House first by its queue, often out the door and winding down the street. Don't be put off, it tends to move quick. It's also a sign that this place is very popular.
Bun House has a small restaurant serving up dim sum and tea. Skip that, you're unlikely to get a seat, and anyway you're here for the Baozi. They've got about six flavours and you can mix and match. The classic pork bun is always a big hit and the vegetarian buns are great too.
Pick a few, get them boxed up and wander the streets of Chinatown chomping down on delicious buns. You can't beat it.
The History of Chinatown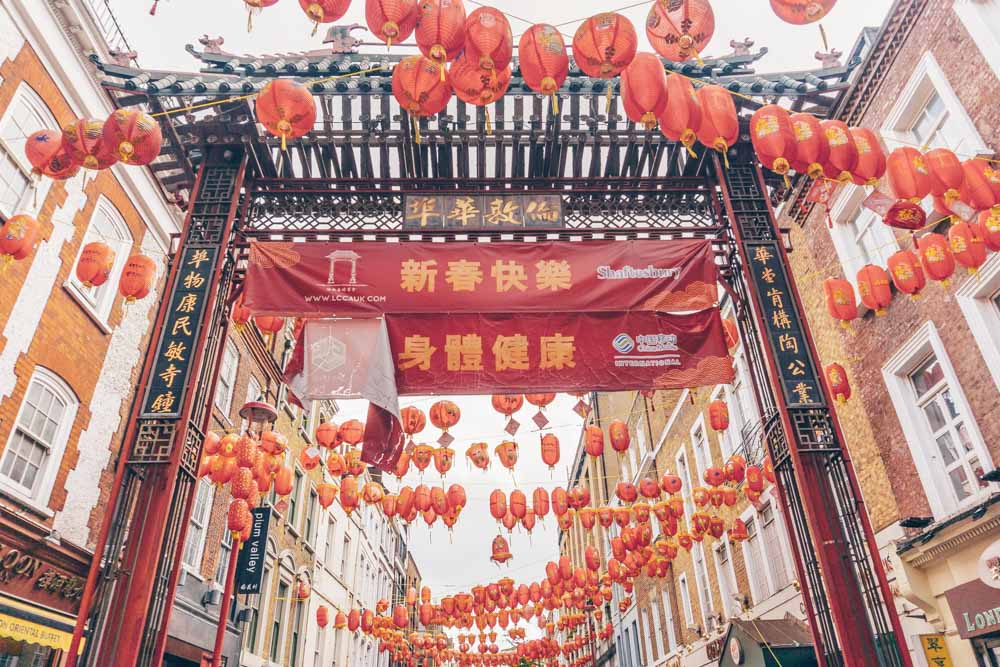 The history of London's Chinatown dates back a long way, but not always to its current location in Soho.
The first Chinatown was actually in the East End, and specifically Limehouse. This is where the first Chinese migrants to London arrived, and gradually began building businesses to cater for other migrants and sailors.
By the beginning of the 1900s, the area was teeming with restaurants, import stores and even opium dens (they were legal back then).
Other migrant groups – primarily the Maltese – also left their mark, but it remained largely influenced by the Chinese.
While originally it was mainly frequented by migrants looking to be reminded of home, the popularity soon spread and business boomed – at least temporarily.
In the mid-1900s, however, shipping began to decline and World War II wreaked havoc on London and Chinatown. As a result, many of the businesses moved away. Eventually they found new digs in Soho, while new ventures also sprouted up.
It was during the 70s and 80s that Chinatown really started to take on the character that we now know and love. This is when features such as the colourful lanterns and stone lions arrived, giving it a distinct and vibrant look.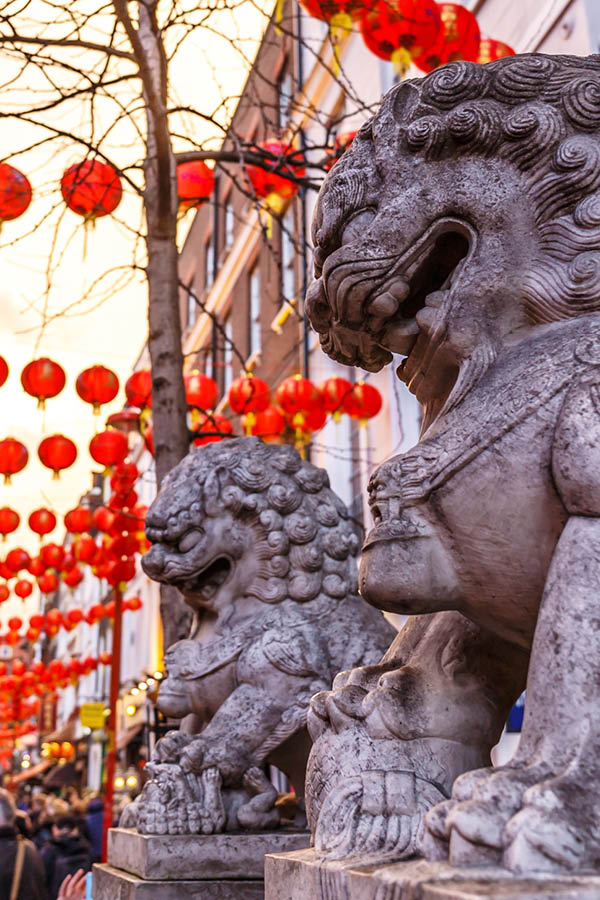 Where is Chinatown in London?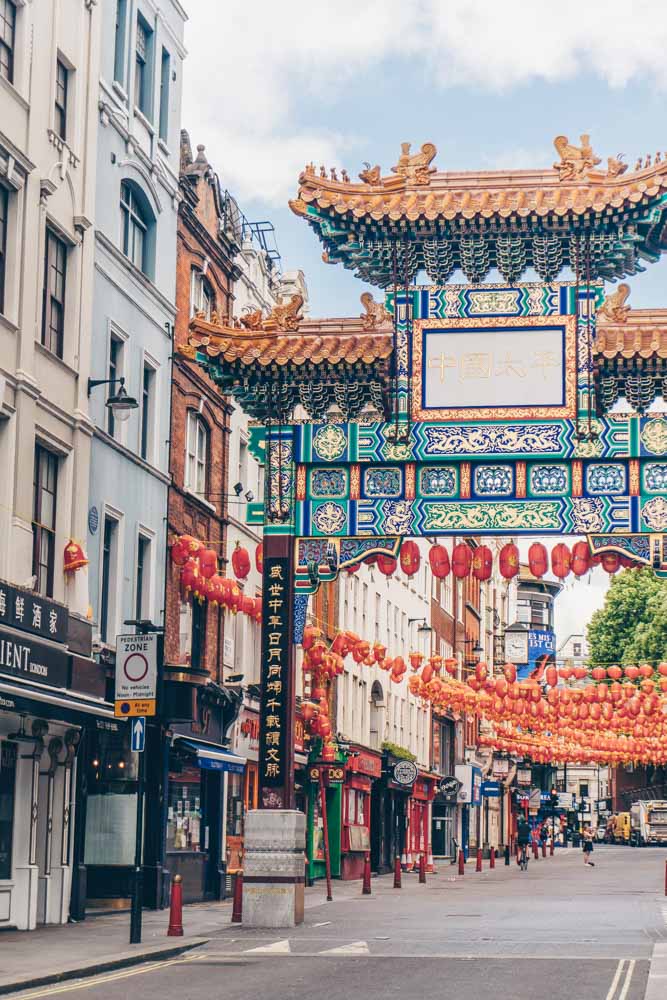 Chinatown sits at the heart of London's West End – framed by Shaftesbury Avenue to the North Charing Cross Road to the east, Leicester Square to the south and then Rupert Street to the west.
Across the road from Soho – it's a short hop to some of London's biggest tourist attractions including Trafalgar Square , Covent Garden and Piccadilly Circus.
Like most of London's famous sights, Chinatown is easily reached on the Underground. The closest Chinatown London tube stop is either Leicester Square or Piccadilly Circus – both of which are less than five minutes walk away.
Not sure if you've made it to the right place? Helpfully, if you're worried about where Chinatown in London is, it's pretty hard to miss. The beautiful ornate gates and colourful lanterns make it pretty obvious that you've found the place!
Chinatown: Practical Information
Most of the restaurants and bars in Chinatown have pretty extensive opening hours. Most stay open until at least midnight, but some do a roaring trade until 4am.
If you are visiting for Chinese New Year, be aware that the public transport schedules change to keep up with the demand. Lots of these Chinatown activities may also be affected. You may want to check ahead if you're on a tight schedule.
There are several places to stay in Chinatown, although the fact that it's so convenient on the Tube means it's easily accessed from wherever you are in the city.
Chinatown London: Map
Looking for More Chinatown & Soho Guides?
Things to do in Soho
The Best Bars in Soho
Insider's Guide to Trafalgar Square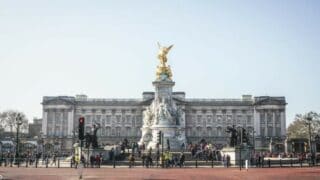 LET'S GET SOCIAL!
London x London is the insider's guide to discovering the best of London.
We delve into the cool, interesting and quirky spots that make London such a dynamic city, telling you the best things to do, eat and drink along the way.
Tired of the same old dull suggestions? Want to know where to find London's secret bars, tastiest eats and weirdest finds? We provide practical guides that help you do just that.
Find Out More
Recently Published
Checkmate! 7 Brilliant Board Game Cafes in London
26 Cool Things to do in Camden
Time to Discover: London's Little Venice
Join The London Crew: Grab this checklist with 110 things to do in london from a local.
Hues Of Delahaye
20+ Things to Do in Chinatown London | Insider's Guide By a Local
This article may contain affiliate / compensated links. For full information, please see our disclaimer here.
Looking for the things to do in Chinatown London? this post shows you where to eat, shop and what to see in Chinatown all by a local.
One thing you won't run out of here are things to do in Chinatown London. The bustling area of Chinatown is home to a large population of people from East Asia.
The community gathers to celebrate events in Chinese culture, with Chinese New Year being the biggest of these celebrations.
The area started to form in the 1950s when East Asian residents started opening a variety of Chinese restaurants.
Over the next few decades, it developed into a hub for Chinese culture as shops and stores opened all over the neighbourhood, all with the same ethnic feel.
Although Chinatown London history doesn't go back that far, it's interesting and you'll learn so much about it while you're there. Chinatown's opening hours never stop as it's open 24/7, so you can enjoy it in both the night and the day.
If you're looking for something out of the ordinary to do during your London travels , then a visit to Chinatown must be on your list of things to do.
Especially if you're a first-time visitor to the city. The following is a guide to everything you need to know about Chinatown in London including the top things to do in Chinatown London.
If you have questions about how to get there and where to stay in the area , as well as what to do when you get there, I'm here to answer those questions.
Where is Chinatown in London?
When people talk about this bustling area, they generally refer to Chinatown on Gerrard Street, London and the surrounding area.
This road is dominated by Chinese restaurants, souvenir Chinatown shops, bakeries, supermarkets and other Chinese-owned establishments.
How to Get to Chinatown London
When travelling around London, you're more than likely going to be taking the tube. It's how the locals do it, so for an authentic experience, I'm going to recommend you do the same.
The tube has various routes , so be sure you're on either the Northern, Piccadilly or Bakerloo tube lines.
The nearest tube stations to Chinatown are Leicester Square and Piccadilly Circus. While Leicester Square is the nearest tube to Chinatown, both are just a few minutes walk away from Chinatown.
Taking a bus or a taxi is also a viable option, but be aware that London traffic can cause heavy delays which are a little inconvenient, to say the least.​
S truggling with knowing what to do in London?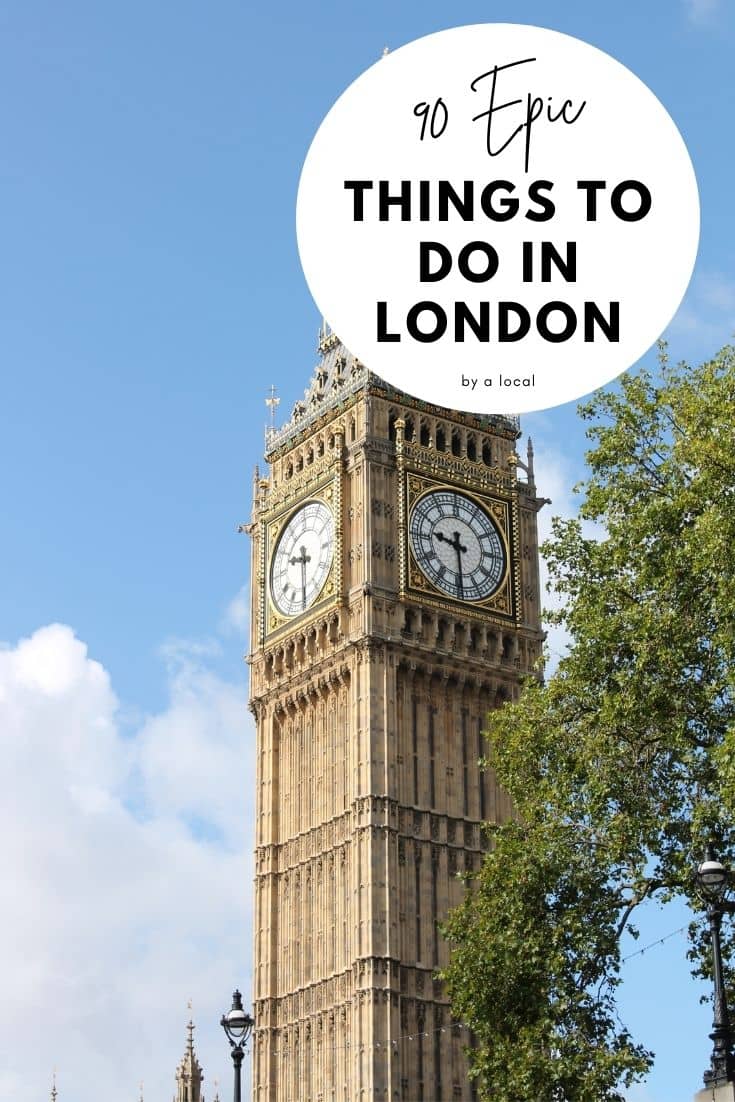 Grab this hassle free checklist of the top 90 things to do in London from a local, includes:
✅ Top Free Things To In London
✅ Cool Touristy & Non-Touristy Things To
✅ Epic Free Viewpoints
✅ Cute Instagrammable Places in London
Taking a bus, however, can be a great experience especially if you make a day of it. Taking a hop-on hop-off bus tour in London is an absolute must for anyone visiting the big city for the first time.
Chinatown London Map
Below is a map of Chinatown in London. As you can see, it's not a massive area, so it's easy enough to find your way around.
That said, it's a good idea to plan ahead of time and decide where in Chinatown you'd like to go.
Where to Stay in Chinatown
If Chinatown is one of the main focal points of your trip to London , then staying in the neighbourhood is ideal.
However, to have a true Chinatown experience, stay nearby to enjoy the vibrant atmosphere at all hours of the day and night.
Luckily, there is a huge variety of great accommodation options in and around Chinatown. So, whether you're on a budget or you're ready to splurge, there's sure to be a place for you.
Chinatown Apartments
As the name suggests, these apartments are located right in the heart of Chinatown. They offer wonderful city views that make you feel involved in the neighbourhood's atmosphere at all times.
The apartments contain an on-site casino for your entertainment and every room has access to free WiFi.
The apartments are located a short distance from Queen's Theatre, Prince Edward Theatre and the Arts Theatre. Surrounded by these many cultural activities, you're sure to have a fantastic time.
Each unit comes with a kitchen that contains a microwave and fridge. There's also a flat-screen TV to keep you entertained during your downtime.
The W London hotel might not be in the heart of Chinatown, but it is just a short two-minute walk away in Leicester Square .
This lavish hotel offers the ultimate luxury experience complete with an on-site spa and beauty lounge, as well as an alluring cocktail lounge.
The 5-star rooms have floor to ceiling windows that provide uninterrupted views of the surrounding city. iPod docks, WiFi and a flat-screen TV with an impressive media library are all available to you in your room.
When you're not out and about exploring the theatre district, close by, make use of their relaxing sauna and steam rooms.
Perception Bar serves up a wonderful selection of cocktails and provides scenic views of the streets of Soho.
They often host music events, so be sure to keep an eye out for those so you can join in on all the entertainment fun.
Lux&Modern B&B
Lux&Modern B&B is just outside of Chinatown and offers another great accommodation experience. It's the perfect place to stay if you're travelling with family or friends as it contains three bedrooms, a living room, and a fully equipped kitchen and dining space.
A full English or Irish breakfast is served every morning, taking one less worry off your plate. The modern furnishings give this house an upmarket and clean feel.
Enjoying an entire house to yourselves also allows for a lot more privacy and can create a bonding experience during your trip.
Hausd is a contemporary apartment block in Wardour Street in Piccadilly Circus. This is in an excellent location as it is just a 2-minute walk away from Chinatown.
Each room is modern, clean, and stylish with wonderful views of the streets below. The apartments contain air-conditioning to keep the rooms at the optimum temperature and each guest has access to the free WiFi.
There's a fully equipped kitchen, washing machine, dishwasher, and a seating area with a flat-screen TV. Housekeeping services are also available at an additional cost.
The apartments are surrounded by great shopping spots and theatres near Chinatown London , so there'll be absolutely no shortage of entertainment during your stay.
Arty Soho is located in the heart of Chinatown right in Gerrard Street (Chinatown's main drag).
As the name indicates, this apartment is beautifully decorated and has an artsy feel.It has access to free WiFi, as well as all the other essential household appliances.
The apartment has two bedrooms making it the perfect place for friends travelling together. It has a flat-screen TV, a fully-equipped kitchen, and a washing machine. There are also two separate bathrooms ensuring maximum privacy.
Read my guide to the top things to do in London
Where to Eat in Chinatown in London
For us foodies, deciding where to eat can make or break an experience. Whether you're looking for the best food markets in London to indulge in delicious street food or to sit down at a restaurant, Chinatown has something for all diners.
Best Restaurants in Chinatown London
Here is a list of some of the best places to indulge in Asian cuisine in the neighbourhood. Get ready to have your taste buds blown away by incredible dishes and a variety of different flavours.
Here are the best restaurants in London Chinatown.
Cafe TPT has an impressively large menu for such a small restaurant. While long menus are the norm in Chinatown, Cafe TPT takes it to the next level.
You'll find Cantonese as well as Malaysian dishes. Tuck into a generous portion of roast duck, or stuffed tofu with a side of the delicious Taiwanese drink – bubble tea .
You could easily describe this cafe as one of the best London Chinatown restaurants .
Dumplings' Legend
As you may have guessed from the title of this restaurant, at Dumplings' Legend you can expect to indulge in some of Chinatown's very best dumplings – and that's saying a lot.
Their specialty is xiao long bao or soup dumplings that are prepared from scratch. You can actually watch the chef prepare them through a glass panel that leads into the kitchen.
Sample a variety of their dumplings from vegetarian to spicy pork. They're all bursting with flavours that range from garlic to ginger.
C&R Cafe
C&R Cafe moved into Chinatown over two decades ago and serves up incredible Malaysian food. It's squeezed into a narrow alleyway which makes finding it an adventure on its own.
In this small cafe diner, you'll not only find great value for your money but fantastic food. Beef rendang, laksa, and char kway teow are some of their most famed specialities and are sure to get your mouth watering at the mere tantalising smell.
Old Tree Daiwan Bee
Old Tree Daiwan Bee serves up some of the most authentic Taiwanese food in Chinatown, leaving little else for the heart to desire. It's a small, cramped space with narrow tables, but the food is absolutely to die for.
From delectable oyster omelettes to noodles in a spicy broth, their menu is short but sweet, offering only the best of what Taiwan has to offer.
Another must-try on their menu is their home-made Taiwanese sausage and their salt and pepper fried tofu.
Royal Dragon
The Royal Dragon is another must-visit restaurant in Chinatown. They serve great seafood platters and just so happen to be one of the best Chinatown karaoke restaurants.
So if you're looking for a night of entertainment along with good food, Royal Dragon is the place to be.
If you're very hungry then Wong Kei is the place to go for an all you can eat buffet in Chinatown. This is also one of the really good places to eat in Chinatown if you're looking to save money.
Fill up on Cantonese cuisine like roast duck, beef brisket and a sweet soup of rice vermicilli and slow-cooked beef.
Its opening hours are between 11:30 and 23:30, so it's the perfect place for a buffet lunch or late night dinner.
Best Desserts in Chinatown London
Once you've indulged in a hearty main course, it's time to satisfy your sweet tooth. For incredible Chinese desserts, here is a guide to the finest dessert places you should be visiting.
Tsujiri is especially unique as it serves up a wonderful variety of matcha desserts. Not only are they absolutely delicious, but guilt-free too.
Matcha is a type of Japanese green tea that contains ten times the amount of antioxidants in a cup of regular green tea.
The matcha puddings, matcha ice-creams, and matcha teas are all worth a try. Get ready to pig out on all things matcha-related at this instagrammable dessert joint in Chinatown.
Bake is the sister shop of Chinatown Bakery and serves absolutely delicious baked goods.
Asian-inspired buns, cakes and tarts can all be found here and enjoyed along with creamy soft-serve ice cream.
Indulge in something slightly different like their fish-shaped custard-stuffed waffles with ice cream on top. It simply doesn't get any more decadent than that.
Feeling up for an ice-cream sandwich? Yolkin is the place to go. What makes it a little different is that the ice cream is delicately placed between two macaroons – making for the perfect dessert picture.
Expect egg-yolk ice cream in more flavours than you're able to choose from. It's recommended that you visit Yolkin a few times during your trip to London, just to ensure you've had a taste of the tip of the iceberg.
Shibuya Soho
Shibuya Soho is known for its huge servings of shaved ice filled to the brim with pieces of oreo, strawberries or mango.
It's a decadent twist on a standard ice-cream sundae that will have you coming back for more.
If you're not in the mood for something cold, try one of their delicious cake options. Their matcha roll cake and nama cream strawberry cakes are particularly delicious.
Best Things to Do in London Chinatown
Your Chinatown things to do list will be ever-growing with plenty of wonderful activities to enjoy.
But with so much to do it can be a challenge to get around to it all. So here's the top hit-list of what to do in Chinatown, London.
Shop for Interesting Trinkets and Wares
Of course, first on the list is a shopping experience . There's none quite like it anywhere else in the city. And if there's one place in London you're certain to get bang for your buck, it's in Chinatown.
Have you always wanted an authentic Maneki-Neko (a cat with a waving paw) as a souvenir? This would be the place to get it. Or how about a string of ornate paper lanterns? Perfect for decorating any space you choose.
It's also the place to go if you're looking to purchase Chinese spices to spruce up any meal. The good news is these are easy to pack, and they're a lightweight gift to take back home to friends and loved ones.
New Loon Moon is one of the biggest supermarkets in the neighbourhood and is incredibly fun to explore. There's nothing quite like shopping in Chinatown, London.
Read my guide on the best things to do in Covent Garden
Celebrate a Festival in Chinatown
The Chinese New Year is celebrated according to the Chinese Lunar calendar, so the date changes every year. However, it's usually held sometime in January or February.
If you have to shift your travel dates ever so slightly to be in London for the celebrations, I assure you it's worth it. Although there's no wrong time to visit Chinatown, these are definitely the best times to visit London .
Watch a traditional dragon dance that takes place through the streets of Chinatown, or partake in the annual Lantern Festival. It's a truly magical experience.
The entire neighbourhood comes alive with colour, elaborate costumes, music, food, and of course, dancing.
A true treat for all your senses!
Take a Photo Tour
With so many picturesque scenes in this lively neighbourhood, taking a scenic tour only seems appropriate.
Whether you do this with a tour guide, or you go exploring by yourself for the day, setting aside a day just for photos is a must.
Snap a few pics of the lantern-laden streets, the narrow alleyways, and quaint doorways. Pop-in to the prettiest eateries and the cosiest shops, Chinatown photography is sure to make an interesting addition to your Instagram feed.
If you have yet to buy yourself a snazzy camera, here are a few great trav el camera s for beginners .
Visit Chinese Art Now
Formerly known as the Chinatown Art Space, Chinese Art Now was created to develop and showcase East Asian performance and visual arts. Set up in 2005, it is now a thriving hub of artful expressions centred around Chinese culture and storytelling.
CAN acts as a public workspace for artists, performance artists and other creatives looking for a place to display their work. Pop in to see a show or the current exhibition on display.
Check their website to see what's on during the time of your visit.
Have a Drink at a Local Bar
Having a drink amongst the locals in some of the best bars in Chinatown, London is a great experience.
Blue Post offers a particularly classy experience. Although there are many around Soho, the one in Rupert Street is right in the heart of Chinatown.
The ground floor offers premium beers on tap and often hosts live musicians that add to the classy ambience.
Upstairs you'll find their cocktail bar where you can indulge in all sorts of fancy alcoholic beverages, from gin cocktails to matcha champagne and yuzu.
Experimental Cocktail Club
Another great local joint is the Experimental Cocktail Club. It's become one of the best speakeasy bars in London and has a drinking den vibe that you would expect from the prohibition era.
The interior has an art deco feel with exposed brick walls and unique art. As for their menu, it's an experimental one as you may have guessed from the name.
Expect a large variety of truly unique concoctions that will keep you coming back for more.
Opium is another one of Chinatown's favourites. An unmarked jade green door marks the entrance to this hidden gem on the cobbled streets of London 's Gerrard Street.
Expect a unique juxtaposition of midnight dim sum, smoking cocktails and shouting toilets (I'm not joking).
What to See in Chinatown
If you're looking for beautiful scenes to take in during your time in Chinatown, here are just a few of the places to see.
Visit the Four Gates
Four ornate gates mark the outskirts of the Chinatown neighbourhood. These are elaborately decorated and incredibly hard to miss.
The largest and newest of these gates, known as the fourth gate, is located in Wardour Street. The ornate gate towers over the street in beaming electric blue, green and gold. It's actually the largest Chinese gate in the UK and also by far the most beautiful.
The other three gates are also worth seeing and are all in Gerrard Street. These gates were built in the 1980s, however, they have a much older look about them.
They make for a great photo backdrop and are certainly a must-see while you walk around Chinatown.
Admire the 1888 Mural
The 1888 mural celebrates the heritage as well as the vibrancy contained within Chinatown. It is outdoors and spans the space of 8 by 5 metres. You can find it in Horse and Dolphin Yard, just off Macclesfield Street.
The mural appears to be of a bowl of rice, but at a closer glance, you'll notice that it's made up of 1888 smaller pictures. These pictures are all related to Chinatown in some way and were donated by the public.
It was a project that truly involved the community and is a great asset to the area. Be sure to check it out.
See the Lion Sculpture
The lion statue in Wardour Street is a fairly new addition to Chinatown. It was erected in 2009 and named the guardian of Chinatown's gateways.
It helps to give the area its own distinct feel and is part of a project that aims at making London's Chinatown the greatest in the world.
This colourful sculpture stands out against the walls of Chinatown and makes for a great photo opportunity.
A Locals Final Thoughts on Chinatown in London, England
Now that you know just how jam-packed Chinatown is with exciting activities, you can start creating your very own list of unique things to do in the area .
This neighbourhood is all about discovering the authenticity behind Chinese culture, so be sure to do as much as possible while you're there.
Sharing is caring!
Leave a Reply Cancel reply
Your email address will not be published. Required fields are marked *
Save my name, email, and website in this browser for the next time I comment.
Sharing is Caring
Help spread the word. You're awesome for doing it!
The Ultimate Guide to Visiting London's Chinatown
Chinatown ultimate guide.
It may be located in the heart of the City of Westminster, but London's Chinatown doesn't feel anything like London at all. As a matter of fact, wandering through its many streets lined with red paper lanterns and Mandarin street signs, tourists in London may feel like they're walking around somewhere in East Asia rather than in London's lively West End district.
London's Chinatown has been around since the 1950s (although the original Chinatown was located in London's East End during the 18th century), and is home to more than 80 different Asian restaurants, cafes and bars, as well as Chinese food shops, bakeries, souvenir stores, and even reflexology specialists and traditional Chinese medicine experts. There's also countless supermarkets which are crammed full of authentic and exotic ingredients that can normally only be found in Asia.
Today, Chinatown attracts up to more than 17.4 million visitors each year, and is especially busy during the Chinese New Year, which takes place sometime between mid-January and February every year (depending on the Chinese lunar calendar). There are some local guides offering free tours in London's Chinatown, but many free tours of Westminster also cover this interesting area.
Chinatown Highlights
There are a ton of different monuments, sights and attractions scattered all around London's Chinatown which are worth snapping a photo of.
There are two lion statues on Gerrard Street (which were donated by the People's Republic of China), four different Paifangs (or Chinese Archways) at the different Chinatown entry points, and the fascinating 1888 Mural in Horse and Dolphin Yard.
Besides strolling around Chinatown and marvelling over its countless oriental sights, many tourists in London venture to Chinatown for the sole reason of sampling some delicious and authentic Asian food, ranging from sticky rice rolls, pickled raw octopus, to Cantonese roast duck and dumplings (just to name a few).
Not just limited to restaurants, there are also Chinese buffets and chopstick, rice and dim sum parlours, and you can also find restaurants focusing on Korean, Malaysian, Taiwanese and Japanese cuisine as well.
And even if you don't plan on stocking up on food during your visit to London, strolling around one of Chinatown's many supermarkets is a must, as you can glance over some authentic Asian ingredients and items you won't be able to find anywhere else in the UK.
Special Tips
Getting there.
Visiting Chinatown
If you plan on seeing Chinatown in its entirety, you can wander around its many winding streets within two to three hours. However, because you may even find yourself spending an entire afternoon in the area, it wouldn't be a bad idea to wear comfortable walking shoes.
If you are visiting London sometime between mid-January and February, be sure to check out London's ever-popular Chinese New Year celebrations, which is said to be the biggest Chinese New Year's Celebration in the world outside of Asia. The majority of the celebrations take place in Chinatown (although sometimes they trickle over into the rest of London's West End).
During the Chinese New Year celebrations, visitors can watch an eye-popping parade which leads through the streets on floats, complete with lion dancers, acrobatics, music concerts, stage shows and performers dressed in traditional Chinese outfits.
Restaurants, bars and cafes in Chinatown also offer special menu items during the Chinese New Year, and they might even host their own events as well. Visitors can also sample some food at the many food stalls (located along Shaftesbury Avenue) and buy a few Asian knick-knacks at the many craft stalls scattered around Wardour Street and Gerrard Street. There are also stages set up on Shaftesbury Avenue, and musical performances, martial art displays and workshops along Charing Cross Road.
When to Visit
Anyone can walk around Chinatown for free, and although the majority of restaurants generally open at 12 p.m. and close at 12 a.m., it's not uncommon for some restaurants to stay open as late as 4 a.m. Nevertheless, if you want to visit a specific restaurant or supermarket, it may be a good idea to look at their opening and closing hours on their website beforehand.
If you are visiting Chinatown, you might want to check the many free tours in London that depart daily.
Free Tours in Your Language
15 Best Things to do in Chinatown, London
Sharing is caring!
Chinatown is impossible to miss. Situated in the centre of the West End, Chinatown is the true heart of London. Most tourists find themselves stumbling into the area, lured by the bright lights and delicious smells. The pedestrianised lanes are lined with beautiful red hanging lanterns, inviting guests to explore.
Each street is an eclectic mix of shops, restaurants, bars, and beauty parlours, meaning you'll never be short of something to do in this area of London.
Visitors and locals alike love Chinatown, meaning it should be at the top of everyone's London itinerary. However, if you're a foodie, a visit to London's Chinatown is non-negotiable. The food here is unbeatable and offered at some of the most modest prices in the city.
The History of Chinatown London
Before we jump into the best things to do in Chinatown, it is interesting to cover a little background.
Chinatown has existed in London since the 18th century, but not always in the heart of the West End as we know it. Many Chinese sailors worked for the British East India Company, docking in East London. Over time, many of these Chinese workers settled in Limehouse, and eventually, this area became London's first Chinatown.
By the early 20th century, a thriving Chinese community had settled in Limehouse, with a range of businesses catering primarily to the Chinese sailors who would dock there temporarily.
Unfortunately, the Second World War saw the destruction of most of East London, and so many Chinese immigrants relocated to the West End. By the late 1980s, the area was bustling with authentic restaurants and shops, attracting visitors from around the globe.
Although not many Chinese people now live in the area, the businesses here welcome tourists from around the globe daily. It is a hive of activity with restaurants serving dishes from across east Asia.
15 Things to do in Chinatown, London
Now that you've got a little insight into Chinatown's history, let's dive into the 15 best things to do in Chinatown, London.
Celebrate Chinese New Year
As you're probably aware, Chinese New Year is celebrated in line with the Chinese Lunar calendar, meaning the date changes annually. However, this magnificent festival typically falls in either January or February.
Chinese New Year in London's Chinatown is one of the busiest yet most exciting times to visit the area. Interestingly, Chinese New Year in London is the biggest celebration outside of China.
The entire area bursts to life with an exciting mix of colours, music, dance and food. Several parades pass through the streets framed by the stunning red lanterns hanging over the area.
Most restaurants also offer special menus to mark to occasion, serving dishes you might struggle to get your hands on the rest of the year. Many stalls also pop up across the area, often spilling out into other areas of the West End. These offer a whole host of Chinese goods ranging from homemade food to trinkets to hand-crafted jewellery.
The Four Gates
The four gates set the perimeter of London's Chinatown.
These grand Chinatown gates are impossible to miss. They stand proudly at each entrance and are one of the most widely used symbols of this much-loved area in the West End. They are also one of the most photographed spots in the capital.
Whilst these gates look like they have stood proudly for centuries, the first three, located on Gerrard Street, were only actually built in the 1980s.
The fourth and most impressive gate was constructed in 2016 and is located on Wardour Street. It is the biggest Chinese gate in the UK and is truly stunning, adorned in spectacular shades of electric blue and emerald green.
International Dragon and Lion Dance Festival
Aside from the Chinese New Year celebrations, the International Dragon and Lion Dance Festival is the must-see attraction in Chinatown London.
This celebration originates from Hong Kong and is celebrated on January 1st every year. A colourful parade of dragons and lions tour the streets of Chinatown and beyond – a true sight to behold. This event is great for anyone who wants to appreciate and understand Eastern Asian culture and can be particularly fascinating for children.
Take A Walking Tour
One of the best ways to appreciate a new area is to take a walking tour. They are one of the more interesting ways to engage with the history of the site and an opportunity to ask any questions.
The China Exchange community-led walking tour is one of the more premium options but also one of the best. It even includes a family-style lunch to enjoy with your new friends. The tour costs £27, and tours are offered in Mandarin or Cantonese for groups of two or more.
Chinese Art Now
Chinese Art Now (CAN) is a not-for-profit founded in 2005. It showcases incredible artwork that explores Chinese themes. CAN is perhaps most famous for the amazing annual CAN festival, which showcases a diverse mix of arts, music, drama, and film.
They have various pop-up events throughout the year, so check their website before planning your visit to Chinatown.
Bubble Tea at Woo Tea
Bubble Tea is a Taiwanese drink that has taken the rest of the world by a storm, and Woo Tea provides the best in Chinatown.
Bubble Tea is most recognisable by the chewy tapioca balls that settle at the bottom. It is most commonly served as a milky tea but often features various fruit flavours.
If it's your first time trying bubble tea, opt for the signature Woo Tea, filled with plenty of fresh fruit and peach gum. However, if you're somewhat of a bubble tea connoisseur, try the delicious black Oolong milk tea with pearls.
The New Loon Moon Supermarket
The New Loon Moon supermarket is one of Chinatown's biggest and most exciting supermarkets. Spread over two floors, this incredible shopping space offers culinary delights from Thailand, China, Japan and The Philippines, just to name a few.
This is the perfect spot to top up your kitchen supplies if you love Asian cooking. Whether you're looking for sauces, vegetables, meats or anything in between, you will easily find it at this superstore.
The New Loon Moon supermarket is open 10 am – 6 pm every day, so be sure to check out the spot on your visit to Chinatown London.
Devour Roast Duck at the Four Seasons
There are an incredible number of places to eat in Chinatown, but few can compete with the Four Seasons restaurant . You should be aware this isn't the Four Seasons you might be familiar with (the large, opulent hotel chain), but instead an incredible pan Asian restaurant in the centre of Chinatown.
Many people, including the Financial Times , rate the roast duck at the Four Seasons as the best in the world, so who are we to argue?
There is also an impressively large cocktail menu here, so grab a bunch of friends and make a night of it at the Four Seasons.
Shop Until You Drop
No visit is complete without perusing the Chinatown London shops. There are many unique shops that you won't find anywhere else in the city. Chinatown is a great place to buy trinkets, souvenirs and birthday gifts or even just a fun place to window shop.
If you're in the market for some eastern Asian skincare or makeup, Chinatown is the place to be! P2Bus is the best place in the area to grab yourself some Korean skincare, widely considered the best in the world.
Enjoy a Matcha Dessert at Tsujiri
Tsujiri is a hugely popular guilt-free dessert shop in London's Chinatown, serving some of the most Instagramable puddings in the area.
Matcha is a very common ingredient across east Asia, in particular in Japan. It contains ten times the number of antioxidants than green tea, making it an excellent ingredient for the health conscious.
The matcha ice cream, lattes and sundaes are all incredible. But be prepared for a long wait to get your hands on these goodies, the shop is relatively small, and the queues are often huge.
Fish Shaped Waffles at Bake
The dessert shops in Chinatown are so good that we had to include two!
Located right at the entrance to Chinatown, Bake sells a mixture of sweet and savoury snacks to be enjoyed whilst wandering the colourful streets. For a savoury option, opt for their best-selling barbecue-pork steamed buns. They are the ideal cheap eat at just a couple of pounds each.
However, Bake is most famous for its delicious waffles and, more importantly, its unique fish-shaped waffle. This dessert has been made hugely popular after being featured heavily on social media. So fill your fish cone with a generous portion of soft serve ice cream and enjoy one of the most delicious and unique desserts in the capital for just £3.50.
Indulge in a Beauty Treatment
There are many beauty salons in Chinatown, including several hairdressers and nail parlours. Baby Pink Nails and Beauty has excellent reviews, or try London Grace for a more upmarket experience.
If you feel like going all out, London Rayner is considered one of the best massages in the capital and is just an eight-minute walk from Chinatown. Their services promise a host of benefits, including headache relief, lowered stress and help with digestion.
Karaoke at Plum Valley
Plum Valley is an upmarket restaurant in London's Chinatown.
The menu here is a fusion mix of Chinese, Japanese and Thai, with an extensive fresh dim sum menu. As with all great Asian food, dishes are best-served family style and shared amongst your group, allowing you to sample a range of what the restaurant offers.
However, the real highlight of Plum Valley is its fantastic Karaoke set-up. The booths are slick and modern, transporting guests into their own private nightclub.
For the ultimate night out in Chinatown, book a booth for you and a group of friends and sing your hearts out well into the night. The systems have a huge range of tracks ranging from popular Chinese songs to western classics.
Street Food at Cafe TPT
If you're looking for where to eat in Chinatown London, then Café TPT has to be at the top of your list. Visitors can easily stroll past the humble orange exterior of this place, but the food is exceptional.
A blend of Cantonese and Malaysian street food is available here, with an unbelievably long menu catering to every taste and preference. For a truly delicious and authentic plate, try the Zha Jiang Mian, an incredible noodle dish cooked in fermented soya bean paste.
This unassuming restaurant has developed a well-deserved excellent reputation in Chinatown, so expect to wait a little while for a table. Reservations are always recommended if you're planning to visit on the weekend.
Enjoy a Cocktail in the Heart of Chinatown
Being just a stone's throw from the party district of Soho, Chinatown is packed with great bars to enjoy a quiet drink or party the night away with your friends. There are three stand-out bars in Chinatown.
The first is Opium , which has become somewhat of a Chinatown institution. Allow your curiosity to take you through the little jade door and transport yourself into 1920's Shanghai. The cocktail menu is extensive, and the décor is simply incredible. To get the whole experience, accompany your drinks with some late-night dim sum.
Next up is The Blue Posts , an incredible place for a relaxed drink. There is live music playing downstairs and a swanky cocktail bar upstairs.
Finally, the Experimental Cocktail Club is not only one of the best bars in Chinatown but one of the best in London. An unmarked door (you might be sensing a theme here) leads guests up a narrow set of stairs and into an incredible speakeasy. The décor is stunning, and the cocktails are perfect. So whether you want to impress your friends or a date, you simply cannot go wrong with the Experimental Cocktail Club.
Read More: Best & Fun Things to do in Soho, London Best & Fun Things to do in Covent Garden Best Things To Do In Camden, London Best Things To Do In South Kensington
Is Chinatown in London Worth Visiting?
In a word: yes! As you have seen, there is so much to do, see, and eat in Chinatown. Also, Chinatown is so simple to visit from just about anywhere in London – so it should be on everyone's London itinerary.
Where Is Chinatown in London?
Chinatown is in the heart of London's West End, nestled between theatreland, Soho and Leicester Square . The closest tube stations to Chinatown are Piccadilly Circus and Leicester Square.
What Is the Best Way to Get to Chinatown?
The best way to get around London is by tube. The Piccadilly and Bakerloo lines will drop you at Piccadilly circus. Alternatively, take the Northern or Piccadilly line to Leicester square. If the tube doesn't suit your plans, heaps of bus routes pass through Chinatown.
What Time Does Chinatown Close?
London's Chinatown is open all hours of the day, and there is true magic to visiting this area of the city at night. Most restaurants stay open for dinner until at least 10 pm, and the best bars are open until the early hours of the morning.
What Is Chinatown in London Famous For?
Chinatown is famous for its rich history and is most recognisable for its incredible Chinese gates. Chinatown is also known as one of the best places in London to eat and offers extremely affordable prices.
Where Is the Best Place to Stay in Chinatown?
The best budget hotel option is the Premier Inn at Leicester Square, just a three-minute walk from Chinatown. However, stay at the W hotel if you feel like splashing the cash. Again, this hotel is just a two-minute walk from Chinatown and provides the ultimate luxury experience.
Final Thoughts
Chinatown is a must-see on all London itineraries, the atmosphere is unbeatable, and there is much to do in the area.
If your schedule permits, try to visit and Chinese New Year, which is a truly incredible experience.
Otherwise, spend the afternoon shopping, grab a bite to eat at one of the amazing restaurants, and spend the evening sipping delicious cocktails. Don't forget, every great night in Chinatown ends with Karaoke!
You Might Also Like:
Top 13 Best Tea Shops in London (2023 Update)
10 Best Bubble Tea Places in London 2023
16 Best & Fun Things to do in Leicester Square 2023
21 Best & Fun Things to do in Soho, London 2023
Leave a comment Cancel reply
Save my name, email, and website in this browser for the next time I comment.
The Trafalgar Suite
THE GREEN PARK SUITE
WHY STAY WITH US?
Junior Suites
Executive Suites
Deluxe Suites
Superior Queen
Superior King
Deluxe King
Six or More Bedrooms
Why Stay With Us?
Afternoon Tea
The Ritz Restaurant
The Ritz Room
The Caviar & Champagne Experience
The Rivoli Bar
Dining Offers
Ritz London Cigars
Christmas at The Ritz
Special treats for children
The Ritz Chauffeur Service
The Ritz Butler Service
Green Policy
The Ritz London Blog
suites and rooms offers
Pre Christmas
Christmas Day
New Year's Eve
New Year's Day
The Caviar & Champagne Experience
New Year's Eve
New Year's Day
NEW YEAR'S DAY CELEBRATIONS IN THE RITZ RESTAURANT
The perfect way to start the new year, gift vouchers, the ultimate guide to london's chinatown.
Posted on October 19, 2023 - Blog , Guides
Discover our ultimate guide to London's Chinatown, from the best places to eat to unique shops and experiences. Explore the best things to do in Chinatown.
The Best Things to Do in London's Chinatown
Instantly recognisable by its four majestically decorated gates outlining its perimeter, the sky filled with red paper lanterns and of course the enticing scents from the restaurants that line its streets, Chinatown is a must-visit area during any visit to London. The best part? The Ritz London is ideally located just a 10-minute walk from the vibrant area.
Positioned between Soho and Leicester Square, Chinatown is the perfect spot for pre-theatre dining, or a refreshment stop during a shopping day. With restaurants serving all kinds of Asian cuisine, supermarkets stocking ingredients you can't find anywhere else and bakeries offering sweet treats until late at night, Chinatown has something for everyone.
With so many choices of what to do in Chinatown, it can be difficult to decide where to start. That's why we have collated our favourite activities in Chinatown to help you plan your next visit.
If you are a London resident who loves to cook at home and try new recipes, it can often be a struggle to pick up all the ingredients you need for the likes of xiaolongbao or dan dan noodles. We recommend heading down to the supermarkets of Chinatown, such as Loon Fung supermarket, which stocks everything you can imagine from mainland China, Hong Kong, Taiwan, the Philippines, Thailand, Malaysia, Vietnam, Japan, and Korea. Loon Fung first opened its doors in 1965 and is now one of London's largest Asian supermarkets. From fresh fish to sauces from renowned brands such as Lee Kum Kee, and from Asian fruit and vegetables to tasty snacks, you may walk in expecting only to pick up some noodles, but you are certain to walk out with a basket full of delicious produce.
If it's beauty products that you are in the market for, following the stratospheric rise in popularity of 'K-Beauty', set your destination to shops such as P2Bus. A true emporium of cosmetics, make-up, skincare products and fragrances, you are sure to find some hidden gems that your beauty regime is crying out for. Don't forget to speak to their staff who are always happy to offer skincare consultations and guide you in your choice.
Of course, a guide to Chinatown wouldn't be complete without mentioning some of its exquisite dining locations and you truly are spoilt for choice.
On Rupert Street, Speedboat Bar is a tantalising option for Thai cuisine and despite being in the centre of London, walking through the doors transports you to the bustle of Bangkok. Meanwhile, if you are keen to jump on the trend sweeping London for Korean BBQ, Chinatown's Olle delivers on dining theatre with its tabletop grills.
For dim sum and Cantonese cooking, Gerrard Street's Golden Dragon is a sure-fire hit with Londoners and visitors alike and is an ideal location for large celebrations such as birthdays. If Sichuan is more to your taste and you are not afraid of a little spice, Barshu is a brilliant choice for a fiery feast.
Sometimes, you may not have time for a full lunch or dinner in Chinatown but still fancy a taste of the Asian delicacies on offer. Perhaps a refreshing Bobo Milk Tea from Hey Tea or a Bubblewrap waffle is just the solution? Be prepared to queue at these popular spots but we promise it will be worth the wait!
Experiences & Activities in Chinatown
No matter what time of year you visit London you are always guaranteed to have a fun and delicious time in Chinatown, but there are some landmark events such as Chinese New Year and the Mid-Autumn Festival, when the Chinatown attractions are a must-visit.
A key event in Chinatown's annual calendar is of course Chinese New Year, which follows the lunar calendar. In 2024, the date will fall on 10th February, signifying the start of the year of the dragon. Celebrations ensue for 15 days, so expect incredible street parades with traditional Chinese decorations, lavish feasts featuring extra-long longevity noodles, beautiful displays of red lanterns and of course, the giving of red envelopes, signifying good luck, prosperity, and vitality for the year ahead.
Many restaurants also do special menus during the celebration period, making it the ideal time to gather a group of friends or family and enjoy a traditional Chinese New Year feast. Whether you prefer modern fusion cuisine or the most authentic, regional dishes, Chinatown certainly knows how to cater for a crowd so no one will be going home hungry.
In summer, the Dragon Boat Festival arrives, and in 2024 the festival will sail into London on 10 th June. The festival started in commemoration of an ancient poet, Qu Yuan, who was greatly admired. He tragically died by drowning in the Miluo river and it is said that locals raced out in boats to retrieve his body and threw sticky rice into the river to keep the fish distracted. Hence why today the festival is celebrated with Dragon Boat races, which often take place in London's Docklands area and the eating of sticky rice dumplings, wrapped in bamboo leaves, named zongzi. Zongzi can have savoury or sweet fillings and can be found everywhere in Chinatown during the festival. Delicious!
Later in the year, comes the Mid-Autumn festival and in 2024, this starts on 17 th September. Famous for its moreish mooncakes, the Mid-Autumn festival celebrates the harvest. You may wonder why mooncakes are the symbol of this festival. The dates always coincide with the full moon and traditionally, observers of the festival worshipped the full moon in thanks for a plentiful harvest. Mooncakes themselves consist of sweet pastries filled with red bean, sesame or lotus seed paste and are printed with a symbol of good luck. If you wish to try this delicacy for yourself, head to Sakurado bakery for their handmade mooncakes.
Finally, the Chinese National Day is annually celebrated on 1st October, and in China, this is followed by the Golden Week holiday. Celebrated with firework displays and parades, Chinese National Day is always a high-spirited occasion and the perfect excuse for a trip to Chinatown in London.
The History Of Chinatown
So accustomed we are to head to the West End for the best Asian food in town, it's hard to believe that Chinatown hasn't always been where it thrives today. In fact, the original Chinatown of London was located in Limehouse, East London in the 18th Century. This was because a Chinese population was growing by the docklands, importing goods such as Chinese silks, pottery and tea as Chinese and British trade developed.
By the 1950s, the Chinese community were in need of a new area to continue their business development and so Soho was the natural answer, with (at the time) affordable rent and a thriving nightlife culture. Chinese goods and cuisine were in high demand following the war, as British soldiers had developed a taste for it during their travels, and so the area became prosperous as the new Chinatown.
However, it wasn't until the 1980s that Chinatown developed into how it looks today, with the addition of the four gates and pedestrianisation of the streets, allowing for al-fresco dining and visitors to explore the area at their leisure.
That brings us to the end of our whistlestop tour of Chinatown. We hope you enjoy the sights, sounds, scents and tastes of the area during your next trip to London. While exploring the area, be sure to take the opportunity to see one of the many theatre shows in London , the perfect way to elevate your day in Chinatown.
CHRISTMAS AT THE RITZ
Experience the enchantment of the festive season at The Ritz London.
Immerse yourself in the world of The Ritz
A Local's Complete Guide to London Chinatown
Striking qing-era style gates, bustling nightlife, delicious restaurants, interesting shops, a thriving history, colourful lanterns and much more. welcome to london chinatown..
Bordered by four striking Qing-era style gates with Soho to the north and Covent Garden to the east, London's Chinatown sits right in the heart of the city. 
Chinatown is one of the most colourful and thriving areas of London packed full to the brim with restaurants, bars, interesting shops, supermarkets, health clinics, nail salons and bakeries.
There's something to suit everyone. High-end restaurants sit alongside simple, cheap grab-and-go eateries and all-you-can-eat buffets. 
At first, Chinatown was a hub for Cantonese cuisine, but today you'll also find the likes of Vietnamese, Thai, Japanese, Malaysian and Singaporean fare among others.
With its close proximity to the West End and bustling nightlife with restaurants open later than other parts of the city, London Chinatown is great for a post-theatre meal.
Read: 23 Wonderfully Free Things to do in London
Read: how to plan the perfect weekend in london, no time to read this post on london chinatown now save it for later.
History of London Chinatown
The history of London Chinatown dates back to long before the bustling streets lined with restaurants and lanterns you see today. 
Historically, Chinatown was based in Limehouse in East London. Chinese employees of the East India Company settled at the docks from the 18th century and by 1914, a Chinese community was blossoming with shops and restaurants catering for sailors.
During World War II, Limehouse was completely destroyed by bombing and saw a large decline in shipping. The Chinese community in the East End needed a new place to live.
After the war, a huge wave of immigrants coming from Hong Kong had heard of Soho's reputation for its great nightlife and cheap rent. 
Fortunately for them, British soldiers returning from the Far East had developed a taste for Chinese cuisine and so began the development of supermarkets and restaurants. 
Read: 15 Very Best Christmas Decorations in London
Restaurants in london chinatown.
London Chinatown is home to a  wealth of restaurants it can seem daunting to know where to start!
Some of the top restaurants in London Chinatown are:
Four Seasons
The Four Seasons Restaurant , famed for its roast duck, became so successful after opening in 1990, it had to open another restaurant just around the corner.
Dubbed by the Financial Times as having "the best roast duck in the world", don't be surprised if you find yourself having to queue to get a table.
Dumplings Legend 
Dumplings Legend is  one of our favourite restaurants in London Chinatown. Renowned for its Xiao Long Bao, this minimalist eatery is one of the most established and esteemed restaurants in Chinatown Soho, serving a massive 8,000 dumplings a day!!
Dumplings Legend serves a huge variety of delicious dumplings, sticking to the traditional methods but also adding their own unique twist. You can even watch them being made in their open-plan glass-walled kitchen!
Plum Valley
If the hustle and bustle of Gerrard Street is a bit much, this stylish restaurant boasting a vast dim sum menu is the perfect tranquil escape.
Its name comes from a Chinese fable that tells the story of a utopian village living in harmony with nature, oblivious to the chaos of the outside world.
Inside, the décor mixes elements of traditional Chinese gardens with a modern aesthetic. Their menu is rooted in a similar philosophy.
Opium Cocktail and Dim Sum Parlour
For something different, Opium Cocktail and Dim Sum Parlour is a hidden venue in the heart of Chinatown and home to 3 Oriental-themed bars of delicious creative cocktails and a variety of traditional dim sum. 
The drinks list and ingredients in the food change by the season to reflect its freshness and is the perfect spot for post-theatre dining as it's open until 3am at the weekends.
Imperial China
This authentic and reliable restaurant really stands apart from its neighbours. As soon as you step inside Imperial China you'll feel like you've been transported back to China as you walk over the quaint footbridge spanning a carp pond.
The team of Hong Kong chefs serve up a satisfying dim sum menu at lunch with over 60 choices ranging from your traditional favourites to a few quirkier options and Cantonese à la carte in the evening.
If Korean food is more to your fancy, check out Olle ; a fast-casual Korean BBQ restaurant. 
Serving only premium cuts and the highest quality of ingredients, this loud, bustling restaurant will appeal to a variety of tastes and budgets. To top off the whole experience, all of the food is sizzled on your own tabletop stove.
Bun House is known for its delicious fluffy steamed buns from the classic char siu pork belly pig bun to something a bit different with their chicken, lemongrass and coconut curry bun. And a must-try for dessert is its tasty creamy custard bun!
As well as the buns, you can also try some other Cantonese-style small plates such as har gau and shumai. Bun House is perfect for a grab-and-go bite to eat but they also have some seating if you'd prefer.
Ji Chickens
Serving fresh, Taiwanese fried chicken, Ji Chickens is an absolute must-visit for chicken lovers!  I'm not a massive fan of fried food, but the food here is really fresh, juicy, has a tasty golden crisp outside and is really light to eat.
One of the most unique things about Ji Chickens is their seasoning. Rather than adding flavouring during cooking, they recognise people have different tastes and have a buffet bar of flavours for you to pick from depending on preference and spice.
As well as chicken, you'll also find vegetables and fish on the menu. We'd recommend the crispy king prawn if you fancy something other than chicken. 
Wherever you decide to dine in Chinatown in London, make sure you leave room for dessert! Bubblewrap has taken the popular Hong Kong street food, egg-shaped waffles and added its own delicious unique twist.
You'll start by picking your base; original, chocolate or matcha and then your toppings; banana, strawberry, cheesecake gelato, pecan, Nutella and so much more.
To top it off, choose from a selection of sauces such as red bean or salted caramel. The hexagonal shape and spherical pockets of batter add extra bite and texture. Not to mention, it's the perfect Instagram dessert!
Find a hotel near Chinatown
Events in london chinatown.
If you're in London for Lunar New Year, you're going to want to come to Chinatown Soho. London hosts the largest celebration of Lunar New Year outside of Asia and the whole of Chinatown teems with life!
Colourful street processions around Trafalgar Square, performances from local artists, traditional food and craft stalls, martial arts and dancing. All of the festivities are free to take part in.
Read: The Ultimate Local's Wapping Guide: Best Things to do
Getting to london chinatown.
Visiting Beautiful Victoria Park, London: Everything You Need to Know
7 Incredible Picnic Spots in London You Need to Know
The Ultimate Local's Wapping Guide: Best Things to do
Leave a comment cancel reply.
Your email address will not be published. Required fields are marked *
Save my name, email, and website in this browser for the next time I comment.
Privacy Overview
Awesome, you're subscribed!
Thanks for subscribing! Look out for your first newsletter in your inbox soon!
The best of London for free.
Sign up for our email to enjoy London without spending a thing (as well as some options when you're feeling flush).
Déjà vu! We already have this email. Try another?
By entering your email address you agree to our Terms of Use and Privacy Policy and consent to receive emails from Time Out about news, events, offers and partner promotions.
Love the mag?
Our newsletter hand-delivers the best bits to your inbox. Sign up to unlock our digital magazines and also receive the latest news, events, offers and partner promotions.
Things to Do
Food & Drink
Attractions
Los Angeles
Get us in your inbox
🙌 Awesome, you're subscribed!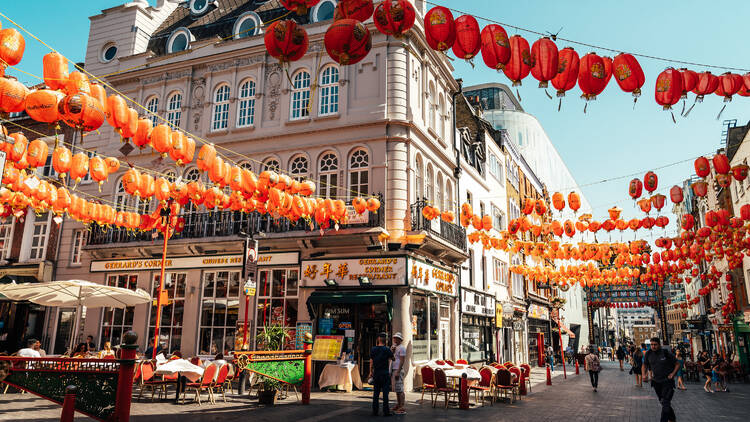 The best restaurants in London's Chinatown
Dine at the finest Chinese restaurants London's Chinatown has to offer, plus Thai, Taiwanese and Malaysian spots too
London's Chinatown is truly iconic. Wandering its central London streets is a guaranteed good time, but eating there is even more epic. Here you can take your pick from Sichuanese to dim sum and beyond at some of the capital's best Chinese restaurants . There are also a bevvy of Thai, Taiwanese and Malaysian spots within this delicious enclave, which is snuggled between Soho and Theatreland and has been there since the 1970s. Read on for our definitive list of the best places to eat in Chinatown.
RECOMMENDED: Find more Chinese restaurants in London .
An email you'll actually love
Where to eat in Chinatown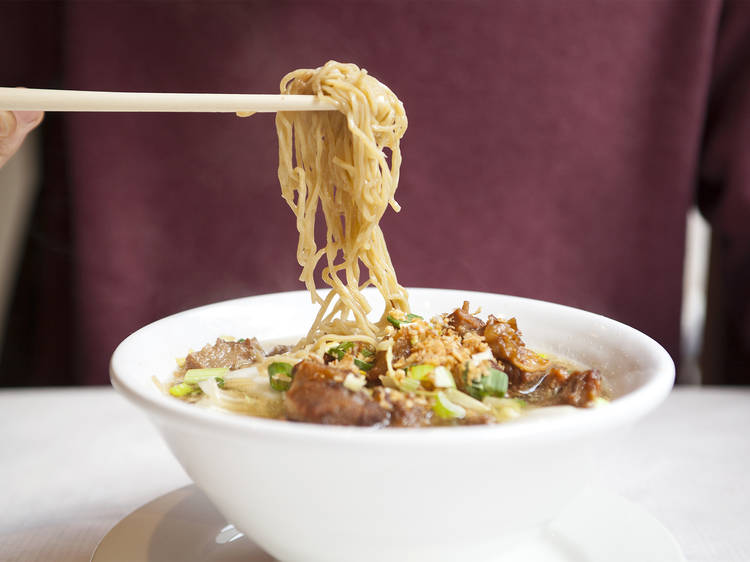 1. Four Seasons
The first thing you'll notice at this Chinatown institution is a row of crispy, tender Cantonese roast meats hanging in the window wafting its deliciousness beckoning you to enter. Evidently, that should be your go-to order. Famed for those three pillars of Cantonese cuisine: roast duck, char siu pork and crispy pork. Tuck into pure meaty succulence and flavourful intensity, and served in generous portions.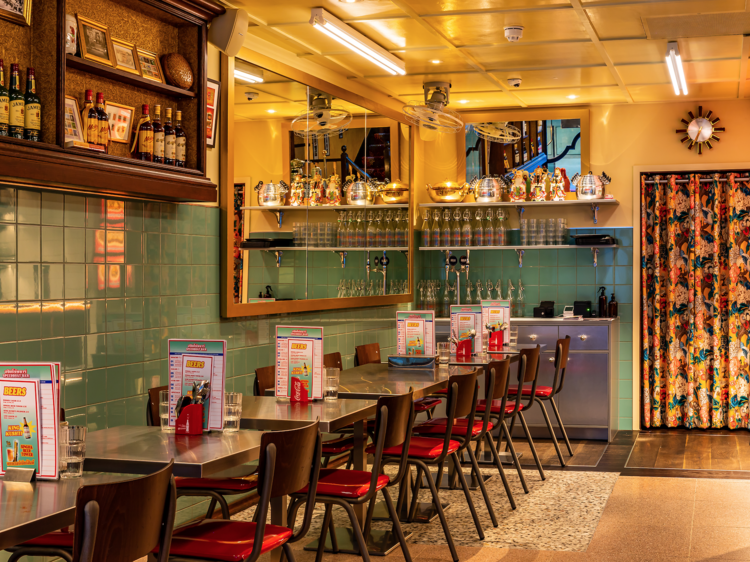 2. Speedboat Bar
There is some seriously sophisticated cooking going on at what at first glance seems to be a simple Rupert Street party restaurant. The bright and boozy Speedboat Bar is inspired by canteen food in Bangkok's own Chinatown and features cult dishes such as c hicken skins with zaep seasoning and chicken matches with green mango kerabu. If you like things spicy, you are you tortured tastebuds will love it here.
3. Café TPT
Big menus are commonplace in Chinatown, but such a vast repertoire seems impossible from a galley the size of an origami boat. Still, TPT manages to deliver its pan-Chinese bonanza with commendable aplomb. Best bets are Cantonese staples such as succulent roast duck on rice, although we crave the Hong Kong-style 'Tai pai tong hawker dishes' too.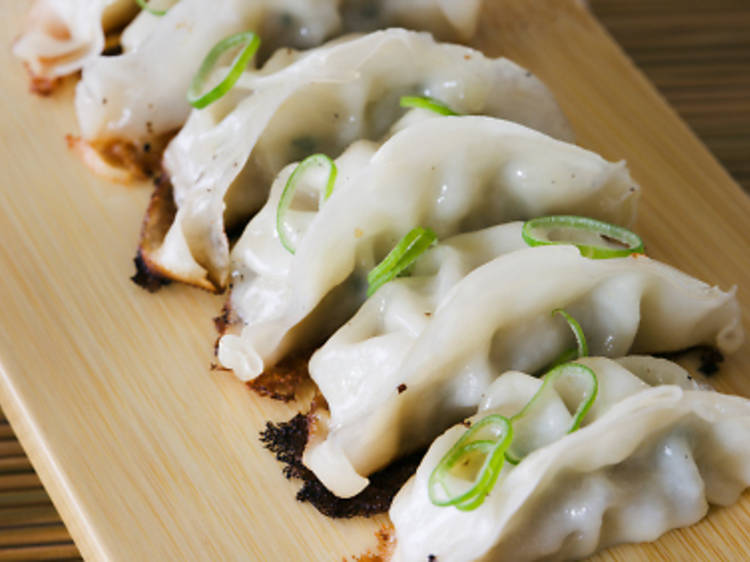 4. Dumplings' Legend
Never tried xiao long bao? Sometimes called 'soup dumplings', these Shanghai beauties are steamed parcels containing both filling and broth ­­– so be sure to pop them in your mouth in one go. The classic pork version is our favourite, while dim sum fans will adore the fried turnip cake and quivering cheung fun.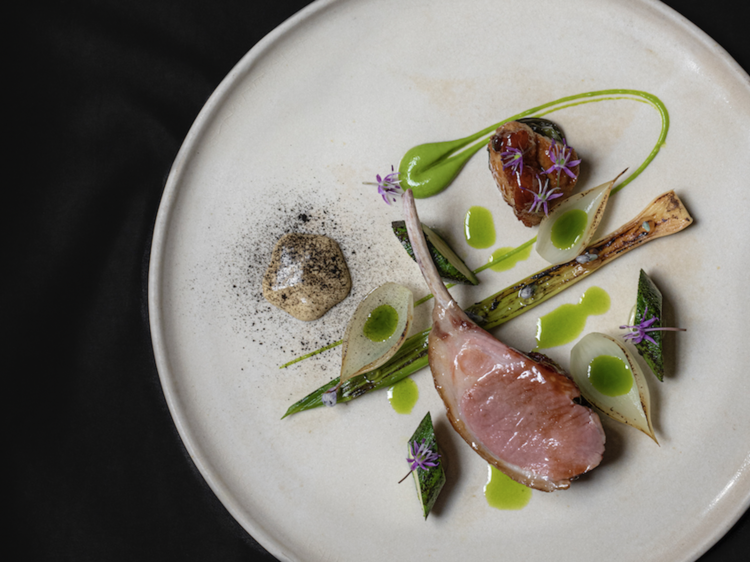 5. Evelyn's Table
4 out of 5 stars
price 4 of 4
A tiny 12-seater tucked under The Blue Posts pub on the outskirts of Chinatown, this is where you'll find head chef James Goodyear celebrating the best of British produce, then dressing it up using sleek Scandinavian and Japanese techniques, before presenting everything like a display garden at the Chelsea Flower Show. It's not cheap – at £125 a head – but this tasting menu, and the glam basement bunker where you eat it, is a true treat of a night out.
6. Wong Kei
Wong Kei is known for two things: brusque service and portions the size of your head. The menu is comically large at this no-frills longstanding Cantonese restaurant. Spanning from stir-fries to pork and seafood. The hero dishes worth your time is the thick and flavoursome beef brisket soup rice vermicelli noodles and the plump and juicy wonton egg noodles. Oh, and did we mention there's free tea?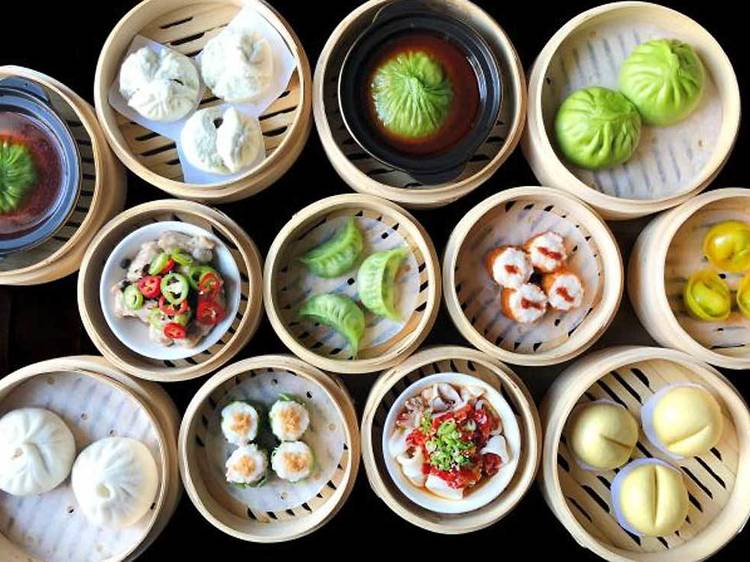 7. BaoziInn Romilly Street
It's all about the buns at this basement Chinese street-food restaurant. The bao as they should be: soft and fluffy on the outside; deliciously warm, sweet and sticky on the inside. Take a date for pre-theatre beers and bao, and you'll do very well here.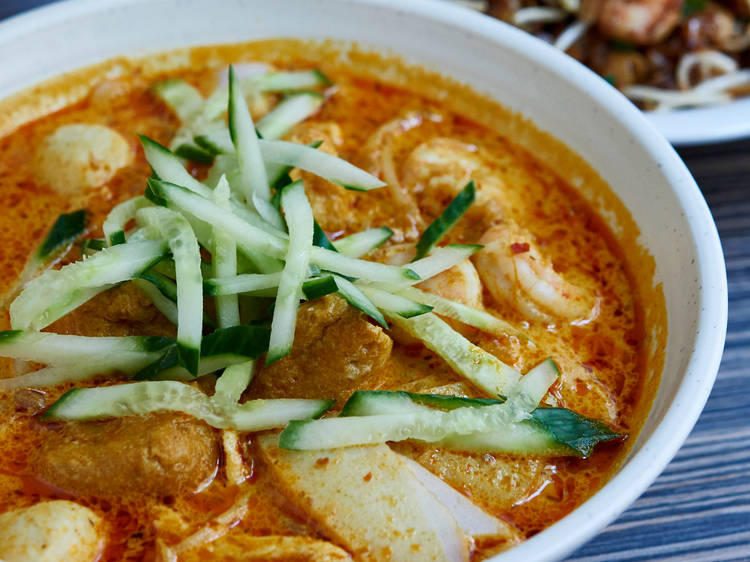 8. C&R Café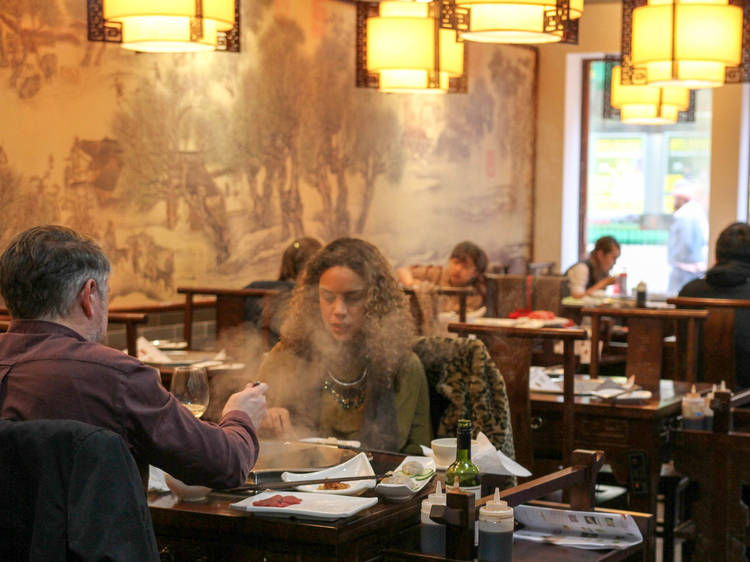 9. Shu Xiangge
Smack-bang on Gerrard Street, this Sichuan spot has space for a bubbling hotpot built into every table. If you're a fan of face-numbingly spicy food and cooking your own meat, head here to feast on adventurous ingredients like brains and beef aorta. Less adventurous delights like fish balls are available as well.
10. Gerrard's Corner
Dumplings are the stars of the show at this unpretentious joint on the corner of Gerrard Street. Prawn and chive dumplings are plump and sweet, while their rich crabmeat cousins come with a scallop balanced on top. If you like your dim sum with a side of nostalgia, adorably retro Gerrard's is for you.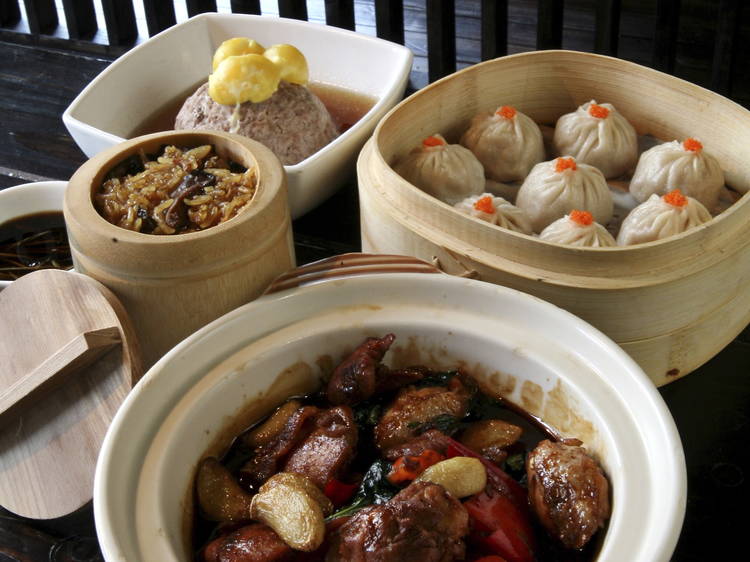 11. Leong's Legend
Leong's Legend is a tasty melting pot. Yes, it still has a Taiwanese edge, but there's also a sushi bar, a hotpot table and a mini-menu devoted to 'poeken' – think Japanese donburi meets on-trend poké. However, stick to the regional Chinese 'starred' dishes and you won't go far wrong.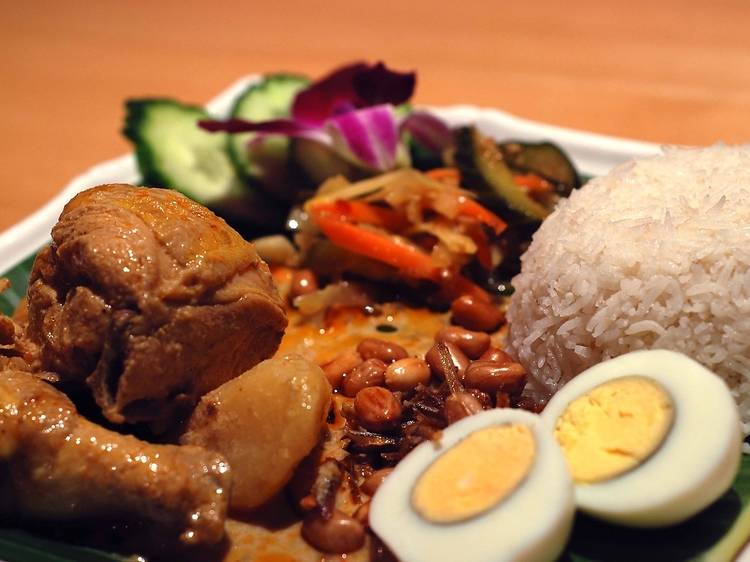 12. Rasa Sayang
With its hawker street food and low prices, this bustling Malaysian café reminds us of hot and humid days spent in Penang. Choose the light ground floor rather than the dim basement for ambience, and expect a greatest-hits menu of satays, roti canai, noodles and composite plates such as nasi lemak. Drink bubble tea or teh tarik ('pulled tea').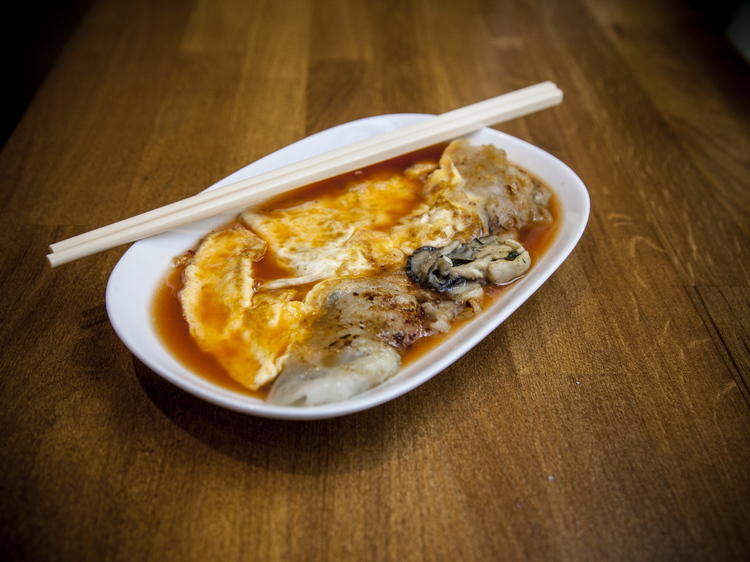 13. Old Tree Daiwan Bee
North London's Old Tree Bakery comes to Chinatown in the shape of this makeshift Taiwanese eatery. Ok, it's not exactly luxurious, but there's plenty of authentic stuff on offer. The homemade Taiwanese sausages, salt-and-pepper tofu, oyster omelette and noodles in richly spiced broth are all worth their modest price tags.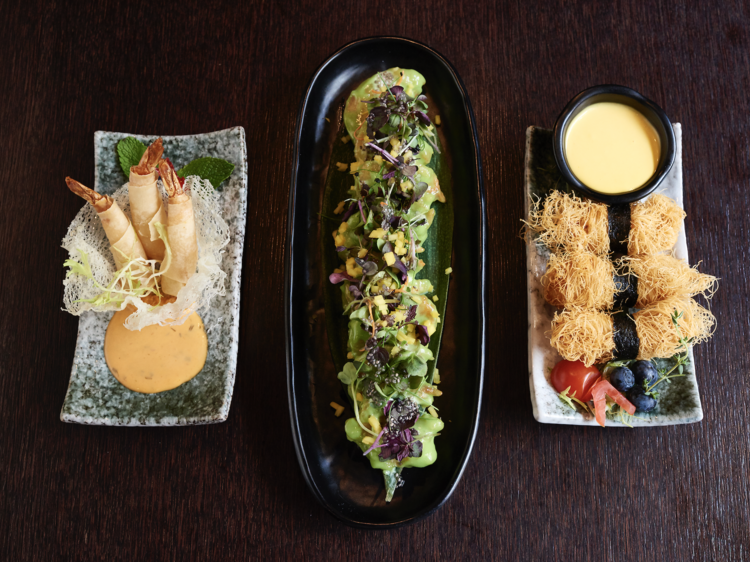 14. Plum Valley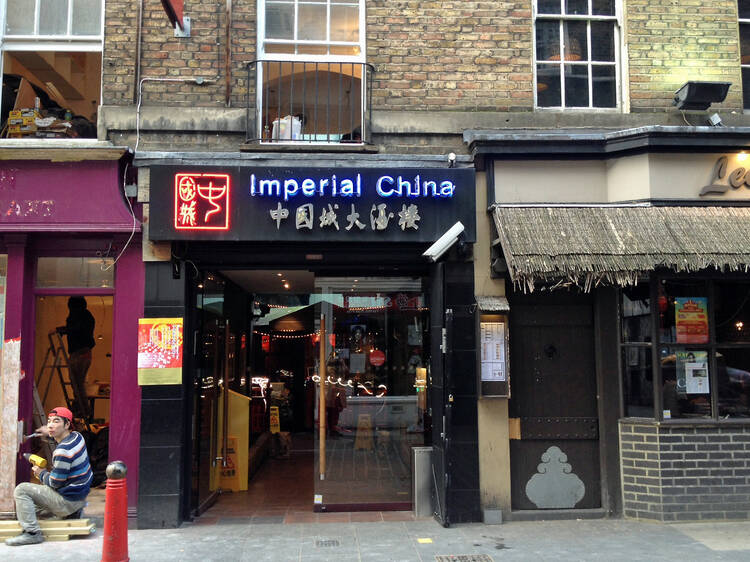 15. Imperial China
A small wooden bridge spanning an ornamental fish pond, warm wood panelling, kind lighting and a second floor offering a view of the dining room below set this Cantonese standby apart from its Chinatown rivals. The food is reliable, authentic and of decent quality – even if portions can seem rather miserly.
Support Time Out
We see you're using an ad-blocker. Ad revenue is Time Out's main source of income. The content you're reading is made by independent, expert local journalists.
Support Time Out directly today and help us champion the people and places which make the city tick. Cheers!
[image] [title]
Discover Time Out original video
Press office
Investor relations
Work for Time Out
Editorial guidelines
Privacy notice
Do not sell my information
Cookie policy
Accessibility statement
Terms of use
Modern slavery statement
Manage cookies
Claim your listing
Time Out Offers FAQ
Local Marketing Solutions
Advertising
Time Out Market
Time Out products
Time Out Offers
Time Out Worldwide

Search by ingredient, dish or cuisine
Search history.
Meat and Poultry
Fish and Seafood
Cakes and Baking
Everyday and easy
See more meat and poultry recipes
See more fish and seafood recipes
Petits fours
Pescatarian
Gluten-free
See more cakes and baking recipes
Dinner party
Sunday roast
All-day brunch
Midweek meal
Easy chicken
See all easy recipes
Cauliflower
Blood orange
Meat and poultry
Fish and seafood
Knife skills
Cakes and baking
Chef tricks
See all meat and poultry guides
See all fish and seafood guides
Butternut squash
Red cabbage
Sweet potato
See all vegetables guides
Fish preparation
Vegetable preparation
Sharpen a knife
See all knife skills guides
Line a tart tin
Make macarons
Make sweet pastry
Make biscuits
Sous vide meat
Sous vide fish
Sous vide vegetables
Sous vide fruit
Tips and tricks
See all sous vide guides
Pickled asparagus
Pickled mackerel
Pickled gooseberries
Pickled cucumber
Pickled red cabbage
See all pickling guides
Rib-eye steak
Chorizo crisps
Pomme purée
Crispy chicken skin
The many flavours of Chinatown: London's window into East and Southeast Asia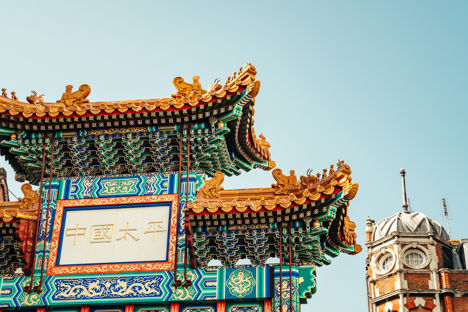 Year after year, London's Chinatown continues to develop and change to reflect the food trends and traditions of East and Southeast Asia, with its influences now stretching far beyond the bounds of China. We delve into the history of Chinatown and find out from those who run its restaurants what makes is so unique.
Great British Chefs is a team of passionate food lovers dedicated to bringing you the latest food stories, news and reviews.
Great British Chefs is a team of passionate food lovers dedicated to bringing you the latest food stories, news and reviews as well as access to some of Britain's greatest chefs. Our posts cover everything we are excited about from the latest openings and hottest food trends to brilliant new producers and exclusive chef interviews.
Bright red lanterns hang from above, tourists from all over the world spill out of restaurants and a torrent of tempting aromas waft through the air – there aren't many areas of London more recognisable than Chinatown. A tourist hotspot for decades as well as a home away from home for many expats, this clutch of streets in the heart of the West End is far more than a collection of Asian restaurants, supermarkets and dessert parlours; it's a glimpse into East and Southeast Asia (ESEA) and its ever-changing food scene. Chinatown has been through a number of changes on its journey to becoming what is today, but how did it all begin?
It's difficult to picture Chinatown being anywhere other than where it is today, but Chinatown actually began its life further east in Limehouse at the start of the twentieth century, where the first Chinese immigrants settled many years earlier. However, after British soldiers started to return to central London from Asia newly enamoured with the cuisine, Chinatown moved to its current Soho location in 1937. By the late sixties, the area was becoming closer to what we know today; restaurants and shops were springing up all over the place as more workers moved over to London from Hong Kong – a British colony at the time. Over the next twenty years, Chinatown became more and more established, with some of its most notable features such as the Chinese gates appearing and the streets becoming pedestrianised.
Founder of Chinatown mainstays Dumplings' Legend and Leong's Legend, Geoff Leong moved to London from Hong Kong in 1986 with his family and has had a presence in Chinatown since the mid-nineties. In the past twenty years, Geoff has specialised in serving Cantonese cuisine and has introduced a wider range of regional cuisines to the area. 'For me, the key moment was when we were opening Leong's Legend,' says Geoff. 'My mum was Taiwanese and I thought it was time to do a really great Taiwanese street food place, so no roast duck or hors d'oeuvres. We wanted to create a restaurant where we weren't just doing the same as everybody else. It was about the aromatic tastes of southern China and Taiwan and when it opened it was incredibly well-received.'
Geoff is now best-known for his restaurant Dumplings' Legend, famed for its xiaolongbao (Shanghai soup dumplings), where as well as Cantonese classics, such as yum cha (a traditional Cantonese brunch involving Chinese tea and dim sum) they also serve a myriad of regional dishes from all over China. 'It's great to see how Chinatown's really changed,' he smiles. 'I now honestly don't think there's any other place in the world – including China and Hong Kong – where there's so much food in two or three streets. Nowhere else has this incredible diversity of Chinese regional cooking all in one place.'
It's by no means just regional Chinese cuisine that's become a part of Chinatown over the years, however. Food from all across ESEA is now represented in the area, with everything from Japanese food at the likes of Yatay to Vietnamese at Wardour Street's Viet Food. One such restaurateur who decided to offer something different in Chinatown was Ellen Chew, the owner of Rasa Sayang – a Malaysian and Singaporean restaurant. Noticing the lack of places offering the hawker-style Malaysian food she loved, in 2008 she decided to open her restaurant in Chinatown and quickly found that while she was getting plenty of passing local trade, a lot of her customers were actually from Southeast Asia.
'We'd get a lot of students coming in who grew up in Malaysia and told us they were missing the food from home,' says Ellen. 'They would often come to Rasa Sayang to eat our homestyle Straits cuisine, with many of them still coming in ten years later!' It's this sense that Chinatown is also a home away from home for people from so many different parts of ESEA that makes it such a unique place. Since opening Rasa Sayang, Ellen has also seen how much easier it has become to run a restaurant in Chinatown, particularly in regards to sourcing ingredients. 'It used to be very difficult to get a lot of the ingredients we use in the restaurant,' she explains. 'Sometimes we had to buy them when we were visiting Malaysia, vacuum-pack them and fly them back over. Now, though, you can order most of them online, and many of our specialist ingredients are available from shops in the area.'
More recently a different style of food altogether has taken Chinatown by storm, bringing a whole new generation of business owners to the area. East Asia's dessert craze has been booming for a while now, with new trends constantly finding their way over to the UK. This has led to Chinatown now having its own dedicated 'dessert alley' down Newport Court, packed full of colourful, innovative and delicious sweet treats and bubble tea shops. One such dessert parlour is Mamasons, founded by Mae Maglanoc and Omar Shah, which specialises in Filipino ice cream and desserts, including popular Filipino sundae Halo Halo and ube-filled bilog , a pandesal milk bun filled with purple yam ice cream. When they were first approached about opening in Chinatown, they were worried it wouldn't be the right place for a concept like Mamasons but it has gone on to be their most successful site. 'At the time we hadn't really considered Chinatown as our next location,' explains Mae. 'When I initially thought of Chinatown, I just thought of Gerrard Street and traditional Cantonese cuisine, but we were presented with the idea of the development of a specialist 'Dessert Alley', which was great. When I saw the massive queue on opening day, I was amazed and almost cried with happiness.'
Mae has also seen for herself how Chinatown has developed over time, as she has been visiting the area for most of her life. 'My family used to come to Chinatown every Sunday for dim sum,' she says. 'But afterwards there were no dessert places to go to; they just didn't exist. Now Newport Court has more of a selection than any other part of London and that's really cool.'
For Tony Fang, who in 2017 opened bubble waffle cone concept Bubblewrap on Wardour Street, one of the biggest appeals of launching in Chinatown was the fact they'd be part of a new experience for people visiting the area. 'Chinatown is just such a unique area,' Tony explains. 'It isn't the same as places like Covent Garden where tourists are purely sightseeing – people come for an immersive and new experience. There are so many different cultural cuisines to try and experience and I honestly think it will stay unique forever.'
No matter who you speak to in Chinatown, the word that people keep going back to when describing the area is 'unique' and it's easy to see why. The abundance of traditional Cantonese restaurants which fill Gerard Street are still very much at the core of Chinatown. However, as more restaurants offering other styles of cuisine have gradually opened over the years, it has become somewhere which doesn't just reflect the food trends of China, but of ESEA more broadly. This is one of the many reasons why Chinatown continues to be one of London's most popular and exciting dining destinations.
Subscribe to the
Great british chefs newsletter.
Join an ever-growing community of food lovers now by subscribing to our newsletter and get all the latest recipes, features and much more to your inbox
Get in touch
Please sign in or register to send a comment to Great British Chefs.
You may also like
Michelin star results 2022
Restaurant map
Ingredients
Recipe collections
How to cook

INFORMATION
Work with us
Insights and consultancy
Great British Chefs shop
Great British Chefs x TheFoodMarket.com
Join our Great British Chefs Cookbook Club
Contributors
Photography
Privacy Policy
Terms and Conditions
Expedia Rewards is now One Key™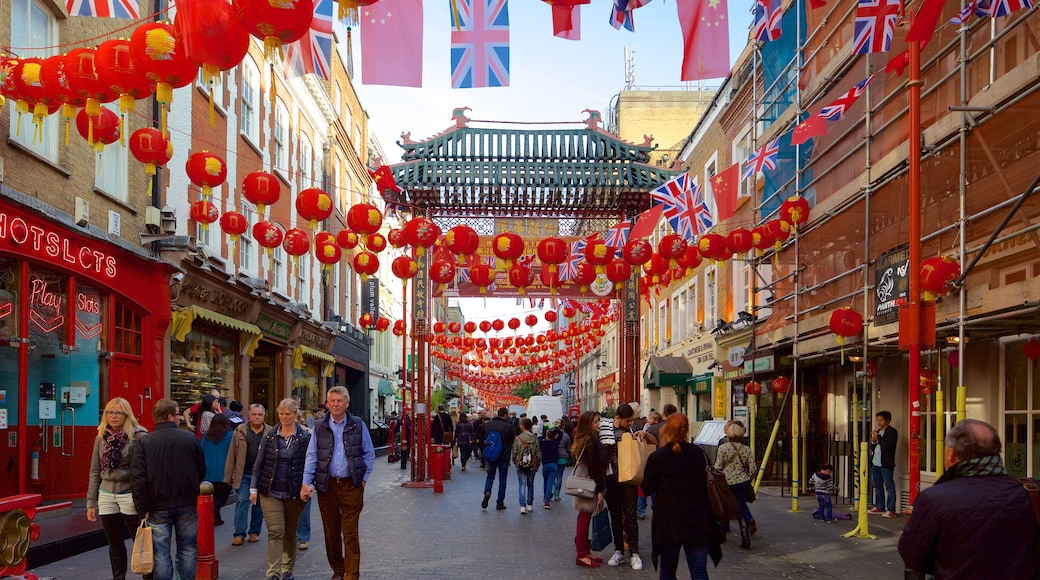 Visit Chinatown
Take a journey into the Far East at Chinatown. This is the bustling epicenter of London's East Asian community, home to bars, restaurants and souvenir shops. It's also a main venue for flamboyant celebrations and a place to attend painting and marital arts classes. Chinatown started in London's East End during the 18th century and moved to its current location, close to Leicester Square, in the 1950s.
Chinatown is essentially two parallel streets, Gerrard Street and Lisle Street. Start your journey at the either end of pedestrian-only Gerrard Street and walk through one of the ornamental gates. These feature red-painted columns, intricately-carved calligraphy and dragon sculptures. Admire the traditional Asian-style shopfronts, many guarded by statues of mythical creatures and decorated with lanterns and Chinese symbols.
Appreciate the intoxicating aromas that escape from the dozens of restaurants that line the area's streets. Choose from casual and fine-dining options to fast food joints and teahouses. Sample typical Chinese dishes such as stir fry and dim sum, which is an array of bite-sized steamed or deep fried snacks. Find venues dedicated to Japanese, Thai and Vietnamese flavors, too.
Spend some time poking around the shops packed with colorful souvenirs, which include Buddha figurines, incense sticks and lucky charms. Treat yourself to a massage at a reflexology salon.
Glimpse into the cultural activities of the local community at the Chinese Community Centre. Long-term visitors might want to take Cantonese lessons or sign up for art, tai chi and taekwondo classes.
A great time to visit this district is for the Chinese New Year celebrations, which take place in January or February. Watch parades of flamboyant dance troops and dancing dragons. Enjoy live music and theatrical performances at a temporary stage on nearby Trafalgar Square.
Situated in London's West End district, Chinatown is easy to get to via the city's extensive public transport network. The most convenient Tube stations are Leicester Square and Piccadilly Circus. Carnaby Street, The National Gallery and National Portrait Gallery are among several attractions that are just a short walk away.
Popular places to visit
Leicester square theatre.
Enjoy a show at Leicester Square Theatre, a storied theater in London. Experience the acclaimed art scene and entertainment choices in this culturally rich area.
Once the private hunting grounds of a king, London's most famous park is today a place where everyone can enjoy gardens, monuments and music performances.
Attend music and sports events, see a movie or go bowling in one of the busiest arenas in the world, situated inside this iconic dome by the River Thames.
Tower Bridge
An engineering marvel, this London icon spans both the River Thames and the ages.
Buckingham Palace
Britain's most famous home, the luxurious personal residence and workplace of Queen Elizabeth II, is open to all.
One of London's most resounding landmarks is a treasured emblem of England.
Chinatown Hotel Deals
Reviewed on Nov 15, 2023
Reviewed on Nov 16, 2023
Check Chinatown hotel availability
Other neighborhoods around chinatown.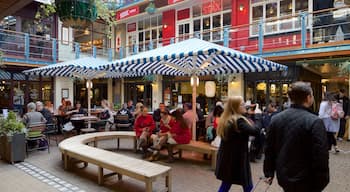 London City Centre
Piccadilly Circus and London Eye are a few top attractions in London City Centre. Hop around the city on the metro at Charing Cross Underground Station or Leicester Square Underground Station and check out the area's fascinating museums, stunning river views, and acclaimed art galleries.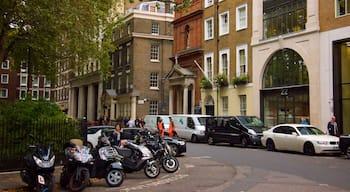 Travelers to Soho praise its fantastic nightlife. If you've got some more time to explore, be sure to make a stop by Piccadilly Circus and Oxford Street.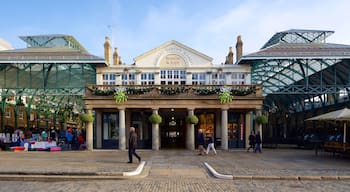 Covent Garden
The lively bars and colorful gardens are just a few top-rate features of the neighborhood. Make a stop by Piccadilly Circus or Oxford Street while you're visiting, and jump aboard the metro at Covent Garden Underground Station to get around town.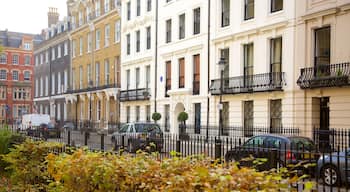 Known for its fascinating museums and popular shops, there's plenty to explore in Bloomsbury. Check out top attractions like The British Museum and Oxford Street, and jump on the metro at Euston Square Underground Station or Russell Square Underground Station to see more of the city.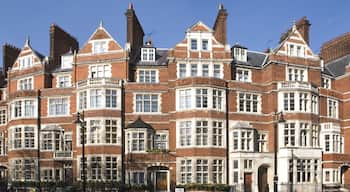 Mayfair is highly notable for its popular shops, and you might want to visit top sights like Oxford Street and Piccadilly Circus. See more of London by jumping on the metro at Bond Street Underground Station or Bond Street (Elizabeth Line) Station.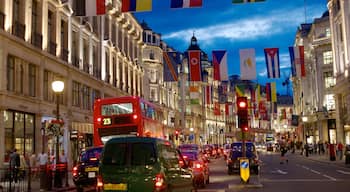 Oxford Street and Piccadilly Circus are a few top attractions in West End. Hop around the city on the metro at Bond Street (Elizabeth Line) Station or Oxford Circus Underground Station and check out the area's fascinating museums, popular shops, and acclaimed art galleries.
More to Explore
Most vegan-friendly cities for a delicious vacation, virtual tour of london: museums, landmarks & culture, 12 new places for your 2020 bucket list, the top 10 museums in london, top 5 babymoon getaways, surprising words in british english.
Chinatown Hotels by Star Rating
More hotel options in chinatown.
Hotels in top London neighborhoods
Other vacations you might like
Charing Cross Road Vacations
Hyde Park Vacations
O2 Arena Vacations
Tower Bridge Vacations
Buckingham Palace Vacations
Big Ben Vacations
Piccadilly Circus Vacations
London Bridge Vacations
London Eye Vacations
Wembley Stadium Vacations
Tower of London Vacations
Warner Bros. Studio Tour London Vacations
Oxford Street Vacations
The British Museum Vacations
ExCeL Exhibition Centre Vacations
Natural History Museum Vacations
Trafalgar Square Vacations
St. Paul's Cathedral Vacations
Marble Arch Vacations
Leicester Square Vacations
The Shard Vacations
Westfield London Shopping Centre Vacations
Covent Garden Market Vacations
Westminster Abbey Vacations
Russell Square Vacations
Kensington High Street Vacations
Liverpool Street Vacations
Finsbury Park Vacations
Emirates Stadium Vacations
Royal Albert Hall Vacations
4 stars (1862)
Beach Hotels (1)
Boutique Hotels (2)
Cheap Hotels (2)
Family Hotels (4)
Hotels with Laundry Facilities (5)
Resorts & Hotels with Spas (2)
Other Hotels near Chinatown, London
London City Centre Hotels
City of Westminster Hotels
West End Hotels
Things to do
I only need accommodations for part of my trip
Additional information about Expedia Group
Find & experience authentic East Asian cuisine in the very heart of London...
Japanese Cake Boutique well-known for their 30-layered mille crêpe cake.
Due to the lockdown restrictions, many of Chinatown's restaurants, shops, cafes and bars are only open for takeaway, click & collect, delivery or are otherwise temporarily closed. To continue supporting Chinatown businesses during these challenging times, please head over to their websites for the most up to date information on food delivery, online shopping and gift voucher offerings.
This innovative take on Vietnamese street food by Michelin-starred chef Jeff Tan won't leave you wanting. If anything, it'll leave you wanting more.
Find & experience authentic East Asian cuisine in the very heart of London.
Find a place
Get inspired, news & promotions, year of the rabbit, chinatown map.
Choose from over 70 authentic East Asian restaurants, shops, bars and cafés...
Over 70 restaurants with authentic cuisine from Asia and beyond.
Learn about our history and plan your next trip
Our History
Stay up to date with the latest restaurant openings, events and, exciting news from Chinatown...
It's the Year of the Rat and all of London is ready to celebrate Chinese New Year.
Tradition and symbolism are at the heart of Chinese New Year feasts. Explore these 8 foods and learn why they're essential at the Chinese New Year dinner table.
Find out about Chinese culture, from historical traditions to the latest fashion and tech trends...
Discover the best Valentine's Day specials in Chinatown London.
Meet some of Chinatown London's most inspirational women who've helped shape the area to the diverse destination it is today.
Meet the maverick behind some of Chinatown London's most inventive, experimental dim sum; Plum Valley's head dim sum chef, A-Zhong.
From devastatingly good dim sum to historic buildings and picturesque parks, our essential itinerary whisks you round all Guangzhou's unmissable highlights.
Taste sensations are waiting for you in Chinatown. Make us part of your next London trip.
Our use of cookies
We use necessary cookies to make our site work. We'd also like to set optional analytics cookies to help us improve it. We won't set optional cookies unless you enable them – we will set a cookie on your device to remember your preferences. For more detailed information about the cookies we use, and to change your preferences at any time, please see our Cookie policy.
About Cookies
Preferences, unclassified.
Group Enquiry? NEW
15 Things To Do In Chinatown London
Activities To Do In Chinatown London
Here are some of the best things to do in chinatown london:, quick navigation.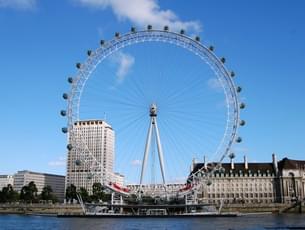 Shop For Traditional Goods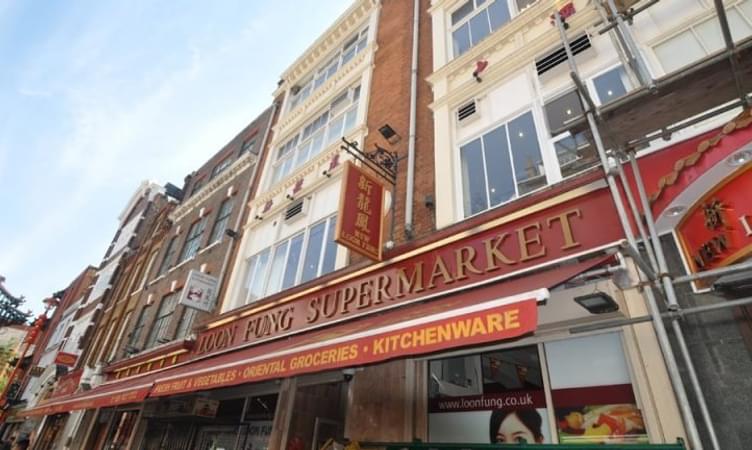 Shopping is one of the most enjoyable things to do in Chinatown London if you want to experience some retail therapy while also finding some bargains.
From spices, fresh fruits and vegetables, cosmetics, Chinese-inspired trinkets, and gifts to home decor items, you will find everything here.
Shop at New Loon Moon, Lucky Foods, or SeeWoo supermarkets for fruits, vegetables, and spices, or go to Golden Gate Cake Shop or Kowloon bakery for delicious pineapple buns and custard tarts.
Sample mini taiyaki at Chinatown Bakery and try stuffed soft-serve matcha ice cream at Bake.
Check out the Asian cosmetics and skincare range at P2Bus and Oseyo and shop for paper lanterns, Chinese clothing and knick-knacks, Maneki-neko, and many other items from shops dotting the streets of Chinatown London Recommended Read:    Things To Do In London Book Now -  London Tour Packages From Delhi
Visit The Four Gates
The four Paifangs (archways) that stand on the boundaries of Chinatown London make for a great photo backdrop when strolling through Chinatown.
The first three gates, built in 1980, are located on Gerrard Street and impress visitors with their stunning design and architecture. 
The fourth gate on Wardour Street gate was constructed in 2016 as a tribute to the influential Chinese Qing dynasty. 
Exploring the fourth gate is one of the most intriguing things to do in Chinatown London since it is the largest Chinese gate in the United Kingdom and adorned in a dazzling array of electric blue, green, and gold. Suggested Read:  Places To Visit In London Book & Checkout -  Mumbai To London Holiday Packages
Karaoke At Plum Valley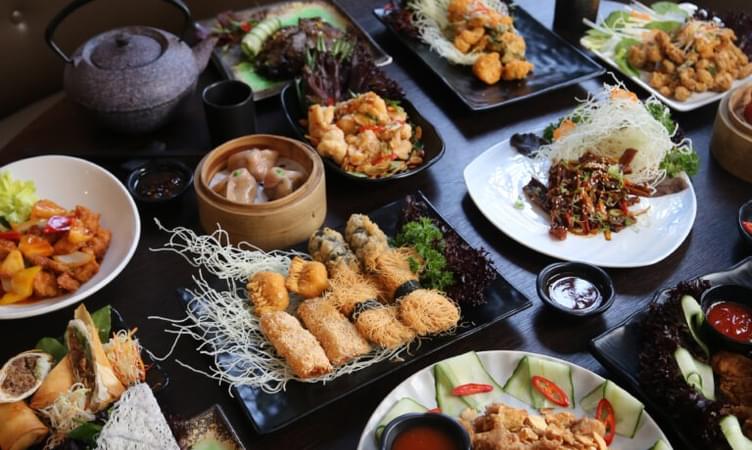 Plum Valley is an upscale Cantonese restaurant in London's Chinatown, boasting chic interiors, a vast dim sum menu, and some of the most opulent Karaoke booths in the city.
Enjoy this East Asian tradition, Karaoke in any of the rooms while taking in the night's exciting atmosphere.
Complete with neon lights, a flat-screen TV, and a full dining table, the rooms offer a wide variety of tunes, including well-known Western tracks, and famous Chinese and Korean pop music.
Pick out one of your favourite songs and sing along to it to get your vocal chord ready for the atmosphere.
Celebrate Chinese New Year
Tour London's Chinatown during the festivities that mark the beginning of the Chinese New Year to have an unforgettable experience.
The neighbourhood comes alive with a riot of colours, music, dance, costumes, food, and exciting vibes and will leave you astounded.
See the mix of Chinese and London influences during the event that entices visitors of all ages, ensuring a fantastic time.
Watch a traditional Chinese Dragon Dance or attend the beautiful Lantern Festival, which are the highlights of the festival.
Enjoy parades, live performances, and a variety of stalls, all of which combine to make it one of the most exciting things to do in Chinatown London. Also Read:  Things To Do In Kings Cross Must Book -  London Tour From Chennai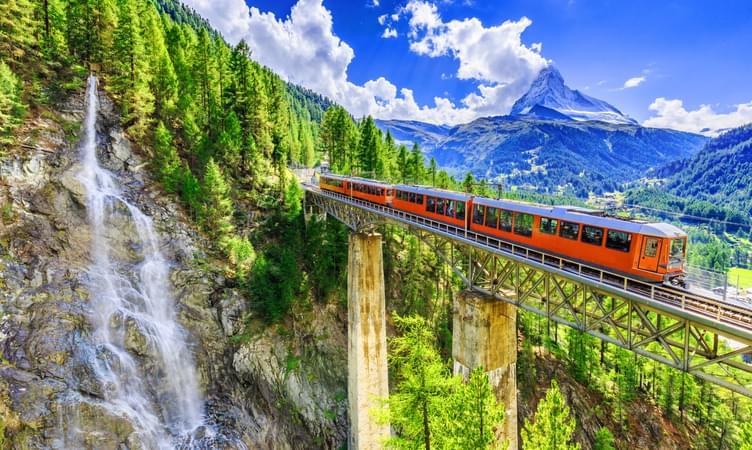 Best of Switzerland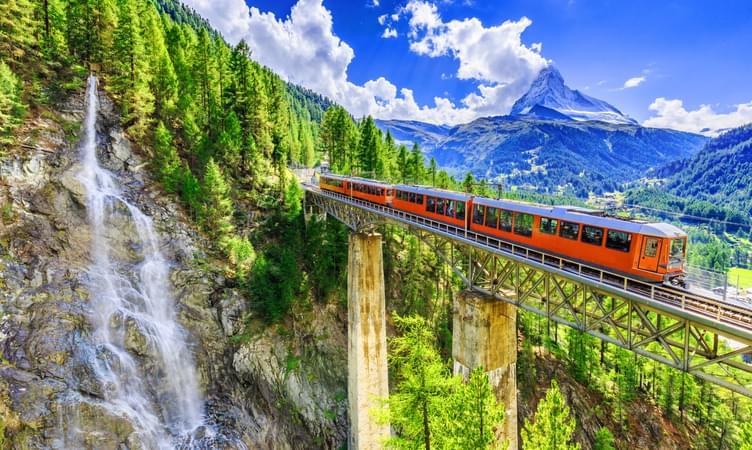 Take A Photo Tour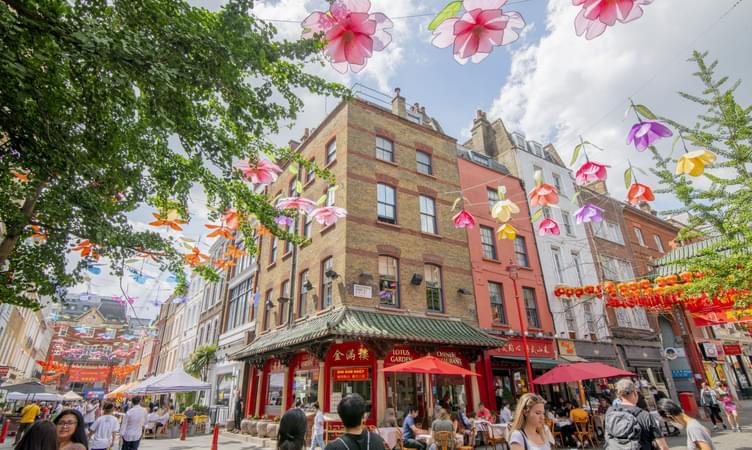 A photo tour of this bustling neighbourhood sounds like the ideal way to take in all the beautiful sights.
Choose a guided tour or explore on your own; there are plenty of photo opportunities in the area.
Take some memorable photos of the lantern-lined streets, colourfully decorated alleys, or impressive doorways, or pose in front of stunning attractions like the grand four gates, stone lions, and contemporary art pieces.
Stroll through the alleys to find a variety of beautiful restaurants and cosy boutiques worth photographing in addition to dining.
Visit during Chinese New Year celebrations to fill your camera memory with eye-catching photo opportunities from excellent decorations, parades, dances, costumes, and Chinese culture and religion. Recommended Read:    Things To Do Near Alton Tower Book & Checkout -  Europe Packages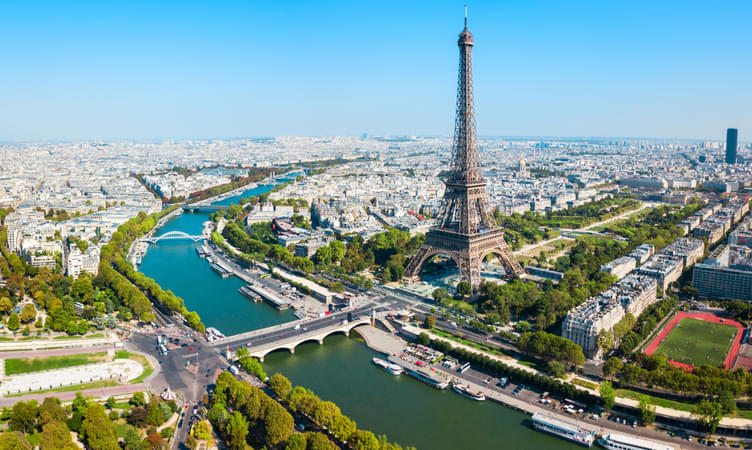 Best of Paris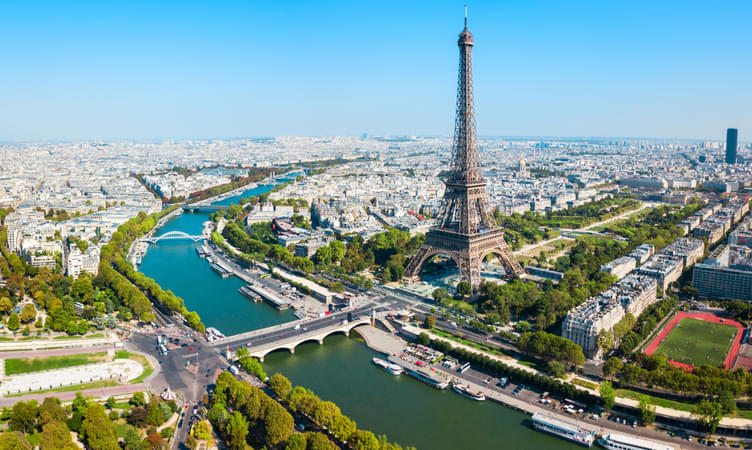 Explore Chinese Art At CAN
Chinese Art Now (CAN), a London-based exhibition space dedicated to Chinese art, showcases the country's rich cultural heritage through a variety of exhibitions and performances.
Augmented Chinatown 2.0 is a live, interactive audio tour of Chinatown that includes augmented reality images and mini-dramas hidden behind its facades.
The organisation also hosts an annual CAN festival, which includes a range of events leading up to the Chinese New Year centred on Chinese culture.
Art and performance artists can use CAN as a place to work and display their creations.
Check out the events and workshops held at the venue to satiate your inner art enthusiast.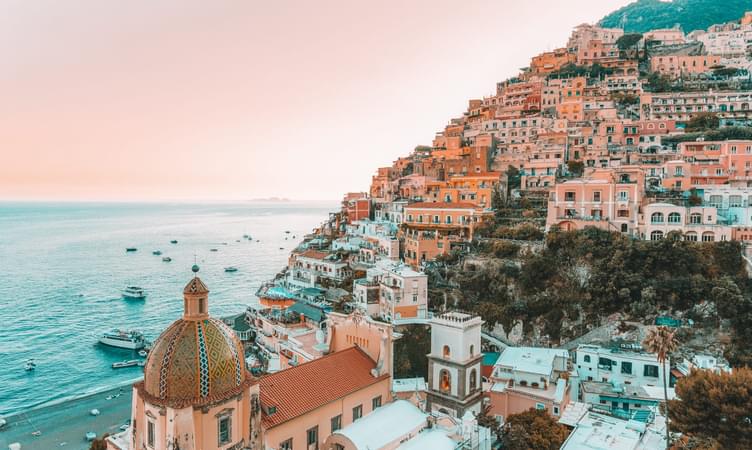 Best of Italy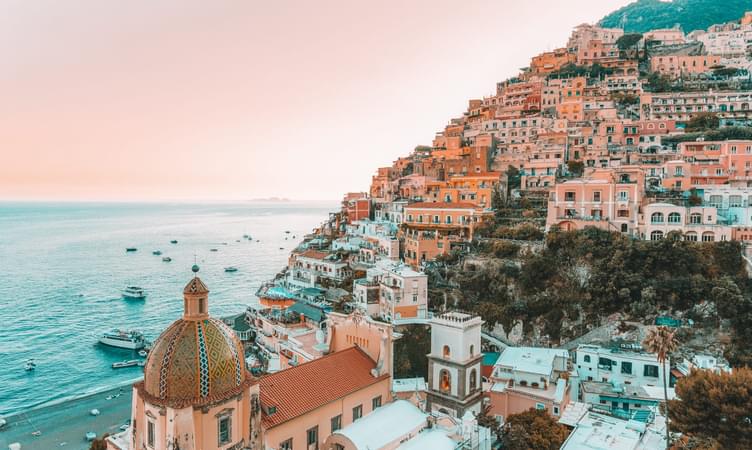 Have A Drink At A Local Bar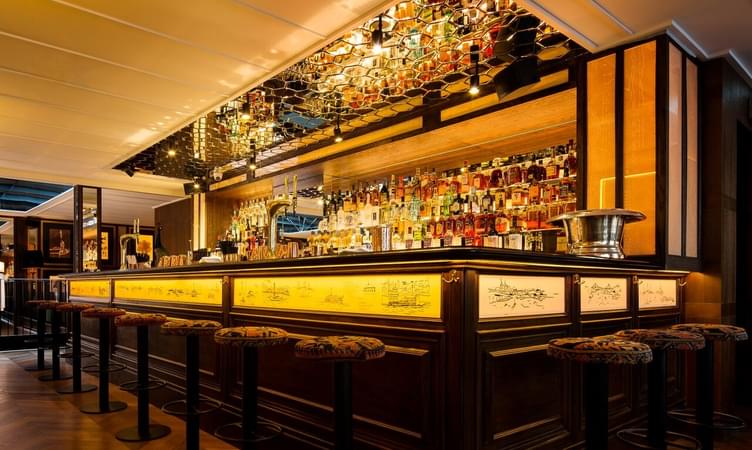 Having a drink with the locals in some of the best bars is one of the most pleasurable things to do in Chinatown London.
Enjoy the lively environment, premium beers, and upscale alcoholic beverages at Blue Post on Rupert Street, or try the midnight dim sum and smoking cocktails at Opium.
Head to the Experimental Cocktail Club, a speakeasy-style bar, to enjoy a drinking den atmosphere, art deco interiors, and a vast selection of absolutely original cocktails that will keep you going back for more.
Experience the lively ambience of The Light Lounge, or The Mulwray, or Ku Bar while taking in the fun of having a few refreshing drinks with your partner or friends. Know More:  Things To Do In Victoria London Also Checkout -  Europe Tour Package For Family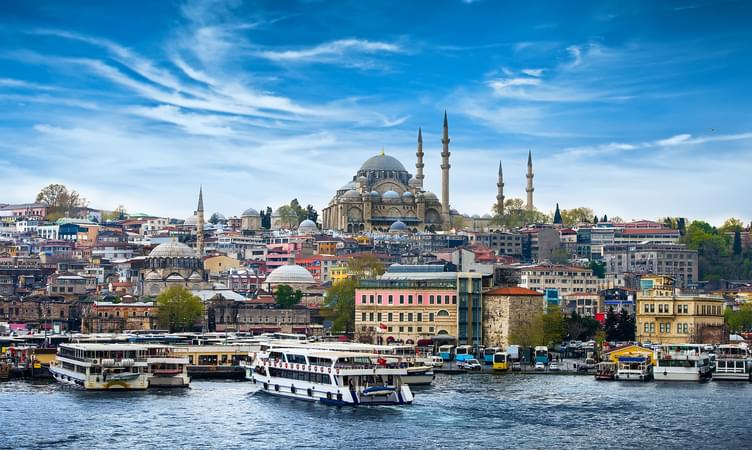 Best of Istanbul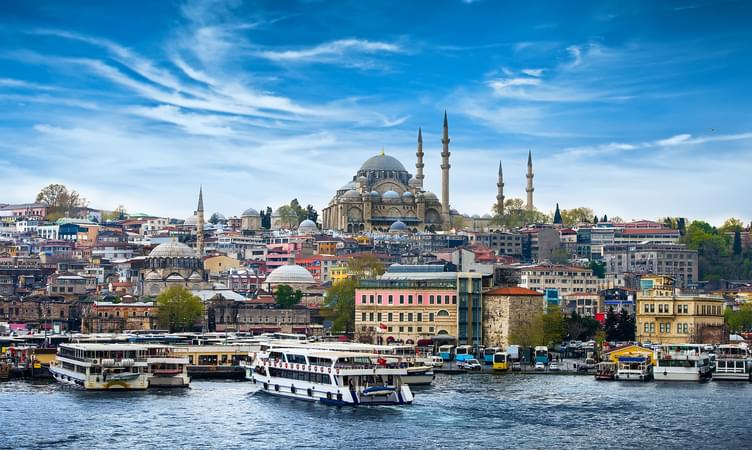 Visit Blue Post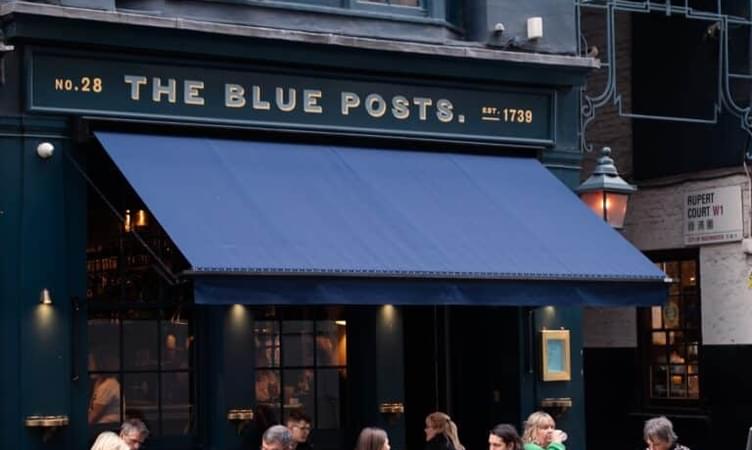 The Blue Posts is a three-storey drinking den paradise located on the Rupert Street of Chinatown London.
The pub on the ground floor is ideal for Craft beer enthusiasts since it features independent IPAs, local beers on tap, and traditional wines like Slovenian Pinot Grigio.
The Mulwray on the first level serves cocktails such as the White Mischief made with mezcal and the Magic Hour made with pineapple rum.
Evelyn's Table is a modest subterranean restaurant located in the basement, offering inventive modern European cuisine with a specialisation in Italian specialities.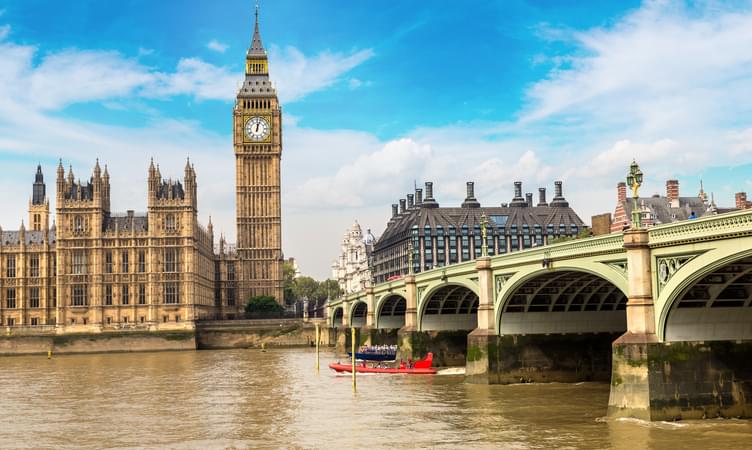 Best of England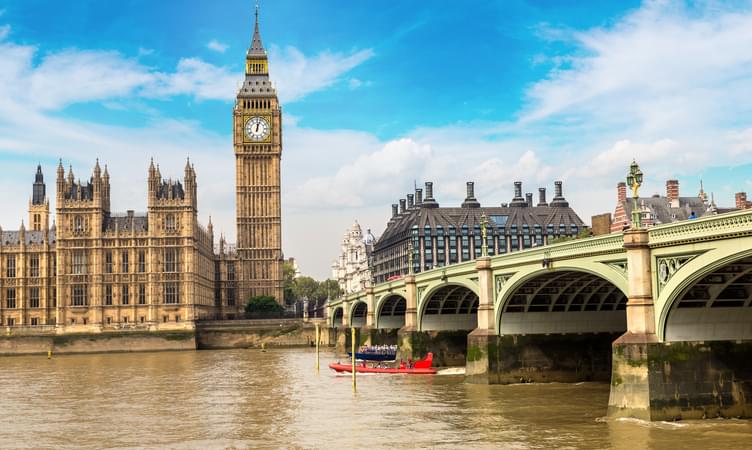 Stop By Experimental Cocktail Club
A well-known speakeasy bar on Gerrard Street in Chinatown, London, Experimental Cocktail Club provides exquisitely-crafted drinks to discerning drinkers.
Offering a menu of pure alcohol alchemy with exquisitely-balanced house cocktails, it is a haven for cocktail lovers.
The signature drink is a brilliant combination of eleven ingredients with a pungent, smoky aroma and is a must try.
Try Spring On It or rare and difficult-to-obtain vintage spirits, such as the Vintage Negroni to have a unique experience.
Snack on cheese and charcuterie if feeling hungry, and find a superb range of premium champagnes to satiate your cravings for refreshing drinks.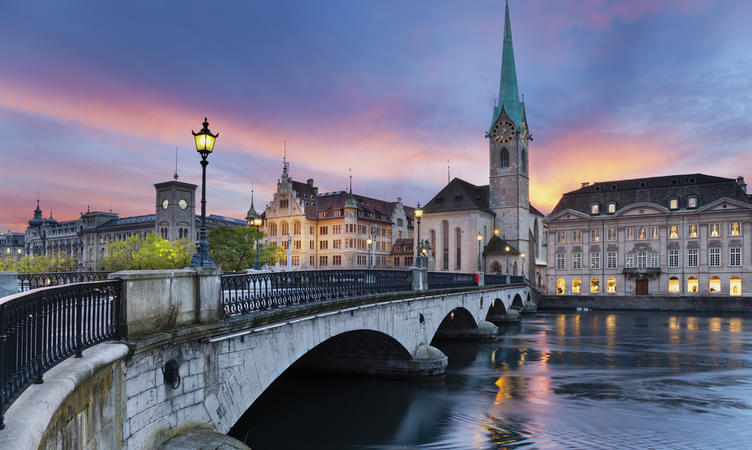 Best of Zurich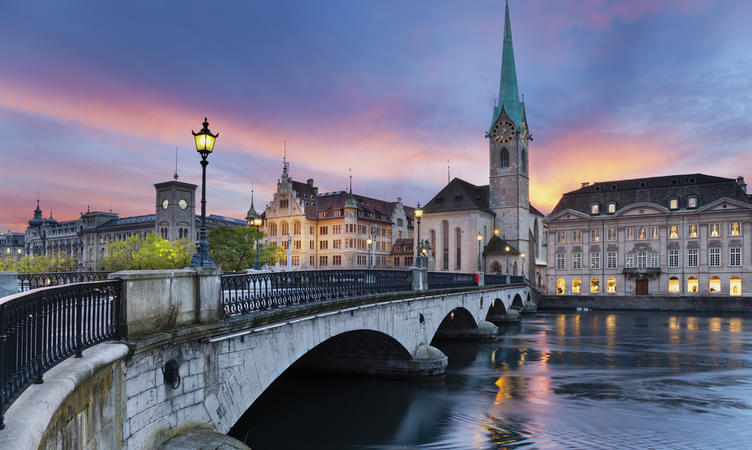 Admire The 1888 Mural
Pay a visit to Horse and Dolphin Yard, just off Macclesfield Street, to take in the spectacular 1888 outdoor mural that measures 8 by 5 m.
Observe Chinatown's rich history and vibrant culture reflected in the mural that was unveiled on the 18th of August 2008.
See the artwork from close up which appears to be a dish of rice, but closer scrutiny reveals that it is made up of 1888 different pictures donated by members of the public. '
Seeing this 1888 mural is one of the most worthwhile activities to do in Chinatown London as it symbolises the solidarity of the Chinese community in the United Kingdom.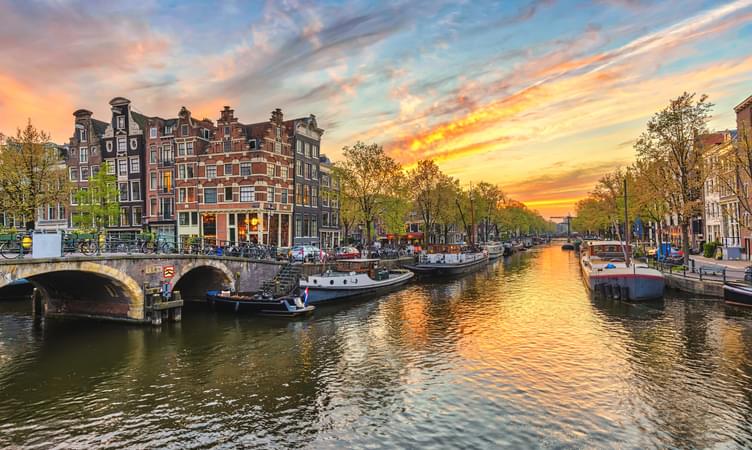 Best of Amsterdam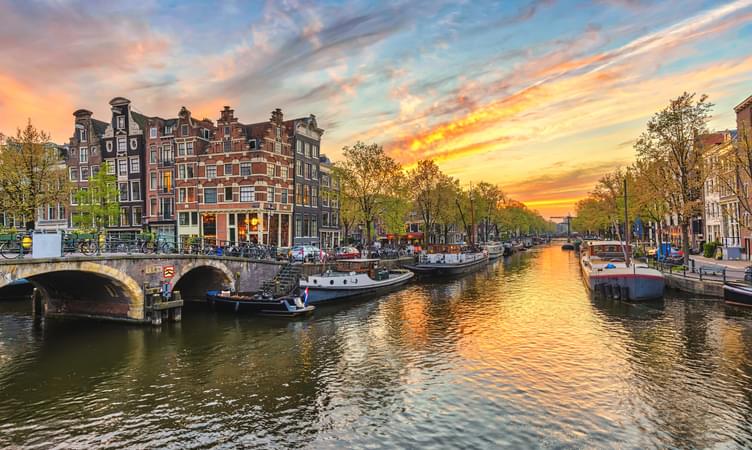 Opium is a well-kept secret for sophisticated drinkers who seek out alluring ambiance and magically concocted concoctions.
Spread over two stories, Opium is a dim sum parlour and cocktail bar patterned after 1920's Shanghai theme.
At Opium's Academy, you may have Apricot & Cardamom Old Fashioneds, while the Apothecary serves globally-inspired cocktails such as the Bitter Sweet Boulevardier.
Behind the red curtains on the second floor is the Peony bar, where you may combine your dim sum with Peony's exquisite Matcha.com.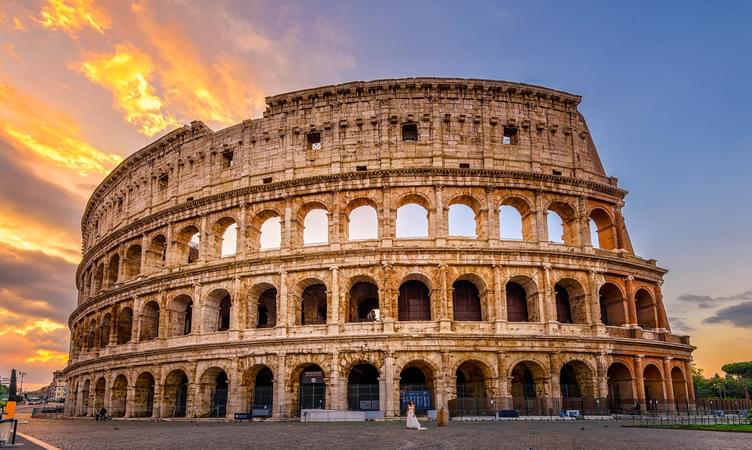 Best of Rome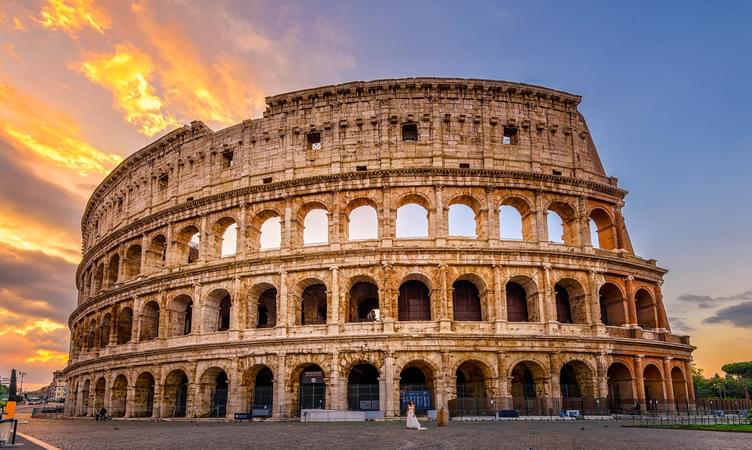 See The Lion Sculpture
Chinatown's entrances are guarded by a large lion statue installed along Wardour Street in 2009.
This Lion Sculpture is a modern rendition of a Chinese symbol of greeting and guardianship and a dramatic contrast to the more conventional design.
Thousands of laser cut Perspex pieces in a variety of colours and patterns make up the sculpture, depicting the diversity of East Asians in Britain today.
It contributes to the area's distinct character and is part of an effort to make London's Chinatown the best in the world.
Against the white walls of Chinatown, this brightly coloured artwork is a wonderful photo op.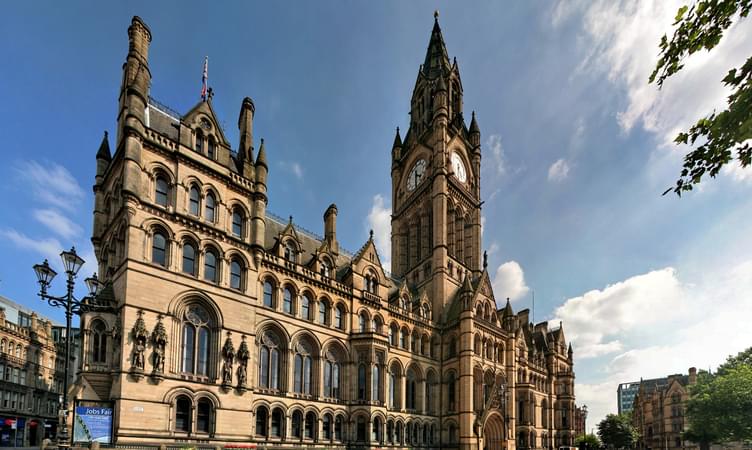 Best of Manchester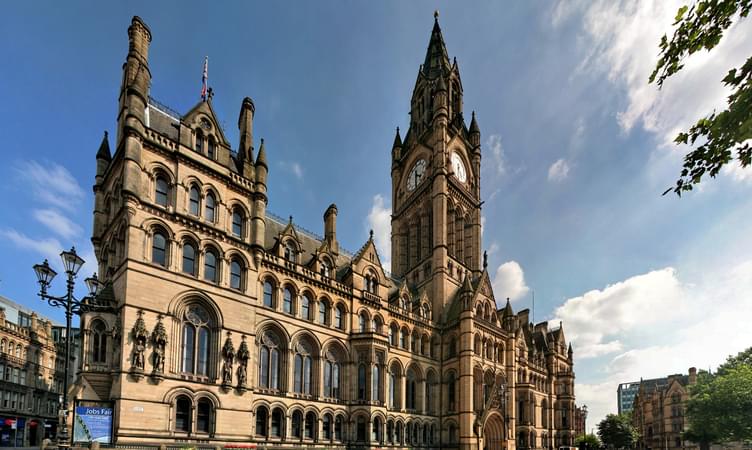 Visit Nail Salons
Chinatown London boasts a plethora of salons where you may have your nails painted to appear really stunning.
The Chi's Nails Studio in Neal's Yard offers a menu that ranges from a quick gloss change to a full-fledged manicure, making your pampering time a great pleasure.
At the Vanity Nails in Covent Garden, the vibrant environment makes manicures and pedicures fairly soothing, while the Precious Nails & Beauty in Archer Street, Soho, offers inventive gel manicures or a stunning shade of pastel nail polish amid a subdued setting.
Whether you're looking for neat and calming spaces for quick nail treatment or a relaxing mani in Chinatown London, you'll find the most imaginative nail designs, immaculate manicures and pedicures at these locations. Also Read:  Romantic  Places In London    
See International Dragon & Lion Dance Festival
Take part in the International Dragon and Lion Dance Festival in West End to enjoy one of the most exciting activities to do in Chinatown London.
See a variety of performances and dances by numerous groups of lion/dragon dancers and martial artists that come together to celebrate this yearly event.
Learn about Chinese culture through dance performances and other traditions followed during the Chinese New Year celebrations.
Enjoy a spiritual and pleasant atmosphere that is said to bring good fortune and ward off bad spirits.
Be impressed by the classic Lion and Dragon Dance performances, which feature synchronised Lion/Dragon movements with musical teams and clowns. Recommended Read:  I nstagrammable Places In London    
Dine In At Cafe TPT
If you are looking for one of the most enjoyable activities to do in Chinatown London, head to Cafe TPT to indulge in some of the finest dishes of Chinese cuisine.
The restaurant serves traditional Hong Kong, mainland China, and Malaysian cuisine, prepared by expert chefs and some dishes produced with impressive flair.
The roasted duck on rice, stuffed tofu, squid, and seafood are all must-tries that will leave you wanting more.
Their bubble teas, drinks made in the style of Taiwan, are additional attractions that draw people from the surrounding area and tourists.
People Also Ask About London
Which are the best places to visit in london, what are the best things to do in east london, how to reach chinatown london from the airport, what is chinatown london famous for, what is the best time to visit london, what are the other attractions and activities in london you can book via thrillophilia.
Tower of London Tickets
London Eye Ticket
Warner Bros. Studio Tour London
Tickets Windsor Castle
Peppa Pig World Tickets
Jack the Ripper Tour
Warwick Castle Tickets
Dover Castle Tickets
Westminster Abbey Ticket
Tickets For Buckingham Palace
London Sea Life Tickets
Stonehenge Ticket
What are the best Europe tour packages that we can book with Thrillophilia?
Europe Tour Package From Pune
Europe Tour Package From Kochi
Europe Tour Package From Kerala
Europe Tour Package From Ahmedabad
Europe Tour Package From Bangalore
Europe Tour Package From Chennai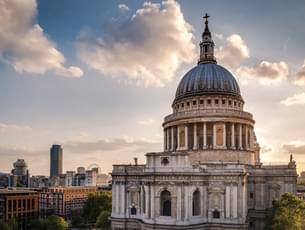 London Top Attractions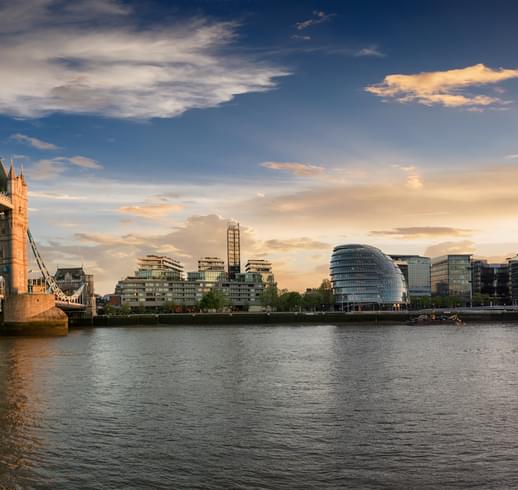 Located on London's Southbank, London Eye is the world's tallest cantilever wheel and an the iconic figure in the London sky. This wheel attracts nearly 4 million visitors every year. This staggering figure suggests the popularity among the tourists and the locals.Wheel consists of 32 capsules which are made of glass. On a clear day one can see up to 40 km from the wheel. There are multilingual guides giving a commentary on the details of the spectacular view of the city. Buckingham Palace, Big Ben, Tower Bridge, and other famous London landmarks can be seen from the London Eye.The slow rotation of the wheel enables one to take pictures of the famous landmarks. Apart from the stunning view, another major attraction is a 4D show that forms a part of your London Eye experience. Over the past 19 years, it has become an important feature of the London skyline.You can also look out for special themed events like pop-up dining events, Valentine day celebrations or an anniversary dinner. London Eye is one of the major attractions in London's New Year day firework celebrations. Seeing London at a glance should definitely be a part of your London itinerary. The wheel was dedicated to the public in 2000. It was originally planned to be in public service for only 5 years. However, its popularity made it a permanent feature in the tourist map of London. Tourists love the experience of the thrilling ride on the wheel and observe the breathtaking view of the London city over the River Thames.If you are planning for a honeymoon trip to Europe, you can checkout Europe Honeymoon Packages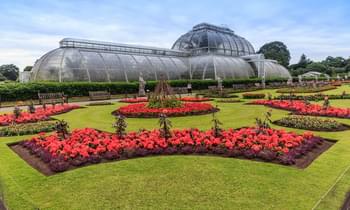 Popular as one of the unique UNESCO World Heritage sites in London, Kew Gardens is one of the pleasant getaways in the city to enjoy with your family and friends. It is home to a fascinating collection of living plants and also has an internationally recognised scientific research centre. It has a collection of more than 14,000 trees and is known for its exquisite natural landscape which leaves everyone spellbound. Spread across a site of 300 acres, Kew Gardens is a leading centre of research having a library and museums along with its beautiful gardens.It invites people of all ages to discover a day of serenity in the city of London. The visitors here can enjoy a number of activities whether it is taking a stroll along the colourful canopies of trees or exploring the beautiful glasshouses. Some of the popular attractions of Kew Gardens include the Palm House, Princess of Wales Conservatory and the Waterlily House.There are activities which the visitors can enjoy at Kew Gardens like the 59 ft high Treetop Walkway, catching the views of the city by climbing the Great Pagoda and getting to know about its history at the Kew Palace. Kew Gardens is also a paradise for photographers who wish to capture the natural beauty of London at its best.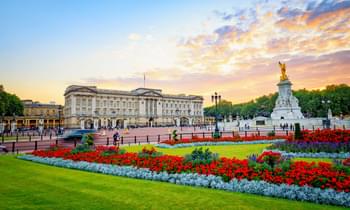 One of the most iconic Royal buildings in the United Kingdom, Buckingham Palace is the royal residential hub of the Queen of England. Notably, it crowns itself as one of the very few working Royal Palaces existing across the world and it is one of the best places to visit in England. On the occasion of both national and royal celebrations, the Queen of England gives her public appearance through the Palace's central gallery.Buckingham Palace features around 775 rooms which are inclusive of the 19 staterooms and 78 modernized bathrooms. The lavishly decorated staterooms here are reserved for the monarchs to receive their rewards. There are sparkling candelabras, sumptuous carpets, fine furniture, marble columns, damask wallpaper to embrace the overall beauty of the Palace.The Royal Palace homes to the Throne Room which forms a central attraction for all the visitors coming from different parts of the world. This is the place where the royals plan their ceremonial receptions – the one like the Queen's Jubilee.The Garden of Buckingham Palace spans across an area of 39 acres with 350+ wildflower types and 200 trees. Apart from this, there is a 3-acre vast lake located within the Gardens. Tennis courts, herbaceous border, summer house, Rose Garden, and the Waterloo Vase are the principal attractions of this Garden of Buckingham Palace.Must Checkout - Europe Packages
More London Attractions
London travel guides.
London Reviews

More Things to do in London
More on london tourism, popular related destinations.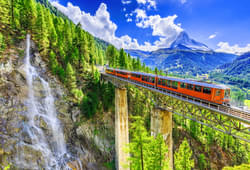 Best Domestic Packages
Best international packages, domestic honeymoon packages, international honeymoon packages, places to visit in india, international places to visit, things to do in india, international things to do, popular on thrillophilia.
We assure the privacy of your contact data.
This data will only be used by our team to contact you and no other purposes.
Your enquiry has been received successfully. Our destination expert will reach out to you soon!

Chinatown London
About chinatown london.
hinatown London is a bustling neighbourhood in the heart of London that offers an authentic impression of the Far East and is home to many genuine Asian eateries, stores, cafes, and bars. People travel here from all over the world to engage in a variety of fun activities and attend the annual Chinese New Year event, which leaves them with everlasting memories. Take a stroll through Chinatown London to experience the vibrant atmosphere and traditional architecture. The 1888 mural, the four entrance gates, the two stone lions provided by China, and the contemporary sculptures all make an excellent setting for memorable photos.
Try a range of scrumptious dishes at one of the neighborhood's many cafes and restaurants to make your visit to this lively area delightful. Drink a martini or a beer at one of its lively pubs or bars to add more stars to your trip. Don't forget to pick up some souvenirs from the shops that sell handmade goods, decorations, and other Chinese trinkets.
The town's yearly Chinese New Year celebration, which livens it up with vivid paper lantern decorations, parades, music, dancing, and mouthwatering food, is another significant draw. With so many entertaining things to do in Chinatown London, you will certainly have a memorable trip, whether you want to learn about Chinese culture or satisfy your appetite for Chinese cuisine.
History Of Chinatown London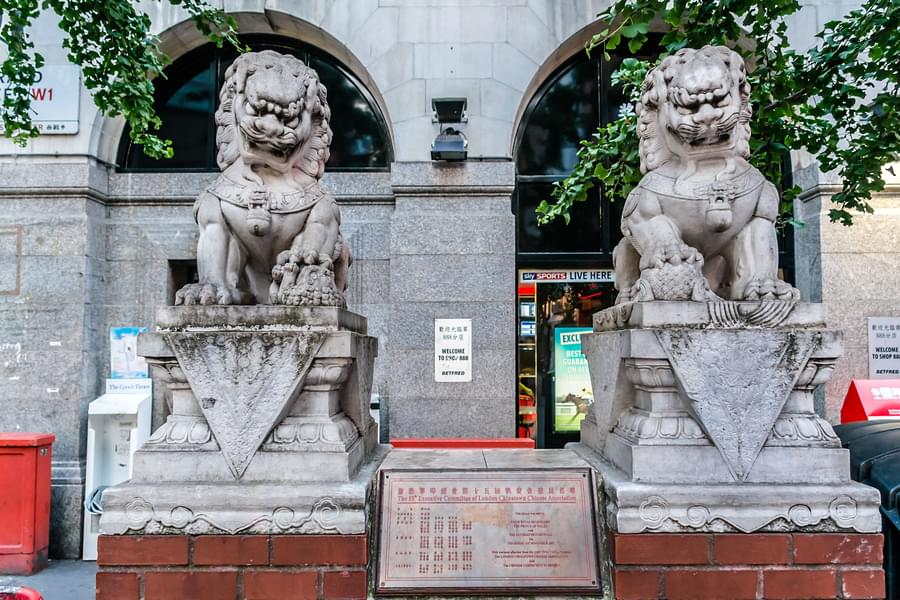 The Chinatown London we know today dates back to the 1950s, although the original Chinatown was at Limehouse in the East End region during the 18th century. It was a small community of Chinese seafarers living in London and working for the East India Company near the Limehouse docks. However, by the middle of the twentieth century, the area's population had shifted due to a fall in commerce and significant destruction caused by the Second World War. The West End's low commercial rates drew these sailors and soldiers who returned after the war to its current site, forming the new Chinatown.
Huguenot and Maltese immigrants formerly called West End home, but in the 1950s, a few Chinese restaurants started to appear, and the neighbourhood started to take shape. The neighbourhood had developed into a centre for Chinese culture by the 1960s and 1970s as a result of the arrival of additional companies and services. Today, it is home to a bustling town of over 150 businesses that provide tourists with a wide selection of traditional Chinese foods and items. Draped with red paper lanterns and Mandarin street signs, it now makes visitors believe they are in East Asia rather than the city's bustling West End neighbourhood.
Book Now: London Attraction Tickets
Highlights Of Chinatown London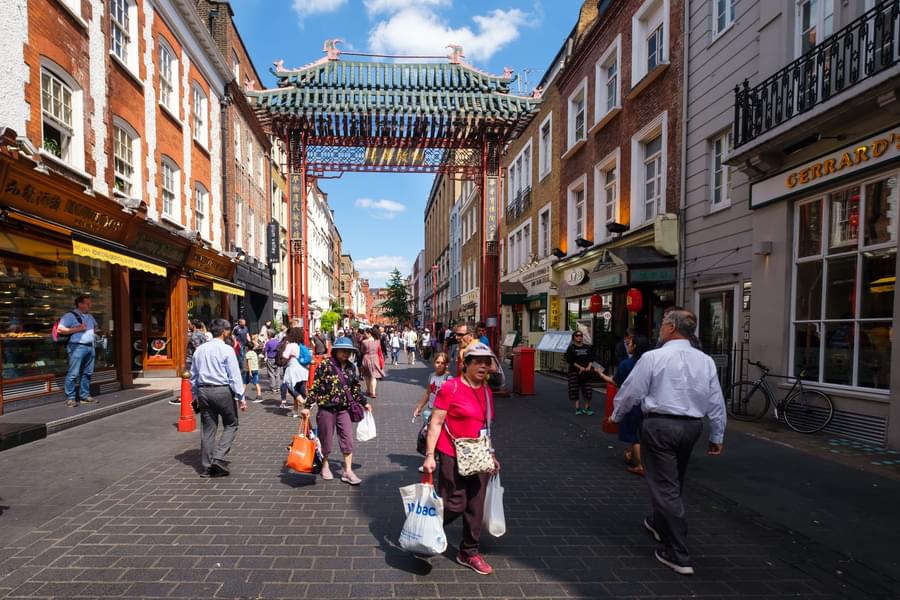 Visit Chinatown London to explore some famous landmarks, sample authentic Chinese recipes, shop for some traditional souvenirs, and learn about their heritage and culture.
Take a stroll through Chinatown London's many lanes and appreciate the colourful ambiance and stunning Chinese architecture all around.
Admire the Paifangs, four enormous architectural archways that serve as Chinatown London entrances.
Take in the breathtaking 1888 outdoor mural that measures an impressive 8m by 5m and is located in Horse and Dolphin Yard.
Savour a wide range of authentic Chinese cuisine as well as Korean, Taiwanese, Malaysian, and Japanese recipes, such as sticky rice rolls, dumplings, pickled raw octopus, and Cantonese roast duck.
Satisfy your shopping urges by picking up some spices, cosmetics, Chinese-inspired trinkets, home decor items, and gifts while also grabbing some great bargains at one of the many supermarkets.
Enjoy fine dining at some of its top-notch establishments, like Olle, Four Seasons, and Baozi Inn, or sample some street food dishes at the eateries on the side of the road.
Visit Chinatown during the Chinese New Year celebrations to experience one of the greatest things to do in Chinatown and witness the city come to life with a riot of colours, costumes, music, dancing, food, and thrilling sensations.
Attend the International Dragon and Lion Dance Festival to see the dance performances by local dancers and martial artists.
Things To Do In Chinatown London
Check out various restaurants, street-side eateries, bars, and cafes in Chinatown to sate your food and beverage cravings, and browse any supermarket to pick some great stuff. Plan your visit during Chinese New Year to indulge in some of the most amazing things to do in Chinatown London while taking in the vibrant atmosphere.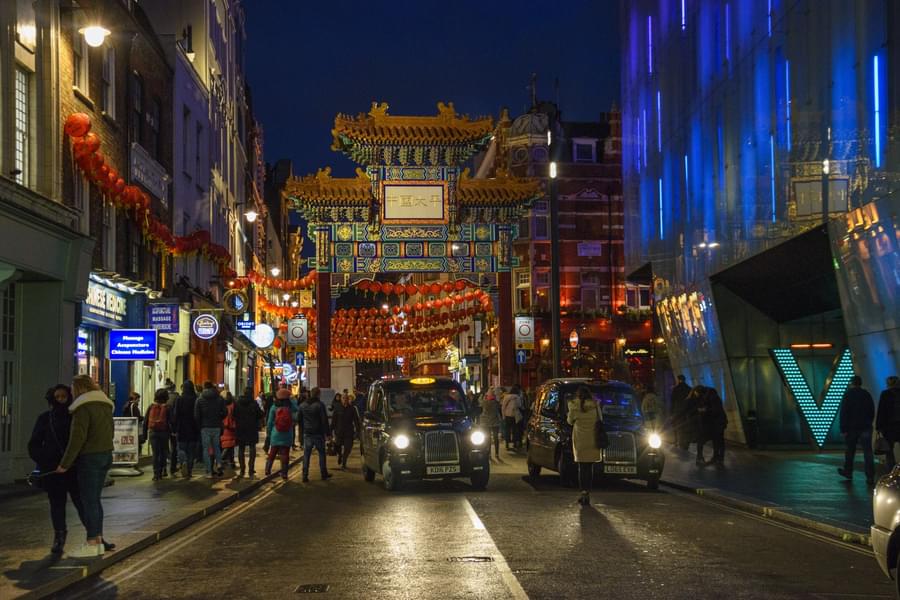 Shopping is one of the most fascinating things to do in Chinatown London for being a hub of abundant options. Shop for traditional foods and beverages, recipe ingredients, and many other Chinese and Asian specialities at any supermarket like New Loon Moon or SeeWoo. Visit Golden Gate Cake Shop for delectable pineapple buns and custard tarts. Explore the establishments along the streets of Chinatown London to get Maneki-Neko, paper lanterns, traditional clothing, and other things while enjoying some retail therapy.
Also Checkout: Wembley Stadium Tour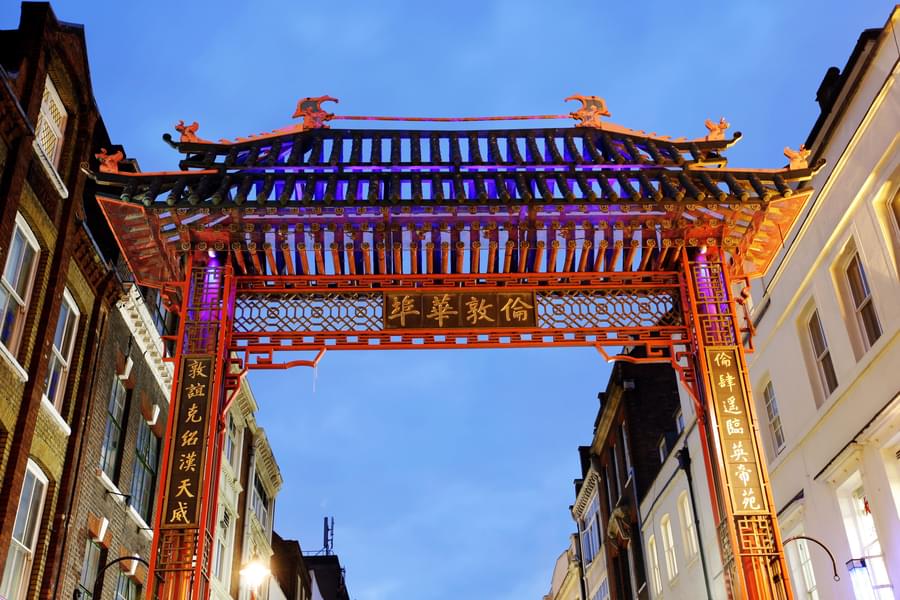 Admire the historic architecture as you enter the district beneath one of the impressive Paifangs (archways). Stop by for a memorable picture while witnessing the street ahead, which is dotted with a variety of Chinese goods. The first three gates, which were constructed in 1980 on Gerrard Street, dazzle guests with their exquisite architecture and style. The fourth gate on Wardour Street in Chinatown London stuns with a brilliant array of electric blue, green, and gold tones.
Do Checkout: Hop On Hop Off London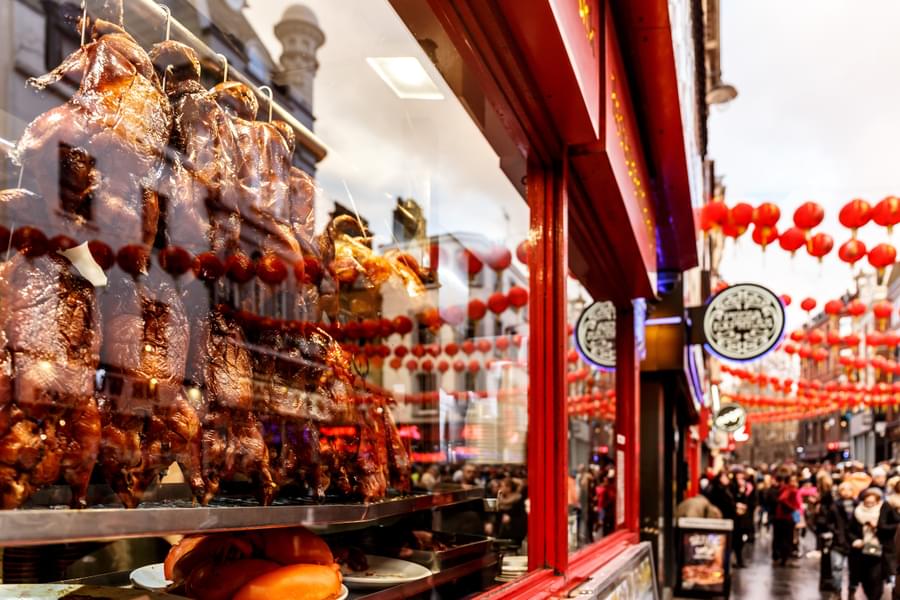 Visit Chinatown London at the start of the Chinese New Year and prepare to be astounded by the explosion of colours, costumes, music, dance, food, and energetic spirit. Attend the classic Chinese Dragon Dance or the gorgeous Lantern Festival while also experiencing a unique fusion of Chinese and London influences that creates a vibrant atmosphere. Parades, dances, musical performances, and food stalls contribute to making the Chinese New Year celebrations a colourful event that everyone can enjoy and remember.
Book Now: London Helicopter Tour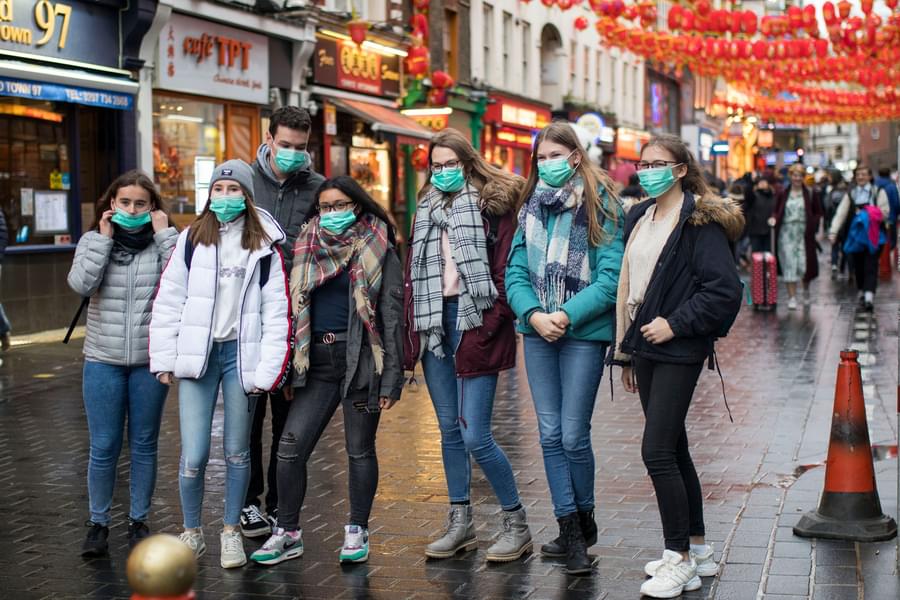 A photo tour is one of the most entertaining things to do in Chinatown London and an excellent way to experience the city's amazing attractions and colourful surroundings. Picture yourself in front of breathtaking four gates, stone lions, modern art installations, lantern-lined streets, colourfully painted alleys, or impressive doors. Additionally, there are many lovely eateries and cosy shops that are worth a shot. Visit during the Chinese New Year festivities and you will be spoiled with photo opportunities.
You Can Also Checkout: London Food Tours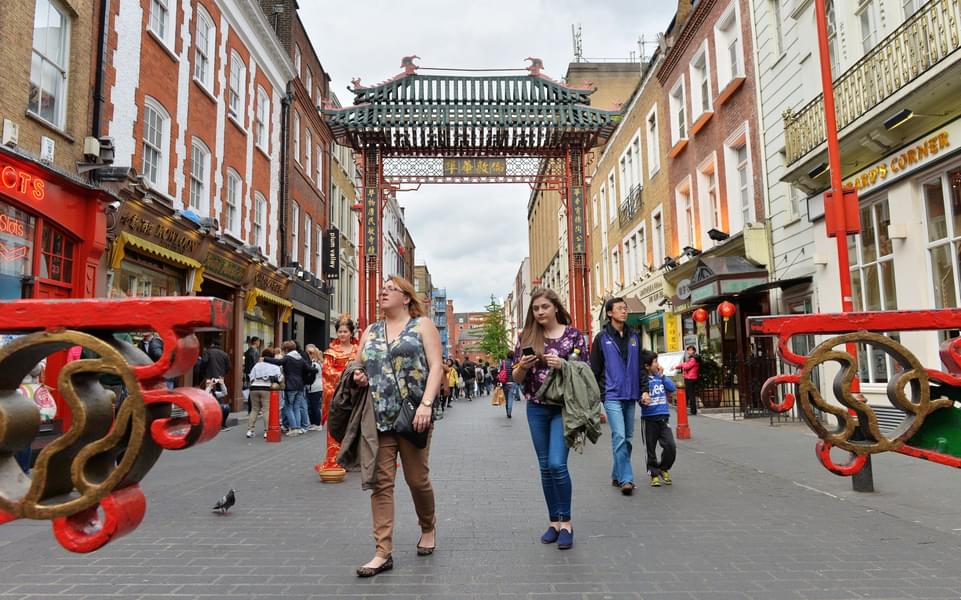 Explore a variety of exhibitions and performances at Chinese Art Now (CAN) and learn about the nation's rich cultural legacy. Its collection of works of art by both local and international artists may appeal to your inner art connoisseur. You may learn more about Chinatown London through augmented reality visuals and short dramas with its Augmented Chinatown 2.0 interactive audio tour. The annual CAN festival that celebrates Chinese culture is another attraction that may help you understand Chinese traditions.
Check This Out: London Sightseeing Tours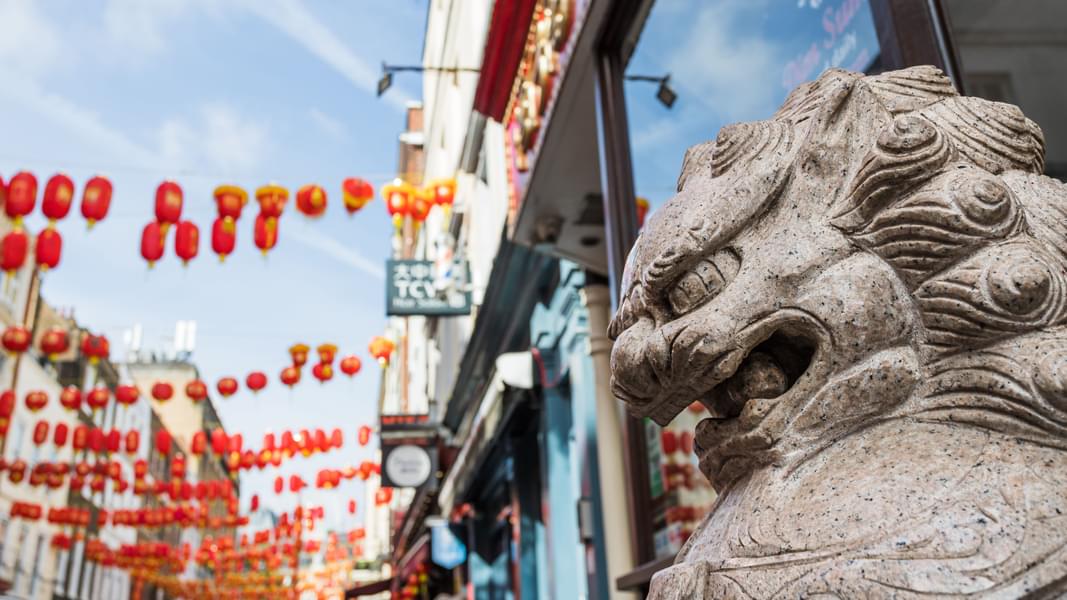 Admire the stunning outdoor 1888 mural at the Horse and Dolphin Yard, which resembles a bowl of rice when viewed up close. However, a closer look reveals that this 8 by 5 meters mural is made up of 1888 individual photographs donated by the public. Unveiled on August 18th, 2008, it portrays the vibrant culture and rich history of Chinatown London. Visiting this mural is one of the best things to do in Chinatown London as it stands for the Uk's Chinese community's unification.
You May Like: London City Tour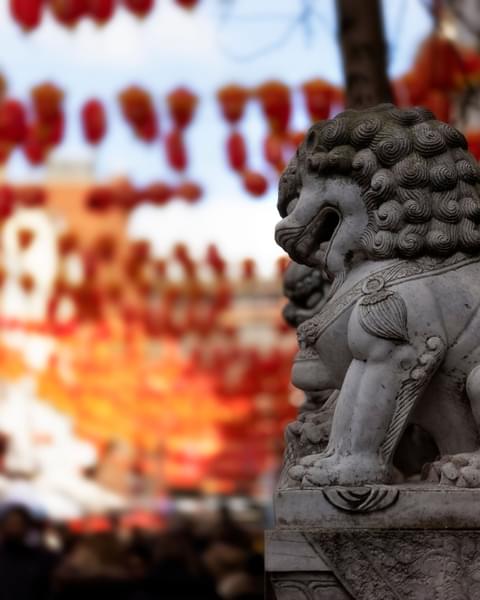 Admire the enormous lion statue erected along Wardour Street in 2009 and serve as Chinatown's entrance guard. It is in contrast with the traditional style and a contemporary interpretation of a Chinese symbol of welcoming and protection. The artwork represents the diversity of East Asians in today's Britain and is composed of thousands of laser-cut Perspex fragments in a range of colours and designs. This colourful artwork makes for a great photo opportunity against Chinatown's white walls.
Book Now: Sherlock Holmes Tour Guide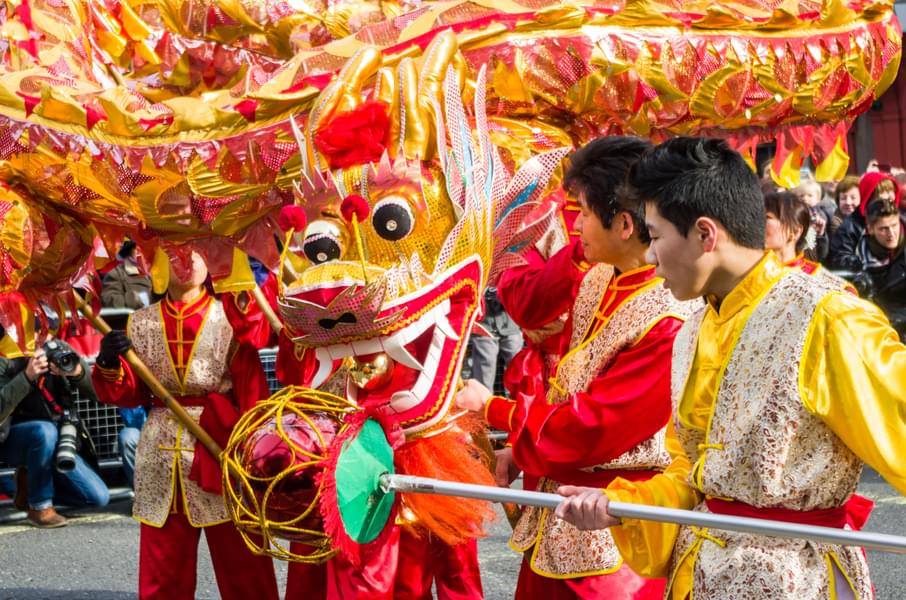 Participate in the International Dragon and Lion Dance Festival during the Chinese New Year celebrations and witness incredible choreography from a variety of dance and martial art troupes. Here, you will be astounded to see clowns and musical groups moving in unison with the Lion and Dragon. These dance performances and other Chinese New Year traditions will help you learn about Chinese culture and enjoy a spiritual environment, making attending the festival one of the most amazing things to do in Chinatown.
Check This Out: Grim Reaper Walking Tour London
Interesting Facts About Chinatown London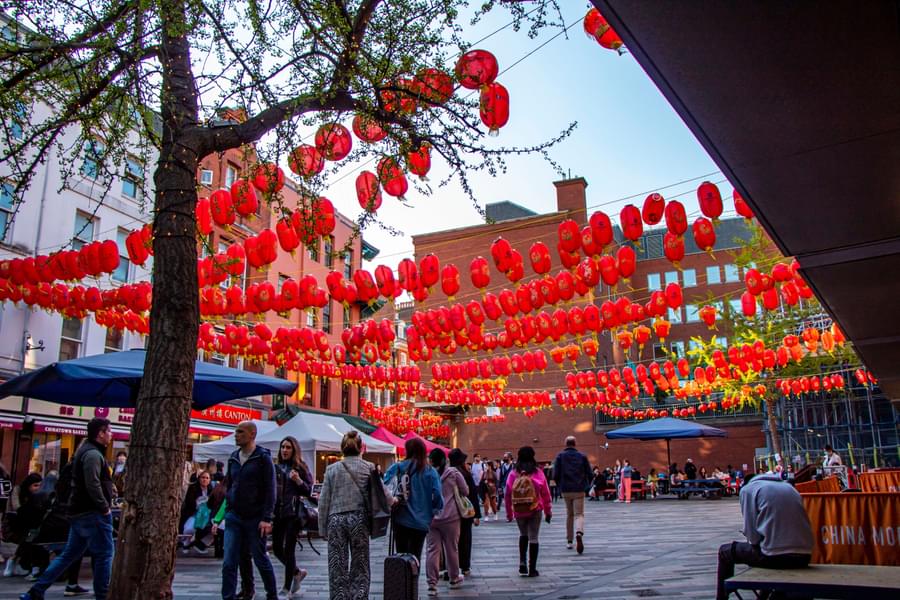 Chinatown was first established in the East End of London at the beginning of the 18th century, and it moved to its current position after the Second World War because of the affordable business rentals in the West End.
Initially, a small group of Chinese sailors who were living in London while working for the East India Company established the first Chinatown in the East End around the Limehouse piers.
Chinatown London is popularly known as the Imperial City for being located in the centre of the country's capital, while other Chinatown districts in other cities across the world are not as central.
Today, Chinatown London is a thriving neighbourhood with over 150 establishments that offer a wide range of ethnic foods and goods to tourists.
Gerrard Street, one of the main streets in Chinatown London, is where Ronnie Scott founded his legendary jazz club.
Check This Out: London Vintage Open Bus Tour
What is Chinatown London famous for?
Chinatown London is renowned for its eateries, supermarkets, souvenir shops, and lively atmosphere. The Chinese New Year celebrations and Dragon and Lion Dance Festival are its major draws, enticing tourists from across the world. The festival vibes, explosion of colour, and dynamic environment make them the most exciting things to do in Chinatown London.
What is the best time to visit Chinatown London?
The English summer from June to August is the ideal season to visit Chinatown London because of the pleasant weather and abundance of fun things to do. The period from mid-January to early February is also a fantastic time to travel there for spectacular Chinese New Year celebrations.
How much time do you spend in Chinatown?
You will need at least two to three hours to visit numerous landmarks and participate in some of the most fascinating things to do in Chinatown London. However, how much time you want to spend there will depend on your interests and schedule.
Must Checkout: IFS Cloud Cable Car Tickets
Is Chinatown London open on Sundays?
Yes,Chinatown London is open on Sundays, it can be visited all year round, allowing you to explore its attractions and indulge in a variety of activities available there.
How to reach Chinatown London?
- By Bus: Bus routes 14, 24, 27, 29, 134, 168, and C2 stop near Chinatown at Leicester Square Station and Trocadero / Haymarket (K) Station, which are only a few minutes walk away.
- By Tube: The closest Underground stations to Chinatown are Leicester Square and Piccadilly Circus, which are only 160 m and 480 m away, respectively.
- By Car/Cab: Chinatown London is conveniently placed and may be reached by cab or private vehicle. The Chinatown Car Park in Newport Place and the Leicester Square Car Park in Whitcomb Street both offer paid parking.
Explore London
London Attractions
Palaces and Castles in London
Top Theme Parks In London
London Travel Guide
Museums in London

Email Us: [email protected]
The content and images used on this site are copyright protected and copyrights vests with the respective owners.
London Tourism
London Hotels
Bed and Breakfast London
London Holiday Rentals
Flights to London
London Restaurants
London Attractions
London Travel Forum
London Photos
All London Hotels
London Hotel Deals
Last Minute Hotels in London
London Hostels
London Campsites
Business Hotels London
Family Hotels London
London Green Hotels
Romantic Hotels in London
Luxury Hotels in London
Spa Hotels in London
Casinos in London
London Resorts
5-stars Hotels in London
4-stars Hotels in London
3-stars Hotels in London
Travelodge Hotels Ltd in London
Millennium Hotels in London
CitizenM Hotels in London
Mercure Hotels in London
Jumeirah Hotels in London
Thistle Hotels in London
The Doyle Collection Hotels in London
Starhotels in London
Apex Hotels in London
Autograph Collection Hotels in London
Four Seasons Hotels in London
Hotels Indigo in London
Pet Friendly Hotels in London
London Hotels with a Pool
London Hotels with Parking
Bloomsbury Hotels
East End / East London Hotels
South Kensington Hotels
City of London Hotels
Docklands / Canary Wharf / Isle of Dogs Hotels
Earls Court Hotels
Euston / Kings Cross /St Pancras Hotels
Southwark Hotels
Islington Hotels
Westminster Hotels
Apartment Hotels London
Hotels with Hot Tubs in London
Luxury Spa Hotels London
Cheap Hostels in London
Cheap Accommodations in London
Hotels with Balconies in London
Family Resorts in London
Hotels with Weekly Rates in London
London Accessible Hotels
London Hotels with Outdoor Pool
Hotels near London Eye
Hotels near The British Museum
Hotels near Tower of London
Hotels near London Underground
Hotels near National Gallery
Hotels near Tower Bridge
Hotels near Natural History Museum
Hotels near V&A - Victoria and Albert Museum
Hotels near Madame Tussauds London
Hotels near Big Ben
Hotels near (LHR) Heathrow Airport
Hotels near (LCY) London City Airport
Hotels near (LTN) Luton Airport
Sandos Papagayo
HL Paradise Island
Resort Fuerteventura Origo Mare by Pierre & Vacances
Butlin's Minehead Resort
Hotel Riu Funana
Granada Luxury Belek
Rixos Premium Seagate
Bahia Principe Sunlight Tenerife
H10 Rubicon Palace
Insotel Tarida Beach Resort & Spa
Bahia Principe Fantasia Tenerife
Hotel Riu Buenavista
Apartamentos El Trebol
Bahia Principe Sunlight Costa Adeje
Popular All-Inclusive Resorts
Popular Beach Resorts
Popular Family Resorts
Popular All-Inclusive Hotels
Popular Hotels With Waterparks
Popular Honeymoon Resorts
Popular Luxury Resorts
Popular All-Inclusive Family Resorts
Popular Golf Resorts
Popular Spa Resorts
Popular Cheap Resorts
All things to do in London
Things to do near London City Airport
Things to do near Victoria Station
Things to do near University College London
Things to do near King's College London
Things to do near University of Westminster
Things to do near City University London
Things to do near Central Saint Martins
Things to do near University of Greenwich
Tower of London
Tower Bridge
Churchill War Rooms
National Gallery
The British Museum
The Steam Dreams Rail Co.
Westminster Abbey
V&A - Victoria and Albert Museum
St. Paul's Cathedral
Natural History Museum
Borough Market
Up at The O2
St. James's Park
Covent Garden
Factory Tours in London
Boat Hire in London
Speed Boats Tours in London
Parasailing & Paragliding in London
Scuba & Snorkeling in London
Balloon Rides in London
Bike Tours in London
Climbing Tours in London
Fishing Charters & Tours in London
Running Tours in London
Hop-On Hop-Off Tours in London
Motorcycle Tours in London
Night Tours in London
Private Tours in London
Vespa, Scooter & Moped Tours in London
Bars & Clubs in London
Blues Clubs & Bars in London
Cigar Bars in London
Country & Western Bars in London
Gay Clubs & Bars in London
Jazz Clubs & Bars in London
Karaoke Bars in London
Piano Bars in London
Comedy Clubs in London
Dance Clubs & Discos in London
Coffee Shops in London
Wine Bars in London
Bar, Club & Pub Tours in London
Art Galleries in London
Antique Stores in London
Department Stores in London
Factory Outlets in London
Flea & Street Markets in London
Shopping Malls in London
Gift & Speciality Shops in London
Farmers Markets in London
Fashion Shows & Tours in London
Shopping Tours in London
Airport Shops in London
Architectural Buildings in London
Bridges in London
Cemeteries in London
Sacred & Religious Sites in London
Educational sites in London
Fountains in London
Government Buildings in London
Military Bases & Facilities in London
Monuments & Statues in London
Piers & Boardwalks in London
Scenic Walking Areas in London
Ships in London
Farms in London
Points of Interest & Landmarks in London
Universities & Schools in London
Spas in London
Health/Fitness Clubs & Gyms in London
Onsen Resorts in London
Hammams & Turkish Baths in London
Thermal Spas in London
Yoga & Pilates in London
Hair & Nail Salons in London
Playgrounds in London
Movie Theatres in London
Game & Entertainment Centres in London
Dog Tracks in London
Bowling Alleys in London
Sports Complexes in London
Room Escape Games in London
Scavenger Hunts in London
Shooting Ranges in London
Wedding Chapels in London
Mini Golf in London
Paint & Pottery Studios in London
Character Experiences in London
Tramways in London
Ferries in London
Mass Transportation Systems in London
Taxis & Shuttles in London
Bus Transportation in London
Railways in London
Performances in London
Ballets in London
Concerts in London
Operas in London
Symphonies in London
Theatres in London
Dinner Theatres in London
Cabarets in London
Sports Camps & Clinics in London
Lessons & Workshops in London
Cooking Classes in London
Horseback Riding Tours in London
Hiking Trails in London
Shark Diving in London
Swim with Dolphins in London
Air Tours in London
Ski & Snow Tours in London
Art Museums in London
Children's Museums in London
History Museums in London
Military Museums in London
Natural History Museums in London
Science Museums in London
Observatories & Planetariums in London
Speciality Museums in London
Wineries & Vineyards in London
Breweries in London
Distilleries in London
Beer Tastings & Tours in London
Coffee & Tea Tours in London
Food Tours in London
Wine Tours & Tastings in London
Distillery Tours in London
Dams in London
Forests in London
Gardens in London
Geologic Formations in London
Marinas in London
Nature & Wildlife Areas in London
Parks in London
State Parks in London
Biking Trails in London
Equestrian Trails in London
Aquariums in London
Zoos in London
Bodies of Water in London
Boat Tours in London
Water Sports in London
Dolphin & Whale Watching in London
Gondola Cruises in London
River Rafting & Tubing in London
Submarine Tours in London
Waterskiing & Jetskiing in London
Duck Tours in London
Conference & Convention Centres in London
Libraries in London
Visitor Centres in London
Airport Lounges in London
Things to do near W London
Things to do near The Londoner Hotel
PSG Experience - Stadium Tour Parc des Princes
1 Day Tour to Pyramids from Sharm-el-Sheikh by flight
Newcastle United FC Stadium Tour
TEIDE NATIONAL PARK tour in a small group by bus
Excursion to the White Island & Ras Mohammed National Park from Sharm El Sheikh
Full-Day Mostar and Kravice Waterfalls from Dubrovnik
Birmingham Slogging Gangs Walking Tour with Edward Shelby
Swim in Chocholow Thermal Baths with a Zakopane Tour Option
''Turkish Maldives'' Boat trip Adrasan-Suluada island from Antalya
Agadir cable car Telepherique
The Blue Lagoon
Playa Blanca
Cadbury World
Gorleston-on-Sea Beach
Bicester Village
The Rage Room
LEGOLAND Windsor Resort
Therme Bucuresti
The Washhouse
GreenLeaders
Things to Do
Restaurants
Holiday Rentals
Travel Stories
Add a Place
Travel Forum
Travellers' Choice
Help Centre
THE 10 BEST Things to Do Near Chinatown, London, England
Europe
United Kingdom (UK)
England
London
Things to do in London
Things to do near Chinatown
Things to Do near Chinatown
Trusted reviews and ratings, free 24-hour cancellation, low-price guarantee.
London Eye Standard Ticket
Big Bus London Hop-On Hop-Off Tour and River Cruise
Tower of London Entrance Ticket Including Crown Jewels and Beefeater Tour
Westminster to Greenwich Sightseeing Thames Cruise in London
Stonehenge, Windsor Castle, and Bath from London
(0.09 mi) The Admiral Duncan
(0.11 mi) Village Soho
(0.12 mi) Comedy Store London Piccadilly Circus
(0.14 mi) Be At One Piccadilly Circus
(0.10 mi) Cafe de Paris
Bars & Clubs
Gift & Speciality Shops
Performances
Walking Tours
Discover over 1,000 restaurants near Chinatown
Discover over 1,000 hotels near Chinatown
Entertainment
Photography
Press Releases
Israel-Hamas War
Russia-Ukraine War
Latin America
Middle East
Asia Pacific
Election 2024
AP Top 25 College Football Poll
Movie reviews
Book reviews
Financial Markets
Business Highlights
Financial wellness
Artificial Intelligence
Social Media
London pro-Palestinian march passes off peacefully but police clash with far-right protesters
Pro-Palestinian demonstrators marched peacefully through central London on Saturday demanding a cease-fire in Gaza after a week of angry debate over whether to permit the event. (Nov 11.)
Protesters wave flags and hold flares during a pro-Palestinian protest in London, Saturday, Nov. 11, 2023. London police have stepped up efforts to ensure a pro-Palestinian march on Saturday remains peaceful following a week of political sparring over whether the demonstration should go ahead on the weekend Britain honors its war dead.(AP Photo/Alberto Pezzali)
Protesters show placards during a pro-Palestinian protest in London, Saturday, Nov. 11, 2023. London police have stepped up efforts to ensure a pro-Palestinian march on Saturday remains peaceful following a week of political sparring over whether the demonstration should go ahead on the weekend Britain honors its war dead.(AP Photo/Alberto Pezzali)
People take part in a die-in ahead of a Scottish Palestinian Solidarity Campaign demonstration in Glasgow, Scotland, Saturday, Nov. 11, 2023. (Jane Barlow/PA via AP)
Far-right spokesperson Tommy Robinson, right, speaks to a police officer as he arrives at the Cenotaph in Whitehall, ahead of a pro-Palestinian protest march which is taking place from Hyde Park to the US embassy in Vauxhall, in London, Saturday, Nov. 11, 2023. London police are stepping up efforts to ensure a pro-Palestinian march remains peaceful following a week of political sparring over whether the demonstration should go ahead on the weekend. (Jeff Moore/PA via AP)
Protesters gather in Hyde Park for a pro-Palestinian protest in London, Saturday, Nov. 11, 2023. (AP Photo/Alberto Pezzali)
Protesters wave flags during a pro-Palestinian protest in London, Saturday, Nov. 11, 2023. London police have stepped up efforts to ensure a pro-Palestinian march on Saturday remains peaceful following a week of political sparring over whether the demonstration should go ahead on the weekend Britain honors its war dead.(AP Photo/Alberto Pezzali)
A protester shows a placard during a pro-Palestinian protest in London, Saturday, Nov. 11, 2023. London police have stepped up efforts to ensure a pro-Palestinian march on Saturday remains peaceful following a week of political sparring over whether the demonstration should go ahead on the weekend Britain honors its war dead.(AP Photo/Alberto Pezzali)
LONDON (AP) — Pro-Palestinian demonstrators marched peacefully through central London on Saturday, even as right-wing counter-protesters clashed with police, after a week of angry debate over whether to permit the event on a day when Britain honored its war dead.
The day unfolded in a backdrop of tensions fueled by Home Secretary Suella Braverman who earlier this week characterized pro-Palestinian demonstrations as "hate marches" and called for Saturday's event to be blocked out of respect for Armistice Day events marking the end of World War I.
The skirmishes between police and counter-protesters carrying the Union flag of Great Britain and the red-and-white flag of England appeared to confirm the concerns that Braverman's comments would attract right-wing elements looking for an excuse to confront the pro-Palestinian marchers.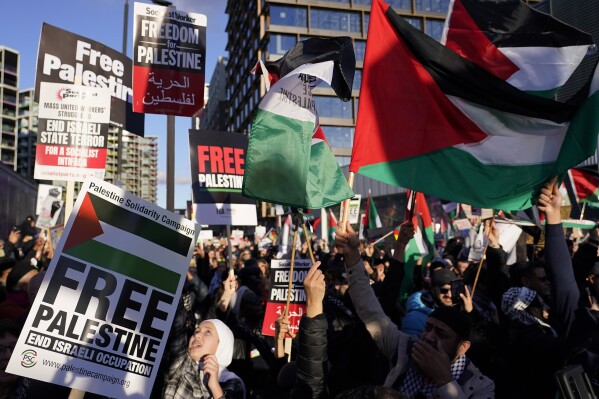 Braverman, who oversees law enforcement in Britain, must now resign, said Humza Yousaf, the first minister of Scotland.
"The far-right has been emboldened by the Home Secretary," Yousaf said on X, formerly known as Twitter. "She has spent her week fanning the flames of division. They are now attacking the Police on Armistice Day. The Home Secretary's position is untenable."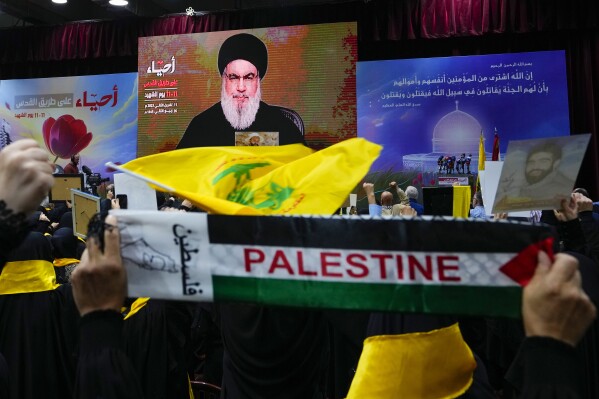 London police arrested 82 people at one location to prevent a breach of the peace. The force said they were part of a group of counter-protesters trying to reach the main protest march. Another 10 arrests were made throughout the day, on charges including possession of a knife and attacking an emergency worker.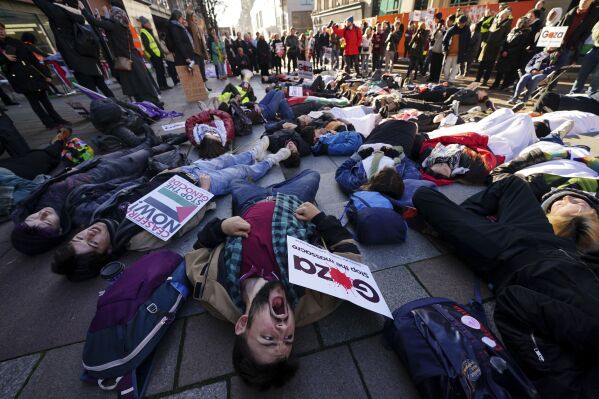 Police described the counter-protesters as mostly soccer "hooligans" from around the U.K. who spent the day confronting officers who tried to prevent them from attacking the march. Nine officers were injured, including two who were hospitalized.
"The extreme violence from the right-wing protestors towards the police today was extraordinary and deeply concerning,″ Assistant Commissioner Matt Twist said in a statement. "They arrived early, stating they were there to protect monuments, but some were already intoxicated, aggressive and clearly looking for confrontation. Abuse was directed at officers protecting the Cenotaph, including chants of 'You're not English any more.'″
Twist said the march was the largest in London since the start of the conflict. Police estimated that some 300,000 people took part, snaking their way through the city from Hyde Park to the U.S. Embassy about 3 miles (5 kilometers) away.
More than 2,000 officers, some called in from surrounding forces, are on the streets of the capital this weekend to make to ensure marchers obey the law and to prevent potential confrontations with counter protesters, the Metropolitan Police Service said.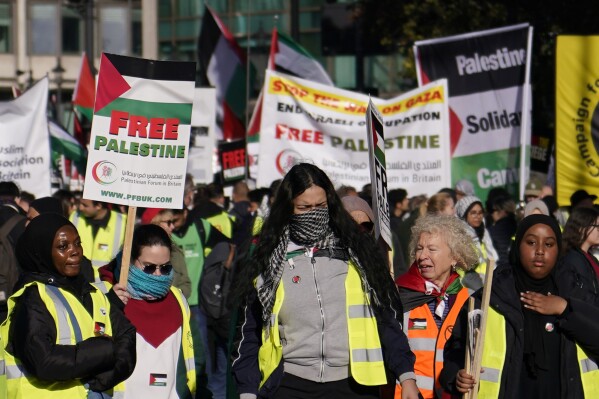 Police are also taking steps to reassure the Jewish community, which has been targeted by a surge in antisemitic incidents since Hamas militants attacked Israel on Oct. 7 and Israeli forces responded with strikes and sending troops into the Gaza Strip.
"We know the cumulative impact continued protest, increasing tensions, and rising hate crimes are having across London and the fear and anxiety our Jewish communities in particular are feeling," the police said in a statement. "They have a right to feel safe in their city, knowing they can travel across London without feeling afraid of intimidation or harassment."
The law enforcement operation comes after Metropolitan Police Commissioner Mark Rowley resisted pressure from political leaders to ban the march.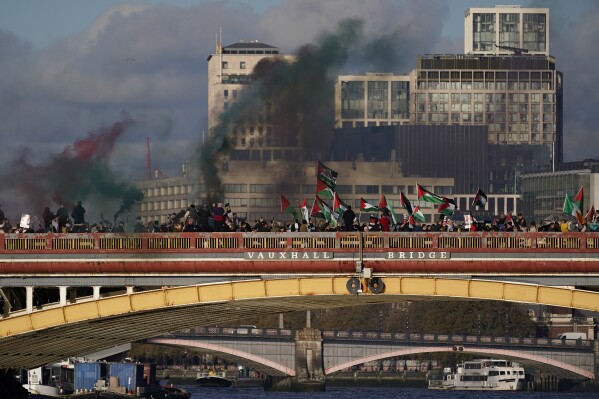 Prime Minister Rishi Sunak and Braverman have also expressed concern that the protests could spill over into Sunday, when King Charles III and the prime ministers of Commonwealth nations will lay wreaths at the national war memorial, known as the Cenotaph.
The commemoration events are "sacred" to Britain and should be a time for unity and "solemn reflection," Sunak said in a statement before Saturday's events got underway.
"It is because of those who fought for this country and for the freedom we cherish that those who wish to protest can do so, but they must do so respectfully and peacefully," he said.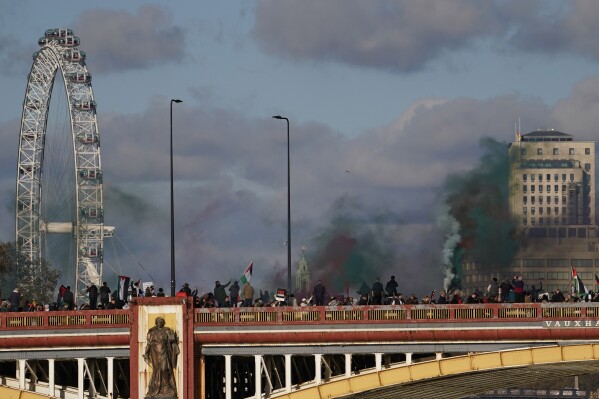 While Sunak and Braverman's comments were directed at pro-Palestinian protesters, critics had said they risked sparking confrontations between the marchers and far-right groups.
Of most concern were Braverman's comments suggesting that London police had been more lenient toward pro-Palestinian demonstrators and Black Lives Matter supporters than right-wing protesters or soccer hooligans. Braverman said the Metropolitan Police force was ignoring lawbreaking by "pro-Palestinian mobs."
On Saturday, fights broke out near the Cenotaph between police and right-wing protesters chanting "England till I die.″ Police used batons to stop the protesters, and ceremonies at the memorial weren't interrupted. Other clashes took place in other parts of the city, including Chinatown and near the Houses of Parliament.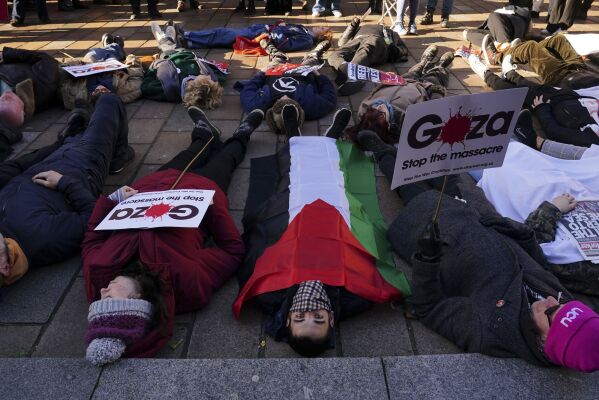 Following the confrontation near the Cenotaph, police said the counter-protesters were not a single group and officers were tracking them as they moved away into other parts of London. If they attempted to attack the pro-Palestinian march, "we will use all the powers and tactics available to us to prevent that from happening," police said.
Organizers of the pro-Palestinian demonstration say they have taken steps to ensure it doesn't conflict with Armistice Day events. The march moved off just after midday, more than an hour after the nation observed a two-minute silence, following a route from Hyde Park to the U.S. Embassy that doesn't go near the Cenotaph.
Ben Jamal, director of the Palestine Solidarity Campaign, said the marchers are calling for an end to the bombing of Gaza, and he criticized Braverman for characterizing the protesters as extremists who were going to desecrate the Cenotaph. The group has sponsored marches every Saturday in London since the war began.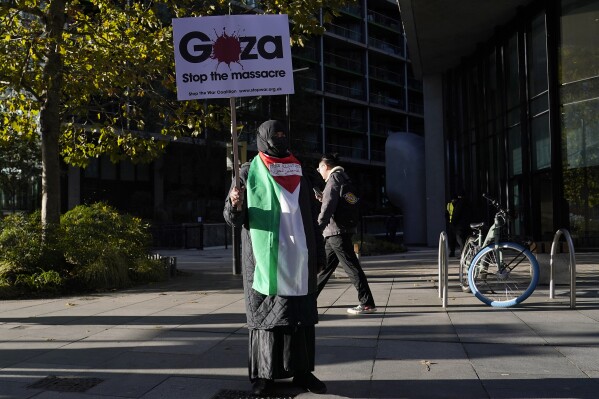 "We said to the police we did not want to be anywhere near Whitehall on Nov. 11; we did not want to disrupt preparations for the commemoration of remembrance on the Sunday," Jamal told the BBC. "It is inconceivable, unless she doesn't speak to the police, that the home secretary did not know that when she made her remarks."
In an effort to prevent confrontations, police declared an exclusion zone around the Cenotaph and stationed a 24-hour guard around the memorial. Protesters were also barred from the streets around the Israeli Embassy, near the start of the march, and some areas next to the U.S. Embassy.
While the march was largely peaceful, protesters continued to use language that has sparked concern among many Jewish groups and those who see Israeli actions in Gaza as legitimate acts of self-defense.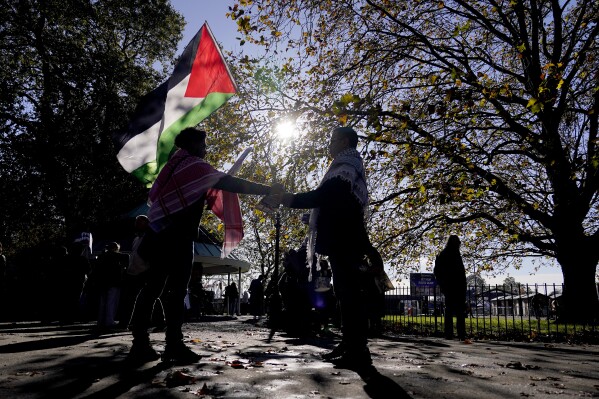 Marchers carried signs accusing Israel of genocide in Gaza and chanted "from the river to the sea, Palestine will be free.'' While Palestinian supporters say the chant is a call for freedom for everyone living in the area between the River Jordan and the Mediterranean, many Jews see it as a call for the destruction of Israel.
Such language strikes fear into the Jewish community, Lee Harpin, the political editor of the Jewish News, told Sky News. Even though he supports the right to protest, he said, the images from the demonstrations often have fringe elements spouting violent views.
"It's fair to say, I mean, for most of the Jewish community, looking on, looking at social media, seeing some of the banners, the hateful slogans being chanted, the headbands that look like they are Hamas-related at the very least, it's very frightening to, to, to witness mass demos taking place on the streets of London,'' he said. "That's not to say everybody on these demos ... is violent or hateful. But there's definitely a fringe on these demos every single week.''
LIVE DISCOURSE
BLOG / OPINION
SUBMIT PRESS RELEASE
Advertisement
Knowledge Partnership
Media Partnership
Energy & Extractives
Kochi features in Conde Nast Traveller's best places to visit in Asia in 2024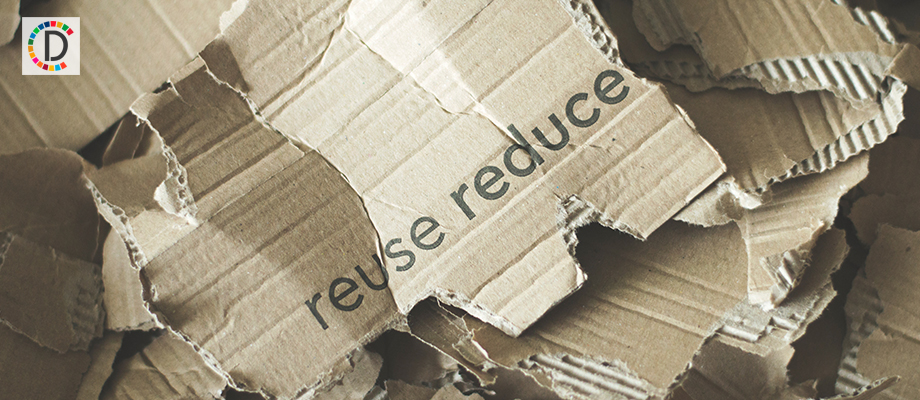 In a massive endorsement of Kerala's resurgent tourism, the vibrant city of Kochi has been featured in Conde Nast Traveller's list of the best places to visit in Asia in 2024.
Heaping praise on Kochi for its sustainable initiatives and local festivals, the London-based luxury travel magazine also mentions the city's waterways, verdant backwaters, lagoons and rivers, which have lured visitors for centuries — from Arab, Chinese and European merchants in the 1300s to modern-day travellers.
''As one of the first in the world, its water metro system — a socially inclusive transport option connecting 10 islands along a 78-kilometre network — was already revolutionary when it launched in 2021, but will set the bar even higher by late 2024, when it becomes fully solar powered,'' the article read.
Conde Nast said the water metro was part of a wider effort to transform Kerala's financial and industrial capital into a solar powerhouse. The State tourism department today said the magazine has pointed out that the city's international airport (CIAL) is the first in the world to operate solely on solar energy and was recently upgraded with the introduction of a dedicated business jet terminal that is the largest in India.
''On a wider scale, Kerala Tourism 2.0, the state's USD 43 million 2023-2024 sustainable tourism initiative, will focus on improving infrastructure and travel corridors between Kochi and less-visited destinations such as Munnar and Kozhikode — as well as local festivals, from the ancient temple gathering of Thrissur Pooram to the Kochi-Muziris Biennale,'' according to the magazine.
Tourism Minister P A Mohamed Riyas said it was a huge accolade for Kerala Tourism which has always strived to strike a judicious balance between the commercial growth of tourism and its sustainability to ensure the participation and well-being of local communities.
Tourism Secretary Biju K said the sustainable initiatives in the tourism sector have made not only Kochi but the entire state a welcoming destination for travellers from across the world.
The magazine also refers to improvements that are underway at Kochi's 150-year-old Ernakulam Market, which is set to unveil its years-in-the-making redesign in early 2024.
Tourism Director S Prem Krishnan said the endorsement by Conde Nast Traveller was a testament to ''our transformative initiatives with full respect to surrounding ecology''.
Conde Nast also pays tribute to responsible tourism operator The Blue Yonder, which created a twilight dining experience inspired by Kochi's historic Chinese fishing nets in 2023 in Ezhikkara. The innovative travel company, which offers opportunities to experience conservation-focused mangrove trails and climate-resilient Pokkali rice farms, also revamped 2023-2024 Nila River voyages: two-week odysseys along the state's cultural lifeline, from the Palakkad gap to Ponnani.
Also featuring in the magazine's list are Kathmandu Valley, Nepal; Singapore; The Silk Road, Uzbekistan; Kobe, Japan; Bangkok (Chinatown), Thailand; Mongolia; Ras Al Khaimah, UAE; The Red Sea, Saudi Arabia; Da Nang, Vietnam; and south and central Sri Lanka.
London stocks open higher as Smith+Nephew shines; set for weekly gains
Credit suisse wins london lawsuit over rmbs-linked notes, london stocks set for weekly gains; smith+nephew rises on rating bump, credit suisse wins mortgage securities case in london.
Health News Roundup: Japan to buy 1.4 million doses of Daiichi Sankyo COVID ...
Science News Roundup: 'We're releasing life': Heat wave speeds turtle hatchi...
2023 James Dyson Award global winners announced
Air India condoles its pilot's death due to cardiac arrest
Latest news, senegal's highest court ruling blocks detained opposition leader sonko from running for president, biden and mexico's president express mutual desire to tackle migration ahead of bilateral meeting, people to get 42-citizen centric services at doorsteps from nov 27: punjab cm, five nations seek war crimes probe in palestinian territories.
OPINION / BLOG / INTERVIEW
Understanding sociopaths: a comprehensive guide to protecting yourself, imagining a virus-free future: what could happen, rich mindset vs poor mindset: a comprehensive comparison, take charge of your life: a guide to drinking less for a happier mind and body, connect us on.
ADVERTISEMENT
KNOWLEDGE PARTNERSHIP
MEDIA PARTNERSHIP
Agro-Forestry
Art & Culture
Economy & Business
Law & Governance
Science & Environment
Social & Gender
Urban Development
East and South East Asia
Europe and Central Asia
Central Africa
East Africa
Southern Africa
West Africa
Middle East and North Africa
North America
Latin America and Caribbean
OTHER LINKS
Write for us
Submit Press Release
Opinion / Blog / Analysis
Business News
Entertainment News
Technology News
Law-order News
Lifestyle News
National News
International News
OTHER PRODUCTS
Email: info@devdiscourse.com Phone: +91-720-6444012, +91-7027739813, 14, 15
© Copyright 2023

CBS News Bay Area: Free 24/7 News
CBS Bay Area App
National News
Bay Area Bridge Builders
Meet The Staff/Send Tips
Watch CBS News
President Biden arrives in San Francisco for APEC, meeting with Xi
By Dave Pehling
Updated on: November 14, 2023 / 1:47 PM PST / CBS San Francisco
SAN FRANCISCO -- President Joe Biden landed at San Francisco International Airport Tuesday afternoon ahead of his attendance at APEC and anticipated Wednesday meeting with China's Xi Jinping.
Air Force One touched down at SFO at around 1:15 p.m. where the president was greeted by Gov. Gavin Newsom, his wife First Partner Jennifer Siebel Newsom and San Francisco Mayor London Breed.
ALSO READ: More stories on the APEC Summit
In addition to participating in the Asia-Pacific Economic Cooperation Economic Leaders' meetings, Biden and Vice President Kamala Harris plan to attend a DNC fundraiser in San Francisco Tuesday evening. President Biden is scheduled to stay in San Francisco until Friday.
Earlier Tuesday, the president said that the nations must get "on a normal course corresponding" once again even as they have sharp differences on no shortage of issues.
"Being able to pick up the phone and talk to one another if there's a crisis. Being able to make sure our militaries still have contact with one another," Biden told reporters at the White House. "We're not trying to decouple from China, but what we're trying to do is change the relationship for the better."
The president is among the many dignitaries visiting for APEC who are staying at the San Francisco Fairmont or the InterContinental Mark Hopkins, which has led to additional street closures and pedestrian security checkpoints in that area of Nob Hill and Chinatown that went into effect Monday.
More details on the Nob Hill and Chinatown Muni impacts can be found on the SFMTA Nob Hill impacts web page .
KPIX 5 carried initial coverage of President Biden's starting at 1:25 p.m. with continuing CBS San Francisco livestream coverage available to on cellphones, tablets and other devices on this page or via the player on the CBSSF.com home page.
San Francisco International Airport
APEC Summit
San Francisco
Featured Local Savings
More from cbs news.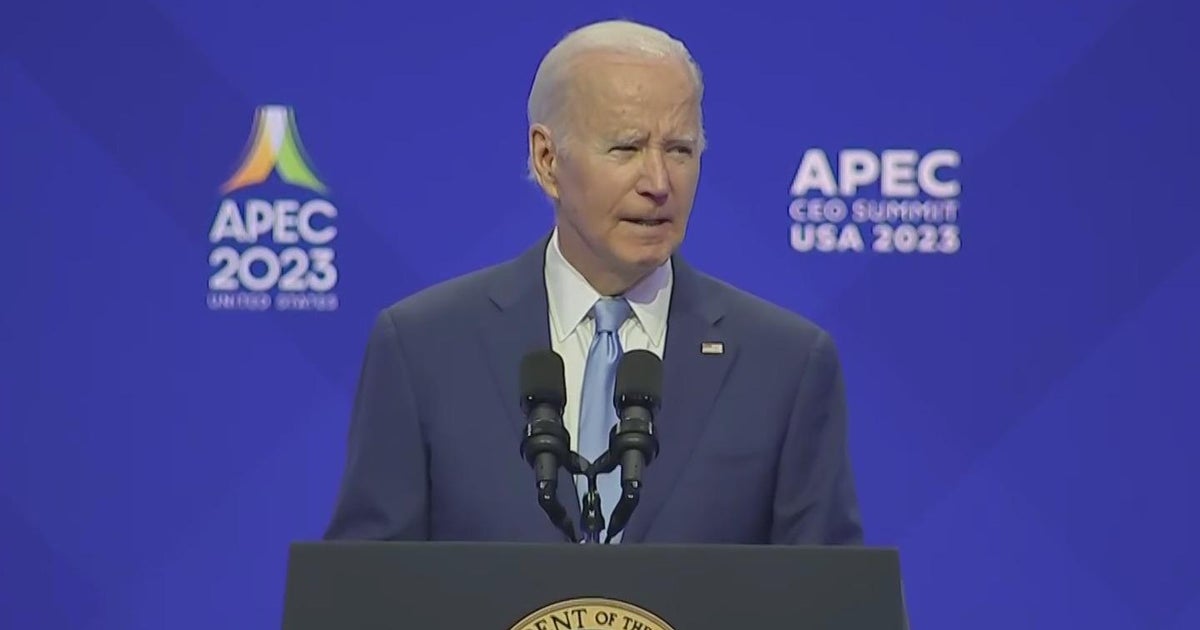 Biden tells Asia-Pacific leaders that US 'not going anywhere' as it looks to build economic ties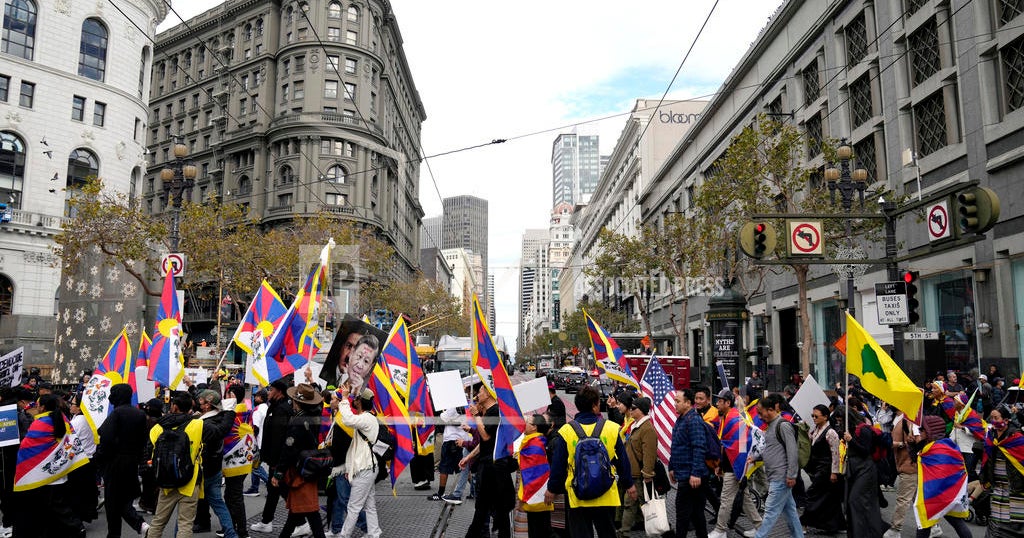 Dueling demonstrators for and against Chinese President Xi square off near APEC conference in SF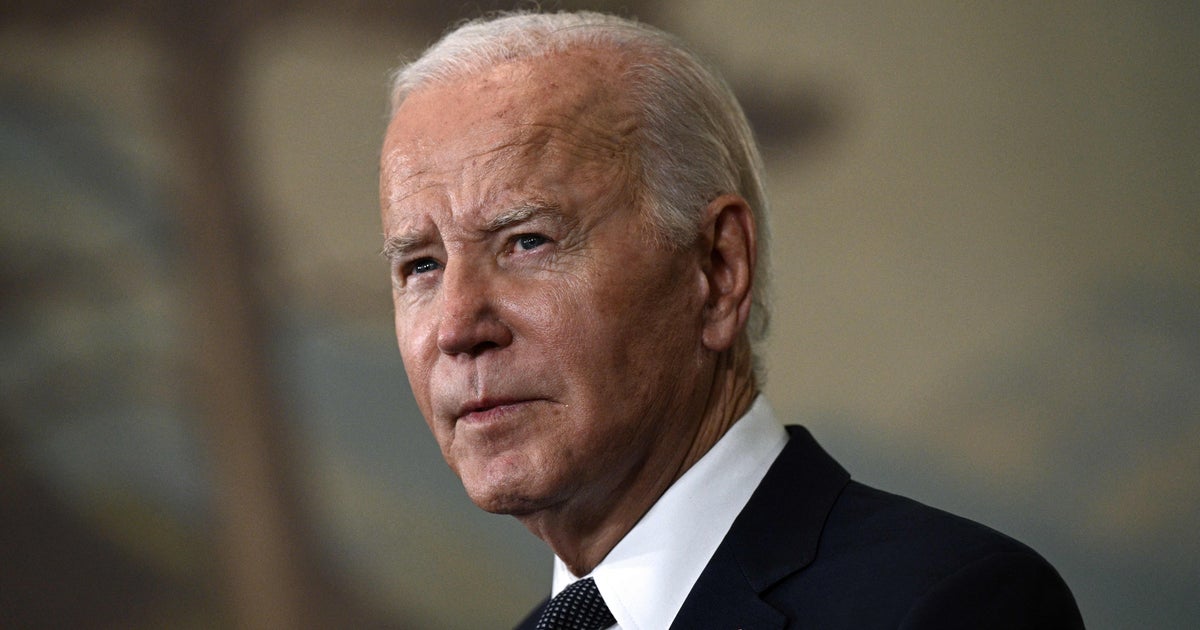 Biden says U.S.-China military contacts to resume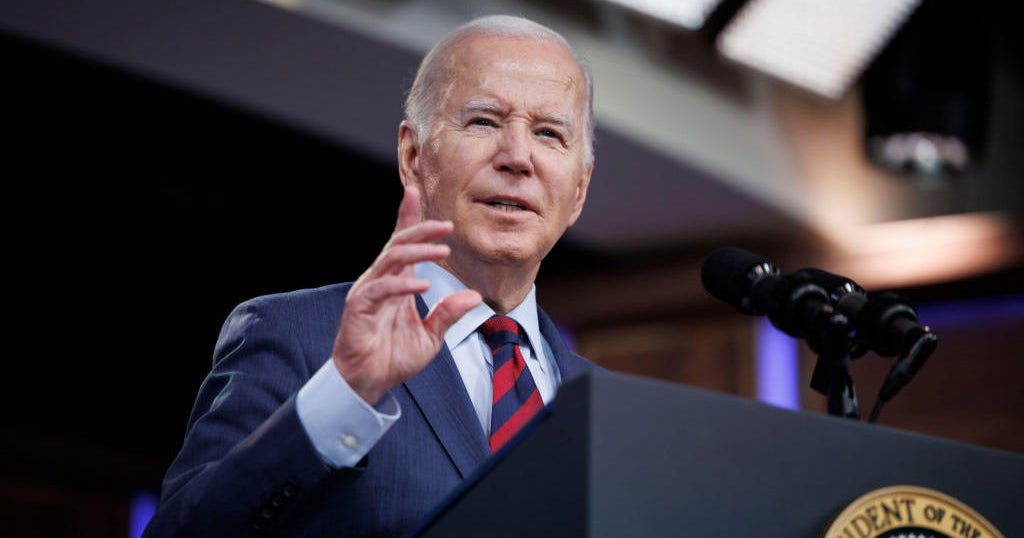 Biden aims to get US-China communications back to normal with Xi meeting in San Francisco