You Need To Explore the Beautiful Campus With a University of Florida Tour
For rising first-year college students, there is nothing more exciting than touring universities and planning your bright future. If you're planning to attend a college in the Southeast, consider a trip to Gainesville to explore the University of Florida! This prestigious school offers an array of phenomenal programs and research opportunities for students. Additionally, the UF Gators sports teams excel on the field as well as in the classroom. Plus, it doesn't hurt that the school resides in a beautiful region of Southern Florida, surrounded by so many amazing things to do and see. It's time to get excited about your  University of Florida tour !  
After your  campus tour , explore the charming town of Gainesville, then rest your head at Sweetwater Branch Inn. Check out our  Gainesville Vacation Guide  for local insight into the best things to see and do during your stay!  
Free Gainesville Vacation Guide  
The Ideal  University of Florida Tour  
Check out all the options below for exciting  tours for prospective students .  
Schedule a Student-Led Tour  
There's no better way to  experience the University of Florida  than through the eyes of a student who currently attends the school.  Schedule a student-led  group tour  to discover everything you have to look forward to when attending this prestigious institution. The tour lasts about 90 minutes and gives you an in-depth glance into your future! You might even learn about some of  the university's cherished traditions  while you're there, like the "Gator Chomp"!   
Utilize the Self- Guided Tour  Map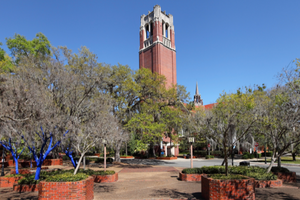 Note:  The university suggests starting your tour at the  Reitz Union Drive  so that you may follow the route in the same order used in guided tours.  
Take the  Virtual Tour  
The university also offers an excellent  virtual tour option  that allows prospective students to get a sneak peek of what's in store for them when they visit in the future! You'll download an app and follow along the tour route on your phone. The tour provides inciteful photos and audio clips to give you a realistic idea the campus.  
Register for  Information Sessions  
The University of Florida Office of Admissions offers  virtual information sessions . They give students and family members to learn more about the university community and ask burning questions. This is a perfect way to get more acquainted with the school before you visit in person.  
Explore the Town of Gainesville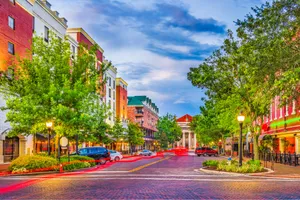 The University of Florida campus boasts many unique attractions, but there's still so much to see off-campus! After your University of Florida tour, take the time to explore Gainesville and picture what your life will be like when you go to school here. Some of the best  things to do in Gainesville  include:  
Satchels Pizza  
The Lubee Bat Conservancy  
The Top Restaurant  
Florida Museum of Natural History  
San Felasco Hammock Preserve State Park  
The Arcade Bar  
Outdoor recreation  
Dive into Ginnie Springs    
& so much more!  
Stay at Sweetwater Branch Inn  
Whether it's your first time exploring the University of Florida, you're moving your new student in, or you're visiting your enrolled child, Sweetwater Branch Inn is the perfect home-away-from-home.  
Check Availability
Related posts:
7 Cool Facts About the University of Florida
8 University of Florida Traditions You Need to Know for Gator Gamedays
Celebrate a Tremendous Win at the Famous Ben Hill Griffin Stadium
Everything You Need to Know About the Baughman Center
Account Options

University of Florida
General Information
2022-2023 tuition, enrollment statistics, admission requirements, sports and athletics, men's sports.
Men's Baseball
Men's Basketball
Men's Diving
Men's Football
Men's Swimming
Men's Tennis
Men's Track & Field
Women's Sports
Women's Basketball
Women's Diving
Women's Golf
Women's Gymnastics
Women's Lacrosse
Women's Soccer
Women's Softball
Women's Swimming
Women's Tennis
Women's Track & Field
Women's Volleyball
Majors/Degrees Conferred
-d denotes that program is also offered through distance education.
College Search
More than 7 million students have used campustours to find virtual campus tours and maps..
University of Florida Campus Map
Get or share directions to any building at uf., crowded or hard to scroll go full screen in the free apps: ios app // android app, link to this map: , find anything on the university of florida campus:, got an update tip or feedback for this uf map, we would love to hear from you please send an email to [email protected] and we will get back to you promptly. thank you for using campus maps.