Search Please fill out this field.
Manage Your Subscription
Give a Gift Subscription
Sweepstakes
Travel Products
The 15 Best Travel Clothes for Fall That Won't Wrinkle in Your Suitcase — Starting at $23
Shop cozy sweaters, pants, dresses, and more that will stay in perfect condition when you arrive at your destination.
We independently evaluate all recommended products and services. If you click on links we provide, we may receive compensation. Learn more .
Travel + Leisure / Madison Woiten
Even though there are plenty of highly functional portable irons and steamers out there, you may not always have room to pack one in your luggage — or, it's likely that you just don't want to deal with the extra step of straightening out your clothing after a long travel day. Our solution? Stocking up on the best wrinkle-free travel outfits for this fall and winter.
The pieces that you'll see ahead are ready to keep you warm and cozy as the temperatures drop, but will still be in perfect condition when you arrive at your destination (think: luxuriously wrinkle-resistant cashmere and stylish shape-retaining wool bouclé ). When shopping on your own, Tuckernuck co-founder Madeline Grayson recommends paying close attention to the fabric and construction: "You can opt for thick fabrics like tweed, knit, or ponte. When it comes to cotton and crepe, look for a hint of spandex or polyester (in the fabrication), which helps keep the garment wrinkle-free."
Overall, we've chosen a range of essentials that will allow you to, of course, be comfortable on the plane or any other mode of transportation while still looking put-together enough to transition right into whatever's next on your itinerary. So, take the time to scroll and shop the 15 best wrinkle-free travel clothes for fall before your next trip. 
J.Ver Women's Button-Down Shirt
First up is an affordable must-have that had to be in this round-up because of its versatility. This button-down shirt can be dressed up or down for any occasion. Heck, you can even wear it unbuttoned on top of a tank top or T-shirt as a lightweight layer, or as a swim cover-up if you're spending the day at the resort's pool. The hundreds of positive reviews also back up its wrinkle-free capabilities. In fact, one reviewer wrote , "It's a great fit. The material is soft and comfortable. It never wrinkles."
Nordstrom Men's Tech-Smart Trim Fit Stretch Cotton Button-Down Shirt
This comfy men's shirt is designed with stretchy cotton, which will stay fresh and crisp all day long. And thanks to its trim and tailored fit that includes a button-down collar, you won't have to worry about looking too relaxed or slouchy. Slip on dressier shoes and slacks to spruce it up, and you can certainly go from a long flight to dinner in no time. 
Athleta Brooklyn Ankle Pants
Wrinkle-resistant bottoms are essentials for travelers, and Athleta's ankle pants have nearly 10,000 five-star ratings because of their breathable, lightweight, and most importantly, recycled polyester fabric that allows them easily air out wrinkles. Shoppers have their choice of 10 colors, and some of them are even on sale. 
Quince Women's Mongolian Cashmere V-Neck Sweater
A cashmere sweater for $50? That's the beauty behind editor-favorite brand Quince . The site offers timeless looks in luxurious fabrics that won't break the bank — like this V-neck sweater that's elegant, lightweight, and won't wrinkle. Pro shopping tip: If you refer a friend, they'll receive $20 off their order of $50 or more , and in return, you'll get $20 off your next purchase. Consider this your sign to stock up on cashmere for the cold-weather travel season.
Madewell Women's Flannel Cargo Button-Up Shirt
Besides keeping you warm, you can count on a flannel to never crease or crinkle. As a bonus, it'll also get softer the more times that you wash it. But, instead of the standard plaid flannels on the market, grab this cropped version from Madewell that puts a fun spin on the classic clothing staple. With its distinct cargo-style patch pockets and wrinkle-resistant cotton construction, it can bring new life to your favorite pair of high-waisted pants. It's a trendy ensemble that requires minimal effort — which us travelers all need more of. 
Abercrombie Women's Lounge Waffle Mockneck Top
Abercrombie & Fitch
Waffle fabrics are synonymous with wrinkle-free. Here's a fashionable mockneck style that you can dress down with its matching sweatpants or up with sleek pants, boots, and bold jewelry. Add it to your closet and we bet it'll soon become your cold-weather travel uniform. Heck, the top is so soft and snuggly that it can also be worn as a pajama shirt on extra chilly nights. 
Quince Women's Baby Alpaca-Wool Crew Sweater
You won't have to worry about wrinkles when sporting this ribbed alpaca wool sweater from Quince. On top of that, reviewers are happy to report that it's not itchy either, so you can wear it comfortably throughout the day without any inconvenience. And beyond classic neutrals, consider the fun violet color that can bring warmth and brightness to chilly fall and winter days. 
Tanming Women's 2-Piece Long-Sleeve Knit Lounge Set
Nothing beats a wrinkle-resistant lounge set on a long travel day. This matching set from Amazon-favorite brand Tanming is the elegant version of a matching sweatsuit, but you'll still be comfier than ever even though you look incredibly stylish and put-together. The best part? Unlike most sites that make you pay for each item separately, Amazon groups the two pieces together so you get them both for $50. 
Quince Women's Mongolian Cashmere Polo Sweater
Searching for a cashmere sweater that has a little more personality than traditional versions? Then you'll be drawn to Quince's polo sweater, which has a long-sleeve silhouette with an open collar neckline that leaves you looking cool, relaxed, and stylishly sharp. There's a reason why it's one of the site's best-sellers, and we have a feeling that you'll have a hard time just picking one of its seven autumnal hues. 
Abercrombie Women's Soft Matte Squareneck Bodysuit
A bodysuit is a top that you should always keep in your suitcase. It won't require any maintenance, and whether you throw it on underneath a blazer or simply wear it with slacks or a skirt, you'll be ready to go in minutes . Abercrombie sells a style with lightweight compression that will outline your body and show off your shape in all the right ways without feeling restrictive or too toasty. Plus, it's available in eight fall-friendly colors. 
Anthropologie Women's The Colette Cropped Corduroy Pants
Anthropologie
Corduroy is an excellent fabric choice for fall and winter styling, and similar to ribbed and waffle designs, it's impressively resistant to wrinkling. People rave about these wide-leg corduroy pants from Anthropologie, which come in various colors and patterns to suit everyone's personal taste. And to ensure that there really is something for everyone, they are also available in standard, tall, petite, and plus sizes.
Vuori Women's Halo Essential Jumpsuit
Very few clothing items offer the same versatility and easy styling as jumpsuits. After all, they're the ultimate one-and-done outfits, and you can easily sport one on a flight, out around town, and while running errands. Hop on the jumpsuit train with this sleek one from editor-loved brand Vuori . It's fashionable loungewear at its finest. You'll feel snug, courtesy of the buttery-soft material, and the performance fabric ensures that you won't run into any wrinkles — now that's a win-win!
Tuckernuck Women's Black Tweed Jackie Dress
On the hunt for a versatile dress that you can rock at the airport, to a work meeting, or to brunch? Tuckernuck's popular Jackie dress will do the trick. Plus, the textured fabric is machine washable and wrinkle-resistant, and the silhouette is flattering on all figures. Pearl white, hot pink, and hunter green are just a few of the standout shades that you can buy.  
Madewell Women's Boiled Wool Bouclé Vest
Don't hesitate to invest in wool bouclé. Not only is it a durable, thick layer that you won't have to iron or steam, it's an effortless way to spice up your cold-weather wardrobe. If you already have too many similar-looking long-sleeve shirts and sweaters hanging in your closet and packed in your suitcase, add this Madewell wool bouclé vest to your shopping cart now. It makes basics like jeans, trousers, and skirts look fresh and modern, while adding an intriguingly elegant touch that's comfortable to wear. Feel free to snag the matching midi skirt and tuxedo coat , too.
Reformation Women's Belle Cashmere Mini Dress
Reformation
Yes, you can buy a full cashmere dress and you won't have to stress about it becoming wrinkled and creased when taking it out of your suitcase. The Belle Cashmere Mini Dress from Reformation is basically an extra-long version of your go-to sweater; the relaxed fit combined with the sophisticated fabric results in a comfortable statement piece that you can wear with heels and sneakers, and this flexible two-in-one situation is the key to efficient travel. 
Love a great deal? Sign up for our T+L Recommends newsletter and we'll send you our favorite travel products each week.
See More T+L Shopping Deals
By clicking "Accept All Cookies", you agree to the storing of cookies on your device to enhance site navigation, analyze site usage, and assist in our marketing efforts.
These Are The 10 Best Wrinkle Free Travel Clothes To Buy In 2023
Avoiding wrinkles in your travel clothes makes it easier to look fresh during the journey, and these clothing options are perfect for that.
Wrinkle-free clothes are a game changer for travelers, ensuring a sharp and polished look even after being stashed in a suitcase for hours.
Synthetic blends like polyester and wrinkle-resistant finishes are key features of wrinkle-free clothing, making them lightweight, breathable, and perfect for diverse climates and activities.
Wrinkle-free clothing is an intelligent packing choice, providing convenience, saving time, and enhancing the overall travel experience for both men and women.
When traveling, an explorer's clothes can be in for a rough time. Aside from trying to figure out what to wear to the airport , they'll likely be on that plane for a few hours. Wrinkles are one of the worst things to happen to clothes as a traveler goes from location to location. Wrinkle-free clothes are where it's at when jet-setting around the world. Aside from avoiding the obvious problem of wrinkles in clothing, it also helps travelers have peace of mind about their appearance.
If a traveler is hopping on the cheapest flight to a tropical destination , they don't have time to steam-clean their clothes. Typically, wrinkle-free clothing is constructed from synthetic blends like polyester or treated with wrinkle-resistant finishes. These garments are lightweight, breathable, and durable, making them perfect for diverse climates and activities. Whether on a business trip, exploring new destinations, or concerned about maintaining a polished appearance during a journey, wrinkle-free clothing is an intelligent packing choice, saving an explorer time and enhancing the travel experience.
Related: Airport Hacks That Will Definitely Make Your Next Flight Easier
The recommendations for travel clothes mentioned in this article were collected through thorough research into the outfits presented. Every effort was made to ensure that these outfits offer both comfort and style for the traveler and have that all-important wrinkle-free trait.
10 NikeCourt Dri-FIT Slam
Every traveler has felt overdressed in an airport, but this casual t-shirt ensures that men everywhere can feel relaxed, hip, and fashionable, even in airport lines. Crafted with a blend of high-performance fabrics, these garments are designed for the on-the-go traveler. Engineered with Dri-FIT technology, they wick away moisture to keep the wearer cool and comfortable during their journey. What sets them apart is their remarkable wrinkle-resistant properties, ensuring a sharp and polished look, even after being stashed in a suitcase.
Product: NikeCourt Dri-FIT Slam
Great For: Casual wear in warmer climates, undershirts in cooler climates.
9 NOCTA Golf Men's Half-Zip Jacket
Jackets should never be overlooked as a travel necessity. The NOCTA Golf Men's 1/2-Zip Jacket , a masterpiece of travel attire, seamlessly blends style and practicality for the modern globetrotter. This jacket offers a sleek silhouette and impeccable comfort, ensuring travelers arrive at their destinations impeccably. Its innovative wrinkle-resistant technology effortlessly maintains a polished appearance throughout the journey.
Product: NOCTA Golf Men's Half-Zip Jacket
Great For: Colder airports and early-morning travel.
8 Nike Yoga Dri-FIT Women 7/8 Fleece Joggers
As a woman, traveling can be a hassle since finding comfortable and wrinkle-free outfits is difficult. For the adventurous female traveler, the Nike Yoga Dri-FIT Women's 7/8 Fleece Joggers are the epitome of fashionable and wrinkle-free travel wear. These joggers blend style and practicality, allowing women to embark on journeys with confidence in their appearance. Infused with Dri-FIT technology, they remain breathable and moisture-wicking, ensuring comfort during long trips. The wrinkle-resistant fabric also means that no matter what situation a traveler puts them in, they'll bounce back, keeping the look crisp and sharp throughout the journey.
Product: Nike Yoga Dri-FIT Women 7/8 Fleece Joggers
Great For: Long journeys and early-morning travel.
7 VTMNTS Black Logo T-Shirt
One of the most important tips for minimalist packing for a long flight is to take what a traveler needs and no more. The VTMNTS Black Logo T-shirt is an excellent example of this minimalist mindset. Even after hours of travel, this t-shirt maintains its fresh appearance. Its versatility allows it to transition seamlessly from day to night, making it perfect for exploring new destinations or attending casual evening events.
Product: VTMNTS Black Logo T-Shirt
Great For: Casual travel, warmer climates, and long journeys.
Related: Top 10 Tips For Finding The Cheapest Flights To Anywhere
6 Undercover Red 'Fight War' Sweatshirt
With so many things to do at the airport during long layovers , worrying about wrinkles in an outfit should be at the bottom of the list. The Undercover Red 'Fight War' Sweatshirt epitomizes style and convenience in wrinkle-free travel attire. Its unique design and message make a bold statement, while its wrinkle-resistant fabric ensures a fresh look no matter how far the journey. This sweatshirt is not just a fashion choice but a companion for travelers seeking comfort and expression.
Product: Undercover Red 'Fight War' Sweatshirt
Great For: Long journeys, cooler climates, and casual travel.
5 VTMNTS Embroidered Logo Denim Jacket
Denim jackets are perfect for surviving long-haul flights in economy seating . The VTMNTS Embroidered Logo Denim Jacket is a distinctive piece in the collection of wrinkle-free travel fashion. Its signature style and wrinkle-resistant fabric offer a perfect fusion of fashion and practicality, ensuring travelers remain effortlessly sharp throughout their journeys. This jacket is not merely an outer layer but a statement of individuality and versatility.
Product: VTMNTS Embroidered Logo Denim Jacket
Great For: Casual travel, long journeys, general wear.
4 Diesel Black 1994 Skinny Jeans
Skinny jeans have gotten a reputation for being a little dated in the general fashion scene, but they serve a great purpose when traveling if a visitor wants to avoid wrinkles. The Diesel Black 1994 Skinny Jeans are a quintessential choice in wrinkle-free travel clothing. These jeans offer the ideal balance of style and practicality, ensuring that travelers embark on their journeys with confidence. Nothing avoids wrinkles like denim, and their slim, sleek design makes them a versatile option for diverse destinations and activities.
Product: Diesel Black 1994 Skinny Jeans
Great For: Casual travel, general wear, and fashionable outfits.
3 Raja Waffle Knit Henley Hoodie Sweater
Heading to the best winter destinations for the adventurous traveler might mean dressing warm, but can a person's outfit offer warmth and also stay wrinkle-free? This versatile sweater combines style and convenience, making it an ideal choice for those who crave a comfortable yet chic travel experience. The wrinkle-free fabric ensures that there's nothing to smooth out even after hours on a plane. It's the perfect blend of trendy and smart for the adventurous traveler.
Product: Raja Waffle Knit Henley Hoodie Sweater
Great For: Cold weather travel, activities in colder climates or winter, early-morning flights.
Related: Long Vs. Short Flights: Which Is More Comfortable & Why
2 Kelton Active Long Sleeve Tee
Long sleeves are useful for traveling, especially if the flight a traveler is on is in the early morning hours. This tee offers both comfort and a sharp look, ideal for those constantly on the move. Crafted with wrinkle-resistant fabric, it maintains a polished appearance regardless of the journey's duration. Its sleek design and versatile wearability make it an ideal choice for different travel scenarios, whether a brisk morning jog, an urban exploration, or a long flight.
Product: Kelton Active Long Sleeve Tee
Great For: Travel to colder climates, early-morning flights, and long journeys.
1 The Mikey High-Waist Wide Leg Jean
Nothing is nearly as comfortable as a pair of jeans that gives a traveler some room. An effortless blend of style and wrinkle-free practicality, they ensure a sharp look, no matter the duration of the journey. The wide-leg design adds a touch of elegance, suitable for various travel activities. Whether it's meandering through foreign markets, exploring new terrains, or attending casual evening gatherings, the Mikey High-Waist Wide Leg Jean elevates the travel experience, embodying a commitment to wrinkle-free, on-the-go style.
Product: The Mikey High-Waist Wide Leg Jean
Spend $100 more and get free US shipping!
Your cart is empty
Men's Travel Clothing
Tempo Long Sleeve Crew
Men's Primo Long Sleeve Henley
Men's Ponderosa Long Sleeve Henley
Framer II Long Sleeve Crew
Moonwake Long Sleeve Shirt
Mission Ridge 5 Pocket Lean Pant
Mission Ridge Lean Pant
Mission Ridge Pant
Men's Primo Short Sleeve Polo
Tempo Short Sleeve Crew
Men's Primo Short Sleeve Crew
Men's Boxer
Men's Boxer Brief
Mission Ridge Short
Honcho Short Sleeve Shirt
Men's Primo Short Sleeve Henley
Mission Ridge Pull-On Short
Men's Boundless Pull-On Short
lol Badge Feed
win Badge Feed
trending Badge Feed
Browse links
© 2023 BuzzFeed, Inc
Consent Preferences
Accessibility Statement
Beauty + Personal Care
Sports + Fitness
We hope you love our recommendations! Some may have been sent as samples, but all were independently selected by our editors. Just FYI, BuzzFeed and its publishing partners may collect a share of sales and/or other compensation from the links on this page.
23 Comfortable, Wrinkle-Resistant, And/Or Quick-Drying Pieces To Wear On Your Next Trip
Travel wardrobe > regular wardrobe.

BuzzFeed Staff
Unless otherwise specified, all sizes in this post are listed in women's.
1. Slouchy overalls made with lightweight fabric *and* deep pockets, which are both essential while traveling. And the fact that you can wear these with so many different shirts underneath (we're talking tank tops, T-shirt, long-sleeved, turtlenecks), means this is a versatile piece you'll wear multiple times during the trip.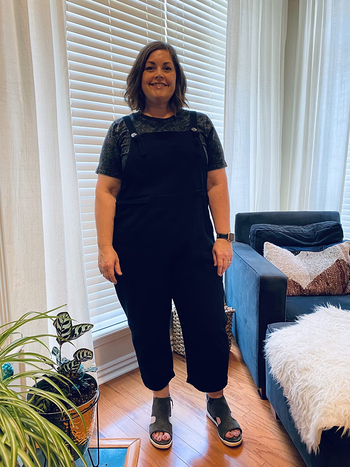 Some reviewers recommend sizing down, unless you're tall!
Promising review: "The pocket in front is very handy. It feels like I'm wearing nothing. The overalls are light and flow-y. The fabric quality could be better — it may not last long, but it's inexpensive. I get so many compliments when I wear them. I wore them for plane travel and on the beach in Maui and Mexico and were perfect for all. Would I purchase again? Hell yeah. Size down possibly, they are slightly large." — Jamie Pauluk
Get them from Amazon for $26.99+ (available in sizes S–3XL and in 21 colors and prints).
2. An off-the-shoulder maxi  for an effortless look you can quickly grab when you spend too much time at the pool and have approximately five minutes to get ready before your dinner reservation. Reviewers confirm this maxi is stretchy, easy to wear, and (one of the best parts), has pockets!!
Promising review: "I bought this dress for my trip to Hawaii. It was my favorite dress I wore on this trip!! I bought a large thinking the medium may be too tight, but I could have been fine with a medium because of how stretchy and comfortable the material is. Buying more colors for sure!!!"— Maria E. Montoya
Get it from Amazon for $39.99 (available in sizes XS–XXL and in 24 colors and patterns).
3. A pair of ankle pants you can wear on planes, trains, and buses, as one reviewer confirms. They're also wrinkle-resistant, which means you won't have to pack a steamer (because that's always more work than you need to deal with when your OOO is set). 
Promising review: "I wore these pants on a vacay to the EU and UK. They are so comfortable! They were part of my attire on the day we went to see Stonehenge, so I wore them on trains, buses, and on the Tube in London. I usually have reservations about buying clothing online without trying them on, but these pants are like a dream! Lightweight and stylish to boot! Will be a lifelong customer!" — Julie S. 
Get them from Anatomie for $248 (available in sizes XS–XL and in four colors). 
4. A fitted  sports and yoga tank with a padded bra  perfect to wear with high-waisted leggings (or jeans) and any sweater or sweatshirt over it. Then once you get to your destination, and it's too warm for the second layer, you can just wear the tank on its own.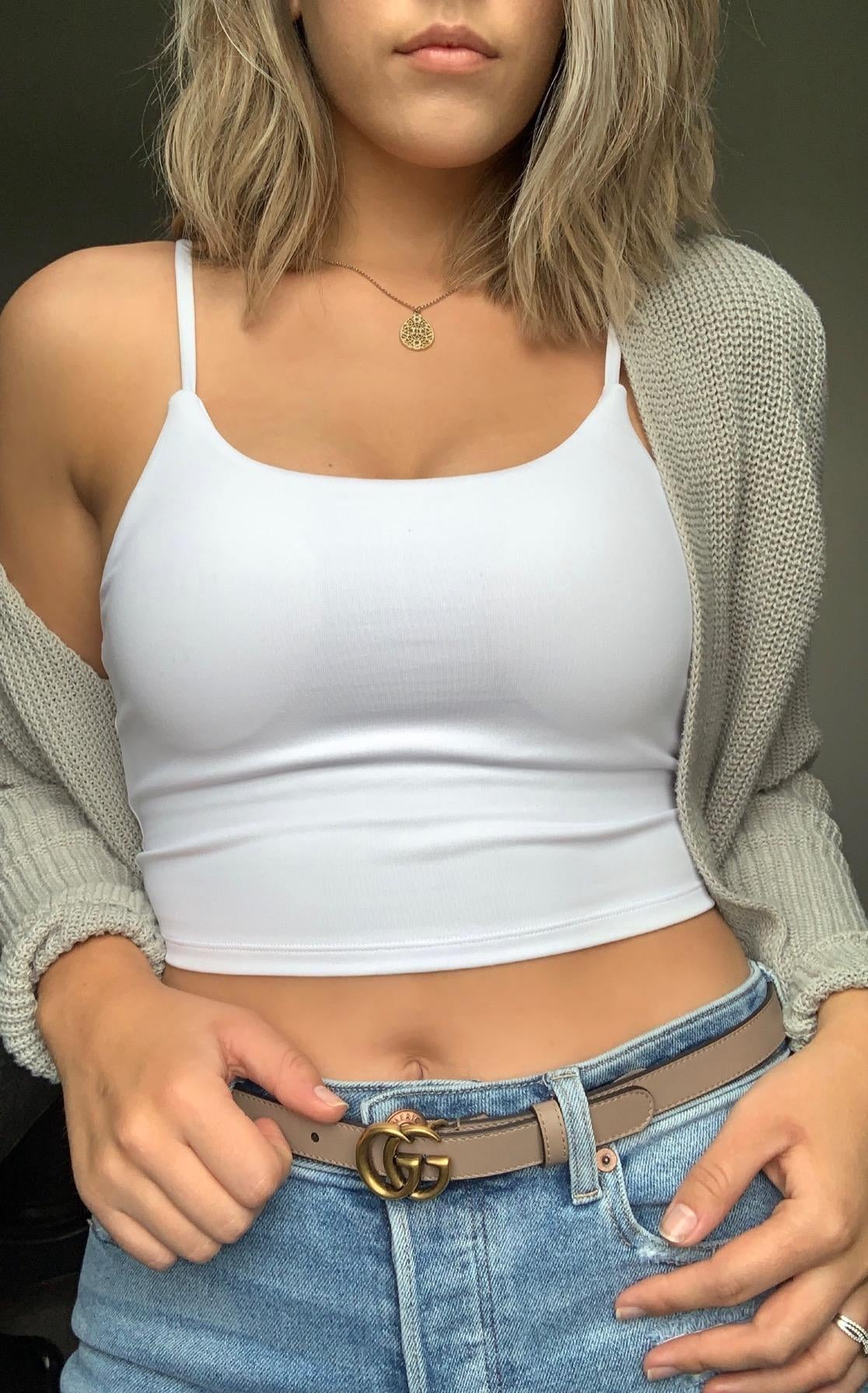 Reviewers recommend ordering one size up for a more comfortable fit. 
Promising review:  "It's very comfortable for working out and traveling, too! It looks great on. I'm a small in tops, but I ordered a medium, and it fits perfectly fine. It's super comfortable, not super fitted, but just about right." — Kevin Shah
Get it from Amazon for  $22.99+  (available in sizes S–XXL and 20 colors).
5. A button-down A-line skirt  for a cute style that will still keep you covered enough that you don't have to add a scarf over your outfit when you go into a European church with a dress code.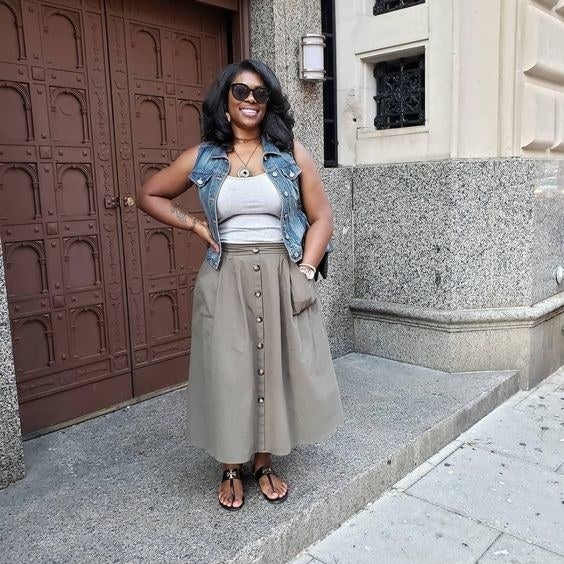 Promising review : "This skirt is so versatile. I usually have a hard time finding skirts because I have wider hips so skirts that are longer create a weird silhouette. This skirt is not that. I have been able to wear it to work and feel super comfortable. The fabric is sturdy, and it has a little of a wrinkled look so it is great to travel with. I would recommend this skirt to anyone who is looking for some flare in their wardrobe but doesn't want to break the bank. I got this skirt in red and plan on getting it in a few more colors. Also, it was true to size." — Christina
Get it from Amazon for  $23.99 (available in sizes S–XL and seven colors)
6. A pair of Reebok classic shoes  I can personally say are great for traveling because they're all I wore when I was on vacation recently. Not only are they super stylish, but they're comfortable and look good with everything from jeans, to leggings, and even dresses. A true 10/10 shoe.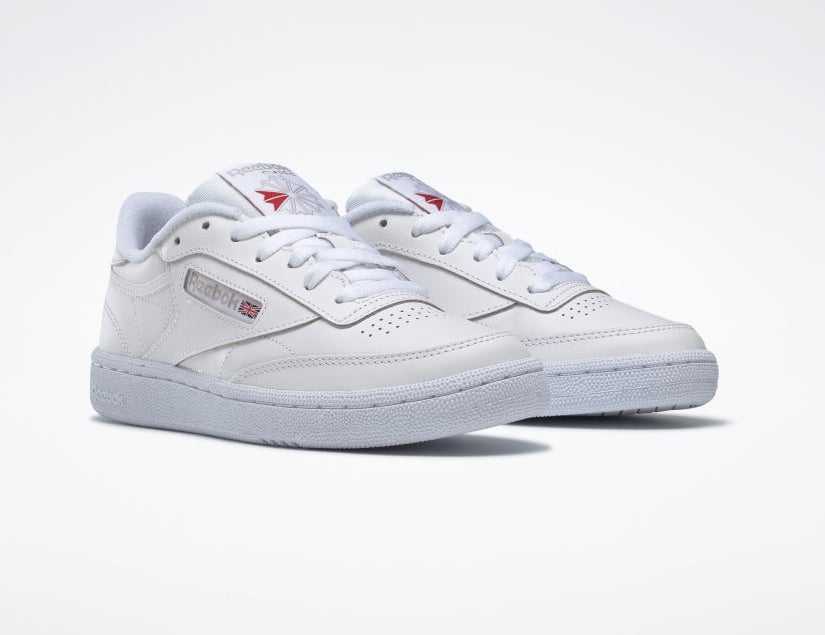 I love shoes, so when it comes to packing for a trip, I always have a hard time figuring out which ones to pack. When I went on a trip recently, I was really trying to not bring a lot of shoes (because they take up SO much luggage space), so I decided to bring these and two other pairs. I ended up wearing these every day of the trip and was comfortable the whole time, even the day we walked more than 20,000 steps. I wore them with semi-dressy and more casuals looks, and I didn't feel like they clashed with anything. 
Promising review: "These shoes are comfy enough to be on my feet for 8 hours at a time for work, and they're still stylish. After my first ones lasted me two years, I have come back to buy a second pair. These shoes are definitely more suited for normal to narrow feet, and I wouldn't recommend them if you have particularly wide feet. They are also super easy to clean in the washing machine or with a wet wipe in a pinch." — Ommy
Get them from Reebok for $75 (available in sizes 5–11 and in two colors). 
7. A flowy tank dress that's essentially made with the same material as pajamas. This means you can wear it on the flight with your favorite jean jacket and be comfortable the whole time, but still be ready to go as soon as you step off the plane. Vacation starts N-O-W.
Promising review: "This dress has adjustable straps. It hugs you but isn't bodycon, which I liked. I paired it with a denim jacket for versatile temps of the airport, and it was great for travel." — Keeli
Get it from Amazon for $29.99 (available in sizes XS–XXL and in 35 colors and patterns).
8. A  stretchy drawstring jumpsuit  so comfortable yet stylish, you won't mind staying in it for the rest of the day after the flight lands. Plus, it can totally double as a swimsuit cover-up when you head to the pool!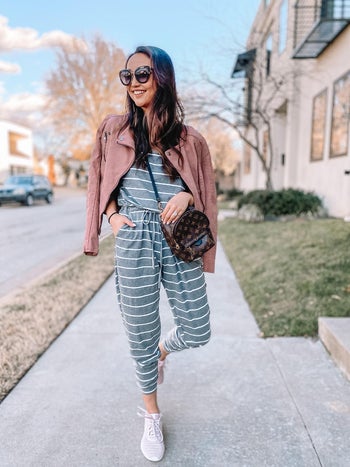 Promising review : "I absolutely love this romper. The stretch is amazing! I originally ordered a large based on reviews and it was way too big so I decided to order the medium and even that was big so I decided to order one more time and did the small and that fit perfect! This romper is sooo comfy, perfect for traveling, running errands or just lounging in. " — Yvonne
Get it from Amazon for $37.99 (available in sizes S–XXL and in 21 colors/prints).
9. A two-piece midi dress outfit  you'll be ~dying~ to wear as soon as you get to your destination — as a beach coverup or just a great dinner outfit. You're bound to have a great time when you wear this amazing outfit. 
Promising review: "I absolutely LOVE this outfit!! It is cute, sexy, and comfortable to wear. I bought this outfit as a 'travel outfit' to wear while going to the beach!! I should have bought two at the same time, but I didn't! I definitely will be ordering more colors next time."— Moni
Get it from Amazon for  $34.99 (available in sizes XL–5X and in 36 colors and patterns)
10. A Hackwith Design House shirt  actually made to be worn six different ways. This fact alone makes it a great shirt to travel with. But you're going to like the styles so much, I can pretty much guarantee you'll wear it more than once during your trip.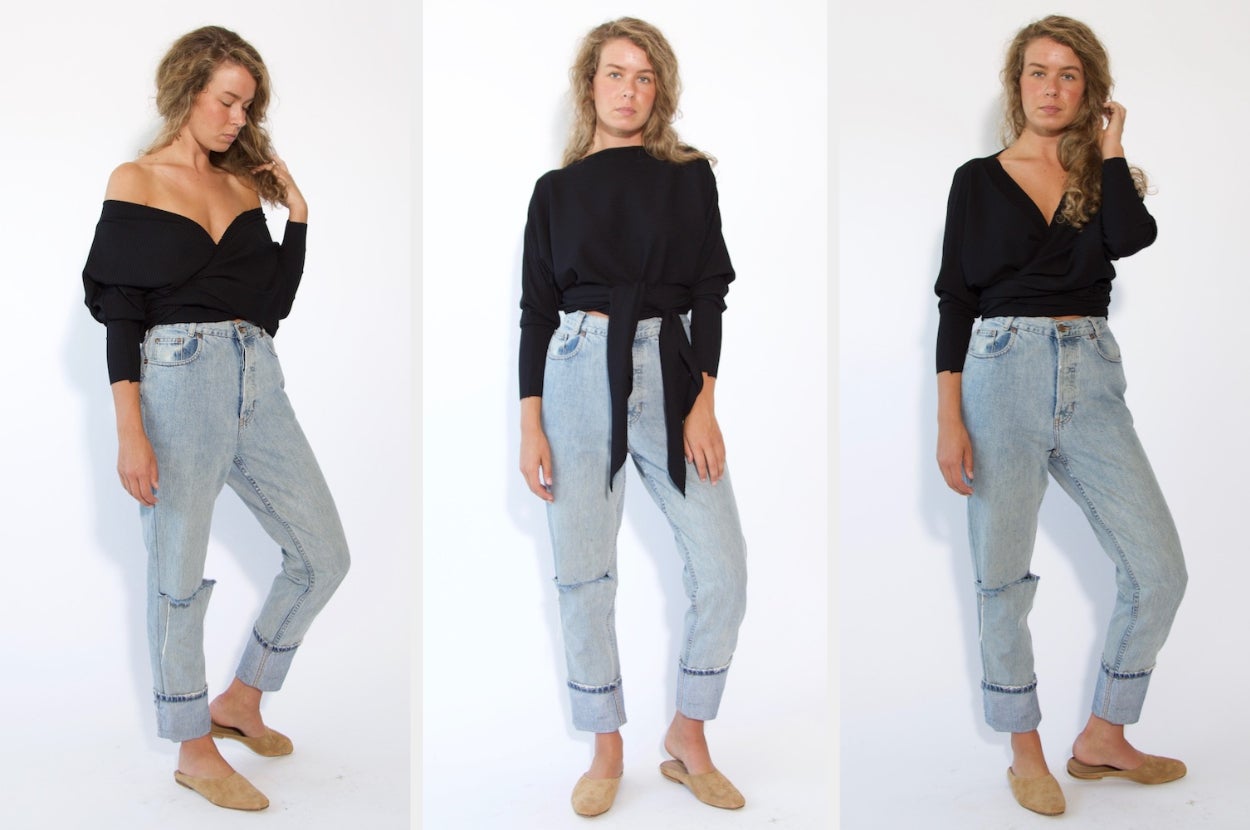 Hackwith Design House is a woman-owned small business that creates made-to-order apparel. This shirt can be worn as a V-neck, off-the-shoulder, boatneck, V-back, and even open as a jacket. And the color is simple, which means it can be paired well with many different bottoms. 
BuzzFeed Shopping Editor  Chelsea Stuart  says: "I have this shirt and I *love* it.  All credit for its discovery goes to TikToker  @jennifer.bianca  who I happened to stumble across on my FYP. It checks all my boxes: black, comfortable, versatile, and durable. My initial worry was that I wouldn't feel secure in it (I have a 38DDD chest and most wrap tops/dresses I've tried haven't stayed where they're supposed to), but I haven't had an issue with this! I've worn it tied in the front giving me a square neck (like the middle picture) and tied in the back giving me a V-neck up front (just like the photo on the right) — both were super comfortable, and I didn't have to adjust myself at all. As someone whose weight fluctuates, I also appreciate that this piece can handle pounds gained and lost. The fabric is medium weight, so I'll be wearing it season to season, and there's just enough elasticity in the arms that if you roll up your sleeves, they won't fall back down. All that is to say trust that I will be buying additional colors!"
Get it from Hackwith Design House for $145  (available in sizes XS–4X and in five colors). 
11. A printed cover-up  that will be the pop of color your travel wardrobe needs. Throw it on over your swimsuit, put it over a dress with a belt, or even with just a plain T-shirt and jeans. The possibilities are endless.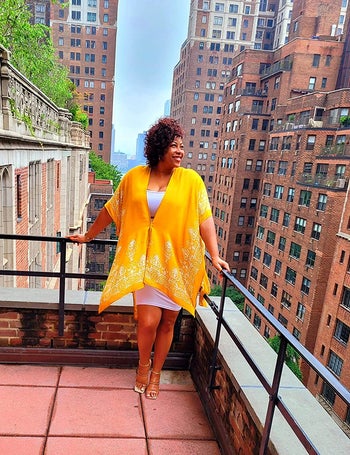 Promising review: "I love a good kimono that can make my travel wardrobe versatile. I took this on vacation and was able to wear it with cotton Capri leggings, shorts and even over the top of a black dress for a little extra coverage in a cold restaurant." — Janna
Get it from Amazon for $24.99 (available in one size fits most and in 40 colors and patterns).
12. A cami jumper  one reviewer calls the "best travel outfit of all time." You can wear this on its own, or with a bralette, tank, T-shirt, or even long-sleeved shirt. Think about all those possible outfits!
Pssst! Reviewers also say this is a great option during pregnancy because it's bump-friendly and works long after baby is born!
Promising review: "This romper is so comfy. It is the best travel outfit of all time. You can dress it up or down. Wear it out for dinner or just to get groceries. I'm buying more in other colors!" — Amazon Customer
Get it from Amazon for $39.99 (available in sizes XS–3X and in 13 colors, prints, and styles).
13. A pair of joggers  actually made with wrinkle-resistant fabric, so it doesn't matter has small you roll them up to fit in your suitcase because they'll still look perfect when you get to your destination. And the high-quality fabric means you can wear these in both casual and dressy settings.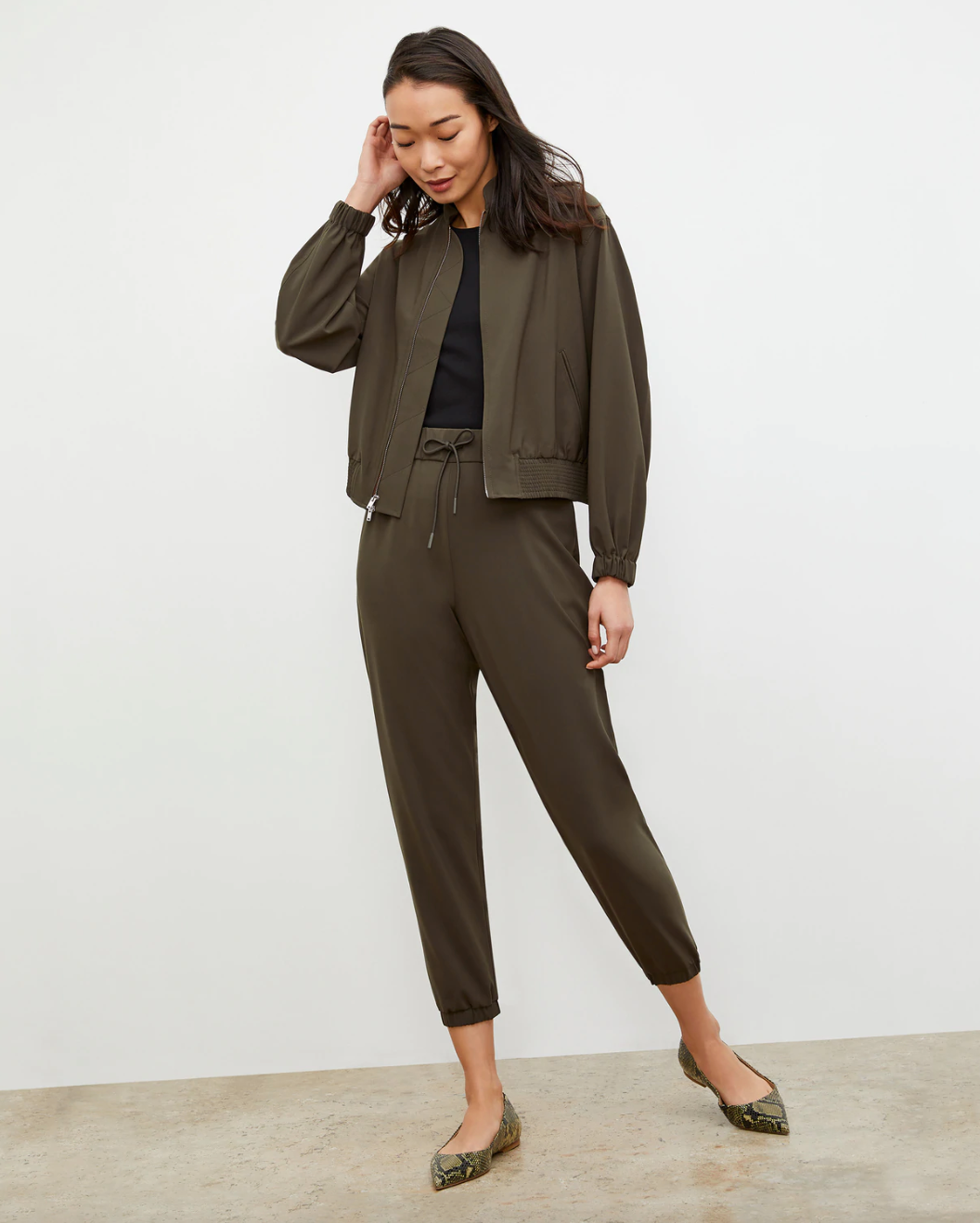 Promising review: "This material is the best thing to happen to my wardrobe in a long time. So comfortable, packable, wrinkle resistant, gorgeous colors. Great for casual office days, evenings and weekends. I wish the Delaney joggers were just a wee bit longer; at 5'10" they hit a little higher on leg than I'd prefer but all in all, wonderful pants that get a lot of wear!" — Rebecca H.
Get them from M.M. Lafleur for $90 (originally $225; available in sizes XS–XL and in two colors). 
14. A tie-dye maxi you can wear on its own or with a jacket if it's a little cooler than the weather forecast predicted you when you packed for this trip weeks ago. Plus, one reviewer says it works with leggings underneath for extra warmth on the flight!
Promising review: "I bought this dress to travel to Mexico. It's the perfect travel dress. I wore with sneakers, leggings under, and jean jacket over because was in the 30s when we departed. I am only 5'3½", so I tied the front and back together in a cute little side knot for using airplane lavatory. Once you arrive, grab your sandals from your carry on, pop in the bathroom and ditch your leggings, throw on some sunglasses and you are good to go! " — EA
Get it from Amazon for $26.99 (available in sizes XS–XL and in 32 colors and patterns).
15. A  hoodie  made with a  built-in  eye mask .  Talk about a game-changer. Put on your hood during your flight, close your eyes, and you'll be there in no time.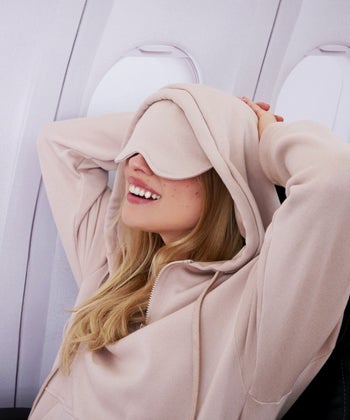 It also has a hidden pocket inside the kangaroo pocket to safely hold your valuables (phone, keys, headphone case). Reviewers do say it has an oversized fit, so size down if you want a closer fit. 
Pond Los Angeles is an Asian- and woman-owned small business that creates bags and clothing perfect for traveling. 
Promising review: "I fly a lot and am constantly trying to find a hoodie with a big hood to cover my eyes so I can catch up on some beauty sleep on flight. I saw this product on Instagram and knew it would be a game-changer. I was able to use it recently for the first time on an early morning flight and let me tell you, it is EVERYTHING I was looking for and more. It's comfy, cozy, oversized, and the eye covers make you feel like you're in a whole other world and not packed like a sardine on a plane. My over-ear headphone fit perfectly under it and I got the best sleep I've had on a plane — EVER!" — Heather G.
Get it from Pond Los Angeles for $128 (originally $128; available in sizes XS–XL; also available in black and oak )
16. A patterned V-neck skater dress  you can totally wear with both sandals and sneakers, making it an incredibly versatile option that will look great in all the pictures you take. 
Promising review: "This dress traveled well and was the appropriate knee length for entry into the Vatican and Roman churches. It can be dressed up with a sweater or scarves or dressed down with a jean jacket and sneakers or sandals. These are great all-around dresses, and I have them in solids and floral prints. Great buy!" — JJ
Get it from Amazon for $31.99 (available in sizes S–XXL and in 33 colors and patterns).
17. A wrap top  about to ~wrap~ up any fears you have about not having anything to wear while traveling. This machine-washable, quick-drying, wrinkle-resistant shirt can be worn in so many different ways — from a wrap around style, to a tie front, and even just left long, to name a few. You'll feel like you're wearing a different shirt every time you put it on.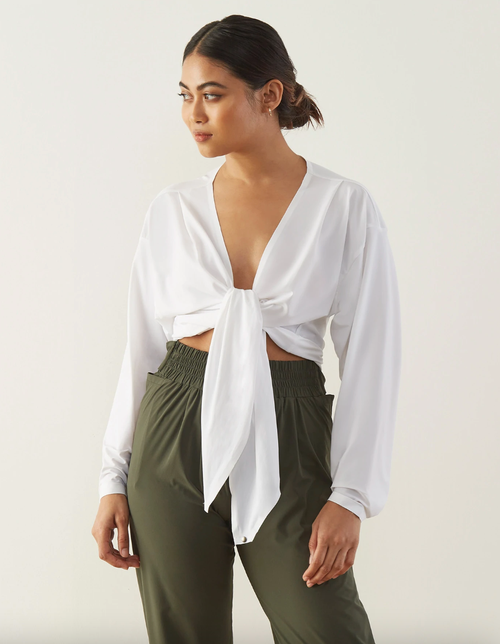 Aday is a woman-founded small biz that creates beautiful and timeless sustainable fashion. 
Promising review: "I really like this shirt because of how multi functional it is. Not to mention, it is so breezy during this very hot summer we are experiencing. It doesn't crease, so it's great for traveling as well." — MI
Get it from Aday for $150 (available in sizes XS–XL and in eight colors). 
18. Cozy joggers  better to wear while flying than leggings because these are just as comfortable but have super convenient pockets, which you always need more of while traveling.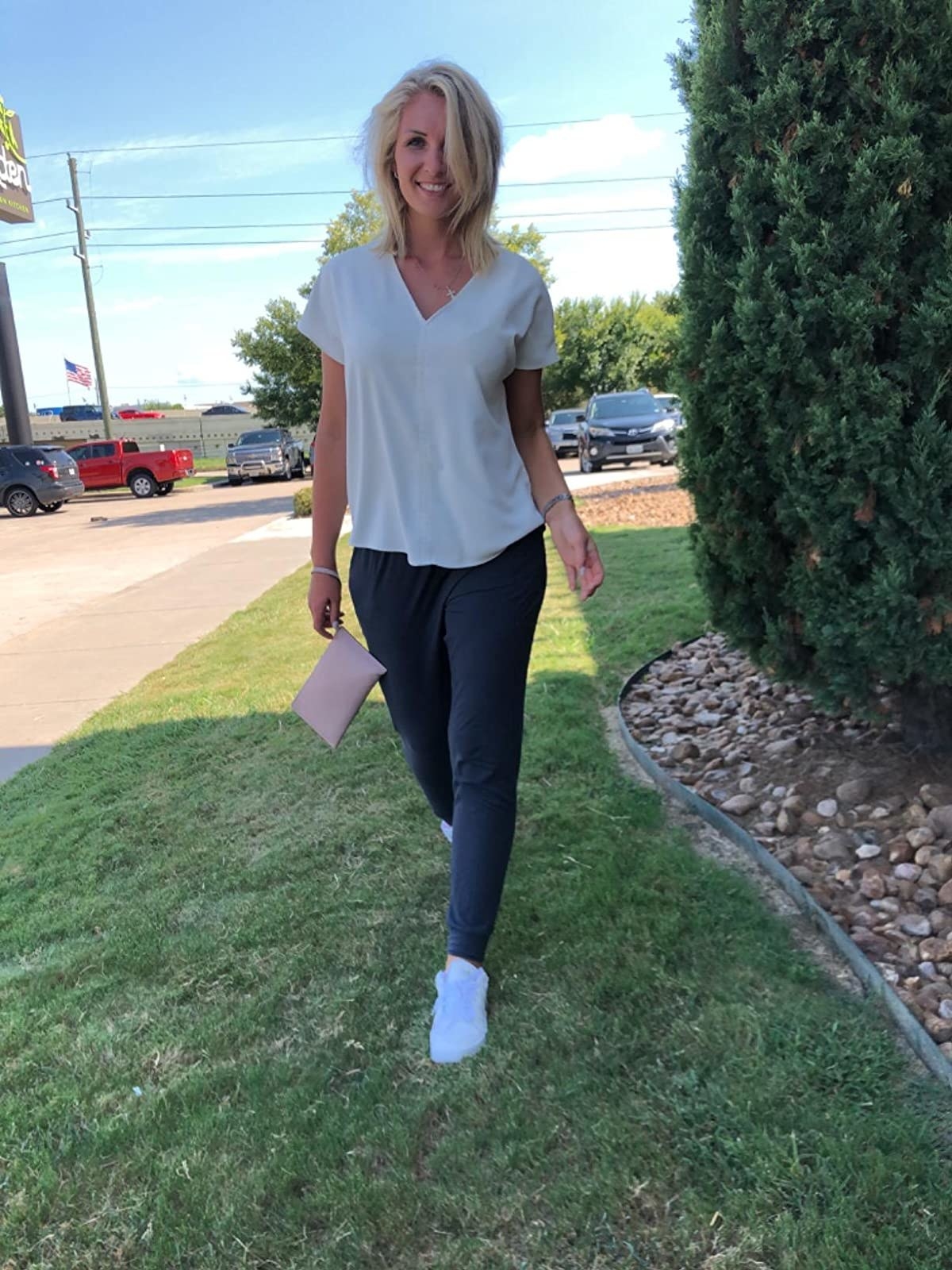 Promising review: "These pants are amazing. I have worn them in the airport for a full day of traveling and to work with a pair of heels and a jacket. I love the packets, I love the fit, and I get compliments on them all the time. If you are on the fence, to get off of it and go place your order!" — ellen knecht
Get them from Amazon for  $14.99+ (available in sizes S–3X and 20+ colors and prints).
19. A Lululemon scuba half-zip hoodie  made with a naturally breathable cotton-blend fleece fabric to keep you warm without overheating. Because I'm convinced that's one of the worst feelings ever, especially when you're on a flight.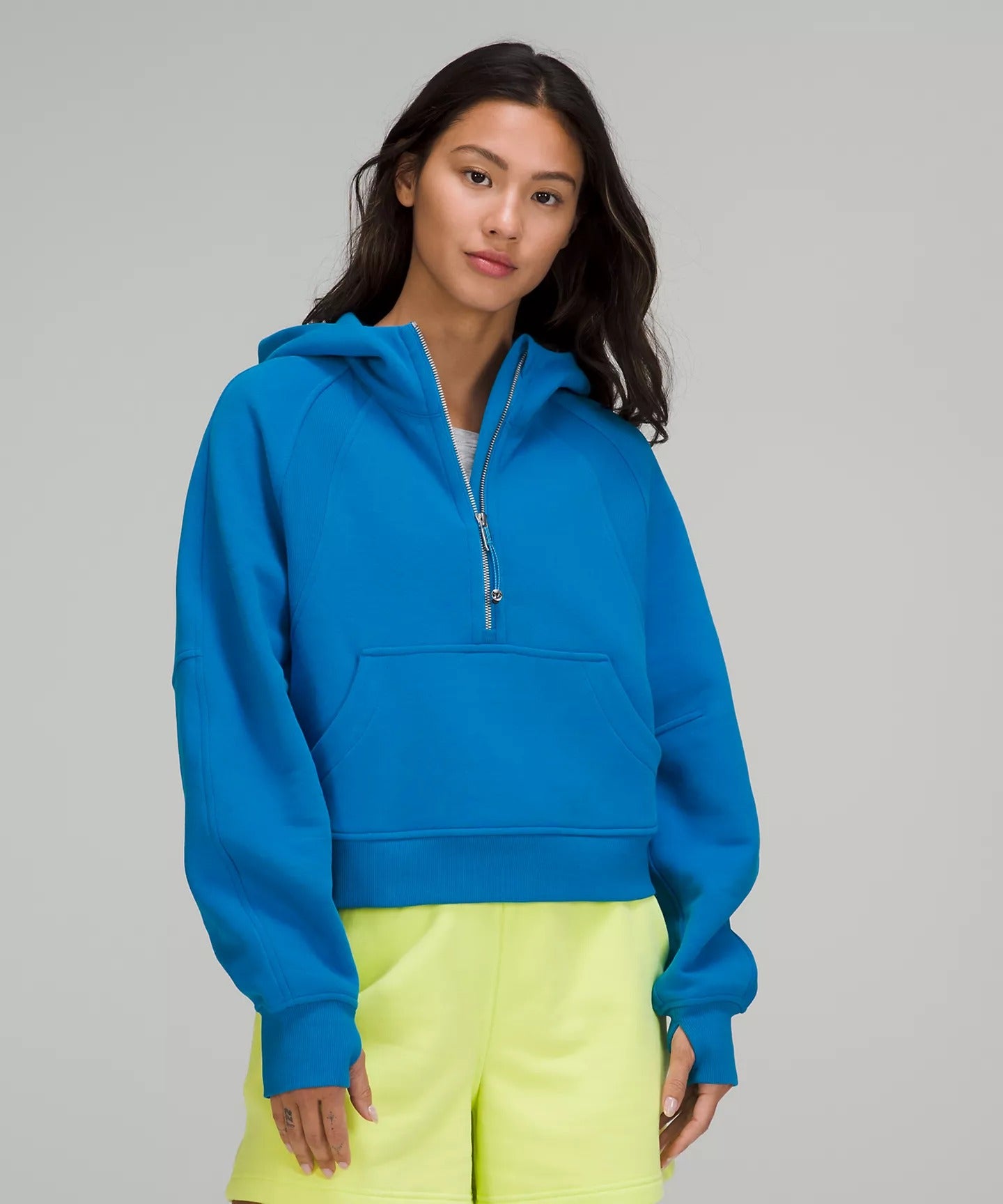 Promising reviews : "Found the perfect travel sweater! Very warm and comfortable on airplane rides." — aloha
"Stop debating...just buy it! I have this in pink and black, and it is absolutely my go-to sweatshirt. I wore it as a beach coverup on vacation; I wear it lounging with some joggers, or I love it with my higher rise leggings." — HeatherRich
Get it from Lululemon for $118 (available in sizes XS–XXL and in 10 colors). 
20. A water-resistant packable puffer meant to fold up small (into the included pouch) so you can take it on your adventures and know that you're always covered if it gets a bit colder (or windier) than you expected.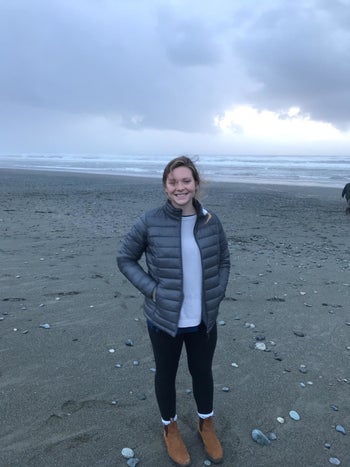 Promising review: "This is the PERFECT travel jacket! It's lightweight but nearly windproof. This coat SAVED ME in the blustering DC spring winds. It folds up into a tiny roll, so it takes no room in your bag. It's surprisingly warm for such a lightweight coat. So happy to have had it!" — GMS
Get it from Amazon for  $27.24+ (available in sizes XS–6X and in 28 colors and patterns).
21. A open-front blazer  you'll want to have in your suitcase if you're traveling for work and don't want to show up in a wrinkled jacket. Plus, you can totally wear it with a pair of jeans and feel comfortable enough to hit the highlights of the city during your small chunk of free time.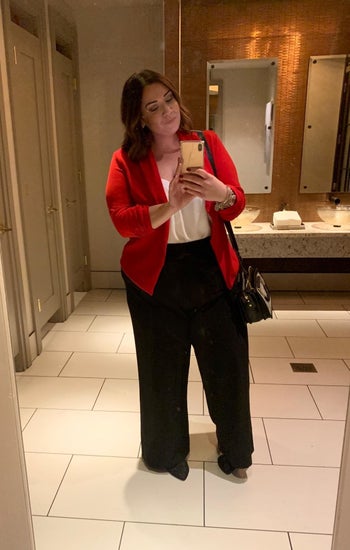 Promising review: "I love this jacket! It's lightweight and can travel very well! I didn't have to worry about it getting wrinkled when shoving it into a bag on my last work trip." — Erica Robyn
Get it from Amazon for $29.95 (available in sizes 4–22 and 29 colors).
22. An asymmetrical T-shirt dress actually made with a Peruvian cotton blend fabric that is pilling resistant and has incredible bounce-back. You can wear it during the day with sneakers and then swap in some heels for dinner. Vacation is actually the only time I take the same looks from day to night.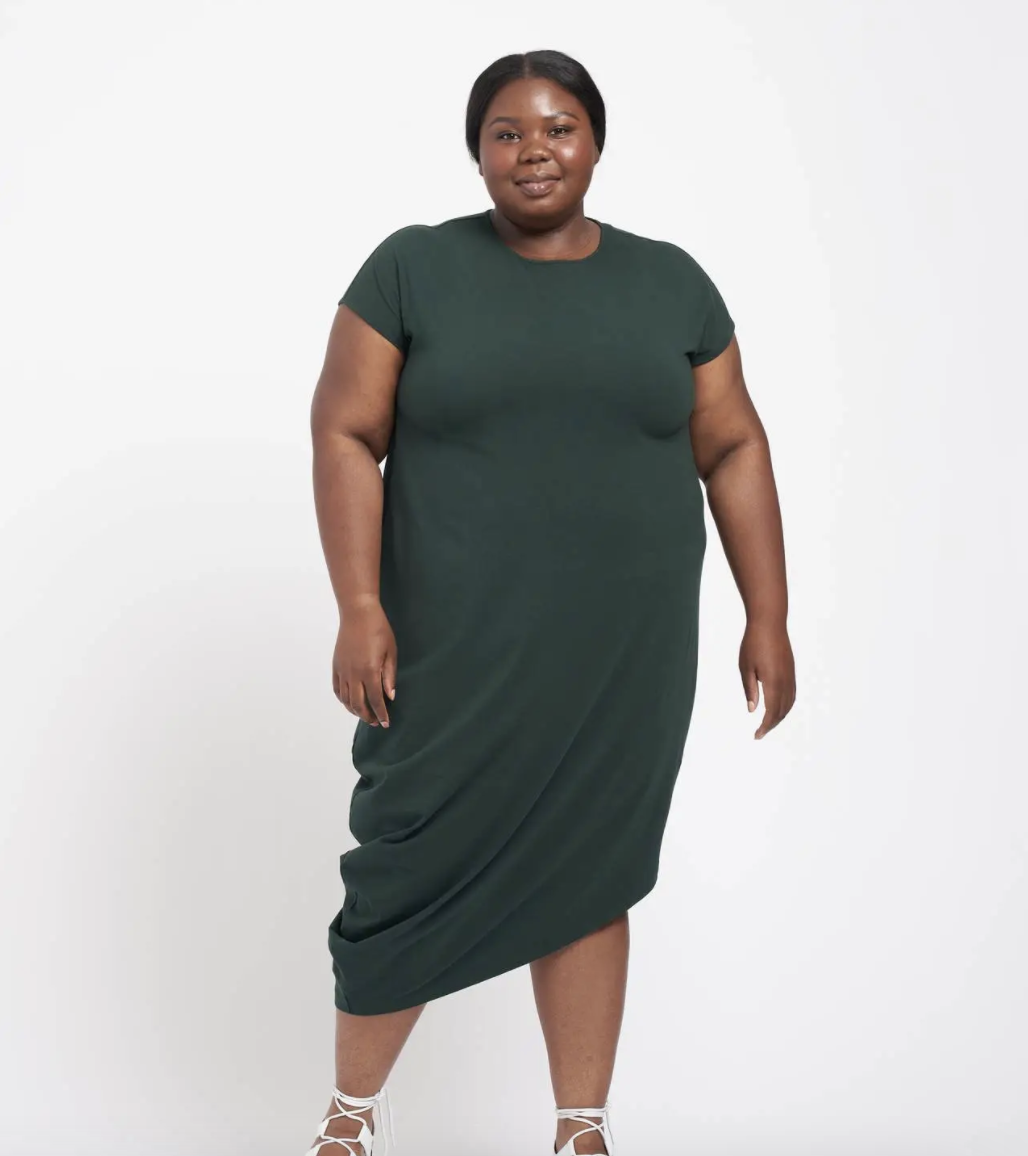 Promising reviews: "I was given this dress as a gift about two years ago. It gets a lot of wear — dressed up for nights out, dressed down with flip flops for casual weekends. It's still in excellent shape and is SO great . I might gift myself some more colors." — Jaime
"I love this dress! It's a perfect dress for taking on a travel adventure because it looks great and packs well. I wish there were more colors available because it sold out fast." — Amy S. 
Get it from Universal Standard for $128 (available in sizes 4XS–4XL and in 11 colors). 
23. A tie-front midi dress  you can wear all day long in even the hottest of places and feel comfortable. Just be prepared for random people to stop you and compliment you in this number.
Promising review:  "I got this dress in two colors. They are made from different materials, but I love them both. It feels like your favorite comfy t-shirt. I wore it to travel in, and I was very happy. It looks great, too — the little peekaboo under the bust is just perfect. It stays tied if you knot it well. I like tying it in a bow, but a double knot would be cute. This also means you can adjust the fit for your bust. 10/10 on this one; I want to get more colors/patterns." — Kellyann B
Get it from Amazon for $35.96 (available in sizes S-XL and in 35 colors and patterns).
Reviews have been edited for length and/or clarity.
Share This Article

It's time to upgrade your browser
Your current browser is no longer supported on llbean.com. Please upgrade to one of the following for a smoother, safer shopping experience with us:

MICROSOFT EDGE
Wrinkle-Free Clothing
Recommended
Price: Low to High
Price: High to Low
Bestselling
Customer Rating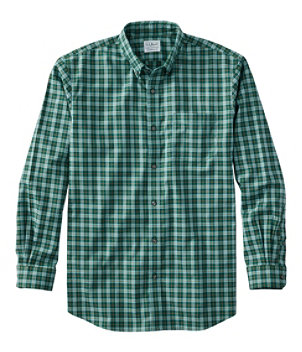 Work With Us
Itineraries
Italy Travel Guide
Hawaii Travel Guide
Travel Tips
Best Wrinkle-Free Travel Clothing for Men
💲 Everyone loves a discount! GET 10% OFF your Bluffworks purchase, exclusive for Savored Journeys readers. Use code SAVJOUR10 at checkout. CLICK TO SHOP
When it comes time to purchase new travel clothing, you want them to be comfortable and easy to wear. You aren't going to pack something that wrinkles quickly and needs a lot of extra care, because – well, who has the time for that?
This post will cut out all the fuss about what to pack. We've found some of the best wrinkle-free travel clothing for men to throw in their suitcases without worrying about it.
One thing we've found to be true is that it's not that easy to find good travel clothes. The material is especially important because it needs to be quick drying and able to take on various weather conditions.
We've field tested quite a few travel clothes over the years and have found that it generally comes down to one thing – quality.
If the brand you buy doesn't hold up to the test, it's not really worth spending your money on. Below, we'll tell you our favorite brands and how we go about finding those few great pieces of clothing you must have in your travel wardrobe.
» Looking for more suggestions about what to pack for your next trip? Here are more helpful packing guides.
Best men's travel pants & shorts
Wrinkle-free men's travel blazer
Top Carry-on Suitcases
What shoes to pack for every situation
Table of Contents
Best Travel Clothes for Men
Best Travel Clothing Brands
Just because a brand is known to make travel clothing doesn't mean it makes great travel clothing or that their entire line is good. We've had pants we love from one company, but end up hating their shirts. These are the brands we've found that have the most reliably good clothing.
With some, like Bluffworks , you can have total piece of mind that the clothes will always be top of the line in quality and value.
The Perfect Jean
Arc'teryx
Free Fly Apparel
Unbound Merino
Get 15% Off Your First Order at Free Fly
Save Between $5 and $115 on Unbound Merino Bundles at UnboundMerino.com
Wrinkle-Free Men's Travel Polo Shirts
Mott & bow sueded polo.
This Mott & Bow polo pairs easily with just about any pants. One of the best features of this shirt is how incredibly soft it is. It's a Jersey suede material that's 100% cotton fabric but is brushed to give a soft, premium feel.
I'm pretty particular about my polos and this one really fits the bill. It's flexible around the shoulders so you can stretch and not have the shirt bunch up. It has a slight curved hem along the bottom so less stomach shows when you lift your arms.
I have three pairs of Mott & Bow jeans that I pair this with. It comes in four colors – white, navy, black, and dark grey. Between the jeans and these polos, I have everything I need to pack for a 5-7 day trip.
Bluffworks Knit Polo
I've always loved Bluffworks clothing, as you can probably tell from all the options we've shared on our site. This polo shirt is one of their best.
It's machine washable and fast drying, so you can wash it easily on the go. It's pretty wrinkle resistent so you don't have to worry about ironing.
The material is breathable and odor resistant, plus moisture wicking, and it has a UPF 50+ sun protection.
As with all Bluffworks clothes, there are 2 pockets, including a hidden side zipper pocket. It comes in 4 colors, slim or classic fit, so you can find the one that's right for you. Pair it with Bluffworks jeans for the perfect look.
Woolx Summit Polo (Merino Wool)
A great alternative to technical polos that often look too sporty, this Merino wool polo will streamline your packing.
Did you know that Merino wool is naturally anti-microbial and will pull away moisture that causes odor? That makes it a great option for traveling because you don't have to wash it after each wear.
This wool is very durable and resists wrinkles. Because it's so lightweight, it packs easily so you only need a few shirts and a pair of jeans for a 5-7 day trip.
If you're thinking that wool wouldn't be good for hot days, that's not true. It actually has the ability to help you regulate heat better than cotton so you can beat the heat, or stay warmer, depending on where you're at.
It comes in 3 colors, black, ash, and green.
Aviator Air-Dry Merino Wool Polo
Aviator is one of my favorite travel clothing brands. They really care about the fabric and the feel of the clothing during wear.
Their Merino Wool Air Dry Polo shirt is moisture wicking, wrinkle resisting, breathable, and antimicrobial, which makes it a perfect travel shirt that you don't have to worry about when on the road.
Aviator sources their wool from New Zealand because of their strict laws protecting their sheep.
This polo looks really good on and can be dressed up or down so you don't have to pack so many things. It pairs very well with Aviator's travel jeans . See our full review of their jeans.
It comes in four colors – black, navy, red, and white. If you need to wash it during a trip, it dries extremely fast and doesn't wrinkle.
Unbound Merino Polo (Merino Wool)
Another great Merino wool polo to try is this one from Unbound Merino. The wool is naturally anti-microbial and wicks away moisture and odors, so it's a great option for traveling.
This polo is one of the most lightweight that I've tried. I was worried it might be a little see-through (I have the Dove Grey color), but once it's on you can't tell. It's actually a plus because it's very airy.
You definitely don't have to wash this polo every wear. It doesn't wrinkle easily either.
It comes in 5 colors, and it's a more fitted shirt, so order a size up if you don't like a form fitting shirt.
SCOTTeVEST Bamboo Polo
This is a bamboo fabric polo shirt that's great for travel. It's made with 65% Bamboo, 30% Cotton, and 5% Spandex. If you haven't worn bamboo before, you'll be surprised by how soft and comfortable it is.
This shirt is even more versatile because it has 3 hidden pockets: an inner breast pocket, a zippered side pocket, and a slip pocket near the buttons. It comes in 7 different colors and a range of sizes to fit all.
SCOTTeVEST is known for their utility shirts and vest, so be sure to check out their range of vests , jackets , and hoodies . They're great for everyday travel.
Men's Wrinkle Resistant T-Shirts
Bluffworks performance t-shirt.
If you don't already have a Bluffworks travel capsule wardrobe, I don't know what you're waiting for. They've just added a performance t-shirt to the collection, and it's exactly the type of t-shirt you want for travel.
It's moisture-wicking, quick-dry, and has odor-resistant technology so you can wear it with confidence, no matter what you're doing.
My favorite thing about it is how soft and moveable it is. The material is a 66% Polyester, 29% Lyocell, and 5% Elastane blend that gives it it's super powers.
It also offers UPF 50+ sun protection. It comes in 5 colors, both crew neck and V-neck.
Mott & Bow Tee
Not everyone likes a tight necked t-shirt, so I like that Mott & Bow has three different styles – a crew neck, curved, and v-neck, so you can choose what you like.
You're going to like these so much that you'll also be glad they have the option to buy in a 1, 3 or 6-pack. They come in 6 different colors, so why not go for the 6 pack and make it easy.
I've never had a t-shirt that's as soft as these. It's a unique material – truly buttery soft – made of Peruvian combed cotton.
It comes pre-washed, so it won't shrink. I can't say enough good things about this t-shirt. Seriously. It's that good.
The Perfect Jean Crew Neck T-Shirt
They took the same superior standard of stretch, hand-feel, and comfort we love in the Perfect Jean and made the perfect crew neck t-shirt. It's made with organic cotton, in a high-quality 180 GSM fabric with a 5% stretch spandex.
$24.99 or $19.99 when bought with jeans. Plus get 15% off with coupon code SJ15
Bluffworks Wrinkle-Free Dress Shirt
Like the rest of the Bluffworks clothing line , the dress shirt is wrinkle-free, machine-washable and well-designed. Not only is it wrinkle-free, it's also breathable, so I don't end up sweating as much. Let's face it, one of the worst part of wearing dress shirts is that they're stuffy and restricting. When your shirt starts showing pit sweat, you've lost the battle.
This shirt isn't cotton, though. It's made with a 98% technical, breathable quick-dry polyester. That means it's more like a sports shirt than a dress shirt. The classic fit shirt looks good on and provides a good range of motion. They have a tailored fit too.
The pattern and colors of the shirt match both the Bluehour Classic Fit blazer and the charcoal Chino pants , that I have. Even though they're all different colors, they look nice together. I thought the shirt might be a bit much for my casual office, but it wasn't.
Whenever it's too warm out for long sleeves, I just rolled up the sleeves. When I rolled the sleeves down later on, they aren't crumpled from having been rolled up for so long.
Visit Bluffworks online store to see their full line (Remember, you'll get 10% off by using our coupon code, except on sale items.)
Mens Travel Pant
Mott & bow men's slim jeans.
When I received these jeans and tried them on for the first time, I was pretty surprised that they all fit as expected. My order included three pairs – the slim fit Mercer , slim fit Watt, and straight fit Wooster. All three pairs fit great.
These really have become my go-to jeans or most occasions. I like that the fit falls somewhere between a straight and a "skinny" jean. They are sleek looking, lengthening, and slimming. All good things to have in jeans.
Plus, they have a bit of stretch to them. I'm not sure why all men's jeans don't include stretch. It's a revelation. They are just easier to move around in, and way more comfortable for long hours of wear, like when you're on a plane or at your desk.
There are tons of choices with these jeans – you can get slim, straight and skinny in a number of different fits, like the Wooster, Watt, Mercer, Crosby, Warren, and Stone. There are only subtle difference between these, and of course they come in all different colors, like medium blue, light grey, dark blue, light khaki, and black (to name just a few.
These are probably the best pair of jeans I've had in years. They have a ton of stretch to them, so they fit like a glove, but in only the good ways. They aren't too baggy or too tight, with just the right amount of stretch and flexibility to be comfortable and stylish at the same time.
This company, The Perfect Jean, is totally down to earth and unpretentious. I don't know why, but that makes me like them even more. Online shopping isn't all that fun, but when you can get a laugh from the website copy, it's worth it.
Their sales campaign is "the perfect jean for the perfect and imperfect man." I think that's very fitting because these jeans are meant to be flexible so anyone can feel comfortable in them. I prefer the slim fit that sits low on the waist, and is slightly fitted through the hip.
Like most premium jeans, they do stretch about 1/2 a size as you wear them. I'll admit I only wash my jeans once a week. By the end of the week, they need to be washed back into submission. Washing is easy. If you're like me, I just throw them in the wash with everything else. No issues so far.
Key Features
Stretchy in all the right ways
Great fit that doesn't stretch out
Lots of fit and color choices
Free shipping and returns
Get 15% off at checkout with coupon code SJ15
Aviator Jeans
("The best travel jeans in the world" – USAToday)
These are probably the best pair of travel jeans I've had in years. They fit very well – being neither too baggy nor too tight, with just the right amount of stretch and flexibility to be comfortable and stylish at the same time.
They are made to be lightweight, breathable and fast drying. In summer weather, I rarely ever wears jeans because they are too hot and constricting, but I doesn't mind wearing these Aviator jeans, because of their breath-ability. There are two pockets that are zipper protected and hidden away inside other pockets.
You can easily store your valuables in these pockets. One of them is even large enough for your passport. The front and back pockets of the jeans both are large enough to fit a Kindle.
One of the worries I have about jeans is that they'll stretch out of shape and start to fit awkwardly while traveling. But I find that the material recovers well and doesn't stretch out too much. Aviator jeans come in a straight and original fit and eight colors: Dark Indigo, Medium Indigo, Faded Indigo, Jet-Setter Black, Khaki, Camo, Navy, and Steel.
They are made in a family-run factory in Los Angeles. If you order the wrong size, it's not a problem. You can return them for a new size. Worldwide shipping is available.
⇒ Read our full review of these jeans here .
Bluffworks Men's Travel Pants
Bluffworks Chino pants are made from a quick-dry polyester that looks and feels like cotton, but has a bit of stretch and is wrinkle resistant. These are just the kind of pants I need for travel. I can fold them up in my suitcase (they're really lightweight!), then pull them out and wear them immediately without worrying about wrinkles.
They are comfortable , flexible and, most importantly, breathable . Another feature of the Bluffworks pants that I really like is the abundant pockets . The front pockets appear to be normal-sized pockets, but there is a hidden interior, zippered pocket where you can stash important things.
My entire wallet fits inside that zippered pocket, eliminating the fear of losing it to pick-pockets. There's also a hidden loop on the inside of the front pocket where you can clip a badge or keys. The back pocket is deep and wide enough to fit a Kindle.
Uncompromising comfort and style
Quick-drying and wrinkle-resistant
100% technical, breathable polyester
Zippered security pocket, hidden pocket, and security loop
Handcrafted in the U.S. (can be shipped worldwide)
Use this Bluffworks coupon code for 10% off your order (not applicable on sale items).
Elevated Everyday Jogger – SCOTTeVEST
These are my go-to fall and winter joggers. They have a nice heavy weight to them, so they offer more protection from the wind and chill. Maybe not ideal for summer because of the weight, unless you're in a cooler environment.
One thing they do really well is pockets. These joggers have 10 perfectly placed and purposeful pockets, including hidden and zippered pockets. I really like the look of them – they are elevated after all – so they don't look too casual.
Breeze Pants – Free Fly Apparel
I call these my comfy pants. They are absolutely perfect for long plane rides, a day out on the boat, or long road trips. They lightweight material is very breathable and they are UPF 50+ to provide a defense against the sun, if you're out there all day. I like the casual style and how stretchy they are.
They have two seam pockets and one secure back zippered pocket. They come in 7 neutral colors, up to a size 3XL. For the Black, Blue Fog, & Cement colors, Free Fly suggests sizing up. I have the Storm Cloud color and my usual Medium fits perfect.
Men's Shorts
Bluffworks casual shorts for men.
If you're looking for a great pair of travel shorts, these are great. As with all Bluffworks, there are plenty of pockets to keep all your items tucked away safely. The material is a breathable, technical fabric that washes well and doesn't wrinkle. They stay fresh pretty long. I find them to be just the right length, and have a good stretch to them, without losing their shape.
Aviator's Non Stop Travel Short 3.0
Another great pair of shorts that I wear all the time is the Aviator Non-Stop Travel Shorts 3.0. For me, they are the perfect length, well tailored, and they are very lightweight.
I've been wearing these Aviator shorts for a while, through all of the iterations, and I have to say that the 3.0 style is the best yet. They have an added front right hidden zipper pocket, which is great. They are packed with features and made from an upgraded premium fabric that's more durable, breathable and comfortable.
Mens Travel Blazers, Vest and Jackets
Bluffworks men's travel blazer.
There are times when you need a blazer or jacket when you're traveling, but packing an expensive wool blazer in a garment bag or carrying it over your arm for a long flight isn't practical. That's where the Bluffworks blazer comes in.
I found this fantastic blazer right about the time I was becoming fed up with having to pack a blazer that would inevitably be wrinkled upon arrival. Instead of resigning myself to this fact, I gave the Bluffworks blazer a try.
It was well worth it. Despite folding the blazer and packing it down in a packing cube with the rest of my clothes, it came out looking almost completely wrinkle free. I've even thrown the blazer in the washer and had it come out wrinkle free.
The Bluffworks blazer is not wool. It's a quick-dry polyester fabric with a perforated back lining that's made to be light and breathable. Plus, the sleeves aren't lined, which also adds to the lightness of the fabric. The material is really smooth, soft to the touch, and nicely mimics the look of wool.
Inside the blazer you'll find 10 pockets. Some of them are so well hidden that I almost couldn't find them. It's great for storing away important things that have no chance of being pick-pocketed.
The Bluffworks blazer currently comes in three different colors.
Bluffworks Como Quarter Zip Pullover
For those times of year when it's just not cold enough for a coat, Bluffworks has a great pullover with a zip top. The pullover is lightweight and easy to match with all the other pieces in the Bluffworks' clothing line.
As with all Bluffworks travel clothing, the pullover is machine washable. It's breathable and wrinkle-resistant, made with an amazingly soft heathered wool blend that resists pilling.
Another regular feature on Bluffworks clothing is the pockets. This pullover has 2 discreet zippered pockets, one at each side seam.
It has a nice fitted design that I think looks great with whatever I'm wearing. There are three colors currently available: oak, heather grey, and blue. The blue one is perfect for mix and matching with other Bluffworks clothing. It even goes well over their dress shirts for your commute to work.
Other Clothing Items We Love
Woolx merino wool socks.
Whether you prefer ankle or over the calf socks, you're going to love these Woolx Merino wool socks. They are the softest possible socks and they keep your feet cool and dry. They're lightly padded so they still fit with sneakers, but provide a little extra warmth and cushioning. They come in a few different colors so you can choose which ones you like. They also make great gifts!
Here are the top features of these socks:
Antimicrobial – Destroys odors
No show feature when wearing with sneakers
Added cushion for heel and arch support
Breathable for all day comfort
Great for hiking or running
Naturally Breathable
Arc'teryx Atom Hoodie
The Arc'teryx Atom Hoodie is one of the best lightweight travel jackets I've owned. It really lives up to its name in that it's super light and can easily be stuffed into a backpack while traveling.
Just because it's light doesn't mean it's not warm. It has a thin layer of internal insulation, topped with a super soft outer layer that is water resistant and protects against wind.
The hood is treated with a water repellent and it's insulated, so you can trust it will hold up in all conditions. Really, it's perfect for mild conditions where you just need a light layer to keep warm, but you don't want to carry around a bulky fleece or jacket.
How to Choose the Best Travel Clothes for Men
As mentioned, we've tested quite a few different brands looking for the best travel clothing for men and, in the end, the decision comes down to just five things:
This category includes things like the feel of the fabric (scratchy and irritating is a no go), breath-ability, moisture-wicking, flexibility and fabric weight.
You don't want to end up with a travel wardrobe that looks like you pulled a bunch of stuff out of your dad's closet. Travel clothing doesn't have to be that way. Steer clear of the convertible pants and you'll be fine!
When you're out traveling, there are all kinds of activities you'll put these clothes through – they have to hold up to rock climbing, hiking, bungee jumping, etc.
Convenience
They have to be wrinkle-proof, quick drying, and have enough pockets to hold everything – oh, and the pockets have to be deep enough that your cell phone and wallet don't fall out when you sit down – preferably with zippers.
The clothing you take on vacation needs to be lightweight and easy to mix and match, so you can get the most out of your luggage space.
We love these versatile and stylish travel clothes to form a wardrobe that can go anywhere with you.
Quick. Check these necessities off your prep list!
There's no one-size-fits-all travel insurance . Get a personalized quote from Yonder .
The right luggage can make or break your trip. These hard-sided suitcases make traveling a breeze.
Find your rental car on DiscoverCars.com . They search all major rental companies to find the best deal.
Be Prepared For Travel
Planning is the most important part of any successful trip. Do it the easy way:
🧳 Travel Packing List | ✔️ Why You Need Travel Insurance | ✈️ What to Do Before You Leave Home
Find and book the best hotel (our favorite booking site is Expedia)
Research flight options (our favorite tool is Skyscanner )
Book a tour (we always use Viator to find the best tours)
Rent a car through Discover Cars (they search the best deals for you!)
YOU MIGHT ALSO LIKE
Comfortable and Stylish Travel Clothes for Women
9 Best Travel Pants for Women (Comfort, Style, Versatility)
8 Best Travel Pants for Men (Versatile & Comfy)
The Best Wrinkle-Free Mens Travel Blazer
Like this post? Why not save it to Pinterest? FOLLOW US  on  Pinterest ,  Instagram ,  Facebook  for more great travel inspiration and tips.
Nick Lynch travels the world in search of great experiences, food and drink. While he primarily provides photography and website support, he occasionally writes about his journeys, too.
Leave a Reply Cancel reply
Your email address will not be published. Required fields are marked *
Save my name, email, and website in this browser for the next time I comment.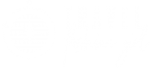 11 Best Travel Shirts for Women Recommended by Readers
Shirts & Tops , Travel Clothing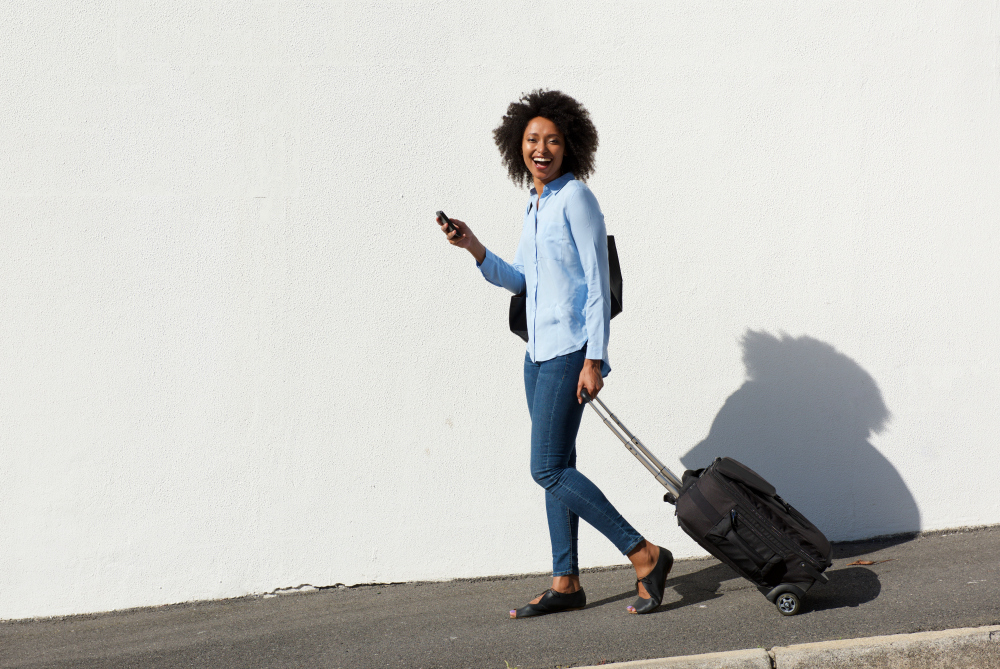 Support TFG by using the links in our articles to shop. We receive a small commission (at no extra cost to you) so we can continue to create helpful free content. As an Amazon Associate, we earn from qualifying purchases made on Amazon in addition to other retailers featured on the blog. Thank you, we appreciate your support!
We've rounded up our readers' top recommendations for the best women's travel shirts. Take a look below!
Best Travel Shirt
Written By: Tae Haahr
Table Of Contents
Looking for the best shirts to travel with? They're most likely ones that are easy to clean, fashionable to wear, and doesn't wrinkle badly so they can be packed without worry.
We've asked TFG readers to share their picks for reliable, and pretty womens travel shirts—whether you're headed to the beach, bar, or business retreat!
The Best Women's Dress Shirts and Blouses for Travel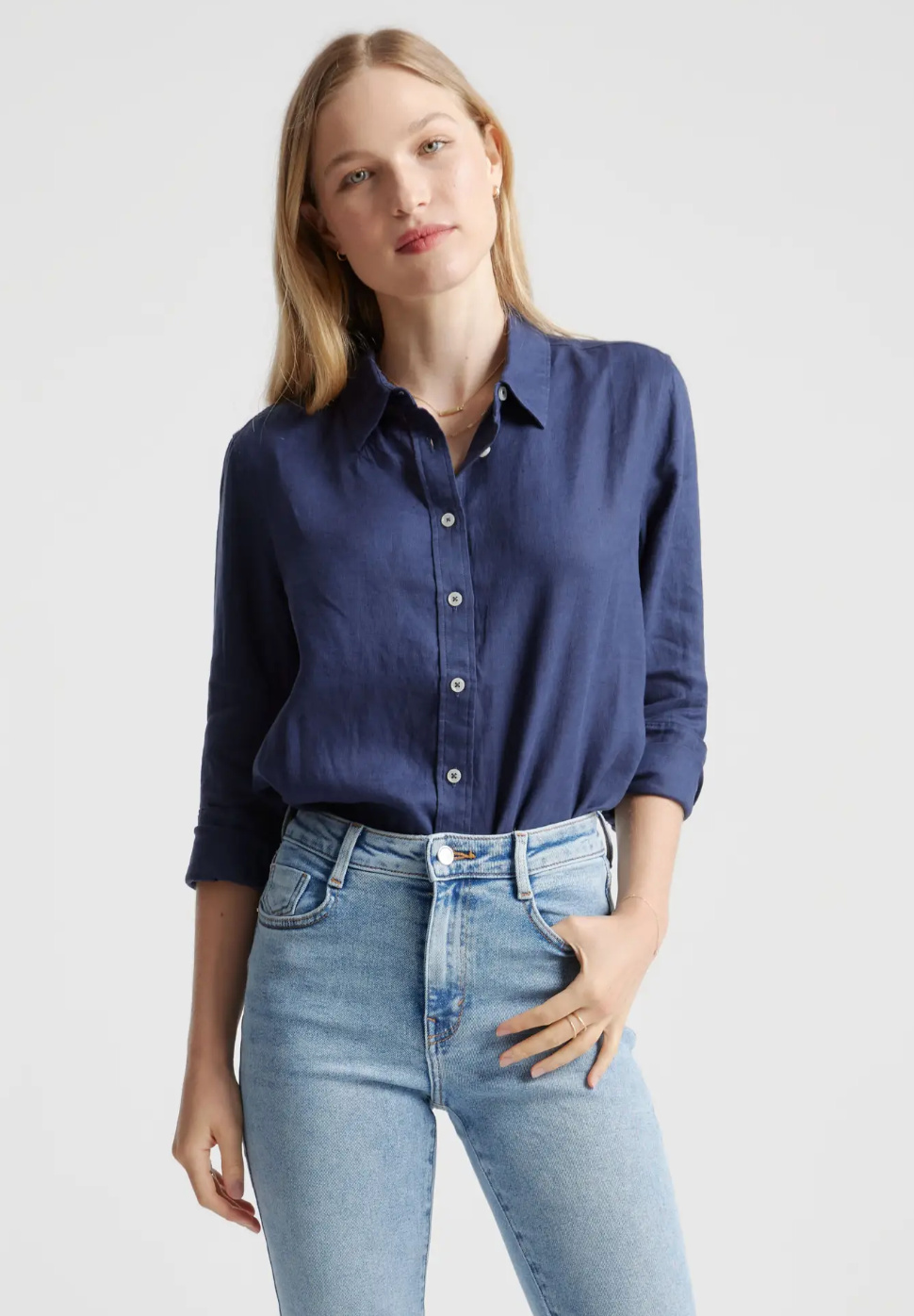 Shop Sizes XS-XL: Quince
Womens Linen Button Down Shirt: Quince Longsleeve Shirt
Comfy, lightweight, and chic, this Quince shirt is a top choice among readers. A traveler says of this top, " Perfect weight, fit, and cut on this shirt. It really is a great capsule wardrobe piece! " 
This shirt has a classic collar and long sleeves that can be folded up for a different look, and the linen fabric is stunning and feels absolutely dreamy!  It has a relaxed fit that looks good tucked in or out, comes in seven pretty colors, and is overall a must-have for polishing up your look in an instant!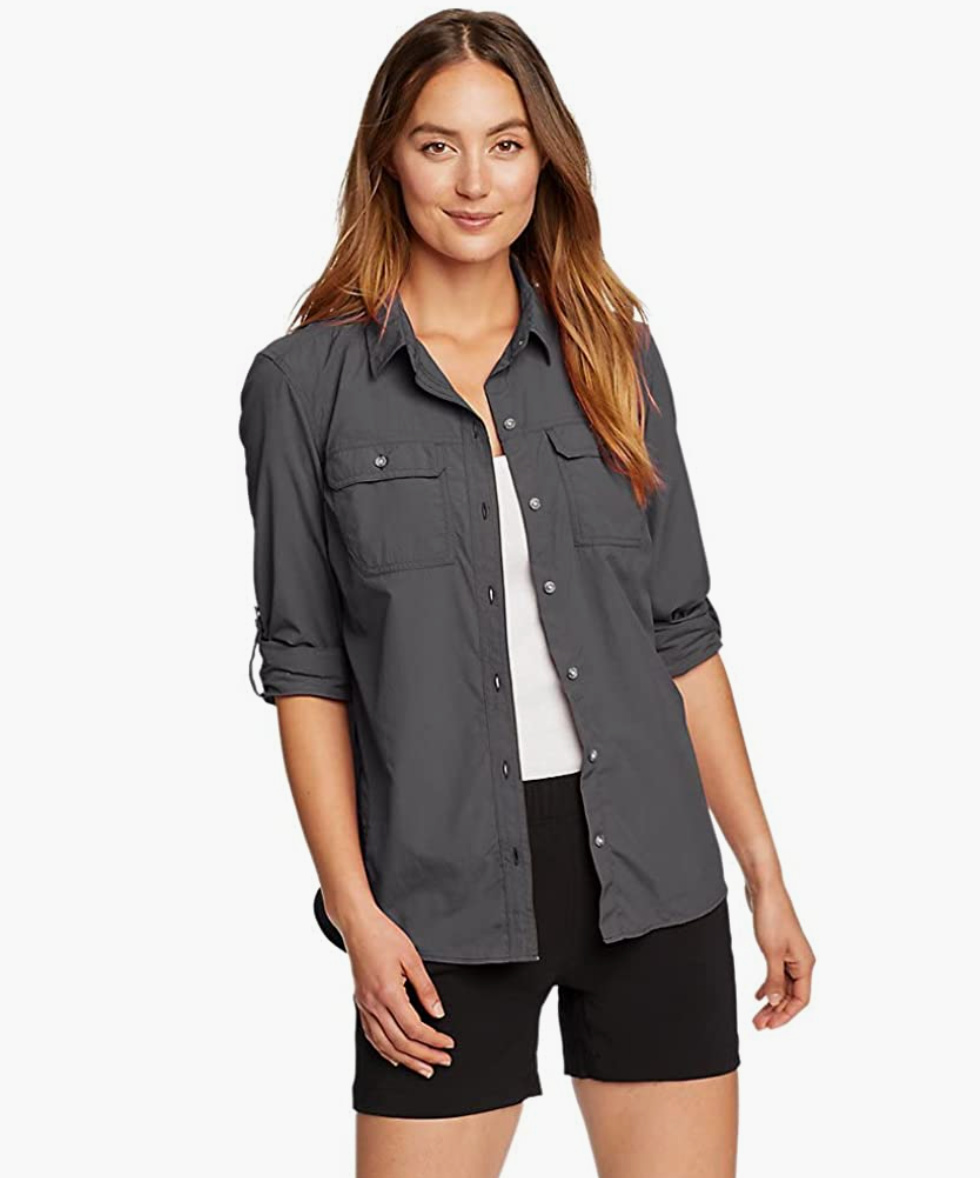 Shop Sizes XS-XXL:   Eddie Bauer
Editor's Pick: Eddie Bauer Ripstop Long-Sleeve Shirt
Womens button down blouses can come from the most surprising sources, and the Eddie Bauer Ripstop shirt is not only a top choice for readers, it's another huge fave of editor-in-chief Alex. Sure, while this company is known for providing outdoor clothing, the verdict on this shirt? It's SO versatile for anything!  
She says of this shirt, "I can pair it with denim shorts, wear it as cover up when walking down the beach, and tuck it into my favorite jeans while flying, I can't get enough of this top!"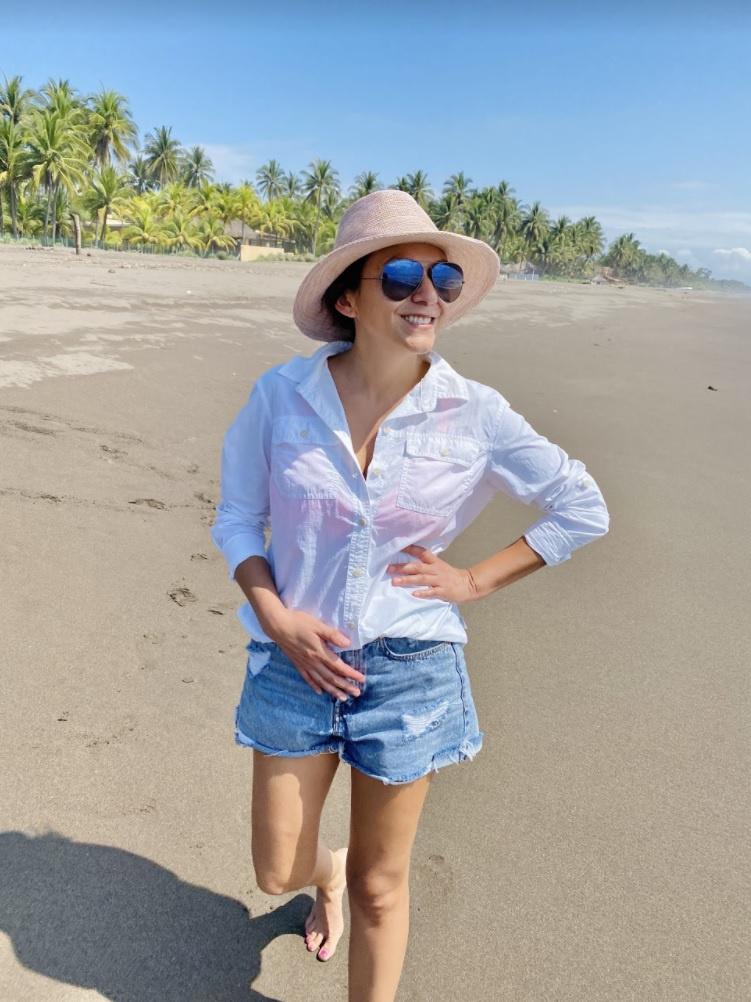 Alex at the beach in Eddie Bauer Ripstop Shirt , MaxSwim Bikini (beneath!), and Wallaroo Hat
Alex explains further, "This shirt has  SPF 50 sun protection and moisture-wicking capabilities so I don't overheat, and the cut isn't overly fitted or saggy. And it doesn't wrinkle. I can throw it in my suitcase or daypack if I'm going hiking and it comes out looking fresh! Super easy to dress up or down."
Find out why TFG readers constantly choose Eddie Bauer shirts for travel in this review !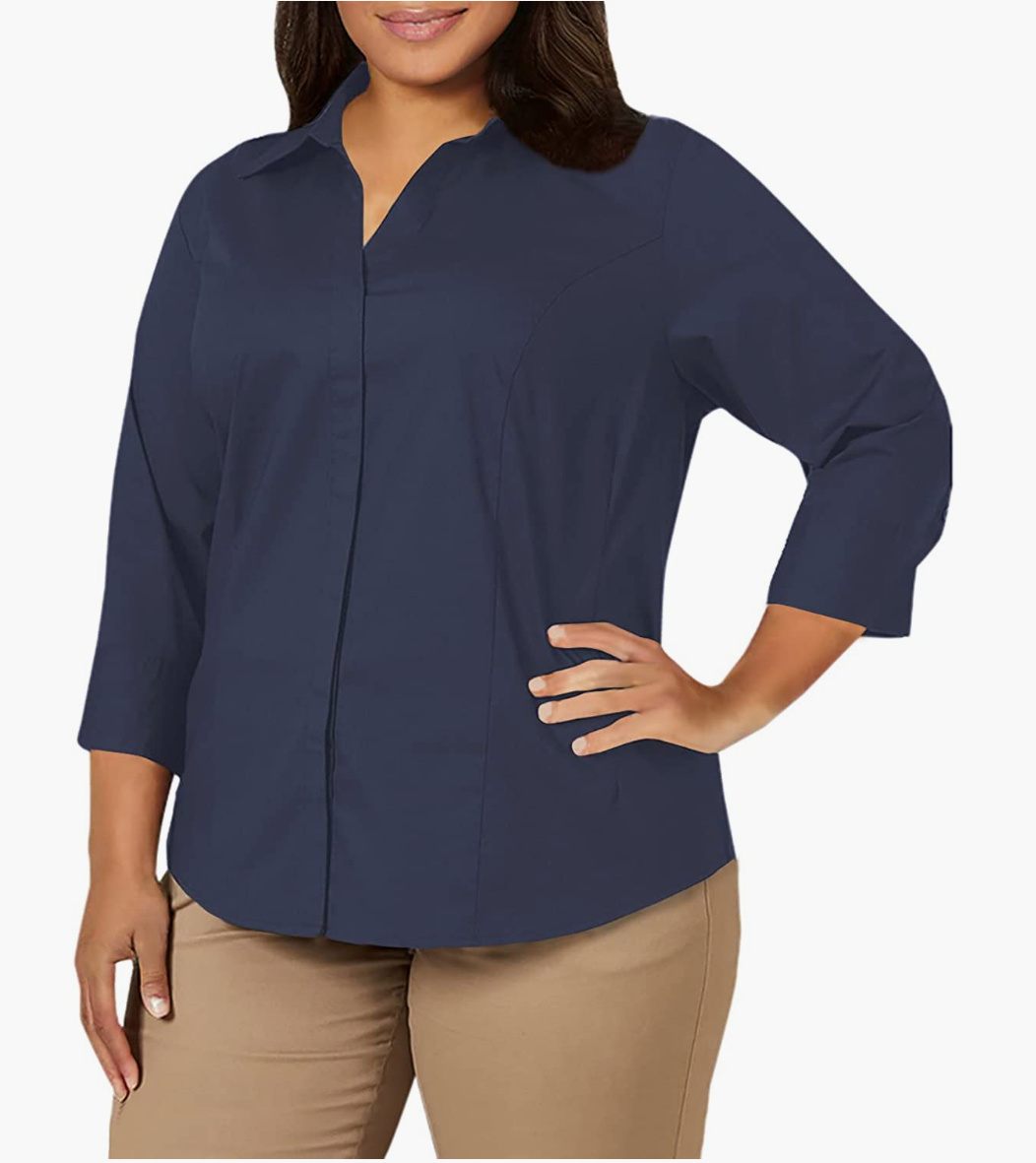 Shop Sizes S-4X: Amazon  
No-Iron Plus Size Womens Dress Shirts: Riders by Lee Indigo 
This Riders by Lee easy care blouse comes in many fashionable colors that look great alone or under a lightweight jacket. Perfect for business trips and casual vacations, this has a classic collar, button front, and 3/4 sleeves. It comes in sizes 1X-4X and in sizes S-3XL.
TFG readers love this! One reader shares that "If you want pretty with a relaxed fit, look at Rider's." You can pack it in your bag and not have to worry about it wrinkling so much, which is why another reader mentions, "This is awesome for travel."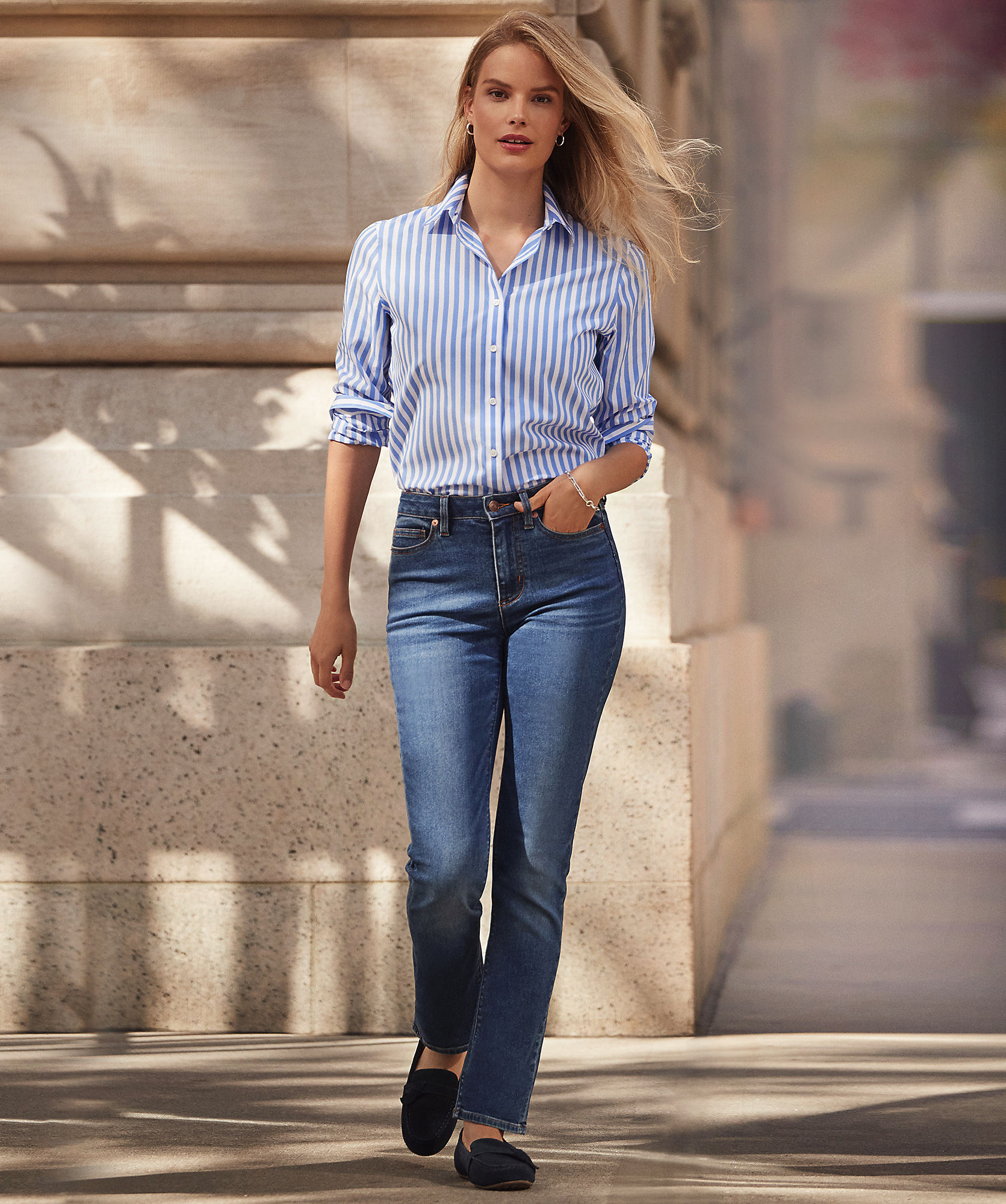 Shop Sizes XS-XXL:  Lands End
Women's Button Down Dress Shirts : Lands End Long Sleeve Non Iron
The Lands End long sleeve shirt is wrinkle-resistant, even after you've washed it, making it perfect to pack for a conference or a destination based work meeting. It's got a typical shirttail hem so wonderful to tuck in, or even leave out if you're dressing it down with leggings or something!
One TFG reader shares, "I have a number of these cotton travel shirts for women from Lands End. I Hang them overnight, and the wrinkles drop out." It comes in multiple fashionable colors and patterns and in regular, petite, tall sizes right here and plus sizes here !
TFG readers love these classic white button down shirts for travel!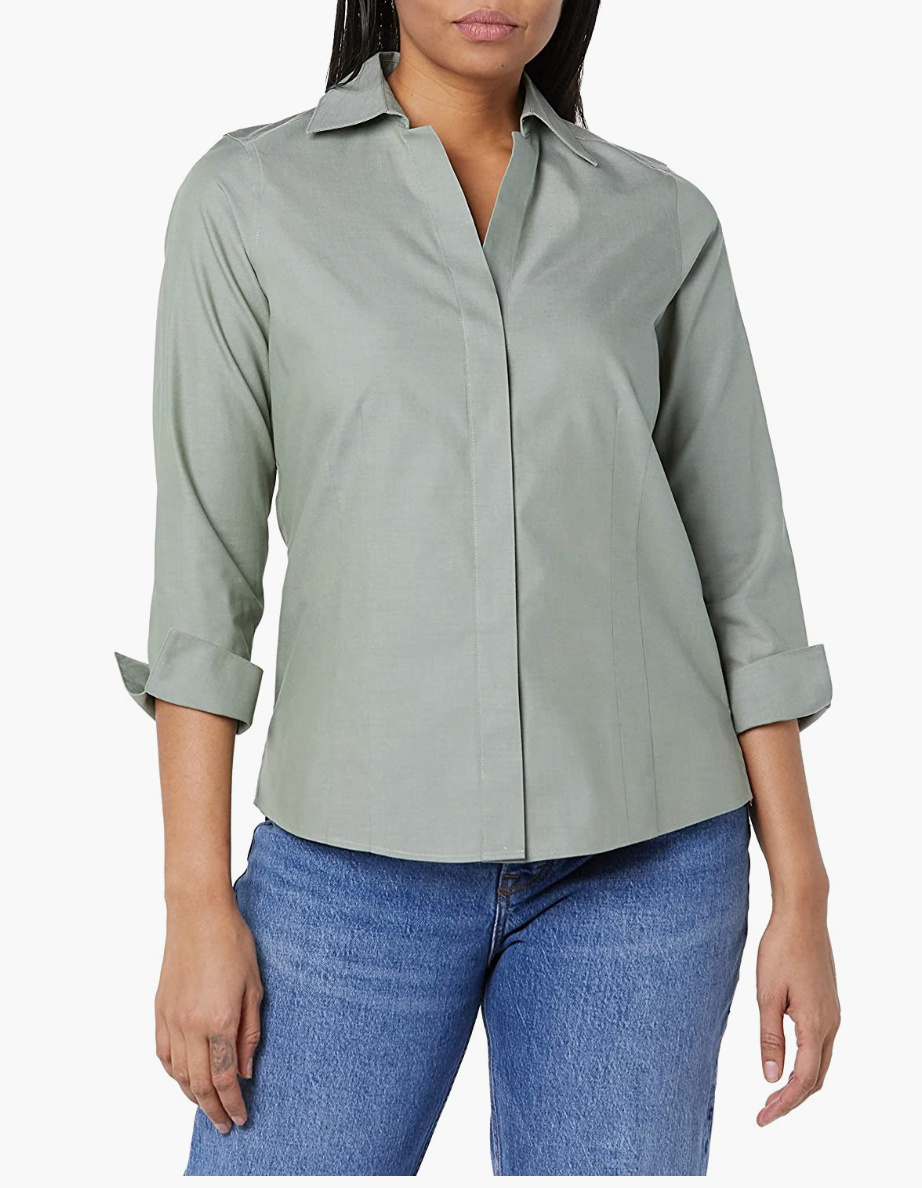 Shop Nordstrom: Sizes 2-18 | Plus Sizes 14-24
Women's Button Up Dress Shirts : Foxcroft Taylor Non-Iron 3/4 Tunic
The Foxcroft Taylor shirt is a classic button-up tunic style with a turn down collar and a V-neck that's very flattering!  It's made out of cotton, so it can be machine washed (so long as you take it easy) and works with any outfit you want to wear!
One TFG reader says, "These shirts are great!" It has an amazing value for the price, looks stylish, and does not wrinkle much. You can wear it with jeans or dress pants, so it's perfect for your next business trip and or that all-inclusive vacation." Available in sizes 2-18 .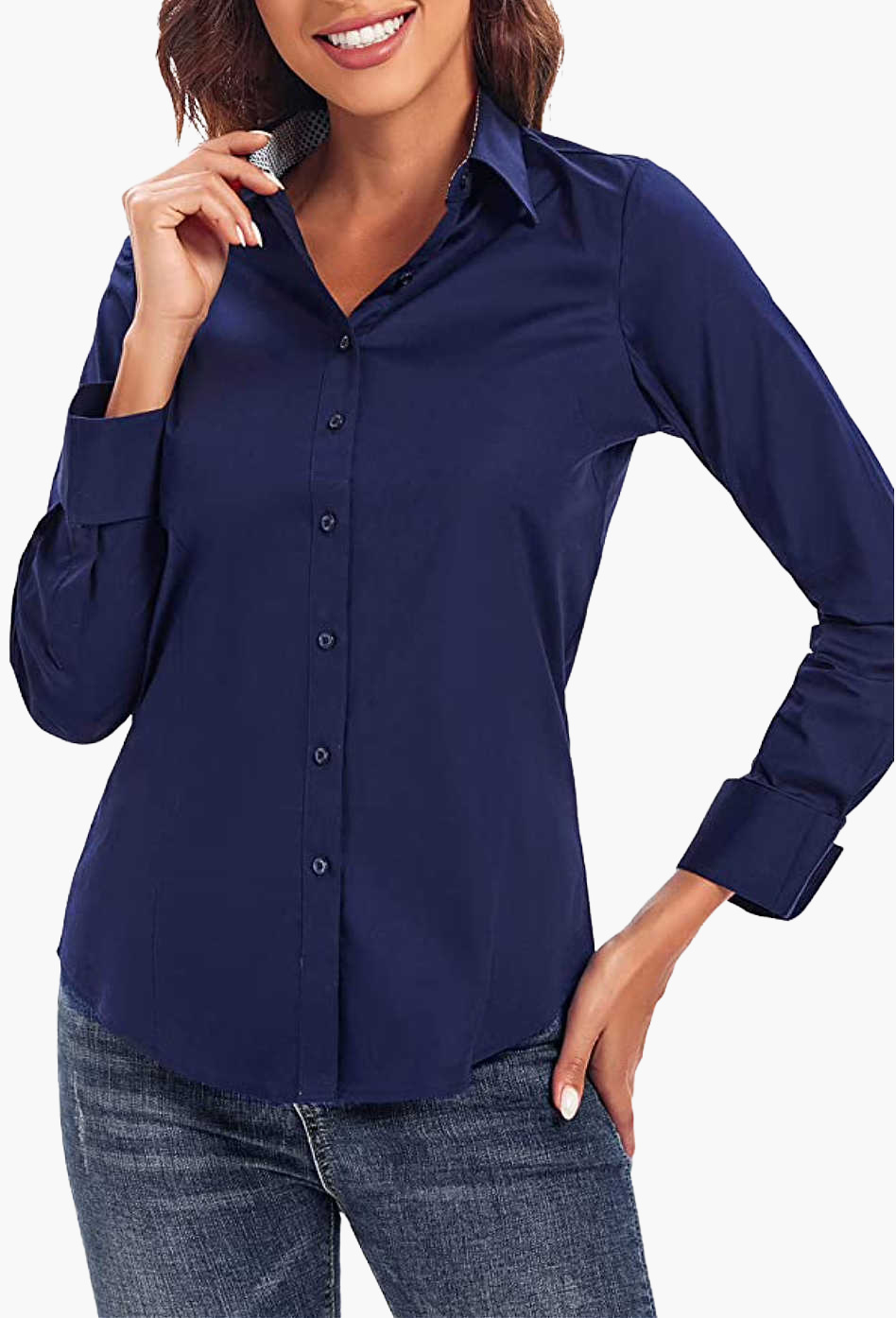 Shop Sizes XS-XL: Amazon
Ladies Long Sleeve Button Down Blouse : Alex Vando 
Alex Vando is a popular travel dress shirt for business trips and a great pick to wear on the plane. With a contrast pattern on the inner collar and turned over cuffs all work to give this shirt a sophisticated look. All the chic details and classic shirttail hem make this a versatile piece to dress up or down. It's even long enough to tie a knot at the front to create another look.
One user shares, " My favorite shirt! Perfect for daily wear. The MOST comfortable blouse I've come across. It washes well and I hang to dry, consistently it has no wrinkles… none! No ironing required."  Comes in other pretty colors and sizes XS-XL .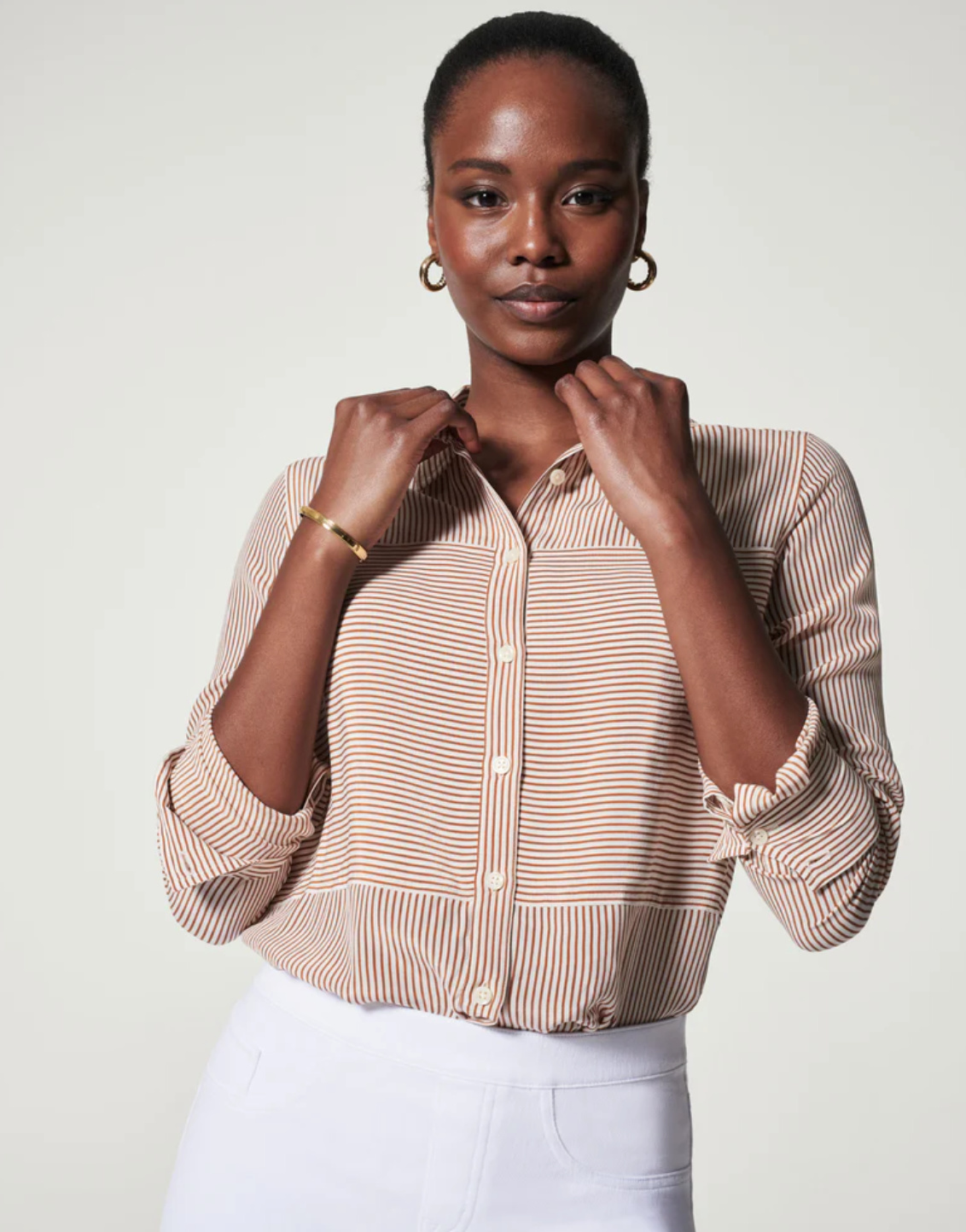 Shop Sizes XS-3X: Spanx
Low Maintenance Dress Shirts for Women: Spanx Silk Button Down
The Spanx  is a TFG reader favorite brand and this silk button down is perfect as womens travel shirts. It's a 100% silk shirt that's designed to be a non-iron, has d ouble layered panel at chest for opacity , and front-button closure. This one comes in several colors and sizes XS-3X , so go pick one up!
One wearer shares. "This is the most comfortable button down I think I've ever worn! I tend to shy away from tops like this because they are such a hassle- hard to iron and stiff. Not this Button Down. Comfortable, easy, and as a tall girl with long limbs, I appreciate the length of the sleeves! I will reach for this top in my closet every time!" If you're looking for a white shirt, here's the best button down by Spanx!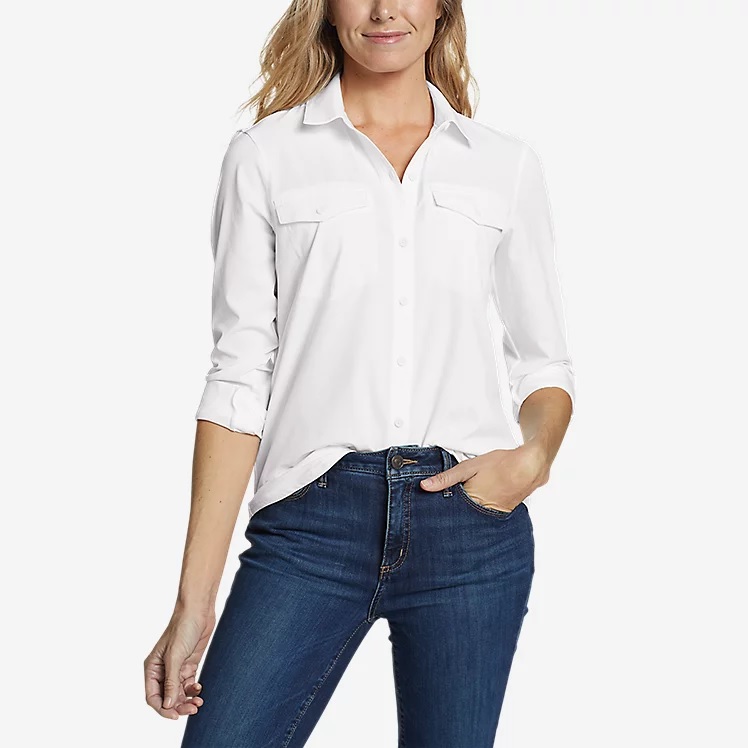 Shop Sizes XS-3X:  Eddie Bauer
No Iron Dress Shirts Womens: Eddie Bauer Departure 2.0
Women's collared dress shirts like the Eddie Bauer Departure is perfect for a hot summer destination. It has sun-protection and moisture-wicking technology, plus roll-up sleeves, which lets you breathe and move.
This option is versatile enough for a night out or a business meeting as well. It's high-quality and flattering, and one reader agrees, saying, "Eddie Bauer Departure are silky-feeling, wrinkle free travel shirts. I have it in three different colors." Available in regular, tall, petite and plus sizes here !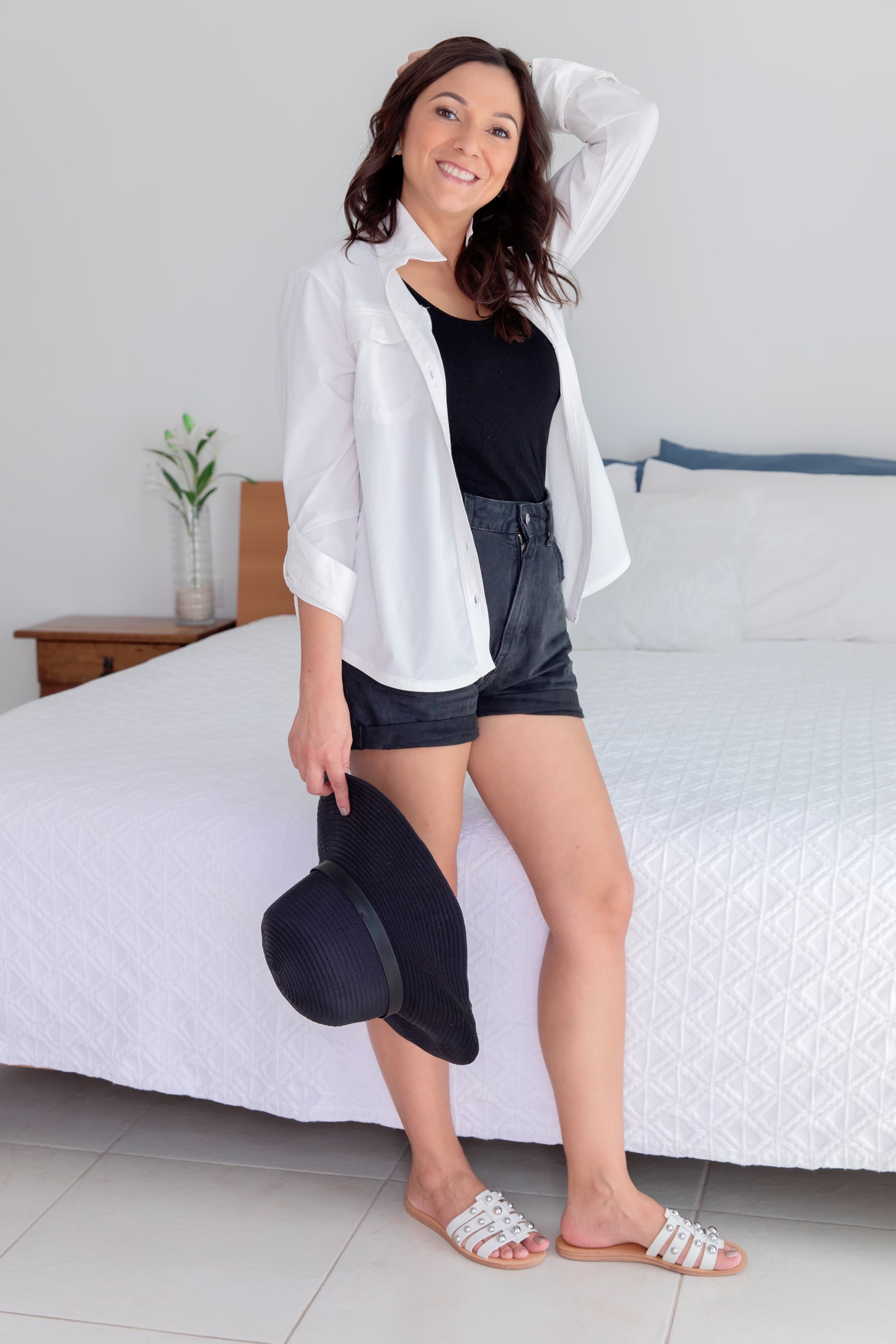 Eddie Bauer Departure Shirt with   H&M Denim Shorts , Wallaroo Sun Hat , and Marc Fisher Pacca Sandals
In fact, it became a new favorite of editor-in-chief Alex as well! Here's her mini-review of it, 'The Departure is softer and looks more like a regular blouse vs. a travel or hiking top. As a plus, it still has all the same great features such as the UPF 50 protection and moisture-wicking capabilities which keep me relatively "cool" and dry in the Playa del Carmen heat."
It's offered in XS-XXL . 
These styles won the vote for the best white t-shirt for women!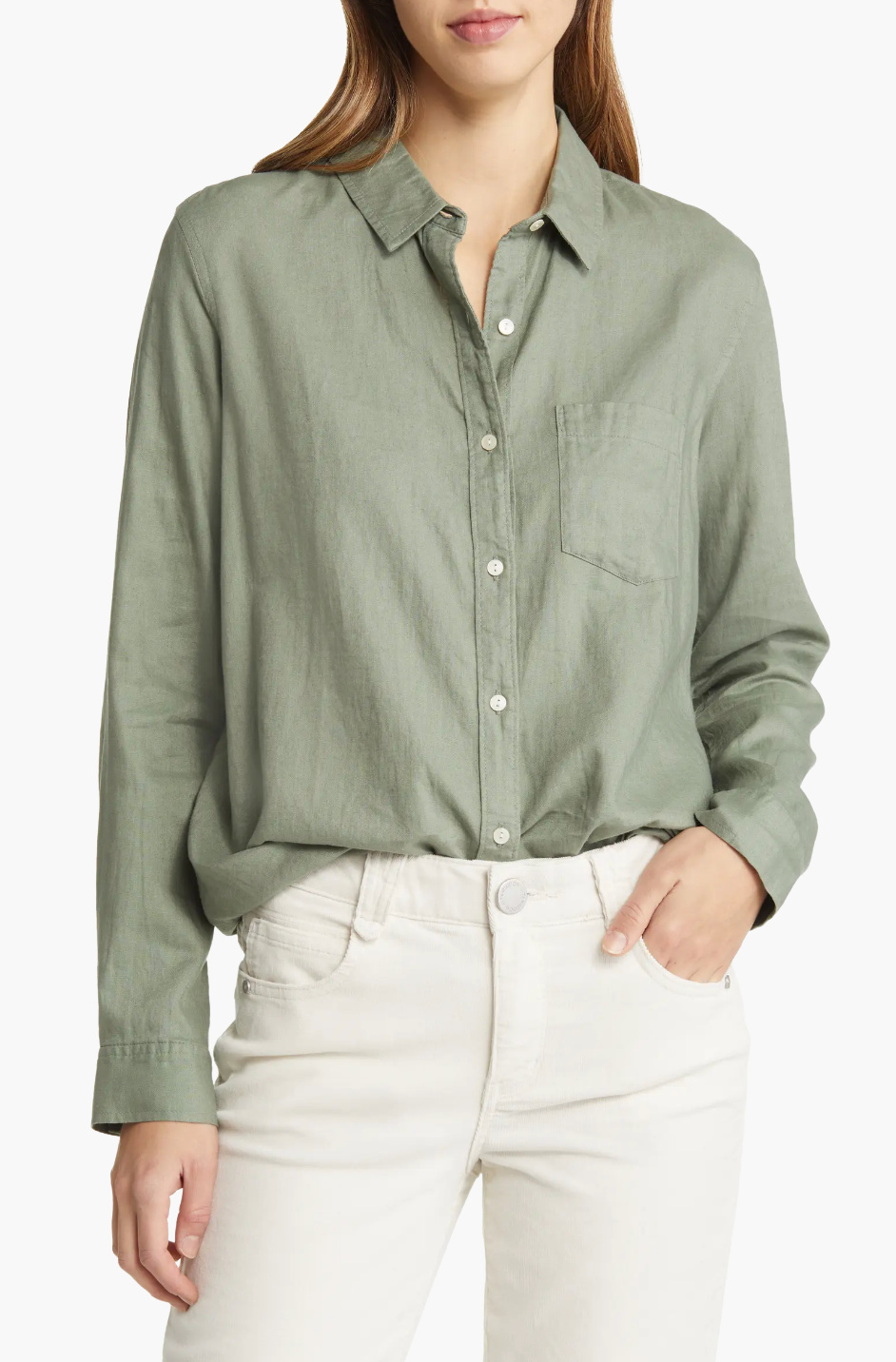 Shop Sizes XXS-XXL: Nordstrom
Women's Long Sleeve Blouses : Caslon Linen Button Up Shirt
The Caslon linen blend blouse is a fashionable shirt that comes in six colors, including this green dune color! It has long sleeves, a spread collar, and as the name would indicate, linen blend fabric. It's perfect for a night on the town or a beach outfit.
One TFG reader shares, "I wanted to share a blouse I found at Nordstrom that I absolutely love! It's a great material that is lightweight, soft, can go with so many things, can layer easily, and it'll be a go-to with any travel I do."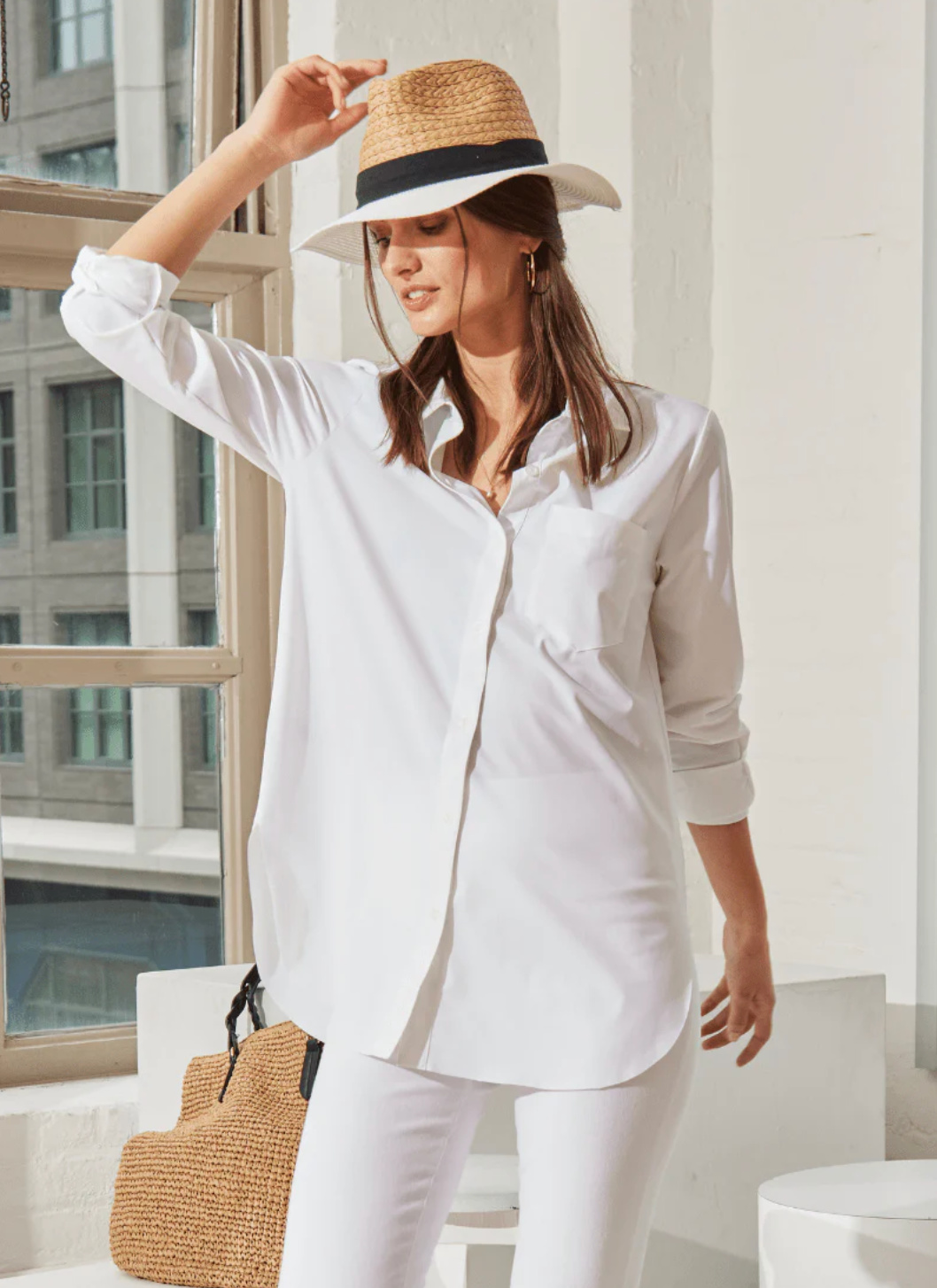 Shop Sizes XS-XL:   Lysse | Nordstrom 
Womens Wide Collared Dress Shirts : Lyssé Schiffer Button Down 
The Lysse Schiffer is a crisp shirt in white. It has long sleeves, a button-down front, and a front pocket. A wonderful, lightweight versatile choice for weekend or vacation wear. 
One happy user shares, " This shirt is fantastic, no ironing, lays and hangs well. The hem does not have a rolled hem. It's just cut, but the stretch in the fabric means it lays wonderfully. It's become my go-to shirt. you can layer if needed, both over and under. In the warmer months I intend to roll the sleeves up and leave open over a tee." 
Comes in other classic colors and sizes XS-XL .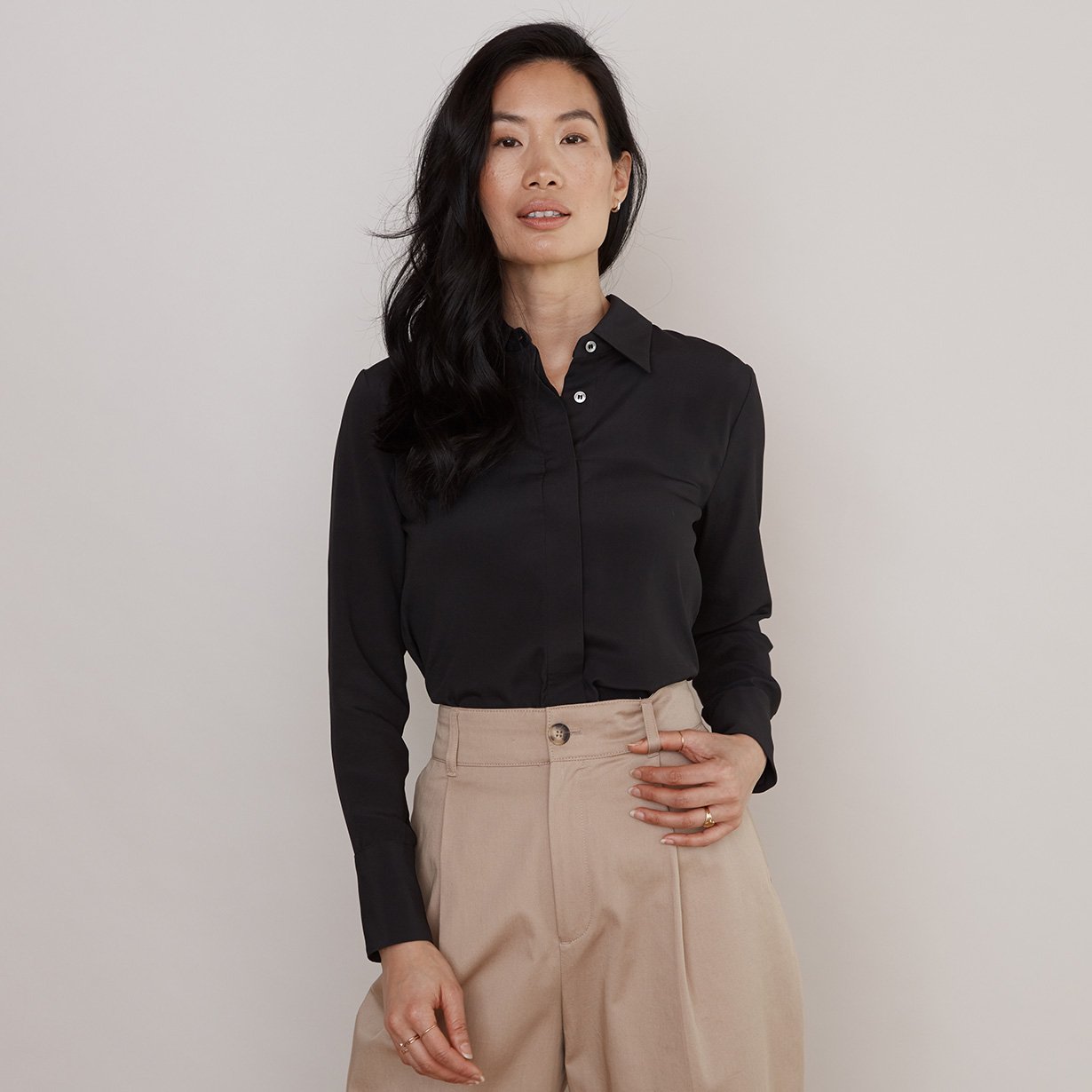 Shop Sizes XS-1X: Numi
Sustainable Womens Silk Shirt: Numi The Simone
This is a new favorite of editor-in-chief Alex. Read her mini-review, "I am so excited!!! I THINK THIS IS THE BLOUSE I'VE BEEN SEARCHING FOR!!!  Over the past decade, I've been working to create my perfect capsule wardrobe . Because I'm a frequent flier, every clothing item I own (or the majority) has to work for everyday and for travel as well. I don't own just "travel clothes" but I look for clothes that are functional, fit well, and make me feel good when I look in the mirror. In this search, I've discovered that a simple button down blouse with concealed buttons is an essential part of what's now becoming my signature look. I can wear this type of blouse any day for almost any destination and it works for me."
Alex says the Numi silk blouse is airy, light, and featherlight, making it incredibly packable! She explains further, " I ordered a size small, but I was worried it would be too small for my bust. It works very well but the shoulder seams don't line up where they should fall. Being petite, this is just a standard part of my experience with clothing and it's not an issue with Numi. While I've never tailored a button down blouse, this is one that's definitely worth the effort to make it the quintessential wardrobe staple in my capsule for a clean, chic appearance."
Made of sustainably sourced silk, this is available in four colors and sizes XS-XL .
Want a whole list of no-iron options? Check out these women's wrinkle free shirts !
Travel Shirts Comparison Chart
How to fold shirts for travel.
Wondering how to fold dress shirts for travel, or other types of shirts? The best tip readers give is when it comes to folding women's travel shirts and blouse, stick with wrinkle-free fabrics because no matter how you fold them, you aren't worried about getting creases all over them.
One of the best wrinkle-free ways of folding dress shirts for travel is to roll them. It will help prevent more wrinkles. But make sure to test it out beforehand! Want more folding tips? Check out our folding vs. rolling article !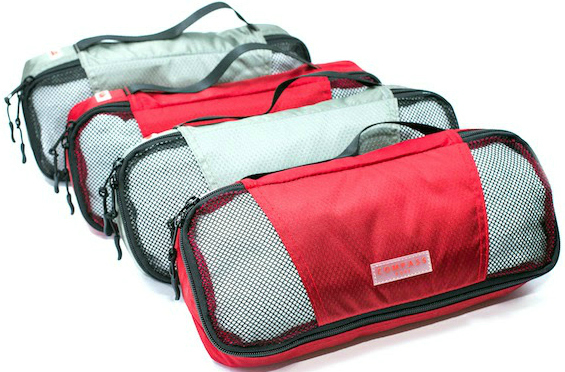 Compass Rose Packing Cubes
How to Pack Your Shirts
Many of our readers use packing cubes to roll up and organize their shirts. Compass Rose packing cubes allow you to do so by number and color so you know where you packed everything, even when you use the cubes to separate outfits. Learn more in the video below.
Learn about our hacks with packing cubes in this video !
We also put together a five-part YouTube series showing the different methods to use packing cubes for travel. If you use this specific packing strategy, packing cubes can also compress your belongings. This is the secret to traveling carry-on only!
What do you think are the best travel dress shirts or blouses? Share and comment below!
For more women's shirts, please read:
Upgrade Your Travel Wardrobe with the Best T-Shirts for Women
Best Long Sleeve T Shirts for Women: Ideal for Layering
Best Tank Tops for Women That Are So Comfy and Versatile
These Women's Wrinkle Free Shirts Will Make Packing a Breeze
LIKE THIS POST? PIN THIS PIC TO SAVE IT!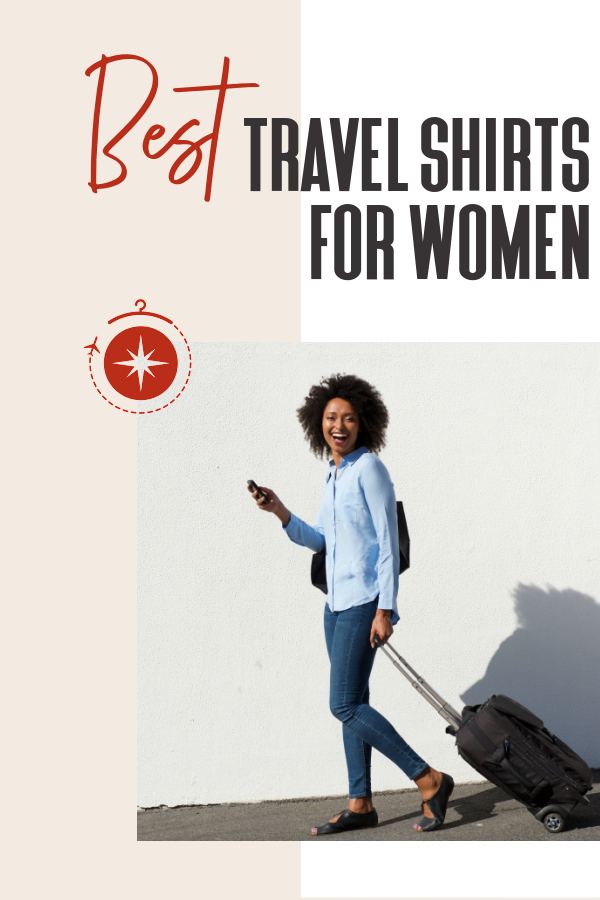 We hope you liked this travel shirts  womens article. Please share with your friends on Facebook, Twitter, and Pinterest. Thanks for reading!
46 comments.
After reading this post I ordered an Eddie Bauer Departure shirt, and I loved it so much I now have a second! They wash and wear well and do not wrinkle. Best of all, they come in tall sizes, which is great because I have a long torso. I always travel with one of these shirts, and they are in my regular rotation at home, too. Thank you for the recommendation!
Wish you showed patterns.
I love the Eddie Bauer Departure Shirt!
This has been so helpful. I have never travelled with shirts as I loathe ironing. Will be checking out the wrinkle free options!
After reading all your travel shirt and white shirt blogs, I ended up deciding on the Eddie Bauer Departure shirt. I absolutely love it! No wrinkles, even when I tuck into my pants, not see through, super lightweight, and tons of stretch so it's super comfortable yet structured. Thanks so much for the recommendations!
Thank you for including plus size options.
So many good choices. I have been thinking about several on the list for an upcoming month long trip to Europe. Love the comparisons.
I love the packing shirt ideas! I have bought a hole from Eddie Bauer.
After reading the reviews, I've added 2 Eddie Bauer Departure 2 shirts to my travel list for my Australia cruise. They will be easy to pack and versatile.
Thank you for the reviews! I too purchased the Eddie Bauer Departure shirt. It has exceeded my expectations and love I wearing this at home and while traveling
Thank you for this! Shirts are an area in my wardrobe where I really struggle. All of these look like great contenders for a new addition to my closet!
Thanks for this review! I found the Eddie Bauer ripstop shirt at Costco, I'm packing it for upcoming trip to Scotland.
Those white Eddie Bauer shirts look like just what I've been looking for, thank you so much!!!!
Love this list. Looking to add a button up top to my wardrobe. Starting with this. Thanks!
Absolutely love the Eddie Bauer Departure shirt! I have it in tow colors and it's been the workhorse of my recent trip to Ireland. So many different ways to wear it.
I am so grateful that I found TFG blog and FB page! I am getting ready for 10 days in Italy in mid-October and was so stuck on what to pack and also wanting a capsule wardrobe. This blog has been tremendously helpful in pointing me in the right direction. I am wondering if it's ok to wear jeans with "fashion rips" in them when in Italy? I have an awesome pair of black jeans but they do have a rip in the knee. Are Italians wearing ripped jeans??
I have two Eddie Bauer v-neck tank tops and a pair of pants from the Departure line that I love. They hang/drape nicely on the body. They're lightweight, dries within hours after hand washing, wrinkle resistant and are UPF rated. My next purchase will be the long-sleeved shirt. If it wasn't for this blog, I wouldn't have known about the line. Thank you!
Love reading what is best for packing as I plan my trip to Europe next year!
I'm looking to build a travel capsule and love all the input on the perfect shirts. I will definitely be linking over to some of your sites to purchase. Thank you for all your wonderful tips.
I love your posts! I especially love your choice in tops. I have sometimes felt left out when I read about women who wear tops meant for tiny people. Your swimsuit and blouse choices are super classy and fashionable. Thank you for pointing the way to having better style when traveling. I especially love your Anatomie jackets. So cute!!
I love packing cubes I've labeled mine with embroidery for tops, bottoms, undies, bras
I LOVE the EB rip stop shirt!! It's been my go-to in the summer for sun protection and when I just need a layer to chase away a chill. Great for travel and it washes and hangs dry like a dream. I have white and am looking at more colors. Great recommendation from TFG!
I truly appreciate the curated list of shirts. I bought the Eddie Bauer. Love that you can wear alone or as a quasi-jacket. We are headed for safaris in Africa and then later to the Galapagos. I'm sure the shirt will be well-used. Thanks!
Wow, I'm so happy to learn about all the different brands for great travel clothing! My favorite is Anatomie. I bought two of their Buddha blouses for a recent trip and felt so pulled together when I wore them.
The reviews are so helpful. I've struggled for years to find the "just right" white button down. In a recent post someone suggested I have one altered. Brilliant!!! Now I'm looking at the Numi and thinking hmmmmm!!! ❤️
I love the Eddie Bauer shirts
Absolutely love Anatomie brand clothing. I've been wearing the brand for over 12 years. Highest quality and so easy for travel. Machine washable too.
I only recently added a. button-up shirt to my wardrobe but I'm really happy that I did – the shirt can pull double-duty as a swim cover-up!
I just bought the EB departure shirt in white, have not worn it but can't wait to take it on a short trip next month.
Thank you for all your awesome recommendations! I look forward to your emails (especially the Nordstrom anniversary sale posts!) Been following for a few years now and your ideas came in very handy on my last trip to Europe!
Just picked up the EB departure shirt at Costco. While I have not worn it yet I can't wait to take it on a test "trip".
I always find the posts so informative. Lots of detail and very honest critiques.
I've purchased so many recommendations from reading here and the FB page but my most recent have been the EB Ripstop ( have in 2 colors now) and the EB Departure shirt in white which I love even more for how stretchy and classy looking! Thank you for all you do to share with us!
I love the elevated look of the Anatomie Alida! Think I need to add it to my closet and my suitcase.
Thank you! I have an Eddie Bauer dress and packable down jacket that I love for travel. I may need to try some shirts.
I always appreciate the summary and shopping info at the end of your blog posts. That way I can immerse myself in the descriptions and then check for the details on my favorites at then end. There are always a couple that are new to me— in this case, I will be keeping an eye on sales at Nordstrom for the TB shirt!
I really love that you have reviews for clothes women have tried and loved.
Thank you! I always like TFG's posts. Very detailed and useful. They even tell us how to pack the shirts. After reading this article I'll try the Eddie Bauer Departure.
Always so helpful and great layout for seeing options, learning more about them and learning about where to buy them! I so admire you and love your newsletters and blog posts! I love to travel, travel for work and fun and to rotate with siblings for caregiving for our aging parents. Thanks to your advice, I have learned about and purchased several items that are spot on how you describe them. So thank you so much for sticking to your dreams!
Wow! 10 yrs! Keep up the great work. Can't wait to get lucky and get one of the giveaways!
I love Coolibar UPF t-shirts for travel. They keep my skin protected, and the darker colors are easy to dress up in the evenings, if needed.
I love the Lands End shirt!
I've been on the hunt for the perfect packable button down; thanks for the curated list!
Great list! I love my Lands End long sleeve no iron shirt in blue and white stripes. It has been a staple in my closet for years and still washes and dries wrinkle free. I also have a couple of long sleeve button up shirts in linen from Tommy Bahama. I'm a petite 4-6 and both of these brands offer petite sizes.
I've read a lot of comments from readers about the Eddie Bauer Departure. Going to try that one for my next trip.
Thank you! I've actually been wondering about 2 of these in my own and now I'm going to try them out.
Submit a Comment Cancel reply
Your email address will not be published. Required fields are marked *
Save my name, email, and website in this browser for the next time I comment.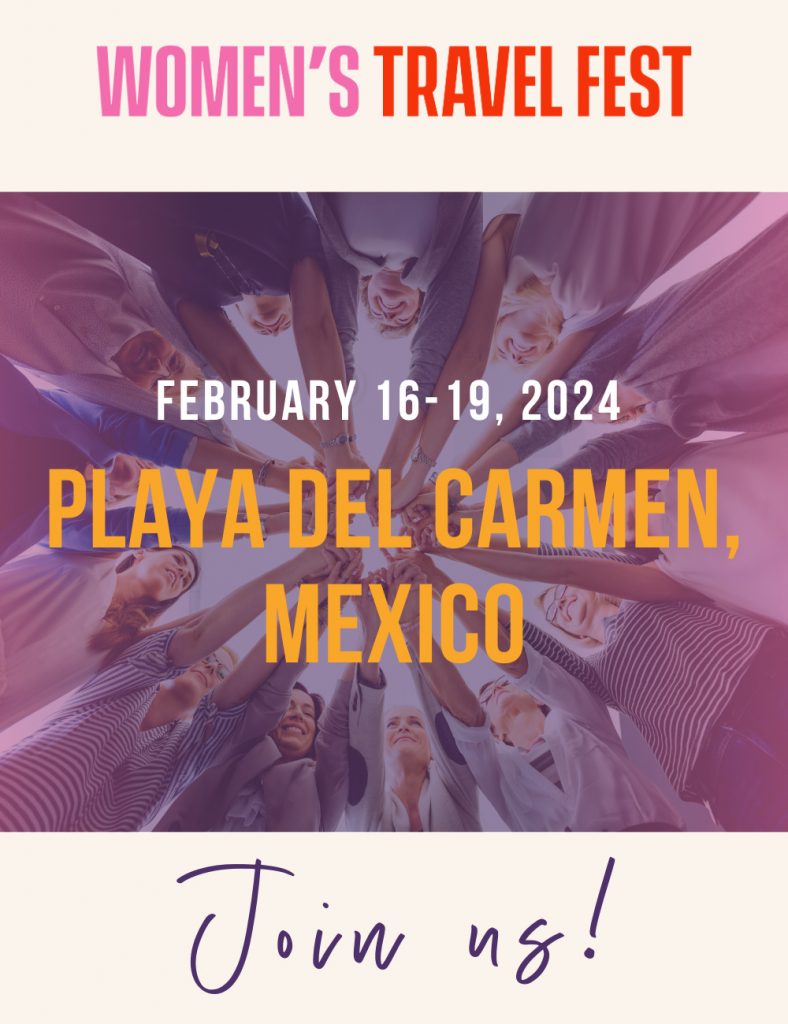 Wrinkle-resistant
Fairmount leggings, kauna short, waverly legging, shaba pants, bloomfield biker short 10', clark crop tank, fundy pants, kamala dress, kenze skort.

My Travel Capsule Wardrobe: Best Wrinkle Free Travel Clothes for Women
Last Updated: March 28, 2023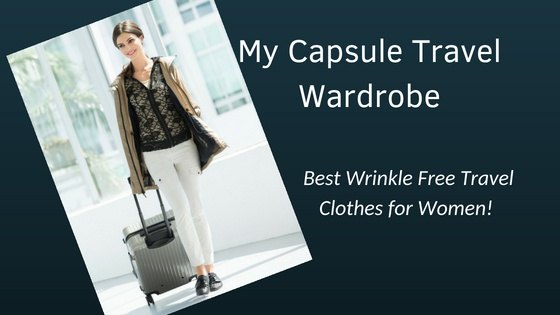 Sharing is Caring!
I have this thing. If I have really nice clothing – like, favourite stylish travel clothes, I tend not to wear them as often as I'd like to. Instead, I still wear wrinkle-free travel clothes – but cheaper, older, less comfortable, or less stylish clothes and I justify keeping my favourites in the (proverbial) closet (which for me is actually my luggage ), so I can save them for a more "special" occasion.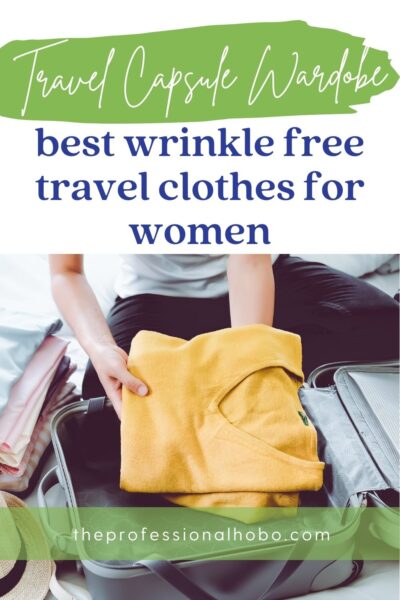 I saw Loretta LaRoche speak at a conference. She grew up being told by her mother that she could only wear her nice underwear on special occasions. Thing is, there was never an occasion special enough to put on these "party pants". She also poked fun at people who have sitting rooms they never sit in, with nice furniture covered in protective plastic. Her theory was that we could all love life a lot more if we enjoyed the things we have rather than perpetually saving them for another day….a day that may never come.
I'm here to say it's time to wear our party pants.
I have traveled with two tiny packing cubes of easy care travel clothes from Anatomie Travel Clothing for three weeks, in true capsule wardrobe fashion. It changed the way I will travel (and live!) forever.
See also: Pro Packing Hacks – Here are the Best Travel Accessories for Saving Space and Organization
And for the fellas: Here's your own Travel Capsule Wardrobe for Men !
My Journey With Anatomie Travel Clothing
The birth of the Anatomie capsule wardrobe idea
I visited Anatomie Travel Clothing's headquarters in Miami. I'd been a fan of Anatomie for years already; they sent me my first outfit in 2012 – an outfit that is still going strong, all these years (and abuse) later. (See also: Anatomie – My New Favourite Travel Clothing )
Shawn and Kate (Anatomie's co-founders) talked about cost-per-wear. While doing some math, I realized that their prices (a stumbling block for me) weren't as high as I'd initially thought if I worked out how many miles I could get out of them – literally and figuratively. So, I threw out my jeans .
I returned to Anatomie's headquarters a second time with a furrowed brow. My favourite travel pants – the Kate Skinny Cargo pants, which I got just a couple of years prior – had worn in the strangest of ways. It led to concerns about the quality of their travel clothes on the whole. My original capris were doing great! Why had the Kate pants deteriorated like this in a fraction of the time?
Anatomie was churning out a huge number of new styles at the time, becoming a highly-recognized brand name in the luxury market as the ultimate travel clothes for women. Had they grown too big for their own good?
Luckily, my concerns were assuaged when I received a brand new pair of Kate pants and was assured that any customer with a similar problem would be afforded the same treatment. They said that occasionally material from the end of a roll could do funny things like this, and while they hadn't seen this particular problem before, they would look out for it in the future.
While Anatomie may be growing exponentially, they still pride themselves on superior service and developing long-term relationships with their customers, as evidenced by the expedient replacement of my defective pants, their personal style concierge service, and more.
Not only did they replace my Kate pants, but they loaded me up with a whole bunch of new styles and Anatomie " Travel Essential " pieces. (Travel Essentials are styles they carry year after year because they're so popular, and customers get angry if Anatomie stops making them.)
With this gift of new clothes, they issued me a challenge: pack and wear only Anatomie clothes for my next trip. So, I did; the next opportunity I had to leave my big suitcase I armed myself for three weeks with two wee packing cubes of Anatomie clothes.
Here's what I learned about what makes for the best wrinkle free travel clothes for women. (See the end of this post for an exact list of what I traveled with, so you can design your own ideal travel capsule wardrobe).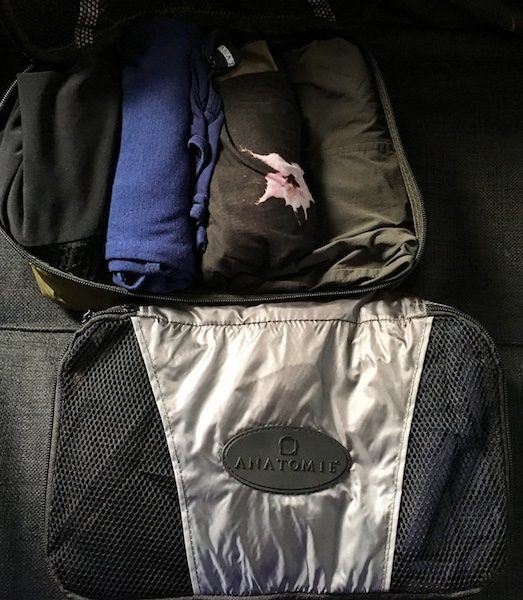 Before we go any further, I must tell you that I have received a ton of Anatomie clothing for free since the beginning of my partnership. I'll also add that I've bought many styles for myself at retail prices. I put my money where my mouth is, and I endorse Anatomie for having terrific travel clothes for women. As such, if you click on any of the links in this post and buy Anatomie clothes, I will receive a small commission. It doesn't affect your price, and it helps me keep running The Professional Hobo . I appreciate your support in advance!
Use the discount code NORA20 to get $20 off your order! (Minimum order amount is $120 to qualify. Enjoy free shipping on all domestic orders.
Quality travel clothing will go the distance – literally and figuratively.
My Cargo Capris (since discontinued, though keep an eye on the Anatomie website – they occasionally revive them for a season) are still going strong since getting them in 2012. This is one style that I haven't saved for special occasions; over the years, I've worn these pants more than any other pair of pants I've owned. Like, ever. After all these years of abuse, the material is softer and even comfier.
I've washed them in dodgy washing machines around the world, and they've even seen a few dryers (which you're not supposed to do, FYI). The only thing I can say is that the material has thinned out a little (but not so much as to be a problem), and has also stretched out a little (due to my own weight gain/loss/gain/loss/etc. over the years).
Regarding fit in general, Anatomie advises that you can expect that the signature stretch wrinkle-free material used for their pants will stretch over time (it's what makes Anatomie pants a custom fit, as it stretches to hug your curves perfectly). More on this later.
Washing and Drying
If you're traveling with a limited (capsule) wardrobe, washing and drying must be easy.
Need to dry your pants in a hurry? A simple hairdryer will do the trick in just a few mins! (Almost) everything Anatomie offers is machine washable in cold water.
Machine dryers, in general, are horrible on your clothes (they exponentially accelerate deterioration), nor are they particularly environmentally friendly. Luckily most Anatomie styles dry quickly, usually overnight.
Wrinkle Free Packing
Packing light means not having a lot of space. Irons are not an option.
Are you worried about cramming those expensive duds into a packing cube ? Don't. Anatomie makes easy care travel clothes, and although some pieces may come out of your luggage looking wrinkled, the wrinkles easily fall out as soon as you put them on. You will love their wrinkle resistant fabrics, life-changing!
Other styles made of crazy comfy jersey and mesh (like the Gracie Mesh Sleeve Jacket and the Nessa Mesh Button Down Shirt (pictured above, since discontinued; here are their current lightweight jackets and wide variety of shirts ) are truly wrinkle free in all respects. Scrunch it up in a ball in your bag. I dare ya.
Comfort Vs. Style
There's nothing worse than being uncomfortable. Except perhaps, being underdressed.
Luckily there's no compromise! I'm just as comfy in my Luisa skinny jeans on a plane as I am in a pair of leggings. Except, I'm wearing something considerably more stylish than leggings.
Even the Andrea Contrast Panel leggings are more-than-leggings.
For me, the perfect travel wardrobe has stylish travel clothes, without being pretentious. Regardless of whether you're dressed up or down, you're comfortable. Travel throws you enough curveballs; you'd better be comfy in your second skin.
On the topic of comfort, the Bri Pima Cotton Tank Top is made from Pima cotton, from Peru. I was ambivalent when they suggested I try it out ( it's a plain tank top….kinda boring right? ), but it quickly became my absolute favourite top to wear. It's suuuuuuuper soft, breathable, won't shrink, goes with everything, and just like most of Anatomie's styles, can be machine washed (on cold), and will dry fast.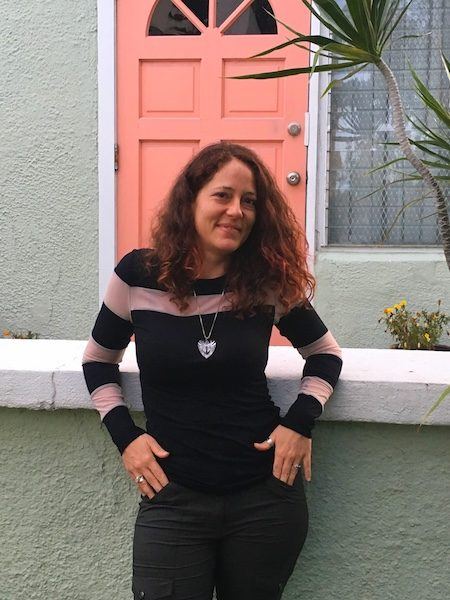 Staying Warm
Cool/cold weather is the biggest challenge to packing light. The secret is in layering.
Most of Anatomie's travel clothing styles are very lightweight – which is both a selling point and a challenge. The signature stretch fabric used to make most of their pants is light as a feather, which means it won't weigh you down as you take off, but if you're taking off to chilly places, you might be cold.
Over the years, I've found ways to circumvent these challenges:
Layer Under. While most of Anatomie's travel pants are slim-fitting, there's still room for a pair of leggings underneath for added warmth.
Layer Over. This is where Anatomie's travel jackets shine. While the Gracie Mesh Jacket is ridiculously comfortable over a tank top and takes the edge off a summer night, it's also warmer than it looks and can be worn over a long-sleeved top.
The same goes for the Kenya Safari Jacket , which is hands-down their most popular travel jacket, and for good reason. It's roomy enough to go over thicker under-layers, yet form-fitting enough to be super stylish and flattering.
If you find yourself in even chillier climes, they have a selection of quilted items and even leather jackets. I still have a style of an Anatomie travel jacket (which they don't carry anymore) that is ideal for shoulder season climates.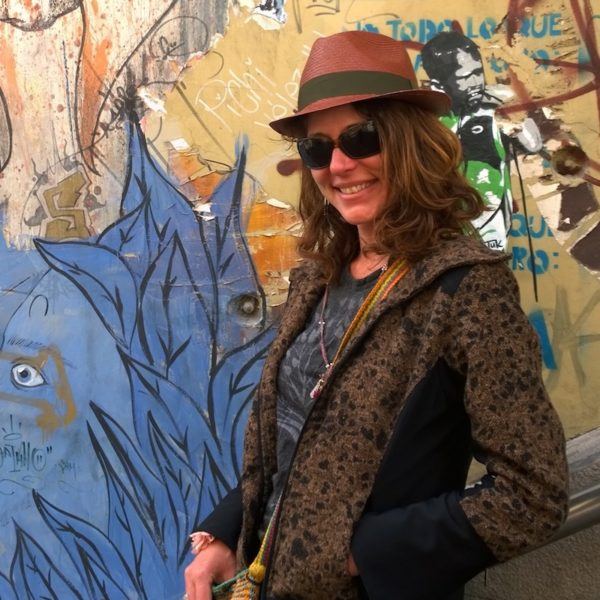 Anatomie usually has at least one style of pants made of thicker material in their rotation. When I last visited the Anatomie headquarters, they showed some thicker, almost fleecy materials currently in the design process that will be an absolute dream to wear.
Free Returns and Clothing Guarantees
Spending a lot of money on the perfect travel capsule wardrobe? Free returns are critical.
I'm still leery of ordering clothes online. Even with sizing charts, you just never know how something will fit.
Anatomie understands this, and orders placed in the U.S. include free returns . And rumour has it they're going to offer free returns to Canadian customers very soon too!
So if you're curious about how that shirt or pair of pants will fit, there's no risk in ordering it and finding out first-hand.
The same goes for clothing defects. While normal wear and tear are on your own dime, if there's a problem with an Anatomie style, they'll send you a new pair, as I experienced myself. Anatomie wants you to be 100% happy with your clothes, as they've demonstrated to me repeatedly.
Travel Clothing for Women with Curves
Most people aren't models. So how do we know if those pants will actually fit AND look good?
Over the years, I've grown, and not just emotionally! While I'm not disproportionate or overweight, my measurements baffle many sizing charts.
While trying to order pants and a shirt from (another) online clothing company, I couldn't figure out which sizes to get. According to their sizing charts, I was somewhere between a Small and Medium for the shirt (but my bust measurement said I should be Large – and believe me, my boobs aren't that spectacular).
When it came to my lower half, my self-esteem "bottomed" out. While I was accustomed to being a size 6-8, my recent weight gain put me in the (8-10) category. This particular clothing company's size 12 looked like it would still be too small. And….size 12 was their largest size. Who does that?!?! I have no idea what other curvy women would do if they tried to order anything from this company. (To their credit, my complaints inspired them to change their sizing charts, which is why they shall remain nameless in this post.) I simply share this story here as an example of how screwed up sizing is across the board, especially when it comes to women's pants.
Shawn (Anatomie's co-founder and chief designer) stood by while I tried on a huge variety of clothes, and he told me how they're supposed to fit and made specific sizing recommendations. Between his recommendations and my comfort levels, I got mostly Medium sizes, although I insisted on one pair of pants (the Luisa Skinny Jean) being Large, just in case my trend of having gained weight was going to (irreversibly) continue.
Even so, Shawn warned me that most of Anatomie's pants stretch up to a whole size over time ; and my older Anatomie pants are testament to this. So, if your own Anatomie travel pants are a bit tight to begin with, never fear: their signature stretch fabric is a bit of a miracle-worker and will mold to your curves perfectly with time. (As it turns out, Shawn was right. Selecting the large size of Luisa Skinny Jean now means it's just a wee bit too loose).
I've had to be flexible with my use of Anatomie's sizing charts as well, being a curvy woman and all.
For shirts, I take Anatomie's Small and Medium sizes.
For pants, I take their Medium and Large sizes.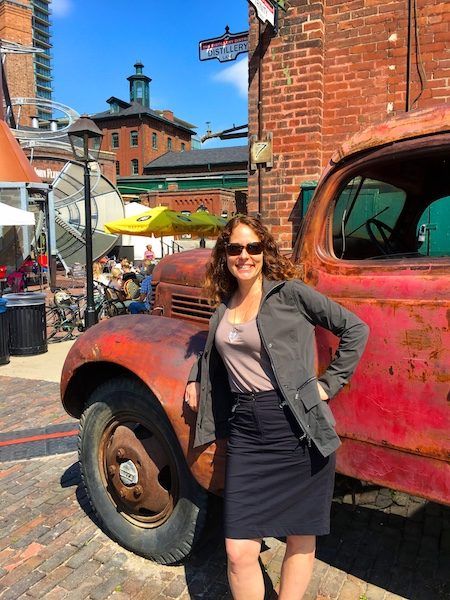 Here are some observations about how Anatomie's stylish travel clothes are made for curvy women :
The Dora Stretch Pencil Skirt has built-in jersey bicycle shorts. While this does add a bit to the packing weight and bulk, my thighs thanked me; can you say " no thigh rub?? " (Note: the Dora has gone out of Anatomie's rotation; here are their current dresses ).
I asked Shawn which styles of Anatomie's travel pants are best for the curvy woman; he said the Kate Pant (which I can attest to). More recently, Anatomie has come out with a whole line of pants for curvy women! You can filter their pants by body type which is very useful.
Not all women appreciate tight shirts. While I do recommend having at least one somewhat form-fitting tank top (e.g. Bri) and long-sleeved top (e.g. Pam Mesh Panel Top) for layering underneath jackets and such, I also like having a "let it all hang out" sort of top. Anatomie has a selection of looser-fitting tops that will turn heads; just have a browse through the store to see their latest designs, as their styles are always changing.
Not sure yourself? Here is one of the many bangs you get for your buck with Anatomie, in addition to free returns and quality guarantees: their personal Style Concierge will assist you with personalized fit and styling tips . You'll find their personal email on the Contact page of the website, and their assistance is very valuable (and of course, free).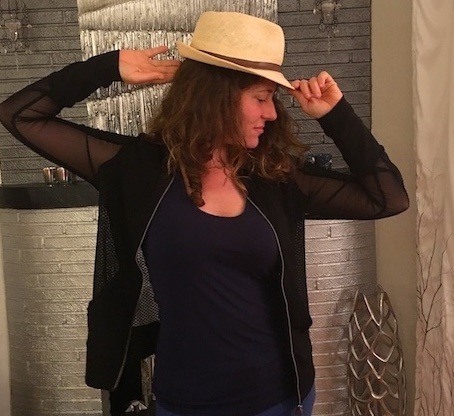 Anatomie Wrinkle Resistant Clothing Recommendations
Here is exactly what I packed when I took the challenge to travel with only Anatomie clothing:
Gracie Mesh Jacket, Black M (since discontinued. Here are Anatomie's current lightweight jackets )
Kenya Safari Jacket , Grey M
Nessa Mesh Button Down Shirt, Orchid Print (limited edition colour)
Pam Mesh Panel Long Sleeve Top, Black/Dusty Rose (limited edition colour) (since discontinued. Have a look at Anatomie's tops for an alternative that suits you!)
Bri Pima Cotton Tank Top, Taupe M
Flo Sleeveless Top, Navy M (note: here's their current collection of tanks and sleeveless tops )
Dora Stretch Pencil Skirt (with built-in jersey bicycle shorts), Black M
Luisa Skinny Jean , Black L
Cargo Capri, Navy M (since discontinued; they're the longest-standing pants I've EVER owned! Anatomie occasionally comes out with an updated Capri pant for a season; check what they've got on offer!)
While this capsule wardrobe worked perfectly, I was sad to leave behind a few other of my fav classic Anatomie pieces, like the Kate Skinny Cargo Pants and Merika Windbreaker. But when pressed to travel ultralight, the above list did the trick for a variety of circumstances and temperatures.
BONUS: My Top Packing Tips Video
I know, I know. I must sound like a psychotic cheerleader. I promise, I haven't been drugged, nor unduly forced to write all these accolades. Anatomie approached to develop a long-term relationship, much like they do with all their customers. (The difference being, they started me off with a free outfit, which inspired my love affair with them. Lucky me!).
And as much as I love Anatomie, they love me too, and they're fascinated at how I traveled with carry-on luggage only for two whole years! While I was visiting Anatomie's headquarters this year, they turned on the cameras and got me to share my top packing tips for ultralight travel. Here's what I had to say:
Click here to watch on YouTube
Model Pictures (Wearing Anatomie Wrinkle-Free Travel Clothes)
A reader once wrote in that they visited the Anatomie website and were turned off by the super-skinny model. I mentioned this to the folks at Anatomie. Problem is, they said, skinny models work best – not necessarily for styles, but for customers. It's a fashion industry thing.
This is why I've populated this post with pictures of me instead of models.
But I'm not the best model either. So, here are some professional shots of the exact clothes in my capsule travel wardrobe, courtesy of Anatomie:
Note June 2019: Anatomie has jumped on the curvy collection bandwagon! They now celebrate all figures using models of various sizes. 🙂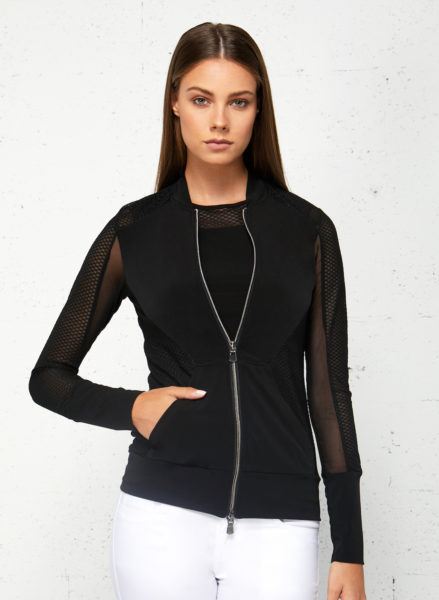 Check out my Travel Lifestyle Guides for more ways to earn money remotely, spend it wisely, and balance the two so you can travel as long as you wish, in a financially sustainable way. 
Want to know more about packing for travel and the best travel clothing tips?
Check out these posts:
Anatomie Travel Clothing Made me Throw Out my Jeans
My Search for the Perfect Travel Sandal
The Ultimate Packing List for Full-Time Travel
Best Luggage for Full-Time Travel
Checked vs. Carry On Luggage (and Why Checked is Best)
Travel Packing: How and What to Pack for Full-Time Travel (VIDEO)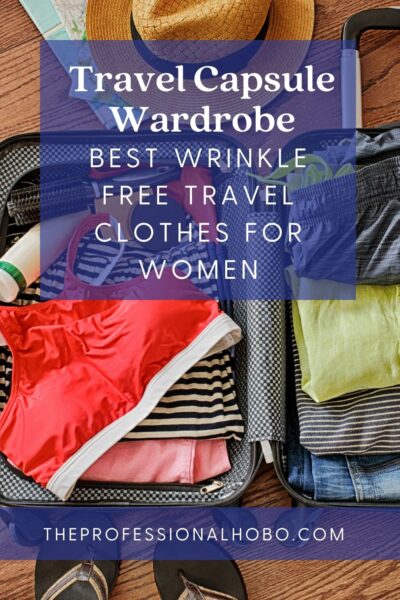 21 thoughts on "My Travel Capsule Wardrobe: Best Wrinkle Free Travel Clothes for Women"
Noted for my wife Nora. I dig the party pants analogy. Good to know of the wrinkle free aspect too; sometimes we travel outside of the tropics. Humidity in places takes care of wrinkles fast but outside of the tropics you need quality, wrinkle-free clothes. Or an iron and board which ain't happening around much of the world.
That is, unless you practice "extreme ironing"….in which case…..bring on the ironing board! LOL
This is a great post, with the exception of all the body shaming. What's up with the "real" woman stuff? Is a model a "fake" woman? You're a great writer, and I know there's a better way you can get your point across without making some women feel like they don't qualify as "real" women.
Hey Beck, Great observation – thank you! While curvy women seem to get the short end of the stick when it comes to body image issues and persecution on a variety of levels, you are right in that I haven't acknowledged skinny women as being "real". I've removed all language that isolates any body type as being "real" or otherwise.
Thank you! It makes a difference 🙂
I'm sorry But HAVING mainly ANOREXIC MODELS EVERYWHERE ADVERTISING LADIES CLOTHING IS NOT REALISTIC AND DOES NOTHING BUT PUT UNREALISTIC IMAGES on how we should LOOK and THAT'S wrong because yes they ARE FAKE THEIR ANOREXIC AIRBRUSHED BLOWN UP/ DEFLATED ETC ( REFERRING TO DIFFERENT AREAS OF BODY) Therefore We have TOO MANY GIRLS GROWING UP WANTING 2 LOOK LIKE THAT INSTEAD OF BEING HAPPY WITH WHO THEY ARE SO THEY WIND UP DEAD!!!!!! FROM STARVATION. DEPRESSION OVERDOSE PREGNANT ALL DUE TO UNREALISTIC TOOTHPICK IMAGE MEDIA PLACES ON HOW FEMALE BODY SHOULD LOOK
AMEN TO ALL LADIES OF ALL SIZES WHO ARE NATURAL WITHOUT ANY COSMETIC SURGERY DONE!!!
I am very happy 2 see women of all sizes are finally being noticed and admired!
Nora, I was ready to like this company you love in spite of the big price tags. Just thought you should be aware how an ordinary customer is treated. I found this in the reviews from the Skyler Skinny Pant. I'm afraid that you get special treatment from the company. If they really backed up their products for defects it might be worth it. But 10% discount is nothing to compensate this woman for a messed up zipper on a very expensive pair of pants.
hannah poor policy I have purchased a pair of Anatomie pants and was very satisfied with the product, until I had the inner seam of the zipper seperate from the fabric so they are no longer wearable. I have worn the pants no more than 10 times, but being outside of the 30 days they would not help me. Since this was obviously a quality issue I feel like this says something about the company as a whole. Anatomie >> replied: Hannah, thank you for contacting us; we apologize for the inconvenience. We looked into the matter and since the pants were purchased about a year ago, and that particular style is no longer in production, we will not be able to issue a replacement. But we would like to offer you 10% off your next purchase for the inconvenience encountered. If you have any other questions, please contact us at [email protected] , we would love to help!
Hi Linda, Oh my! That's not good. I've contacted the team at Anatomie to look into this. I hope there's another side to this story, because indeed, this contradicts what I understand their customer service policy to be.
I wonder if perhaps she bought the last of a line that was being discontinued and was thus on clearance sale. Anything on super clearance wouldn't likely be subject to the same return/exchange policy.
Nora, since I wrote the above post, I have given Anatomie a try. Customer service has been wonderful, namely Raquel. It's very difficult to get the style and size right on first try and she's shown some flexibility. I tried the popular Skyler pants and am lukewarm about the fit. I'm going to give your Luisa Skinny Jeans a try! (Did you by any chance try the Lora Nylon & Fleece jacket? Seems to be one of their Italian items.)
Anyway, I love your blog! I signed up for your emails and am loving your writing and all the helpful information. I'm simply thrilled!
P.S. We're going to Cuenca January-February! We're putting the house on the market and hope to find house-sitting gigs while we are here in the Atlanta area to give us more flexibility. We had part of this plan in process when I landed on your blog. You gave me the extra push I needed to try house-sitting and work-aways. We had already signed up for WorkAway and my nephew uses WWOOF. We'll probably try both!
Hi Linda, I'm so very glad that you gave Anatomie a shot and that your experience has been positive! I didn't really like the Skyler pant fit either, so I hope you like the Luisa in contrast (I think you will). I haven't tried the Lora jacket, but it looks beautiful.
And thank you for reading! Good luck with the sale of the house (and all your stuff in it – ha ha), and I hope you enjoy your time in Cuenca. It's a gorgeous place.
Happy Travels!
From being stylish to help you get through your daily workouts, leggings have got it all.
Amen to that!
I keep asking for someone to post a blog for clothes for women over 60. Everything I see is for twenty year old. Travelled to over 65 countries. Now in my seventies cannot wear the ridiculous clothes and shoes., no one writes for older women. Pity.
Hi Sue, I'm sorry you feel under-represented and under-served by myself and other sites. I would have thought that at least some of the styles offered by Anatomie are ageless. Many are conservative, and most are classy – especially the jackets and tops.
It seems you are raving about quite a few garments no longer made. Perhaps you should update and let us know how the replacement garments actually pack and hold up.
Lastly, cost-per-wear is simply semantics for overcharging. Much can be done with less expensive clothing. You just gotta throw on a pashmina or a bright scarf over inexpensive tops and slacks/skirts.
This is not to say expensive travel clothing doesn't have its place. I definitely have some expensive regular clothing, since I show dogs. (Take a look at the womens' suits worn on the Westminster telecast, including St. John's.) But I'm buying less expensive travel clothing so I may spend my money in Florence. 😎
Hi Jennifer, I think the very fact that I'm still wearing styles I got 10 years ago (that have since been discontinued) it testament to how long Anatomie clothing lasts! I haven't had to replace them. New designs by Anatomie (and they're constantly updating their lineup as many fashion brands do) continue to use their signature stretch material and other travel-friendly materials. So it's safe to assume their new styles pack and hold up just as well as all the garments I've gotten over the last 10 years.
As for cost-per-wear and choice of travel clothing, all that boils down to your budget and your priorities. Spending less money on clothes so you can spend more money in Florence is a perfectly justifiable decision!
As a former national sewing instructor and alterations expert, I have to respectfully disagree. Cost-per-wear is a valid calulation, but one easily forgotten in these days of disposable clothing. (I'm not talking about overpaying for a logo, but buying true quality.) Compare a dense wool winter coat or jacket with proper interfacing, interlining, thermal lining, appropriate stitching with durable high-quality thread and natural horn buttons V. a trendy coat from a big box or mall store made from a cheap blend that beads up, little if any interfacing, thin rayon lining, long stitches of flimsy poly thread and plastic buttons that doesn't combat the cold or breathe like a natural fiber. Real quality means buy it once, take care of it, wear it for years. Or… buy cheap where only pennies of the price are spent on overseas labor and oil-based, polluting materials while the rest is spent on polluting transportation and trendy marketing, just to result in pilling within a wash or two, and sweat and stink that clings to the cheap fabric, then toss it in a landfill where it sits unchanged for generations or crate it on a pallet and ship it yet again to a poor country where starving children pick for rags. A quick google will provide a thorough and absolutely shocking education on how cheap fashion has degraded people, industry and our environment — all for a $10 pair of sweat pants that won't last a season. If people focused their closets (and suitcases) on a classic, high-quality, long-lasting classic capsule wardrobe and supplemented with very few, cheap trendy pieces, they'd be much more comfortable, cause a lot less damage… and spend a LOT less in the long run. So the next time you compare prices, think about what went into producing the garment, the quality of the materials and construction, how long it will last, how it will hold up over time – and do that cost per wear.
Very well said and something not enough people think about. Unfortunately people on a low income (such as myself) can't often afford to spend a lot on clothes. I am a larger women, so my choices of where to shop are limited. I wear my clothes until they wear out and hardly ever buy new clothes. I don't have the money and find it hard to find something that suits.
This was amazing. I always seem to have the most trouble with my clothes wrinkling. I am very excited to try out your advice and see how they stand up against my clothes.
So thank you for this 🙂
– Sara
Time to remove or update this post. Cannot count how many times you said an item was discontinued and I wasted time trying to find the meat of this article.
Thanks for the feedback, Laura. I update this post regularly (which is why I discuss how items have been discontinued – that's an update!) to show that I have owned and continue to own pieces over the long term – and how long they last, and what the various styles look like. If you click through to Anatomie, you'll see they offer a ton of new styles, but overall their look is consistent. Also, I just checked all the links I provided – they are up to date!
Leave a Comment Cancel reply
Save my name, email, and website in this browser for the next time I comment.