Top of the Rock Golf Cart Tour
If you're a golf enthusiast looking for a unique and breathtaking golfing experience, the "Top of the Rock Golf Cart Tour" should be on your bucket list. Located in the picturesque Ozarks of Missouri, this tour offers golfers an unforgettable journey through stunning landscapes, world-class golf courses, and a touch of history. In this guide, we'll explore the Top of the Rock Golf Cart Tour in detail.
Location and Overview
Location : The Top of the Rock Golf Cart Tour is situated at Big Cedar Lodge, nestled in the heart of the Ozark Mountains, near Branson, Missouri, USA.
Overview : The tour is renowned for combining golfing excellence with natural beauty, featuring a unique blend of golf courses designed by legends like Jack Nicklaus, Arnold Palmer, and Tom Watson.
Tour Highlights
Golf courses:.
Buffalo Ridge: Designed by Tom Fazio, this course has been consistently ranked among the top public courses in the United States. It offers challenging holes amidst breathtaking natural surroundings.
Top of the Rock: This par-3 course is a masterpiece by Jack Nicklaus, offering stunning views of Table Rock Lake. It's a course where golfers can enjoy the game while taking in the scenic beauty.
Mountain Top: Designed by Gary Player, this course features dramatic elevation changes and provides a unique golfing experience with spectacular views of the Ozarks.
Cave Experience:
One of the most unique aspects of this tour is the Lost Canyon Cave and Nature Trail, which you can explore via electric carts. The cave is adorned with waterfalls and incredible rock formations.
Ancient Ozarks Natural History Museum:
Located at Top of the Rock, this museum showcases a remarkable collection of artifacts, fossils, and exhibits detailing the natural history of the Ozarks.
Dining and Entertainment:
The tour offers a range of dining options, from upscale restaurants to casual eateries. After your round of golf, enjoy a meal with panoramic views of the Ozarks.
The venue occasionally hosts live music events and outdoor movies, providing a perfect end to your day.
Weddings and Events:
Top of the Rock is also a popular venue for weddings and special events due to its stunning natural backdrop and elegant facilities.
Golf Cart Experience
The golf cart tour itself is a highlight. You'll be provided with electric golf carts equipped with GPS, making navigation easy and allowing you to focus on the game and scenery.
The carts are not only eco-friendly but also comfortable, ensuring you have a relaxing and enjoyable golfing experience.
Visitor Information
Season: The best time to visit is during the spring and fall when the weather is pleasant, and the foliage is at its most beautiful.
Reservations: It's advisable to make reservations in advance, especially during peak golfing seasons and weekends.
Dress Code: The dress code is typically upscale casual. Collared shirts and non-denim pants or shorts are often required.
Pricing: Prices can vary depending on the season, course, and time of day. Check the official website or contact the resort for current rates.
Additional Tips and Considerations
Golf packages:.
Big Cedar Lodge offers various golf packages that include accommodations, meals, and rounds of golf. These packages can provide excellent value for your golfing getaway.
Practice Facilities:
Before hitting the course, warm up at the practice facilities available at Top of the Rock, including a driving range and putting greens.
Golf Lessons:
If you're new to golf or looking to improve your skills, the resort offers golf lessons and clinics conducted by professional instructors.
Sustainability:
Big Cedar Lodge is committed to environmental sustainability. Be sure to follow eco-friendly practices while on the golf course and in the surrounding natural areas.
Family-Friendly Activities:
If you're traveling with family or friends who aren't avid golfers, the resort offers a wide range of family-friendly activities, including water sports, hiking, and spa facilities.
Plan for the Day:
A typical day at the Top of the Rock Golf Cart Tour can be quite immersive. Plan for a full day of golf and exploration, with breaks for meals and relaxation.
Photography Opportunities:
Don't forget your camera or smartphone. The Ozark Mountains provide numerous scenic spots that are perfect for capturing memories of your visit.
Local Attractions:
While in the area, consider exploring other attractions such as Silver Dollar City, a renowned theme park, or taking a boat tour on Table Rock Lake.
Respect the Environment:
Remember that you are in a pristine natural environment. Follow the "Leave No Trace" principles to minimize your impact and preserve the beauty of the Ozarks.
Weather Considerations:
The Ozark weather can be unpredictable, so it's a good idea to check the forecast and prepare accordingly. Sunscreen, hats, and rain gear are recommended based on the season.
Tee times can fill up quickly, especially in peak seasons, so make sure to book well in advance to secure your preferred time.
Transportation:
If you're traveling from out of town, consider renting a car or using resort transportation services to make getting to and from the golf course more convenient.
The Anticipation Builds
The day began with an air of excitement as I arrived at the Top of the Rock Golf Course. Nestled in the stunning Ozark Mountains of Missouri, this course is known for its unparalleled beauty and challenging layout. Having heard raving reviews from fellow golf enthusiasts, I couldn't wait to see it for myself.
The Arrival
Upon arrival, I was greeted by the friendly staff who made me feel right at home. They handed me a stylish golf cart equipped with modern amenities and a GPS system, ensuring a seamless and enjoyable journey through the course. As I settled into the comfortable seats, I knew this was going to be a day to remember.
A Scenic Golfing Paradise
The moment I set out on the course, I was captivated by the breathtaking scenery that unfolded before me. Rolling fairways, pristine lakes, and lush forests surrounded me on all sides. The course is designed to harmonize with nature, and I felt like I was playing golf in a paradise carved out just for me.
Navigating the Cart Tour
As I maneuvered the golf cart through the course, I couldn't help but appreciate the clever design and attention to detail that went into every aspect of the Top of the Rock Golf Cart Tour. The GPS system provided valuable information about each hole, helping me plan my shots strategically. It also highlighted the best spots for taking in the scenic vistas, ensuring I didn't miss a single breathtaking view.
The Cave and Waterfall Experience
One of the highlights of the tour was encountering the natural cave formations and cascading waterfalls that are seamlessly integrated into the course's layout. I parked my cart for a moment and took a leisurely stroll through the caves, feeling like a modern-day explorer. The sound of the water echoing in the cave was truly mesmerizing, and I couldn't help but marvel at the ingenuity of the architects who had made this possible.
The Challenge of the Course
The Top of the Rock Golf Cart Tour isn't just about the scenery; it's also a golfing challenge that tests your skills. The course offers a variety of tee boxes to cater to golfers of all levels. I found myself strategizing each shot carefully to navigate the undulating greens, challenging bunkers, and the occasional water hazard. It was a golfing experience that pushed me to bring my A-game.
A Culinary Delight
After a fulfilling round of golf, I decided to dine at one of the on-site restaurants, where I was treated to a culinary delight. The gourmet cuisine, paired with sweeping views of the course, made for a perfect ending to an unforgettable day.
Cherishing the Memories
The memories from my Top of the Rock Golf Cart Tour are etched in my mind, and I find myself reminiscing about it often. It's not just a golfing adventure; it's a personal journey of connection with both the game and nature.
Sharing the Experience
Whenever I'm with fellow golf enthusiasts, I can't help but share my Top of the Rock story. It's an experience that deserves to be told, and I take pride in recounting the details of that extraordinary day, from the stunning scenery to the exhilarating challenges on the course.
Inspiration for Future Golf Adventures
The Top of the Rock Golf Cart Tour has set a high bar for my future golf adventures. It has inspired me to seek out golf courses that not only challenge my skills but also immerse me in the beauty of nature. It's a standard by which I now judge all golfing experiences, and it serves as a reminder of what golf truly can be—a harmonious blend of sport and natural wonder.
Golf Cart Tour Features
Tour packages, booking options.
The Top of the Rock Golf Cart Tour is not just a golfing adventure; it's a holistic experience that combines the best of golf, nature, and culture in the Ozarks. Whether you're a seasoned golfer or a nature enthusiast, you're sure to be captivated by the beauty and serenity of this remarkable destination. Don't forget to check for any updates or changes to the experience on the official website before your visit to ensure a smooth and enjoyable trip.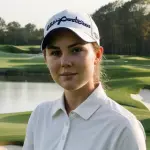 Grace Kaufman, our Creative Director and a Golf Course Design Specialist, brings a touch of creativity and visual flair to The Golf Mine. With a keen eye for design and a deep understanding of course layout, she ensures that our content not only informs but also engages and inspires. Grace's innovative approach, combined with her specialization in golf course design, enhances the overall experience for our readers, making our blog more than just words on a screen.
View all posts
Leave a Comment Cancel reply
Save my name, email, and website in this browser for the next time I comment.
Skip to main content
Skip to primary sidebar

Family Destinations
Beach Vacation
Outdoor & Nature Trips
Midwest Vacations
Disney Vacations
Hotel Resort Reviews
Spring Break Ideas with Kids
Where We've Been
11 Things You Need to Know About the Top of the Rock Golf Cart Tour in Branson
Updated on Oct 22, 2023 by Seng Nickerson . This post may contain affiliate links, please see our policy for details.
This is an honest review of our Top of the Rock Golf Cart Tour with our little family of six. I'll talk to you about our favorite parts of the tour and why it is totally worth the ticket prices!
Table of Contents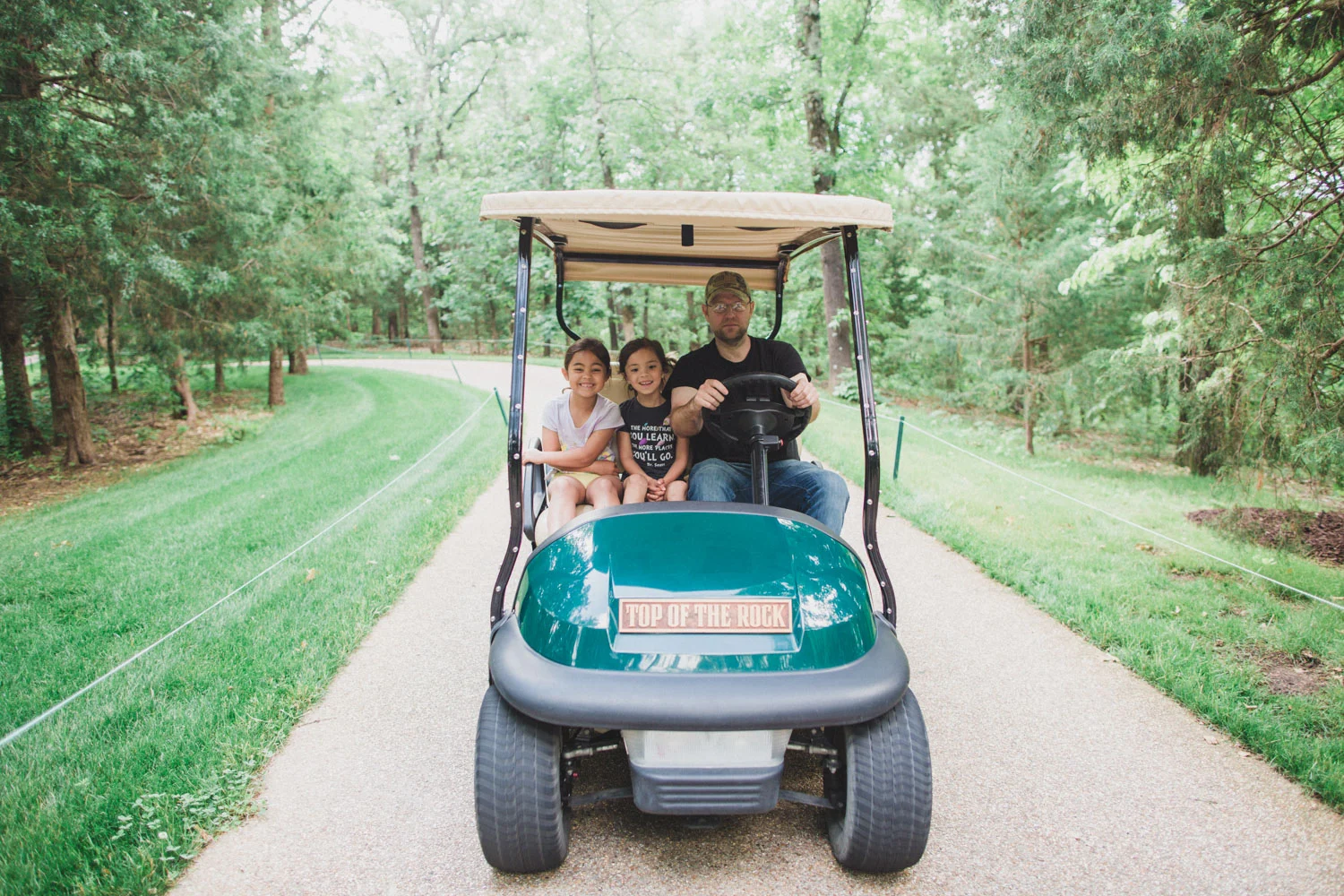 Our family went to Branson and added the Top of the Rock Golf Cart Tour as a second thought. After asking all my friends and coworkers about their favorite things to do in Branson, this actually NEVER came up. I mean, there is a TON of stuff to do in Branson. However, my friends, this is a tour that you do NOT want to miss. This is not sponsored in anyway. It was actually my FAVORITE part of our 4 day and 3 night weekend vacation !
Top of the Rock Entry - Do Not Confuse It with Big Cedar
When we stayed at Big Cedar Lodge , we NEVER turned into this welcome section even for our stay at Big Cedar. I think it was because of my husband's frugal mindset. For whatever reason, he thought this was a "money grab" scenic view.
It turns out that there are two lanes: one for those that are staying at Big Cedar Lodge which allows you to take a beautiful scenic drive into the resort (versus through a few neighborhoods) and one for the actual Top of the Rock attraction. They are part of the same company, but they are different attractions.
For Top of the Rock, you'll want to turn right!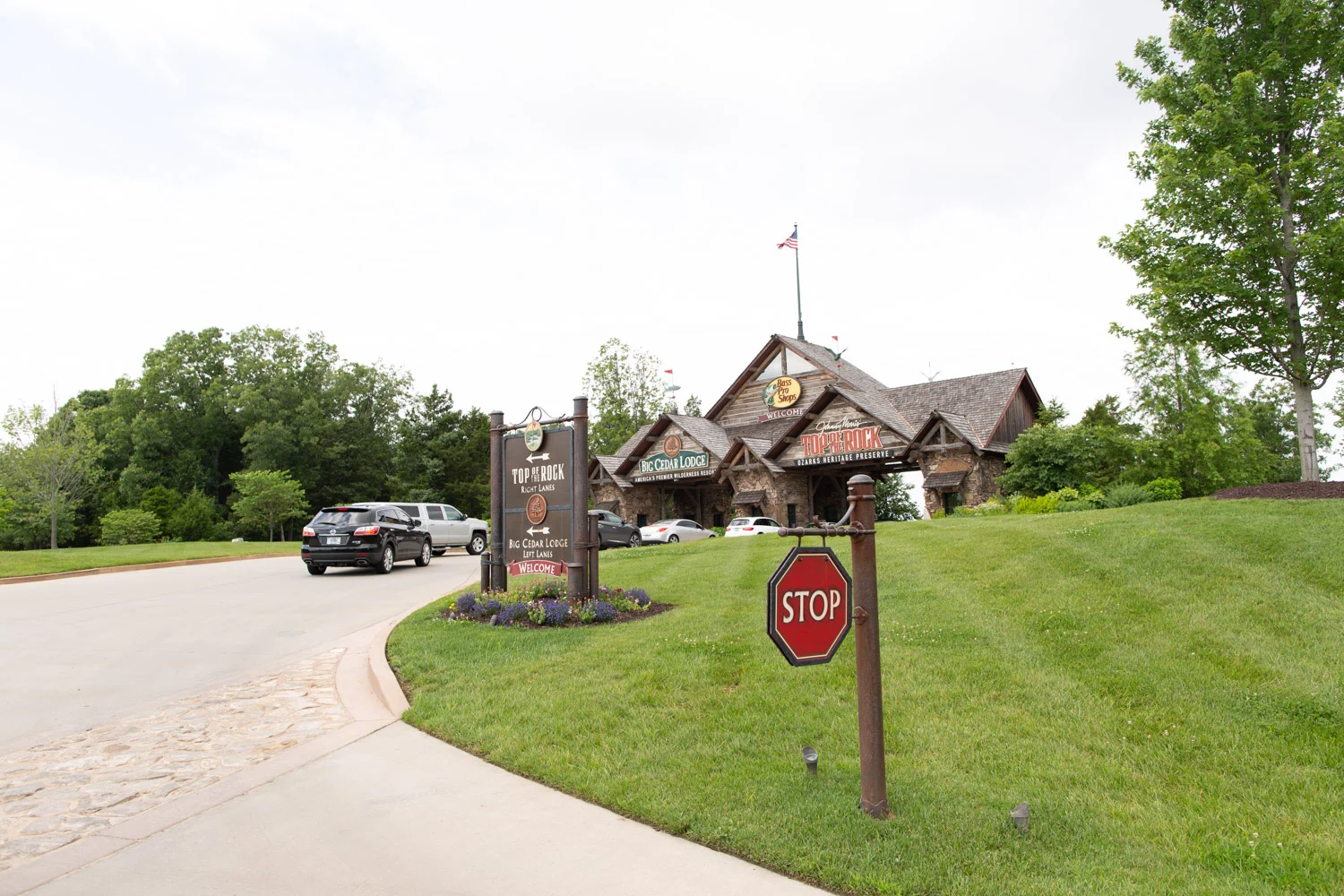 The Cost of the Top of the Rock Golf Cart Tour
The cost of the tour isn't displayed anywhere on their main website. When we went (June 2019), it was $25 a person. At the time, there was no cost for our 2 and 3 year old! While they say that the golf cart only holds 4 people, our four littles along with my husband and I all fit in one golf cart!
Albeit, it's pretty steep price for a 2 hour tour per person, but I thought it was worth every penny.
The building is nothing to write home about, but the view outside is absolutely gorgeous. I recommend when you are waiting for the driver to fill out their paperwork to head outside and take some scenic photos!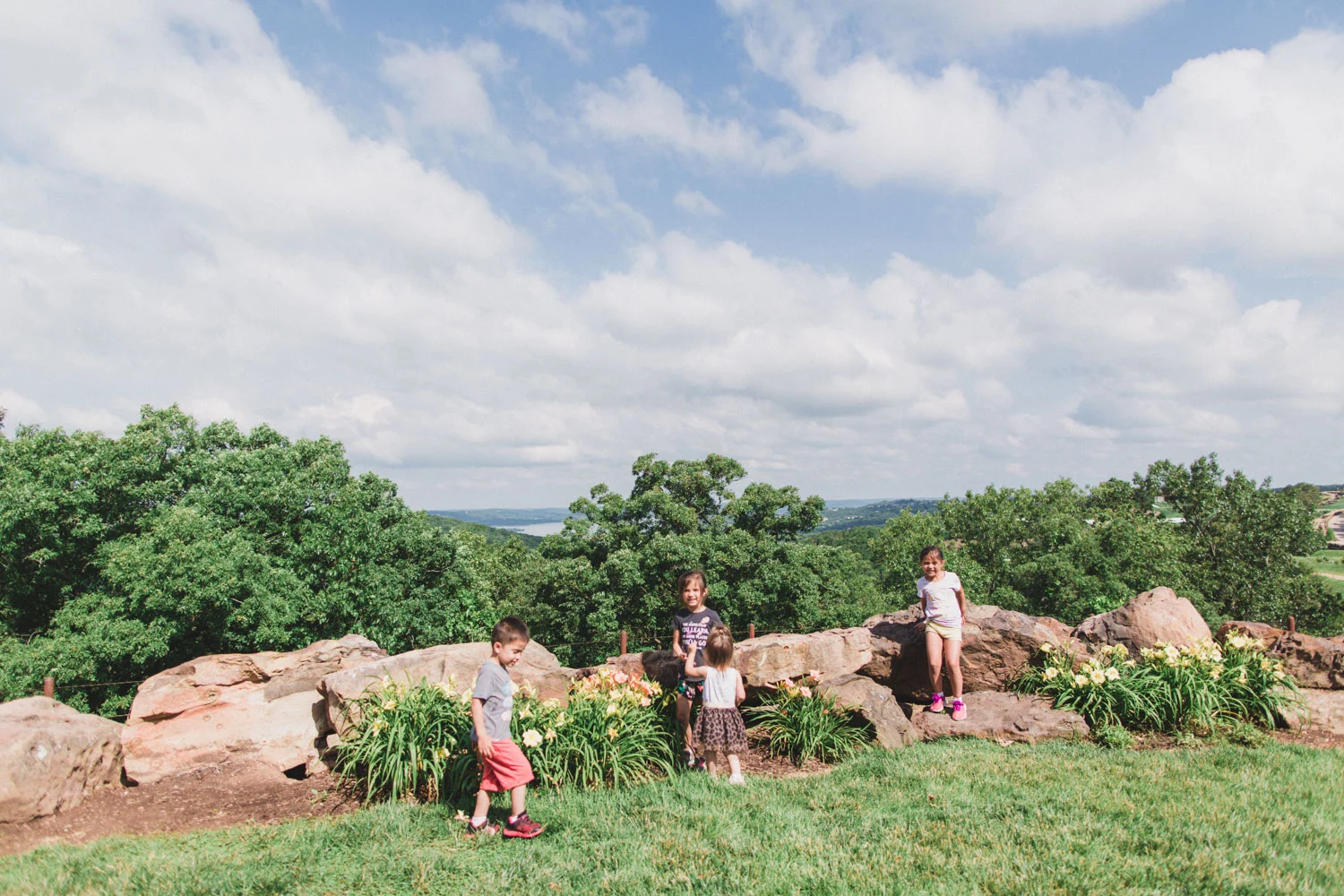 How Many People Can Fit in the Golf Cart at Top of the Rock
All the paperwork and website descriptions say that they can only fit four people to a golf cart. When we got there, there were two different size golf carts that you could rent - one that was for a couple and another for a larger group. Ours fit our entire family of six, which comprised of two adults and four kids under the age of eight!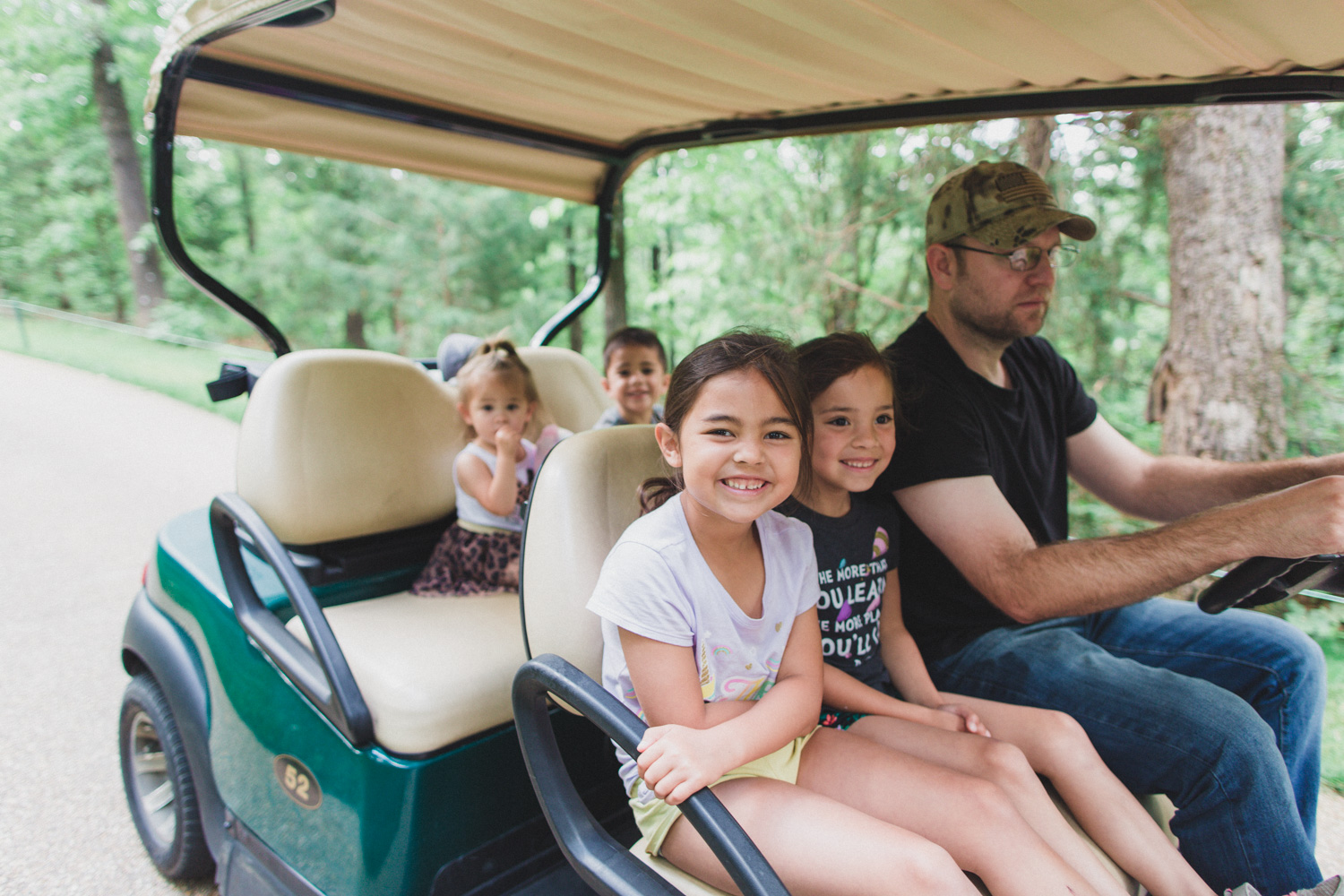 When to Go to Top of the Rock Golf Cart Tour
With Branson, I think everyone tends to head to Silver Dollar City right when it opens. So I would recommend going against the crowds and going as soon as it opens.
We got there right when they started the golf cart tours and there were tons of golf carts still parked. When we got back two hours later, there were barely any left! Make sure you get there early so you have an opportunity to go.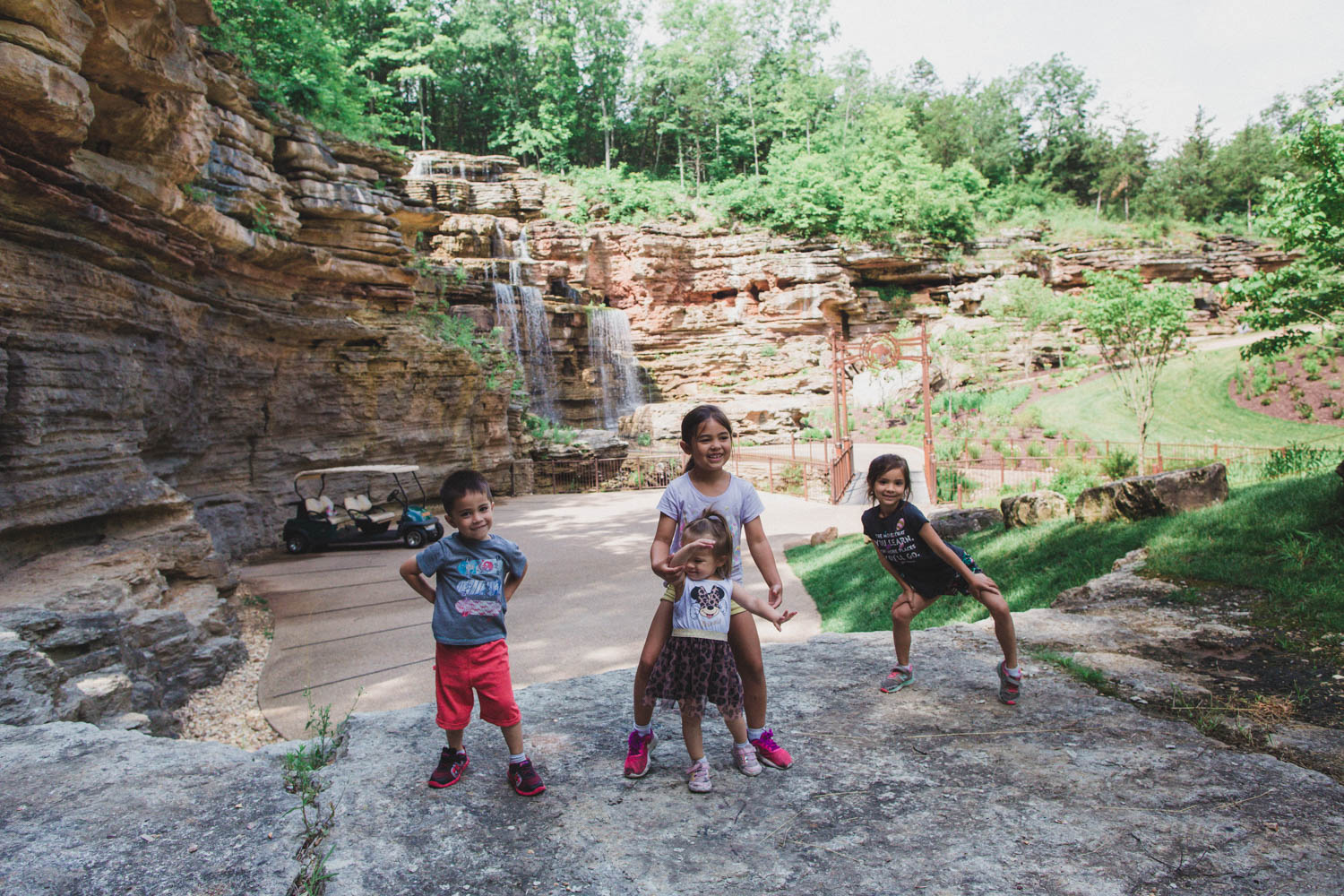 Bring Some Money for the Bar Inside the Cave at Top of the Rock
Yes, you read that right! There is a BAR inside this beautiful cave with a real bartender. Seriously, don't drink and drive.
Here's the view before you get inside the cave.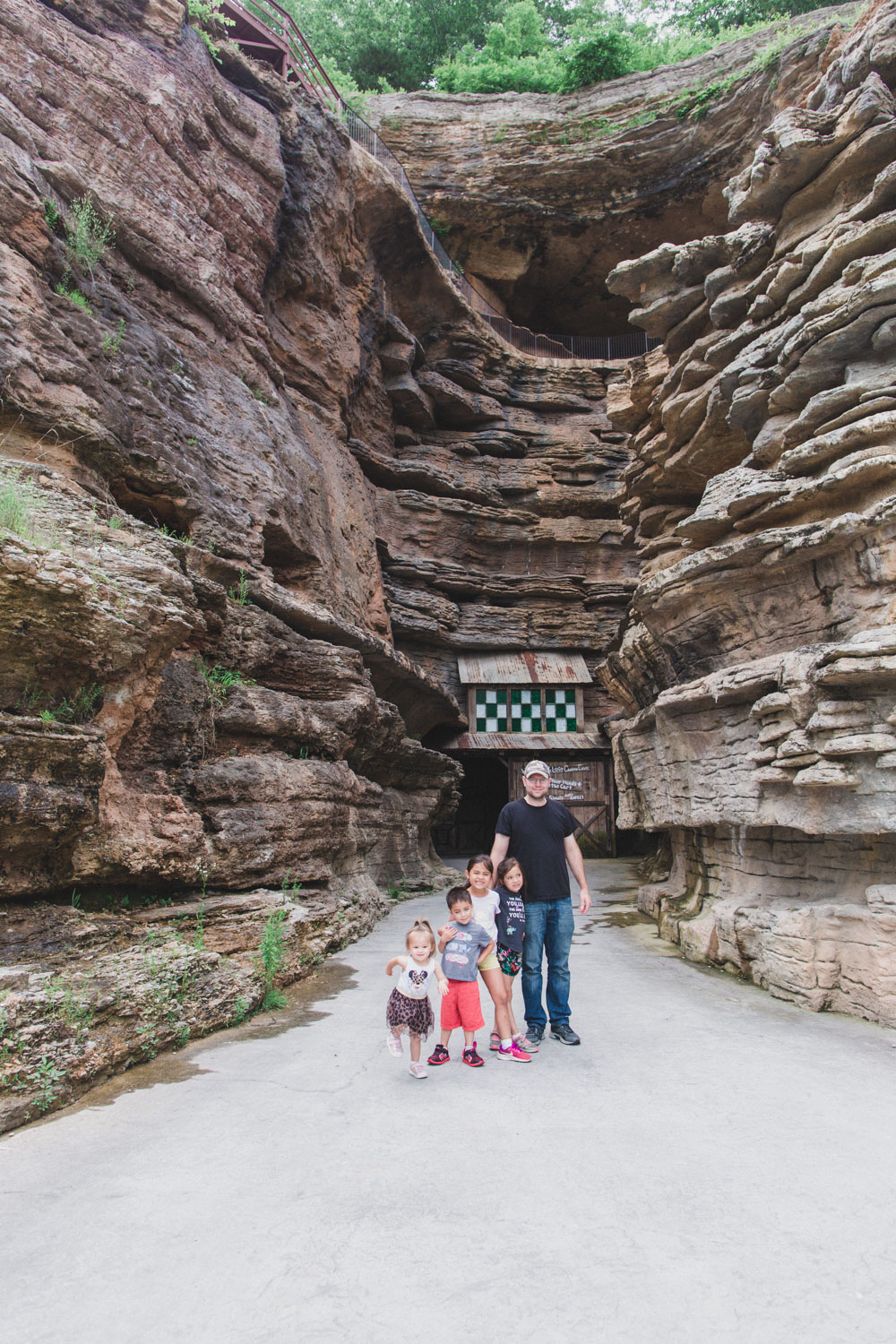 The Top of the Rock Underground Cave
Driving through the underground cave with the kiddos was an amazing experience. There were multiple waterfalls inside the cave along with a few fun artifacts that we could read about. This is seriously a hidden gem. The cave was absolutely amazing. For our littles, it was an awesome "first time going to a cave" experience that they'll not soon forget.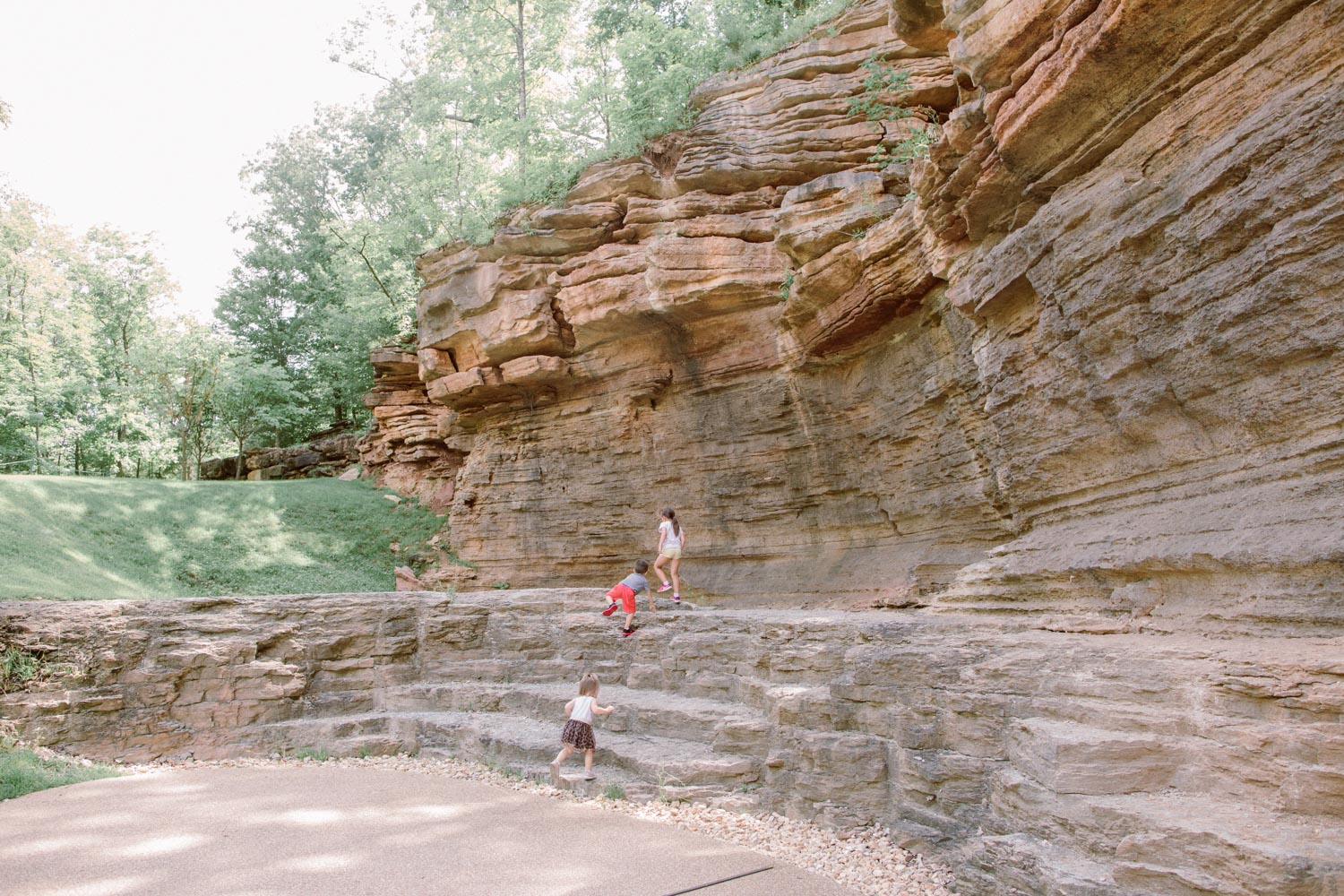 Family Photo Opportunity at Top of the Rock - Be Prepared
This is a GREAT place to take family photos if you bring your tripod. As a family photographer, you will not beat all of the beauty these grounds have to offer. Sure, a lot of it is man made, but that just means it's maintained. I WISH I would have thought about our outfits a little more. These photos could have been photos for our WALL!
Seriously, you can take your time and stop along the trail to take photos and enjoy all the views!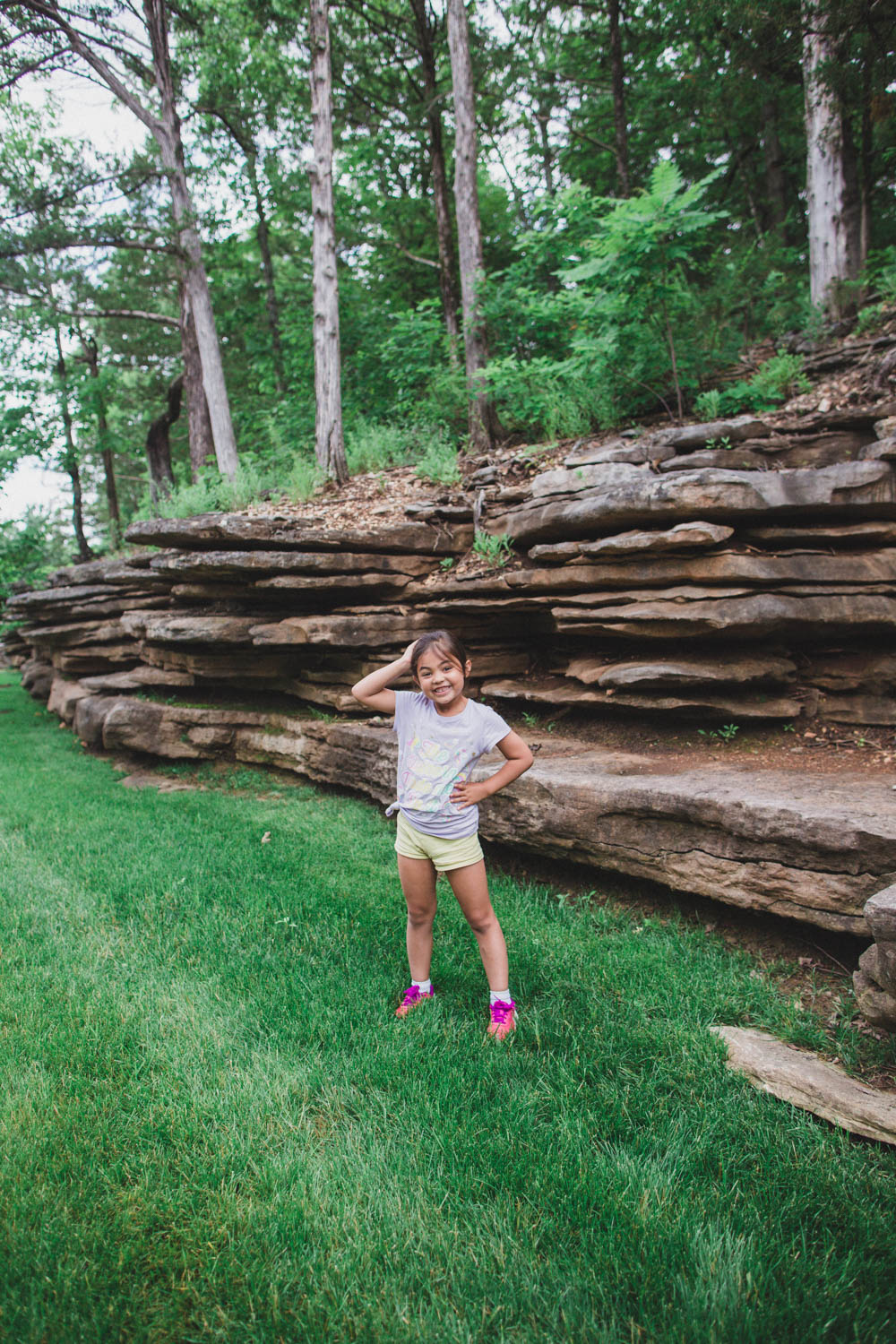 Waterfalls Galore
There are so many waterfalls, it was unreal. It's literally so refreshing to see how this space was built. They took care to design and create access roads that provided you the BEST POSSIBLE spot to view all of the waterfalls up close and in person.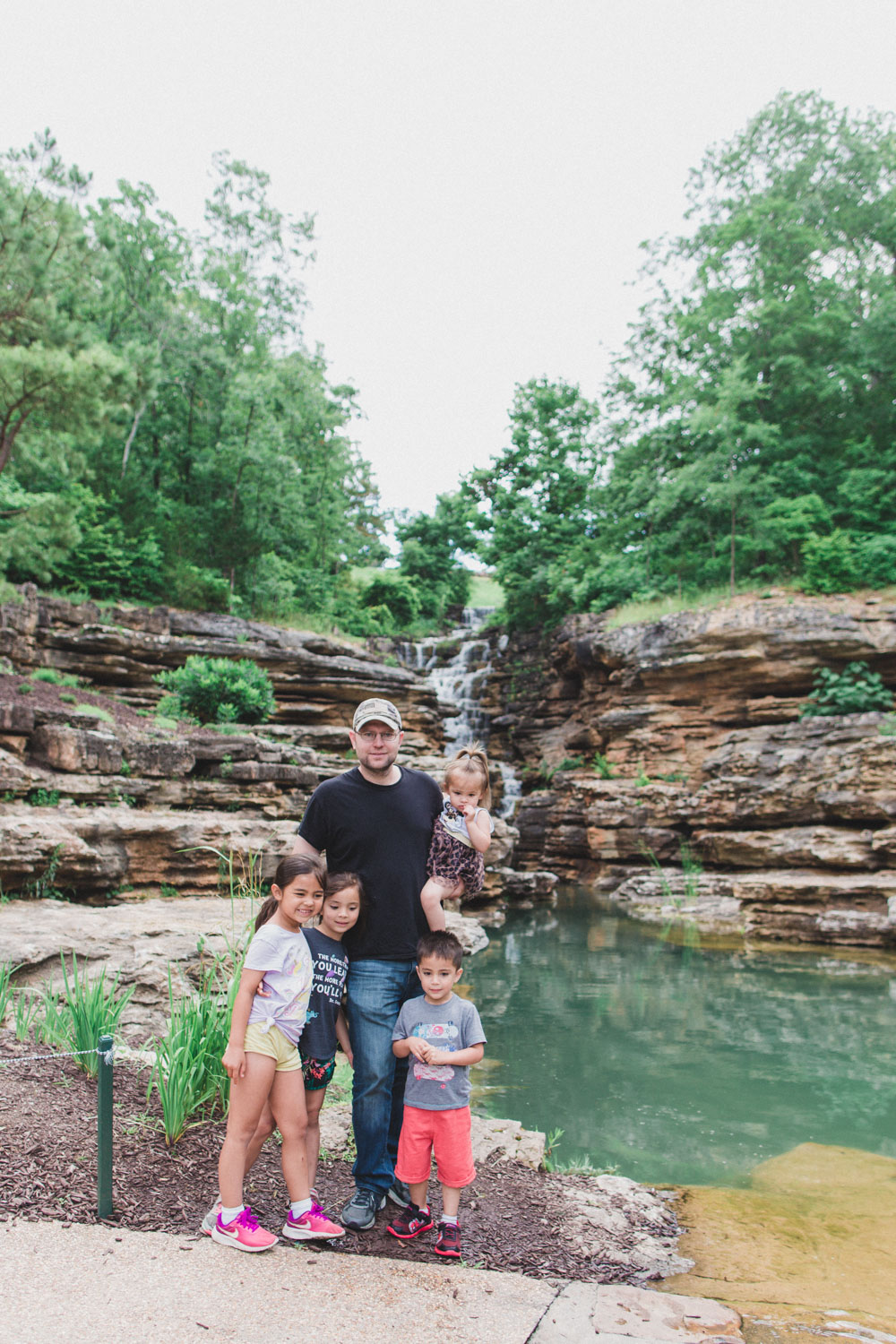 Beautiful Bridges Galore
Never once did I have a concern for my two year old falling off of the golf cart (mainly because I was holding onto her the whole time). Everything was pretty much blocked off where kids and children could fall out.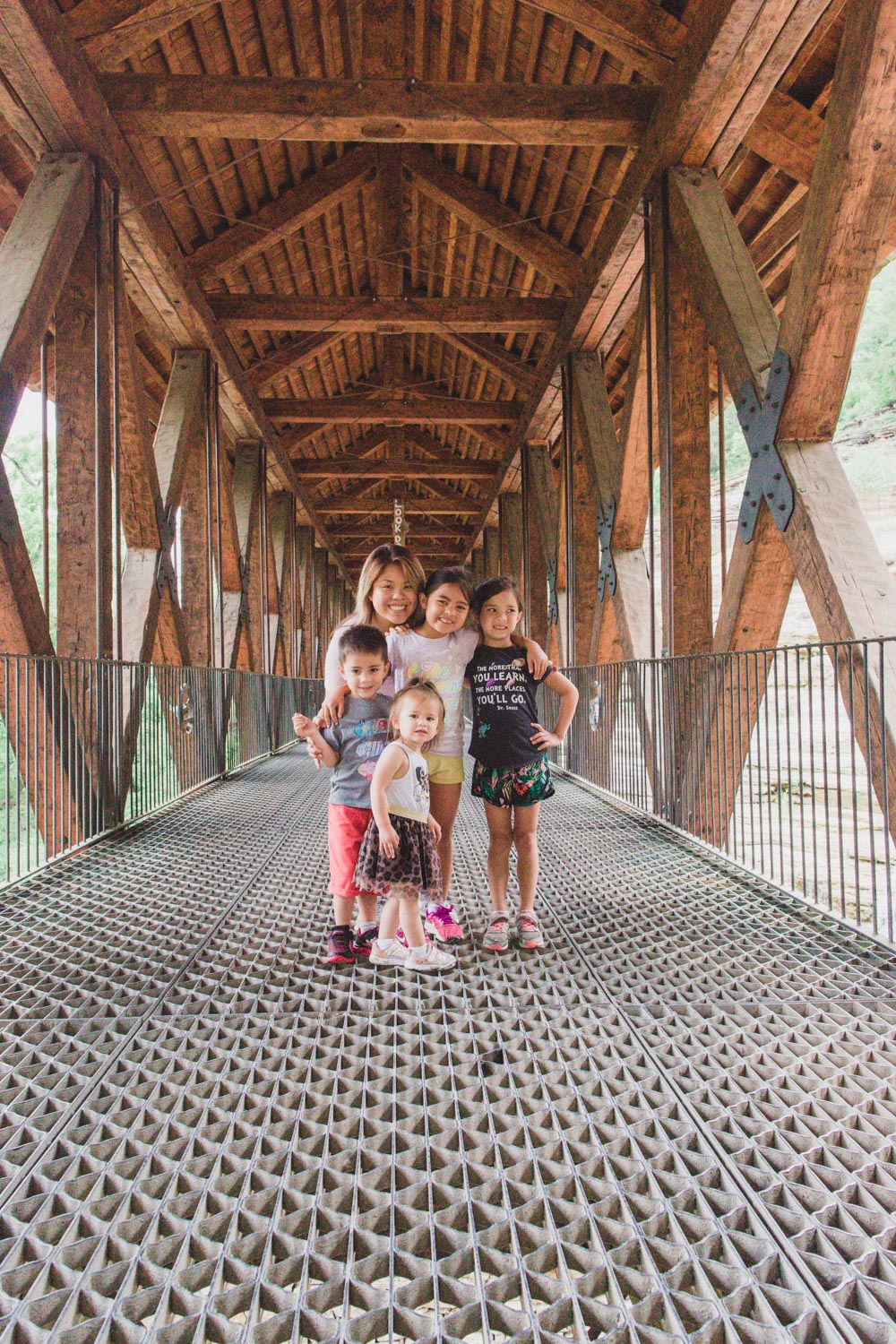 Scenic Overlook at Top of the Rock
There is a beautiful overlook as part of the golf cart tour that is absolutely stunning as you can see. If you can, bring binoculars for this view! My kid is whining because his sister wasn't sharing!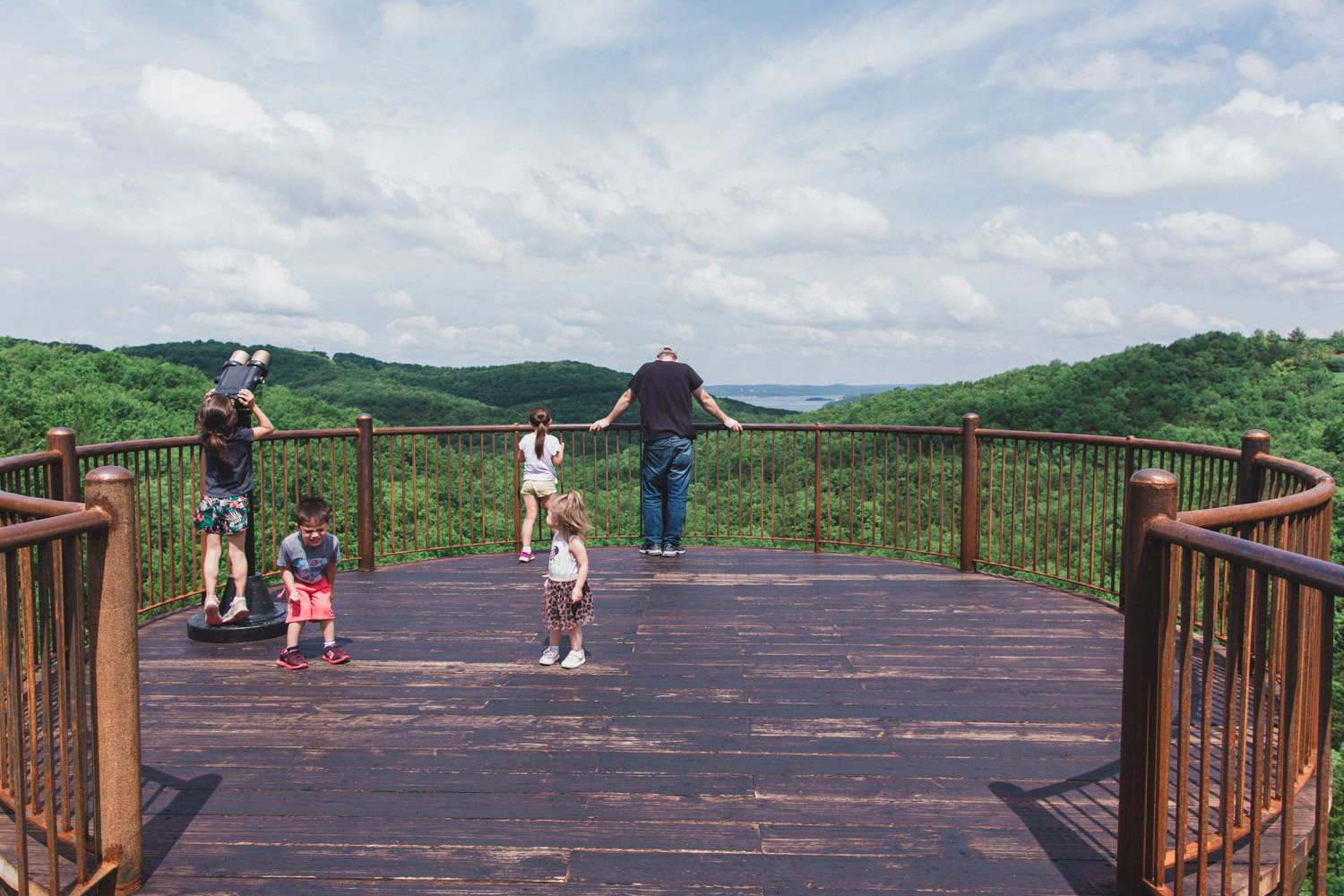 Fun Bear Cave
There is part of the trail where there is a fun sound effect for the kids !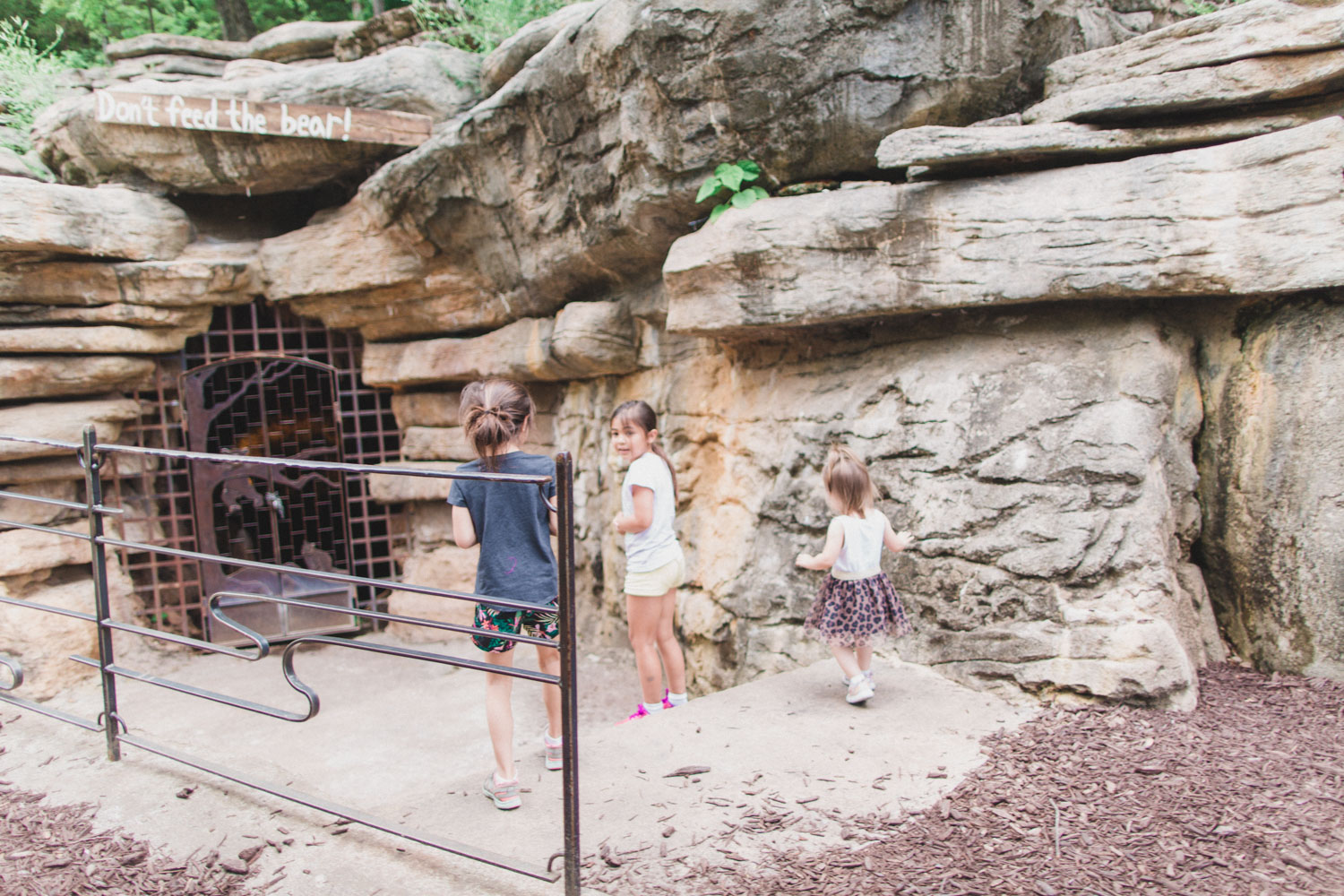 How Long is the Top of the Rock Golf Cart Tour
Big Cedar and Top of the Rock Golf Cart Tour advertises the self-led tour to be about two hours. We finished in an hour and a half, and it seemed like it was a great duration for our family. There were times that we would pass other people. Other times, people would pass us.
It can be as leisurely as you want to take it!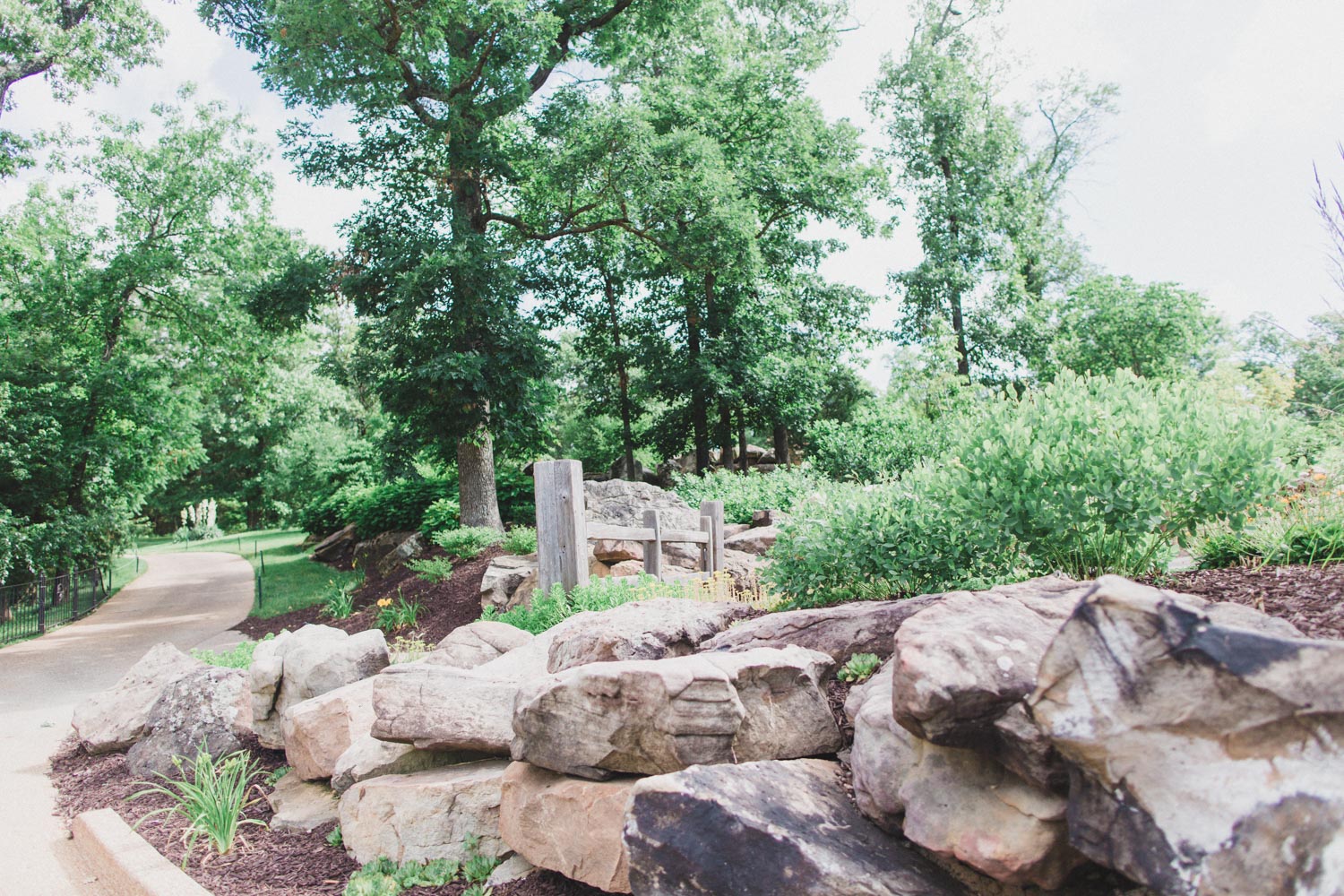 Overall, I would highly recommend the Top of the Rock Golf Cart Tour to any family who wants to take in some gorgeous scenery! Check out my related blog post on our stay at Big Cedar Lodge at Wilderness Club !
More Inspiration on Branson and Table Rock Lake
Big Cedar Lodge Honest Review
Top of the Rock Golf Cart Tour in Branson
Silver Dollar City Honest Review
Still Waters Resort Review
Big Cedar vs Still Water Resort Review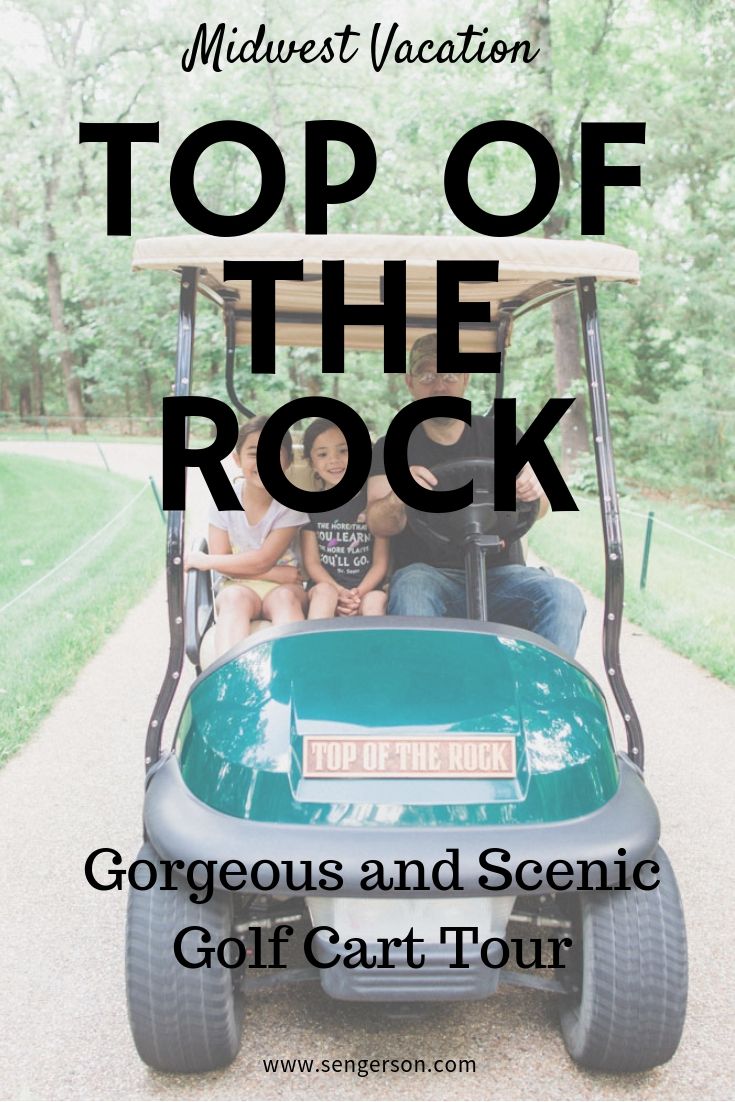 Disclosures
Book your next vacation, more family vacations.
Lost Canyon Cave: What To Know About Its Famed Golf Cart Tours
Explore the caves and wild outdoors from the convenience of these self-driven golf cart tours.
Quick Links
Missouri's big cedar lodge - the gateway to the ozarks, what to expect on the electric cart tour, booking the top of the rock lost canyon electric cart tour.
Ever thought of exploring a cave with an electric cart tour? Go to the ancient Ozarks and one can find unforgettable rides with electric carts through ancient caves. The golf carts have the options of two or four passengers and the trail is accessible for guests who can ride in a golf cart. These golf cart tours are ideal for those wishing to explore the Ozarks but have difficulties with mobility.
The electric cart tour is one of the many attractions offered by Big Cedar Lodge - a lodge nestled in the Missouri Ozarks. The Ozarks are one of the best places in the region for hiking, climbing, and exploring the great outdoors . While the Ozarks may appear humble mountains compared to the mighty Rockies and other ranges, they are still filled with stunning vistas and many incredible caves.
Big Cedar Lodge is a remote haven of natural beauty that's spread out over 4,600 acres of the Missouri Ozark Mountains. It is located in the picturesque Ozarks Heritage Preserve. The rugged landscapes overlook Table Rock Lake and are intended as a place for families and others to reconnect with nature and the great outdoors.
Land: Over 4,600
Offers: Accommodation, Restaurants, Outdoor Activities, & More
Big Cedar Lodge offers two full-service marinas, five golf courses, an activity center, plenty of accommodation, restaurants, fishing, and various outdoor activities. Perhaps their most eye-catching attraction is their electric cart ride through the stunning Ozarks.
Next time in Missouri, visit Big Cedar Lodge and discover the rejuvenated tranquility of this part of the Missouri Ozarks.
Related: Land Of The Ozarks: A Guide To Every Off-Water Attraction
The Top of the Rock Lost Canyon Cave in Missouri offers a unique 2.5-mile ride with an electric cart along the Lost Canyon Nature Trail into the mesmerizing Lost Canyon Cave. These electric cart tours are self-guided tours and the ticket includes admission to Ancient Ozarks Natural History Museum.
Length: 2.5 Miles
Star Attraction: Cave Waterfall
One of the star attractions along the ride in the four-story-high cave is a cascading waterfall. Visitors can view and admire this cave waterfall from viewing balconies on all four levels as was as a cave bar that's accessible by a mining-style elevator.
The self-guided tour begins at the Top of the Rock Welcome Center and lasts around 40-50 minutes. The driver must be at least 18 years old and the carts can hold up to four people.
Duration: 40-50 Minutes
Age Restriction: Must Be 18 Years Or Older To Operate the Card
The Top of the Rock Lost Canyon and Nature Trail was created to highlight the stunning rock formation, views of Table Rock Lake, and waterfalls.
They are open year-round weather permitting with the trail only closing for lightning and ice. In total, there are nine waterfalls on the Lost Canyon Cave and Nature Trail with even more found around their sprawling property.
Season: Year Round (Weather Permitting)
Time Needed: At Least Three Hours
It is recommended to allow oneself at least three hours to explore both the Ancient Ozarks Natural History Museum and the Lost Canyon Cave and Nature Trail.
There is another attraction along the trail - the Cathedral of Nature sinkhole. But as of the time of writing (July 2022), it is still under construction.
Related: We Found Every Adventure You Can Have At Lake Of The Ozarks
It is recommended to make one's reservation online to ensure a place as well as having the best pricing. That being said, spontaneous walk-ins are always welcome. Bookings are given on a first-come-first-served basis for walk-ins. The best time of day to enjoy the attraction is just before sunset.
Address: 190 Top of the Rock Road, Ridgedale, Missouri, 65739
Opening Hours:
Days Open: Open Daily
Hours: 8.30 am to 7.00 pm
Note that parking is required but is not included in the admission ticket - general parking is $10.00 while a valet service is $25.00.
Cave Trail & Ancient Ozarks Natural History Museum:
Adult: $31.25 - $41.50
Child: $15.75 - $20.00
Ancient Ozarks Natural History Museum Only:
Adult: $12.00
Child: $8.00
Another fun activity to enjoy in the caves of the Ozarks is to spend the night in them. One can live out one's luxurious vacation dreams at the Beckham Creek Cave Lodge in Arkansas.
Travel, RV Camping, Hiking & Outdoor Adventures
Top Of The Rock Branson Cave Tour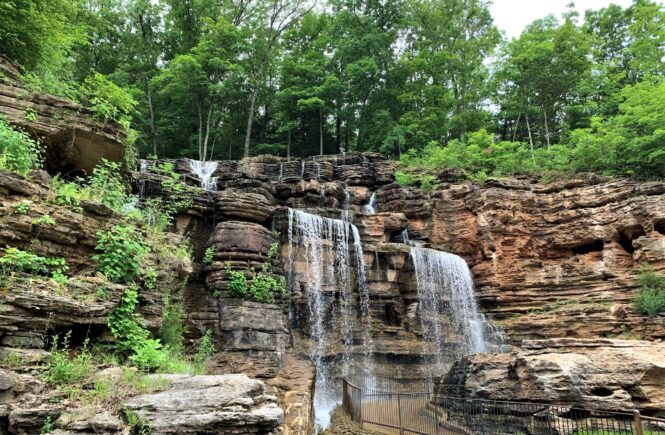 Pin This For Later!
Facebook 56
Pinterest 2.4K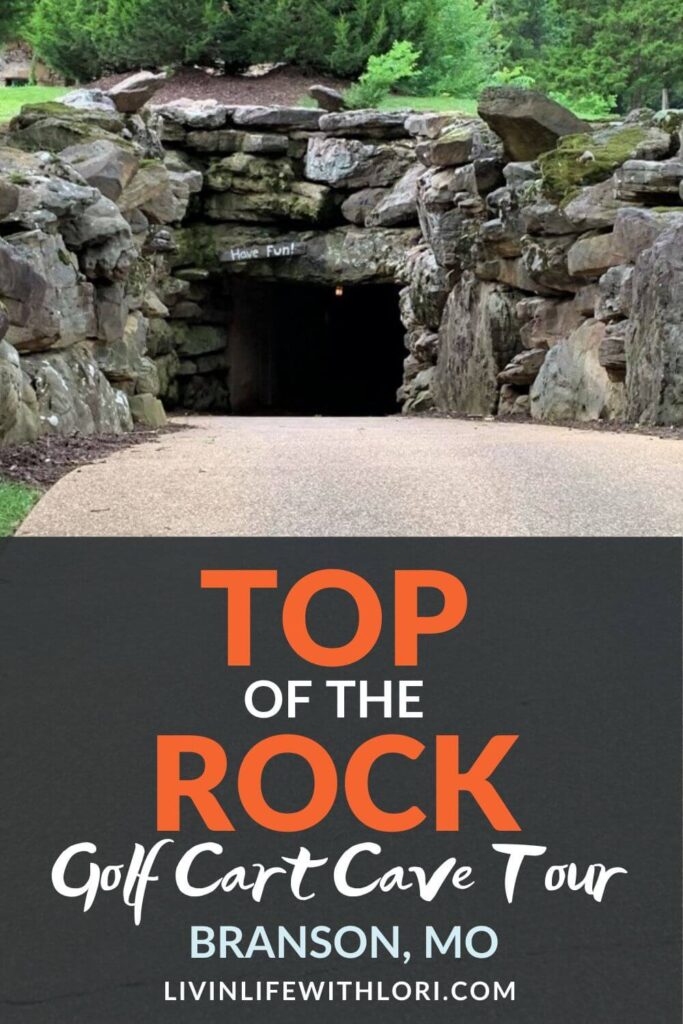 Last Updated on January 19, 2023 by Lori
If you're planning a vacation to Branson, Missouri, you'll want to make time for the Top of the Rock Branson Cave tour! This top Branson attraction is an experience that all ages will love and one of our favorite family attractions while on our recent visit to Branson, MO.
This post contains affiliate links which means if you click on a link and make a purchase, I will earn a commission at no additional cost to you. Please see our Disclosure Policy for more information.
Our family had not visited Branson in years, so when we were planning a trip for my parent's 63rd wedding anniversary, I knew I needed to find activities that everyone would enjoy.
After researching the best things to do in Branson, MO, I found Johnny Morris' Top of the Rock Ozarks Heritage Preserve .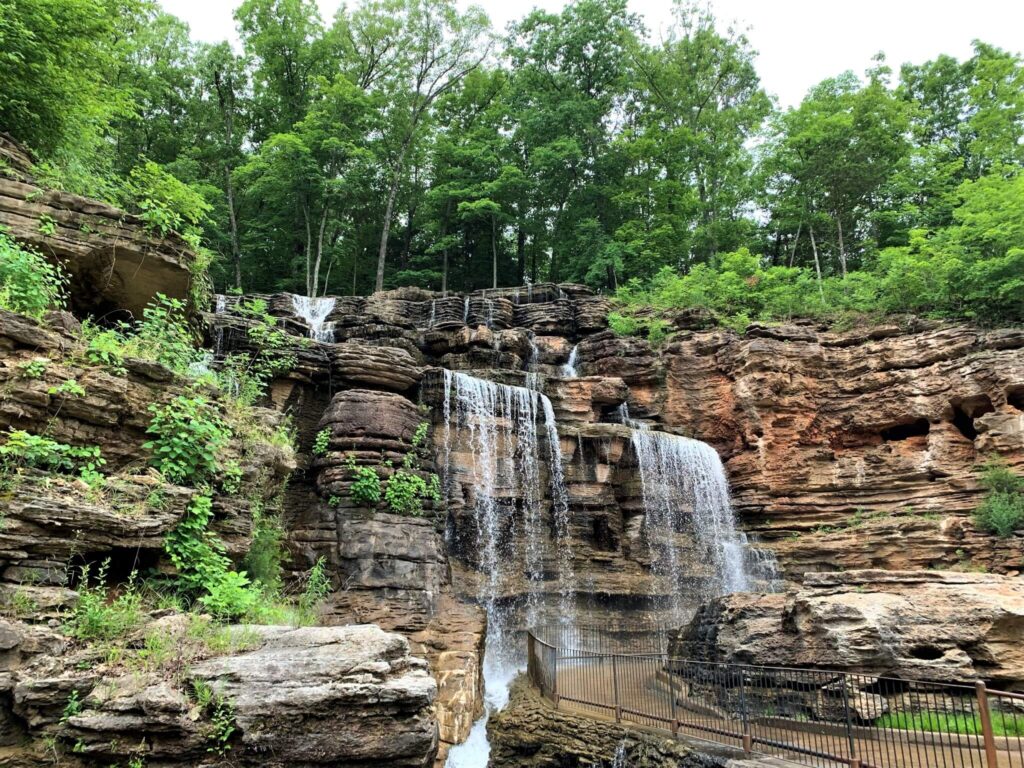 Top Of The Rock Branson
What is Top of the Rock? You might think that it's a drive to the top of a mountain where you will see views for miles.
But, it's actually a 2 1/2 mile golf cart tour along the Lost Canyon Cave & Nature Trail featuring beautiful views of Table Rock Lake, waterfalls, and a bar in a cave!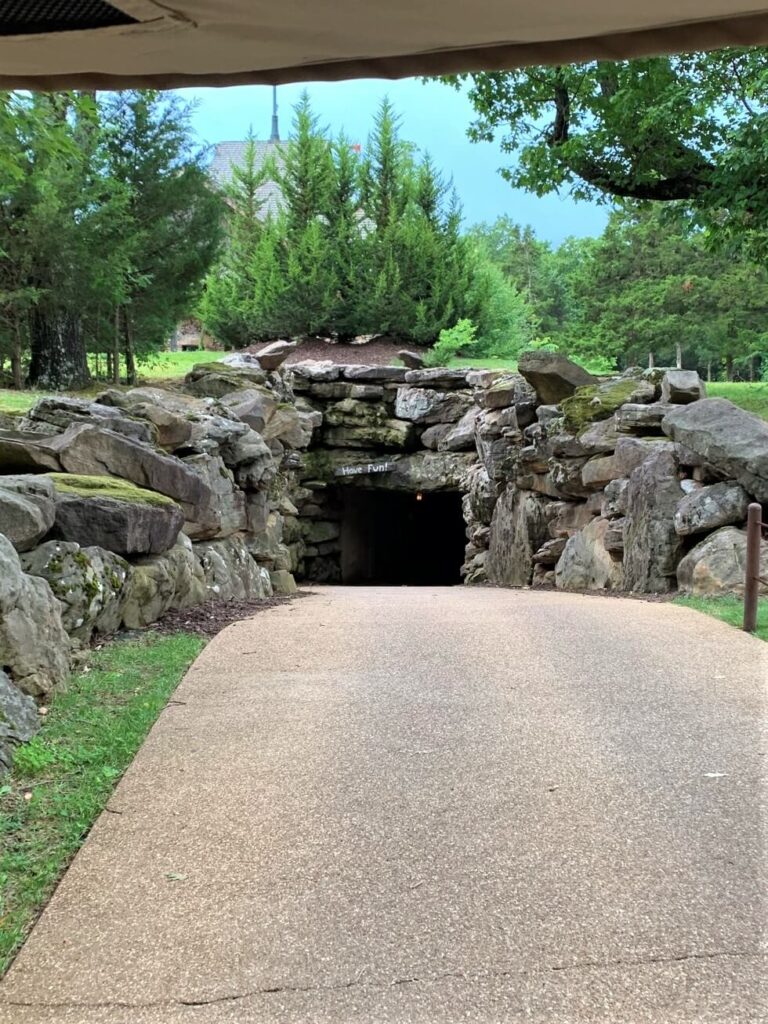 We visited in early June. I purchased tickets online a few months earlier, so I could reserve the earliest time available to avoid crowds for my parents.
While this saved us time when arriving, I did see many people just walking in to purchase their tickets.
Excited to start our cave tour on our golf cart, we were the first to arrive that day!
Note: When you enter the park, there is a $10 per car fee payable by credit card only.
Parking the car was easy so early in the morning, and we were happy my parents didn't have to walk too far to get to the Welcome Center.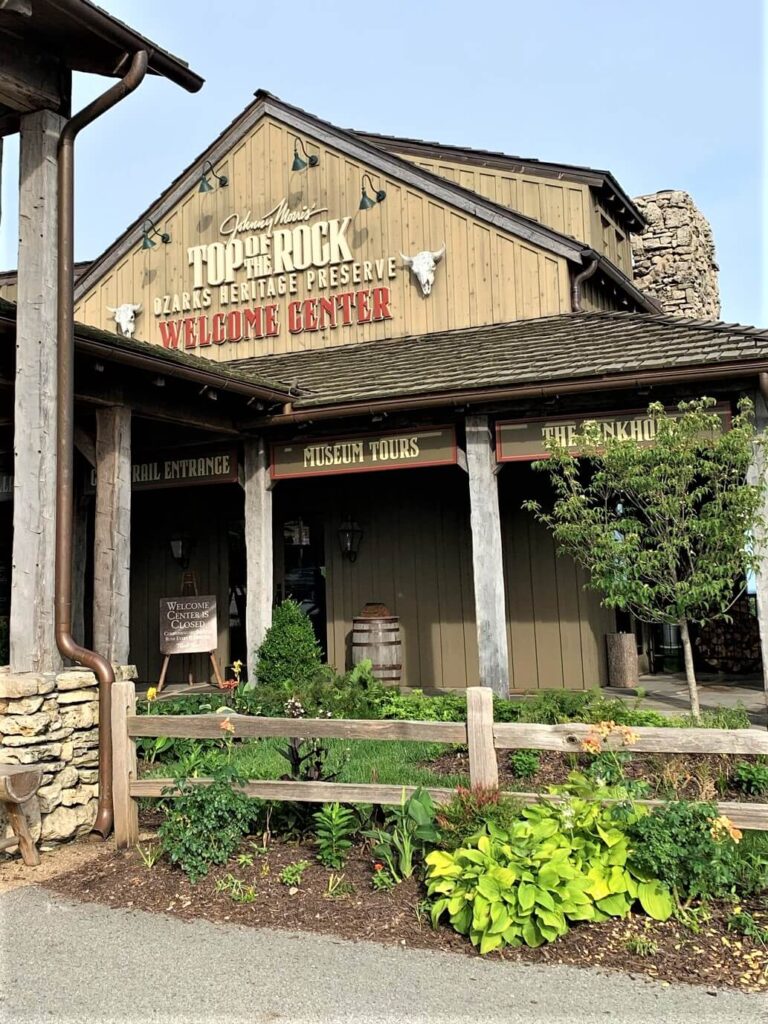 We quickly learned, however, that we would have to wait for our tour to start.
When we walked into the Welcome Center to check-in, we were informed that a tree had fallen along the path and needed to be cleared away. Plus, some repairs needed to be made in the cave.
The guest services person explained that they hoped to get the pathway cleared in the next hour.
Since the ticket for Lost Canyon Cave also includes admittance to the Ancient Ozarks Natural History Museum, she suggested taking the free shuttle from the Welcome Center to the museum to pass the time.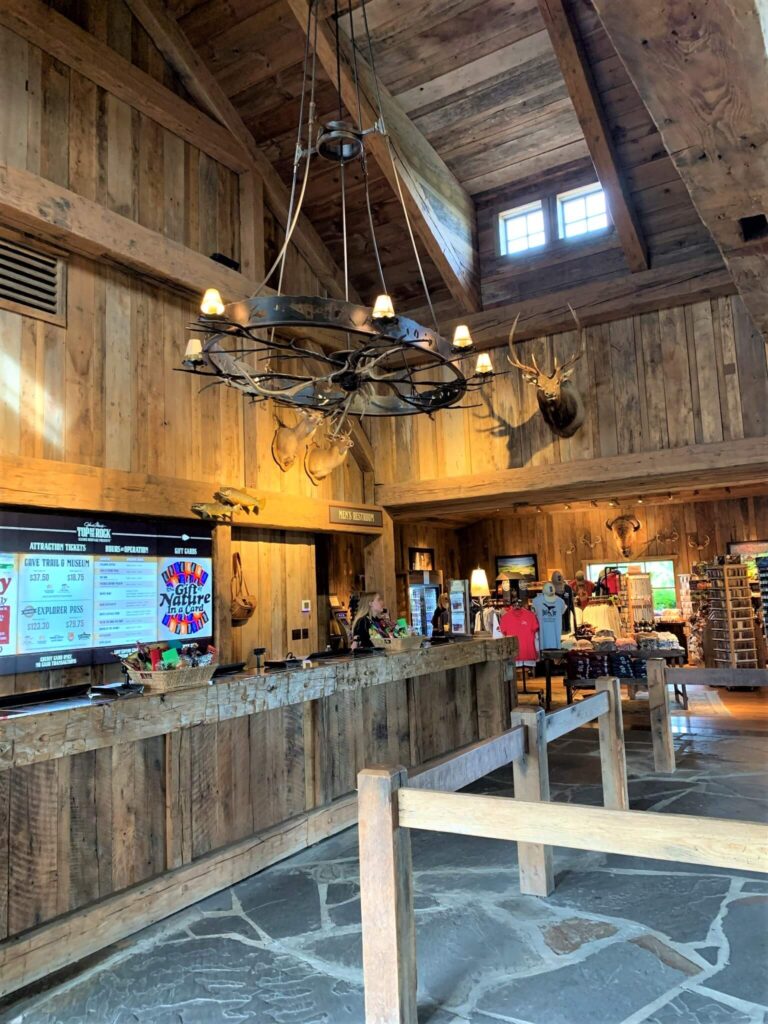 We decided to stay and browsed the gift shop while we waited. After about a 2-hour wait, they announced that the path was open, and we could line up for our golf cart.
What To Expect On The Lost Canyon Cave Golf Cart Tour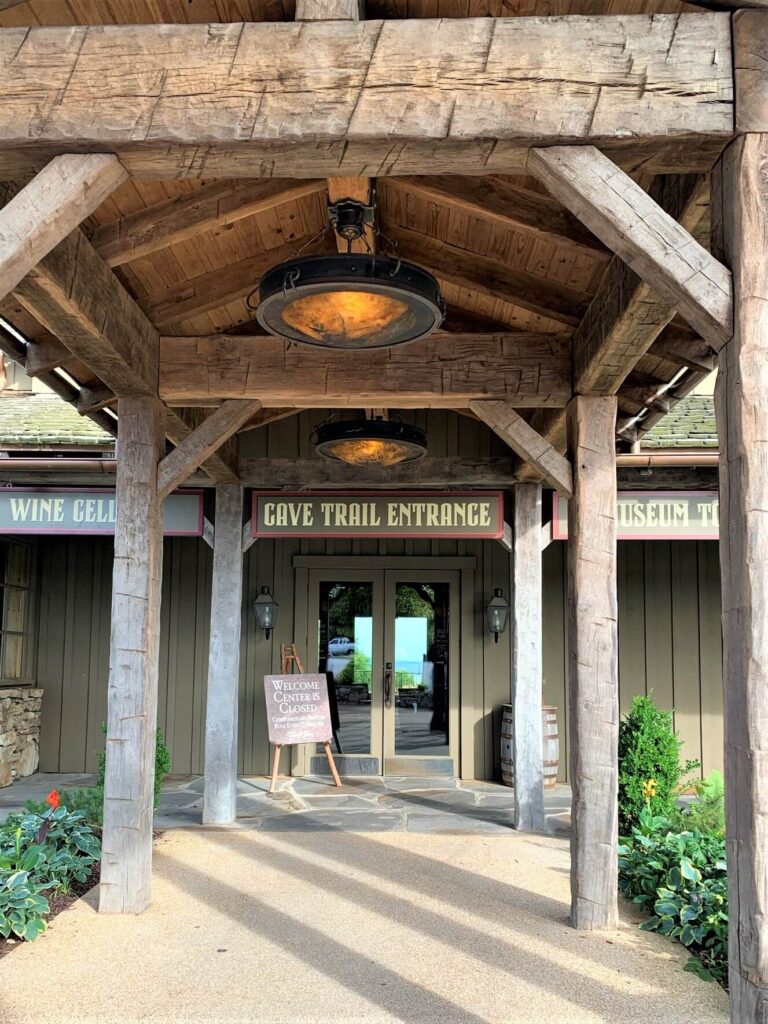 If you have pre-purchased your ticket online, you can follow the signs in the Welcome Center to go outside to line up for the golf cart tour.
Either pre-print your tickets; or, as I did, add the tickets to your Apple Wallet.
Having them in my Apple Wallet made it very easy for the attendants to scan all four of our tickets, and I didn't have to print them out and carry them with me.
Drivers are required to be 18 years old and have signed a waiver. If you haven't signed the driver waiver before you arrive, the agent will text or email you a link to review and sign on your smartphone.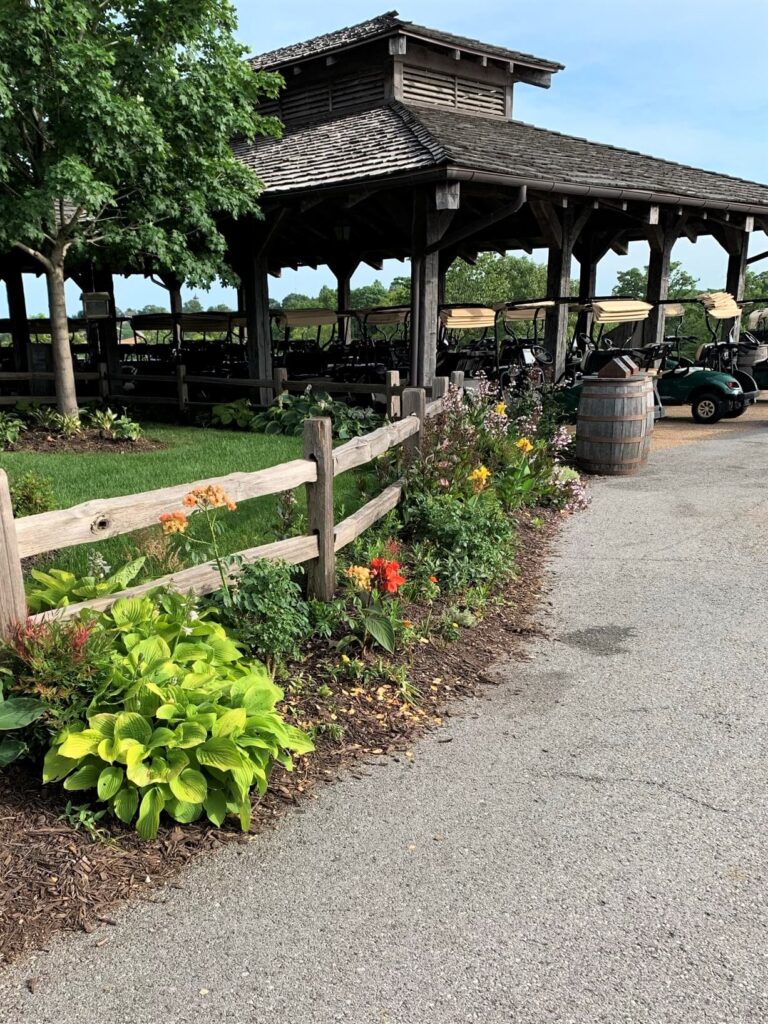 The electric carts are available as either a two-seat or four seats depending on the number of people in your party. If it's raining, the golf cart has a roof; or, the roof can be rolled back for better viewing!
Pay attention to the screen in the golf cart too! As you drive along, the screen changes telling you about the rock formations, bats, squirrels, and the most important thing – what drinks are available in the Bat Bar!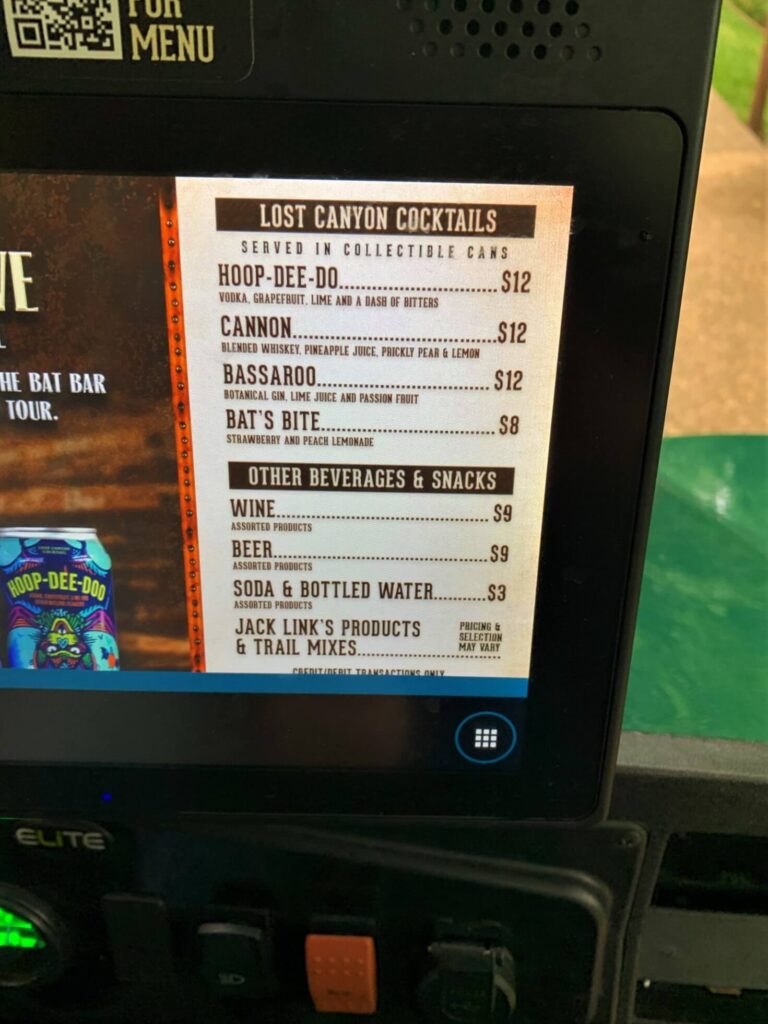 How Long Does The Top of the Rock Tour Take?
The two-and-a-half-mile golf cart tour takes approximately 50 minutes. Time spent on the trail depends on whether you stop the cart at the designated pull-offs to take in the views, take photos, or just continue driving along the path.
There are quite a few pull-offs with great photo ops. Routes are perfectly planned for parking the cart and viewing areas.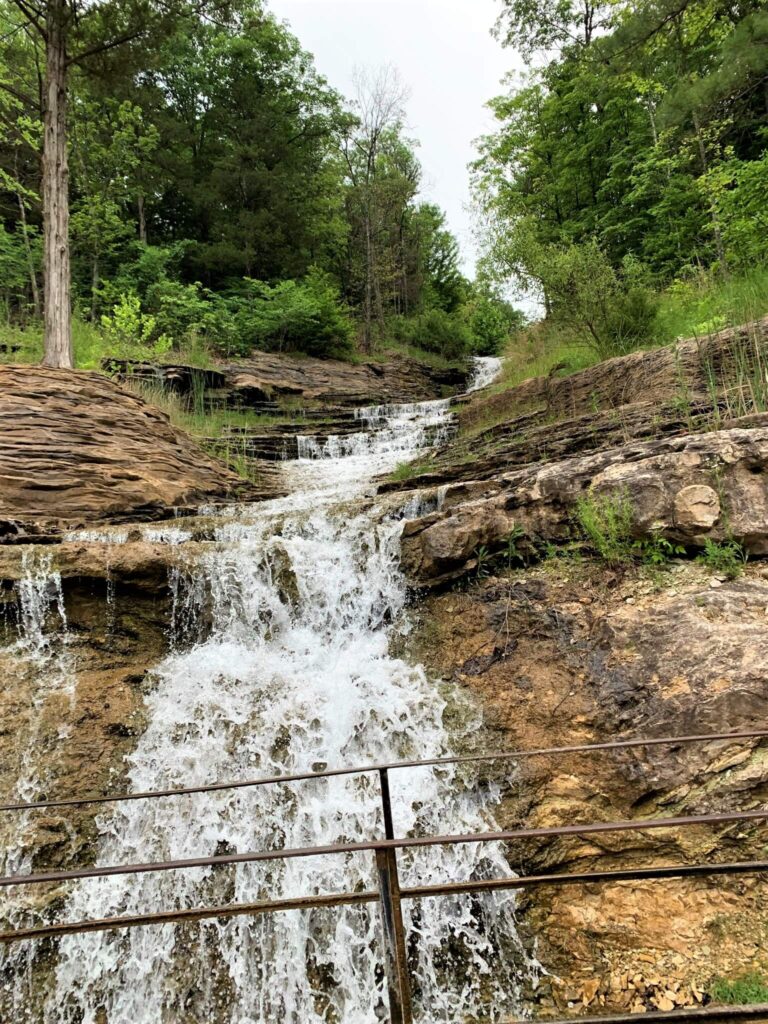 We stopped at several areas to get out and look at the views but not all. Our entire tour took about an hour.
What Will You See Driving The Top of the Rock Cave & Nature Trail
One thing we realized is if you don't pay attention, you will miss a lot! Don't miss all the details in the fencing. They are perfectly placed and very intricate.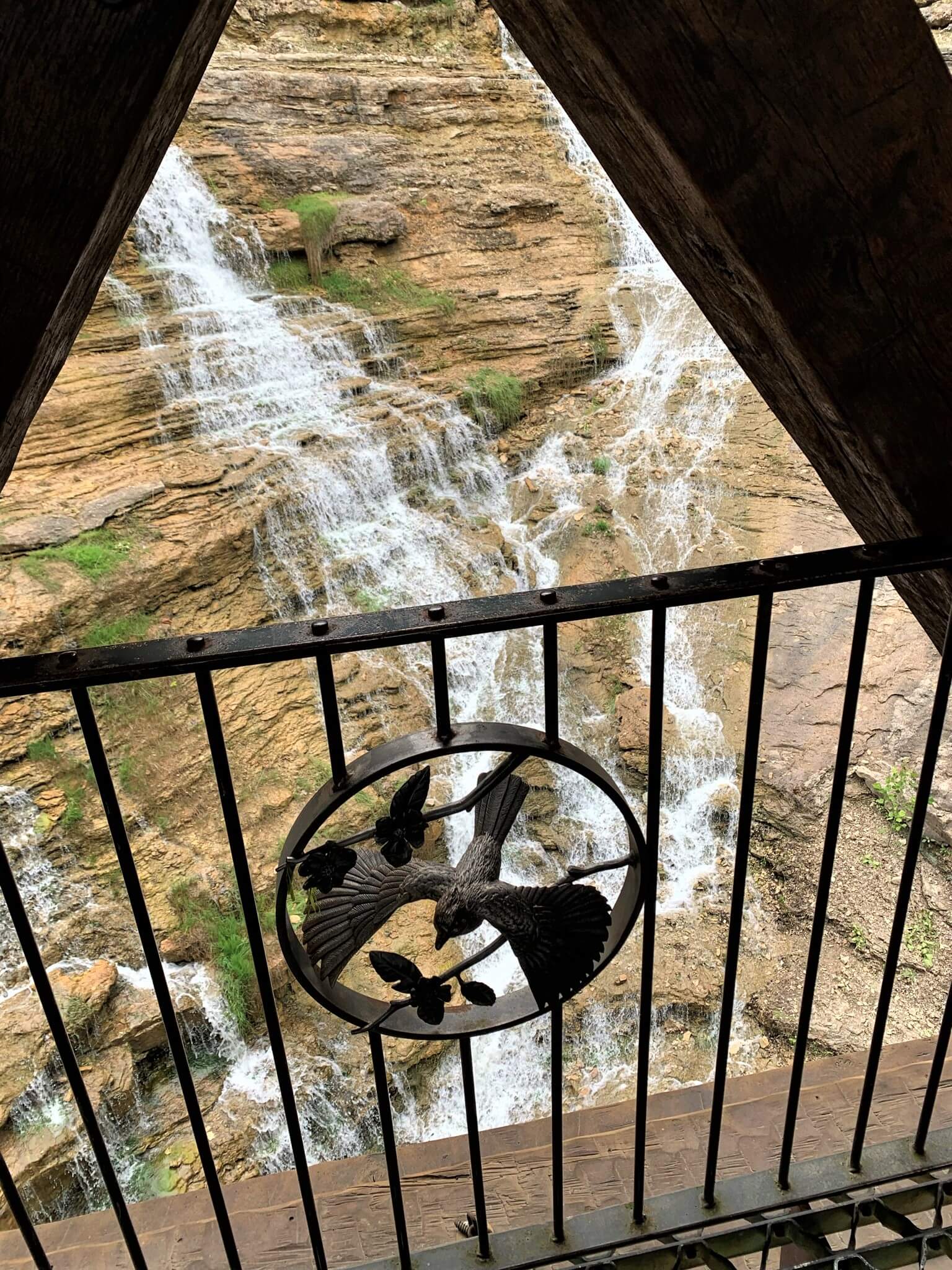 The tour begins at the top of the waterfall. As you make your way along the path, you will be in front of 2-3 waterfalls merging into one. Then, finally, you are at the bottom where they all come together.
We also enjoyed all the covered bridges. And be sure to Look Down when they tell you to!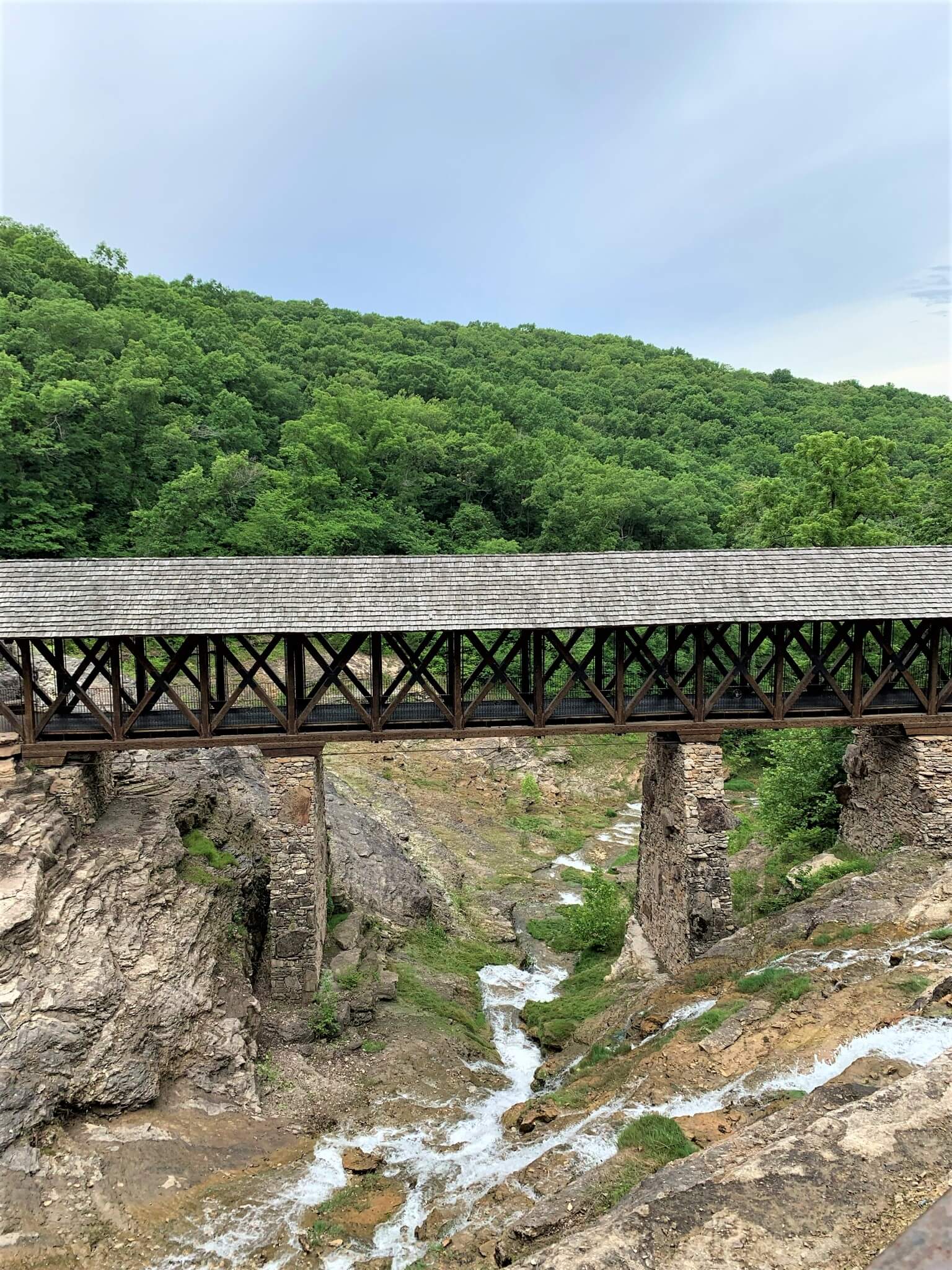 Of course, one of the highlights of the tour was the Bat Bar Cave. The drink menu is listed on the screen in your golf cart and is also posted in huge letters on the wall as you pull into the cave.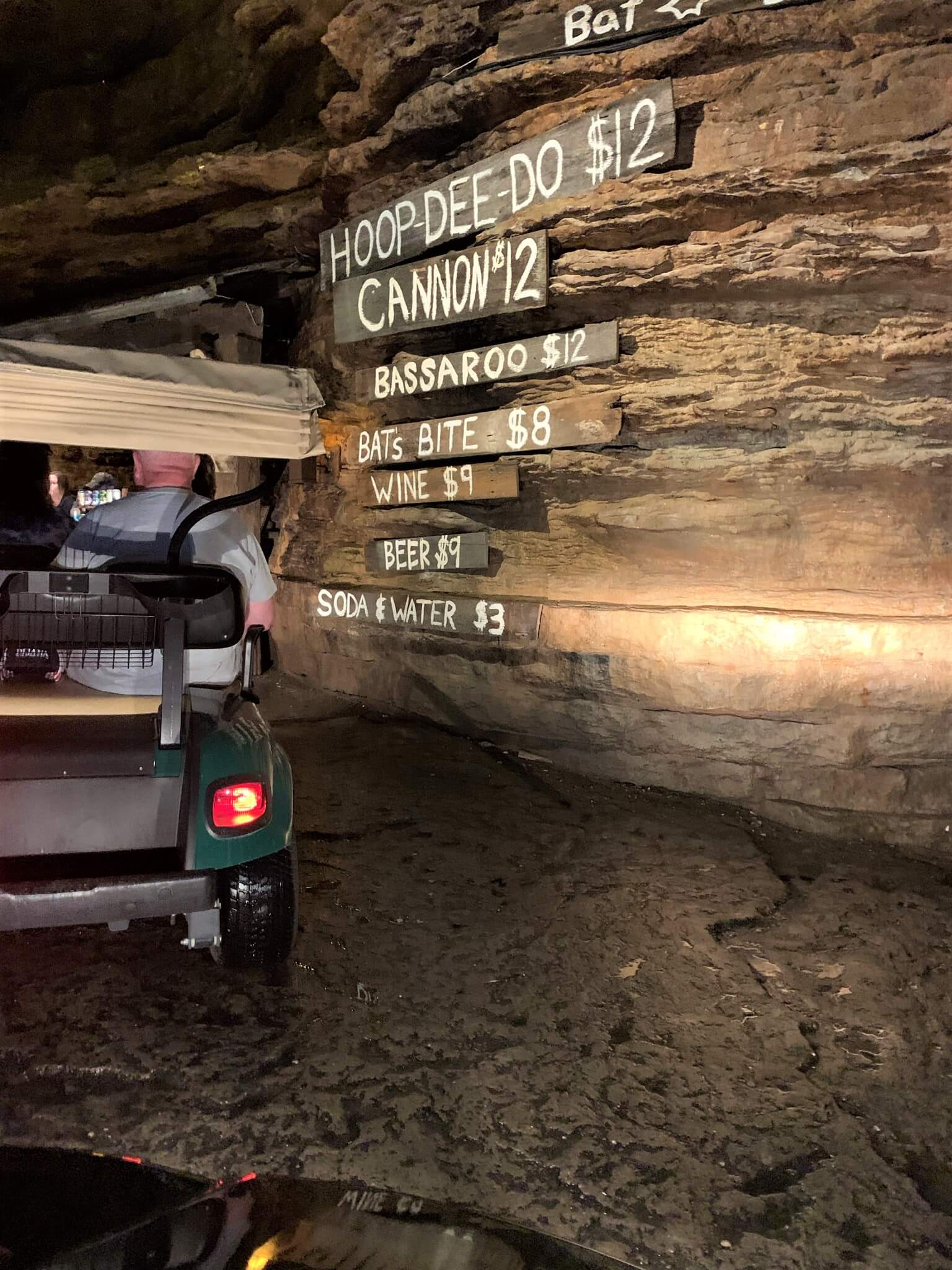 Their specialty drink is the Bat's Bite Lemonade. The drink sounded interesting, but it was still early in the day for us, so we opted for bottled water and a diet coke.
Once you have your drink, you will continue through the cave where we were surprised to see another awesome waterfall.
There are signs all along the pathway where you might need to Swing Wide – be sure to pay attention or you might hit some rocks!
Waterfalls At Top Of The Rock Branson
One of the most fun parts of the cart tour was driving right next to the waterfall!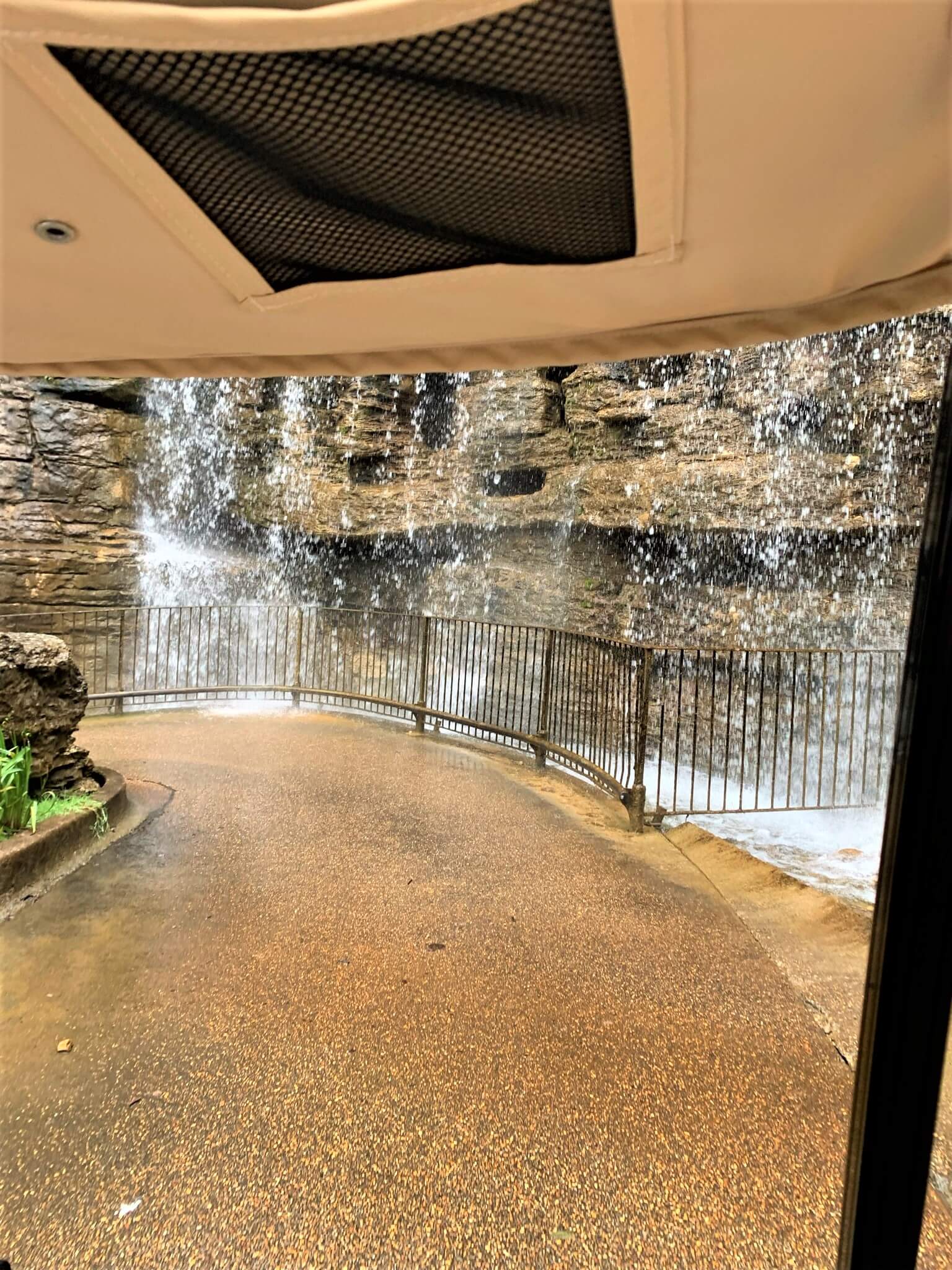 There are quite a few waterfalls to enjoy during the cave tour at Top of the Rock.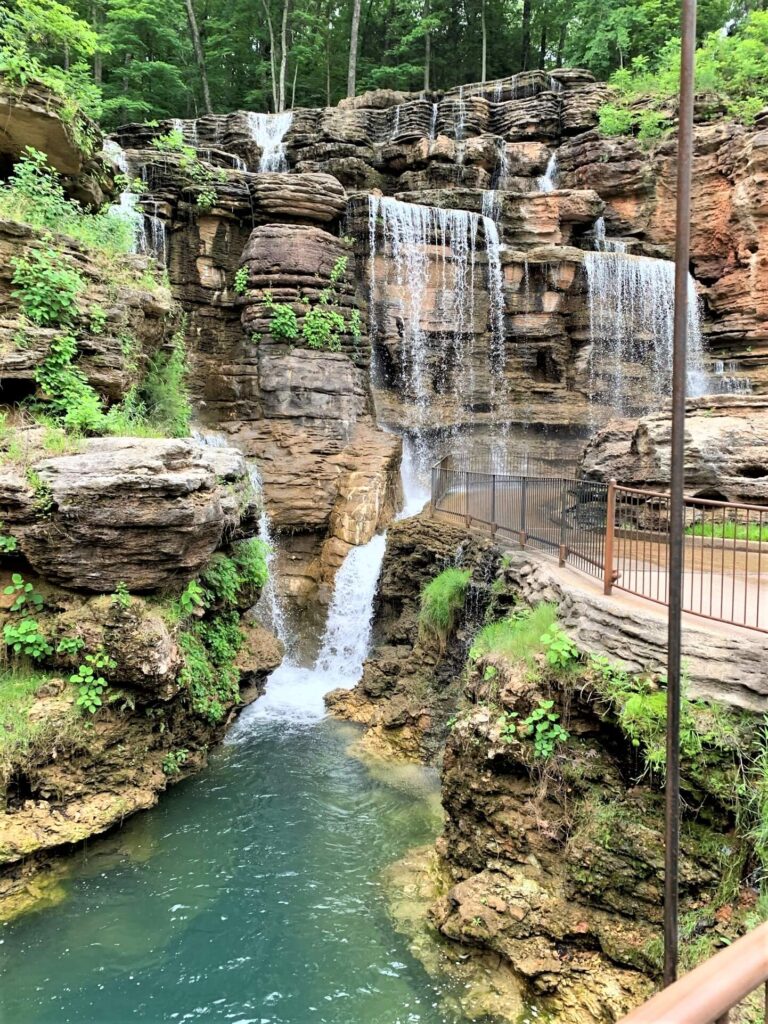 I also recommend stopping at the overlook where you can see beautiful views of Table Rock Lake in the distance.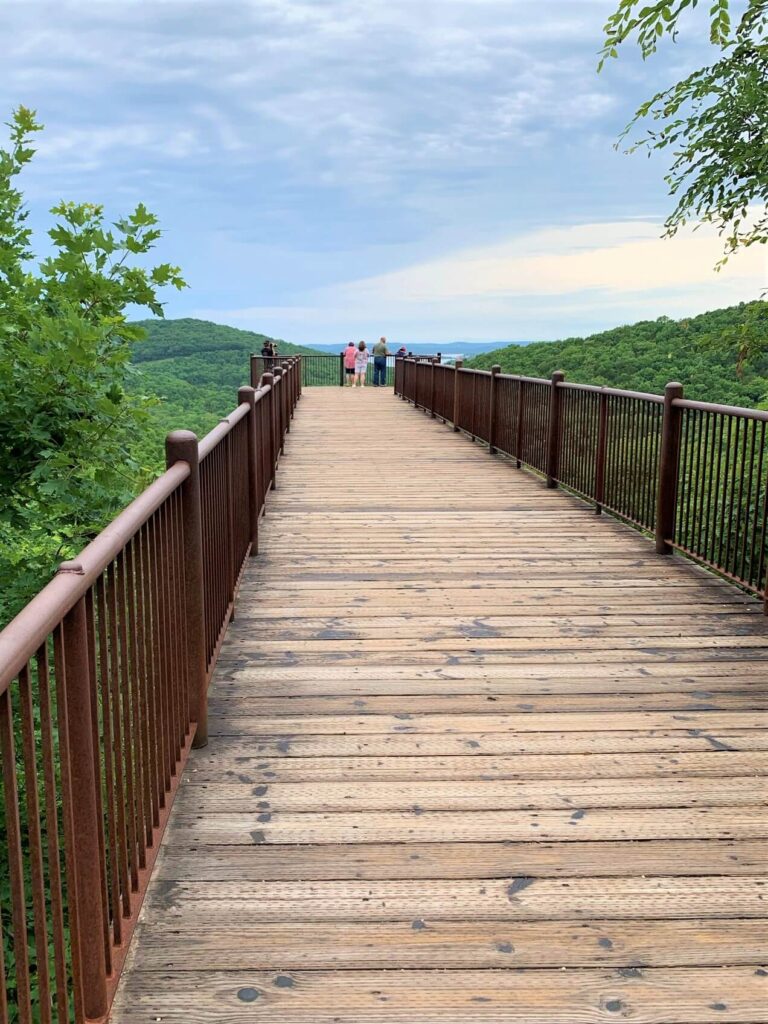 Who Owns Top of the Rock in Branson, MO?
Johnny Morris, founder of Bass Pro Shops and Big Cedar Lodge created the Top of the Rock attraction.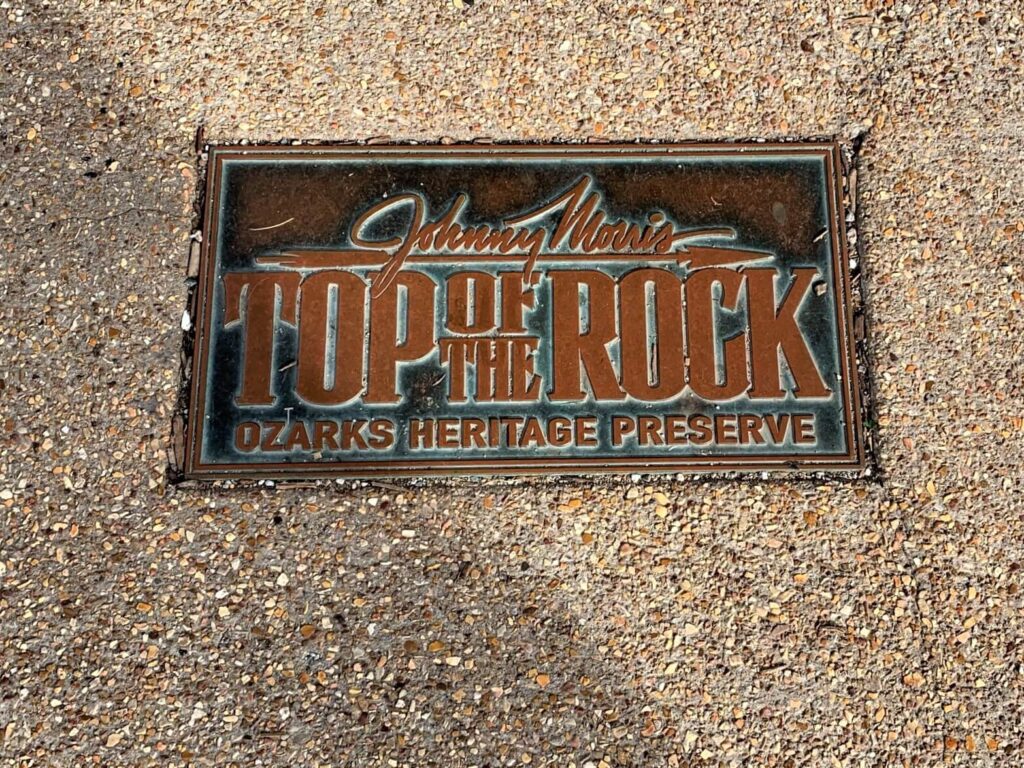 The Top of the Rock Ozarks Heritage Preserve includes 462 acres with four restaurants, a golf course designed by Jack Nicklaus, a Himalayan putting green designed by Tom Watson, a practice course designed by Arnold Palmer, a natural history museum, a chapel, a cabin, and an all-American wine cellar.
Lost Canyon Cave & Nature Trail
Ancient Ozarks Natural History Museum
World-Class Golf At Top of the Rock
Chapel Of The Ozarks
Osage Restaurant
Arnie's Barn Restaurant
Buffalo Bar
End Of The Trail All-American Wine Cellar
For accommodations, you can stay at Jack's Cabin at Top of the Rock or Big Cedar Lodge – a premier wilderness resort.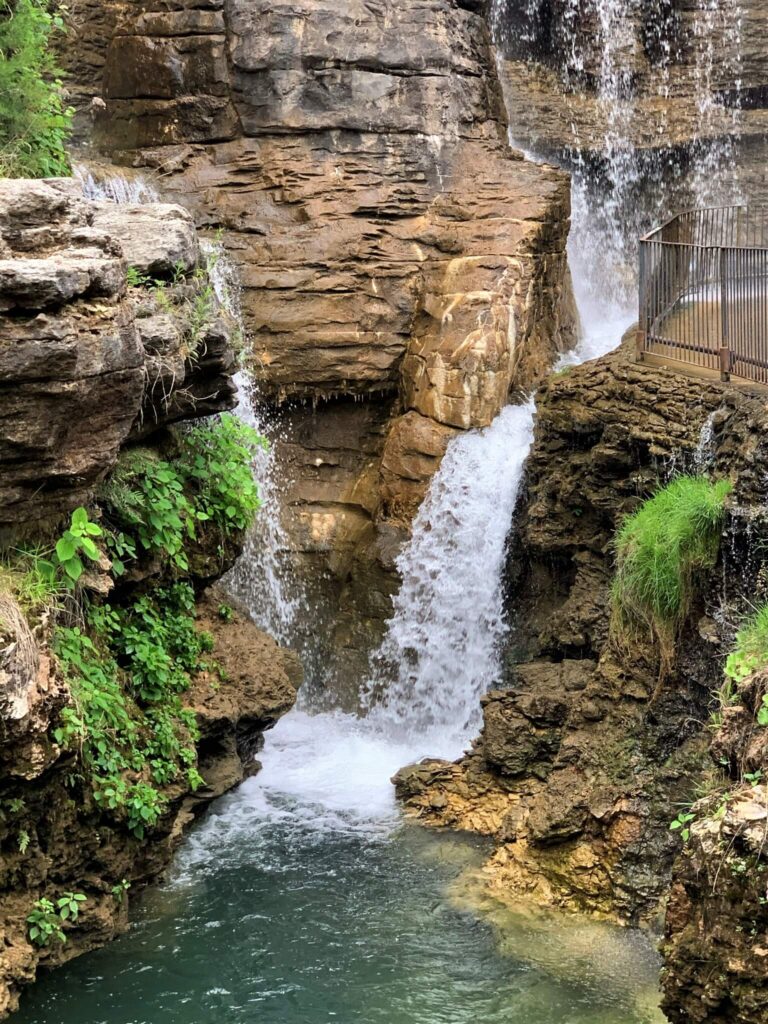 Top of the Rock Golf Cart Tour Prices
Top of the Rock has what's called Dynamic Pricing. The ticket price you pay today may not be the price of the ticket tomorrow. It all depends on the time of year and demand.
I had never heard of this type of pricing for an attraction, but it came up as people were asking for a refund for the tour being closed for repairs. Some were planning to return the next day, but the agent explained that they could not guarantee the ticket price would be the same as what they paid that day.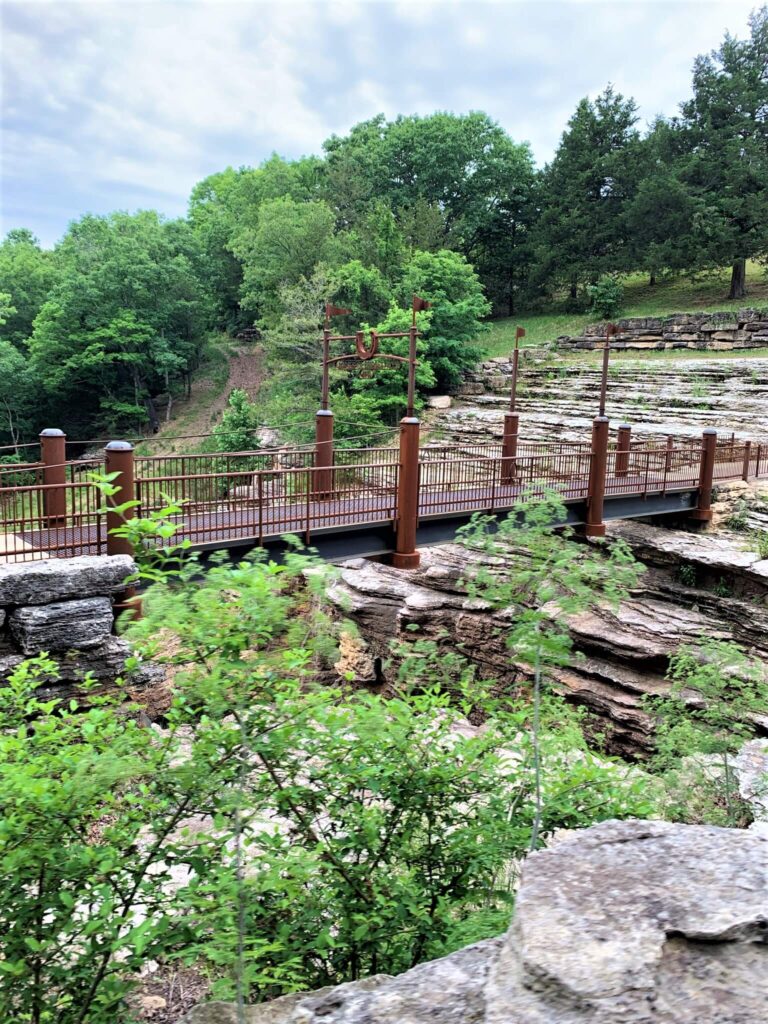 Top of the Rock Tickets
You can pre-purchase your Top of the Rock golf cart tour tickets online which provides the best pricing. You can check out the price of tickets for the day you plan to visit on the Top of the Rock website.
There is no Top of the Rock golf cart tour coupons; however, there is a discount for military and veterans.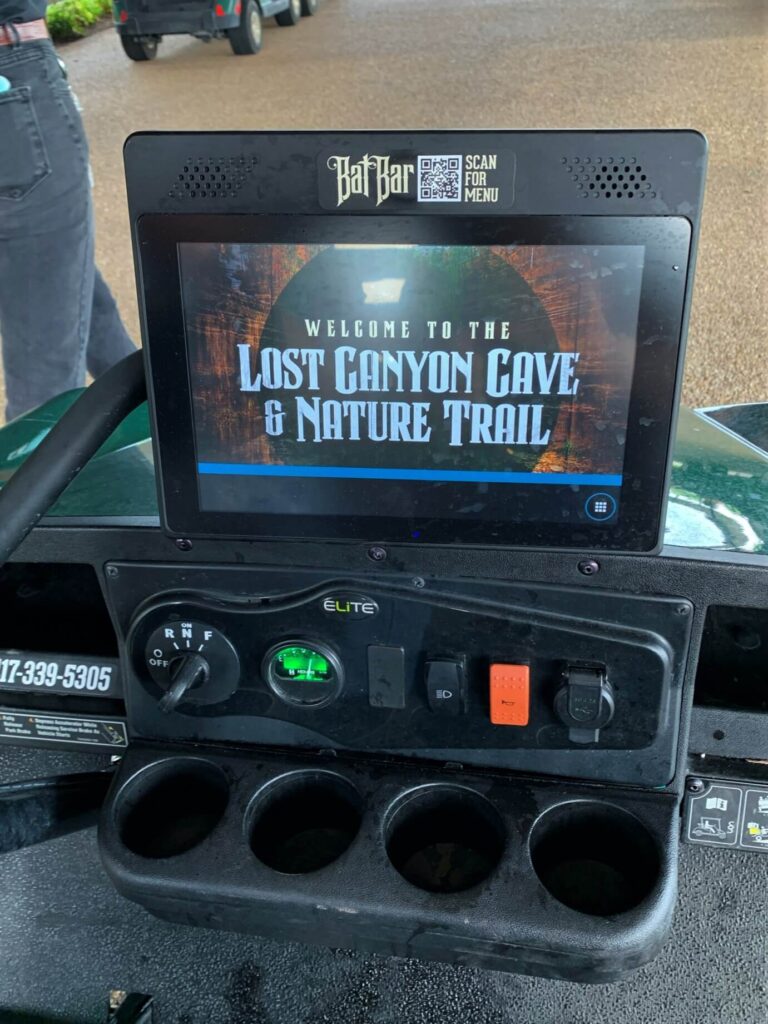 Top of the Rock Golf Cart Tour Hours
Top of the Rock is open daily from 8:30 am – 7:00 pm.
How Far is Top of the Rock From Branson?
Top of the Rock is in Ridgedale, MO which is approximately 15-20 minutes from Branson. It took us about 15 minutes to drive from our hotel – The Savannah Hotel where we stayed during our trip.
Directions To Top of the Rock Branson
150 Top of the Rock Rd, Ridgedale, MO 65739
1-800-225-6343
Reviews of Top of the Rock, Branson, Missouri
Is Top of the Rock worth it? Our entire party agreed it was one of the highlights of our Branson trip. I would absolutely recommend taking the time to visit Top of the Rock on your next vacation to Branson!
Things Not To Miss On Your Visit To Branson, MO
If you're looking for more things to do in Branson, here are some of the Top Things To Do In Branson, MO that all ages will love !
Planning a trip to Branson during the holidays? Here are The Best Things To Do In Branson At Christmas
Plus – You'll LOVE a Dinner Cruise on the Showboat Branson Belle !
More Travel Posts You May Enjoy
11 Best Things To Do In The Great Smoky Mountains
Letchworth State Park – Best Things To See
How To Plan A One Day Trip To Niagara Falls NY
11 Hidden Gems Of Fun Things To Do In Virginia
Mile High Swinging Bridge On Grandfather Mountain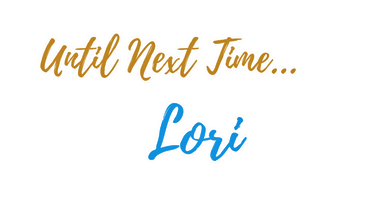 You may also like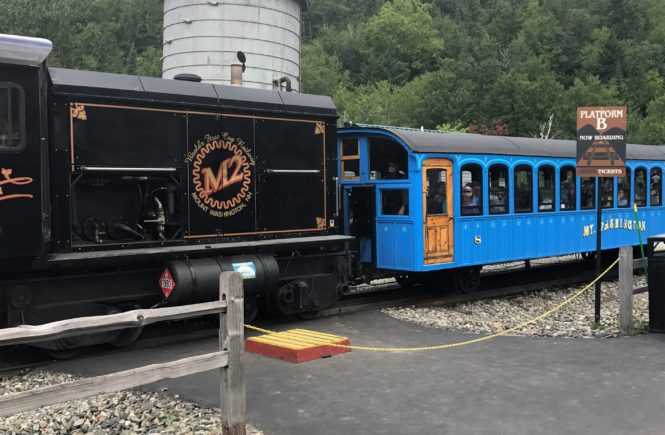 Best Tips For Taking A Ride On The Mount Washington Cog Railway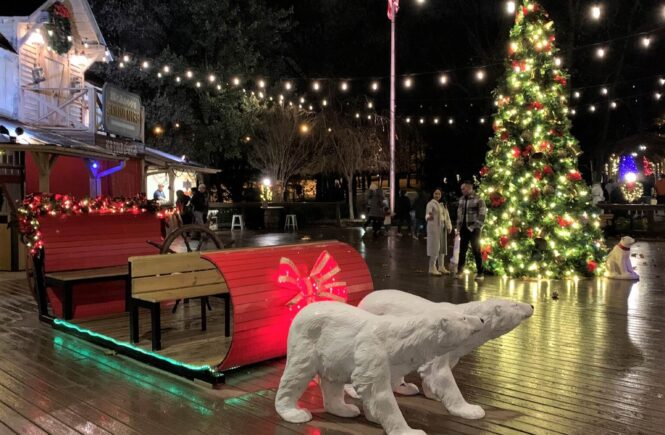 Best Things To Do In Branson At Christmas The Whole Family Will Love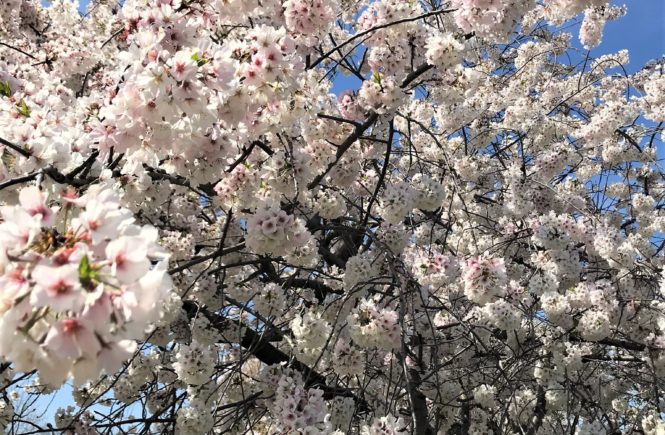 Where To See Amazing Views Of The Cherry Blossoms in Washington DC
i love what i saw! we r coming to branson, missouri in november. dates are not sure yet. This would be a good spot to go to. Thank you!!!!!!!!
I am ALSO heading back to Branson in November and plan to go back to Top of the Rock! I can't wait to see what it's like in the fall. Have fun!
Thank you for your very complete review.oved the sense of humor you added.
We will be in Branson the weekend of the April 21. How do I go about purchasing tickets for the golf cart ride through the cave and is there a lot of walking from the parking lot to get to the golf carts?
Hi Michelle! Sorry I didn't see this! Go to the website and purchase your tickets! The parking lot is just outside the entrance to Top of the Rock. Remember there is also a per car fee to enter the park. My parents loved it so much we went two times within a couple of months! If you want to take a chance, you CAN purchase your ticket at the door. Hope this helps and have fun!!
How long does it take to get through the cave? Asking for a claustrophobic friend!
Hi Annette! I am so claustrophobic but didn't even notice I was in a cave! There is so much to look at! You start the cave tour by driving up to the bar. Get a cold soda, water, or other beverage. Then you will see a very tall waterfall! I was busy taking photos as we were driving through (and trying not to get wet!) but didn't feel I was in a cave at all! I hope you can go to Top of the Rock – it's a one-of-a-kind experience!
Leave a Reply Cancel reply
Your email address will not be published. Required fields are marked *
Things to Do
Restaurants
Vacation Rentals
Travel Stories
Rental Cars
Add a Place
Travel Forum
Travelers' Choice
Help Center
Top of the Rock - Nature Trail by golf... - Lost Canyon Cave and Nature Trail
United States
Missouri (MO)
Ridgedale
Ridgedale - Things to Do
Lost Canyon Cave and Nature Trail
We made plans at the last minute to go one afternoon around 3pm. The weather had just turned brisk... read more
Of all the things we did in the Branson, MO, area, this was the best. So beautiful. Very... read more
Top of the Rock - Nature Trail by golf cart
On a long weekend in Branson we wanted to eat at Arnie's Barn at "Top of the Rock", a restaurant and recreational area that is part of Big Cedar Lodge. Arnie's Barn is a Mexican themed restaurant in a barn that was disassembled from Arnold Palmer's estate, shipped, and reconstructed at Top of the Rock. Huge oak timbers, and great food. Our reservations were for 6:30pm, but we had some time prior so we parked at the Top of the Rock Visitors Center and bought tickets to the Nature Trail through the Ozark Mountains that you ride through on a golf cart. The price is $25 per adult, and you can fit 4 or 5 adults in the large carts. The price is expensive, but the experience is a nice outdoor experience. About 10 minutes into the 45-60 minute ride, you go into a cave with lighting and waterfalls - and a cool little bar where a bartender will serve you up a cocktail or soft drink. The bar is cash only, and is not cheap, either. Two drinks were $24, but, what the heck, how often can you get a drink while driving up in a golf cart in a cave ? We enjoyed the drinks during the rest of the trip, which takes you across big gorges and near waterfalls, rock formations, and amazing woods. There is kind of a cheesy "bear" encounter you drive up on, where a barred cage entrance has a loudspeaker with a bear growling behind it in the dark. Kids on the trail really enjoyed it, though. If you're there early enough you can take your golf cart up to Arnie's Barn or the other restaurant at the very top. We were not there early enough, and we had to return our golf cart to the Visitors Center and ride the shuttle for about a minute to the restaurants - or pay a $10 valet fee if we chose to drive our car up the hill. We took the shuttle, which was free. All in all, a great way to spend the afternoon & early evening. Take a peek at the huge sinkhole that opened up on the golf course very near Arnie's Barn that they are exploring now.
The golf cart tour of the caves just WOW! I will do that every single time I go. It's peaceful and beautiful and relaxing. Oh and beautiful. Worth every penny.
We loved our half day trip here. We had two handicap people in our group of 8, so the golf cart tour was just the perfect thing for us. We had 4 kids under 13 and the bear cave got them good. Beautiful views.
We enjoyed a scenic self guided tour of the beautiful Ozarks Mountainside. Waterfalls, cliffs, a bridge and a cave, offer great backgrounds for pictures. We had a wonderful day!
We went to Top of the Rock a few weeks ago and wanted to wait to do this trail until we could bring our kids. Super excited to go we walked in and were helped by a young lady employee. This girl spoke rather rudely and arrogant to us. We had 3 adults and a bunch of kids/teens. She told us we could use 2 carts. We asked for 3, since we have 3 adults and without any explanation, she said we couldn't. Well we were paying per person, it wasn't crowded and there were at least 100 carts sitting there. She gave us out paperwork and abruptly told us to "have a seat to fill it out the forms". We walked off and all in our party were commenting over her rudeness. This place is $25 per adult and kids over 12, so we were paying A LOT for this. I feel an upscaled resort with high ticket attractions should be treating their customers with much respect and appreciations. Once we paid and moved on, the rest of the trail was beautiful, relaxing and enjoyable. The cave part is very short and as we rode, I kept thinking we still the cave to see. Little did I know that the cave we drive through was the only cave on the tour. Anyway, I'd go again, but likely not with a group because of the per person cost. And this young lady truly needs retraining on how to speak in a respectful tone.
After reading reviews I was nervous about going here. Yes, it was somewhat pricey, but not anymore than any other attraction around Branson. The weather was perfect for a Relaxing ride through the trail. Yes, the cave was short so if all you are going for is the cave you won't enjoy. However, the trail ride lasted us around an hour with some stops for photos of the views. The beer prices in the cave were great! I would go again!
Itineraries
Places to Stay
Art & History
Food & Drink
Lectures & Presentations
Music & Performance
Seasonal & Holiday
Sports & Recreation
Agritourism
Attractions & Tours
Entertainment & Nightlife
Table Rock State Park
Report this image.
If there is a copyright/decency issue with this image and you wish to report it, please complete the form below and a representative will review your case.
" * " indicates required fields
This site is protected by reCAPTCHA and the Google Privacy Policy and Terms of Service apply.
Visitors to Branson can make their headquarters at this park, located along Table Rock Lake. The park features a marina, fishing, a boat ramp, camping, a premium yurt, a paved walking and bicycle trail, a hiking and mountain biking trail, picnic sites, and a shelter. It is located 5 miles west of Branson.
Information
Additional information.

TOP OF THE ROCK
Location: Branson, Missouri (USA)
Designed By: Jack Nicklaus 
Total Yardage: 1,420 yards 
Top of the Rock Golf Course is the first ever par-3 course to be included in a professional championship. Designed by the great Jack Nicklaus, this is a fine example of how nature and golf can coexist in perfect harmony. Located high above Table Rock Lake, the abundance of water features at Top of the Rock permeate throughout the golf course, providing both spectacular views and multiple hazardous environments.  
Top of the Rock Golf Course offers you the opportunity to play somewhere that will challenge, intimidate, and inspire. No matter how short the hole, there is always a test, whether it's a strategically placed bunker, a body of water, or a dangerously sloping green. The elevation also adds an additional factor to bear in mind, so club selection is not always a given. 
Former PGA TOUR commissioner, Tom Finchem, claims that "if there was ever a par-3 course worthy of PGA TOUR tournament play, then Top of the Rock is it." 
Featured Hole: No. 3 (202 yards, par 3)
At 202 yards, the third hole at Top of the Rock is regarded by most as the most difficult that the course has to offer. 
The back tee has a higher-than-usual elevation, so expect to face a tricky downhill tee shot, to a green that is 30 yards deep and carved into the hillside. Large bunkers protect the green on both sides and, if that's not challenging enough for you, a grandiose oak tree guards the right hand side of the green.
This isn't one for the faint hearted; a par is not a gimme on any hole at Top of the Rock, and the third hole is certainly no exception to this. Come and have a go and see how you fare, on PGA TOUR 2K23 . 
MORE COURSES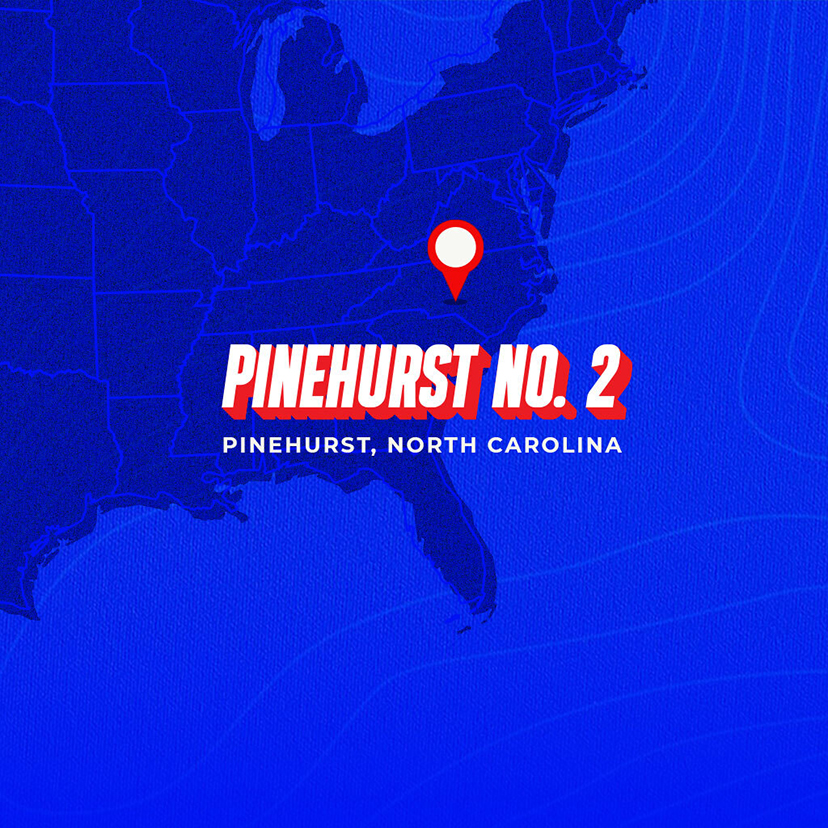 PINEHURST NO. 2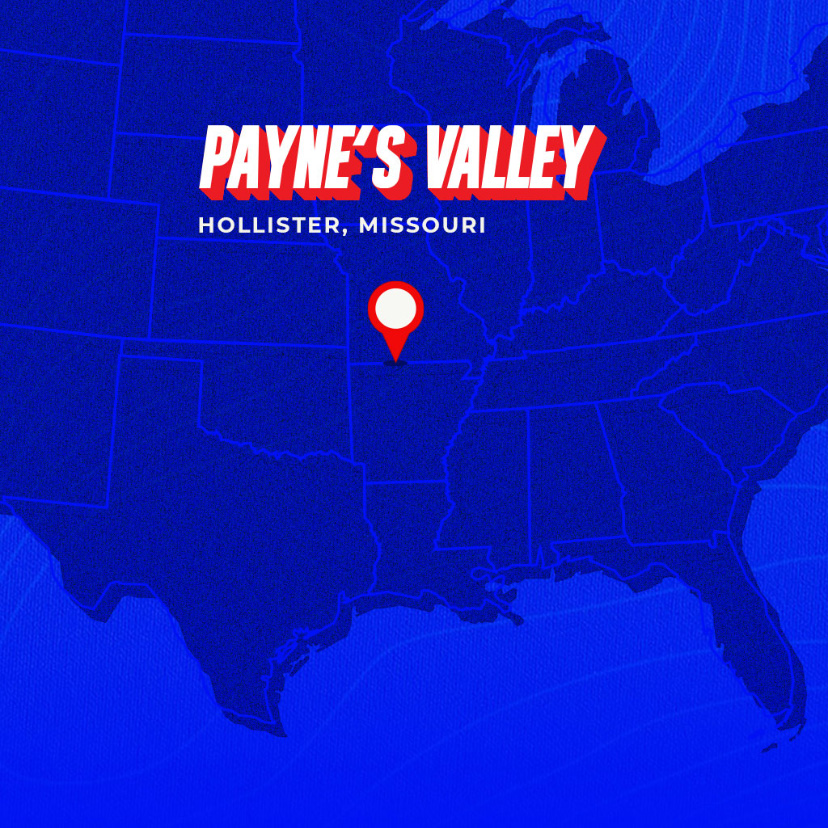 PAYNE'S VALLEY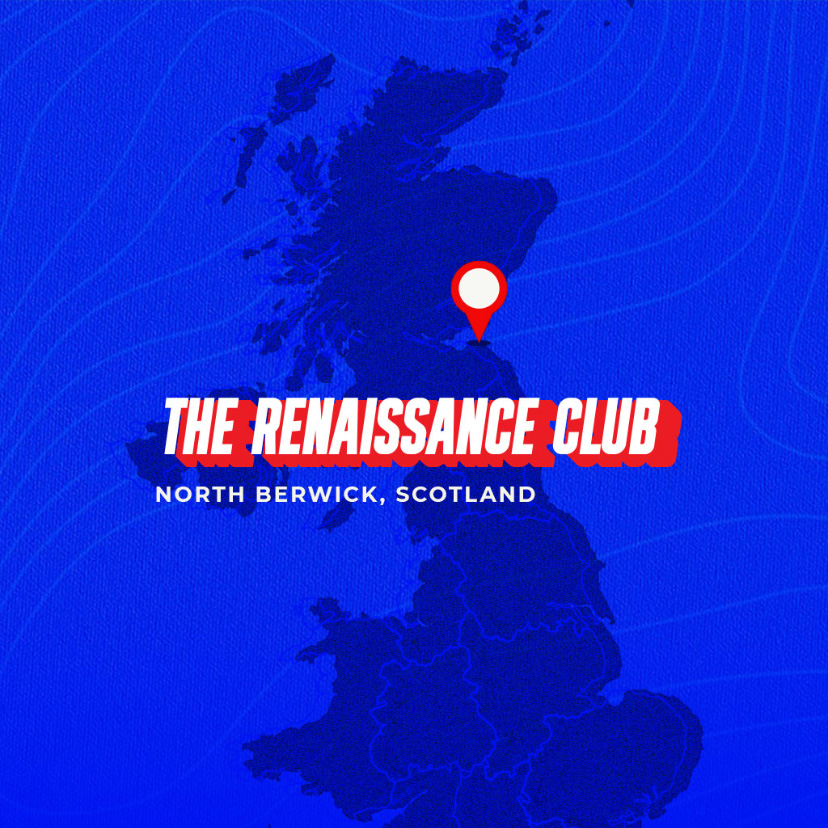 THE RENAISSANCE CLUB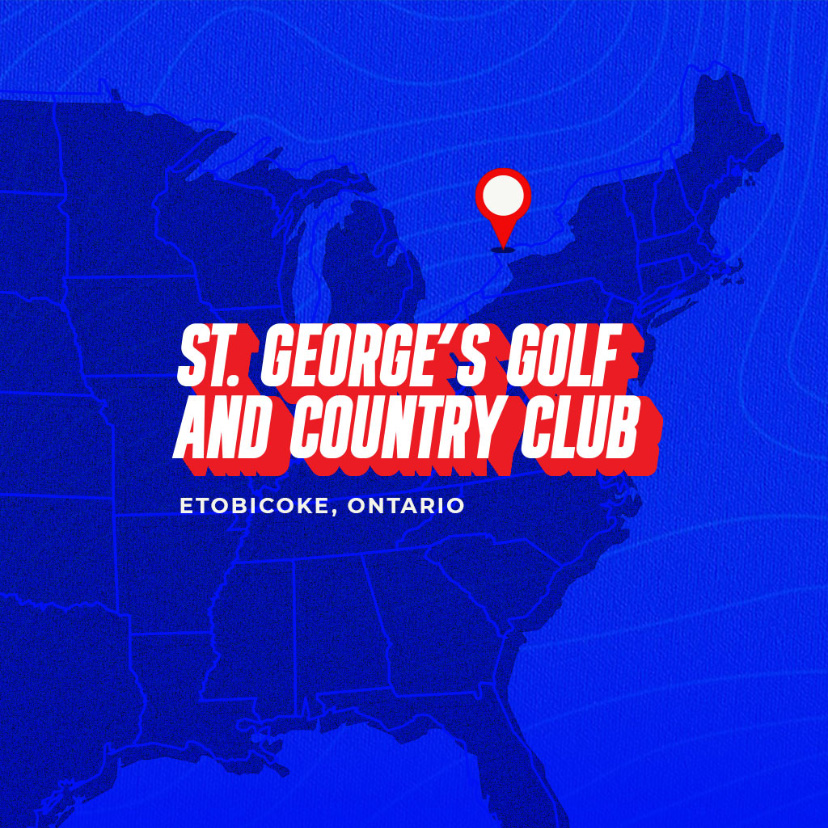 ST. GEORGE'S GOLF AND COUNTRY CLUB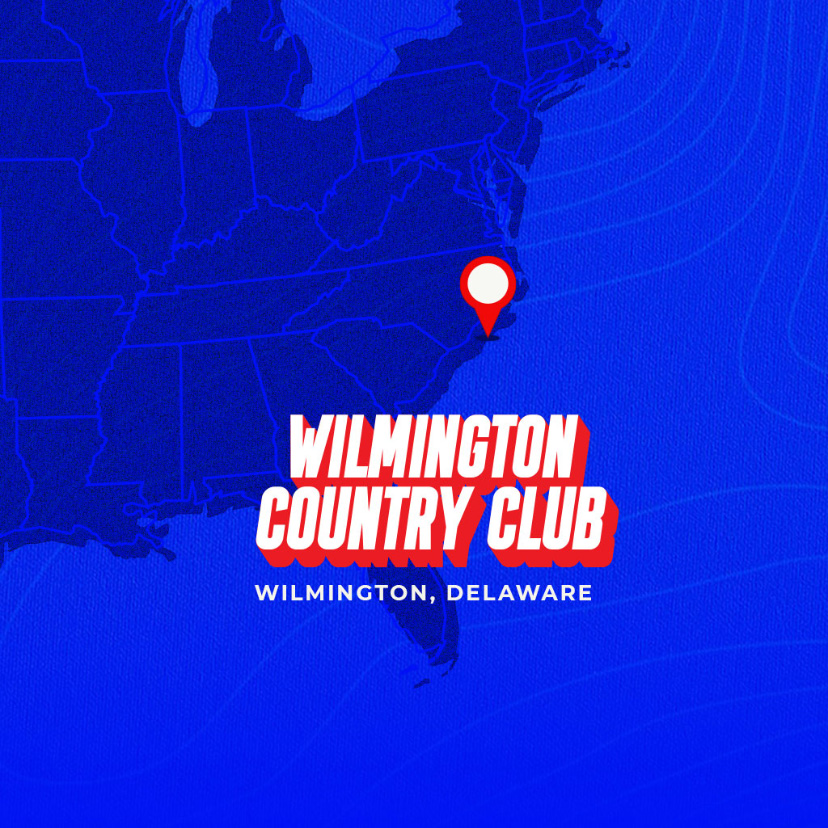 WILMINGTON COUNTRY CLUB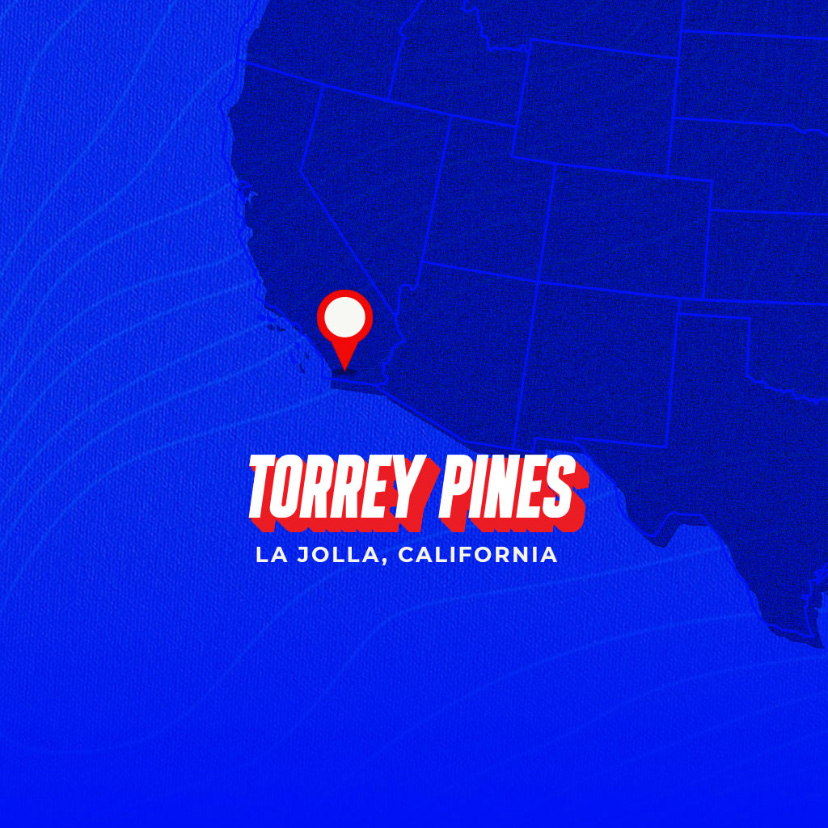 TORREY PINES
Your cart is empty
Adventure Travel
Top of the Rock Golf Cart Tour
Top of the Rock Golf Cart Tour is a unique and captivating experience that combines the best of golf and nature, set against the stunning backdrop of the Ozark Mountains. With its meticulously designed golf course and breath-taking natural landscapes, this tour is a must-visit for anyone looking to enjoy the great outdoors. In this comprehensive guide, we will cover everything you need to know about the Top of the Rock Golf Cart Tour, including its history, features, and what to expect on your visit.
History of Top of the Rock
The origins of the Top of the Rock Golf Cart Tour can be traced back to Johnny Morris, the founder of Bass Pro Shops. Morris, an avid golfer and conservationist, envisioned a world-class golf destination that would showcase the beauty of the Ozarks. In 2014, his vision came to fruition with the grand opening of Top of the Rock, which has since become a premier golf and nature destination in the United States.
The Golf Course
Designed by legendary golf course architect Tom Fazio, the Top of the Rock Golf Course is a stunning par-3, 9-hole course that provides a challenging yet enjoyable experience for golfers of all skill levels. This picturesque course features bentgrass greens, lush fairways, and dramatic elevation changes, offering a unique and unforgettable golfing experience.
The Nature Trail
The Top of the Rock Nature Trail is a 2.5-mile loop that winds through the pristine Ozark wilderness, offering visitors a chance to immerse themselves in the area's natural beauty. The trail features a series of interpretive signs, providing valuable information about the flora, fauna, and geological features of the region.
Lost Canyon Cave
One of the highlights of the golf cart tour is Lost Canyon Cave , a spectacular natural wonder featuring a cascading waterfall, subterranean river, and awe-inspiring stalactites and stalagmites. As you navigate through the cave, marvel at its impressive geological formations and learn about the fascinating history of the Ozark Mountains.
Adventure Travel Destinations: Explore the World's Most Thrilling Locations
Ancient Ozarks Natural History Museum
The Ancient Ozarks Natural History Museum offers a fascinating insight into the region's rich history, from the Native American inhabitants to the early European settlers. The museum features interactive exhibits, artifacts, and life-size dioramas, providing an engaging learning experience for visitors of all ages.
Dining Options
Top of the Rock offers a variety of dining options to satisfy every palate. The Osage Restaurant is a fine dining establishment that serves up delicious American cuisine, while the Buffalo Bar offers a more casual atmosphere with a diverse menu of appetizers, sandwiches, and signature cocktails.
Spectacular Sunset Ceremony
Every evening, Top of the Rock hosts a memorable Sunset Ceremony to celebrate the beauty of the Ozarks. As the sun sets over Table Rock Lake, a bagpiper plays traditional tunes, and the resort's staff ignites a fire cannon, creating a spectacular display that's not to be missed.
Golf Instruction
If you're looking to improve your golf game, Top of the Rock offers world-class golf instruction from experienced PGA professionals. Whether you're a beginner or an experienced golfer, you'll find valuable tips and techniques to help elevate your game.
Accommodations
For those looking to extend their stay, the nearby Big Cedar Lodge offers luxurious accommodations with a range of amenities, including a full-service marina, spa, and fitness center. The lodge also offers a variety of outdoor activities, such as fishing, hiking, and horseback riding, making it the perfect destination for a relaxing and adventurous getaway.
Special Events and Group Outings
Top of the Rock is an ideal location for hosting special events, such as corporate retreats, family reunions, or weddings. With its stunning natural surroundings and state-of-the-art facilities, it provides a picturesque setting for unforgettable events. Additionally, the golf cart tour can be customized to accommodate group outings, ensuring a memorable experience for all attendees.
Top of the Rock Golf Cart Tour Tickets
Purchasing tickets for the Top of the Rock Golf Cart Tour is a seamless process, ensuring a hassle-free experience for all visitors. Tickets can be bought on-site at the Top of the Rock Welcome Center or online through the official website. Prices for the golf cart tour vary depending on the number of passengers, with discounts available for children and seniors. It's important to note that ticket prices do not include admission to the golf course or the Ancient Ozarks Natural History Museum, which require separate fees.
Top of the Rock Golf Cart Tour Hours
The Top of the Rock Golf Cart Tour operates daily, ensuring that visitors have ample opportunity to enjoy this unique experience. The tour hours typically begin in the morning and continue until sunset, with the last tour departing an hour before closing time. However, hours may vary depending on the season, so it's always a good idea to check the official website or contact the Welcome Center for the most up-to-date information before planning your visit.
Top of the Rock Golf Cart Tour Coupon
If you're looking to save on your Top of the Rock Golf Cart Tour experience, keep an eye out for coupons and special offers. Various promotions and discounts may be available throughout the year, particularly during off-peak seasons. These offers can often be found on the official website, social media pages, or through third-party travel websites and local tourism brochures. Be sure to take advantage of these deals to make your visit even more enjoyable and budget-friendly.
In conclusion, the Top of the Rock Golf Cart Tour is an exceptional experience that offers a unique combination of world-class golf, stunning natural landscapes, and fascinating history. From the challenging golf course to the breathtaking nature trail, Lost Canyon Cave, and the Ancient Ozarks Natural History Museum, there is something for everyone to enjoy. Whether you're a seasoned golfer, nature lover, or simply seeking a memorable getaway, the Top of the Rock Golf Cart Tour is sure to exceed your expectations and leave you with lasting memories of the beautiful Ozark Mountains . Don't miss the opportunity to embark on this unforgettable adventure during your next visit to the region.
Leave a comment Cancel reply
Save my name, email, and website in this browser for the next time I comment.
or sign in with
Select User Type
or continue with
Enter the e-mail address associated with the account. We'll e-mail a link to reset your password.
Charting the future of the creator economy.
Engage new audiences.
We're here when you need to make a good impression. Table Rock offers a range of services, including content and production, influencer campaigns, paid advertising, brand product design, and merchandising. ‍ Good content is important. Good relationships are more important.
Influencer Management
Design & Merchandise
Content Creation
Why Table Rock?
Our data speaks for itself.
Monthly impressions
Successful campaigns
Network of diverse creators
Monthly YouTube views
Brand clients and counting
Featured projects
Coachella experience '23.
In April 2023, we hosted an incredibly unique Coachella experience...
Table Rock Store Desert Pop Up
At our 2023 Coachella activation, we staged an outdoor "market" for...
Puerto Rico
In March 2023, we took a select group of four...
From a tea house perched above the ancient Souks of Marrakech to...
Nestled in the heart of California's winemaking region, Sonoma is...
Creator categories
We take pride in working with such a diverse group of amazing creators. Whether it's a hobby, side hustle, or full-time gig, our influencers share a passion for creating content and entertaining audiences.
Featured influencer
Table Rock is a one-stop shop for creators looking to expand their online opportunities and brands wanting to unlock direct response influencer marketing channels.
Influencer management
We have a long roster of diverse, passionate creators. Their interests, backgrounds, and content span the spectrum, but the common thread is always their unwavering passion about what they do and deep care for their audience and brand partners.
Content creation
Making original content is the core of what we do at Table Rock. Our modus operandi involves campaign pre-production and concepting, location scouting and model sourcing, focused high-energy shoots, and crisp ahead-of-schedule post-production delivery. We use top-of-the-line equipment (4k cinema cameras, stabilizers, and sliders) and a highly-skilled, creative, and efficient production team.
Production and video editing
The range of additional production and editing services available to our brands and creators is extensive. Our team is happy to help take your content to the next level, from campaign ideation and conception to pre-production, production, and post-production services.
Paid social and advertising
Direct response advertisements across Facebook and Google Ad platforms is our forte. Our experience creating and deploying ads through Facebook and Google will not only optimize your campaign spend budgets but help you exceed your sales and marketing goals much faster and cost-effectively. By leveraging our production team's skill and experience, we consistently iterate, develop, and test new creative to drive your brand's paid social presence forward.
Merchandise & Design
Our talented team of designers and merchandisers can bring any idea to life. We've created dozens of customized, high-end merchandise stores for creators and physical and digital products for brands that elevate their visual presence and marketing efforts. We do it all from thumbnails to creator brand redesigns and custom products.
Our platforms
Are you interested in becoming a creator?
Are you a brand looking for a creator.
Christmas Light Tours Big Cedar Lodge & Top of the Rock
Join us for one of our three holiday light tour experiences available at Big Cedar Lodge and Top of the Rock. These tours are available in three locations this year, enabling guests to drive a golf cart, car, or ride a tram through a magical winter wonderland!
JOIN US FOR
Holiday Dining
Home for the Holidays Self-Guided Light Tour
November 18 at 5:02 pm.
Join us on our Home for the Holidays self-guided drive through light experience! Featuring a record number of twinkling Christmas lights, these festive displays are sure to add cheer to the season. Guests will take a journey in their vehicles through the story of Christmas and down to the Big Cedar property. Hot chocolate, walking s'mores pop, and twinkling souvenirs are available for purchase. Reservations are highly recommended as drive-up availability is not guaranteed.
Please note, we do not accept cash for payment for this activity. Check-in for the activity is at the Big Cedar entrance off of the roundabout.
Complimentary for Big Cedar & Wilderness Club Guests
November 10th-December 30th
$40/Cars & SUVs
$60 for Mini Bus
For expedited service, ensure your reservation QR code (sent in your confirmation email) is readily available to scan.
Holiday Tram Ride
Snuggle up, sit back, and relax on Big Cedar's twinkling tram tour through our newly expanded holiday light display! Take in the festive sights around Big Cedar Lodge on our unique tram rides while enjoying a complimentary hot chocolate or cider and a traveling s'more on a stick! Guests will be surrounded by the magic of Christmas while creating lasting memories with friends and family. Tram pick-up and drop-offs will be at Swimmin' Hole Lawn.
Due to the large volume of our Holiday Tram Rides, our trams must leave promptly at the scheduled times. To avoid missing departure time, please check in 20 minutes before your scheduled tram time.
$25/Overnight Guests | $30/Day Guests
Available November 10th through December
Start times: 6pm-9:40pm
Swimmin' Hole Lawn
Nature At Night on The Lost Canyon Cave & Nature Trail
Experience the Ozarks after dark at Top of the Rock and join us for a 2.5-mile journey through Nature at Night! Enjoy this unique light tour experience with awe-inspiring displays resembling historic Native American scenes along with traditional holiday vignettes. Sip on hot beverages and be surrounded by twinkling lights and a festive spirit while connecting to the great outdoors. Make this season one to remember and start a new family tradition at Nature at Night on the Lost Canyon Cave & Nature Trail!
Admission to Top of the Rock for Nature at Night requires a $15 Parking Fee (credit card only). Paid upon entry
Adult price range: $39-$44
Child prices start at: $19
Open November 3rd, 2023 – January 7th, 2024
For your safety weather may impact your tour, ice on the trail develops frequently during lower temperatures and may delay or cancel tours. Please check our website 2 hours prior to your tour time for updates. Cancelled tours will automatically be refunded to your credit card, please allow 5-7 business days to see that on your statement.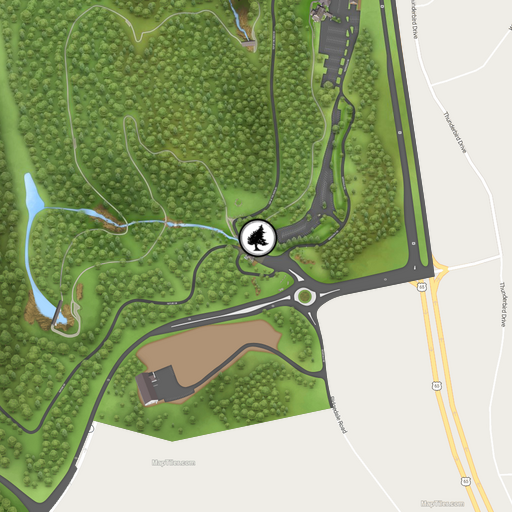 Christmas Light Tours
190 Top of the Rock Rd Ridgedale, MO 65739
Do I have to purchase tickets online?
We strongly recommend purchasing tickets online, in advance to guarantee your reservation. This also allows you to take advantage of the best pricing, saving up to *$20 a ticket!
All walk-up tickets will be an additional charge and cart times are not guaranteed.
*$20 saving is estimated max saving and is not guaranteed
I repurchased a Lost Canyon ticket already, can I use that for the Christmas tour?
Due to the uniqueness and pricing difference, a regular Lost Canyon Cave & Nature Trail ticket will not be accepted for admission to the Lost Canyon Christmas tour.
During the holiday season and while the Christmas tour is operating, standard Lost Canyon tickets will not be accepted as admission for the Christmas tour. You will have to purchase a Lost Canyon Christmas ticket specifically for the holiday experience.
Can I upgrade my regular Lost Canyon ticket for the Christmas tour?
If you have already purchased a Lost Canyon Cave & Nature Trail ticket and would like to exchange it for a Christmas tour ticket, you may do so. You may either cancel your original reservation and repurchase the Lost Canyon Christmas ticket, or if you arrive on the day of your original admission, you may pay the difference for the Christmas Tour.
Please note; walk-up tickets do not guarantee a time for your tour and walk-up rates are typically higher than our online in-advance rates. For best pricing and most accurate time, please consider purchasing online in-advance.
Is my reservation time guaranteed?
We will do our best to ensure your reservation time is met. However, due to the self-guided tour and dynamic nature of the tour, these times may vary.
Can I cancel or change my reservation?
Yes! You can change your reservation day or time, however if there is a price difference in the times you will be required to pay the difference. You may also cancel your reservation, however due to reservation-based tickets, tickets not cancelled within 48 hours of reservation date are non-refundable.
Is parking included?
To park at Top of the Rock you'll need to purchase the Daily Access Pass. After 5pm the pass will be $15 for cars and $50 for vehicles with 10 or more guests. Credit card only.
Can I still visit the Museum?
Yes! A ticket to Lost Canyon Christmas still includes a same-day admission to the Ancient Ozarks Natural History Museum as well! As per usual, this admission must be used on the same day as your reservation.
How long is the Lost Canyon Christmas tour?
This unique experience follows our 2.5 mile trail along the Lost Canyon Cave and Nature Trail. Over 12 one-of-kind lighted scenes will be on display highlighting the Ozarks rich history and Native American heritage. We estimate about an hour to an hour-and-a-half to complete the trail.
Can I get out and take pictures?
To ensure everyone's safety on the trail at night, guests will not be allowed to get out of their carts for photos. Our team will have a photo opportunity on the trail for guests to get out with one of our staff members available to take a group picture. A digital copy of this photo will be included with your ticket price.
When does Lost Canyon Christmas start?
The Lost Canyon Christmas tour will be opening November 5th! Lights will turn on at 5pm each evening and the Lost Canyon Cave & Nature Trail will become the Lost Canyon Christmas experience!
What happens if the weather conditions are poor?
For your safety weather may adversely impact your tour, in those cases your tour maybe delayed, rescheduled, or refunded.  Check topoftherock.com for weather related updates!
190 Top of the Rock Road, Ridgedale, Missouri 65739
(800) 225-6343
Mailing List