What To Know Before Going On A Mediterranean Cruise With Royal Caribbean
Mediterranean cruises are often an idyllic way to experience the marvels of Europe. Think of it as a European sampler; you get a tiny taste of each city before heading to your next destination. After hopping onboard Royal Caribbean's Enchantment of the Seas, we share the good, the bad, and the ugly of our Mediterranean Cruise with tons of great information for a first time cruiser.
How To Choose The Perfect Cruise Line For Your Mediterranean Cruise
There are various Mediterranean cruise itineraries, each focusing on different areas of the Mediterranean. Your perfect cruise depends on your budget and the cities and countries you want to see.
Budget is the most significant factor in determining which cruise line you will sail with. If traveling with children, look for a line offering a kid's club and activities. From there, you will want to evaluate the itineraries, finding ports of call that interest your traveling party.
PRO TIP: You spend less time onboard the ship on European cruises than on Caribbean cruises . Ships will dock early in the morning and then depart later in the evening, giving guests ample time to explore. Excursions are often 8-9 hours long, leaving you exhausted when you return to the ship.
After reviewing the many options, our family decided on Royal Caribbean's 7-night Western Mediterranean Cruise , which hit Venice, Rome, Naples, Florence/Pisa, Cannes, and Barcelona.
Enchantment Of The Seas Review
Enchantment of the Seas has a cult following, as many cruise fanatics love that the ship was cut in two and expanded back in 2005. Enchantment of Seas is one of the smaller ships in Royal Caribbean's fleet, which can accommodate around 2,700 passengers. The appeal of fewer people onboard is enticing compared to Royal Caribbean's bigger ships like Odyssey of the Seas, which can accommodate 5,510 passengers.
Don't expect all the bells and whistles you find on other Royal Caribbean ships. On the contrary, the ship sailed right out of the 90s with light pink interiors, oak trim, and whimsical spaces with exotic decor.
This vessel will not have water slides, an ice-skating rink, and a central park but rather a splash area on the pool deck, a jumbo screen needing repair, and a rock climbing wall.
Dining Onboard The Enchantment Of The Seas
Countless dining options are available onboard the Enchantment of the Seas. However, I strongly advise enjoying the local culinary creations and cuisine from the countries you are visiting. Have pasta in Rome, get crepes in France and paella in Spain. Remember, the best spots to snag local cuisine are often in the back alleys off the main tourist areas.
Pro Tip: You will choose your dining preference before sailing. For a European Cruise, I recommend the anytime dining or a later dining time , as many excursions arrive back at the ship until after the first seating. That way, if you didn't opt to eat at port, you can enjoy the fine dining offered onboard.
Dining Options
My Fair Lady Dining is the main dining room onboard the ship. It is two-tiered, offering traditional and anytime seating. Traditional dining is when you dine on the same day every day and have the same servers, while anytime dining provides more flexibility. For anytime dining , guests will have different servers and a possible wait during peak hours. Kids menus are available with classics such as mac-n-cheese, hamburgers, chicken tenders, and pizza.
For curious minds, my daughter insisted on bringing her bear Rose, to dinner with us one night. The staff made such a fuss over Rose she decided to come to all the meals and even dress up!
Guests seeking a more laid-back dining approach can venture to The Windjammer Cafe . Indulge in culinary creations from around the world, comfort foods, and delicious desserts at this popular buffet. The Windjammer is open for all three meals, but it can get overcrowded during peak hours for lunch and breakfast.
We often opted for a continental breakfast in our stateroom since many excursions had an early departure time. Not wanting to battle the breakfast buffet, it was often more enjoyable to sip our coffee and nibble on our croissants while getting ready in the morning.
Late-night dining is limited to the Park Cafe, which stays open late, offering fresh-baked pizza, sandwiches, and light bites.
Elevated dining options are available at Chops Grille or by reserving the Captain's Table for the ultimate dining experience. During our cruise, we did not opt for either of these options as they were an extra cost. With so many great dining options included, we allocated our money to different experiences.
Top Things To Do Onboard Enchantment of The Seas
Everyone vacations differently, so a cruise is a great option when traveling with groups. Download the Royal Caribbean app to see the daily activity schedule for the week. Take a stab at the daily trivia, attend an art auction, or try a fitness class. Options are endless, but here are a few things we thought were great activities you want to take advantage of.
Attend the Champagne Art Auction for a complimentary glass of champagne while having the option to bid on many of the lovely art pieces on display around the ship. Many of these pieces are beyond my budget, but I love watching the auction and seeing others win that prized work to add to their collection.
Rock Climbing At Night is an event where guests can scale the famous rock wall under the stars at the back of the ship. The Rock Wall is open periodically throughout the day during good weather if you cannot climb at night.
The Belly Flop Competition is one of the funniest pool games I have seen on a cruise. Guests compete for the best belly flop, which is a hoot!
Don't miss the Sail Away Party with Balloon Drop to kick start your cruise. Dance the evening away in the atrium with a fun balloon drop the kids will adore.
Catch a show in the Orpheum Theater . From magicians to musicals, there is always top-notch entertainment happening in the theater. Performances are twice a night to accommodate the dining schedules.
Enchantment of The Seas Kids Club Review
To put it shortly, it was a letdown. I was expecting a Royal Caribbean Cruise to have a top-notch kids club, and the one on Enchantment of the Seas was not that. My six-year-old daughter requested not to attend the kids club because it was boring .
After our most recent Disney Cruise , she fell in love with kids' clubs, but sadly, not all kids' clubs offer the same level of entertainment. She quickly realized that most of her time at this particular kids' club was spent coloring, playing one specific game with a ball, and watching movies.
Walk into the "arcade" across the hall for an even bigger disappointment . There are more arcade games at a small-town bowling alley than here. The arcade room is barely big enough for six people to fit comfortably and holds 4-5 games max.
She only went to the kids club three times during our cruise, each time hoping it would improve. After the third strike, she didn't want to try it anymore and gave up on it. More adult-focused activities were happening around the ship, so we often would take her to the pool, find live music, or hang out in our stateroom playing games.
Stateroom 7672 On Enchantment of Seas
Upgrading to a Junior Suite was an excellent option for more space to spread out, especially in the tight quarters of a cruise ship. However, I wish I had examined the deck plans more closely because our room was directly under the Spotlight Lounge. The Lounge had karaoke and music almost nightly till midnight. With it being so loud, you can practically sing along to all the songs.
Back in my youth, I would be down there belting it out with the best of them; however, with a child in tow, my late nights now consist of staying up till 9:00 pm. Bring earplugs if you are a light sleeper and go to bed early.
As with all older ships, the staterooms are dated. The oak trim and furniture are worn, but the room is sparkling clean. The crew members do a fabulous job keeping your stateroom clean and tidy. All room service trays are removed, and they will help you with any requests.
One other downside to this particular stateroom was the balcony. While the balcony is huge, there is one major issue: the soot from the smoke stack falls directly onto it . The smokestack is towards the back of the ship; therefore, your balcony will be covered with black rain depending on how the wind blows.
Portions of the balcony are covered, but it puts a damper on your experience, especially when you pay extra for a junior suite. As you know, I wasn't about to let a little soot keep me from enjoying those gorgeous balcony views, but it is important to note for anyone looking at rooms in the aft portion of the ship.
A perk of the Junior Suite is that there is a bathtub, and you get an Expresso machine in your room!
Royal Caribbean's 7-Night Western Mediterranean Cruise
Day 1-Ravenna-Venice
Day 2-Koper-Slovenia
Day 3-Sea Day
Day 4-Naples-Italy
Day 5-Civitavecchia- Rome, Italy
Day 6-Livorno-Florence/Pisa
Day 7-Cannes, France
Day 8-Barcelona, Spain
Day 1- Getting To Your Ship
When looking at the cruise itinerary, it indicated that our cruise left from Venice. You will want to dig deeper to see which cruise terminal you sail from. Since Venice no longer allows large cruise ships to come down the Grand Canal, you may not be leaving from Venice proper but rather another cruise port hours away.
If your port is Ravenna, it is three hours from the Airport in Venice Marco Polo . That means a few things:
You will need to schedule a transfer to get to the port. Royal Caribbean offers transfers, but you must book them in advance. They typically leave from the airport around 11 am-12:30 pm on the day of your cruise.
If your plane arrives in Venice the day your cruise departs, you will not see Venice. Time will not be on your side to see the city and catch a three-hour transfer. Navigating the airport to historic Venice will take about an hour, and that is with a vapperato (private boat taxi).
We arrived in Venice a few days early to see the city, then booked a vapperato back to the airport the morning of our cruise to catch the transfer.
Consider taking the train from Venice to Ravenna or booking a private transfer if you need help getting on the transfer through Royal Caribbean.
If you want a beautiful hotel in Venice, consider the Hilton Venice . While this hotel has many perks, including a gorgeous rooftop bar overlooking the Grand Canal, the most significant amenity is the complimentary water taxi across the Grand Canal to three popular spots. This eliminates the need to navigate public water taxis or hire a vapperato each time.
Pro Tip: I recommend taking it at dusk if you plan a gondola ride. A whimsical magic falls over the canals as the setting sun sets the sky ablaze in colors.
Day 2- Koper, Slovenia
The Port of Koper drops travelers right into the heart of their old town without needing a transfer. The port is 300 meters from the main town square with its cathedral, cafes, restaurants, and tourist attractions. This unique port of call was offered on the 7-night Western Mediterranean Cruise With Royal Caribbean.
Each port of call offers a variety of shore excursions you can book through the ship or another travel company. Many tourists will even put together custom shore excursions.
Pro Tip: We always recommend that you check with whatever company you are working with to ensure they will have you back on the ship in time. When planning your own, ensure you have a backup plan if something was to happen.
For Example: If visiting Croatia, you may opt to explore the real Croatia by cruises or take a self-guided walking tour of the city.
We booked the Postojna Cave Tour , which was beautiful. The Postojna Caves are Europe's largest caves, offering guests a train ride through the cave system with an hour-long walking tour. Wear long pants and bring a jacket as the caves get cold, regardless of the weather outside.
Day 3- At Sea
Day 4- naples, italy.
Mount Vesuvius looms as you pull into port, an eerie reminder of the tragedy that occurred at the legendary city of Pompeii hundreds of years ago. With the island of Capri in the distance and the lure of a day trip to stunning Positano, cruise passengers have the difficult decision about what sites they want to see during their brief stent in port.
Naples offers many iconic landmarks and awe-inspiring landscapes that are impossible to do in a day. Guests will often have to choose between exploring the sparkling Almafi Coast, seeing the ancient ruins of Pompeii, or taking in the sites of downtown Naples.
The cruise terminal puts guests into the heart of Naples. Downloading a self-guided walking tour to see the city on foot from the cruise terminal is easy. Many tours are available through the ship to see as many sites as possible, but the reality is you will get a taste of each one.
It is easy to fall into the trap of trying to see as much as possible and then leave exhausted. Take it firsthand from me, who passed out in the streets of Naples from heat stroke trying to get in the final sites.
If you do the Almafi Coast, focus your time on Sorrento and Positano; if you are sailing to Capri, spend the whole day on the island; if you want to do Pompeii, plan on spending a few hours there, then hit a few sites in downtown Naples after your tour.
Day 5-Civitavecchia- Rome, Italy
One of the most important things to note about this port is that it will take an hour and a half to get from Civitavecchia to Rome. Therefore, looking at shore excursions, you will want to factor in a three-hour round-trip drive time. Many will make a note of it in the description.
Here are a few tips for doing Rome in under 8 hours:
Consider doing the hop-on, hop-off bus tour . The tour will take you to all the major sites in the city.
Purchase tickets or skip-the-line passes for any major attraction months in advance if not included in your tour. This includes the Colosseum, the Vatican Museums, the Sistine Chapel, and Saint Peter's Basilica.
There is a train that will take travelers from Civitavecchia to Rome.
If you miss your bus, expect to pay top dollar for a private taxi from Rome to the ship.
Don't forget the coins to throw into the Trevi Fountain !
Historic sites are always best seen with a tour guide. They bring out so many unique features and stories that would have been missed.
The best restaurants are never around popular tourist attractions. You should not spend $22 for pasta in Rome. Often, if you walk a short distance from the hustle and bustle of the main streets, you will find phenomenal little eateries for a fraction of the cost.
As will all major cities, watch out for pickpockets , and don't let a stranger take your family photo. They could easily run off with your phone.
While Rome is usually very busy, remember that the more ships in port will mean popular attractions will be even more crowded. Three ships in port could mean an additional 10,000 tourists visiting the city during the same hours you are. Try visiting lesser-known attractions such as the Temple of Hercules Victor and Tempio di Portuno.
Day 6-Livorno-Florence/Pisa
Livorno is an hour away from Florence and 45 minutes away from Pisa . Many shore excursions include visits to both Pisa and Florence, while others will whisk travelers off to the Tuscan countryside.
We opted for a budget-friendly transfer through Viator to take us to Florence, Pisa, and back to the ship. The guide on the bus offered an hour-long walking tour of Florence for $10 Euro per adult once we arrived, which was worth every penny.
A Few Tips For Visiting Florence/ Pisa
While the Leaning Tower Of Pisa is on many bucket lists, you will only want to spend some of your time at Pisa. The "Square of Miracles " contains the Pisa Cathedral, the baptistery, and the Leaning Tower, all surrounded by a sea of touristy shops and restaurants.
Guests can go up in the Leaning Tower but must purchase tickets in advance.
Purchase tickets or skip-the-line passes for any major attraction months in advance if not included in your tour. This includes the Uffizi Gallery, Accademia Gallery, Florence Duomo, and other famous museums.
Visit the Officina Profumo, which has been in the perfume business since 1221!
Make a reservation at Osteria Pastella for an incredible meal! Get the Cacio e Pepe.
Find one of Florence's wine windows.
As with most European cities, bring good walking shoes.
Day 7-Cannes, France
The jaw-dropping French Riviera is a desired port of call. The sun-drenched beaches paired with the majestic mountains are captivating. When the city is not abuzz with the Cannes Film Festival , travelers will find themselves strolling the historic Old Town, window shopping along the promenade, before posing on the red carpet at Cannes Palais des Festivals et des Congrè.
Cruise ships must use a tender to bring guests to shore, so ensure you allocate enough time to wait for a tender. Pre-planned shore excursions will utilize the tenders first; then, it will be open boarding for the rest of the guests.
One of the downsides of a Mediterranean Cruise With Royal Caribbean is that there are some ports you only get to spend a little bit of time in. For instance, all aboard was at 2 pm in Cannes. If only having one full day feels rushed, try only a few hours in a city.
Day 8-Barcelona, Spain
Our Mediterranean Cruise With Royal Caribbean came to an end in Barcelona . We opted to stay a few extra days to explore the city, which I highly recommend. Stay at the Renaissance Barcelona Hotel . It is centrally located downtown near the major attractions, restaurants, and shops. The hotel was gorgeous, and the rooftop bar stole the show with sweeping views of the city, including the Sagrada Familia.
We arranged a private transfer to take us from the ship to the hotel and the airport. Barcelona is a very walkable city, but to see some sites, such as Park Guell, you will likely want to take a taxi or do one of the Hop-On, Hop-Off bus tours.
A Few Tips For Visiting Barcelona
Don't wait until the last minute to secure tickets for all Gaudi's sites . We were lucky to be able to book Park Guell and Casa Mila two days before arriving, but the Sagrada Familia was sold out.
Tapas and pinchos, or "spikes," are small bites that are a must in Spain.
The Hop On/ Hop Off Bus is a great way to see the city. However, the loop is roughly 2 hours,, so plan your day accordingly if you have timed tickets.
In Spain, dinner is a lighter meal, typically eaten between 9 and 10 pm during the week and even later on the weekend.
My Must Have Items For A European Cruise
Take advantage of these must-have items for your next European Cruise .
A crossbody bag with a zipper. These bags are going to be your first line of defense against pickpockets.
If visiting during warm weather, investing in a sun umbrella is wise. In July, this was one item we used daily.
Another must-have during summer months is a portable misting fan .
Liquid IV is always a great item to keep with you, especially in the summer.
Many churches require guests to have their shoulders and knees covered to enter. Bring a shawl or sweater.
Bring a good pair of walking shoes or sneakers.
One formal night outfit.
Bring medications , such as Ibuprofen, Pepto, Benadryl, Sudafed, Imodium, etc. Many items on the ship may not be readily available to you or require you to see the ship's medic to get them. I also recommend bringing a first aid kit .
A Mediterranean Cruise With Royal Caribbean is one of the best cruises to see a lot Europe in a short amount of time. However, if you are traveling with young kids, you may want to take a closer look at Disney Cruise Lines. We had a great experience on Enchantment of The Seas but often wished that there was more to do for kids 5-10 years old.
We are already looking at our next Mediterranean Cruise, hoping to go to the Greek Islands or the Holy Land. Would we sail Royal Caribbean again? Absolutely!
Did you enjoy our cruise review? Be sure to check out these related articles.
The Ultimate Disney Cruise Packing List
10 Reasons To Book Your Next Cruise With A Travel Advisor
I Took My Two-Year-Old On A Disney Cruise
Save this post for later
Mediterranean Cruise With Royal Caribbean
You May Also Like
10 Reasons Why You Should Book Your Cruise With A Travel Advisor
The Ultimate Packing List For 7 Day Cruise In The Caribbean
I Took My Two Year Old On A Disney Cruise And It Was Amazing!
One comment, leave a reply cancel reply.
You must be logged in to post a comment.
Royal Caribbean International
Courtesy of Royal Caribbean International
Find a Cruise on Royal Caribbean International
with a cruise advisor
Cruising with Royal Caribbean
Despite its name, Royal Caribbean International offers voyages to more than 270 destinations across 61 countries on all seven continents. While you can certainly sail to the Caribbean and Mexico , you can also board a ship to Alaska , navigate the waterways of Europe or ride the waves down under to Australia and New Zealand .
Depending on which itinerary you choose, you can taste local fare, tag along on a sightseeing tour or explore the underwater world on a snorkeling outing – all of which are offered as shore excursions. Royal Caribbean ships depart from ports all over the United States, including Seattle , Boston and Fort Lauderdale, Florida , as well as from numerous international ports. Typical itineraries range from two to 28 nights, though for those looking to see it all, the cruise line offers The Ultimate World Cruise, an extensive trip spanning 274 nights and all seven continents.
The company's fleet of 28 ships (with two more on the way) is just as varied as its list of destinations. Smaller vessels like the Rhapsody of the Seas (which can accommodate about 2,400 guests) sail alongside floating mini-metropolises like Allure of the Seas and Oasis of the Seas , which can carry more than 6,700 cruisers each (Icon of the Seas holds up to 7,600!). Plus, every ship carries approximately one crew member per every three passengers. No matter which ship you're on, you'll find a variety of eateries and activities for every age group, including kids entertainment programs and adults-only pool areas.
Pros & Cons
Numerous ships and destinations to choose from
Onboard amenities cater to cruisers of all ages
Wide variety of onboard dining options, including specialty dining packages
Some beverages cost extra
High-capacity ships may feel crowded, especially around the holidays
Shore excursions are not covered in cruise rates
Expert Rating » 3.9
Traveler Rating » 4.2
Health Rating » 4.7
Royal Caribbean International has been ranked based on an expert evaluation of the line's level of luxury, as well as an assessment of user reviews and health ratings.
# 2 in Best Cruise Lines for Families
# 4 in Best Cruise Lines for the Money
# 4 in Best Cruise Lines in the Caribbean
# 5 in Best Cruise Lines in the Mediterranean
Explore Photos
Royal Caribbean International Ships
Odyssey of the Seas
Symphony of the Seas
Wonder of the Seas
Allure of the Seas
Harmony of the Seas
Adventure of the Seas
Mariner of the Seas
Oasis of the Seas
Anthem of the Seas
Ovation of the Seas
Vision of the Seas
Navigator of the Seas
Voyager of the Seas
Rhapsody of the Seas
Freedom of the Seas
Liberty of the Seas
Radiance of the Seas
Independence of the Seas
Brilliance of the Seas
Grandeur of the Seas
Quantum of the Seas
Explorer of the Seas
Serenade of the Seas
Jewel of the Seas
Enchantment of the Seas
Before You Book
Children younger than 6 months are not allowed on Royal Caribbean cruises, and some itineraries require guests to be at least 12 months old to sail. Individuals must be 21 years or older to sail unaccompanied from North America and 18 for cruises departing from South America, Asia, Europe, Australia and New Zealand.
Pregnant women who will reach 23 weeks at any time during the cruise will not be able to sail.
Fares must be paid in full at least 75 days prior to departure for one- to four-night trips and 90 days prior to departure for itineraries lasting five nights or longer.
You can cancel your cruise for a full refund (minus nonrefundable deposits) 75 days prior to departure for one- to four-night cruises, or 90 days prior departure for cruises of five nights or longer. If you miss those deadlines, cancellation penalties vary.
You can avoid cancellation fees by purchasing the Royal Caribbean Travel Protection Program .
Royal Caribbean's AIR2SEA program guarantees you'll pay the lowest airfare for flights to and from your departure port.
Before You Board
Royal Caribbean requests you check in for your cruise no later than three days prior to departure. The company recommends checking in through its app for a smoother check-in process, though you may also do so on the Royal Caribbean website . All guests must be checked in and on board no later than 90 minutes prior to scheduled departure time. Passengers who arrive later than that will not be permitted to sail.
For trips that begin and end at the same port in the United States, you can show a government-issued photo ID (such as a driver's license) and a government-issued birth certificate or naturalization certificate. For international trips, you must show a passport that is valid for six months after you return from your trip and ensure you have obtained all necessary visas. Visit the U.S. State Department website for more information on visa requirements.
You must ensure that you are physically fit for cruise travel. The World Health Organization provides a list of vaccines needed on a country-by-country basis. Royal Caribbean also requires that you bring any necessary inoculation records with you.
Shore excursions, meals at specialty restaurants and certain onboard fitness classes, spa treatments and entertainment offerings should be booked as early as possible prior to departure to ensure maximum availability (and the best prices). Book using Royal Caribbean's Cruise Planner .
Disclaimers about ship ratings: A ship's Health Rating is based on vessel inspection scores published by the Centers for Disease Control and Prevention (CDC). If a ship did not receive a CDC score within 22 months prior to the calculation of its Overall Rating, its Health Rating appears as N/A; in such a case, the ship's Overall Rating is calculated using the average Health Rating of all CDC-rated ships within the cruise line. All ship Traveler Ratings are based on ratings provided under license by Cruiseline.com.
You Might Also Like
Carnival Cruise Line
Disney Cruise Line
Norwegian Cruise Line
If you make a purchase from our site, we may earn a commission. This does not affect the quality or independence of our editorial content.
Best Mediterranean cruises in 2024 and 2025 for every type of traveler
The Mediterranean region has it all — amazing food and wine, famous historical and cultural landmarks, scenic seaside towns and gorgeous island beaches.
You'd be hard-pressed to sample Spain , France , Italy and Greece on one land tour without transportation nightmares. A Mediterranean cruise, however, is the perfect way to get a taste of many coastal countries with ease as you transit between destinations while you sleep aboard your ship.
Whether they operate tiny ships with a few hundred passengers or giant megaships with several thousand people, most cruise lines have ships summering in the Mediterranean. Some even sail the region year-round.
Most Mediterranean cruises focus on one region (usually the eastern or western halves of the coastline), though longer itineraries might encompass more. While choosing a ship is important, so is picking which route to take and which countries you want to see.
Consider what's on your bucket list. Cruise lines offer a variety of options, making it possible for culture vultures, beach lovers, history buffs and family travelers to prioritize different ports of call and onboard amenities.
Here are some of the best Mediterranean cruises departing in 2024 and 2025 to whet your appetite for a European adventure by sea.
For more cruise guides, news, reviews and tips, sign up for TPG's cruise newsletter .
Best cruise for romantics: Windstar Cruises in the rivieras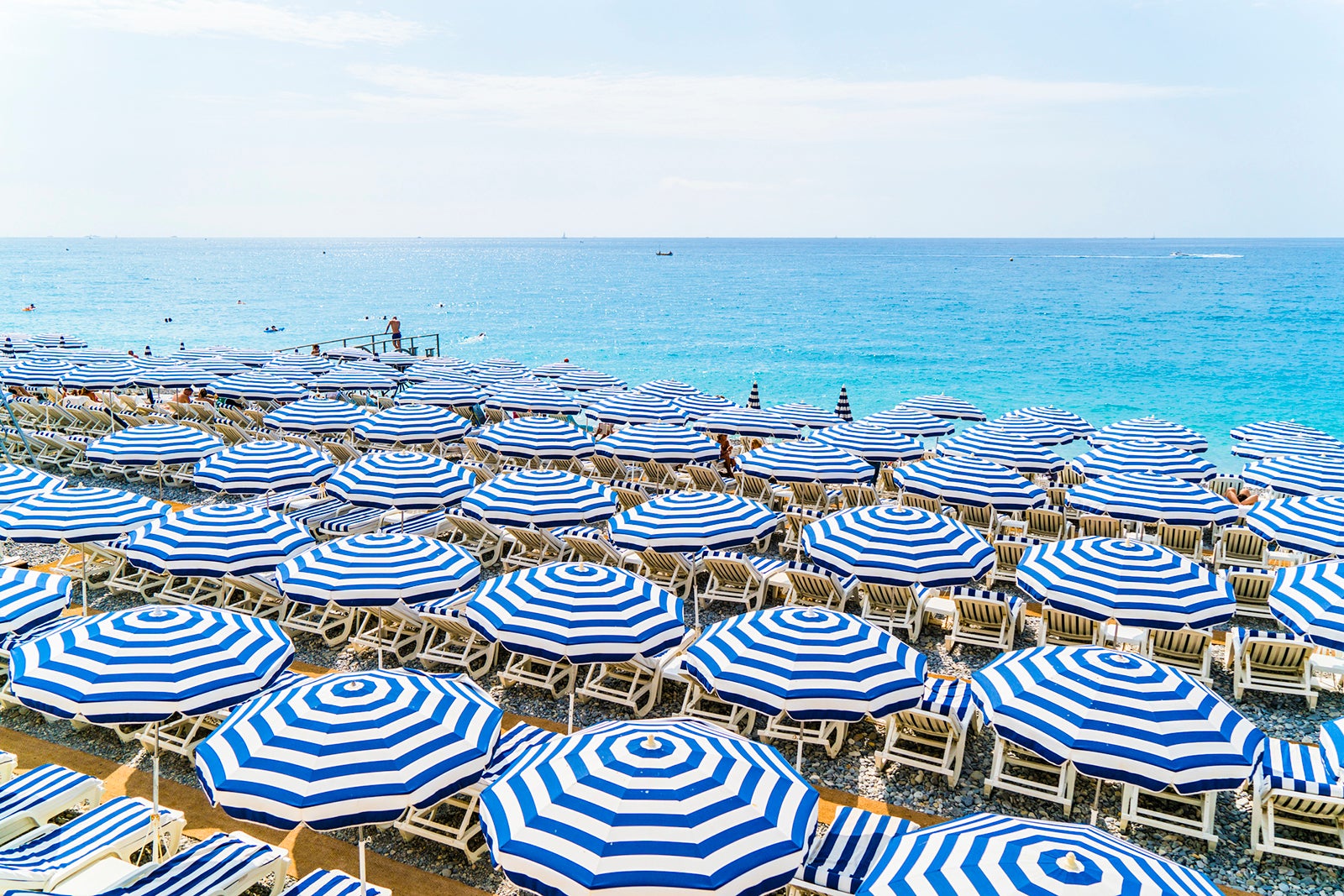 For romance seekers, few experiences beat a cruise that lingers along the French and Italian rivieras. France's Cote d'Azur, with its coastal mountains and azure sea, has inspired artists and romantics for centuries. The equally stunning Italian coast is perfect for romantic strolls around secluded harbors or an indulgent, delectable lunch at a table for two overlooking the sea.
Another popular port of call on Riviera itineraries is Monaco, where you might visit the royal palace of the Grimaldi family and stop by the glamorous Monte Carlo Casino to pretend you are James Bond enjoying a night on the town.
Related: Western Mediterranean vs. Eastern Mediterranean cruises: Which itinerary will I like more?
You'll find these cruises on small and luxury ships, but our pick for romance is Windstar Cruises ' seven-night "Yachtsman's Harbors of the Rivieras" sailing between Rome and Barcelona (or vice versa) on multiple spring, summer and fall dates in 2024 and 2025.
The five-masted Wind Surf is as picture-perfect as the ports you'll visit, and the 342-passenger ship can follow all the luxury yachts into smaller harbors and off-the-beaten-track destinations. Your onboard meals, with many dishes created by James Beard-affiliated chefs, might even rival the fresh Mediterranean cuisine you'll find in port.
Ports of call may vary by sail date but can include Port-Vendres, Sanary-sur-Mer and Cannes, France; Monte Carlo, Monaco; and Portofino and Portoferraio, Italy. For the ultimate Riviera experience, book one of Windstar's Prix du Monde sailings with exclusive access to the Formula One racing events.
Best cruise for budget-conscious travelers: Celestyal Cruises in the Greek isles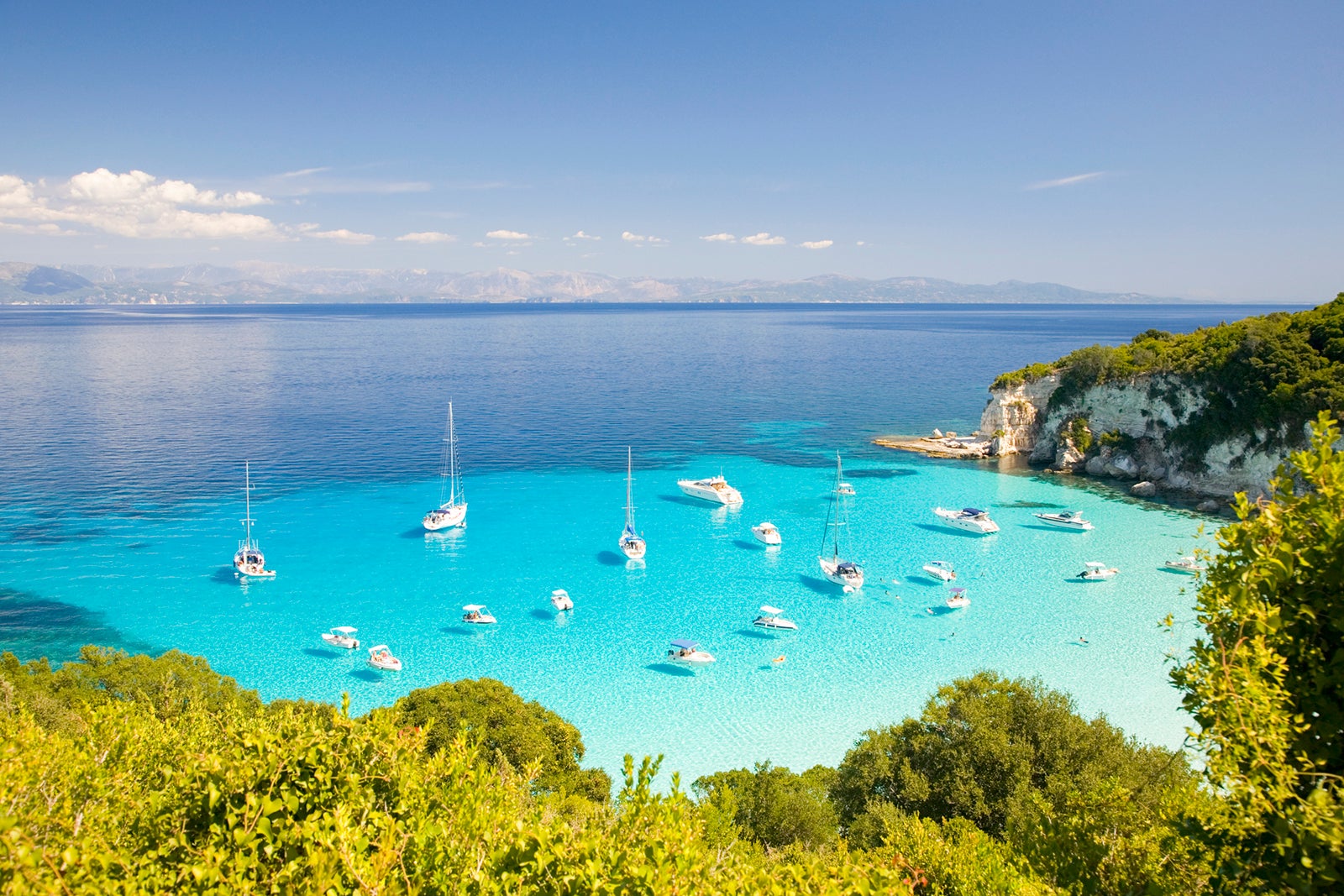 Visiting the Greek islands is a magical experience. Lessons in ancient history and the development of Western civilization come to life surrounded by astounding natural beauty.
Your jaw might drop as your ship navigates the sunken caldera that leads to Santorini, where whitewashed villages dot the tops of steep cliffs. In Mykonos, you can head to one of the island's famous beaches or catch a ferry to explore the ancient ruins of Delos, known as the birthplace of Apollo. Budget-conscious travelers can skip the tours and stroll the narrow streets and city walls of the Old Town of Rhodes.
Related: Best Mediterranean cruise tips to enhance your European vacation
For less pricey ways to see the Greek isles, consider Celestyal Cruises , which sails three- and four-night mini cruises in addition to affordable one-week sailings. A four-night cruise packs a lot into a short sailing with visits to Mykonos, Patmos, Rhodes, Heraklion and Santorini, as well as Kusadasi, Turkey. Don't forget to spend time in Athens, Greece, before or after your cruise.
Celestyal's two ships carry between 1,200 and 1,700 passengers, so you'll enjoy all the amenities of a large cruise ship, such as multiple pools, restaurants and bars, and spa and fitness facilities, but you won't be inundated with many thousands of fellow cruisers.
Best cruise for history lovers: Viking in the Eastern Mediterranean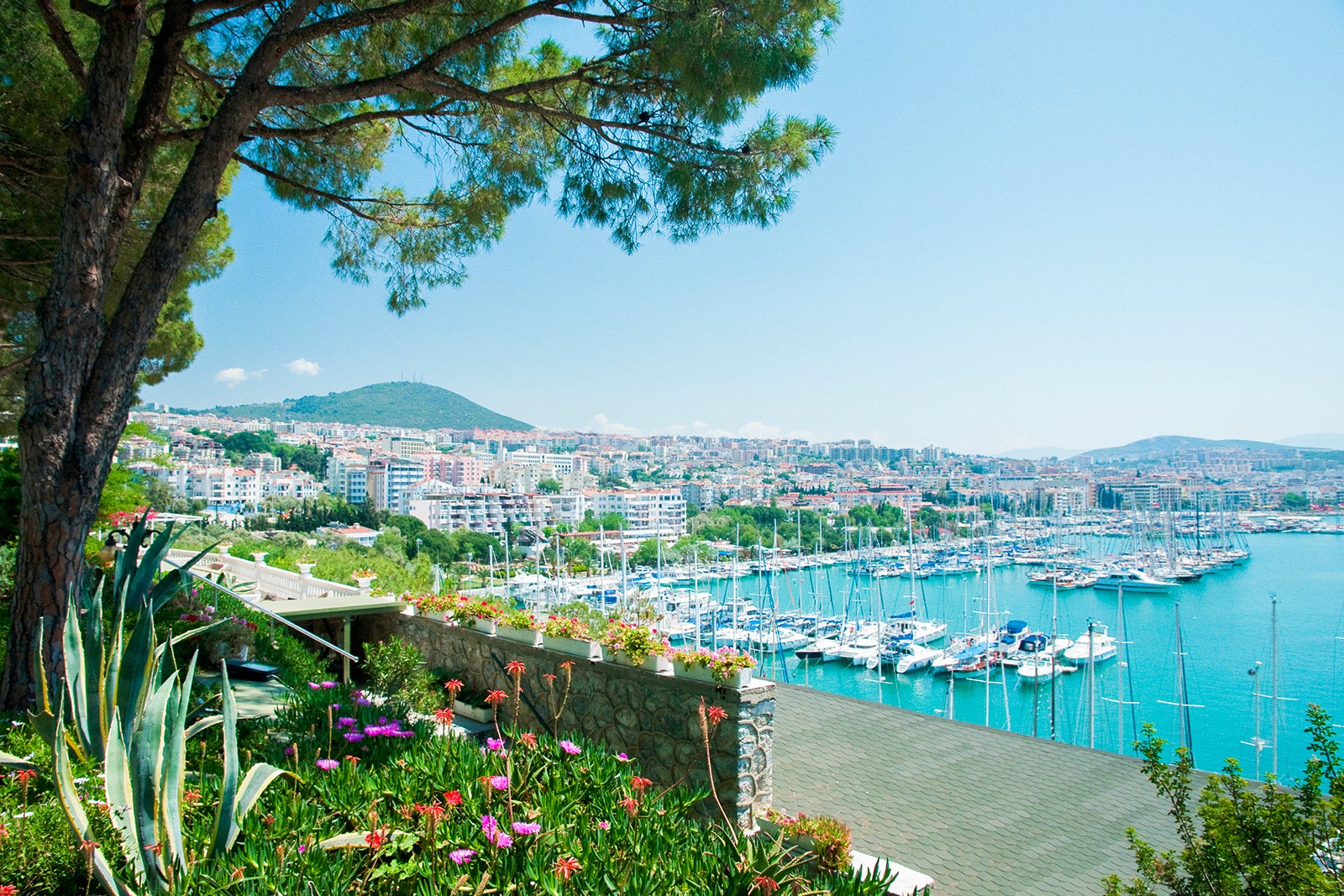 Eastern Mediterranean cruises of a week or more immerse you in multiple ancient civilizations and take you to the historical places you have traveled to see, including several UNESCO World Heritage sites.
Extraordinary itineraries visit Athens to climb the Acropolis; Istanbul to explore the Blue Mosque and the Topkapi Palace; and the impressive ancient city of Ephesus (accessible from the port of Kusadasi, Turkey) and sites associated with the Virgin Mary. In Dubrovnik, Croatia's medieval Old Town (a filming location for HBO's "Game of Thrones") will wow you; from Naples, Italy, you can explore the ancient city of Pompeii.
Cruises that start or end in Rome will treat you to such sights as the Roman Colosseum and the Vatican museums.
Related: Best Mediterranean cruise shore excursions
True history lovers will not be satisfied with only a week in this rich landscape. Choose Viking for your Eastern Mediterranean cruise, and look for longer itineraries, such as the 15-day "Ancient Mediterranean Antiquities" sailings throughout 2024. The one-way sailing between Rome and Istanbul hits most of the ancient civilization highlights: Naples and Sicily, Italy; Rhodes, Crete and Athens, Greece; and Ephesus, Troy and Istanbul, Turkey.
Viking also offers complimentary shore excursions in every port, so you have access to knowledgeable guides who can explain the historical sites you're touring. On board, you'll find a comfortable home base on Viking's 930-passenger identical ships, with multiple included dining venues, inviting lounges done in Scandinavian-inspired decor and comfortable cabins with thoughtful details, such as quiet-closing drawers and heated bathroom floors.
Best cruise for explorers: Celebrity Cruises in the Holy Land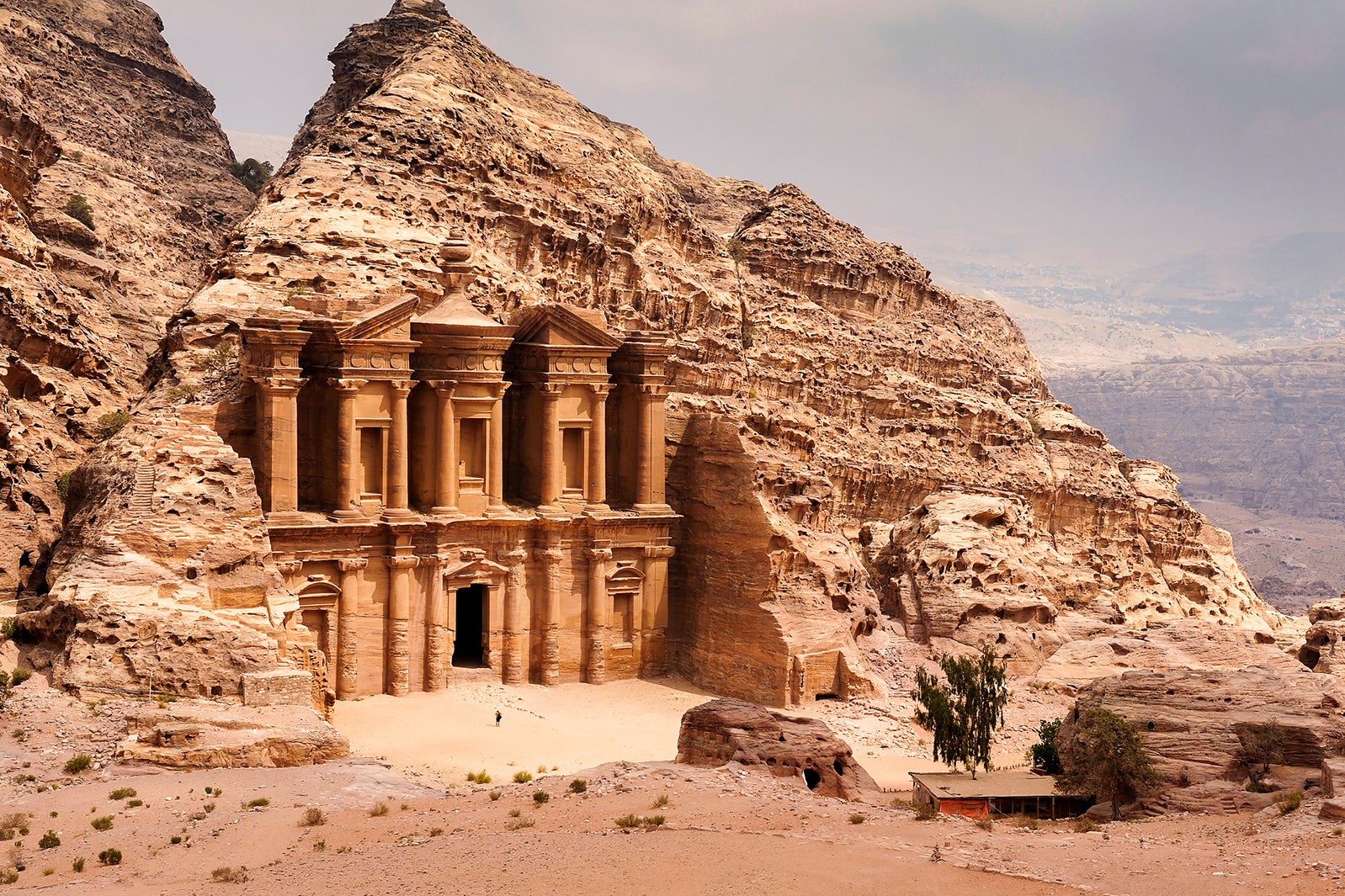 Travelers who really want to double down on the ancient civilizations should look for longer Eastern Mediterranean cruises that combine Greece, Turkey and Italy with port calls in Egypt, Jordan and Israel. Depending on the specific Holy Land itinerary, you might see Cairo and the pyramids of Giza, Jordan's ancient rose-hewed rock city of Petra and biblical locations in and around Jerusalem.
Celebrity Cruises is a terrific choice for your Holy Land cruise, as the company offers 10- and 11-night Egypt and Israel sailings in winter and spring 2024. A 10-night, round-trip Athens cruise visits Haifa and Ashdod, Israel (for Jerusalem) and Alexandria, Egypt, with overnights in each port except Haifa. The extra time in port allows for overnight tours, so you can venture farther into each country to see all the key sites. The 11-night version adds a stop in Kusadasi, Turkey, for a visit to Ephesus.
Celebrity's ships are known for their foodie culture, with multiple specialty restaurants, as well as a happening bar scene (do not miss the martini flights). With a range of rooms, from windowless inside cabins to comfortable suites, you can tour the Holy Land at any price point.
Best cruise for culture vultures: Norwegian Cruise Line in the Western Mediterranean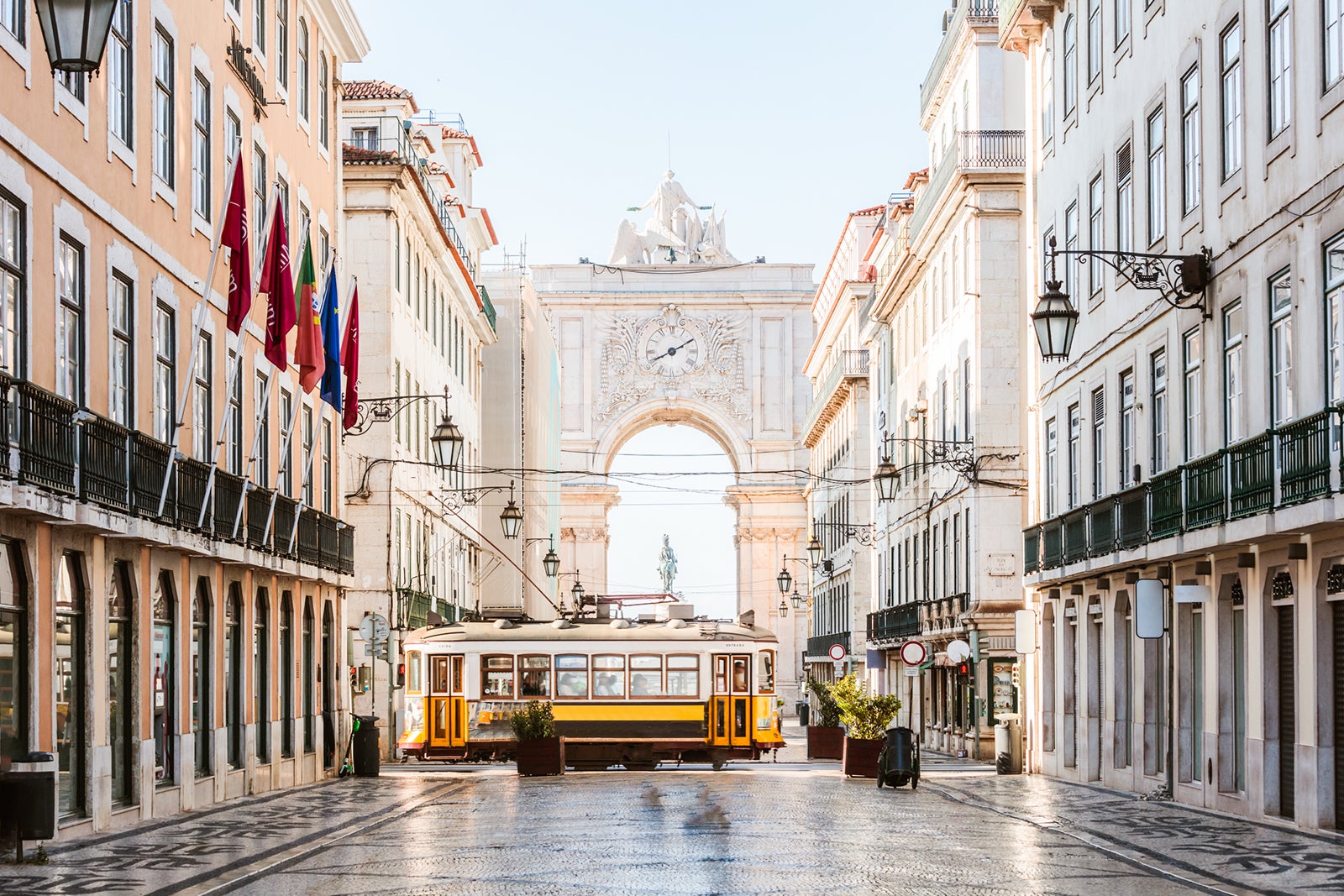 For foodies, fashionistas and art lovers, it's hard to top a Western Mediterranean cruise to the renowned resort towns and famed coastal cities of Italy, France, Monaco and Spain.
This is your opportunity to see Antoni Gaudí's fantastical church and other creations in Barcelona; visit Michelangelo's David sculpture and other Renaissance treasures in Florence, Italy; hang out at the casino in Monte Carlo; and stop in dreamy Nice, France, for its Matisse and Chagall museums.
You can shop for Italian, French and Spanish designer fashion when you're not dining on the best Italian pasta and gelato you've ever tasted — or bouillabaisse and escargot in France, or paella and tapas in Spain. All are accompanied by local wines, of course.
Related: How I skipped the cruise ship tour in Italy and had a better, cheaper adventure on my own
Norwegian Cruise Line offers a variety of Western Mediterranean cruises to key ports in Spain, Italy and France. The line's newest ship, Norwegian Viva, sails the Med in the spring, summer and fall of 2024 and 2025. Its nine- to 11-night cruises call on a variety of major ports. For example, an 11-night cruise on select dates in 2024 sails from Rome to Lisbon, Portugal, and visits Livorno, Italy (for Florence and Pisa); Villefranche-sur-Mer (for Nice and Monaco) and Marseille, France; Barcelona, Palma de Mallorca, Ibiza, Motril and Cadiz, Spain (for Seville); and Gibraltar in the United Kingdom.
It's a shame that the itinerary has no sea days because the ship offers plenty to keep cruisers busy on board. There's a wealth of dining options, from the Italian cuisine-serving Onda by Scarpetta to a trendy food hall, plus a go-kart track, multistory twisty slides and a bar serving sustainable craft cocktails.
Best cruise for families: Royal Caribbean in the Mediterranean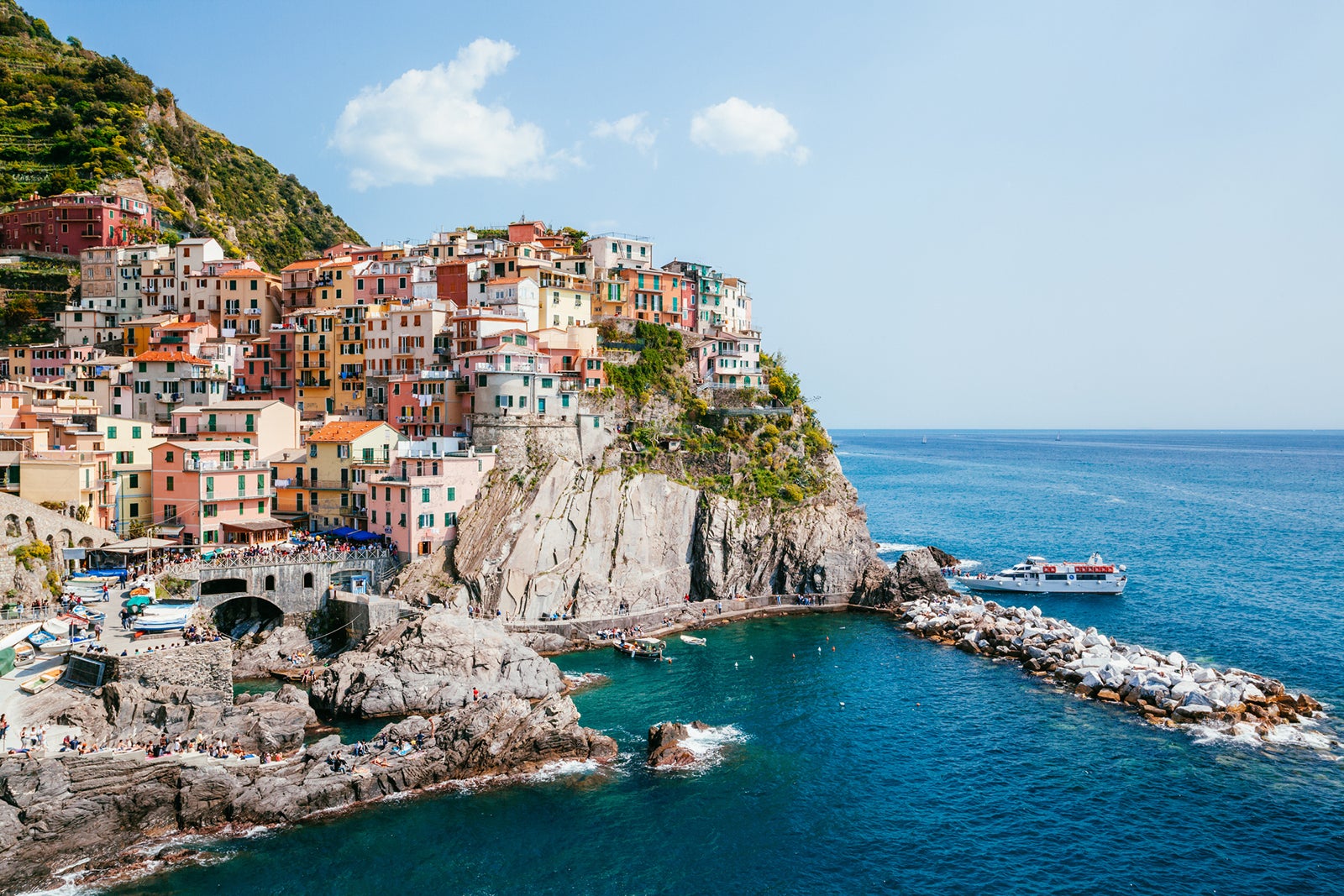 When looking at a cruise with children , you want to mix time exploring on land with playtime on the ship, whether in the kids club or with such attractions as video arcades and waterslides. Look for an itinerary that includes one or more fun-filled days at sea.
Kids will enjoy such sights as the Roman Colosseum, where they might pretend that they are gladiators; the flower market in Nice, France; and the Leaning Tower of Pisa (on a shore excursion from Livorno, Italy). Take them to the beach in the Greek Isles and eat pizza in Naples, Italy. If you can find a cruise that includes the Italian seaside villages of Cinque Terre (accessible from Genoa, Livorno and Portofino), fans of Disney's animated feature "Luca" will be ecstatic.
Family favorite Royal Caribbean has a variety of ships and itineraries sailing around Europe, but a top option is a seven-night Western Mediterranean cruise aboard Oasis of the Seas. The round-trip itinerary departs from Rome. Additional ports of call include Naples and La Spezia, Italy (for Florence); Palma de Mallorca, Spain; and Marseille, France. Sailings depart beginning May 2024.
Related: The 6 classes of Royal Caribbean cruise ships, explained
Family-friendly entertainment on board is plentiful. On sea days, you'll have access to three main pool areas, a kiddie splash zone, surfing simulators, a miniature golf course and even a zip line.
Planning a cruise? Start with these stories:
The 5 most desirable cabin locations on any cruise ship
A beginner's guide to picking a cruise line
The 8 worst cabin locations on any cruise ship
A quick guide to the most popular cruise lines
21 tips and tricks that will make your cruise go smoothly
15 ways cruisers waste money
15 best cruises for people who never want to grow up
The ultimate guide to what to pack for a cruise
Need help? 1-888-751-7804 1-888-751-7804
Let Us Call You CALL ME
Drink Packages
Shore Excursions
Manage Reservation
Upgrade with MoveUp
Already booked? Sign in or create an account
South Korea
New Zealand
Grand Cayman
St. Maarten
U.S Virgin Islands
New England & Canada
Pacific Coast
Antarctic Ocean
Panama Canal
Transatlantic
Transpacific
Cruise Ports (+300)
Mediterranean
Perfect Day at CocoCay
All Inclusive
Bucket List Cruises
Cruise & Land Package
Groups & Events
New Cruises
Popular Cruises
Specialty Cruises
Destination Highlights
Group Excursions
Private Journeys
Shore Excursions Overview
Small Group Discoveries
360° Virtual Tours
Celebrity Apex® NEW
Celebrity Ascent℠ COMING SOON
Celebrity Beyond℠ NEW
Celebrity Constellation®
Celebrity Edge®
Celebrity Eclipse®
Celebrity Equinox®
Celebrity Infinity®
Celebrity Millennium®
Celebrity Reflection®
Celebrity Silhouette®
Celebrity Solstice®
Celebrity Summit®
Explore Edge Series
Galapagos Expedition Series
Celebrity Flora®
Celebrity Xpedition®
Celebrity Xploration®
The Retreat
All Suites. All Included
Iconic Suite
Penthouse Suite
Reflection Suite
Royal Suite
Signature Suite
Celebrity Suite
Aqua Sky Suite
Horizon Suite
Concierge Class
Eat & Drink
Entertainment
Spa & Wellness
Cruising 101
Cruise Fare Options
Cruise Tips
First Time on a Cruise
What is Included on a Cruise
Future Cruise Vacations
Accesible Cruising
Manage Cruise
Healthy at Sea
Travel Documents
Royal Caribbean International
Celebrity Cruises
40% Off Every Guest + Savings Bonus
3rd and 4th Guests Sail Free
Alaska Cruisetour Savings
Exciting Deals
View All Offers
All Included
Cruise & Land Packages
Dining Packages
Photo Packages
Wi-Fi Packages
View All Packages
Captain's Club
Celebrity Points
Loyalty Exclusive Offers
Everyone saves 40% on every sailing and receives an added savings bonus of up to $200 per stateroom. Plus, on select sailings, 3rd and 4th guests sail for free.
Mediterranean Cruises
Tabs view cruises.
Discover the Timeless Beauty & Culture of the Old World
With history spanning thousands of years, glamorous ports, and dazzling scenery, a Mediterranean cruise is the perfect vacation—and there's no better way to experience cruises to the Mediterranean than with Celebrity. Bask on the beach in Mykonos one day and watch a fiery sunset over Santorini the next. Sip a cappuccino in glorious Taormina while gazing at snow-capped Mount Etna in the distance, or dig into tapas in a sunlit square in Barcelona. Let us show you Europe's most beautiful places in style on a luxury cruise to the Mediterranean with Celebrity.
Featured Mediterranean Cruises
Italy cruises.
Whether you dream of exploring the glorious Amalfi Coast or marveling at the ancient sites of Rome, Celebrity has the perfect cruise to Italy, with itineraries ranging from 7 to 12 nights. 
View Sample Itinerary Map
Greece Cruises
Cruises to Greece visit the very best of the islands and cosmopolitan cities on the mainland, including Athens and historic Thessaloniki. Each port bursts with character, from Santorini to Zakynthos, and Mykonos. 
Spain Cruises
Sail from Barcelona and take in Alhambra in Granada, the elegant capital of Palma and Seville, the home of flamenco. On cruises of 7 to 12 nights, you can feast on tapas, taste wines in Rioja, and unwind all in one culture-packed country.
View Popular Mediterranean Cruise Destinations
Find your perfect mediterranean cruise vacation, itineraries.
View All Mediterranean Cruises
Explore More
Celebrity City Stays
Mediterranean Ships
Mediterranean Shore Excursions
Why Cruise to the Mediterranean with Celebrity Cruises
Enjoy ancient port cities and glorious scenery on a Mediterranean cruise with Celebrity. You'll find itineraries ranging from 7 to 12 nights offered by nine of our award-winning ships, including four of our revolutionary Edge-Series ships.
On board, you'll be immersed in personalized touches that make every Celebrity vacation special. As you sail from one historic port to the next, indulge in globally inspired menus in up to 12 specialty restaurants. Whatever the occasion, your certified sommelier can pour you the perfect vintage to match the moment, uncorked from a wine list that's won the Wine Spectator Award of Excellence 10 years in a row.
On Edge-Series ships, gaze at exquisite Greek islands or the glamorous Italian coastline, fringed with olive and lemon groves, from the vantage point of The Magic Carpet®, suspended high above the ocean.
Elevate your vacation to the next level at The Retreat®, with luxurious suite accommodation, access to a private sundeck (on select ships) and tranquil lounge, and dining at the exclusive Luminae at The Retreat. And when you venture ashore, you'll find carefully curated excursions geared to your personal taste, from Destination Highlights to Small Group Discoveries and custom-designed Private Journeys.
From destination-intensive 7-night cruises to 12-night explorations across this historic region, Celebrity has the best Mediterranean cruise for you. With nine luxurious ships to choose from, including four of our ground-breaking Edge-Series ships, you'll find the perfect setting as your luxurious home away from home in the heart of the Old World.
Featured Articles
Best Places to Visit in the Mediterranean
The best places to visit in the Mediterranean feature incredible cultural treasures, idyllic landscapes, and some of the most well-known landmarks in Europe.
Insider's Guide to the Towns of Cinque Terre
The watercolor towns of Cinque Terre, including Monterosso, Vernazza, Corniglia, Manarola, and Riomaggiore, are strung along the rugged and impossibly beautiful Italian Riviera.
11 Spectacular Mediterranean Cities to Visit
For remarkable art, ancient history, contemporary culture, and gorgeous beaches, it's hard to beat these Mediterranean cities.
The 17 Best Beaches in the Mediterranean
The whole of the Mediterranean is fringed with dazzlingly beautiful beaches, and the greatest appeal is that they're all different.
12 Stunning French Beach Towns to Visit
Gorgeous French beach towns are abundant, thanks to the country's extensive coastlines along the English Channel to the north, the Atlantic to the west, and the Mediterranean to the south.
The Ultimate Guide to Food in Athens
Athens, the cradle of civilization, boasts an incredible foodie scene ranging from high-end restaurants to the simplest of street food.
11 Best Things to Do in Malta
From the capital, Valletta, to the countryside and coast, there are plenty of things to do in Malta for travelers in search of history, culture, and more.
19 Most Romantic Places in Greece
Sign up to get special offers, exciting deals, and more..
Sign up to receive information about our special offers and deals. You can unsubscribe at any time. For more details about how we use your information, view our  Privacy Policy
Thank you for signing up!
You can unsubscribe at any time. For more details about how we use your information, view our  Privacy Policy .
There was an error processing your request. Please try again.
Top Mediterranean FAQs
Where do Mediterranean cruises go?
Whether you love art, history, natural wonders, fine cuisine, or all of the above, a Mediterranean cruise lets you experience something amazing at every stop. The Mediterranean region is vast, including many countries each with its own personality, cuisine, and scenery. 
Celebrity's Mediterranean cruises sail from Athens, Barcelona, Rome, Southampton, and Ravenna (Venice). 
Feel like an old-fashioned movie star on the French Riviera, learn about military history in Malta, explore Biblical history in Israel, and delve back more than 4,000 years in time to Egypt.
How long are Mediterranean cruises?
Mediterranean cruises on Celebrity last from six to 12 nights. Spend seven nights visiting popular ports in Spain, France, and Italy, or longer voyages that include Greece and Turkey. 
When's the best time to cruise? 
The best time to cruise the Mediterranean will vary depending on your particular interests and schedule. The main Mediterranean cruise season runs from April through November each year, with June to September the peak months. But with Celebrity you can cruise Europe year round. 
July to September is the peak summer season in the Mediterranean, when most Europeans take their summer vacation. April, May, June, later in September, and October are all great months to visit, too. You can sail the Mediterranean with Celebrity right up to November, which is a wonderful time for sightseeing with fewer people around. The best time to head to the far south of the region is from February to April, when the climate is perfect for exploring Israel and Egypt.
What should I pack?
When you're packing for a Mediterranean cruise, swimwear and beach outfits are essential. You'll need comfortable shoes for sightseeing, whether this involves walking over uneven cobblestone roads or clambering over the rocky paths of the Acropolis in Athens. 
A good sun hat is essential If you want to visit churches, synagogues, and cathedrals we recommend long pants or skirt and a scarf/shawl to cover your shoulders.  
If you're traveling at the beginning or the end of the season, the weather could be cool, so bring cover-ups and a light waterproof jacket.
Throughout the ship, casual resort wear, sundresses, shorts, polos, or button-downs are appropriate, paired with sandals, low heels, and loafers. In main and specialty dining, we ask guests to refrain from wearing swimsuits, see-through coverups or robes, bare feet, tank tops, T-shirts, and baseball caps. 
Smart Casual attire is required for entry to main dining, specialty dining, and the Celebrity Theatre. Smart Casual means you look comfortable yet tasteful in a dress, skirt, long pants, or jeans with a stylish top or button-down. Shorts and flip flops are not considered Smart Casual. 
Each itinerary features one to two "formal" nights that we call Evening Chic. Evening Chic means you dress to impress, glamorous and sophisticated in your own way, with a cocktail dress, skirt, slacks, or designer jeans, an elegant dress top, or blazer—some guests even pack a tuxedo or gown for onboard photos. 
The daily program, delivered to your stateroom and available at the Guest Relations Desk, will be your guide to the correct attire each evening. If you do not wish to participate in Evening Chic, Smart Casual attire is acceptable for dining and attending the theater.
What can I see while I'm there?
From the history-lined canals of Venice to the sun-soaked playgrounds of the French Riviera to the iconic architecture of Spain, our array of award-winning Europe vacations offers something special for every discerning world traveler.
Get up close to historic sites like the ancient Colosseum in Rome, the Acropolis in Athens, and the charming Old City of Dubrovnik. Take stellar photos at the Piazza San Marco in Venice, the Leaning Tower of Pisa in Italy, and the Sagrada Familia in Barcelona. See Michelangelo's remarkable Renaissance artwork on the Sistine Chapel ceiling as you tour Vatican City.
In Portugal, experience the spectacular medieval architecture in Lisbon and taste a variety of Port wines in Porto. Explore our port of call in Italy, Trieste, and its ancient architecture, lively cultural scene, and Venetian-inspired coffeehouses. We're also returning to Kusadasi, and Istanbul in Turkey.
Some of the most beautiful natural sights you'll ever see may be the view of the whitewashed buildings and turquoise waters in Santorini or the pastel-colored fishing villages in the Amalfi Coast in Italy.
Where are the best beaches?
The Mediterranean is fringed with  dazzlingly beautiful beaches . Here, you'll find some of the most beautiful stretches of sand in the world, wild dunes, craggy cliffs, rocky coves, and aquamarine shallows on others.
For long sweeps of sand, great watersports, and a lively scene, try Mykonos. If black or red sand intrigues you, head for Santorini. For old-fashioned glamor, visit the beaches around Italy's Amalfi Coast or the chic beach towns along the French Riviera. 
Sardinia arguably has the most beautiful turquoise water. Ibiza is fringed with pretty coves, some sleepy, some with cool beach bars and DJs spinning tunes all afternoon. 
What is there for families to do on a Mediterranean cruise?
The Mediterranean is fantastic for families. It's educational, it brings history to life, the shopping is great, the ice cream unsurpassed, and the beaches superb. Mediterranean cultures love kids, too, and children are welcomed everywhere. 
Families can enjoy the Colosseum in Rome, gondola rides in Venice, the old walls of Dubrovnik, and cable cars for stunning city views or off-road buggy experiences. You can also experience Pompeii, the cave houses of Matera, and for soccer fans, Camp Nou stadium in Barcelona. 
Should I book tours ahead of time?
If you are traveling in peak season, we recommend you book your Shore Excursions through My Celebrity Cruises as soon as you confirm your sailing as many attractions around the Mediterranean are extremely popular. 
Booking a shore excursion  with Celebrity also means you'll be visiting attractions with a professional guide, and on a tour that guarantees to return you to the ship on time. 
Whether you're looking for a private, customizable experience, a carefully curated guided tour with a small group, or an unforgettable trip to iconic local landmarks, we have the right option to discover any destination, granting in-depth knowledge, expertise, and a truly extraordinary experience.
Can I get around with English?
Many languages are spoken around the Mediterranean, from Maltese to French, Italian, Spanish, Greek, Turkish, and Hebrew. Most people working in the hospitality industry speak some English.
Do I need a visa?
You will need a passport to travel to the Mediterranean, but the vast majority of countries visited by European cruises do not require a visa. From 2024, Americans, Canadians, and British citizens will be required to register for the new European Travel Information and Authorization System (ETIAS) to enter 30 European countries. 
This will be easy to apply for, inexpensive, and is simply a pre-authorization system similar to the ESTA that Europeans need to travel to the U.S. and Canada. Once you have the ETIAS, it will be valid for three years. You should make sure you have at least six months before your passport expires, too.
You Might Also Like
Western Mediterranean Cruises
Eastern Mediterranean Cruises
Mediterranean Cruises from Barcelona
French Rivera Cruises
Portugal Cruises
Amalfi Coast Cruises
Sicily Cruises
Croatia Cruises
Canary Island Cruises
Italy and Greece Cruises
Cruises to Spain and Portugal
Cruises to Croatia and Greece
Adriatic Cruises
Cruises from Venice to Greece
10-Day Mediterranean Cruise
Favorites & Watchlist Find a Cruise Cruise Deals Cruise Ships Destinations Manage My Cruise​ FAQ Perfect Day at CocoCay The World's Biggest Weekend Crown & Anchor Society Royal Caribbean Blog Gift Cards Contact Us Royal Caribbean Group
Back to Main Menu
Search Cruises " id="rciHeaderSideNavSubmenu-2-1" class="headerSidenav__link" href="/cruises" target="_self"> Search Cruises
Cruise Deals
Weekend Cruises
Last Minute Cruises
Family Cruises​
2023-2024 Cruises
Cruising Guides​
All Cruise Ships " id="rciHeaderSideNavSubmenu-4-1" class="headerSidenav__link" href="/cruise-ships" target="_self"> All Cruise Ships
Cruise Dining
Onboard Activities
Cruise Rooms
The Cruise Experience
All Cruise Destinations " id="rciHeaderSideNavSubmenu-5-1" class="headerSidenav__link" href="/cruise-destinations" target="_self"> All Cruise Destinations
Cruise Ports
Shore Excursions
Perfect Day at CocoCay
Caribbean Cruises
Bahamas Cruises​
Alaska Cruises
European Cruises​
Mediterranean Cruises​
Cruise Planner
Book a Flight
Book a Hotel
Check-In for My Cruise
Required Travel Documents
Make a Payment
Redeem Cruise Credit
Update Guest Information
Beverage Packages​
Dining Packages​
Shore Excursions​
Transportation
Royal Gifts
All FAQs " id="rciHeaderSideNavSubmenu-7-1" class="headerSidenav__link" href="/faq" target="_self"> All FAQs
Boarding Requirements
Future Cruise Credit​
Travel Documents​
Check-in​ & Boarding Pass
Transportation​
Perfect Day at CocoCay​
Royal Caribbean
Celebrity Cruises
Build Your Own Vacation
Plan a cruise.
Ready to book an unforgettable adventure? Here's everything you need to plan a memory-maxing vacation.
There's a whole world waiting to be explored, and you're just a click away from an unforgettable journey. Whether you're planning your vacation from scratch, ready to book or want financing options, we've made it easier than ever to plan and book your cruise vacation. Traveling with a group of friends or family, celebrating a special occasion, or looking to extend your stay in one of your favorite departure or arrival ports? All the information you need on how to plan your cruise is right here.
YOUR ULTIMATE CRUISE CHECKLIST
✔ your travel crew.
Are you sailing with your significant other, your family, a group of friends or traveling solo? Browse our sailing options to find the perfect adventure for you.
✔ Explore Our Ships
From the tallest slide at sea to spellbinding ice-skating performances, our adventure-packed fleet offers thrilling activities, world-class dining and incredible entertainment. Choose the ship that's right for you.
✔ Find a Departure Port
It's easier than ever to visit your dream destinations. Kickstart your vacation right from your backyard, or choose an exciting port in another state.
✔ Decide Your Itinerary & Book
You can't go wrong with any itinerary you choose. Check out our weekend getaways and weeklong explorations. There are countless thrilling options.
✔ Choose Your Destinations
The world's boldest ships sail to nearly 300 destinations worldwide, with itineraries that put multiple checkmarks on your bucket list.
✔ Prepare Your Travel Essentials
Already booked? Make the most out of your adventure by adding exciting shore excursions and deluxe drink packages. Be sure to also review packing tips and essential documents for seamless onboarding.
✔  Decide Your Itinerary & Book
Gather your travel crew.
Are you looking for a romantic escape, a family getaway, or the perfect way to celebrate a milestone occasion? When you plan a cruise trip with us, you're choosing a vacation that will max out memories like never before. From gourmet globetrotting and awe-inspiring entertainment to one-of-a-kind thrills and sun-soaked itineraries — you can count on larger-than-life experiences for adventurers of all types.
A ROMANTIC COUPLES GETAWAY
Wander Rome 's ancient piazzas. Marvel at the sparkling azure light inside Capri's Blue Grotto. Or savor mezes in a hillside taverna while magical colors fill the Santorini sky at sunset. And when you're not exploring dreamy coastlines, fill your days at sea with endless romance — like intimate dining at specialty restaurants, pampering couples massages and date nights with show-stopping entertainment.
THRILLS FOR THE ENTIRE FAMILY
Discover the ultimate thrill-topping family vacation. From unforgettable onboard experiences like catching a wave on the FlowRider® surf simulator to earning bragging rights on the tallest waterslide in North America at our private island, Perfect Day at CocoCay — this is the epic family getaway you've been waiting for.
THE MORE THE MERRIER
Nothing fuels bolder bonding like an epic adventure with your squad. Whether you want to go on a romantic Euro-hopping honeymoon , plan an epic milestone birthday bash at our private island in The Bahamas , or spot whales in wild Alaska with your work buddies — make memories that last a lifetime.
FIND A DEPARTURE PORT NEAR YOU
CRUISES FROM
CAPE LIBERTY
LOS ANGELES
ALL CRUISE PORTS
Choose your destination.
No matter where you choose to sail from, you're bound for a bold adventure. From snorkeling in the Caribbean to dog sledding in Alaska, castle chasing in Europe and kayaking in the Mexican Riviera — wow-worthy adventures are yours for the taking.
ALASKA GLACIER
PERFECT DAY AT COCOCAY
WESTERN CARIBBEAN
SOUTHERN CARIBBEAN
EASTERN CARIBEAN
COZUMEL & CANCUN
MEXICAN RIVIERA
MEDITERRANEAN
Greece & Greek Isles
BRITISH ISLES 
of the Seas
explore the best cruise ships
For years we've led the vacation industry with first-at-sea innovations, continually pushing the limits of the imagination with  award-winning  ships packed with revolutionary thrills. Like our Oasis Class  Wonder of the Seas℠  and Icon Class  Icon of the Seas℠  — the biggest, boldest ships to ever set sail. Our fleet has 28 thrilling ships, each delivering bold onboard thrills, world-class dining , jaw-dropping entertainment , and incredible accommodations .
EXPLORE OUR SHIPS
READY TO BOOK YOUR NEXT ADVENTURE?
FROM ESCAPES TO EXPEDITIONS
No matter how many vacation days you have to play with, there's an epic getaway with your name on it. Choose from 3- and 4-night thrill-filled cruises to nearby shores, or opt for more vacation destinations and time to make memories on a week-long wander.
it's time to win the weekend
Not all weekends are created equal. Max out every minute without maxing out your vacay days. Tropic trek to sun-kissed shores. Take your tastebuds on a delicious globetrotting tour. And do it all before Monday — on our game changing ships.
EXPLORE WEEKEND CRUISES
WANDER FOR A WEEK
Go off the grid entirely or stay on the beaten path and soak up everything each destination has to offer — on a week-long cruise, you set the schedule. No matter what's on your itinerary, planning an unforgettable 7-night week long cruise is as stress-free as an afternoon at the beach.
EXPLORE 7 NIGHT WEEK LONG CRUISES
CONVENIENCE WE'RE HERE TO HELP
EXTEND YOUR STAY
Your vacation doesn't have to end when you step off the ship. Royal Caribbean has partnered with hotels in select departure ports so you can save on stays before and after your cruise. Just contact the reservations department and choose from different packages designed to help you add more thrills to your getaway.
FROM CAR TO CRUISE
Ease in and out of your next cruise with transportation to and from your ship. You can pre-purchase airport shuttles, private transfers and even motor-coach travel on bus routes between major cities. When it comes to planning cruise vacations, we've done all the groundwork for a stress-free escape.
TRAVEL PROTECTION
Sometimes plans change. Make sure nothing gets in the way of your adventure with the Royal Caribbean® Travel Protection Program , which offers round-the-clock expert guest support, luggage and medical protection and coverage for travel delays and cancellations.
DISCOVER YOUR NEXT ADVENTURE
Download or print our digital brochure for even more information on itineraries, ships, adventures and how to book.
EXPLORE MORE  
My Personas
Code: ∅.
I've been on 6 cruise ships — here's how they compare and the one I would recommend
Since 2021, I've spent at least one night on six ships, all with different cruise lines.
These companies, including Margaritaville and Royal Caribbean, target a variety of demographics.
They each have their pros and cons , but Royal Caribbean's Wonder of the Seas is my favorite.
Throughout the past two years, I've spent at least one night on six ships, all with different cruise lines. While they've all varied in prices and target demographics, one has stood out as my clear favorite.
By no means do I love cruises — the shows can be tacky, the food can be mediocre, and I'm easily bored. If I weren't a travel reporter, I'd probably never board these floating resorts. But duty calls, and since 2021 I've been invited to several nonrevenue media sailings or overnighters with cruise lines such as Royal Caribbean, Oceania, and Norwegian.
While I've been unsurprisingly critical of some cruise ships, others have won me over. Let's take a closer look at the six ships I've been on and the one I'd recommend.
Celebrity Cruises' Celebrity Apex: trendy but boring
In late 2021, I boarded the new $1 billion Celebrity Apex for its two-night naming ceremony. At the time, I hadn't been on a cruise in more than 10 years. (As a kid with parents who liked cruises, I remember disliking them.)
The Apex wasn't designed for "zillennials" like me. Lisa Lutoff-Perlo, the cruise line's former CEO, told Insider at the time that Celebrity targeted Gen X customers . Despite this disconnect, the Apex had some of the best-designed and -decorated spaces I've seen on a ship.
Places such as Eden (a restaurant, bar, and entertainment venue) were attractive and trendy, while the Rooftop Garden looked just the way its name promised. Even the outdoor lounges and frequently overlooked atrium were more exciting than most ships' — the latter had a martini bar that sat under the glow of an LED chandelier.
While my 243-square-foot Infinite Veranda stateroom had some dull decor, the natural light from the large wall of windows made my tiny cabin feel large.
Where these spaces shined, the dining didn't: I wasn't wowed by any of my meals, including my dinner at Le Petit Chef . Here, overhead projectors displayed an animated storyline on the dining table. But this gimmick wasn't enough to overshadow the disappointingly mediocre food.
Ultimately, I faced the same dilemma I remembered as a child: boredom. While the theater was grand, I wasn't wowed by the nighttime show. And as I said at the time, I could wade around the pool only so many times and eat and drink so much. While I loved the design of spaces such as the Magic Carpet, an outdoor extension that moves vertically between decks, I couldn't spend all day staring at it.
If I were here on a weeklong vacation, I'd be twiddling my thumbs by day three.
Norwegian Cruise Line's Norwegian Prima: fun with a great food hall
In October 2022, I was invited on the four-night inaugural sailing for the $1.1 billion Norwegian Prima . It was the first time I had ever enjoyed being on a cruise.
Four nights is long for a cynic like me. But to my surprise, I was consistently entertained by the Prima's long list of amenities , including modern dartboards, a VR arcade, a mini-golf course, and a thrilling free-fall dry slide. These activities — along with the outdoor game court and go-kart track — could've kept me entertained for another day or two at sea.
My 230-square-foot balcony stateroom was also well-designed and modern: I appreciated the roomy bathroom, storage options, and contemporary feel. But the bedding was mediocre, the balcony was tiny, and the "mural" behind the bed and couch was a tacky eyesore.
On the plus side, the Prima had my favorite dining venue of all six ships: an 11-restaurant food hall with tableside tablet ordering systems. Instead of going to a buffet to pick at heat-lamp-fresh leftovers, this concept gave hungry travelers such as me a convenient way to try Indian curries and Singaporean-inspired noodles in one sitting.
But the greatest shock of all was the enjoyable nighttime entertainment, specifically Norwegian's rendition of the Broadway-approved "Summer: The Donna Summer Musical" and "The Price Is Right Live." I found myself giggling throughout the latter.
This, combined with the fun activities and food options, made sailing on the Prima an entertaining experience that I would consider booking again.
Royal Caribbean International's Wonder of the Seas: overstimulating and packed with activities
After boarding the Wonder of the Seas in December 2022, I think Royal Caribbean's big bet on mega cruise ships is paying off. My two-night sailing on the world's biggest cruise ship just wasn't enough time to test all of the ship's amenities.
At its massive size, there was plenty of room for "neighborhoods," such as a boardwalk, a park, an outdoor entertainment center with activities such as a zipline, and a colorful pool deck with water slides. Several of these spaces looked more like those of an amusement park than a cruise liner.
The list of Wonder of the Seas' amenities , which included some I'd never seen on a ship before, seemed endless. If it managed to overwhelm me for two nights, I'm sure it'd keep any family booked and busy.
From an ice-skating show to an exhilarating outdoor swim, dive, and dance performance, the entertainment options were also diverse. The former was a bore — I left early. But the dramatics and coordination of the latter made it the most impressive cruise-ship show I've ever seen.
Onto the negatives — to start, the food quality wasn't consistent. While my buffet and dinner meals at Hooked Seafood were satisfactory, the dry and flavorless fried chicken at the new-to-brand Mason Jar was disappointing.
My balcony stateroom was also a massive letdown. Sure, it had all the essentials , large storage units, and a clothesline in the shower. But the bathroom wouldn't be comfortable for two people, water splashed out of the sink basin whenever I washed my hands, and the bland decor was a stark contrast from the sensory overload of the rest of the ship. The stateroom looked more utilitarian than it did fun.
Margaritaville at Sea's Paradise: cheap and quick
The Margaritaville empire's nascent cruise line exclusively operates two-night round-trip sailings like clockwork from Palm Beach, Florida, to Freeport, Bahamas. It's a great cruise for budget travelers — most of these dates can be booked for well under $200 a person, including some at $50.
But Margaritaville at Sea's attraction ends at its eye-catching fares. When I attended the ship's one-night inaugural sailing in May 2022, I realized travelers get what they pay for: a very old ship. Before it adopted Jimmy Buffetts' branding , Margaritaville at Sea was the budget operator Bahamas Paradise Cruise Line, and the Paradise was its 30-year-old flagship Grand Classica vessel.
Sure, the vessel had some references to Buffett in the names of its venues, signage, and wall art. But besides that and a handful of new decor (shown above), it didn't seem as if the ship had undergone a massive cosmetic overhaul to align with the Margaritaville brand.
Instead, the Paradise looked out of style and place compared with other properties in the hospitality giant's portfolio. And when I tried to use the public restroom on the pool deck, the flush almost fell off its mount.
Similarly, instead of an immersive Margaritaville accommodation with beach-cottage-like decor, my 176-square-foot oceanview stateroom was bare and looked as old as the original song. While functional, the dark lines in my bathroom shower looked dirty, while the yellowish walls and wood accents made my cabin feel outdated and unkempt.
On the plus side, my meal at JWB Prime Steakhouse might have been one of the best steakhouse dinners I've ever had. But guests have to pay extra to eat there.
The cruise line has since spent millions of dollars updating areas such as the staterooms and adding amenities such as a pickleball court. I haven't boarded the ship since this refresh. But my first experience has left me so cynical that I don't plan on giving it a second try. I'm not sure a few million dollars is enough to fix its " Spirit Airlines of the Sea " reputation.
Explora Journeys' Explora I: luxurious, expensive, and boring
MSC Group's new Explora Journeys is a growing luxury-cruise brand you probably haven't heard of. I spent one night on its first $560 million Explora I ship in October while it was docked in New York City, and I think the new brand made a great first attempt at breaking into the luxury market.
While my ocean terrace suite was the smallest cabin on the ship, it was more luxurious than any hotel I've paid for. My cabin's walk-in closet, welcome bottle of Veuve Clicquot, Dyson hairdryer, and balcony daybed won me over. But the cheapest itinerary in 2024 comes out to $500 a day per person — it's up to you if you think these little luxuries justify this steep price.
Like the Wonder of the Seas, there were spaces aboard the ship that looked nothing like an average cruise vessel. Instead of a typical atrium, upscale stores such as Rolex and Cartier surrounded what looked like a hotel bar. And instead of a large central pool deck, the Explora I had four smaller pools, including an infinity pool and one under a retractable glass roof.
At its price, it's fair to expect luxury food. The thinly sliced wagyu at the pan-Asian Sakura was one of the best dishes I've had on a ship. But I preferred my own baked miso cod to the one I was served.
Luckily, the ship didn't have any splashy "production-style shows" for me to turn my nose up at. But once again, I'm not sure how much time I can spend in the spa or at the outdoor gym before I'm bored. So, while I appreciated the rows of cabanas and modern lounges, I think a weeklong vacation on the Explora I would be too quiet for me.
Oceania Cruises' Vista: upscale but boring
In late September, I spent one night on Oceania Cruises' Vista while it was docked in New York City. I think the new ship is a great option for mature travelers who are interested in higher-end cruises but don't want to pay for the likes of Regent Seven Seas.
For a food-focused cruise line, my dinner in the Grand Dining Room had luxurious options such as monkfish and caviar. But in retrospect, it was memorable only because of the ingredients, not the taste. Unfortunately, my lobster didn't beat the comforts of Norwegian Prima's food hall or the wagyu from Explora.
Appropriately for a premium cruise ship, my veranda stateroom was lined with one of the largest balconies I've ever had. And small details such as designated cup holders in the bathroom, a complimentary beverage station, and Bulgari toiletries made it stand out from any veranda cabin on a mass-market cruise ship.
Like my accommodations, the Vista's common spaces, such as the library lounge, had an upscale flair. Even the circular daybed-lined pool deck was more elevated and modern than the typical cruise-ship pool surrounded by generic lounge chairs. And while there were no water slides or arcades, there was a large putting green and walking track.
Unsurprisingly, I did not enjoy the cringy "Headliners'' evening song-and-dance show. And because I had limited time on the ship, I didn't get to experience activities such as cooking or art classes. This might have made a difference — but in the end, I again found the ship to be too calm for my liking.
The verdict: Royal Caribbean's Wonder of the Seas is my favorite
While I appreciated the upscale qualities of Explora and Oceania's vessels, I couldn't imagine spending more than three days on either ship. Similarly, while Margaritaville at Sea Paradise's cheap costs are enticing, I don't plan to sail on it again.
My favorite cruise liners are the ones with engaging activities and creative spaces that don't look like those of a typical ship. The Wonder of the Seas executed all of this — more than the Norwegian Prima — perfectly, enough to make me overlook the sore spots of my stateroom and mediocre meal. Because of this, it's the one ship I'll continue recommending to most cruise fans.
But that doesn't mean it has to be your favorite. If your priority is a cheap, quick-and-dirty getaway, Margaritaville at Sea Paradise is great. If you want something luxurious but don't want to spend too much, try the Oceania Vista — or the Explora I if you really want to ball out. And if you're traveling with children, Royal Caribbean's Wonder of the Seas and the Norwegian Prima are great options. The latter two are the only ones I'd consider booking again.

US News & World Report - Travel
Royal Caribbean vs. Carnival: Quick Comparison Chart
Posted: August 23, 2023 | Last updated: November 15, 2023
Trying to choose between Royal Caribbean and Carnival for your next cruise? Check out the comparison chart below, then read on for more details.
Winner: Royal Caribbean
When it comes to fleet size as well as the features available on cruise ships, Royal Caribbean has an edge over Carnival Cruise Line. That's because Royal Caribbean already has 28 ships in operation, including its incredible Oasis Class, Quantum Class and Quantum Ultra Class ships. Oasis Class vessels like Allure of the Seas , Symphony of the Seas , Wonder of the Seas and Utopia of the Seas are some of the largest in the world – and Royal Caribbean Group is constantly rolling out new, even bigger cruise ships with better amenities and new features. For example, the new Icon of the Seas (scheduled to debut in 2024) plans to have the largest water park at sea, the largest swimming pool at sea, and a range of over-the-top cabins and suites for families of all sizes.
Meanwhile, Carnival currently operates 25 different vessels with a few more on the way. Newer ships like Carnival Celebration and Carnival Venezia aren't as large and grand as Royal Caribbean ships, nor are the brand-new vessels the company is planning for late 2023 and 2024. For example, the new Carnival Jubilee that is set to begin sailing later in 2023 will have 15 passenger decks and capacity for up to 6,631 guests, compared to 18 guest decks and 7,600 passengers on Icon of the Seas.
Read: The Largest Cruise Ships in the World
Comparing cabins across cruise lines as a whole isn't an easy feat, mostly because companies tend to offer larger suites and cabins with a better layout on their newer ships . You'll therefore likely have a nicer cabin on one of Carnival's newest vessels compared to an older ship from Royal Caribbean, and of course the opposite is also true. Cabin sizes and layouts also vary widely across the vessels of both brands, and that's true even for basic interior, ocean view and balcony cabins.
That said, Royal Caribbean still comes out ahead in this category, since the line boasts more square footage in some of the most basic cabins as well as more over-the-top luxury accommodations, especially for families.
As an example, most inside cabins on Allure of the Seas feature 172 square feet of space, whereas Carnival Celebration's inside cabins are slightly smaller at 158 square feet. Meanwhile, the largest suites on Celebration are the Carnival Excel Presidential Suite, with 1,120 square feet of space including the balcony, and the Carnival Excel Aft Suite, which has 861 square feet of interior and balcony space. Compare those options to the Sky Loft Suites on Allure of the Seas, which feature 1,132 square feet across the room and balcony, and the spacious two-bedroom AquaTheater Suites with 1,595 square feet including the balcony.
Book a cruise on  GoToSea , a service of U.S. News.
Winner: Tie
Food options vary widely across vessels within any cruise brand, and this is especially true with Royal Caribbean and Carnival. For example, older ships from both cruise lines offer fewer specialty dining options overall along with the main dining rooms and buffet options cruisers come to expect, whereas newer ships from both lines feature a lot more unique and innovative options.
When you view the cruise dining options from both lines, you'll quickly find that both Carnival and Royal Caribbean pull out all the stops when it comes to food. For example, Carnival ships include a range of eateries from large and expansive buffets to main dining rooms to unique offerings like Big Chicken, Guy's Burger Joint and BlueIguana Cantina. Meanwhile, specialty dining on Carnival vessels features options like teppanyaki, Emeril's Bistros at Sea and Guy's Pig & Anchor Smokehouse.
Royal Caribbean ships feature convenient buffets and main dining room experiences, as well as included options like pizza kitchens, noodle bars and casual fast food. Specialty dining on Royal Caribbean ranges from the brand's Chef's Table experience to Johnny Rockets' burgers and shakes to innovative fine dining at Wonderland.
Drink packages
Both Carnival and Royal Caribbean offer drink packages that cruisers can purchase as part of their vacation to get a more all-inclusive feel . Then again, the value of these packages depends on how much you drink over the course of your trip. Also note that the cost of drink packages across all cruise lines can vary depending on the ship, itinerary, travel dates, length of trip and more.
Royal Caribbean comes out slightly ahead in this category because the line offers three tiers of drink packages for guests with different needs. Choose from the Classic Soda Package; the Refreshment Package, which includes soda along with coffees, juices and even milkshakes at Johnny Rockets; and the Deluxe Beverage Package, which adds in beer, cocktails and wine by the glass. Meanwhile, Carnival offers just two different drink packages: the Bottomless Bubbles package, which covers soft drinks and juice, and the Cheers! drink package, which adds in spirits and cocktails, beer, wine by the glass, specialty coffee, energy drinks and more.
Read: Cruise Drink Packages: Your Options by Cruise Line
Onboard activities
Analyzing onboard activities across cruise lines isn't always easy – you really have to break down this category by ship for a true comparison. When you do that with Carnival and Royal Caribbean, you'll find that both lines offer fun activities for all ages, from onboard water parks to hosted games, casinos and more.
That said, Royal Caribbean does take things up a notch in this category, especially on the line's newer ships. Some Royal Caribbean vessels offer escape rooms, surf simulators, zip lines, game shows and over-the-top water parks with incredible slides for thrill-seekers. For example, Freedom of the Seas boasts huge onboard waterslides, glow-in-the-dark laser tag, mini-golf and more. Don't forget about Icon of the Seas with its massive water park and pool offerings in the works. Meanwhile, standout activities on Carnival ships include Family Feud Live, onboard water parks and the thrilling SkyRide.
Compare Royal Caribbean cruises on GoToSea .
Live entertainment
The quality of cruise ship entertainment varies widely based on the quality of the talent booked for individual ships. Both Carnival and Royal Caribbean offer their share of live music and entertainment, including performances by bands and singers, karaoke, and piano bars. Meanwhile, both lines also boast their own theaters on every vessel, which often feature Broadway-style shows, singing and dancing, comedy acts, and more.
Royal Caribbean comes out ahead in this category since its vessels feature award-winning musicals like "Hairspray," "Mamma Mia!" and "Cats." The open-air AquaTheater on Oasis Class ships also wows guests with incredible diving feats, stunts and aerial acrobatics. Some Royal Caribbean ships even have onboard ice skating performances and ice games.
Explore cruise deals on  GoToSea .
Raw HTML : Tips on Trips and Expert Picks
Kids programming
Winner: Carnival
Both cruise lines have kids clubs that cater to younger guests of all ages, with each one offering supervised care so parents can drop the kids off for some alone time or a quiet dinner on the ship. However, Carnival stands out slightly in this category due to the six different clubs offered across the fleet for children and teens between 6 months and 17 years old. Carnival also offers supervised Night Owls services for kids 11 and younger, which lets parents get out and have some late-night fun for an extra charge.
Royal Caribbean offers four kids clubs for children ages six months to 12, along with a separate club for tweens and teens . Supervised child care is available for free during the day, and you can opt for paid care after hours as well.
Read: The Top Cruises for Babies and Toddlers
Adults-only offerings
Both cruise lines offer their share of adults-only spaces and things to do, from onboard casinos to luxurious spas to bars that offer cocktails and live entertainment at all hours of the day and night. Carnival and Royal Caribbean also offer adults-only areas on some of their ships.
On Carnival, for example, cruisers will find the Serenity Adults-Only Retreat for sailors 21 and older with extra space and comfortable chairs for relaxation, along with its own bar nearby. On many Royal Caribbean vessels, on the other hand, the onboard Solarium for ages 16-plus has its own pool and extra space to find peace and quiet.
Carnival's Serenity relaxation area is included for guests. While Royal Caribbean's Solarium is typically also included, on certain sailings there is restricted access by fare class.
Read: The Top Adults-Only Cruises
Shore excursions
Shore excursions offered by cruise lines are largely operated by third-party companies and are often the same across brands. Both Carnival and Royal Caribbean boast a broad selection of excursions in destinations around the world, from snorkeling and scuba tours in the Caribbean to city tours, horseback riding, cooking classes and more.
Both cruise lines offer private and custom tours you can book through your ship as well.
Compare cruises on GoToSea .
Private island experiences
Royal Caribbean and Carnival each have their own private island in the Bahamas , which is included in most itineraries to this part of the world. These private islands provide a fun beach escape for families to enjoy, whether you want to relax in the sun or take part in some of the available activities.
Royal Caribbean's private island, called Perfect Day at CocoCay, is the more impressive option due to everything it includes: a heart-thumping water park, its own wave pool, a zip line, a hot air balloon experience and overwater bungalows you can book for the day, among other offerings. Meanwhile, Carnival's Half Moon Cay has a unique beached pirate ship to explore – but fewer amenities overall.
Note that both private islands have plenty of beach space for guests to spread out and relax, as well as restaurants and bars. You can also book excursions on both private islands, which include activities like snorkeling and water sports.
Read: The Top Cruise Line Private Islands
Comparing costs across cruise lines can be tricky since fares and available sales vary throughout the year, as well as based on the vessel booked, the cruise itinerary, the number and age of travelers, and more. To get an idea of who wins on price, we looked for two similar cruises on comparable ships from Carnival and Royal Caribbean, then priced out an option for a family of four with two children ages 8 and 10. For the purpose of this comparison, we used seven-night eastern Caribbean cruises on Carnival Celebration and Royal Caribbean's Wonder of the Seas, both of which began sailing in 2022.
The Carnival Celebration itinerary from Miami stops in Amber Cove, Dominican Republic; San Juan, Puerto Rico ; and St. Thomas, U.S. Virgin Islands . By comparison, the Wonder of the Seas sailing leaves from Port Canaveral, Florida, with stops in Philipsburg, St. Maarten ; San Juan; and Perfect Day at CocoCay in the Bahamas.
The chart below shows the total cost (including taxes and fees) for a family of four in January 2024 in both an ocean view and a typical balcony cabin across both cruise lines. Note that, for the purpose of this comparison, we selected the least expensive room option in each category.
Read: How Much Does a Cruise Cost?
Why Trust U.S. News Travel
Holly Johnson is a professional travel writer who has covered cruises and other family travel for more than a decade. She has cruised more than 30 times across most of the major cruise lines and has ventured on itineraries around the world. Johnson used her personal experience and research expertise to curate this cruise line comparison.
You might also be interested in:
Cruise Packing List: Essentials for Your Cruise
The Best Cruise Insurance Plans
The Top Cruise Lines for Solo Travelers
How to Find Last-Minute Cruise Deals
The Top Kids Sail Free Cruises
Copyright 2023 U.S. News & World Report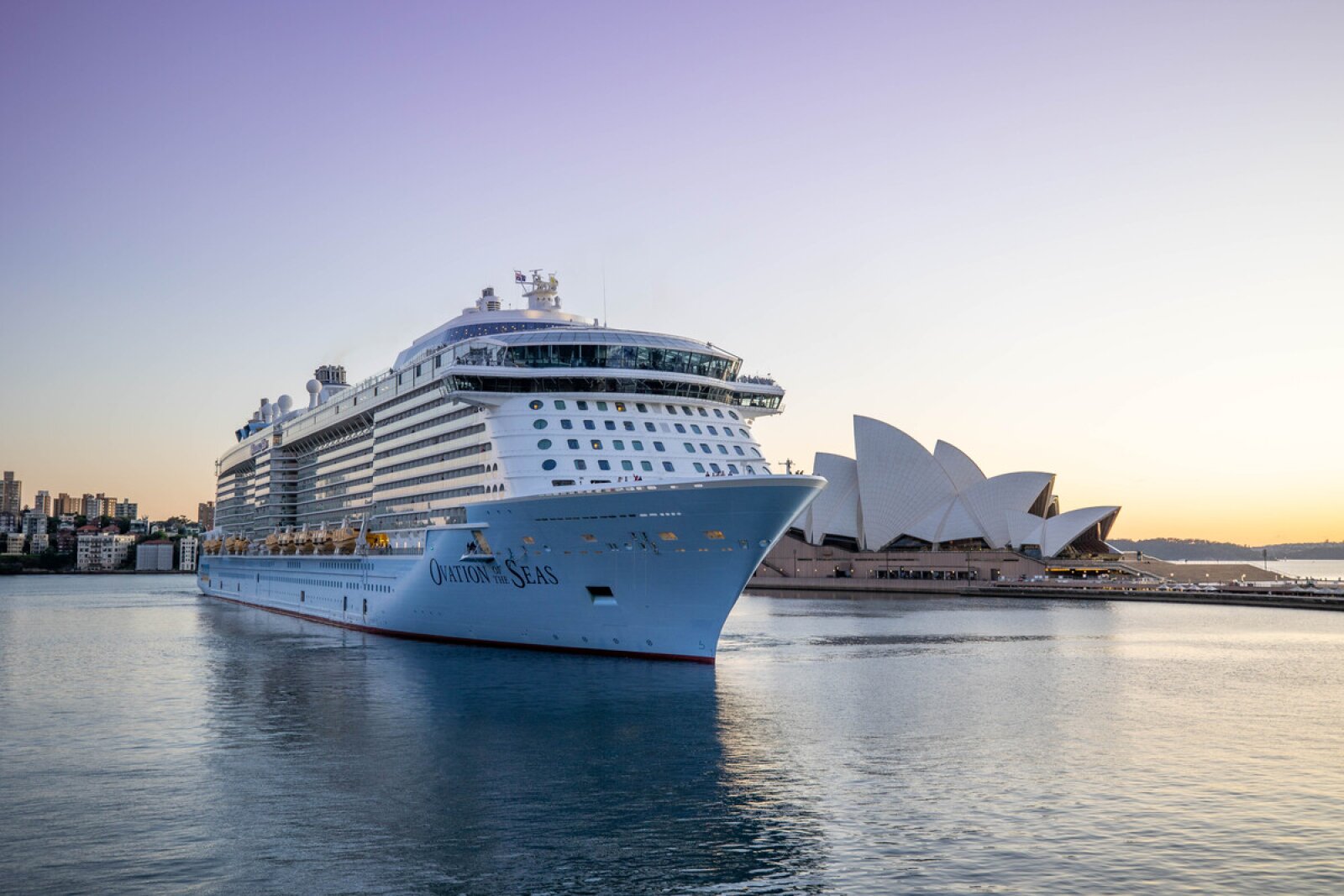 More for You
America's best-selling car will soon be hybrid-only
Iran is calling Biden's bluff
The judge in Trump's Georgia election case limits the disclosure of evidence after videos' release
Before and After Satellite Images Show Lake Powell Water Levels Rise
Why you should put $15,000 into a 1-year CD now
Ukrainian Marines Seized A Bridgehead Across The Dnipro River. Now The Russian Air Force Is Trying To Glide-Bomb It Into Oblivion.
The Left are blind to anti-Jewish racism for one simple reason
A town that became 'one giant Airbnb' is now facing a reckoning
Scientists Calculated How Much Exercise You Need to 'Offset' a Day of Sitting
'Ted' the talking teddy bear is back in a new streaming series: Release date, cast, how to watch
Social Security Update As Millions To Receive 2 December Payments
Deported Afghans return home by the thousands to unexpected welcome
Joe Biden Faces a Deep State Revolt
Jim Harbaugh suspension: What to expect in Michigan-Big Ten hearing
Lily Gladstone on Welcoming 'Flower Moon' Criticism, Mollie's Agency and Scorsese's Limitations While Telling an Osage Story
'Being deepfaked showed me how easy it is to hack a bank account'
Mom, 38, Dies of Ovarian Cancer—How Her Dying Wish Wiped Millions in Debt
Major blow for Putin after 'kamikaze drone strike' destroys missile base
Trump's own fraud-trial expert testifies about 'glaring' problems in his financial statements — but blames the accountants
Bruins, Trojans seek consolation in disappointing seasons with rivalry win
This is the announcement bar for Poornima to test the Close Button.  It will expire May 31 2024.
Special Offers Sign Up
Cruise Deals
You have been logged out
Your window will update in 5 secs
Mediterranean Cruises and Cruisetours
Experience the cuisine and culture of italian and greek cruises.
Best Cruises for Food Lovers
Food & Wine Magazine
On a Mediterranean cruise with Princess®, explore the homes of Greek gods, Italian artists and multicultural treasures. As you walk down bustling roads and beaches, cultures and history fill the air. Uncover divine legends at the Acropolis, admire religious relics at Dubrovnik's Cathedral or climb the Leaning Tower of Pisa and soak up sweeping views of the emerald landscapes.
Mediterranean Cruise Options
Mediterranean (From Barcelona)
The gateway to greatness
On these Mediterranean cruises, travel from Spain through some of Europe's most famous ports as you make your way to Italy. Begin in Barcelona where archaic artwork is on display throughout the city. Then saunter through the lavender fields of Provence when you cruise to Marseille. Or visit Il Campo dei Miracoli, also known as "The Field of Miracles," a UNESCO World Heritage Site in the heart of Pisa
Mediterranean & Aegean (From Rome)
From one sea to another
Embark on a Mediterranean cruise through the Aegean Sea and stroll through highlights of Italy and Greece while also visiting hidden gems like Montenegro. Sail along the Amalfi Coast and tour ancient ruins, including Pompeii. Then cruise to Mykonos, where windmills and bright white architecture accent the turquoise sea. Continue indulging in dreamy landscapes in Athens where mythology comes to life.
Mediterranean & Adriatic (From Athens)
Culture, cuisine and connections
Marvel at world-renowned landmarks on a Mediterranean cruise through the Adriatic Sea. Arrive into Athens early to explore the original Olympic stadium. Then sail to the black-sand beaches of Santorini before feasting your eyes on the culinary creations of Italy. Fill up on pizzas and pastas in Sicily and Naples before cruising into Barcelona.
Mediterranean Cruisetours
13 - 31 Nights
Highlights of Spain Cruisetour
3 nights Madrid
1 night Valencia
2 nights Barcelona
Escorted by a Tour Director
Then board your Mediterranean cruise
Explore Gibraltar, Provence, Genoa and Florence
Select sightseeing included
Most meals included
13 - 28 Nights
Classic Italy Cruisetour
2 nights Venice
2 nights Florence
2 nights Rome
Then sail to Naples and Sicily, depending on your itinerary
Longer Mediterranean cruisetours may also visit ports in Greece, Turkey, France and beyond
10 - 25 Nights
Best of Greece Cruisetour
1 night Athens
1 night Nafplion (only on 2023 cruisetours)
1 night Delphi
1 night Kalambaka
Mediterranean Cruise Ports of Call
Discover some of the world-renowned destinations that await you on a Mediterranean cruise with Princess.
Rooted in Greek mythology, Athens is alive with stories from civilizations of the past. On a cruise to Europe departing from Athens, arrive early to tour the remains of ancient lores — like the Temple of Olympian Zeus and Acropolis — dine at the city's lively tavernas and admire iconic sculptures bathed in natural light within the Acropolis Museum.
Until it was popularized by the 1992 Olympics, Barcelona was a hidden gem amidst Europe's diverse landscapes. Now it's widely recognized for its architectural masterpieces and spirited customs. On European cruises from Barcelona, leave enough time before you depart to visit Park Güell — a UNESCO World Heritage Site — and feel inspired by the colors and unique artistry that lies in the park and throughout the entire city.
As one of the greenest islands in Greece, Corfu is an emerald treasure amidst the colorful Mediterranean landscape. From Paleokastritsa, hike to the mountaintop for unparalleled views of the Ionian Sea. Or get a taste of Corfu when you team up with a famous chef, and handpick local produce that they'll use to prepare your lunch. Experience it all on a Greek cruise with Princess.
On a Mediterranean cruise to Livorno, travel to Florence or Pisa where artifacts abound. Capture snapshots of the Leaning Tower of Pisa, stop by Michelangelo's David statue at the Accademia and walk up to the "Gates of Paradise" at the Baptistery. Or explore the countryside and meander through the region's rolling hills that bear vineyards and green olive groves.
Nestled within Boka Bay lies a medieval gem. Kotor is enrobed in ancient houses, palaces and churches that speak to its 12th-century origins. On a Greek cruise, dine on Montenegrin cuisine in the home of a local chef, appreciate 14th-century Venetian art at St. Tryphon's Cathedral and taste regional wines along the riviera. Or see another side of the city when you kayak through the tunnels of Lipa Cave.
As the largest port in the Mediterranean, Marseille is the gateway to opportunity. On a Mediterranean cruise, spend the day in Arles, and explore the landscapes that inspired much of Van Gogh's artwork. Stroll through the MuSaMa, a soap museum, and create your own blend alongside a master soap maker. Or roam the city's most popular landmark, Notre-Dame de la Garden, a Catholic basilica that overlooks the city.
Famous for its beaches and spirited lifestyle, Mykonos is the heartbeat of Greece. Embark on a jeep safari past the city's windmills, lighthouses and lakes. Walk past temples and marble-lined sanctuaries in Delos, the birthplace of famous Greek gods. Or soak up a day of relaxation on the beach with the city's Cycladic architecture as your backdrop — all on a Greek cruise with Princess.
Italy's capital city is something of a dream. Grand chapels and stone angels line the roads, whispering secrets of Rome's past. On a cruise to Europe from Rome, arrive early to toss a coin into Trevi Fountain. Legend has it, you'll be guaranteed return to The Eternal City. Then walk in the footsteps of Emperors at the Colosseum, and receive a blessing from the Pope at St. Peter's Square.
Santorini is the epitome of Greece. Wander into the welcoming cafes in Oia, a village teeming with whitewashed buildings and blue-domed roofs. Continue to some of the world's oldest vineyards and taste the bouquet of wines produced on the island, making sure to visit the black-sand beach of Kamari before heading back to your Mediterranean cruise ship.
Why Cruise the Mediterranean
In lands where the culture is as flavorful as the cuisine, the splendor of the Mediterranean speaks for itself.
World-Class Dining
Captivating cuisine
With mouthwatering entrees and confections, the Mediterranean invites you to embark on a gourmet tour through iconic cities. Reawaken your taste buds with Italian classics like pastas, pizzas and gelato. Or fill your plate with gyros, keftethes and baklava on a Greek cruise. From breakfast to dinner and every delectable dessert in between, the best is before you with Princess.
Bold reds and crisp whites
The countryside of Italy and Greece are home to some of the most flavorful wines around the globe. With sun and warm temperatures year-round, vineyards are flourishing with grapes by the harvest season. Sip on Italy's red wines, or sample Greece's white blends. From sweet Lambruscos to earthy Bordeauxs, fill up your glass on a Mediterranean cruise with Princess.
Ancient Ruins
Where history comes to life
From towers and temples to cities and shorelines, the Mediterranean is sprinkled with remains of civilizations past. Step back in time on a tour through ancient ruins on a Mediterranean cruise with Princess. Imagine life as a gladiator at the Colosseum, explore Greek mythology at the Parthenon and discover the archeological excavations of Pompeii — a lost city and UNESCO World Heritage Site.
Art Galleries & Museums
Artistic ingenuity abounds
From the treasures on land to the jewels within museums, the Mediterranean is a true work of art. On an Italian cruise, see portraits from the Renaissance period at the Uffizi Museum in Florence, and admire Michelangelo's masterpieces at the Vatican Museum in Rome. Or walk in the footsteps of celebrated artists that called these regions home — like Picasso and Dali — and allow their work to spark your creativity.
Sun-Kissed Beaches
A vision of natural beauty
Visions of sparkling coasts and crystalline waters welcome you to the Mediterranean. Dip your toes on the black-sand coast of Santorini on a Greek cruise. Head to Salerno to spend the day in Positano relaxing on the white beaches and admiring the pastel houses that decorate the cliffs around you. Or travel to Mykonos with your loved ones and daydream on the city's long stretch of golden sand and stroll in the sunshine.
Mediterranean excursions
Our award-winning Mediterranean cruise shore excursions bring you to iconic beaches, landmarks and ancient artifacts. See the yacht-lined shores of Kotor while riding on a tuk tuk, an electric rickshaw. Savor the flavors of "Koum Kouat" liqueur, created from Corfu's exclusive citrus plant. Or stroll along the streets of Dubrovnik's Old town, one of the most well-preserved medieval cities in the world.
Local connections
From chefs and beverage makers to artists and guides, meet the many personalities that call the Mediterranean home with our Local Connections program. On a Mediterranean cruise, voyage to an olive tree farm just outside of Provence, and join your hosts for a unique olive oil tasting. Or explore the Archaeological Museum of Naples with a local artist, and accompany them for lunch to dive even deeper in Italy's art scene.
More ashore
Enjoy even more opportunities to experience the colors, cultures and flavors of the Mediterranean with More Ashore late-night departures and overnight stays. Witness the beautiful sunset in Mykonos on a Greek cruise. Sit front-row for a flamenco dance, and savor a paella dinner during an evening in Barcelona. Or stroll the illuminated streets of Genoa with gelato in hand after a traditional Italian dinner.
Mediterranean Cruise Onboard Experience
Curated comfort, world-class entertainment and international flavors await you.
Accomodations
Your home away from home
Your stateroom is where you rest and recharge between adventures. That's why every room is equipped with the expertly designed Princess Luxury Bed, 100% Jacquard-woven cotton linens and our SLEEP program created by a board-certified sleep expert. From interior cabins to full suites, unwind in any of our staterooms, and enjoy peace of mind with the option of connected rooms for families of four or more traveling together.
Flavors that inspire
From the zest of Provencal ratatouille to the sweetness of Greek Halva, the Mediterranean is bursting with flavor. On board most Princess ships, indulge in a pasta dinner at Sabatini's℠, or savor local seafood at Crown Grill. While ashore, treat yourself to gelato in Italy or churros in Spain. From ship to shore, appease your appetite with one-of-a-kind dining experiences on every Mediterranean cruise itinerary.
Entertainment
Find your joy
Embark on adventures by day, and indulge in entertainment by night. Watch Movies Under the Stars® at our 300-square-foot outdoor theater. Attend original productions from Broadway legend Stephen Schwartz, composer of Wicked . Or learn traditional moves, like Flamenco or Irish stepdance, and listen to popular music from the destinations on your itinerary. On a European cruise with Princess, the choice is yours.
Celebrations and Romance
Love blooms on the Love Boat
It's difficult to imagine something more romantic than sailing through the alluring cities and charming countryside of Europe. While on board your European cruise, we cater to your sentimental side with private dining on your balcony — like breakfast for two or a sunset dinner — honeymoon packages, flowers and chocolates delivered to your room and couples-only massages in the Sanctuary.
Youth & Teen Center
Step outside the classroom
Our European cruises were crafted with every guest in mind — even the younger ones. From 6-month old babies to 17-year old teens, kids can unwind and relax or play and explore. In partnership with Discovery™, kids can learn even more with special insights about Italy, Greece and everywhere in between. With engaging activities on board and ashore, kids can see history books come to life before their eyes.
Vegas hits the seas
Experience the thrill of cards, dice, roulette and blackjack at the casino onboard our European cruises. Learn from experts — like our staff or perhaps other guests nearby — and put your skills to the test. More casual players can pull up a seat at the slot machines for the same adrenaline at their own speed. For an afternoon full of games, join fellow travelers for Bingo, or compete in scheduled group tournaments.
Ships sailing Mediterranean cruises
Our Princess fleet includes ships that range from small to large vessels. From a balcony stateroom, marvel at breathtaking shorelines passing by before enjoying international cuisine in one of our many eateries during your Mediterranean cruise.
Star Princess®
Sun Princess®
Sky Princess®
Enchanted Princess®
Majestic Princess®
Caribbean Princess®
Emerald Princess®
Island Princess®
European Cruise Articles
Read about storied attractions, charming history, diverse cultures and preparation advice for cruising Europe.
Explore Europe
Learn all about our exciting options to visit Europe from cruises to in-depth cruisetour vacations. 
The top ten things to do in Norway
Planning a holiday to Norway? Discover the best museums, restaurants, cafés, attractions and experiences in the Scandinavian country.
Must-do summertime activities in Scandinavia
Discover the best summer holiday activities in Scandinavia, including wild swimming in Stockholm and rooftop drinking in Oslo.
Five reasons to cruise from Southampton
Looking for a cruise vacation from Southampton? Set sail to Canada, the Mediterranean, Scandinavia, Florida and around the British Isles with Princess Cruises.
How to see Stockholm from a unique perspective
Ice bars, rooftop tours, meatballs and more – use our handy city guide to get a fresh view of Sweden's brilliant capital.
Six places to see the Northern Lights in Norway
Hoping to see the Northern Lights in Norway? Discover the best places to try to catch a glimpse of Mother Nature's exceptional light show
Travel, Airfare, & Hotels: Let Princess Get You There
Princess EZair® Flights
Stress-free airfare
Remove the hassle from air travel and give yourself the gift of flexibility, time and a thicker wallet with Princess EZair flights. We negotiate lower rates with the airlines, allow you to modify your flight up to 45 days prior with no penalty and protect you if your flight is late or canceled.
EZair flight quotes are available on our cruise search result details pages.
Airplane to Ship Transfer
We get you where you need to go
Let Princess pick you up from the airport and take you directly to your ship or hotel when you arrive, even if you didn't book your airfare through us. A uniformed Princess representative meets you at the airport after you've retrieved your luggage and transports you directly to your ship or hotel without you having to worry about the logistics of navigating a new city.
Cruise Plus Hotel Packages
Stay longer and relax
Extend your cruise vacation, and simplify your travel plans with a hotel stay at the beginning or end of your cruise. With a Cruise Plus Hotel Package, a Princess representative meets you at the airport and pier, transporting you to and from your hotel. The package includes the cost of your hotel stay, transportation, luggage handling and the services of the representative.
Need help planning?
Princess Cruise Vacation Planners are a dedicated resource to help you every step of the way through the planning process of your cruise vacation. And the best part is, they are absolutely FREE!
Cruise deals & promotions
Find our top sales, deals, partnerships and promotions for our destinations all in one place. We run promotions throughout the year and sometimes run sweepstakes where you could win prizes!
#PrincessCruises Europe Connections
See Europe through our guests' eyes.
You May Also Like
European cruise destinations.
Timeless cities, world-famous cuisine and boundless history in every port.
Scandinavia & Baltic Cruises
Royal palaces, ancient art & celebrated history of Baltic ports.
Shore Excursions
Experience fabled lands and world famous museums with it's locals.