Online live cameras in Montenegro
Montenegro Coast
Central Region
North / Mountains
Where is Montenegro?
Useful Information
Visa Requirements
Events & Festivals
Interesting Facts
Invest in Montenegro
Buying a Property
Airport Transfers
Airports & Flights
Car Rentals
From Dubrovnik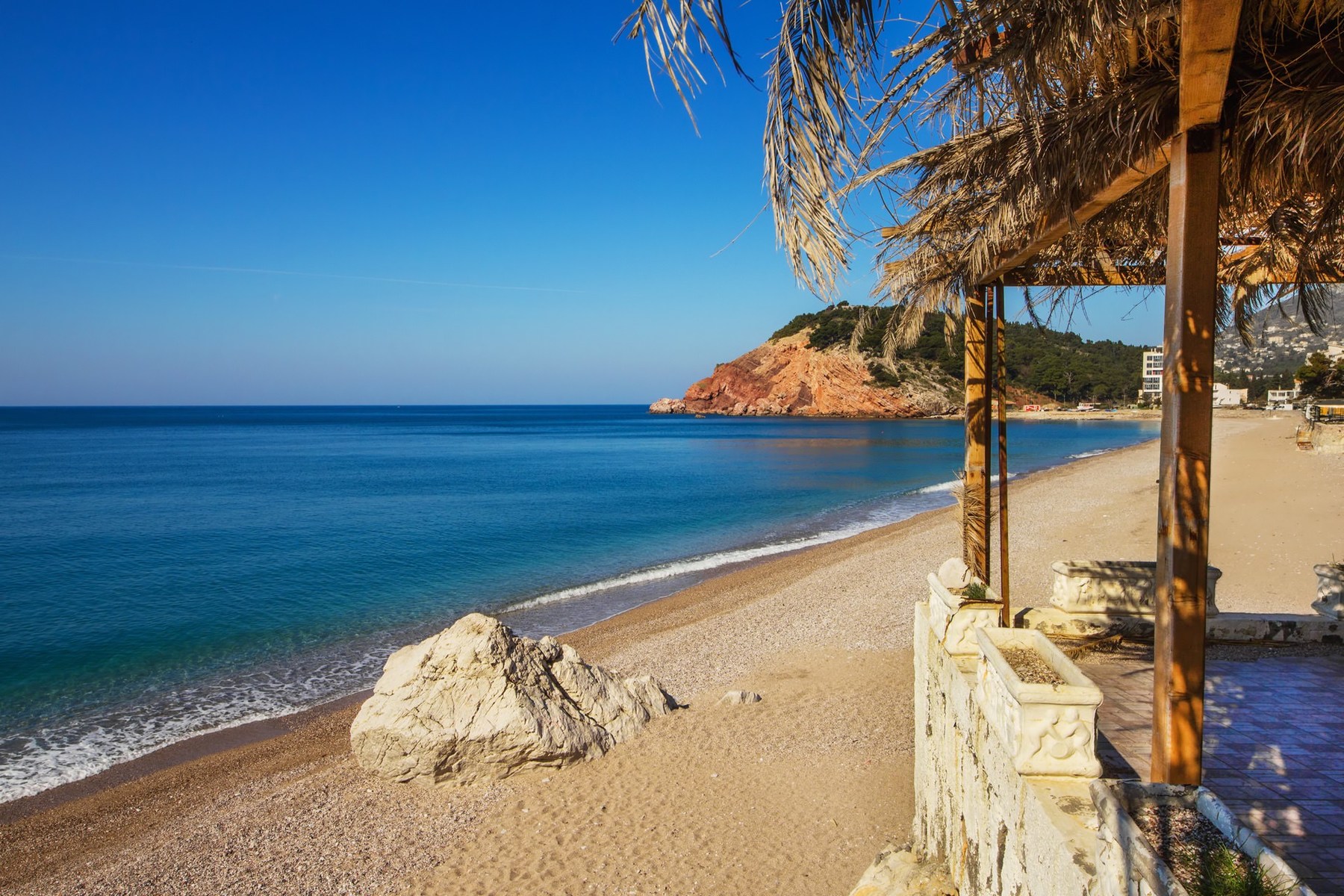 Sutomore is an extremely interesting and attractive place during the summer. It is located just few minutes away from Bar
Attractions
Beaches in Bar
Shopping in Bar
The History of Bar
A place, which is only few kilometers away from Bar, thus it, is considered its suburbs. Sutomore is an extremely interesting and attractive place during the summer, so numerous tourists instead staying in Bar, accommodate themselves in the hotels along the Riviera in Sutomore, or in some of the private houses or villas. On the very brim of the sea in Sutomore there is a long sandy beach, an unusual sight stretches out toward the open sea. If you wish to just go through Sutomore then the best part f your summer vacation you'll with no doubt spend on the Sutomore beach enjoying sunbathing, swimming or relaxing with the clod fruit drinks on some of the numerous terraces of the restaurants. However, if you wish to go towards places Zagradje or beach Maljek you'll find the space for camping. Straighten your thing from the bag and camp as much as you wish.
If Sutomore attracts you so much, that you're planning to stay a little bit longer, beside in the hotel, you can find an adequate and not so expensive accommodation in private houses or apartment villas. Also, if you inform yourself with the amiable locale people, from Sutomore you can go to coast or mountain part of the community Brca. In the foothill of that community there are nicely arranged private houses or apartment buildings, which provide services of accommodation and of boarding house. The mountain part is prevailed by summerhouses, but above them there is a very old community of an interesting architecture, characteristic only for that part of the Bar area. The community Brca as well as entire Sutomore you'll experience as interesting places for rest, which beside attractive beaches and the surrounding offer rich resort and amusement offer.
My favorites
Adriagate Loyalty
Traveler login
Owner login
Affiliate program
B2B partners
Customer service
Vítejte
Willkommen
Welcome
Bienvenue
Dobrodošli
Üdvözöljük
Benvenuti
Welkom
Witamy
Пpивeтcтвиe
Vitajte
Välkomna
Change language
Private accommodation
Beachfront accommodation
Accommodation with pool
Holiday homes
Villas Croatia
Top accommodation
Family friendly accommodation
Vacation with pets
Great host
Top designed interior
Romantic accommodation
Eco houses
Remote cottages
Digital nomads
Special offers
Budget accommodation
%Special offers%
Last minute
Villas by the Sea
Villas in Dalmatia
Villas in Istria
Villas Kvarner
Villas Split and Trogir riviera
Villas Zadar riviera
Villas Sibenik Riviera
Villas Crikvenica riviera
Stone houses
Accommodation Brac
Apartments Hvar
Top cruise types
Call us
Cruises Nature & Culture
Standard One way & Mini
Active cruises
Special interest
Nudist cruises
Family Cruises in Croatia
Delux cruises
Group Cruises/ teambuilding - Croatia
%Special Deals%
Land & Cruise
Yacht Charter
Car Rental
Taxi Service
Istria
Dalmatia
Kvarner
Islands in Croatia
Sibenik Riviera
Split and Trogir riviera
Makarska riviera
Zadar riviera
Rijeka riviera
Middle Dalmatian islands
North Dalmatian islands
Kvarners islands
Croatia tourist guide
Beaches Croatia
National parks
Nature parks
UNESCO heritage
about location
property type
Highlights & Things to do
Sutomore tourist destination info
Sutomore is a small town situated north of Bar. Sutomore is famous for its long, pebble beaches along which hotels and resorts are built. This is an area abundant in sunny days during the whole year, so you can enjoy the sun and sea while strolling along the beach promenade. Numerous restaurants and bars with live music are opened along the promenade.
On the hill nearby you can see the remains of the medieval town Nehaj built by Venetians. Be sure to visit the national park nearby - Skadar Lake, which is the largest freshwater surface of the Balkan.
Date is not valid! Select dates and the number of persons!
Explore Sutomore by property type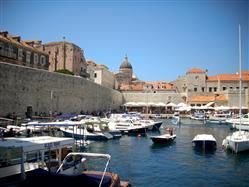 Keep exploring Sutomore Region:
Destinations nearby.
What our guests say about Sutomore
Excellent 4.6 Stefan Family Romania 02/08/2018 A great holiday. The view from the terrace was amazing.
Sutomore recommended accommodation
* prices for June 2024 based on the maximum capacity for a minimum stay of 7 days
Persons: 2-4
Guests rating: 4.9
Most recent reservation 18 days ago
Persons: 4-16
Most recent reservation 6 days ago
Persons: 1-4
Guests rating: 4.5
Most recent reservation 15 days ago
Persons: 1-5
7.04 km from
Book & Save up to 150€
No booking fees
Money back guarantee
Pay upon arrival
Real guest reviews
General terms
Privacy Policy
Cooperation with owners
The best of Croatia delivered to your inbox!
1. INTRODUCTION
Adriagate Travel Agency d.o.o. (hereinafter: the Agency) recognizes and appreciates your right to data confidentiality and commits itself to preserving security of data collected through the website https://www.adriagate.com
The Agency collects, processes and stores your personal data in accordance with the EU's General Data Protection Act (GDPR) and other applicable regulations. The data will not be forwarded to third parties or brought to third countries, with the exception of situations where it acts as a prerequisite for the fulfilment of contracted services (eg accommodation, airline, carrier, insurance).
We will consider that the continued use of https://www.adriagate.com represents your acceptance of terms listed bellow.
2. USE OF PERSONAL DATA
Your personal data is collected and used only on the basis of data that you have voluntarily given to the Agency, either by way of registration (personal data such as: name, country, address, city, e-mail, date or simply the year of birth) or using our website https://www.adriagate.com
Collected personal data is stored in electronic form and all appropriate technical and organizational measures are applied to prevent personal data breach. Received e-mails with your personal information will only be used by the Agency for the purpose of completing your requests.
3.RESERVATION
When booking accommodation, travel or other services offered by the Agency, personal information of the reservation holder, who must be of age will be required (eg name, address, contact telephone and e-mail address) as well as data regarding other service users (eg name, date of birth) . Only the data necessary for the execution of the service will be available exclusively to the partners taking part in the service execution (accommodation, transportation, insurance and travel companion).
Payment information (e.g., bank card number, expiration date) is particularly protected and will only be available to banks or credit card companies with the purpose of payment authorisation. Please note that the registration at https://www.adriagate.com is only possible for adults of 18 years of age and older. When registering at https://www.adriagate.com the user chooses the password independently and in accordance with this is held responsible for its protection and prevention of abuse by third parties.
Cookies allow the Agency to collect statistical data with relation to user behavior at https://www.adriagate.com (for example, on which parts of the site the user spends the longest or the shortest amount of time), which Internet browser (e.g. Internet Explorer, Opera, Safari, Google Chrome,Firefox) is used and similar.
Cookies are a small set of data sent from the https://www.adriagate.com/ server to the user's computer, and serves as an anonymous identifier. Cookies are also used to facilitate navigation through web pages (for example, you do not need to enter registration data each time). Cookies are not used to access user data or to track user activity after leaving https://www.adriagate.com.
The agency reserves the right to use cookies at https://www.adriagate.com but each user may prohibit receiving cookies by editing / changing the settings in their Internet browser.
5. CONNECTIONS
https://www.adriagate.com contains links to other websites that are not owned by the Agency. Accordingly, we warn and ask the users take into consideration the fact that the Agency can not be held responsible for matters regarding privacy protection on the stated internet websites. Therefore, users are encouraged to read the Privacy Statement of each web site they access.
6. DIGITAL MARKETING
Contact information, such as your name and e-mail address, is necessary when you want to use the services of receiving promotional materials from the Agency. Promotional materials include information about service, special offers and newsletter.
The service can be disabled at any time by activating the "Logout" link at the end of an email or by sending a delete request from the digital marketing list at [email protected]
The Agency undertakes all security measures to ensure data protection, during input, transfer, data processing, and storage. Data access is limited and the only employees in possession of it are those who require it in order to perform business activities.
The personal data transferred to the Agency upon registration shall be kept during the existence of the website or during the registration of the user. Any information provided to the Agency upon registration on the Internet site will be destroyed at the latest when shutting it down or until the user requests otherwise.
Users have the right to ask for information about their personal data being processed by the Agency as well as modify or delete them at any time by sending a request to [email protected]
8. NOTIFICATION OF CHANGES
In case of changes related to the privacy rules, the notice will be posted on the cover page of the website with the aim of informing the user.
Adriagate Travel Agency d.o.o.
Vukovarska 156, 21000 Split
t: +38521 271 870
Split, May 23th, 2018
Krajnji primatelj financijskog instrumenta sufinanciranog iz Europskog fonda za regionalni razvoj u sklopu Operativnog programa "Konkurentnost i kohezija"
All rights reserved © 2023
Sutomore is a resort in Montenegro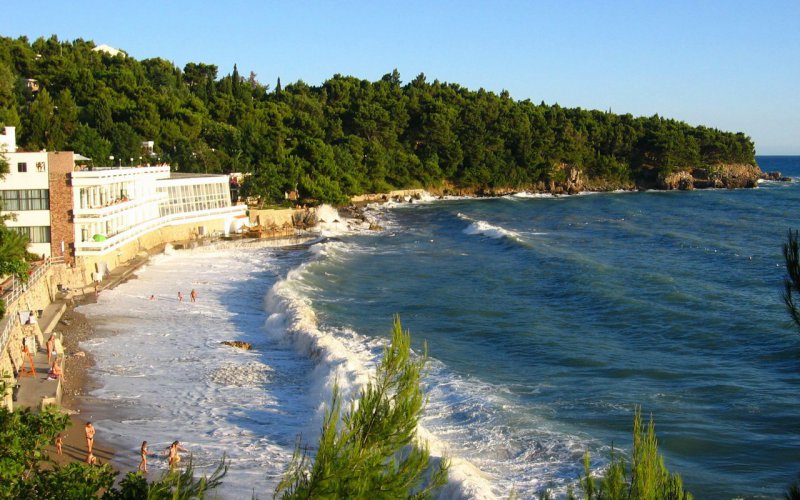 Sutomore is a small Montenegrin resort that attracts tourists with its tranquility and comfort. They do not go for a stormy fun, but for leisurely beach rest, supplemented by long walks and visits to historical sites.
Location Sutomore
Sutomore is located between Petrovac and Bar. From the first it is separated 13 km, from the second - only 5 km. Here's how Sutomore looks on the map:
A railway passes through the resort. It connects the Serbian capital of Belgrade and the Montenegrin town of Bar. From Sutomore you can easily reach these two places.
Often, from this resort go to Podgorica. The way by train or car takes half an hour. Residents of the capital have long been chosen by Sutomore, they often spend their days off here.
Weather Sutomore
Due to its favorable location, Sutomore is famous for its warm winter (from +11 °C) and hot summer (from +25 °C). The resort has a typical Mediterranean climate, characteristic of the entire Adriatic coast.
From the land Sutomore is surrounded by cypresses and pine trees. They reliably protect it from wind, cold and rain. Rains are observed here in the period from November to March. From April to October in Sutomore it is usually dry and sunny.
Local residents open the swimming season in May, but sea water during this period is often cold. Optimum to come to Sutomore in the middle of June. The weather has a rest, but a huge flow of tourists yet.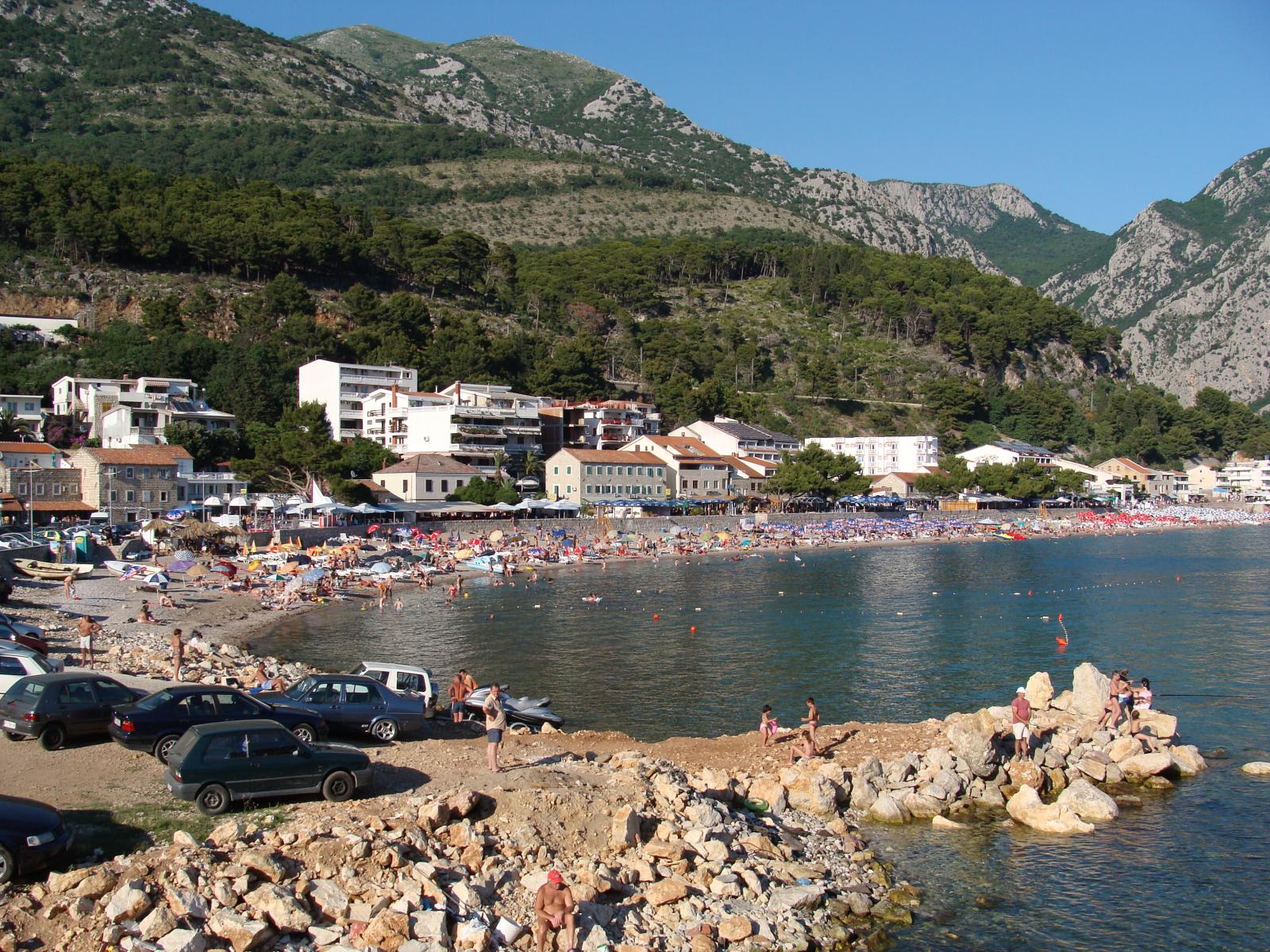 Beaches Sutomore
Sutomore attracts tourists with its beaches, which stretch for almost 2.5 km along the sea coast. All of them are clean, well-maintained and equipped.
The main Sutomore beach stretches for about 800 m. It is considered to be the only sandy beach in the whole resort. It is said that the sand here has a mineral composition. Many believe that it cures pain with rheumatism.
The other beaches of Sutomore are covered with small pebbles. In size, they are several times smaller than the main beach. Many of them are considered wild, and therefore are excellent for a solitary pastime.
On the beaches there are standard entertainments: trips on catamarans, flights with a parachute, rolling on tablets. Experienced scuba divers offer tourists diving.
Near the beaches there are numerous cafes and restaurants with completely different menus. In total there are about 50. Nearby are souvenir shops and shops with beach attributes.
Sights Sutomore
In Sutomore there are several historically valuable buildings erected in the Middle Ages. These include the two-church Church of St. Thekla, built in the XII century. From the Benedictine monastery of St. Mary in Sutomore, only ruins have been preserved, but they are also interesting for connoisseurs of history. The resort still has the fortress of Hai-Nehai (translated "fear - do not be afraid"), left to Montenegro by the Turks.
Not far from Sutomore one of the main natural attractions of the country - Skadar Lake is based. It has impressive dimensions and partly covers the territory of Albania. On numerous islands of the lake, ancient temples and monasteries have been preserved. On a lake boats and catamarans often travel.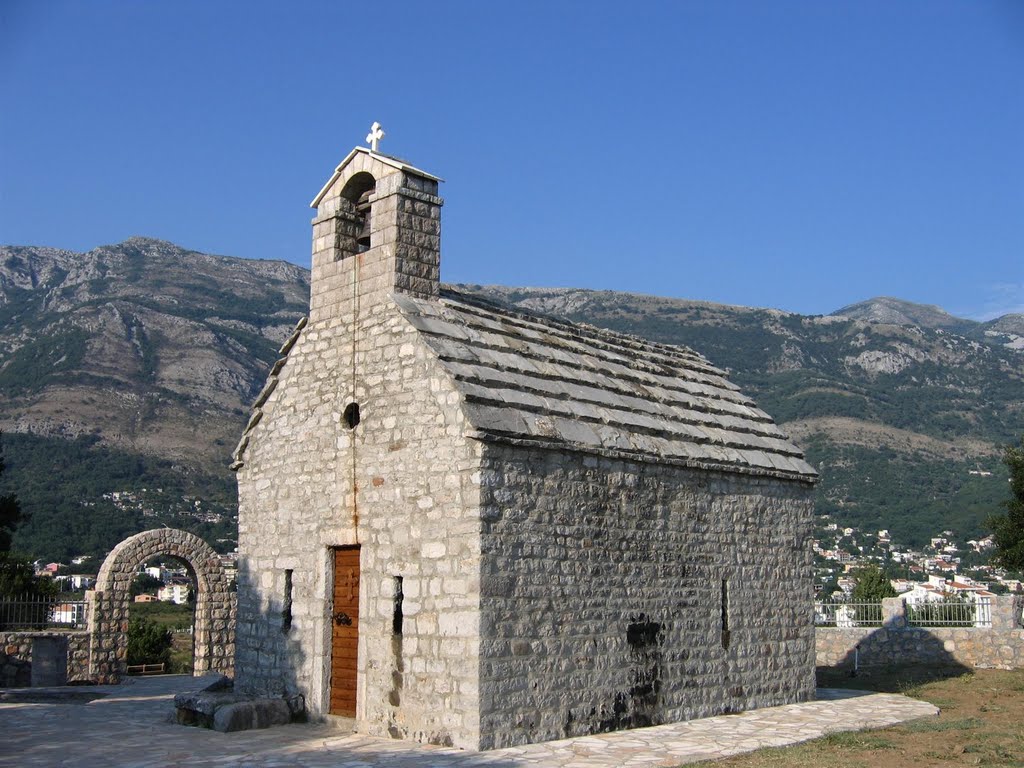 What else to see and where to go Sutomore
Sutomore itself is interesting for its historical heritage. In the town you can see ancient houses made of stone, extracted from local mountains many centuries ago. Almost all the streets are paved with age-old cobbles.
In summer, most of Sutomore overlaps, so the resort is extremely ridden cars. Everything here is for walks. Picturesque bays, quiet lagoons, steep cliffs, refined parks and dense forests - in Sutomore there are many places for inspection and recreation.
The resort has a fish market, where you can buy seafood from local fishermen. Here it is customary to carry on trades without any restrictions and purchase delicacies at half price. It is advisable to come to the market in the morning, when the night catch is still fresh.
General information
Rent a house 1
Transport 22
Entertainment 12
About country 26
Gastronomy 14
Sea and beach 4
Useful articles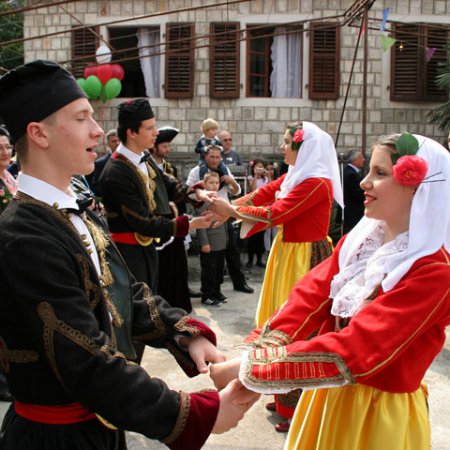 Useful links
It is known for its 2.5 kilometer long sandy beach. The low prices compared to his neighbor Budva , along with the easy access through the Belgrade – Bar railway, makes it a very popular budget destination, which has the effect of being very busy in the summer months. It is also a favorite spot for trips for young people from Podgorica , as it is only half an hour away by train or car. The beach is sandy and has a golden color which gives the beaches their own appearance. The sand has a beneficial effect on people with rheumatic diseases. In the hinterland there is a hotel, private apartments, restaurants and cafes. All this surrounded by pine trees and cypresses. For centuries Venetian nobles came here for swimming and sunbathing.
Best accommodation in Sutomore
Hotel Sea Fort – This property is located at the beach. Enjoying a seafront position in Sutomore, Apartments Sea Fort Sutomore offers an on-site restaurant and free WiFi access in the entire property. Each modern-style apartment is fully equipped and provides a balcony or terrace with seating area. Decorated in bright colours, all apartments have a living room with a sofa and a flat-screen TV, as well as a kitchen. Private bathroom comes with a bath or shower and a hairdryer. At Sea Fort Sutomore you will find a mini-market, in addition to a games room and a children's playground. The property has a 24-hour reception. A meeting hall for 50 people is also provided.
Location – Sutomore.
Facilities : Beachfront, Terrace, Spa/wellness packages (Additional charge), Restaurant (à la carte), Room service, Free Wi-Fi, Secured parking (Additional charge), Ironing service (Additional charge), Laundry (Additional charge), Car hire, Airport shuttle (additional charge).
View offer >>>
Related articles
Related links.
Discover Montenegro
Related articles.
Leave a Comment Cancel Reply
Save my name, email, and website in this browser for the next time I comment.
This site uses Akismet to reduce spam. Learn how your comment data is processed .
country profile
Sinjajevina
Kucka Krajina
Moracke Planine
Rijeka Crnojevica river
Bojana river
Cijevna river
Moraca river
Komarnica river
Ribnica river
Boka Kotorska
Skadarska Krajina
Ulcinjska Salina
Gospa od Skrpjela
Sveti Stefan
Katic i Sveta Nedjelja
Sveti Djordje
Gospa od Milosti
Sveti Nikola
Sveti Marko
Biogradsko Jezero
Crno Jezero
Bukumirsko jezero
Kapetanovo jezero
Plavsko Jezero
Slansko jezero
Visitorsko Jezero
Tara canyon
Mrtvica Canyon
Moraca canyon
Piva canyon
Nevidio canyon
Susica canyon
Porto Montenegro
Serpentines
Grlo Sokolovo
Lipci rock art
Ali Pasini izvori
Oko Skakavice
Mratinje Dam
Stara Varos
unesco sites
Herceg Novi
Danilovgrad
Bijelo Polje
Andrijevica
Rijeka Crnojevica
Mala Crna Gora
Donja Lastva
Skadarsko Jezero
Biogradska gora.
The twins or triplets ? of Komovi
Witness montenegro in film, ladder of cattaro, montenegro's most scenic drives.
Budva beaches
Herceg Novi beaches
Tivat beaches
Ulcinj beaches
Bar beaches
Kotor beaches
Birdwatching
Horse riding
Paragliding
Car transport
Air transport
Bus transport
Bike transport
Train transport
Ship transport
Port & Marinas
Health safety
Traditional costume
Architecture
Privacy policy
This website or its third-party tools use cookies, which are necessary for its functioning and required to achieve the purposes illustrated in the cookie policy. If you want to learn more or withdraw your consent to all or some of the cookies, please refer to the cookie policy. You accept the use of cookies by closing or dismissing this banner, by clicking a link or button or by continuing to browse otherwise. Accept Read More
Sutomore City Breaks: Best of Sutomore
Essential sutomore.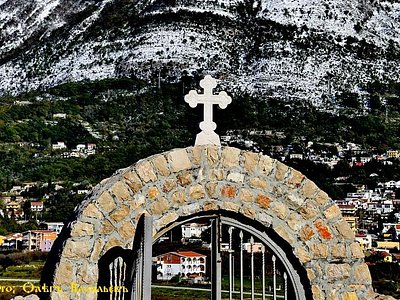 Sutomore Is Great For
Eat & drink.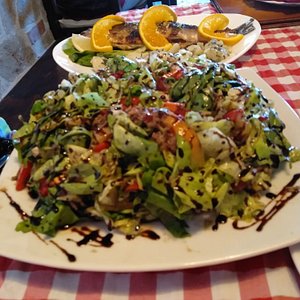 Visit Sutomore
Before Sutomore had the name of Spizza and was a part of the Venetian Republic (from the 15 th till the 18 th centuries). Therefore up to the 20 th century it was inhabited with many Italian families, who made wine-making one of the main economical branches of this region. Nowadays, of course, the town is mostly a touristic destination and brings a big contribution to the tourism in Montenegro. Due to the railway that passes directly through the town, Sutomore has become popular among the people, living in Podgorica, northern parts of Montenegro and Serbia.
Sutomore is well-known for its beaches. The main beach is apx. 2,5 km long, with crystal sand, pure water and all the needed facilities: sun beds, sun shades, cafes and restaurants, wave runners, catamarans, water bananas, possibilities for scuba-diving. The sand on this beach is known to have healing power: it is good for people who suffer from rheumatism. This is the reason why even 3 centuries ago the Venetian grand people came here to recover from living in the moisty Venice.
Another popular beach is called Canj, it is one of the best pebble beaches in Montenegro. For the convenience of the tourists during the season the embankment turns into a pedestrian zone (from the 1 st of June till the 15 th of September).
Apart from the beaches Sutomore offers several historical places of interest:
Haj-Nehaj fortress is located 230 m above sea level, it was built by the Venetians in the 15 th -16 th centuries. The fortress is surrounded with inaccessible walls and mountains from three sides, and only from one side a narrow path leads to the main entrance crowned with a winged lion – the symbol of the Venetian Republic. Along this path tourists can reach this medieval historical monument.
The Ratac monastery was first built in the 11 th century, than rebuilt in the 14 th century. Sometimes after it was inhabited by both Orthodox and Catholic moncs, and was eventually completely destroyed by the Turkish invaders. Today you can take a look at its remains.
The church of St Dimitry was built before the Haj-Nehaj fortress in the 13 th century. The land near the church was used as a cemetery for brave worriers. Today it is used for public worships during saint holidays.
The church of St Fekla is a unique two-niche church, that dates back to the 13 th -14 th centuries. It combines sanctuaries of two confessions at the same time : Orthodox and Catholic. The cemetery surrounding the church also has the same division. The church was heavily damaged during the earthquake in 1979 and afterwards was incorrectly rebuilt. The complete restoration finished in 2005.
All in all Sutomore is known to be a quiet calm place. From here you can easily reach all popular touristic destinations in Montenegro. Due to its geographical placement, cheap prices on accommodation, and the seclusion of the beaches – Sutomore is an ideal place for people of moderate means.
Press ESC to close
Or check our popular categories....
Sutomore: beaches, hotels, TOP 5 places
An ambiguous and little-known Montenegrin resort on the Adriatic Sea – Sutomore. In this article you will find a complete overview of this town. I will tell you about all the beaches, give the coordinates of the best restaurants. You will learn about the attractions in the city and its environs. And most importantly, you decide for yourself whether to go to Sutomore on vacation or choose another resort.
Table of contents:
Sutomore: general information
How to get there: bus, train
The best hotels and apartments in Sutomore: accommodation
The best taverns and restaurants in Sutomore
Overview of the city's beaches: urban, nudist, tunnel beach, attractions in sutomore, it will be difficult for you to plan your dream trip to montenegro without these websites.
Below is general information and some facts about the city:
The name of the city Sutomore comes from the words 'land' and 'sea'.
Until the 15th century, there is no mention of the city in this place. The history of the city began only with the conquest of these lands by the Turks.
Today the population of Sutomore is about 3000 people. In the high season, together with tourists – 50,000.
City coordinates on the map: 42.14190137771442, 19.047260421943104
For the last 200 years it was a small fishing village.
Tourism here began to develop actively only in the last 15 years. To date, there are no more than 10 hotels here. Most accommodation options are private apartment rentals.
It's important to know: Today, the Sutomore resort in Montenegro is considered the cheapest on the entire Montenegrin coast.
As a result, a lot of locals rest here during the high season in summer. Many come on vacation from Podgorica, from Niksic to a beach holiday.
How to get there: by bus, by train
If you look at the map, you'll see that Sutomore has a great location. It is located in a triangle between the three major cities of the country: Budva, Bar and Podgorica. By the way, this is another reason why the locals from Podgorica come here to the sea. From Podgorica to Sutomore is only 30 km along a straight road, this will take a little more than half an hour.
Important to know: there are no direct buses from both airports in the country. You only need to travel with transfers.
There is no problem to get there by car or taxi. And here is what you need to know about the bus and train to Sutomore:
Many buses from Bar, Budva, Ulcinj, Podgorica run daily in Sutomore.
There are three times more buses from Budva and Bar than from Podgorica. You need to buy a ticket at the bus station in your city. All about the buses and trains of the country, the current schedule, read the link.
Good to know: Podgorica and Bar are connected by the only railway line in the country that goes to the coast. Trains run along this route. 6-10 trains per day depending on the season. The trains have many stops along the way. They stop at stations near Podgorica Airport and in Sutomore. And this is the most convenient way from Podgorica airport to come to Bar or Sutomore. About one hour on the way, costs 3 euros.
For details on how to take the train from the airport to the coast, read the article about the country's international airports .
The best hotels and apartments in Sutomore
Today, almost every resident of Sutomore rents apartments for tourists. Conditions vary everywhere. But most likely there will be one bedroom, living room with kitchen, garden or terrace, car parking.
Since this is a cheap resort, the cost of renting budget apartments will be about 20-30 euros per day. For example, the same apartments in Budva in the high season will definitely be more expensive than 30 euros.
There are still few hotels, but they exist and new ones are under construction. There will be much more hotels in Sutomore in 3 years.
Good to know: If you look at the map above, you will notice that most of the city is not by the sea. The farther from the sea, the higher the hill, but the rent is cheaper. This is another reason why this resort is so cheap. If the distance from the beach is important for you, pay attention to this.
And below you can find a dynamic rating of the most popular hotels and apartments in Sutomore. Click, see photos, prices, location on the map, read reviews.
The city is small, but there are many restaurants here. In Montenegro, there is no problem to find a cafe to have a tasty meal. I will only mark the cafes that I like 🙂
All cafes will be marked on the map of attractions and beaches in the city. The map will be below in the chapter: Attractions.
All three cafes from the list below serve national Montenegrin cuisine, large servings and affordable prices:
Kafana Kuzina: 42.14072, 19.04379
Restoran Pristan: 42.13436, 19.06087
Izvor: 42.13826, 19.05045
I will say right away there are no attractions in the city. All the main attractions of Sutomore are beaches.
It's important to know: All photos below were taken in April or October-November, when there are almost no tourists at the resort. During the high season in July-August, the beaches of Sutomore are overcrowded. But it will be so in any resort of the country during this period. Another problem is that locals put sun loungers on almost everywhere on the beach, and there is no free space for those sunbathing on towels. And renting a sun lounger and an umbrella in August costs 15 euros per day.
All beaches are marked on the sights map in the next chapter.
The city's main beach is called Sutomore Beach. Its length is approximately 1 km. There is a promenade, many restaurants and cafes. The northern part is pebbly, and to the south the beach becomes small-pebbly and even a little sandy. There are most tourists here during the season.
On the second beach, Malevik, which is smaller, there are areas with therapeutic mud. I don't know how curative it is, but tourists are happy to smear themselves. By the way, this beach is semi-wild.
All about the nudist beaches of Montenegro.
Štrbina beach, locals call it a horseshoe. Since it is shaped like a horseshoe. A small beach closed on all sides in a bay without wind and waves. There are sun loungers, a restaurant, in the high season the beach is crowded.
A little to the south of the main beach, about 400 meters, there is the Golden Beach, or Zlatna Obala beach. The beach is beautiful, between the rocks, but closed. It is considered a private area of the Golden Coast Hotel. You can certainly argue with them that there are no closed beaches in Montenegro.
And now the cherry on the cake, the most unusual beach in the city, and for many – the best. Devocen Beach is a small beach under a rock. There are few pebbles and no sun loungers, large boulders and stones. Sunbathe right on them. There are places where you can jump from a cliff from several meters.
But it is popular with tourists not for this. There is only one road to Devocen beach – through a two hundred meter tunnel in the rock. Moreover, the tunnel is not for people, it was once cut through for sea water. And now people go there. The tunnel is not illuminated, a flashlight on the phone will be enough.
Beach coordinates: 42.13705582886853, 19.03713516136236
Tunnel entrance coordinates from Sutomore: 42.14029995760594, 19.039047434674615
I have already said above, but I repeat: Sutomore is not the city where tourists go for attractions.
All more or less significant places can be covered in 3-4 hours. And so long because they are far apart.
Below is a map of the best restaurants, all the beaches and attractions of the city:
Green marks are beaches
Purple – taverns and restaurants
Dark red – attractions
And below is a small list of locations where you can go for a walk along Sutomore.
Ottoman fortress on the hill Haj-Nehaj. Heavily damaged and abandoned. Height above sea level 230 meters. Good trekking uphill. Gorgeous views of the city and the sea from the top of the hill. The best attraction in Sutomore, or rather what remains of it.
Both are free and available 24/7.
In general, this list of interesting places is over, there are also about 10 churches. The two most worthy I marked on the map: the church of St. Thekla and St. Petka. A beautiful road leads to St. Petka's church.
If you are going on vacation in Sutomore, then you will visit all the sights of the city at a very leisurely pace in the first two days. And then tourists begin to explore the surroundings. Of the advantages of this resort – a large number of interesting places within a radius of 50 km from the city. If you have a car, then an hour's drive from Sutomore there are:
The city of Ulcinj with the longest beach in Montenegro and an abandoned saltworks
Petrovac city 10km away and two health paths
20 km away is the hallmark of the country – the island-hotel Sveti Stefan
At 5 km the city of Bar and the center of shopping in Montenegro, an overview of Bar is available at the link.
A complete list of cities in Montenegro and where to go for a tourist read here.
Skadar Lake National Park – 15 km.
45 km from Sutomore – the largest karst cave in the country – Lipa Cave . And this is not a complete list of cool places around the city.
And finally, the TOP 25 best attractions in Montenegro that you must visit.
In conclusion: the city of Sutomore is a very strange resort with one clear advantage – a convenient location for day trips around the country. You can get to Budva in a day, and Kotor, and southern Ulcinj. At the same time, there is absolutely nothing to see in the city itself, there are no attractions here. It would be nice if there were heavenly beaches, but they are not the best either. There are beaches, but they are very crowded during the high season. To go here or not, it's up to you. In any case, you will get your portion of impressions, the sea and the sun.
Resources to help you plan your dream trip to Montenegro
Flights at the best prices with discounts
Discovery Cars – a large international resource
LocalRent – work with local rental companies. Leader in car rental in Montenegro.
Hotels and apartments all over the country: Booking
GYG – more than 150 tours
Viator – 700+ excursions and activities throughout the country
Comprehensive travel insurance : EKTA
eSIM virtual card in Montenegro
Taxi and transfers from Montenegro airports: Intui.Travel
Share Article:
Leave a Reply Cancel reply
Save my name, email, and website in this browser for the next time I comment.
E-mail contact:
Phone contact:
+382 68 600 952 http://juznomore.me/
Quick overview
Suitable for.
Južno More offers a bar, a shared lounge, and air-conditioned accommodation with a balcony and free Wi-Fi, a few steps from the town beach of Sutomore.
Looking for ideas for your trip?
See how others experienced their time in Montenegro. We would love hearing from you - share your Montenegro moments with following hashtag: #MontenegroWildBeauty #GoMontenegro
Discover unique Montenegro
So small you could drive across it in an afternoon. Don't just skim through it but try to truly absorb it's essence.
Explore destination year-round
Although small country it is incredibly diverse. See how much it can offer you:
Travel responsibly
Did you know? In 1991, the Montenegrin authorities adopted a declaration by which the country became the first ecological state in the world .
Keys for Understanding Montenegro
Eat like a local, meet cultural heritage (unesco), try organic adventure, privacy settings.
Here you will find an overview of the types of cookies used on the website. You can set your consent for each category individually.
Website accessibility CTRL + U
Keyboard shortcuts, sea mountains and sky in just 11 minutes.
Home » The World » Montenegro » Sutomore
More details about Sutomore in Montenegro (ME)
Do You need to call local phone numbers? Local dialing code for Sutomore is 30.
Sutomore meters above mean sea level, also called meters above mean sea level (MAMSL), should be about 4 mt. That is why it is an ideal place when you and family like to swim in the sea.
Sutomore things to do and activities: best trip destination for:
Interactive sutomore (montenegro) map and attractions.
Interactive map of Sutomore, Montenegro (ME).
Near cities to visit:
Montenegro Tourism
Montenegro Hotels
Montenegro Bed and Breakfast
Montenegro Vacation Rentals
Flights to Montenegro
Montenegro Restaurants
Things to Do in Montenegro
Montenegro Travel Forum
Montenegro Photos
All Montenegro Hotels
Montenegro Hotel Deals
Last Minute Hotels in Montenegro
Things to Do
Restaurants
Vacation Rentals
Travel Stories
Rental Cars
Add a Place
Travel Forum
Travelers' Choice
Help Center
Sutomore, early October - Montenegro Forum
Sutomore, early October
United States Forums
Europe Forums
Canada Forums
Asia Forums
Central America Forums
Africa Forums
Caribbean Forums
Mexico Forums
South Pacific Forums
South America Forums
Middle East Forums
Honeymoons and Romance
Business Travel
Train Travel
Traveling With Disabilities
Tripadvisor Support
Solo Travel
Bargain Travel
Timeshares / Vacation Rentals
Europe forums
Montenegro forum
We should be there in the first few days of October. My question is, "is everything closed by then?".
Or would you suggest another place to stay?
Many thanks in advance.
This topic has been closed to new posts due to inactivity.
Uk refugee travel document yesterday
Driving in Montenegro Nov 15, 2023
2 weeks in Kotor, June Nov 13, 2023
Sedlo pass Nov 12, 2023
Virpazar Hotel and Boat Tour Recommendations Nov 09, 2023
Sedlo pass (P14) in November Nov 06, 2023
Bar to Podgorica train Nov 05, 2023
Late'ish Arrival into Podgorica - Stay or move on? Nov 04, 2023
Medications Nov 03, 2023
Kotor bus system -- google maps Nov 02, 2023
Budva and Bar vs. Niš? Nov 01, 2023
Trans-Balkans trip? Nov 01, 2023
Sveti Stacije stop to Tivat Oct 31, 2023
itinerary advice Oct 29, 2023
Montenegro resorts 5 replies
Montenegro: first timer where's the best place to go? 3 replies
Bus timetable: Dubrovnik-Kotor-Budva on April 2012 4 replies
Herceg Novi/Djenovici 5 replies
Boat in Kotor 2 replies
Montenegro weather in June - mixed reports 8 replies
Ada Bojana 3 replies
Best beaches in Montenegro 5 replies
Croatia or Montenegro 14 replies
Podgorica to Belgrade train (day time) 2 replies
Montenegro Hotels and Places to Stay
Average cost of trip to Sutomore (Montenegro)
Accommodation, food, transport and entertainment costs in sutomore (montenegro).
How much money are you going to need for your trip to Sutomore (Montenegro)? You should plan to spend around 104.81 € ( $114.42 ) per day on your trip to Sutomore (Montenegro) for one person and 136.34 € ( $148.84 ) for two when traveling. This budget includes accommodation costs for 2 adults in a good 4-star hotel ( 73.28 € $80.00 ), lunch in a local restaurant, street food and drinks for a day ( 30.87 € $33.70 ) and some entertainment ( 32.19 € $35.14 ) for two. Find more about Sutomore (Montenegro) travel budget in 2020 below .
How much will a one-week trip to Sutomore (Montenegro) cost? The average one-week vacaction cost to Sutomore (Montenegro) is around 986.68 € ( $1,077.10 ) for one person and around 1,357.76 € ( $1,482.19 ) for a couple including flights. November is the cheapest month to go to Sutomore (Montenegro).
Sutomore (Montenegro)
💰 is it expensive to visit sutomore (montenegro).
A lot of people want to visit Sutomore (Montenegro) and wonder what the budget would be like. Like with any vacation, the cost depends on where you're flying from, what kind of accommodations you're looking for and what you want to see or how you want to spend time. We're colleting all these travel costs from other travellers just like you, so you can make a better estimate of the budget for a trip that matches your own preferences.
✈ Cost of flights to Sutomore from
How much does it cost to fly to Sutomore? High season for flights to Sutomore (Montenegro) spans from March to September — prepare to pay $273.00 and more for your return flight to Sutomore (Montenegro). The period from January to February is considered the low season and the average fares for flights are generally cheaper: you can usually get a return flight for about $122.00 on average. And if you're lucky, you can even find a better deal!
🛏 Average prices for accommodation in Sutomore
How much do hotels charge per night in Sutomore? High season in Sutomore (Montenegro) runs from April to September. One night in a mid-range hotel during these months costs around $37.00 . Low season spans from October to March. You can get a room for a night for as low as $3.00 . Some nice bargains are usually also available, especially at the higher end resorts.
3*, 4* Hotels. Double rooms in 3*, 4* Hotels cost around $34.71 per night, but prices can go up to 6% higher during high season.
🍲 Average prices for food and eating out in Sutomore
How much does food in Sutomore cost? The average cost of food and drinks in Sutomore is 0.00 € ( $0.00 ) per day for one person. A sit-in dinner for two people would cost around 23.08 € ( $25.20 ). Lunch in a mid-range cafe or restaurant would cost you something between the two.
How much do drinks cost? A bottle of water in Sutomore is around 3.75 € ( $4.09 ). A soft drink is around 1.66 € ( $1.81 ) when you buy it in a supermarket. A beer would cost you around 1.90 € ( $2.07 ) when you buy it in a bar. Alcoholic cocktails in bars and night clubs are 4.24 € ( $4.63 ) per cocktail.
🏛 Average prices for entertainment in Sutomore
What are the prices for entertainment and activities in Sutomore?
🚌 Average prices for transport and car rentals in Sutomore
How much does airport transfer cost in Sutomore? The average cost of a 20-minute taxi ride is approximately 5.17 € ( $5.64 ).
☀ Weather in Sutomore
The hottest season in Sutomore runs from June to October. The average temperature is around 30 °C. The rainy season is from November to December with average rainfall of 189mm.
🤑 Calculate your Sutomore travel budget
All popular destinations in montenegro.
Book your individual trip , stress-free with local travel experts
roughguides.com
getting-there
Travel guide
Local Experts
Travel Advice
Accommodation
Flights to Montenegro are in pretty short supply, but Montenegro Airlines ( w www.montenegroairlines.com ) flies to Podgorica and Tivat (near Kotor) from several European destinations. The state is also easily reached overland from any of its neighbouring countries. From Croatia, there are buses along the coast from Dubrovnik – also home to the closest budget flights – and there are a couple of services from Split too; some of these will require a bus change after a short walk across the border. From Serbia, there are several daily buses between Belgrade and the Montenegrin coast, via Podgorica; daily trains – including a night service – also run from Belgrade to Bar along the same route. From Bosnia-Hercegovina there are direct buses to Podgorica from Trebinje and Sarajevo.
Meet your Montenegro local travel expert
17 days  / from 3432 USD
Balkan Puzzle
A visit to the Balkans is an incredible experience, get ready for memorable flavours of the traditional cuisine and hospitable locals while you explore the sights: stunning panoramic views, tiny to the Adriatic coastline, idyllic and fertile valleys, pristine rivers and lakes.
9 days  / from 1983 USD
Epic Montenegro
Do you want to experience the joy, both of simple mountain life as well as the modern, luxurious spirit of the coast, then Montenegro is just the right place for you! Enjoy rafting, canyons, national parks and old towns and make your trip unforgettable.
14 days  / from 2833 USD
Serbia & Montenegro
If you are curious and looking for a remarkable journey filled with true wilderness, lovely people and life-changing adventures then Serbia & Montenegro are a must-visit! Enjoy the diverse UNESCO sites, glorious mountain peaks and crystal blue waters during this exciting 14-day trip.
13 days  / from 3182 USD
Balkan Extended
The Balkan Extended tour truly showcases the finest of Balkan's heritage and natural beauty as you make your way through the 5 countries. Learn about the Serbian Athens, climb the splendid Old Bridge in Mostar, observe Slovenia's water castle and dive into the pearl of Croatia's beauty in Istria.
10 days  / from 2593 USD
Balkan & Adriatic
The most relaxing Balkan & Adriatic tour! This trip is for travellers who are interested in visiting different locations in the Balkans but prefer a comfortable way of travelling. Get to know parts of Serbia, Montenegro and the beautiful towns of Croatia, all while travelling at a slow pace.
10 days  / from 2212 USD
Balkan Essentials
The Balkans are stunning and you will have a chance to experience their beauty during this 10 day-multiple country trip. Feel the welcoming vibe of Belgrade, visit Kotor, Europe's unmissable town, walk down the famous Bridge on Drina and observe stunning Plitvice Lakes.
10 days  / from 1988 USD
Explore the Balkans
Enjoy the sights of Serbia, Bosnia and Herzegovina, Montenegro and Croatia in one trip - the best of the Balkans! Stroll through the old towns, marvel at the historic buildings and stunning natural landscapes as you make your way through these four interesting countries.
Perhaps the most romantic way to arrive in Montenegro is by ferry from Italy. Between April to September, Montenegro Lines ( w www.montenegrolines.net ) runs between two and six weekly services to Bar from Bari (from €50).
Travel advice for Montenegro
From travel safety to visa requirements, discover the best tips for traveling to Montenegro
Travel Tips Montenegro for planning and on the go
Culture and Etiquette in Montenegro
Eating and drinking in Montenegro
Getting around Montenegro: Transportation Tips
Sports and Outdoor activities in Montenegro
Best time to visit Montenegro
Find even more inspiration here
written by Rough Guides Editors
updated 26.04.2021
Plan your tailor-made trip with a local expert
Book securely with money-back guarantee
Travel stress-free with local assistance and 24/7 support
Ready to travel and discover Montenegro?
Get support from our local experts for stress-free planning & worry-free travels.
Where to stay
Travel advice
Montenegro Travel Restrictions
Traveler's COVID-19 vaccination status
Traveling from the United States to Montenegro
Open for vaccinated visitors
COVID-19 testing
Not required
Not required for vaccinated visitors
Restaurants
Not required in enclosed environments and public transportation.
Montenegro entry details and exceptions
Ready to travel, find flights to montenegro, find stays in montenegro, explore more countries on travel restrictions map, destinations you can travel to now, dominican republic, netherlands, philippines, puerto rico, switzerland, united arab emirates, united kingdom, know when to go.
Sign up for email alerts as countries begin to open - choose the destinations you're interested in so you're in the know.
Can I travel to Montenegro from the United States?
Most visitors from the United States, regardless of vaccination status, can enter Montenegro.
Can I travel to Montenegro if I am vaccinated?
Fully vaccinated visitors from the United States can enter Montenegro without restrictions.
Can I travel to Montenegro without being vaccinated?
Unvaccinated visitors from the United States can enter Montenegro without restrictions.
Do I need a COVID test to enter Montenegro?
Visitors from the United States are not required to present a negative COVID-19 PCR test or antigen result upon entering Montenegro.
Can I travel to Montenegro without quarantine?
Travelers from the United States are not required to quarantine.
Do I need to wear a mask in Montenegro?
Mask usage in Montenegro is not required in enclosed environments and public transportation.
Are the restaurants and bars open in Montenegro?
Restaurants in Montenegro are open. Bars in Montenegro are .
Caution November 18, 2023
Worldwide caution, update november 18, 2023, information for u.s. citizens in the middle east.
Travel Advisories |
Contact Us |
MyTravelGov |
Find U.S. Embassies & Consulates
Travel.state.gov, congressional liaison, special issuance agency, u.s. passports, international travel, intercountry adoption, international parental child abduction, records and authentications, popular links, travel advisories, mytravelgov, stay connected, legal resources, legal information, info for u.s. law enforcement, replace or certify documents.
Share this page:
Montenegro Travel Advisory
Travel advisory july 26, 2023, montenegro - level 1: exercise normal precautions.
Reissued with obsolete COVID-19 page links removed.
Exercise normal precautions in Montenegro.
Read the country information page for additional information on travel to Montenegro.
If you decide to travel to Montenegro:
Enroll in the Smart Traveler Enrollment Program ( STEP ) to receive Alerts and make it easier to locate you in an emergency.
Follow the Department of State on Facebook and Twitter .
Review the Country Security Report for Montenegro.
Visit the CDC page for the latest Travel Health Information related to your travel.
Prepare a contingency plan for emergency situations. Review the Traveler's Checklist .
Travel Advisory Levels
Assistance for u.s. citizens, montenegro map, search for travel advisories, external link.
You are about to leave travel.state.gov for an external website that is not maintained by the U.S. Department of State.
Links to external websites are provided as a convenience and should not be construed as an endorsement by the U.S. Department of State of the views or products contained therein. If you wish to remain on travel.state.gov, click the "cancel" message.
You are about to visit: