What's New?
Liverpool City Council's Liverpool Independent Travel Training courses available now
Liverpool City Council's Liverpool Independent Travel Training courses available now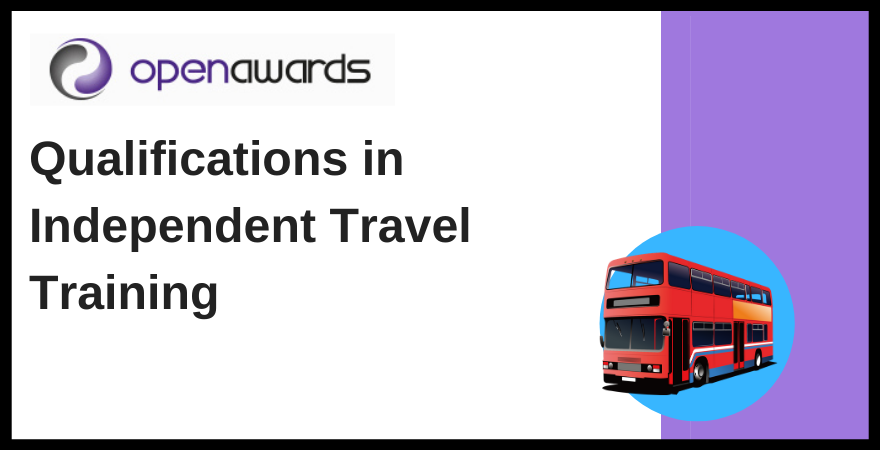 0 Add Comment
We are very proud to be working with Liverpool City Council's Liverpool Independent Travel Training who provide two of our qualifications,  Level 3 Certificate in Skills for Managing an Independent Travel Training Programme and  Level 2 Open Awards Accredited Introduction to Travel Training . 
The courses are incredibly rewarding  that support other Local Authorities, schools and professionals in setting up, managing and delivering a travel training programme in their local area or education establishments. The training enables other professionals to support children, young people & adults to travel safely & independently.  It also improves their social life and opens up opportunities for further education and employment.
Skills for Managing an Independent Travel Training Programme Course
Travel training is a growing area across education and third sectors as it is recognised as a positive approach to promoting independence for young people and adults with Special Educational Needs & Disabilities.  The Open Awards Accredited Level 3 Certificate in Skills for Managing an Independent Travel Training Programme, aims to give you the underpinning knowledge and skills needed to work in the role of a travel training manager or co-ordinator, overseeing travel training programmes and supervising a team of travel trainers. 
Train the Trainer Course for Independent Travel Training
Liverpool City Council delivers the Level 2 Open Awards Accredited Introduction to Travel Training, which is a benchmark training programme for travel trainers to enable them to support young people or adults with barriers to travelling independently, giving them training on a set of essential skills to enable them to travel independently.  The training programme is aimed at anybody who may wish to teach travel training as part of their current role i.e.: learning Support Assistant, Keyworkers, travel trainers or for volunteers and parents/carers.
The courses have proved very popular and received some great feedback;
Skills for Teaching Independent Travel (Train the Trainer) Course
'This has been an introduction to an exciting and inspirational programme which I hope we will be able to develop in my Local Authority.  Also excellent resources learning from experienced professionals' Joanne – Warrington Borough Council
'This was such an enjoyable and informative course.  A great opportunity to learn from the team who were very open and honest and happy to share their experiences and expertise.  Excellent course which I would highly recommend' Sue – Warrington Borough Council
'Detailed run through of how to use the documents provided – not just how but why.  Very enjoyable and useful training, teaching style suited the content & felt very comfortable' Kev – Warrington Borough Council
'The practical session was very useful, it was good to see how Liverpool have approached this' – Emma - Sefton Borough Council
' The course was very good and well structured.  All aspects were covered' Phil - Sefton Borough Council
Skills for Managing a Travel Training Programme Course
'I found the course easy to follow and understand, each session I undertook was evaluated and reiterated. This course has been so helpful.' Cassandra – Warrington Borough Council
Please email [email protected] to enquire about course dates and fees.
Share this Article
Leave a comment.
* Indicates fields are required
Message for Internet Explorer 6 users .
Colour Scheme:
enhancing opportunities
Courses & Pathways
Careers Programme
Student Support & Information
Wellbeing & Welfare Links
Latest News
Destination Data
Greenbank Alumni
Want to keep in touch?
Recent Blogs
Social Value Project - a New Look for the College Canteen
Hair Show 2022
Greenbank Open Evening
"Moving On" event a success!
Greenbank obtain the Matrix quality standard again
Business and Administration
Catering and Hospitality
Community Reporters
Customer Service
Functional Skills
Hairdressing
Health and Social Care
Information Technology (IT)
Sewing, Fashion and Textiles
Sport, Exercise and Fitness
Independent Travel Training

Student, Courtney used to rely on other people to get her to where she wanted to go, but now, thanks to Independent Travel Training from Liverpool City Council she is able to make her way independently.
This includes her bus journey to Greenbank College. Thanks to support from her trainer, Emma she now has the confidence to travel from home to college and knows exactly what is involved with the journey, including her choices, if things don't go exactly to plan.
Courtney said:
"I've got a lot more independence now and can just go out with my mates if I want to, rather than waiting for my Dad."
Emma, her travel trainer added:
"It has been amazing to see the transformation in Courtney's confidence since she has completed the travel training programme.  She is now travelling independently to and from college and accessing extra-curricular activities as well as enjoying a busy social life without the reliance on her family"
Courtney has been filmed by Twin Vision , on behalf of Liverpool City Council, to tell others about her Independent Travel story and this will be premiered at the Independent Travel Training Presentation Ceremony at Liverpool Town Hall on 7 th April 2017.  All of the young people who have completed the Independent Travel Training Programme have been invited to celebrate their success and will be presented with a certificate by Councillor Nick Small.
Greenbank Lane, Liverpool, Merseyside  L17 1AG England · Tel: 0151 733 7255 · Registered Charity Number 513814 · Company Registered in England 1696490 · Greenbank College is part of Greenbank a long established Liverpool based registered charity which provides a range of services for disabled people and other disadvantaged groups.
Sitemap - terms - privacy & cookies - how to find us - support us - job vacancies - greenbank charity - greenbank sports academy.
Privacy Overview
Strictly Necessary Cookies
This website uses cookies so that we can provide you with the best user experience possible. Cookie information is stored in your browser and performs functions such as recognising you when you return to our website and helping our team to understand which sections of the website you find most interesting and useful.
Strictly Necessary Cookie should be enabled at all times so that we can save your preferences for cookie settings.
If you disable this cookie, we will not be able to save your preferences. This means that every time you visit this website you will need to enable or disable cookies again.
Transport to/from Education
Home to School Transport
For Pupils with Special Educational Needs
Click here to apply for Home to School Transport liverpool.gov.uk/hometoschooltransport
The SEN Home to School Transport Team is based in Newton Road Depot, L13 3HS. Direct telephone numbers to the team are 233 6511 and 233 6513. The team has a general email address for contact: [email protected]
Liverpool City Council has strict criteria which determine a pupil's eligibility for Home to School Transport. The criteria are available in the document Home to School Transport Policy. The policy applies to pupils and students with special educational needs who are up to 18 years old on 1 st September of the applicable academic year. Separate arrangements apply to those who are aged 19-25 who hold an Education Health Care Plan and are remaining in education. Transport arrangements for eligible Students aged 19-25 are made through Adult Services and will be discussed either at the Transition Review held as the student moves to Adult Services, or through a Social Work Assessment. For Further information, please see the document 'Adult Services and Health. Transport Eligibility Criteria Policy' or telephone the Adult Careline on 233 3019.
Referrals for an assessment of eligibility for Home to School Transport aged 18 or under may be made via a school or the SEN Placement and Assessment Service or by completion of the Application Form for Home to School Transport. All referrals should be made to the Transport Team using the above contact details and referrals will be considered within five working days of receipt.
Should an application for transport be declined, a parent/carer may request a review of this decision. This will be considered by the Transport Review Panel. The panel consists of elected members and meets once each month. The panel will also consider applications for a review of the type of transport provision offered by the Transport Team should a parent/carer disagree with the arrangements made. An application form for a review is available and parents/carers should submit all evidence they wish to be considered by the panel, with the form, to the Principal Officer within the Transport Team who will arrange for it to be referred to the panel. The parent/carer will be notified of the decision of the panel by letter and the relevant extract from the minutes of the panel meeting will be included in the letter.
Pupils deemed eligible for Home to School Transport will be offered one planned journey to and from school at normal school opening and closing times. Transport will be in the form of:
A bus pass (except in cases where a pupil receives a free bus pass issued to eligible pupils by Merseytravel and the time restrictions applied to the pass will facilitate attendance).
Minibus or taxi transport.
The City Council can provide financial assistance of £3.00 per day to parents/carers of eligible pupils who wish to make their own arrangements.
Accessible minibuses and taxis will be made available for eligible pupils who require this form of transport.
The City Council will provide specialist seating and restraints for eligible pupils if required.
Travel training to support eligible pupils travel independently to and from school.*
Passenger Assistants are allocated to vehicles where it has been identified that pupils require supervision during the journeys to and from school. All passenger assistants and drivers working on the Home to School Transport Contract are required to have a satisfactory Disclosure Check at enhanced level.
Further information on the Home to School Transport Service is available in the Handbook.
For Non SEN Pupils With Temporary Disabilities
Short term transport may be considered where a pupil has a short term medical incapacity which prevents the pupil from either walking to school or using public transport. Medical evidence must be provided to confirm that the pupil is unable to travel independently and in these cases the provision will not normally be agreed to exceed one school term unless there are exceptional circumstances.
For Non SEN Pupils with Long Term Disabilities
Applications for home to school transport for pupils who may not have special educational needs, but who may be unable to complete the journey to and from school by walking or using public transport through a long term medical incapacity, will be considered by the Transport Review Panel. Parents/carers will be required to produce medical evidence to support the application. To apply for a referral to the panel, the parent/carer should complete an Application for Review form and submit this to the Principal Officer in the Transport office. The parent/carer will be notified of the panel's decision in writing and the relevant extract from the minutes of the panel will be included in the letter.
Concessionary Travel Passes
Issued by Merseytravel
In certain circumstances, pupils and students with special educational needs may be eligible to receive a concessionary travel pass from Merseytravel. For further information on these passes and to make an application, please contact Merseytravel on 0151 236 6056 or call into your nearest Merseytravel Centre.
Additional Information Documents/Forms
Additional documents and forms referred to in the general information on home to school transport are available to view in this section.
Home to School Transport Policy
SEND Transport Handbook
Application for Review Form
Independent Travel Training Leaflet.
Related Pages
Travel and Transport
Home to School Transport Policy 2023/24
SEND Transport Handbook 2020
Application for review of decision relating to home / school transport for pupils with SEN
Independent Travel Training Leaflet
Related Services
Independent Travel Training
Related Links
Apply for School Transport
Your browser is not supported for this experience. We recommend using Chrome, Firefox, Edge, or Safari.
Travel in Liverpool City Region
Travelling around liverpool city region is easy, travel around liverpool city region.
Liverpool City Region is well-connected via public transport. The Merseyrail network links Chester, Wirral, Southport and Liverpool Airport via the Wirral and Northern Line network.
The region is also serviced by Arriva and Stagecoach buses with each single journey costing just £2 per adult.
The local transport in Liverpool City Region prides itself on its accessibility making travel around the area easy for all. The  Merseytravel website  provides accessibility information on each mode of transport in the area, as well as access guides, useful contacts and links to learn more. Whilst you're here, local travel centres can help with information on getting around.
Travel links
Travel to and around Liverpool City Region with a single fare costing just £2 per adult.
Linking Chester, Wirral, Southport, and Liverpool Airport through the Wirral and Northern Line…
Self drive and hire options
Voi is a Swedish micro-mobility company offering the local community an e-scooter sharing…
Auto Europe
For over 60 years, Auto Europe has been a leader in worldwide car hire services. In recent years, we…
Liverpool launches major new cycle routes consultation
A major public consultation is being launched today (monday, 1 august) to get views on improvements to three cycle routes in liverpool..
Liverpool launches cycle routes consultation
Liverpool City Council is asking the public for their feedback on the proposed permanent lanes, which are located on the following routes:
•  East Lancashire Road to the city centre  – from Norris Green to Breck Road and on to Everton Park. •  Gateacre to the city centre  – connecting up the university campuses through to the Knowledge Quarter. •  Sefton Park to the city centre  – connecting the Ropewalks to Baltic Triangle and on to Dingle and Aigburth.
The proposals are key to the city's Active Travel programme and will also feature new and improved footpaths and pedestrian crossing facilities.
The measures being proposed set out to fill gaps in the existing network to overcome significant barriers to cycling.
Equating to some six kilometres of continuous cycle routes, these new lanes will also connect to other new routes such as the Princes Avenue cycleway in Toxteth and  will complement schemes such as Lime Street in the city centre , which is celebrating the opening of Liverpool's newest cycle lane today.
The six-week long consultation runs until Friday, 9 September with information and a feedback form available online at  www.liverpool.gov.uk/consultation
As part of the consultation, the city council will be hosting events for the public to view the proposals and ask questions. The location and dates of these events will be published on  www.liverpool.gov.uk/consultation .
This new £3m phase of the city's Active Travel programme also includes  improving 30 access points along  the Liverpool Loop Line , which runs 16km through the city from Halewood to Aintree.
The city council has also developed designs for  a new cycle training facility at Everton Park, as part of the British Cycling "places to ride" programme . This facility would be the first of its kind in the city, providing an artificial road network for children to understand how to navigate different types of junctions.
Funding for this new phase comes from the European Union, the Department for Transport, Liverpool City Region and planning contributions from the city council's Section 106 fund.
Following the consultation, the proposed measures will be signed off by the council which will then issue a tender to procure contractors to carry out the schemes.
It is expected the works will be complete by Spring 2023.
Following completion, the city council will then begin the process of reviewing the three pop-up cycle routes that were created during the pandemic – West Derby Road, Vauxhall Road and Sefton Park.
Councillor Dan Barrington, Cabinet Member for Environment and Climate Change, said :
"Liverpool's cycling offer is not yet where it should be – but thanks to this investment we are moving in the right direction.
"These three new permanent cycle lanes have the potential to make a big difference to thousands of people who live and work in these areas because they make the crucial connection to other cycle routes.
"Joining up the routes and closing the gaps and breaks in our cycling network is a critical piece of work and I'm really delighted with the designs to open up the Liverpool Loop Line as that will be truly transformational for getting around the city by bike.
"With each new update we do more journeys are going to be continuous which makes cycling a more practical option, a whole lot more pleasurable and most importantly, safer. The planned improvements to footpaths will also make it better for pedestrians too.
"This consultation is just the start of this particular chapter in our journey to being a first class cycling city. And it won't be too long before these new permanent lanes are operational, like those on The Strand and as we see today on Lime Street too.
"Rebalancing the shift away from cars to more active travel is going to be fundamental for any city in its pursuit in tackling climate change. It will have a huge impact on us all, in terms of physical and mental well-being and collectively for its benefits to our air quality and overall environment.
"The work won't stop with these three routes. There's more to come. And with better facilities too for our children to learn how to ride, like at Everton Park, we're sowing the seeds for the next generation to be even more cycle-minded and laying the foundation for a real revolution in how Liverpool gets moving."
Simon O'Brien, Walking and Cycling Commissioner for the Liverpool City Region, said :
"Cycling is great for air quality and the environment, and brilliant for our physical and mental health and wellbeing. But we shouldn't just think of getting on our bikes as exercise – it's also a cheap and easy way to commute to work, travel to school or college and even pop to the local shops.
"But to encourage more people to leave the car at home for short journeys we need to make cycling a really attractive option by building safe, separated routes where people can ride their bikes with confidence. That's why routes like the three new ones being planned around Liverpool are so important.
"We know that across our city region support for new, safer cycle lanes is really high – about 70% of people back this infrastructure being built – but it's vital to get feedback from residents, road users and cyclists about specific routes, and that's why we're asking people to take part in this consultation let us know what they think."
For more information and to take part visit www.liverpool.gov.uk/consultation .
Expert team appointed to shape new Festival Gardens neighbourhood
Liverpool City Council has appointed a multi-disciplinary team of placemaking experts to help create a new neighbourhood next to the city's Festival Gardens.
Engagement approved on blueprint for Liverpool City Region's development until 2040
The Liverpool City Region Combined Authority has approved plans for a 12-week public engagement on a draft Spatial Development Strategy (SDS) outlining the potential for development in the region between now and 2040.
Liverpool City Region's tech sector in the spotlight as Tech Climbers returns
Tech Climbers is back in the Liverpool City Region for a fourth year, following successful campaigns in the Yorkshire and Greater Manchester regions earlier in the year.
Speak to an expert
For general enquiries contact: [email protected]
Travel initiatives
Active travel.
The Active Travel initiative will benefit cycling and walking in the Liverpool City Region (LCR), by introducing more pop-up cycling lanes and more parking for bikes in the city centre and street bike storage solutions.
Find out more about Active Travel on the LCR website .
Green Sustainable Travel Corridors Project (GSTC)
Liverpool City Council is a delivery partner in The Liverpool City Region Green Sustainable Travel Corridors Project, which aims to deliver a series of cycling and walking upgrades on key corridors to encourage increased uptake in cycling and walking in the city region by June 2023. 
Find out more about the Green Sustainable Travel Corridors Project on the LCR website .
The GSTC project is receiving up to £8.65million of funding from the England European Regional Development Fund as part of the European Structural and Investment Funds Growth Programme 2014-2020. The Department for Levelling Up, Housing, and Communities is the Managing Authority for European Regional Development Fund. Established by the European Union, the European Regional Development Fund helps local areas stimulate their economic development by investing in projects which will support innovation, businesses, create jobs and local community regenerations.   Visit GOV.UK for more information about the funding .
Northern Powerhouse
The Northern Powerhouse is a key aspect of this Government's approach to addressing the productivity gap in the North and ensuring a stronger, more sustainable economy for all parts of the UK.  Alongside over €1.5 billion of European Regional Development Fund support for businesses and communities across the North, the government has awarded £3.4 billion in three rounds of Growth Deals across the Northern Powerhouse.
Benefits and support
School travel support.
Children up to age 16, and certain post 16 pupils in education or training, may be entitled to subsidised transport, depending on the distance from home to school and if they meet certain eligibility criteria.
Apply for a travel pass Your child may be able to get subsidised transport, depending on the distance from home to school, and only if they meet certain eligibility criteria.
Apply for a duplicate You can apply for a duplicate pass if the original has been lost, stolen or damaged.
Renew a travel pass If you have received a letter from us about renewing your child's travel pass for the next school year, you can renew online.
Submit an appeal If your application for a travel pass has been refused you have the right to appeal.
Request reimbursement If there has been a delay in processing your application you can request a reimbursement for the travel fares already paid.
Related pages
Apply for SEND home to school transport
Apply for a SEND duplicate travel pass
Independent travel training