KANSAS CITY FUN TOURS
Guided Tours of Kansas City!
Get acquainted with the popular sights and local favorites that Kansas City has to offer during our fully narrated 90 minute tour aboard an authentic, air-conditioned trolley with brass rails, bells and all!
Here's just some of the highlights of what you'll see, learn about, be surprised by and laugh about along the way:
Union Station
Historic City Market
Crown Center
Country Club Plaza
The River District
Historic Westport
Sea Life Aquarium
Historic 18th & Vine
Downtown Kansas City
Nelson Atkins Museum
College Basketball Exp
Power & Light District
T-Mobile Center
Crossroads Art District
Jazz Hall of Fame
Federal Reserve
Legoland Discovery Center
Vietnam Vets Mem Park
The Mighty Missouri River
Negro League Baseball Museum
The Arabia Steamboat Museum
Hallmark Visitor's Center
Kauffman Center Preform Arts
Top 10 Things to do In Kansas City
AVAILABLE TOURS
Tours 5 days a week Thursday – Monday 10AM 12PM 2PM
All tours start and end at Union Station 30 W Pershing Road
$20 Veteran
$10 Kids (12 & under)
Info & Photo Galleries
Kansas City Fun Tours will provide wonderful wedding memories with "Pearl", our glistening white trolley.
Sounds system with aux hook-up
Seats Up to 30
Fully Air Conditioned
Padded Seats
Enjoy the famous holiday lights of Kansas City while listening to seasonal music aboard a heated authentic old time trolley with brass rails, bells , lights and all!
Thanksgiving – DEC 30st
TESTIMONIALS
We are the talk of the town!
GET IN TOUCH
If you are interested in pricing for a: Corporate Event Private Party Wedding Transportation Or just general information, contact us with form:
Thank you Kansas City!
Wedding Tour Information Private Tour Information Corporate Tour Information Other
Kansas City Fun Trolley Tours LLC
Crown Center
Address: Union Station, Kansas City, MO 64108
Get Directions
Phone: (816) 500-5417
Visit Website
Price: $20 Adults; $18 Seniors & Military; $10 Children
Hours: Daily 8am - 6pm
Group Tour Planning
Guided Tours
Handicap Accessible
Motorcoach Parking Off-Site
Sightseeing Tour
Step On Guide
Wheelchair Access
Location & What's Nearby
Places to Eat
Where to Stay
Attractions
Entertainment
Arts & Culture
Sports & Recreation
Kansas City Fun Trolley Tours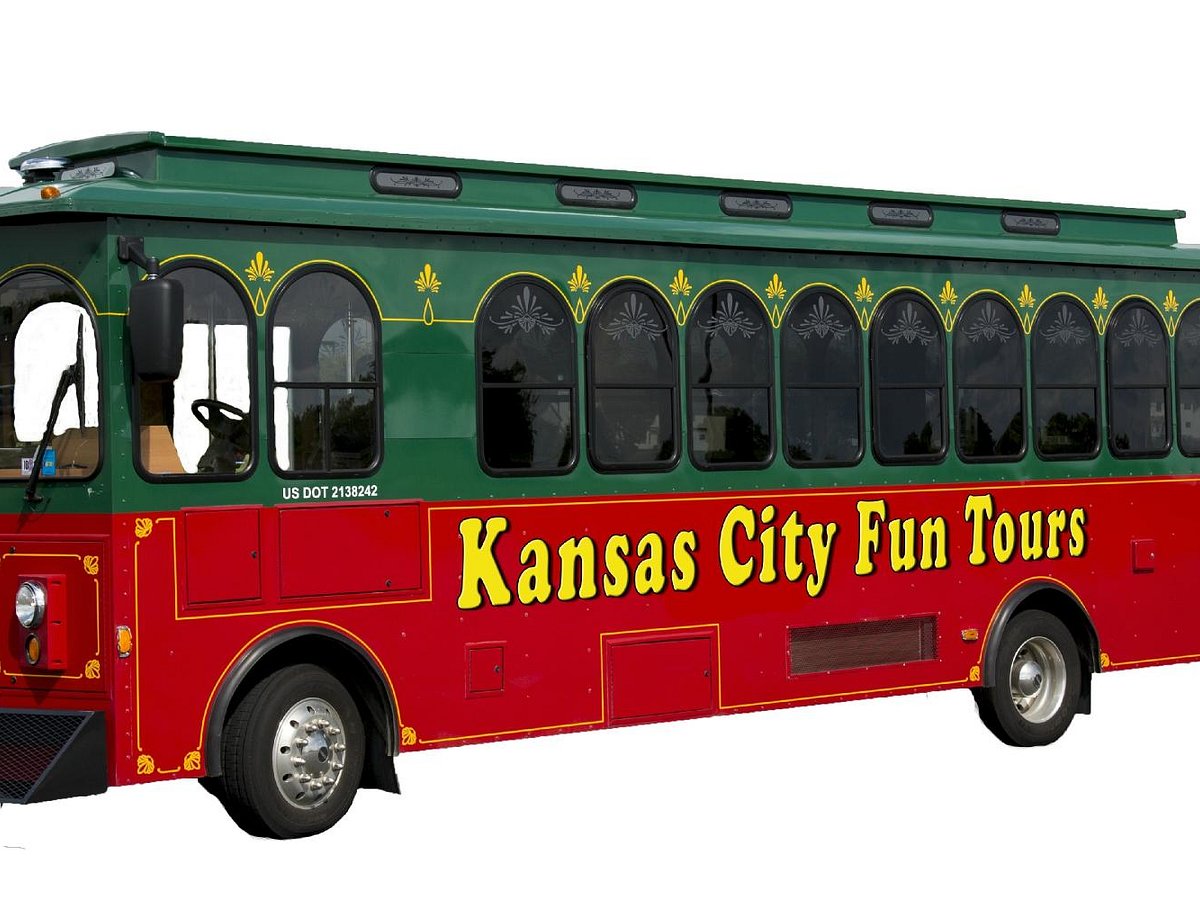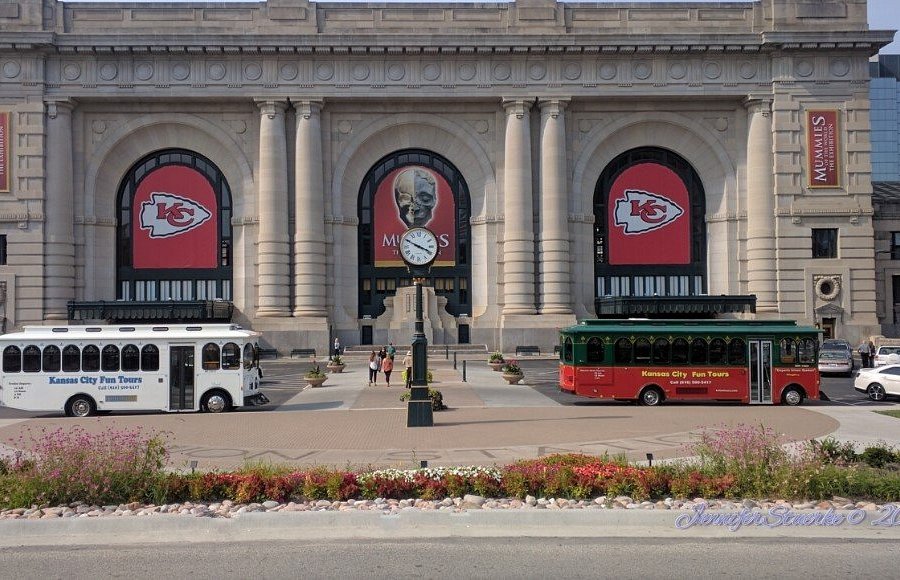 Similar Experiences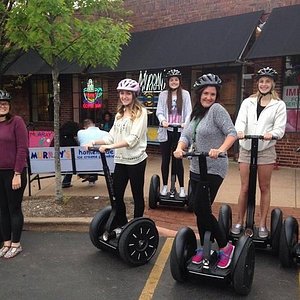 Kansas City Fun Trolley Tours - All You Need to Know BEFORE You Go (with Photos)
Kansas city fun trolley tours information.
Itineraries
Places to Stay
Art & History
Food & Drink
Lectures & Presentations
Music & Performance
Seasonal & Holiday
Sports & Recreation
Agritourism
Attractions & Tours
Entertainment & Nightlife
Kansas City Fun Trolley Tours
Report this image.
If there is a copyright/decency issue with this image and you wish to report it, please complete the form below and a representative will review your case.
" * " indicates required fields
This site is protected by reCAPTCHA and the Google Privacy Policy and Terms of Service apply.
Get acquainted with the popular sights and local favorites that Kansas City has to offer during our fully narrated 75-minute tour aboard an authentic, air-conditioned trolley with brass rails, bells and all!
Information
Additional information.
Kansas City Fun Tours
Review Highlights
" In addition to stories of the city's past, Carla gave details about points of interest and how to go about getting there after the tour. " in 4 reviews
" The address given put us in the back of Union Station and no one we asked knew where the trolley departed from. " in 4 reviews
" Our driver/guide had non-stop stories as we rolled around the city. " in 2 reviews
Location & Hours
Suggest an edit
30 W Pershing
Kansas City, MO 64108
Greater Downtown
Serving Kansas City Area
You Might Also Consider
Event Management Services / EMS transportation
Book Your Airport Transportation or Shuttle !! Don't miss your flight. Providing reliable services, Car service, group & family. Groups transportation for Concerts. Concerts & FOOTBALL Games Drop off & Pick ups. read more
in Airport Shuttles, Town Car Service, Limos
KC Night Train
7.0 miles away from Kansas City Fun Tours
Garrett V. said "Our company rented a Party Bus from KC Nighttrain for a Christmas Light Tour! We had an outstanding evening! We will be using KC Nighttrain for all of our future transportation needs and corporate events! Excellent customer service…" read more
in Limos, Party Bus Rentals
Roundabout Transportation
Mike G. said "Booked in a pinch this morning since I needed transportation to the airport. I issued a quote request to a few places on Yelp, and I heard back fast from Mark with a reasonable quote. I confirmed an hour later and was picked up a…" read more
in Limos, Airport Shuttles, Town Car Service
Amenities and More
About the business.
Getting travelers and locals acquainted with the popular sights and local favorites that Kansas City has to offer during our fully narrated 75 minute tour aboard an authentic, air-conditioned trolley with brass rails, bells and all! Also available for private charters such as: weddings, transportation, private tours, family reunions. …
Ask the Community
Ask a question
Yelp users haven't asked any questions yet about Kansas City Fun Tours .
Recommended Reviews
1 star rating Not good
2 star rating Could've been better
3 star rating OK
4 star rating Good
5 star rating Great
Select your rating
Overall rating
Our guide Carla was a fountain of fun facts about Kansas City, and very hilarious and friendly to boot. She kept checking in on everyone and I felt comfortable in the ac of the trolley. In addition to stories of the city's past, Carla gave details about points of interest and how to go about getting there after the tour. It is a great value for 90 minutes of Kansas City history: from pioneers, mobsters, murals, architecture, shops, sports, and more... they cover it all! Don't hesitate!
View of downtown Kansas City behind driver Carla, taken from within Fun City Trolley
We had Carla as our tour guide and enjoyed everything about the tour. It was our 1st time in KC to see the Chiefs play. After taking this tour and learning about the history and what there is to do we will definitely be back in KC to explore. Definitely recommend this tour! If you get Carla that's a bonus!
So much potential yet untapped. We took the trolley during a visit to KC in the fall. A GREAT weekend was had by all. The trolley tour was mediocre. This appeared to be a 2 person operation. The actual ride itself was okay. Our guide did not appear to be very knowledgeable about the history of the different parts of the city. The 18th and Vine historic district was an after thought. There was a visiting exhibit of the Tuskegee Airmen at the Veterans Memorial. Several passengers had to shout out the correct pronunciation of the visiting exhibit. There were other buildings that were pointed out and mispronounced by the driver. A third person may be a good addition so the driver can focus on driving and the tour guide can focus on points of interest along the tour.
Fun, informative, 90 minute tour to get a great overview of the city's districts, monuments, museums, fountains, etc! Carla was a very knowledgeable tour guide. Highly recommend!!!
We had just taken the St Louis Fun Tour 3 days earlier and were hesitant to take this one, but we ventured ahead, I am glad we did. The address given put us in the back of Union Station and no one we asked knew where the trolley departed from. The company's should update their info and tell everyone to go to the central desk in the center of Union Station, but we figured it out. The ticket guy said to load just 5 minutes before the departure time due to the heat (95 outside today) and so we did. The driver warned us the ride could get hot and offered everyone to get a refund, but it turned out to be just fine. The driver/guide unlike STL was animated, interesting and informative. She engaged us, spoke clearly and had good stories. I am glad we went.
This was a great experience and really taught us about Kansas while visiting. Carla was our tour guide did a fantastic job explaining everything. Very educational!!
wow, this is a great gem for KC. If you live here and have friends/ family coming to town looking for something to do then take them here. in 1 1/2 hours you will learn a ton about this city. Even if you lived here for a long time you will still get an education. Jennifer was great, she loved to tell stories and jokes to keep our attention for the entire ride.
As a tourist coming into Kansas City, there aren't many places to go or things to see....or so I thought! I decided to grab a ticket and go solo on the KC Fun Tour where I learned Kansas City has a lot more for me to see than originally anticipated. The tour lasted about 75 minutes and took place in a comfy trolley buzzing around the city, up and down various hills & side streets. It was actually quite informative though compared to other city tours there was more about things that I think people wouldn't be entirely interested in. No fault on Fun Tours, of course, but the city lacks some excitement. They do have a thousand million fountains and you get to see many on this tour. Overall, I thought it was a great way for this Chicagoan to learn a bunch about Kansas City for a bit over an hour for $20. Don't forget to tip your driver!
My Best Friends parents came to visit - and we wanted to show them our town... we thought that a trolley tour would be fun for everyone! We had the best tour guide (his name was Rick) - he had a story for every street we turned on... it was amazing!! My besties parents had a blast!! Can't wait to do again during the Holidays!! Rick was saying something about 87 miles of holiday lights?? Wow that's a must!!! Thank you to our tour guide for making it a special day for our family...
Had a great time, although the condensation on the windows during the winter was a big drag (bring a wash cloth with you to keep wiping the glass; our sleeves were soaked by the end)! It ran a little long (a full 90-95 minutes instead of 75) and we started getting restless, but it's hard to complain about getting more than you pay for. :) Jennifer was kind and told us a million informative and interesting facts about KC, and we definitely walked away with A) a working knowledge of the city and its culture/history and B) a few recommendations for things to do/places to eat. Just what we were in it for!
2 other reviews that are not currently recommended
Travel Great with Kate
Certified Travel Agent serving all your travel! Most my services are completely FREE! No request is too big or too small! I can help with weekend getaways, all-inclusive resorts, cruises, business trips, wedding travel, honeymoons,… read more
in Travel Agents
Ben's Transportation Service
Mayra A. said "I've never used a car service in the past except for Uber. When my flight got cancelled at the last minute and was booked on the earliest flight the next morning, i was in a scramble trying to find a ride to the airport. Called…" read more
Collections Including Kansas City Fun Tours
Family Fun in K.C.
By Jason R.
By Sabrina S.
Kansas City
By Alicia O.
By Genevieve W.
People Also Viewed
Kansas City Gangster Tour
Taste of Kansas City Food Tours
Segway Bike & Stroll
Vaile Mansion
Kansas City Northern Railroad
Jesse James Bank Museum
Kansas City Walking Tours
KC Streetcar
J Rieger & Co
Kansas City Helicopter Tours
Best of Kansas City
Things to do in Kansas City
Other Places Nearby
Find more Bus Tours near Kansas City Fun Tours
Find more Historical Tours near Kansas City Fun Tours
People found Kansas City Fun Tours by searching for…
Bbq Tour Kansas City
Charter Bus Kansas City
Kc Fun Tour Kansas City
Must Do Kansas City
Wedding Transportation Kansas City
Browse Nearby
River Cruise
Arts & Entertainment
Bus Tours Near Me
Day Trips Near Me
Historical Tours Near Me
Related Cost Guides
Town Car Service
Main St Extension Project Archive
Singleton Yard Expansion
The Rail World: Stories Along the Main Street Extension
Exclusive Transit Lanes Study
Riverfront Extension 2020 Build Grant
East-West Transit Study
Streetcar Studies
KC Streetcar Authority
Transportation Development District
Downtown TDD
Rider Surveys
Track Access
Art in the Loop 2020
Economic Development
Business on the Route
Hours of Operation
KC Streetcar Stories
RIDEKC Notify
Streetcar Arrivals
Streetcar Tracker
Accessibility
Code of Conduct
Safety+Videos
Non-Discrimination Policy (Title VI)
Americans with Disabilities Act (ADA)
Photo/Film/Video Production Guidelines
Media Releases
Board & Committee Meetings
Grand Opening Party
KC Streetcar Wraps
Merchandising
Streetcar Swag
Explore the Route
Click here for the 2023 ride & dine kc map, click here for the kc streetcar route map ..

The KC Streetcar Ride & Dine Map
The KC Streetcar project is a two-mile route running primarily along Main Street in downtown Kansas City connecting Kansas City's River Market area to Crown Center and Union Station.   This modern transit option serves Union Station, the Crossroads Arts District, the Power and Light District, the city's central business district, and the historic River Market/City Market along with numerous other businesses, restaurants, art galleries, educational facilities, and neighborhoods.   The KC Streetcar has 16 stops spaced every two blocks for both northbound and southbound travel.  The KC Streetcar Authority and vehicles are housed at the Singleton Yard Facility (Vehicle Maintenance Facility) located in Columbus Park.
Travel & Trip Questions
Contact the kcata at:  816.221.0660, singleton yard.
600 E 3rd Street Kansas City, MO 64106    816.627.2527
Sign up for email updates
Give the Gift of KC's beautiful fountains
Experience KC's downtown Fountains
KC Streetcar Fountain Tour
Tour the fountains riding the Kansas City Streetcar
Experience downtown Kansas City the way the locals do! This 4-mile roundtrip ride begins and ends at Kansas City's famous River Market, with stops along the way to take in the city's beautiful fountains. An extra exploration stop at Union Station not only provides 2 breathtaking fountains, but also allows for some extra exploration inside Kansas City's iconic Union Station. Hop on and off the KC Streetcar to get up close and personal with these impressive water features and learn about some of the local stories of downtown Kansas City  – a must-do for any visitor or local alike.
Why You'll Love this Tour
Experience Downtown KC
Begin your tour at the region's largest City Markets, learn about the unique backstories of sites along Main Street, such as Petticoat Lane, one of KC's historic downtown theaters, five fountains and a peek inside Union Station. This tour is packed!
Gorgeous Fountains
The fountains on this tour are truly remarkable landmarks in Kansas City. Experience exquistive architecture, listen to over 500 sprays of water and fill your heart with the stories that made these fountains iconic beauties of Kansas City.
KC Streetcar Experience
KC's Streetcar is a GREAT way to explore downtown! Running from the River Market on the north to Union Station on the south, KC Streetcar connects all the downtown neighborhoods with 16 platform stops and 2 miles of track. Your tour experience will include 2 stops and hops (off & on)!
Children under 12 – $22
Adults 13 & older – $45
This tour is approximately 2.5 hours long. This tour combines moderate walking (approx. 6 -9 city blocks) and riding the streetcar. Guests should be able to embark and disembark the streetcar.
Meeting Point and Parking
We will meet at the entrance to the Town of Kansas Bridge located in the City Market at the corner of Main Street and East 2nd Street.
Parking is available in the City Market on the street and at paid parking lots.  City Market 5th & Walnut Kansas City, MO 64106
What to Bring
Since this tour requires downtown city block walking and a streetcar, comfortable shoes, and appropriate attire should be worn. Masks are NOT currently (04.19.2022) required on KC Streetcars.
Skip to primary navigation
Skip to main content
Skip to primary sidebar
Skip to footer
TravelAwaits
Our mission is to serve the 50+ traveler who's ready to cross a few items off their bucket list.
13 Unique Tours To Experience In Kansas City
Destinations
Kansas City
United States
My wife and I visit Kansas City a lot. It's about a 3-hour drive from Omaha, so it makes for a fun and accessible getaway. It can also create challenging ways to view a city we've come to know well over the years. My brother-in-law once joked (I think) that I know my way around the KC area better than he does.
We enjoy exploring Kansas City's neighborhoods, dining scene, and history, among other fun attractions. As my wife, Lisa, and I plan our visits to the City of Fountains , we strive to find something new or unique to try. So, signing up for guided tours offers an opportunity to see Kansas City through someone else's eyes. From a gangster tour to local coffee shops, city tours are an excellent way to see something new and learn new things about an area's history.
Here's a look at a baker's dozen of tours to help you explore Kansas City.
1. Urban Hikes KC
Whether you're an art fan or history buff, Urban Hikes KC combines Kansas City attractions with a little exercise. Each hike covers 3 to 4 miles while including stops such as Crossroad Art District's galleries, museums, and alley murals, or the history of Kansas City (Kansas), the ethnic groups calling the famous Strawberry Hill area home, and its beautiful historic murals. With 11 urban hikes available, there's much to explore, including making your own pottery.
Book Now on GetYourGuide
2. KC Fun Tours
Hop aboard a historic trolley for a 75-minute cruise through Kansas City's history. Sit back and relax and learn about some of the city's impressive history while enjoying its beautiful architecture during your adventure with KC Fun Tours . Among the history you can expect to learn about includes Union Station and City Market, Kansas City's year-round farmer's market. KC Fun Tours is perfect for seasonal celebrations, such as Country Club Plaza's holiday lights. The Crazy Little Women Tour offers a two-hour look at some of the great women who have influenced the city's history.
Pro Tip: Open seasonally March-December, the tour starts and ends at the historic Union Station.
3. KC Barbecue Tours
Of course, Kansas City has a barbecue tour. With more than 100 barbecue joints, KC Barbecue Tours takes you beyond the well-known eateries, offering a look at — and taste of — some of the off-the-beaten path barbecue restaurants in the metropolitan area. Tours typically visit four spots, with each providing delicious samples and water. Adult beverages can always be purchased during stops. The family-friendly tour includes transportation to each restaurant. KC Barbecue Tours also offers private tours.
Pro Tip: If you have dietary restrictions, let KC Barbecue Tours know in advance, so it can do its best to accommodate them. Vegetarian and vegan options will be limited.
4. The Roasterie Coffee Company
The historic DC-3 airplane outside The Roasterie Coffee Company's main location hints that you're in for a unique visit. Before sampling a delicious cup of coffee made with freshly roasted beans, enjoy a fun and informative tour of the warehouse and roasting process. An hour-long tour, which is free, takes you through a brief history of the creation of coffee — you can thank an ancient goat herder — as well as the roasting process. You'll be salivating for a cup of brew by the end of the tour. You'll also appreciate the work that goes into making the tasty coffee, espresso, or latte — with a cute heart or other artwork the barista adds — at The Roasterie.
Pro Tip: The Roasterie has four other locations in the area, as well as providing coffee packages in stores, restaurants, and hotels.
5. KC Segway Tours
Explore Kansas City's history and art while riding a Segway. Featuring stops at some of the city's sites, such as Nelson Atkins Museum, Country Club Plaza, and the historic Westport neighborhood, the museum, pranks, and history is one of the fun tours offered by KC Segway Tours . Art enthusiasts enjoy touring the public art at the Nelson Atkins Museum's sculpture garden, as well as the fountains and sculptures at Country Club Plaza. History tours include looks into the city's train and covered wagon trails, including stops at the Liberty Memorial and 18th and Vine District. Bicycle tours are also offered, featuring tours of Kansas City's barbecue and beer scene. 
6. Boulevard Brewing Company
Learn the story behind Kansas City's popular brewery as you traverse the Boulevard Brewing Company's campus, watching the brew-making process. Learn about the beer's history and what makes it so popular, not just in Kansas City, but across the country. You'll see artifacts and memorabilia, such as ads, bottles, and bottlecaps. Each tour's conclusion includes a sample drink. While you must be at least 21 to drink, tours are open for people seven years old and older.
Pro Tip: The majority of the brewery tour is accessible, but a few spots are stairs-only.
7. KC Walking Tours
Explore Kansas City architecture, history, art, and even its food scene, close-up with KC Walking Tours. Lasting from 1 to 2 hours, adventures cover half-a-mile to 1.5 miles. Explore the historic River Market area, including City Market and the neighborhood's architecture. Downtown walking tours showcase the city's beautiful architecture and historical anecdotes. A food tour explores cuisine in the River Market, while a brewery tour covers beer joints. You can also enjoy a hop on and off streetcar tour. Each tour is led by a guide knowledgeable of city history and fun facts.
Pro Tip: Wear comfortable walking shoes for the tour. KC Walking Tours will do its best to accommodate wheelchairs and walking frames on tours. Pets are not allowed on the tour.
8. Taste of KC Food Tours
Everyone knows Kansas City is home to great barbecue, but its culinary scene is so much more than great ribs, brisket, and burnt ends. Taste of KC Food Tours takes you on a 3-hour tour of unique local eateries in the River Market and Crossroads Art districts. Bring your appetite, as you'll be sampling local dining spots featuring pizza, hoagies, and even international fare. Check out the Prohibition Tour, taking you to speakeasies and brothels that once thumbed their noses to the ban on alcohol and fun. You'll also enjoy a private tour of a distillery in the 3.5-hour tour. Of course, there will be cocktails.
Pro Tip: As you travel by bus between restaurants, your guide will share fun historical facts about the area.
9. First Fridays
First Fridays celebrate Kansas City art, as galleries, studios, and museums in the Crossroads Art District open their doors, staying open late on the first Friday of the month. Enjoy a self-guided walk through the area, taking in the eclectic art scene, celebrating local artists, as well as nationally known creators. Stop in at any of the unique shops and boutiques in the district. Don't forget to enjoy dinner at a local eatery or a drink at a bar or tasting room.
10. Gangster Tours
From the Kansas City "Massacre" and mobster boss Tom Pendergast's rule, the city has seen its share of organized crime. The KC Gangster Tour starts at Union Station, site of a major shootout in 1933, when Charles "Pretty Boy" Floyd and others attacked law enforcement officers escorting a colleague to jail. You can still see a bullet hole outside the renovated train depot. Learn about Kansas City's seedy history on your 90-minute guided tour.
Pro Tip: Tours are offered each Saturday.
11. Pioneer Trails Adventures
See where President Harry S. Truman worked as a youth, the jail where outlaw brothers Jesse and Frank James were held, and first lady Bess Truman's birthplace among the historical sites on tours offered by Pioneer Trails Adventures in Independence. Horse-drawn covered wagons take you on 20–30-minute tours of Truman's hometown. Taking off from the National Frontier Trails Museum, Pioneer Trails Adventures also offers an hour-long city tour, holiday lights outing, and ghost tours.
Pro Tip: Combine your tour with a visit to the Harry S. Truman Presidential Library and Museum .
12. Caffeine Crawl
Originating in Kansas City in 2011, Caffeine Crawl has become popular around the country. But, maintaining its roots, Caffeine Crawl traverses the city highlighting unique local coffeehouses and tea shops. Crawlers select a tour route and meet their guide at the participating locations, where they learn about the coffee shop's history and bean roasting before sampling drinks specially created for the tour. With five to six stops, a Caffeine Crawl lasts up to five hours.
Pro Tip: You may want to bring a bottle of water along on the tour to hydrate between stops.
13. Self-Guided Tours
Create your own tour of Kansas City with a self-guided tour . From exploring downtown architecture, Crossroads art, and the city's water fountains, Kansas City is your blank canvas. How about creating your own Kansas City film tour ? The neat thing about a self-guided tour is that you can mix and match attractions, such as exploring Union Station and the World War I Memorial along with the historic Crown Center and Hallmark.
Tim and his wife Lisa have been writing their blog The Walking Tourists for eight years. They live in the Midwest and enjoy writing about its attractions. They focus mainly on the Midwest, but enjoy traveling all over. With daughters living in the Seattle area, they also have a fondness for the Pacific Northwest.
Tim is a freelance writer and online content creator. He has authored two books about Omaha attractions and restaurants: "100 Things to Do in Omaha Before You Die" and "Unique Eats and Eateries of Omaha". A third book about Nebraska tourism -- "100 Things to Do in Nebraska Before You Die" -- will be published in April 2020. He writes magazine, newspaper, and online articles as well as offering ghostwriting services. He loves writing.
As a one-time community journalist, his affection for the stories journalists share has never waned. Having been a manager of people, he is intrigued by people's leadership qualities and practices.
For details on Quillt's privacy and cookie policies, please visit our privacy policy page.