All Destinations
GBP (£) USD ($) AUD ($) HKD ($) ZAR (R) CNY (¥) NOK (kr) CZK (Kč) GBP (£) CAD ($) AED (د.إ) CHF (₣) ISK (kr) SEK (kr) DKK (kr) EUR (€) SGD ($) INR (₹) NZD ($) MXN ($) THB (฿) MYR (RM)
🛒 0
Login / Sign Up
No Cancellation Charges up to 24 hours before the chosen travel date. 100% cancellation fee applied within 24 hours of travel date. Ticket is Amendable: If your travel plan change and you need to amend your ticket, kindly inform us at least 2 days before your tour. Changes will only be honoured as long as the voucher has not been used.
For groups of 12 or more, you may send us an inquiry at [email protected]. Although we do not guarantee bulk deals for all our tours, there are some tours for which we can offer discounted pricing. Ordinary hop-on-hop-off bus tickets are entitled to group savings. Attractions, pass items and combo tickets aren't.
Due the nature of this type of tour and varying demand, group travellers should be aware that there is no guarantee that the group will be able to travel altogether as the available seats vary from stop to stop and depends on demand each day. The group may need to split up and/or wait for the next bus(s).
As, we cannot guarantee that the group shall be able to travel together as one group, therefore we will reduce the group size down to 4-5 smaller groups per ticket (depending upon group size).
Buenos Aires
Paris Christmas Light
Thessaloniki
Kuala Lumpur
Mexico City
Kristiansand
Panama City
St. Petersburg
Johannesburg
Benalmadena
Gran Canaria
Palma de Mallorca
San Sebastian
Bournemouth
Derry-Londonderry
London Christmas Light
Stratford-upon-Avon
Los Angeles
New Orleans
Philadelphia
San Antonio
San Francisco
St. Augustine
Trolley Tour
Washington D.C.
Ho Chi Minh
City Sightseeing: Naples Hop-On, Hop-Off Bus Tour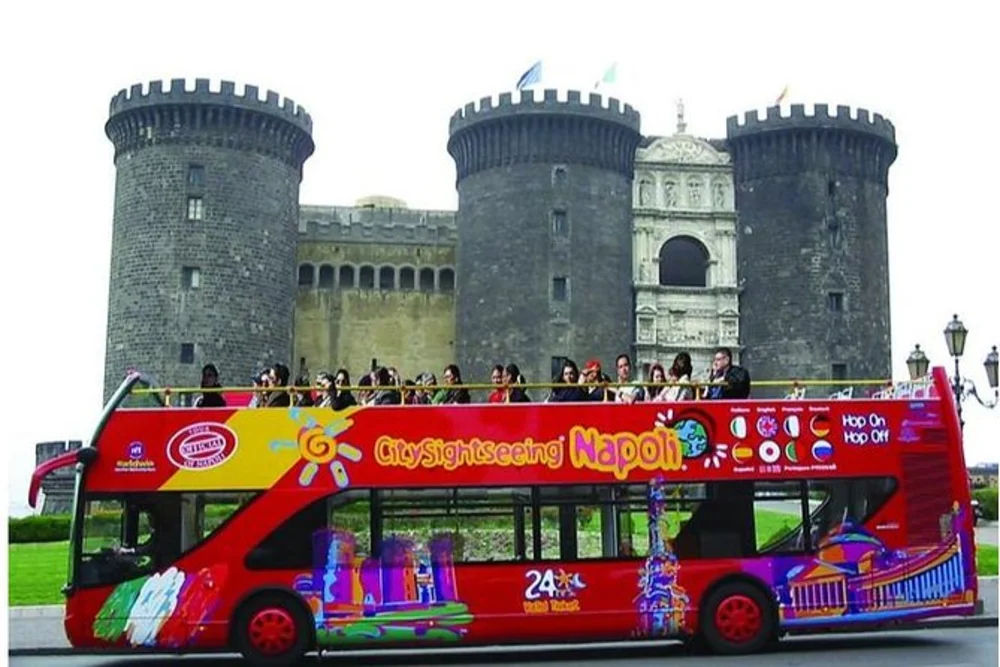 Lowest Price Guarantee *
Select Date, Travellers and Ticket
ADULTS 24H (+ 16) − 0 +
CHILDREN 24H (5 - 15) − 0 +
INFANT (0-4) − 0 +
Check Availability
You have the choice to Hop-on and Hop-off as much as you want
Facility of free wi-fi is available on board, with which you can download the Sightseeing Experience App and get easy access to the locations you are in and are about to enter.
The additional facility about the walking tour of the region is available in 5 languages inside the app
Hail into the city and experience it from a different outlook
Service of the hostess is also available on the bus to assist you and provide you with all the necessities you require
Smartphone Voucher Accepted! No need to print.
Hop on the Naples Hop On Hop Off Bus and dig into the city of Naples. Surrender yourself to the calmness and serenity of the city. The Naples Hop On Hop Off Bus will take you to the beautiful roads and lanes of the city and make your tour worthy.
Line 'A' (Places of Art) : First Bus: 09:30, Last Bus: 17:10 First Departure Point: Largo Castello Piazza Municipio Frequency: Every 20 Minutes Duration: 45 minutes
Line 'B' (The Views of the Gulf) : First Bus: 09:45, Last Bus: 16:15 First Departure Point: Largo Castello Piazza Municipio Frequency: Every 30 Minutes Duration: 70 minutes
24 Hours Naples Hop On Hop Off Bus Ticket
Valid on both routes (A+B)
Pre-recorded commentary in 8 different languages (Italian, English, Spanish, Chinese, French, German, Russian, Japanese)
Free Wi-fi on board
Assistance on board
Sightseeing Experience Free App
Assistance at the City Sightseeing Ticket Office (Largo Castello Piazza Municipio)
Entrance Fee (Unless specified)
Hotel Transfers
Redemption Info
Know before you go.
Free Wi-Fi Onboard: Yes Facilitated access for disabled people: Yes Domestic Animals: The access to the bus is permitted for little and medium domestic animals only if they are inoffensive. Using muzzle and leash is mandatory, as alternative to the muzzle it is possible to use a pet carrier. The holder must also assure that the animal doesn't disturb or damage other passengers or the staff on the bus and that doesnt' get the bus dirty, the penalty will be the full reimbursement of the damage. The owner or the holder of the animal is liable for the damage caused. Policy Baggages on board: For safety reasons it is strictly forbidden to bring luggages, awkward bags, big backpacks or builky baggages on board the City Sightseeing buses. Mobile App: Customers are advised to download the "Sightseeing Experience" app to see the most up to date bus stop locations and timings. It is available in five languages. Tours operate in all weather, rain or shine. Refunds due to weather will not be granted unless the service is suspended as a result of weather. Disclaimer: Due to traffic issues, public holidays, weather conditions, cruise ship arrivals and unforeseen circumstances, there might be sudden changes in the route or on the schedule. In "normal times" Naples is a busy city, especially during special events, summer holidays and at weekends. Traffic congestion and road closures - may cause delays, reduced frequency and changes to the route. We'll do all we can to provide a smooth and frequent service! No refund possible in such conditions.
Useful Downloads
Cancellation policy, customer reviews.
Easy to book and nice trip. It was fabulous experience. Buses were clean.
Beautiful bus tour along the coast of Naples.
Know More About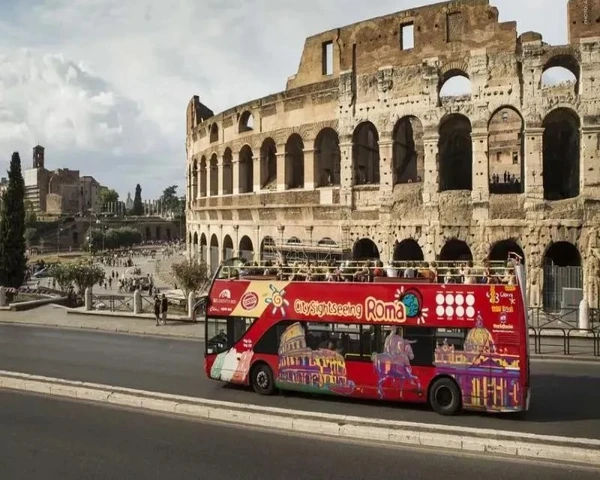 Important Things to do in Italy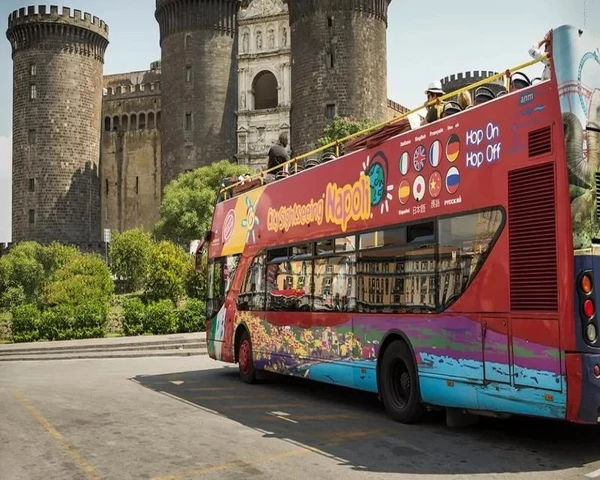 Naples by Hop on Hop off Bus
Near by cities.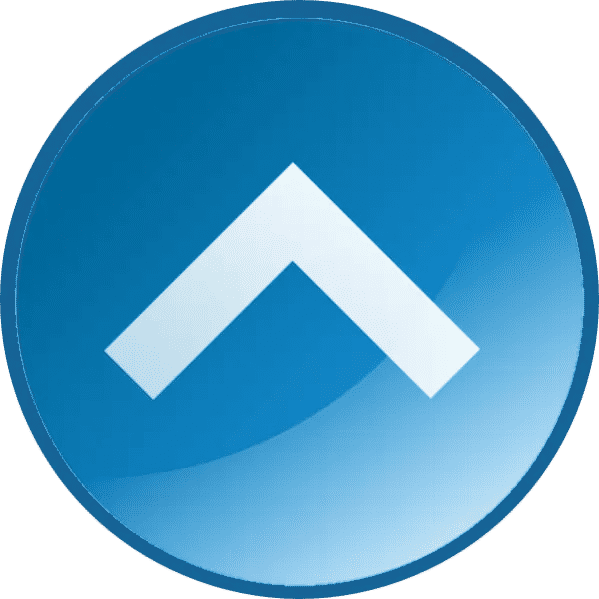 City Sightseeing Napoli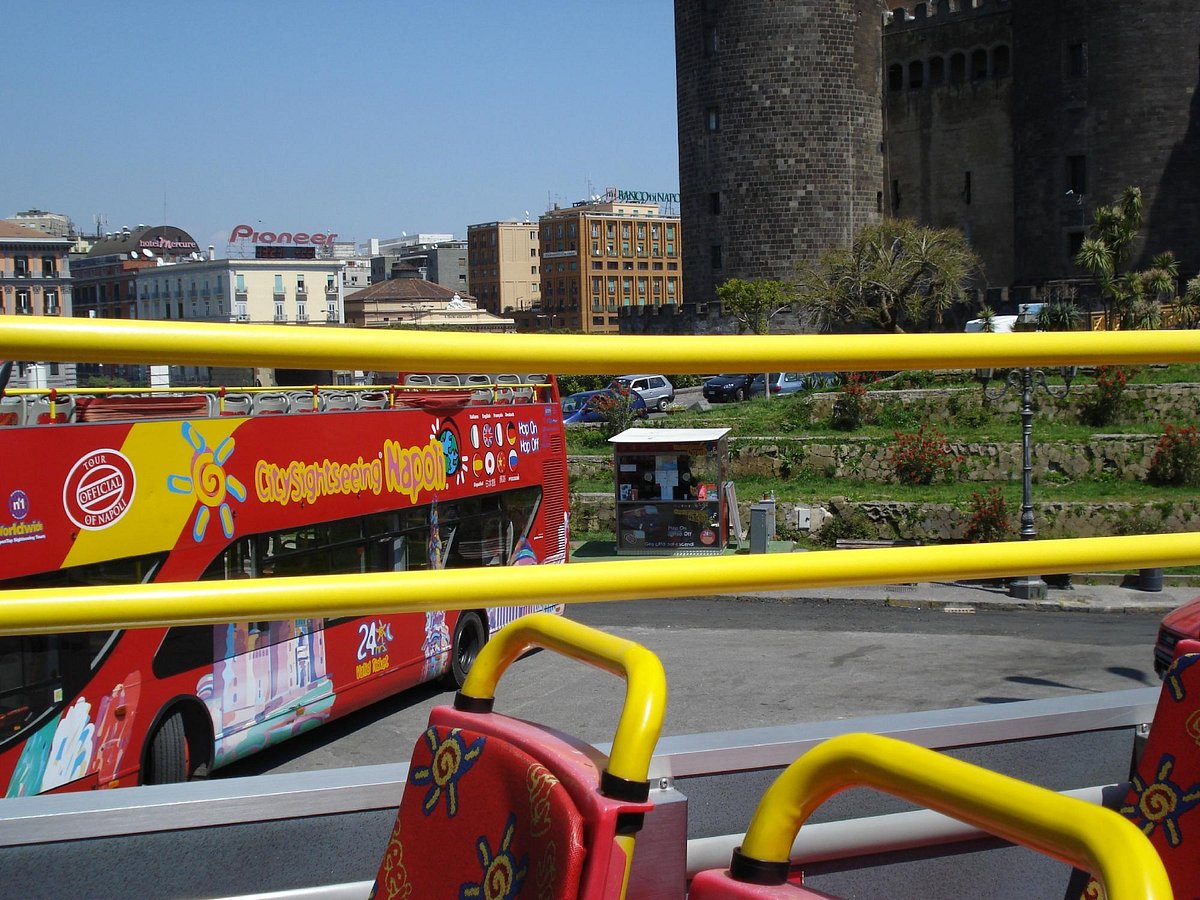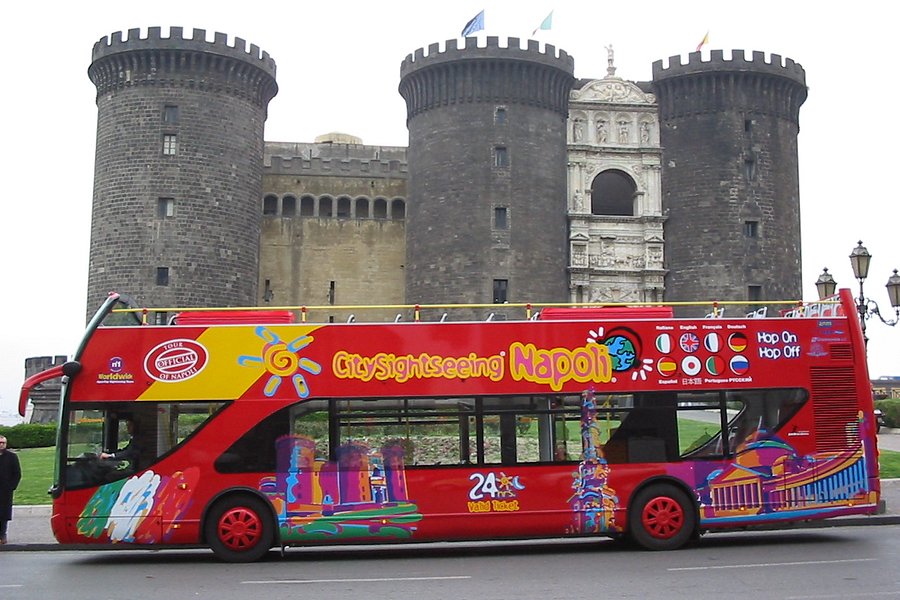 Similar Experiences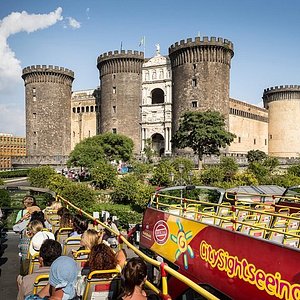 City Sightseeing Napoli - All You Need to Know BEFORE You Go (with Photos)
City sightseeing napoli information.

Select Language
Select Currency
Australian Dollar
Canadian Dollar
Chinese Yuan (CNY)
British Pound (GBP)
Indian Rupees (INR)
Japanese Yen (JPY)
Malaysian Ringgit
Newzealand Dollar
Singapore Dollar

+3 More Images
Adult Adult (16+) - +
Child Çhild (5-15) - +
Infant Infant (0-4) - +
City Sightseeing Naples: Hop-On-Hop-Off Bus Tour
Activity schedule, key highlights.
Your ticket is valid for 24 hours.
9:30am till 4:50pm every 20-30 minutes (depending on the route)
Timings and stops are subject to Change. Timetable available in the USEFUL DOWNLOADS section.
Meeting Point Hop on to the bus from any of the stops
Hop off at any of the stops
Discover one of the prettiest European cities with a flexible bus tour
Hop on and off as you wish across 24 hours to explore Naples at your own pace
Get up close with top attractions - from Teatro San Marco to the Palazzo Pitti
Enjoy engaging multilingual audio commentary on the bus
Both printed and smartphone vouchers accepted!
Discover the gorgeous Vesuvian city, Naples, with this convenient and comprehensive Hop-on, Hop-off Bus Tour from City Sightseeing. Valid for 24 hours, it is the perfect companion for a delightful introduction to this stunning Italian city.
One of the prettiest European cities, nestled in the laps of Mt. Vesuvius, Naples is known for its rich historical, artistic and cultural traditions. The City Sightseeing hop-on, hop-off buses make for a flexible option to comfortably get around the city and up close with your favourite attractions.
The city highlights are an absolute breeze! Hop on and off as you wish to explore the city at your own pace - minus any hassles of printing your tickets or redeeming them. Additionally, there is engaging multilingual audio commentary onboard the buses in a range of languages.
Main stops covered
Largo Castello (Piazza Municipio)
Museo Archeologico Nazionale
Piazza Dante - Ingresso Ai Decumani
Piazza Bovio/Universita
Capo Posillipo - Veduta Panoramica
Via Petrarca
Chiatamonte
Corso Umberto I
…. And more!
About the Supplier: In operation since 2003, City Sightseeing is one of the premier hop-on, hop-off operators in Italy - known for their easily-recognisable open-top red buses.
Please check the Useful Downloads section for the route map and timetable.
24-hour hop-on, hop-off ticket
Audio-guide on board bus in Italian, English, Spanish, Chinese, French, German, Russian, Japanese
Assistance on board
Assistance at the City Sightseeing Ticket Office (Largo Castello Piazza Municipio)
Entrance fees to attractions
Useful downloads
Please note
Voucher information: You can show your voucher on your smartphone (But if you'd rather print a copy – that's fine too!)
Wheelchair accessibility: Yes
Naples is a functioning city and weather, traffic and events may occasionally cause disruption.
Stops and times are subject to change. Updated maps are available on the buses.
You can only be accompanied by little and medium domestic animals on the buses, that too, basis the discretion of the driver. Please remember that it is mandatory to use muzzle and leash, along with providing complete assurance that the pet carrier is not in a poor state or that it does not contain food.
For safety reasons it is strictly forbidden to bring luggage, awkward bags, big backpacks or bulky baggage onboard the City Sightseeing buses.
Customer Reviews
Johnson wilson.
Ease of purchase and ise at the bus.
Kirk Rogers
Easy to book this tour online
travel inspiration from guidebook

Celebrating Halloween Worldwide: Must Visit Halloween Trips for Spooky Fun
Get ready for the spookiest season of the year, as we take you on a whirlwind tour of some of the globe's… The post Celebrating Halloween Worldwide: Must Visit Halloween Trips for Spooky Fun appeared first on The Guidebook - isango! .

Oktoberfest Unleashed: The Definitive Guide to the World's Largest Beer Festival
Oktoberfest, Germany's iconic beer festival, takes place annually at Munich's Theresienwiese, lovingly referred to as the "Wies'n," from late September to early… The post Oktoberfest Unleashed: The Definitive Guide to the World's Largest Beer Festival appeared first on The Guidebook - isango! .

Navigate the World's Top Destinations: Essential Tips for First Time Ticket Booking to Disneyland, the Eiffel Tower, Burj Khalifa, and Beyond
Embarking on a journey to some of the world's most iconic destinations can be a dream come true. Whether you're planning a… The post Navigate the World's Top Destinations: Essential Tips for First Time Ticket Booking to Disneyland, the Eiffel Tower, Burj Khalifa, and Beyond appeared first on The Guidebook - isango! .
Get the latest offers and inspiration
Sign up to our newsletter and get the best isango! has to offer
Enter a valid email
Enter the characters shown below Captcha not matching
Terms of Use
Booking terms & conditions
Picture credits
Get in touch
Haven't found what you're looking for?
Try a more specific search (e.g Add city or destination name)
You have signed up successfully.
Please stay tuned on your email for exciting offers.
Sign Up Login Login Or Sign Up
Sign up to create and view bookings Login to create and view bookings
Enter full name
E-Mail ID Already Exists User does not exist Enter a valid email
Please enter password Enter valid password(at least 6 characters)
Remember me Forgot Password
I wish to receive top deals and travel inspiration
By signing up you agree to our Terms and Conditions & Privacy Policy .
Forgot Password
Enter your email address and we will send an email with a link to reset your password.
Continue Login
Email sent successfully.
RELATED LINKS
On this page, naples hotels, getting around naples, sightseeing & tours, transport from naples.

Rome hotels
Venice hotels
Florence hotels
Naples hotels
Pisa hotels
Sorrento hotels
Rome Fiumicino Airport
Rome Ciampino Airport
Venice Marco Polo Airport
Pisa Airport
Naples Airport
Civitavechia (Rome) Cruise Port
Naples Cruise Port
Rome public transport
Venice water bus (vaporetto)
Florence public transport
Naples public transport
Sorrento local buses beyond Amalfi

Sightseeing tours in the City of Naples
Hop-on hop-off open top sightseeing bus and small group tours.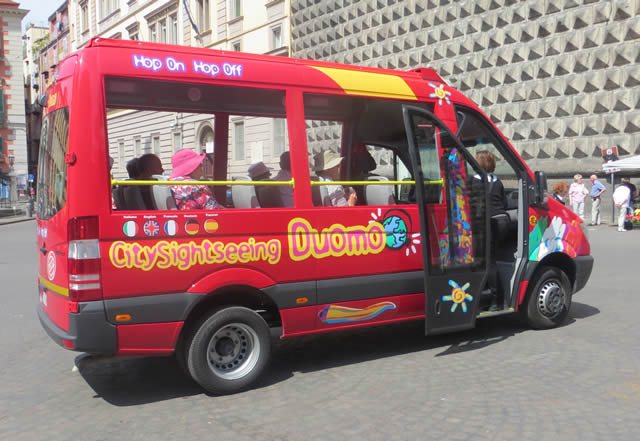 Sightseeing in Naples
The City of Naples is quite a compact area for the purpose of sightseeing . Once in the city centre, if you really enjoy walking then you could walk everywhere.
For most people though a little transport is desirable at some time, even if it is just a short bus journey.
No visit to Naples would be complete without visiting San Martino, a large hill overlooking the city centre for views, culture and sights and the funicular railway up the hill is an attraction in itself.
We have a dedicated page identifying the major sights in Naples . There is no single blockbuster mega attraction, as Pompeii is just outside Naples. In many ways the sum of the parts of a visit to Naples is more satisfying than any single attraction.
Like nearly every town and city worldwide that attracts visitors, Naples has its own hop-on hop-off sightseeing bus service that consists of three interconnected routes that cover all the major sights and more. These offer a painless and stress free way to get around the city and one lap around the main city route also provides a good orientation.
The alternative is a concentrated two-hour small group orientation tour covering all the main sights and giving you access to a knowledgeable guide. The tour is finished mid-morning and the information gained will enable you to explore independently for the rest of the day in a much more informed and productive way.
Naples open top hop-on bus Small Group City Sightseeing Naples tour Unico Artecard Campania
Naples open top hop-on hop-off sightseeing bus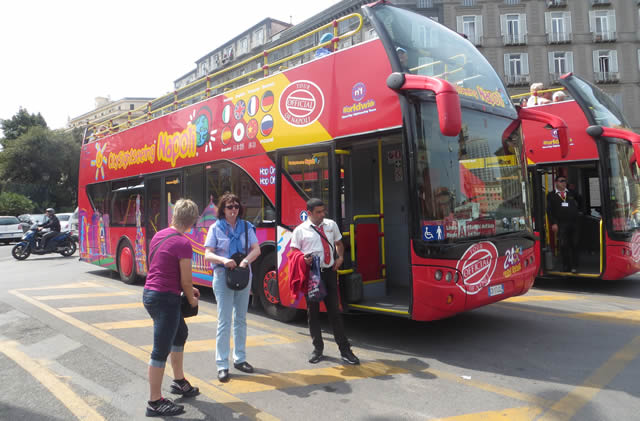 There are 2 routes and you can use your ticket on both. There is an interchange for both routes at Piazza Municipio, a short walk from the ferry/cruise terminal.
From this central terminus the buses radiate out, one going westward along the coast, the other focusing on the historic centre of Naples.
There are 11 stops on the Art route (around the historic city centre centre of Naples), 12 stops on the Views of the Gulf route (along the coast).
Both routes are connected to Piazza Municipio and take approximately 75 minutes to complete a full circuit.
Naples hop-on sightseeing bus details
Top of the page
Small group two-hour tour of the best of naples.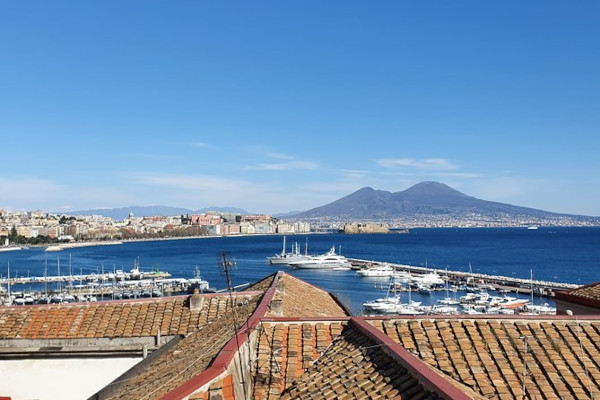 This small group two-hour morning tour of Naples starts early at 8am with hotel pick-ups.
Visiting the most important cultural and historic sights in Naples this is a great way to get up to speed very quickly with what Naples has to offer.
Use the small group format to your advantage to use the local knowledge of the guide and you are well equipped to explore the city for the rest of the day making an informed judgement on which places are of personal interest.
Stops on your morning tour of this exciting city include the Cathedral to visit its charming baroque Treasure Chapel and S. Restituta basilica, dating back to the 4th century.
You'll also take a drive to Plebiscito Square to see the Royal Palace and the beautiful neoclassical Church of St Francesco di Paula.
After a drive to the Town Hall Square and the New Castle, built by the French Family of Anjou, the tour ends at the terrace at Posillipo, for wonderful views of the picturesque city of Naples.

SMALL GROUP CITY SIGHTSEEING NAPLES TOUR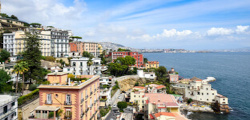 • 2-hr city sightseeing tour • Small group, max 7 people • Visit top Naples attractions including Naples Cathedral and its Chapel of the Treasure of San Gennaro • Expert driver-guide
Unico Artecard - 3 day tourist pass for Naples, Pompeii etc, including public transport
Aimed squarely at the visitor to Naples this pass combines public transport in Naples for 3 days, (including the Naples airport bus) plus entry to two attractions from a long list that includes the National Archaeological Museum in Naples and Pompeii and Herculaneum.
From the third attraction onwards you enjoy up to a 50% discount on standard tickets.

NAPLES CAMPANIA ARTECARD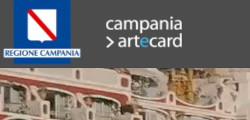 • Digital pass • Get free entry to 2 of over 40 sites in Campania • Exclusive discounts on your third site • FREE travel on public transport for duration of pass • Access to exclusive events
MOST POPULAR NAPLES TOURS 2023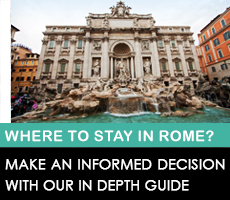 Item added to cart
City Sightseeing Naples
Unable to upload pickup availability
Tour schedule
Useful information.
At your disposal are two city tours which, with their convenient and affordable hop on hop off formula , will allow you to get off at points of interest, pay a visit and then get back on the next ride, to continue your journey with City Sighseeing .
On board, the eight-language commentary provides a timely description of the route, enriched with anecdotes and trivia about Neapolitan history and traditions and peppered in the background with the songs that have made Naples the capital of timeless melody.
A hostess service is ready to welcome you and provide all the assistance you need
Free ticket for children from 0 to 4 years old
Ticket valid from 9: 30 a.m. to 9 p.m.
Tour Details
When: Daily
Language : Italian, English, French, Spanish, German, Chinese, Japanese, Russian
Meeting point : starting at 9:30 a.m., at any bus stop
Suitable for children : Yes
What is included : 
City Sightseeing 24h Ticket
Free "Sightseeing Experience" app, ideal for seeing real-time bus locations and waiting time at each stop
On-board bus audio guide in 8 languages
On-board assistance
Assistance at the City Sightseeing Ticket Office (Largo Castello Town Hall Square)
What is not included :
Anything not listed under "What is included " 
Cancellations, up to 24h before, are subject to a cancellation fee of 20% of the total amount.
Choosing a selection results in a full page refresh.