The Ultimate Bucket List Italy Road Trip
This post may contain affiliate links, from which we earn an income.
Road Trip Italy Planner & Itinerary
The gorgeous country of Italy is perfect for a road trip! Compact and with all the best bits in the middle, you'll be blown away by the landscapes, architecture, and local food in this sublime country. Take a bucket list road trip to Italy and see it for yourself!
A road trip in Italy opens up the sweeping landscapes, historic cities, and some of the most picture-perfect seaside towns in Europe, like no other way to travel does.
This visually arresting country will have you stopping regularly for Insta-worthy images, and along the way, you'll find fantastic adventures to try like wine tastings, volcano trekking, exploring historic UNESCO sites, and the real Italian dolce vita !
In this Italy travel guide, you'll find a list of all the top sights in Italy to visit on your road trip adventure, with Italy travel tips and information to help you plan and prepare. Come with us as we share our unmissable Italian road trip itinerary.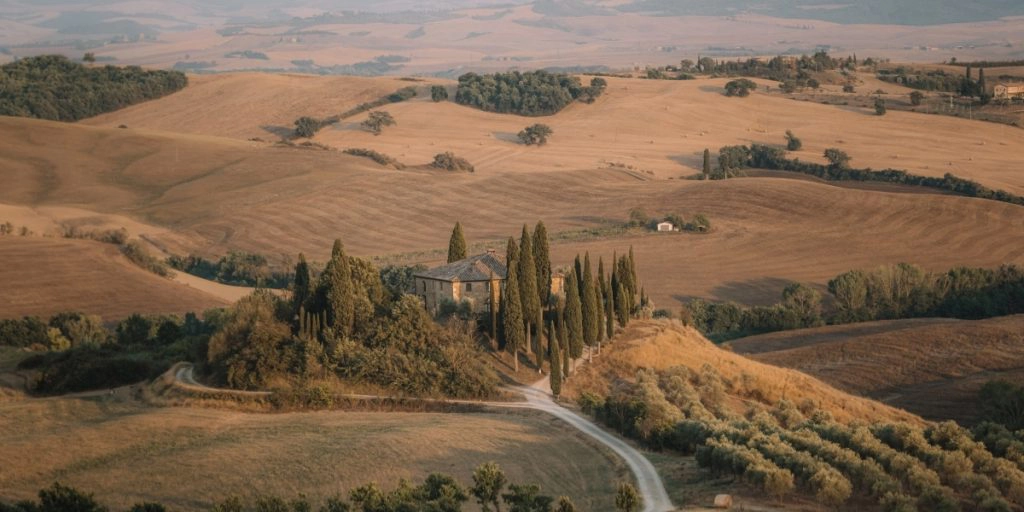 Is this your first time visiting Italy? Get all the information you need in our Italy Travel Guide , including what to pack, the best time of year to go, getting there, and practical tips to help you have the best trip!
Getting to Italy
Fly into Milan Malpensa Airport, a good starting point for your roadtrip in Italy. With direct international flights from North America, the Middle East, Europe, and UK , we recommend booking through Skyscanner for live deals and the best prices.
Alternatively, switch up the itinerary a little and start your Italy trip in beautiful Rome, the historic capital city. We've even got a fantastic one day in Rome itinerary for you, so you can see the city before heading off on your Italian road trip!
Driving to Italy from UK
If you're planning to drive to Italy from the U K, then you'll find everything you need to know, including the best, fastest, and cheapest routes, as well as driving tips, in our UK to Italy driving guide .
Are you planning to rent a car in Italy? As one of the largest rental car aggregator companies in the world, we recommend Rentalcars.com because they have massive purchasing power which enables them to secure the best rental prices, which benefits you when you're planning a road trip.
For a real adventure, hire a motorhome or campervan in Italy . We recommend Motorhome Republic , an aggregate booking site who pull together all the best deals from a number of rental agencies, to offer you a wide choice of options alongside an excellent English speaking expert motorhome Concierge Team.
Use the Park4Night app to find overnight spots and campsites as your travel around Italy, and sleep on a high mountain pass, next to a beautiful lake, or in a wildflower meadow.
Driving in Italy
Lots of people will tell you that renting a car in Italy is madness, that driving through Italy is dangerous and the roads are dreadful.
It is true that some routes can be challenging to drive in Italy, and in big cities, Italian drivers see it as a badge of honor not to give way. Isn't that the same in most big cities nowadays though?
Don't let your fears about traveling Italy by car put you off taking Italian road trips. Take your time and be prepared for the differences in driving styles and roads from back home when you follow our driving in Italy tips .
You'll also find helpful information regarding driving requirements in Italy, such as international driving permits, age limits, and tips about renting a car in Italy .
Make sure you have travel insurance you can trust when visiting Italy . We recommend True Traveller for their 5-star TrustPilot reviews, variety of cover options, best activities cover as standard, great prices, and excellent service.
Italy Itinerary & Map
Get the Travel Guides
Lonely Planet Italy
The Rough Guide to Italy
DK Eyewitness Italy
Italy Road Trip Itinerary
Milan – Portofino – Cinque Terre – Pisa – San Gimignano – Siena – Montepulciano – Rome – Spoleto – Assisi – Florence – Bologna – Venice – Lake Garda
Distance: 1670km
Duration: 2-4 weeks
Drive Time: 23 hours
How to use this Italy road trip map – Use your fingers (or computer mouse) to zoom in and out. Click or touch the icons to get more info about a place, and click the arrow in the box top left to open the index. To add to your own Google Maps account, click the star next to the title of the map.
Make your road trip across Italy flexible…
Italy road trip 1 week.
Fly into Pisa instead, skip San Gimignano, Spoleto and Montepuciano. Head home from Pisa once you've seen Florence.
Italy Road Trip 2 Weeks
Skip Pisa, Spoleto, Venice and Lake Garda…these are tough choices, but you can always come back for a second trip.
Italy Road Trip 3 Weeks
You have enough time to complete our suggested itinerary, but you will be busy! You'll have one day in most places, and up to 36 hours in Rome and Florence.
Italy Road Trip 4 Weeks
Enjoy the time and spend longer in Rome and Florence. Maybe add Arezzo and Verona to your itinerary or check out the Amalfi coast.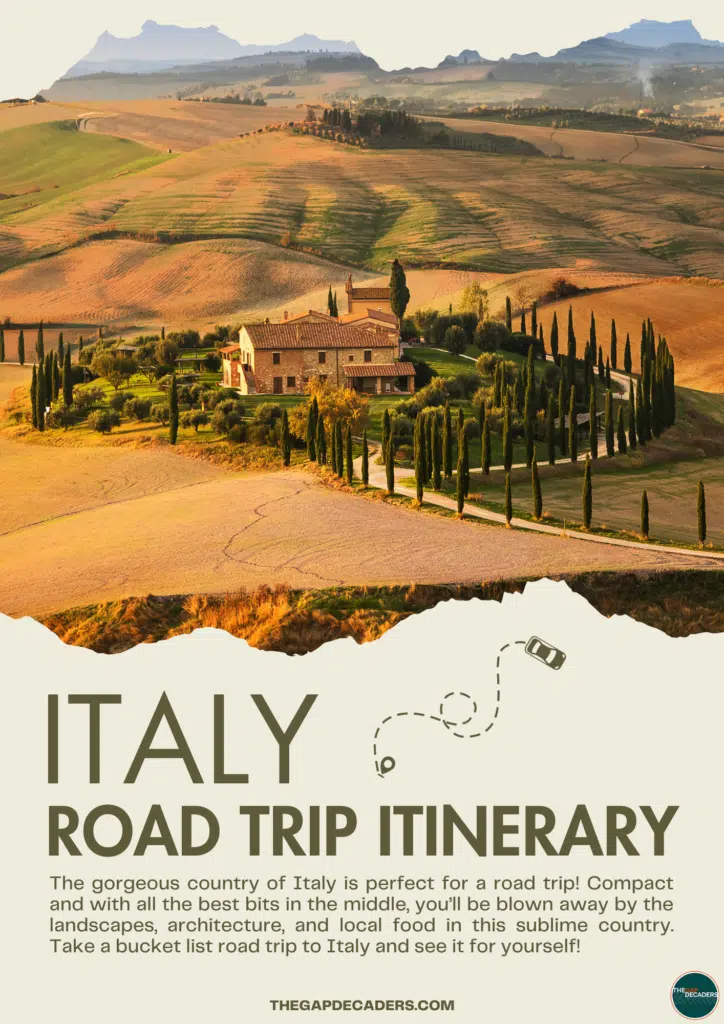 Want to print this itinerary? Download and print a text only version with no ads or images. Includes space for your trip planning notes and a packing list for Italy!
Italy Road Trip Route & Destinations
Milan is the best airport to fly in and out of for your perfect Italy road trip itinerary. As one of Italy's major cities, Milan enjoys direct international flights from all the world's continents, it's accessible, has great car hire options and it's a pretty kick-a** city to visit too!
If you didn't already know, Milan is a global capital of design, and the famous Italian fashion brands that call the city their home deliver sleek and simple Italian style at every turn. Milan's creativity and design flair are not a recent phenomenon though.
The city center has been at the forefront of the arts throughout history and this can be seen in the spectacular Gothic Duomo di Milano cathedral and the UNESCO World Heritage Site of Santa Maria delle Grazie, home to Leonardo da Vinci's 'The Last Supper'.
If you fancy a bit of shopping in this city of designer boutiques and couture labels, then visit the spectacular Galleria Vittorio Emanuele II, Italy's oldest shopping mall, and unlike any other shopping mall you've visited before!
Stay at the Moxy Milan Malpensa Airport , the best of Milan's airport hotels, and get the train or bus directly into the center of Milan. It will take around 30 minutes and cost €10-15. If you're splashing out, get a cab for around €100.
If you decide to spend a night in Milan, save money, and delay your car rental pick-up until the following day, then hit the road for the best road trip route in Italy!
RELATED POST: Northern Italy Road Trip: Itinerary, Map & Tips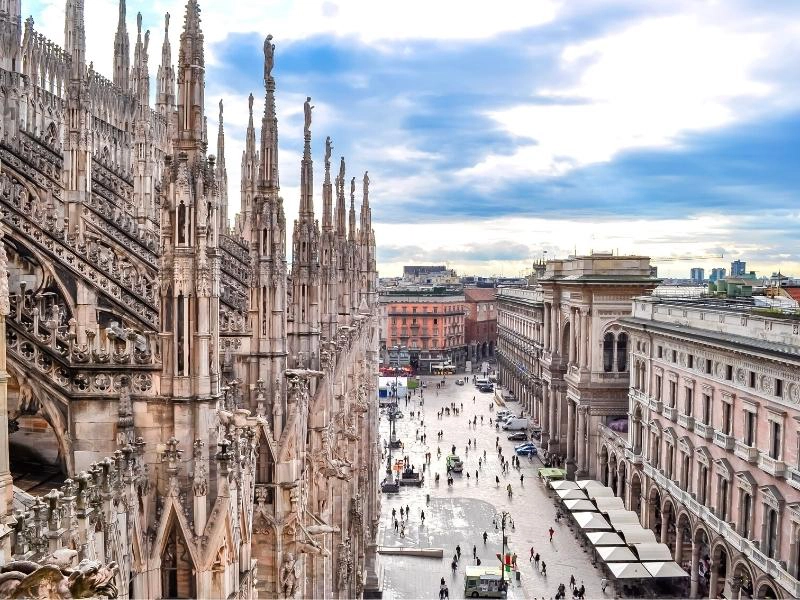 Don't forget your road trip essentials! Our free road trip checklists help you remember everything, including road trip snacks , podcasts , and road trip songs for the journey!
Head south to Portofino, a gentrified fishing village on the Italian Riviera coastline of the Ligurian Sea. Pastel-painted houses line the picturesque harbor, mixing effortlessly with stylish bijou stores, seafood restaurants, and cool bars.
The charming Piazzetta, a small cobbled square, overlooks the harbor of the coastal town, which is lined with super-yachts in the summer and more traditional craft in spring and autumn.
Spend a day soaking up the atmosphere and people-watching. Grab a slice of delicious focaccia con il formaggio (focaccia with cheese) from nearby Recco and meander along the winding backstreets, whilst indulging in a bit of window shopping.
Head to San Fruttuoso, a stretch of the Mediterranean coast which you can only get to by boat or on foot. Enjoy lunch at a cantina on one of the beautiful terraces, where we ate one of the best tomato salads we have ever experienced.
Spend some time on the warm turquoise water in a kayak or on a paddle board; make sure to take a snorkel and mask with you too, as the water here is crystal clear.
Head back to dry land and enjoy dinner at one of the many seafood restaurants in the harbor, for a perfect end to your first full day in Italy.
Where to Stay in Portofino
Upmarket: Splendido, A Belmond Hotel – Booking.com | Agoda
Mid-Range: Hotel Piccolo Portofino – Booking.com | Agoda
Budget: Albergo Annabella, Santa Margherita Ligure – Booking.com | Agoda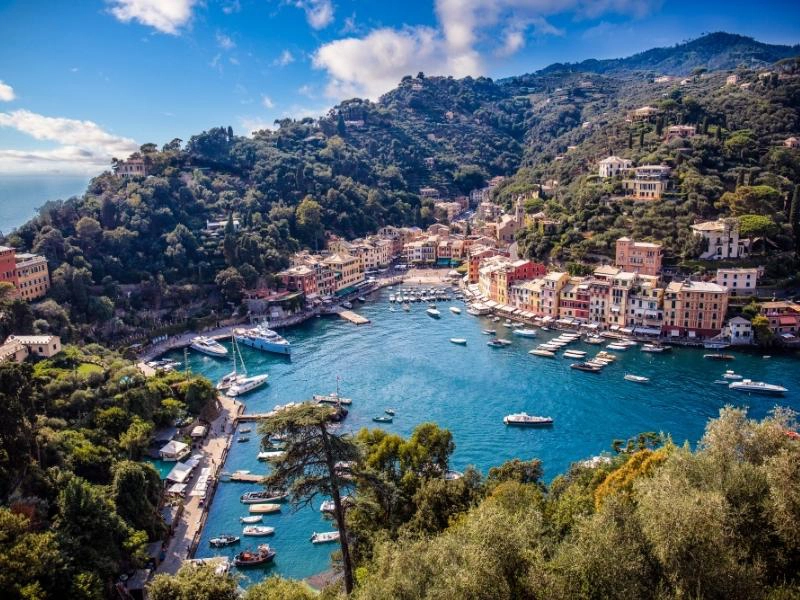 Cinque Terre
You could easily spend a week or more in this wonderful national park, especially if you enjoy hiking, water sports, and outdoor activities. Cinque Terre is a group of five historic seaside villages on the rugged Italian Riviera coastline and a real bucket list destination .
Pretty and brightly colored houses cling to dramatic terraced streets, harbors are filled with traditional fishing boats bobbing on clear azure waters and trattorias serve up everything with homemade pesto (basil, olive oil, parmesan cheese, and pine nuts), the traditional sauce of the region.
The Sentiero Azzurro cliffside hiking trail links the five little towns of Monterosso, Vernazza, Corniglia, Riomaggiore, and Manarola. The trail offers incredible sea views and easy walking.
If you're more of a water baby, see the Cinque Terre villages from a kayak, or take a boat trip and avoid the inevitable crowds in the towns.
Like driving the Amalfi Coast , going to Cinque Terre in a car can be challenging and you should read this Cinque Terre guide before you decide how to visit.
If you do decide to stay or park in Cinque Terre, head for delightful Monterosso al Mare, the largest of the Cinque Terre towns, and start your amble along the hiking route from there. Otherwise, stay in La Spezia and get the early train the next morning to make the most of your day.
Where to Stay in Cinque Terre
Upmarket: Sesta Terra – Booking.com | Agoda
Mid-Range: Ca' D'Andrean – Booking.com | Agoda
Budget: La Taverna del Metallo Rooms – Booking.com | Agoda
Looking for the best SIM card deals in Europe for your trip? Check out our guide to the best data SIMs in Europe and get the best deal for your trip to Italy.
There's more than you think to do in Pisa , even though much of the town was sadly lost during the WW2 bombings. Head for the Campo dei Miracoli (Field of Miracles) where you'll find the iconic Leaning Tower of Pisa, one of Italy's most famous landmarks, the fine Romanesque duomo, Gothic baptistery, and camposanto (cemetery).
This beautiful quartet of creamy-colored historic buildings sits on an open and grassy area, enabling the infamous Instagram shots of people seemingly holding up the infamous tower.
If you're on a deadline, the best way to enjoy Pisa is to take this excellent two hour guided tour of these important monuments, as you pass through on your way to the next stop.
Upmarket: Palazzo Cini – Booking.com | Agoda
Mid-Range: Hotel Di Stefano – Booking.com | Agoda
Budget: Hotel La Pace – Booking.com | Agoda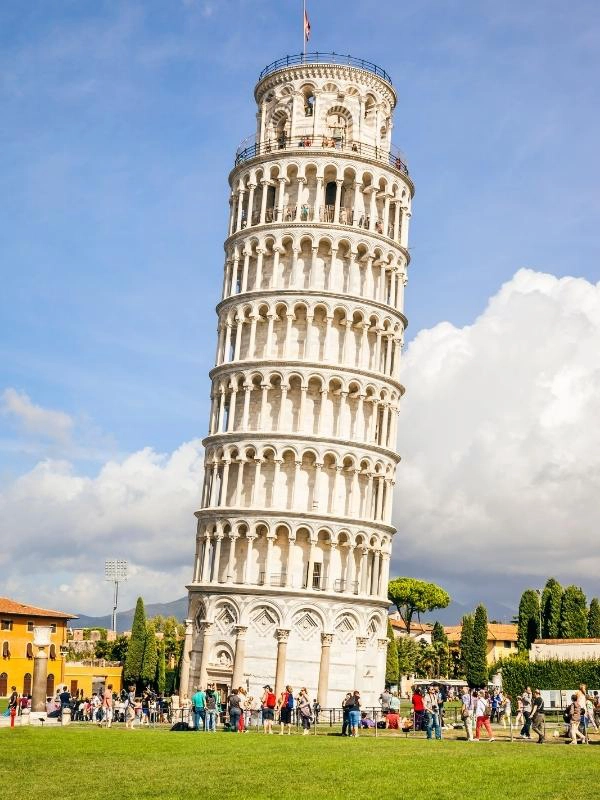 San Gimignano
As you approach this most archetypal of Tuscan hill villages, you'll see its thirteen towers dominating the skyline.
Historically, this beautiful place was on the main pilgrim route from Northern Europe to Rome and the towers were built by merchants to show the world their power and wealth.
San Gimignano is now beautifully preserved and perfect for an afternoon meandering the atmospheric narrow cobbled streets and piazzas of the historic center.
Make sure to visit the ancient Torre Grossa, the only one of the thirteen towers open to visitors.
Other must-sees are the stunning frescos in the 11th century Collegiate and the ornamental Rococo interior of Sant' Agostino church. Otherwise, grab a gelato or a coffee and stroll to your heart's content.
As with all Tuscan hill villages, if you're in a motorhome or anything bigger than a car you will need to identify parking at sea level and walk up, or take public transportation – often provided by the municipality in the summer months.
When you leave San Gimignano, you'll have time to make a quick stop to visit Monteriggioni , a fine example of a beautiful medieval walled castle and village.
RELATED POST: The Complete Guide to Touring Italy by Motorhome
Where to Stay in San Gimignano  
Upmarket: Agriturismo Mormoraia – Booking.com | Agoda
Mid-Range: Hotel Bel Soggiorno – Booking.com | Agoda
Budget: Relais Cappuccina – Booking.com | Agoda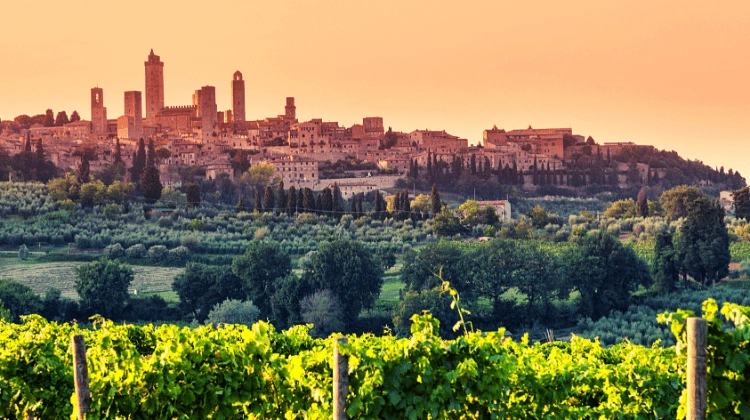 Siena is gloriously Tuscan, its warm colors beckoning you into the medieval streets and towards the jewel in Siena's crown, the famous Piazza del Campo.
The prettiest of Tuscany's must-see towns is not only home to one of Europe's greatest medieval squares but a wealth of stunning religious and civic buildings and a busy shopping area packed with interesting galleries and boutiques.
Any visit to Siena has to include the Piazza del Campo, an extraordinary site as you enter from Via di Citta to fully appreciate the symmetry, layout, and beauty of the square.
Lined with fine buildings that will grab your attention, don't miss the tiny Fonte Gaia on the northern edge of the piazza, whose water is still supplied by a 500-year-old viaduct.
Take a walking tour of Siena and the Duomo to fully appreciate the city's turbulent history and breathtaking architecture.
Stop for lunch at one of the many lively restaurants lining the streets around the main square and sample delicious Ribollita, a traditional Tuscan soup made with beans, vegetables, and bread, before heading off on one of the best drives in Italy.
Upmarket: Palazzetto Rosso – Art Hotel – Booking.com | Agoda
Mid-Range: Hotel Athena – Booking.com | Agoda
Budget: Hotel Palazzo di Valli – Booking.com | Agoda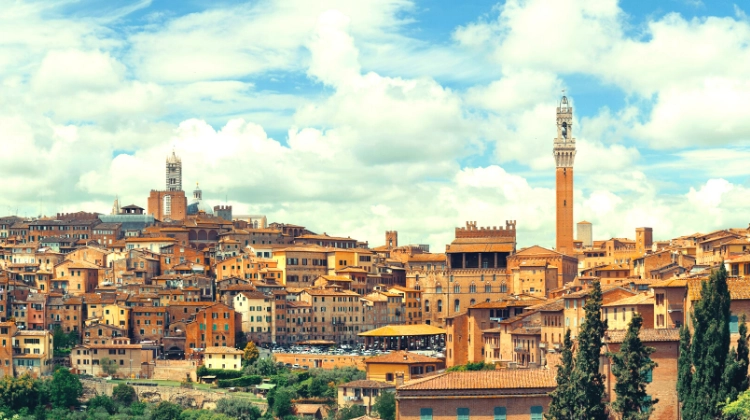 Val d'Orcia
Driving in Tuscany is one of the greatest pleasures as you road trip through Italy. As you leave Siena for Montepulciano, you'll be motoring through some of Italy's most iconic and stunning scenery.
Head south, setting your sat nav for the Val d'Orcia, and enjoy one of Europe's best driving routes and Italy's most scenic drive.
This journey will take you past small villages, vineyards, and olive groves, and you'll pass row upon row of majestic cypress trees lining the roads and on the skyline. This is Tuscan countryside at its very best.
If you pick up the SP146 between San Quirico d'Orcia and Montepulciano, you might even spot the famous house from the film 'Gladiator', some of which was shot in Tuscany .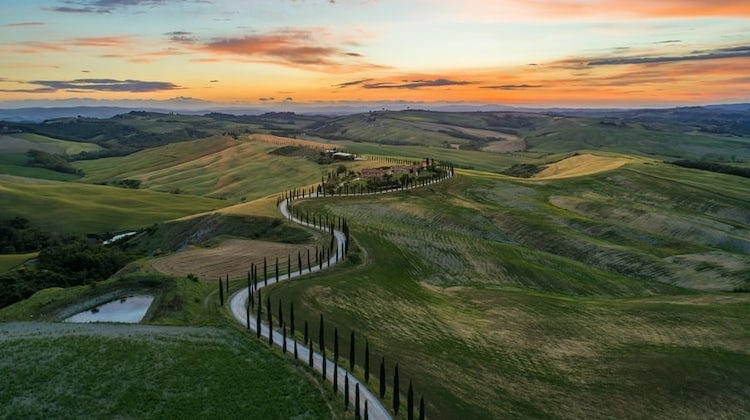 Montepulciano
Famous for the classic, rustic wine of the same name, the gorgeous medieval town of Montepulciano is nestled into the chalky hills at the meeting point of the Val d'Orcia and the Vall di Chiana.
Surrounded by the classic Tuscan landscape of rolling green hills and golden fields dotted with cypress trees, this is your picture-perfect Tuscany road trip destination.
The old town itself is a masterpiece of cobbled streets, charming piazzas, restaurants, and gift shops which can easily draw you in for a deliciously pleasant afternoon and evening.
Enjoy a meal of wild boar ragu, followed by local cheese and honey washed down with the famous Vino Nobile di Montepulciano.
The town is also one of the best spots in this itinerary for a wine-tasting tour of a local vineyard , to understand the history and process of making wine in Italy .
You cannot park within the town walls and need a permit to park in one of the numbered car parks on the outskirts, which your hotel will provide for you.
The car parks are around a ten to fifteen minute walk from the center of the town, so maybe pack a small bag for an overnight stay.
Where to Stay in Montepulciano
Upmarket: Palazzo Carletti – Booking.com | Agoda
Mid-Range: Il Rondò Boutique Hotel – Booking.com | Agoda
Budget: Albergo Duomo – Booking.com | Agoda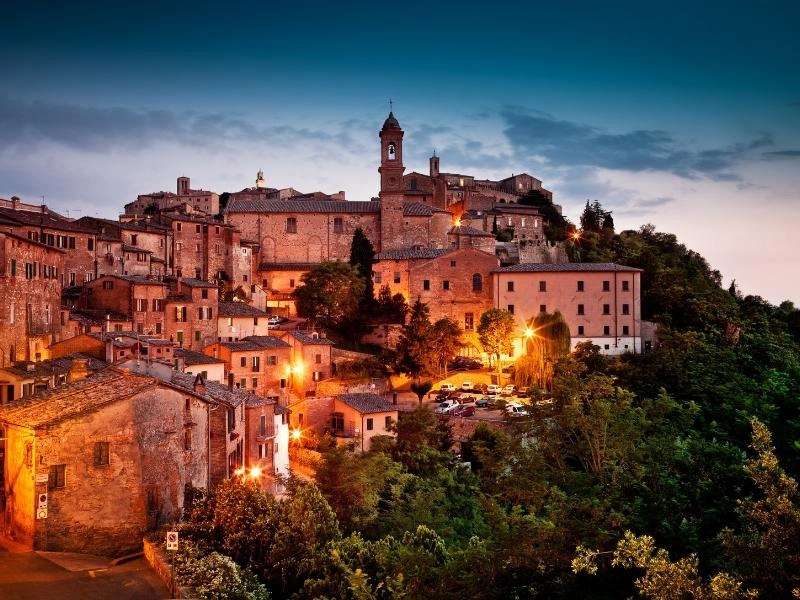 Italy Road Trip Ideas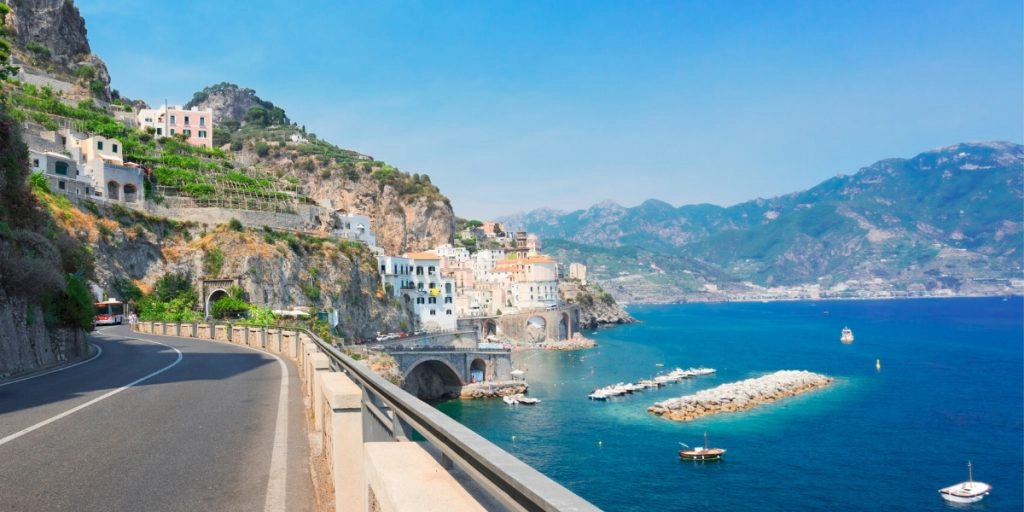 A Bucket List Amalfi Coast Road Trip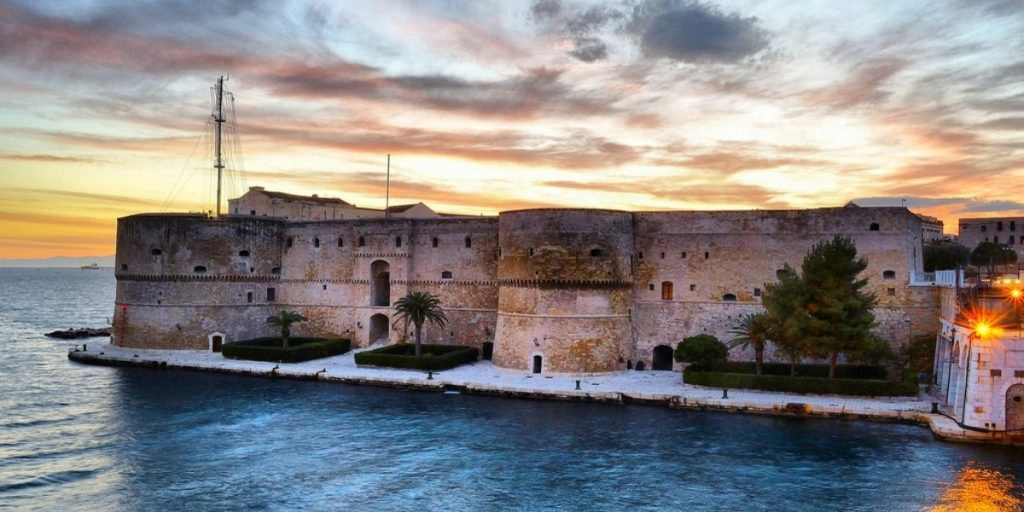 Beautiful Puglia – A Road Trip Itinerary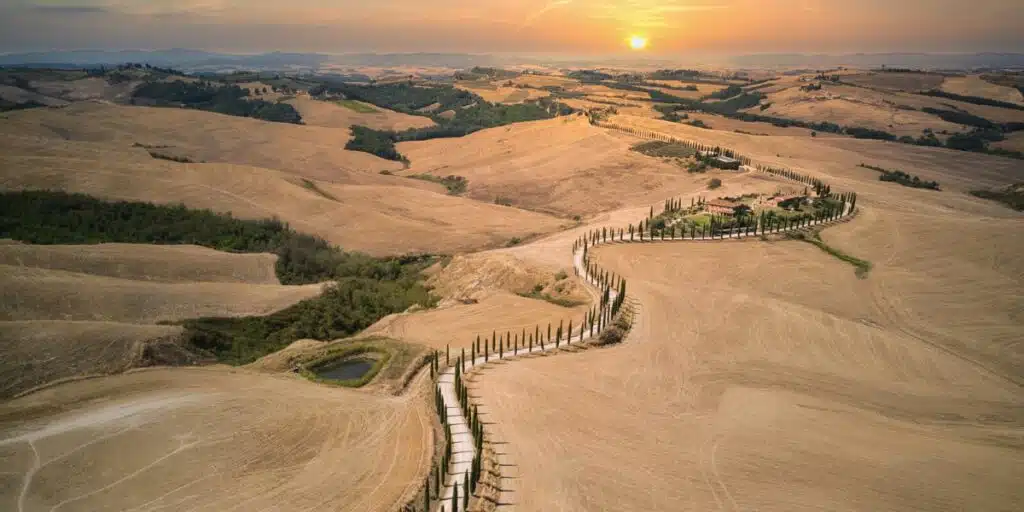 Tuscan Road Trip: Itinerary, Map & Tips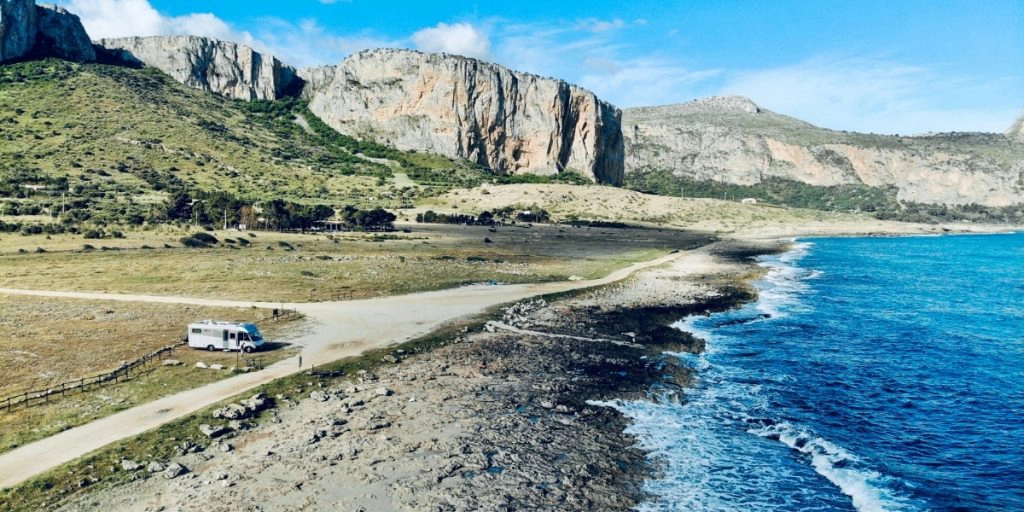 Motorhoming in Italy: Your Complete Guide for 2023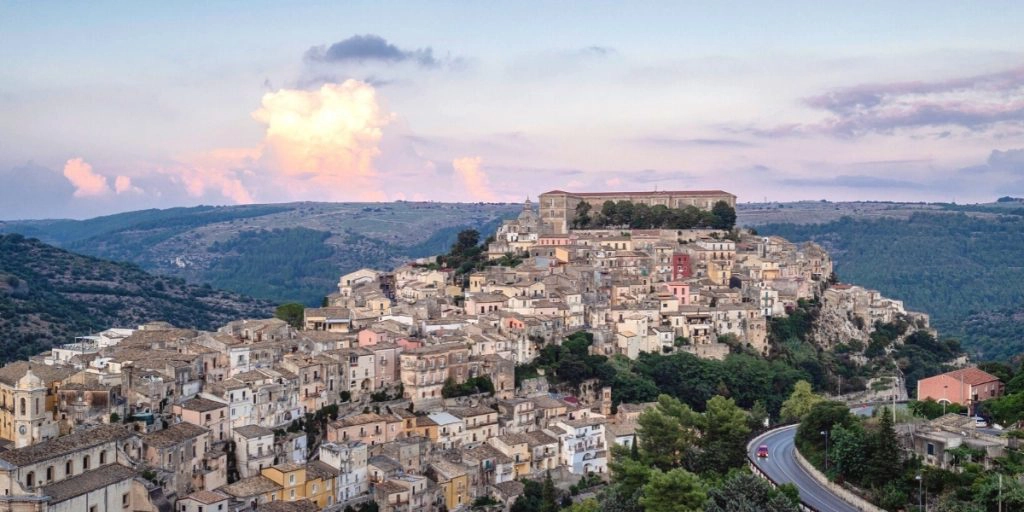 Sicily Road Trip – Itinerary, Tips & Map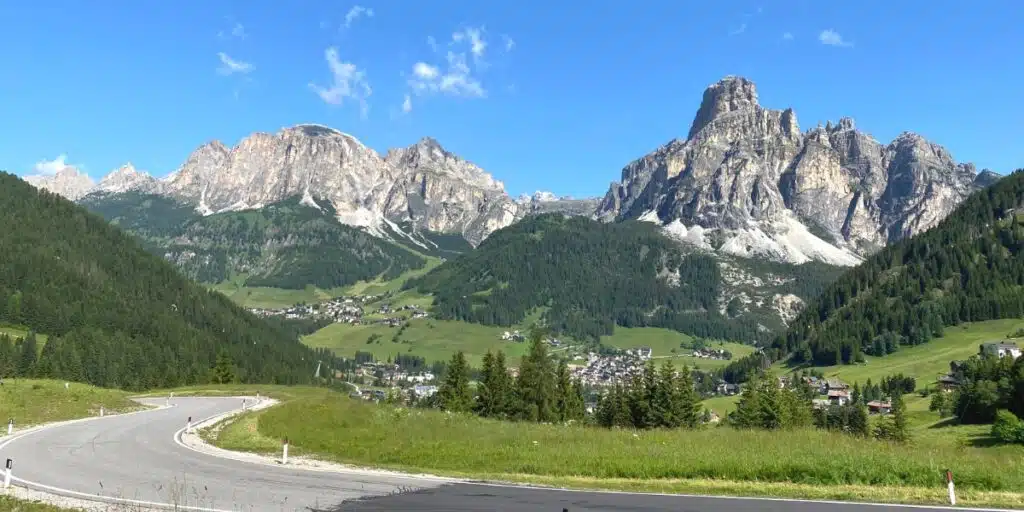 Great Dolomites Road: Absolutely Everything You Need to Know!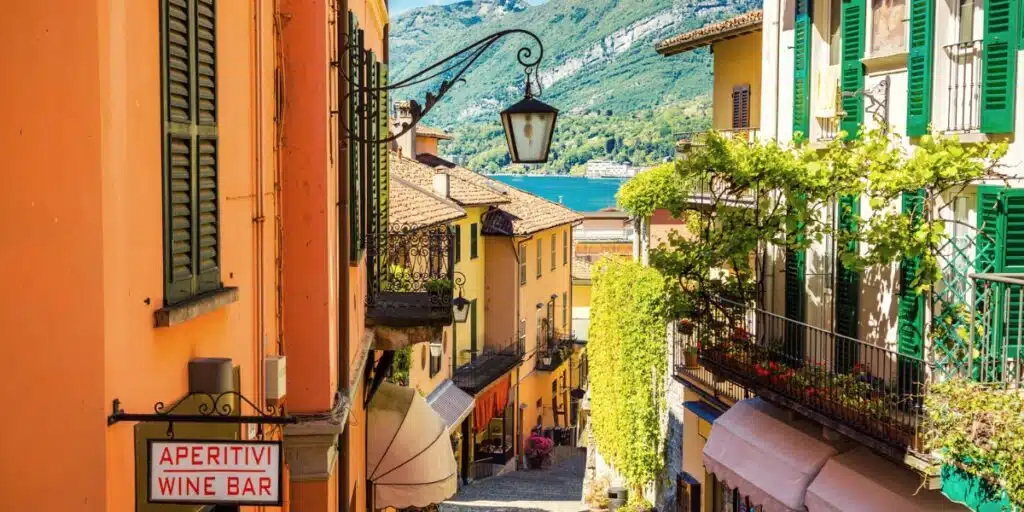 Northern Italy Road Trip: Itinerary, Map & Tips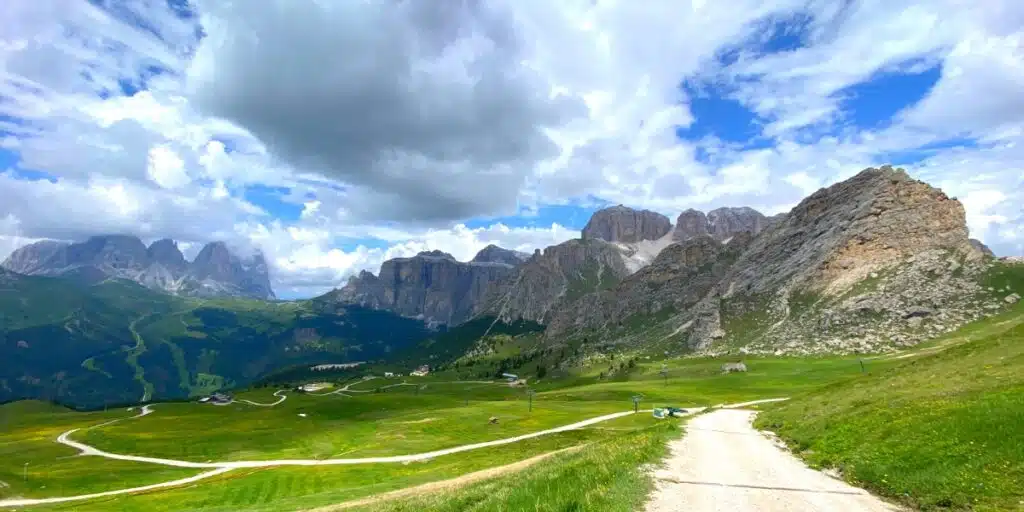 Dolomites Road Trip: Explore the Best of Northern Italy
The center of a vast empire and capital of the Christian world for centuries, Rome is full of the works of the artists and architects who gathered here to work for the Popes and their wealthy families.
This magnificent legacy has assured the eternal city's position as one of the most important historical places in the world. Even if you just have one day, you should see the most important of Rome's ancient architecture like the Colosseum, Pantheon, and Roman Forum, and the slightly more modern historical sites like the Vatican Museums, St. Peter's Basilica, the Trevi Fountain and Spanish Steps.
As you walk, you'll take in a handful of light and airy piazzas, perfect for stopping and enjoying a coffee or ice cream as you people-watch.
Our Rome in one day itinerary has all the information you need to visit the city and get a real flavor of why Rome is a must-visit place in Italy.
RELATED POSTS: The Best of Rome in 36 Hours | Rome in a Day – Itinerary, Map, Tips & Guide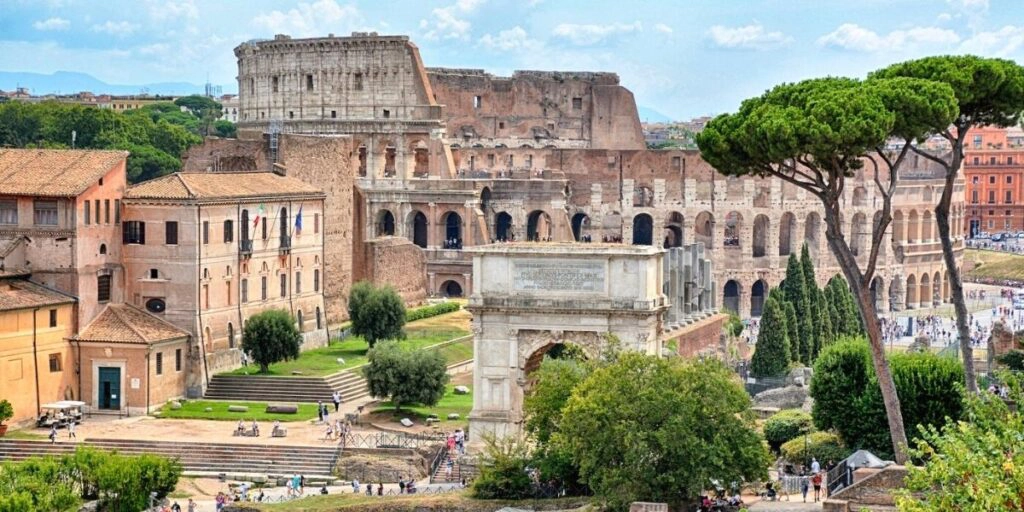 If you have four weeks or longer for your driving tour of Italy, one of the best road trips from Rome is to head south for around three hours to the Amalfi Coast .
This stunning stretch of gravity-defying road from Sorrento to Salerno passes by the beautiful beaches of Positano, the romantic village of Ravello and authentic Vietri sul Mare, and is considered the best Italian coast road trip of them all.
The road south to the Amalfi Coast will also take you past Mount Vesuvius (one of Italy's three live volcanoes – the others are Mount Etna on Sicily and Stromboli, its own small island in the Tyrrhenian Sea), and the magnificent Pompeii Archaeological Park.
Both Vesuvius and Pompeii can be seen in a day , meaning you could visit three major Italian attractions, adding just two extra days to your roadtrip Italy – be prepared for an early start from Rome though!
RELATED POST: Southern Italy Road Trip: Discover the Best 33 Places To Visit
Driving from Rome to Florence you'll find Spoleto, often overlooked in favor of its famous neighbors but a true hidden gem.
Nestled in a beautiful wooded setting in Umbria, the town is famous for the Festival dei Due Mondi (Festival of the Two Worlds) held in June and July annually.
Outside of this time, tourists are welcomed, but not thick on the ground like they are in next-door Assisi.
Spoleto's independent nature has allowed it to thrive and progress as a town in its own right, rather than a tourist hot spot.
Come to Spoleto to enjoy a slow day, sipping coffee in the square, taking the travelator (an experience in itself) up to the mighty fortress of La Rocca Albornoz, which dominates the skyline, and wandering around the many beautiful churches and religious buildings in the town.
Upmarket: Palazzo Leti Residenza d'Epoca – Booking.com | Agoda
Mid-Range: Hotel dei Duchi – Booking.com | Agoda
Budget: Hotel Vecchio Forno – Booking.com | Agoda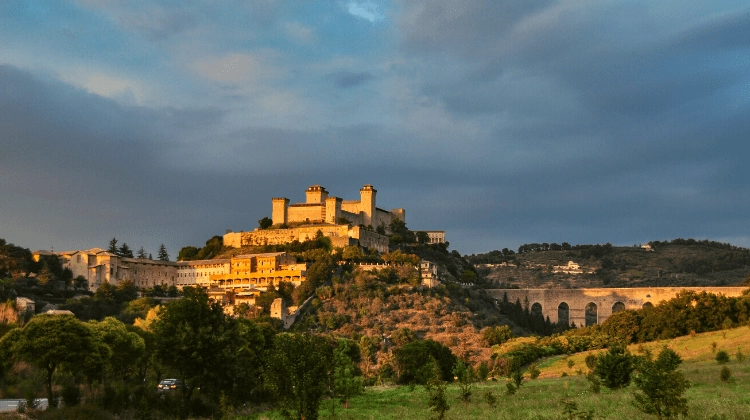 The birth and final resting place of St Francis of Assisi, this beautiful medieval hill town, with its geranium-filled narrow streets, charming piazzas, and panoramic views is a must-see on your Italian road trip itinerary.
Wreathed in history and religion, the magnificent Basilica di San Francesco draws pilgrims and tourists from across the globe – think of Italian novels like 'The Name of the Rose' and you're imagining Assisi.
Clinging to the side of a craggy outcrop and visible for miles, the Basilica dominates the town and surrounding landscape. Spend the day wandering between here and Assisi's main square, Piazza del Comune, where the Roman columns of the Templo di Minerva still stand.
There are many other religious buildings of note, a walking tour with a private guide will help you understand the importance and history of each.
Upmarket: Nun Assisi Relais & Spa Museum – Booking.com | Agoda
Mid-Range: Le Silve di Armenzano – Booking.com | Agoda
Budget: Hotel Cladan – Booking.com | Agoda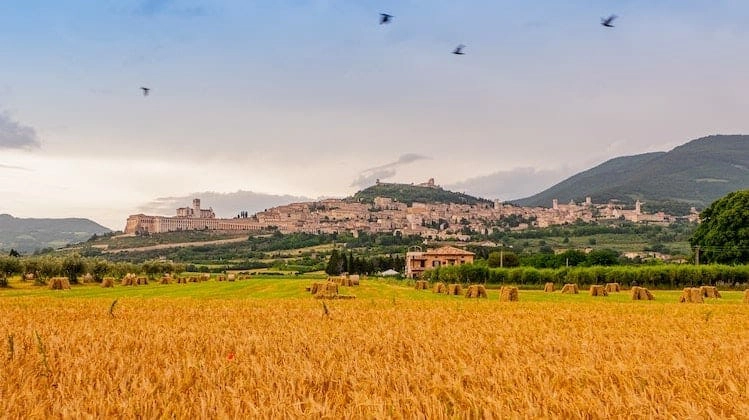 If you're all eaten and drunk out at this stage, consider giving Bologna (the stop after Florence) a miss and heading up the east coast of Italy from Assisi, before cutting back inland to Florence.
This route takes in the best of Le Marche, a remote corner full of beautiful scenery that is sandwiched between the Apennines and the Adriatic.
The coast is home to a number of seaside resort towns with long sandy beaches and the stunning Conero Peninsula, which makes a welcome relief from the almost uninterrupted beach which dominates the coastline.
Inland are lots of beautiful and historic towns, less visited and the better for it. For a real punch of medieval architecture, check out Urbino and Ascoli Piceno, the highlights of the region.
Whilst you're there, pop into San Marino, said to be the world's oldest surviving republic and the fifth smallest country in the world!
Florence is a vast and graceful monument to the Renaissance, the period of cultural and artistic rebirth following the Middle Ages. Many famous artists such as Michelangelo and Botticelli contributed to Florence's heritage, making it one of the artistic capitals of the world.
Historic Florence is compact and walkable and could be seen in a day if you're ruthless in your selections.
Better to spend two days here and visit the must-sees of the exceptional Duomo, the stunning Palazzo Vecchio, the sublime Uffizi Gallery, and the ancient church of Santa Croce.
Across the River Arno, via the Ponte Vecchio, lies the vast and imposing Pitti Palace and the Santa Spirito church.
Book everything in advance, whether that's tickets, tours, or guides; this city never sheds itself of tourists, all clamoring to see the same things as you!
RELATED POST: One Day in Florence – Itinerary, Map, Tips & Guide
Where to Stay in Florence
Upmarket: Hotel Spadai – Booking.com | Agoda
Mid-Range: Soprarno Suites – Booking.com | Agoda
Budget: Hotel Perseo – Booking.com | Agoda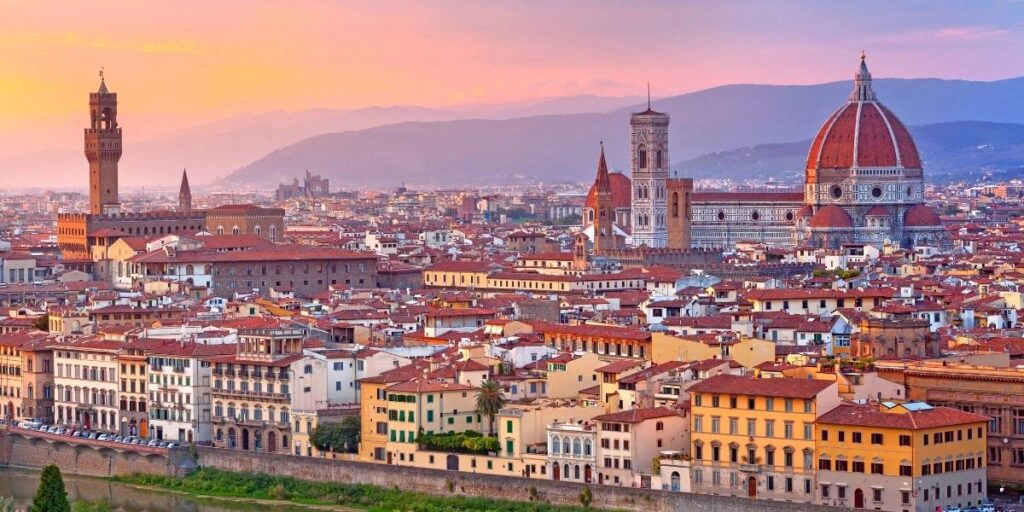 One of the best medieval cities in Italy and the foodie capital of Emilia-Romagna (and possibly the whole of Italy) Bologna will surprise and delight you. Follow our self-guided foodie walking tour of Bologna to sample the best food and architecture the city has to offer.
If you have time, pop across to Modena to sample the famous Balsamic vinegar made there, and then Parma for the ham of the same name.
RELATED POST: Self-Guided Food Tour of Bologna
Upmarket: Grand Hotel Majestic Gia Baglioni – Booking.com | Agoda
Mid-Range: PHI Hotel Al Cappello Rosso – Booking.com | Agoda
Budget: The Social Hub Bologna – Booking.com | Agoda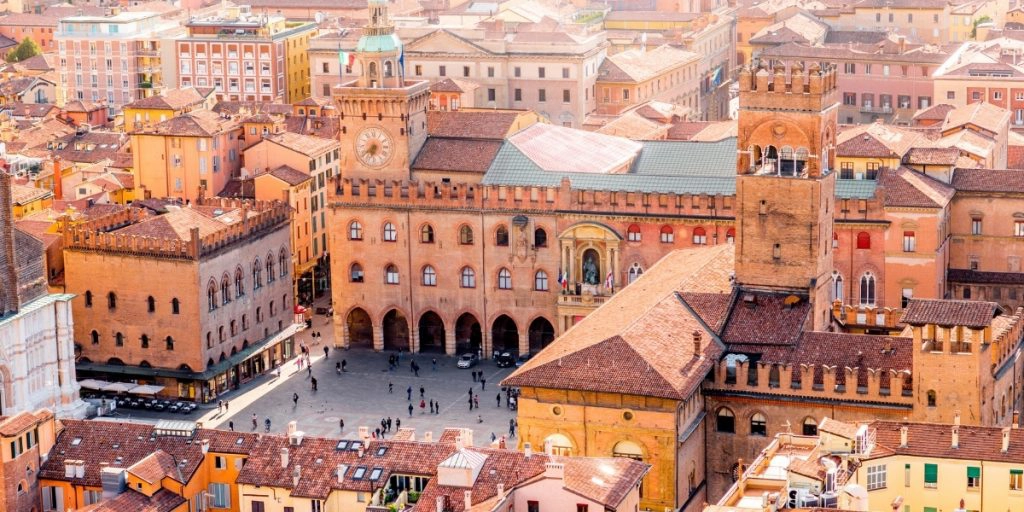 Ahh, Venice. This unique city has survived against all the odds; built on a series of mud banks, and in the tidal waters of the Adriatic, Venice regularly floods.
Despite this, little of the essential fabric and infrastructure of Venice has changed in 200 years, and more than 20 million visitors a year fall in love with the beguiling city of water.
Trying to see Venice in a day will not do it justice, and leave you feeling frustrated. If that's all you have, either come back another time or take a private full day trip so you can be whisked around and see all the best bits, without getting lost.
Whenever you visit and whether you choose to see the religious and historic buildings, the famous glass island of Murano, the lace-making island of Burano, and haunting Torcello, or take a gondola along the Grand Canal, Venice will be crowded.
Park at Garage San Marco Venezia , (book well in advance) a five minute walk from the hotel. There is no free parking in or around Venice, expect to pay at least €25 per 24-hour period.
RELATED POST: One Day in Venice – Itinerary, Map, Tips & Guide
Upmarket: Sina Centurian Palace – Booking.com | Agoda
Mid-Range: Palazzo Veneziano – Booking.com | Agoda
Budget: Hotel Saturnia & International – Booking.com | Agoda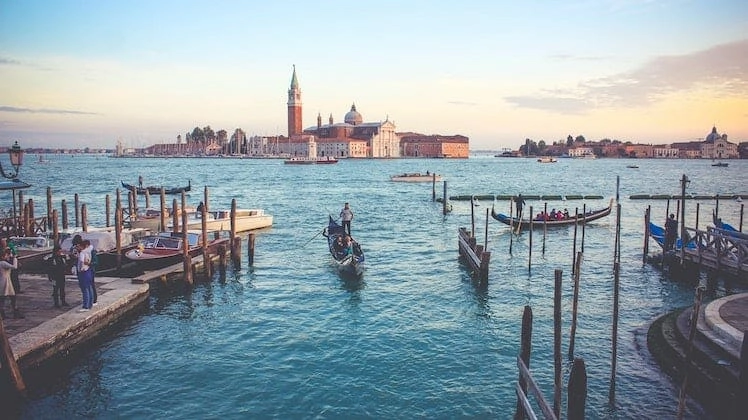 Lake Garda is your final stop before heading back to Milan to drop off your hire car. Lake Garda, the most well-known and largest of the Italian lakes, borders three regions; Trentino, Lombardy, and the Veneto.
The further north along the lake you go, the more dramatic the landscapes become, as you head towards the snowcapped Alps of the South Tyrol.
There are many beautiful towns around Lake Garda , all offering opportunities for water sports, hiking, and relaxing at the end of your epic road trip around Italy.
Our pick is Bardolino on the east shore, a lively town with easy access to the lake and lots going on, as well as spectacular sunsets over Lake Garda to end your day.
From Bardolino, it's a few hour's drive to Milan Airport, perhaps via Lake Iseo, Lake Como, and Lake Maggiore if you have a few extra days to explore.
Where to Stay in Lake Garda
Upmarket: LLAC Living Nature Hotel – Booking.com | Agoda
Mid-Range: Resort Casino di Caccia – Booking.com | Agoda
Budget: Hotel La Terrazzina – Booking.com | Agoda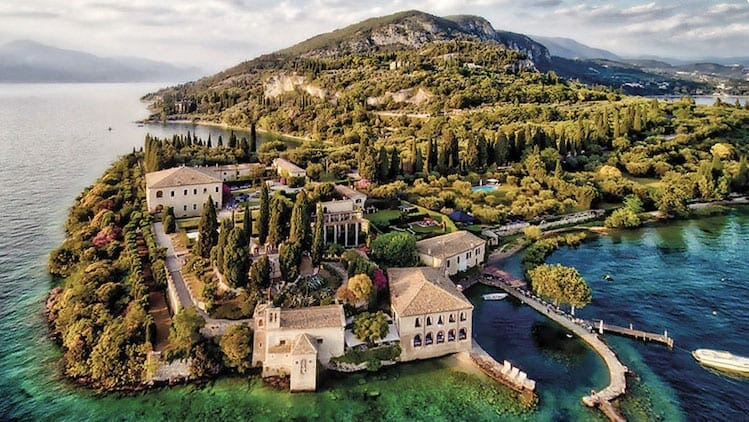 Want to plan your own road tri p? Get our step-by-step road trip planning guide to help you organize the perfect trip, or get inspiration from our favorite European road trips .
Italian Road Trip Resources
Here are the websites and services we personally use and recommend for trips to Italy.
Search for affordable flights to Italy with Skyscanner
Search for availability and book hotels and accommodation in Italy with Booking.com
Find and book the best campsites in Italy with Eurocampings
Book the cheapest and most reliable hire cars in Italy with Rentalcars.com
Find and hire your perfect motorhome or campervan with Motorhome Republic
Get highly rated, reliable, and trustworthy travel insurance with True Traveller
Check if you need a visa and arrange your documents with Visagov
Are you looking for more road trip inspiration? Check out these top posts…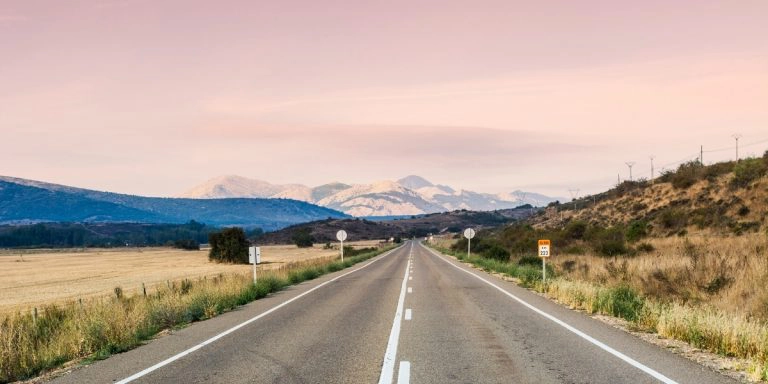 Spain Road Trip: 8 Amazing Routes for an Epic Trip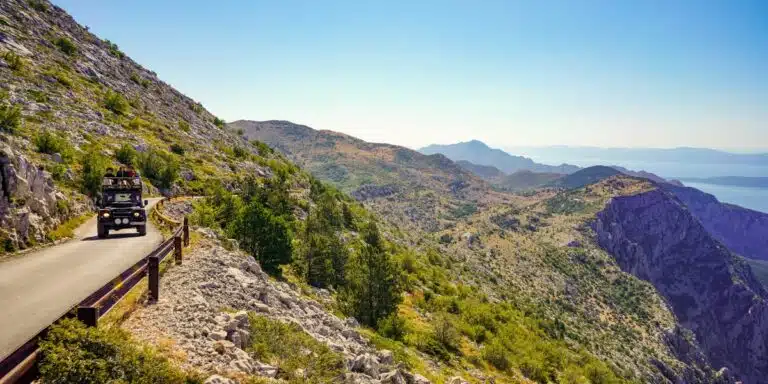 Croatia Road Trips: Five Incredible Routes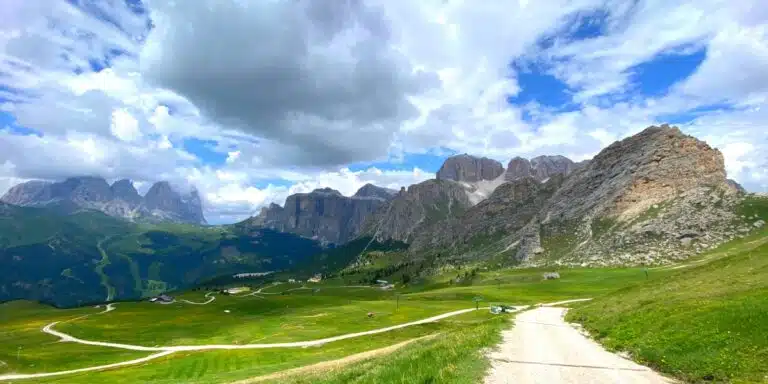 Route des Grandes Alpes: An Epic French Road Trip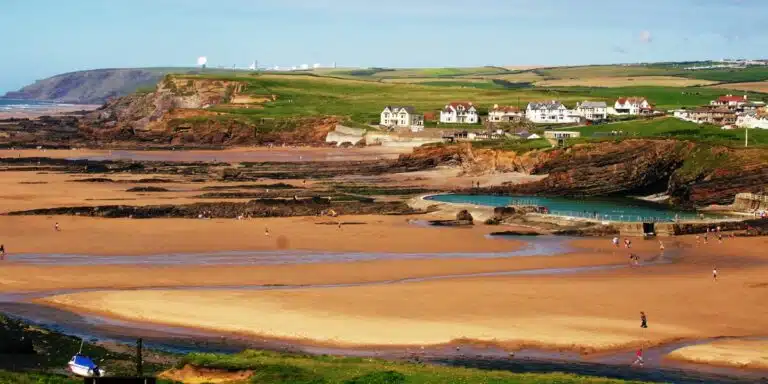 Atlantic Highway: An Epic Devon & Cornwall Road Trip
Love it pin it.

The Ultimate Italy Road Trip Itineraries: Routes, Sights, Guides, Maps And More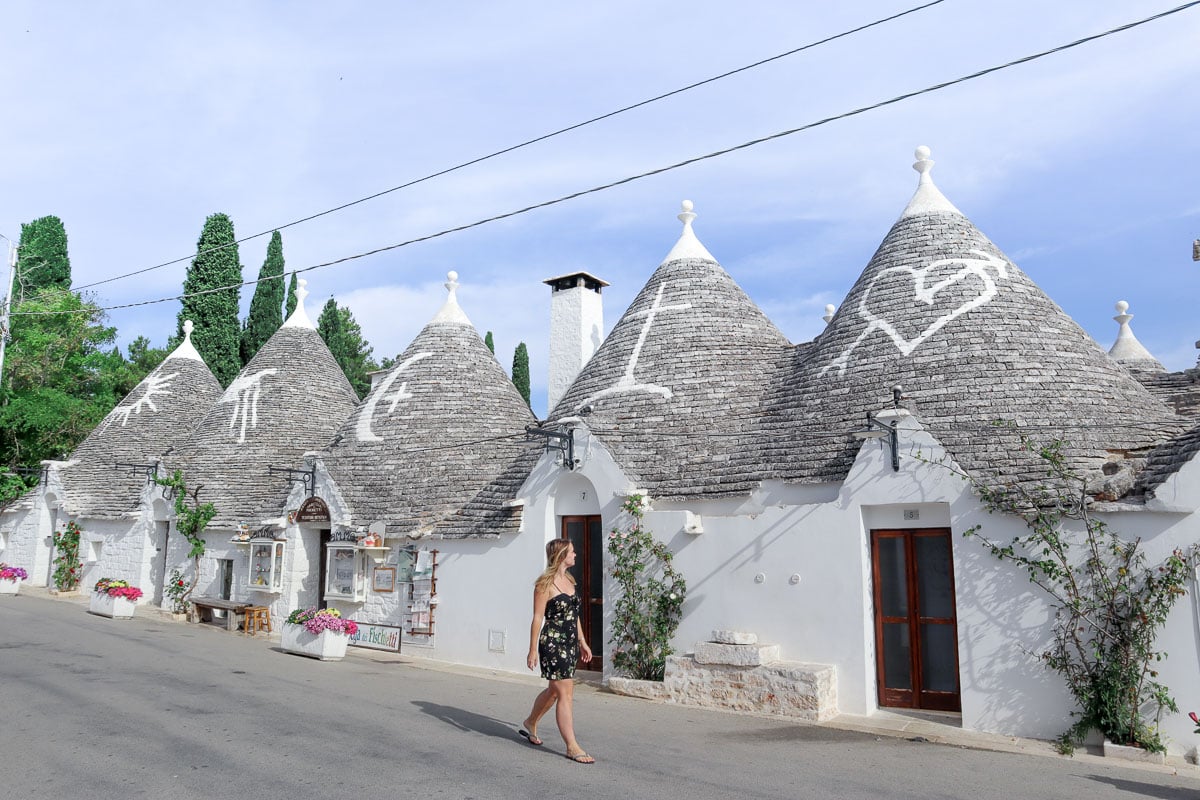 From the stunning scenery of Lake Como and the culture, art and beauty of Florence and Rome, to the epic views along the Amalfi Coast and traditional Italian towns of Puglia, this Italy road trip has it all!
Road tripping past vineyards, dramatic coastlines and historic cities sounds like a pretty perfect holiday doesn't it? When it comes to European holidays, Italy is always one of my top recommendations. I love the views, the buzz, the people. And don't get me started on the food – I mean, delicious Italian cuisine for brekky, lunch and dinner? That's enough of a reason to visit in itself!
Whether you're interested in art, architecture, history, food or fashion, a trip to Italy will no doubt appeal. Spend leisurely days floating beneath the Rialto Bridge in Venice on a gondola, window shopping in Milan's boutiques, standing where gladiators once fought in the Roman Colosseum or staying in a traditional Trulli house in Puglia.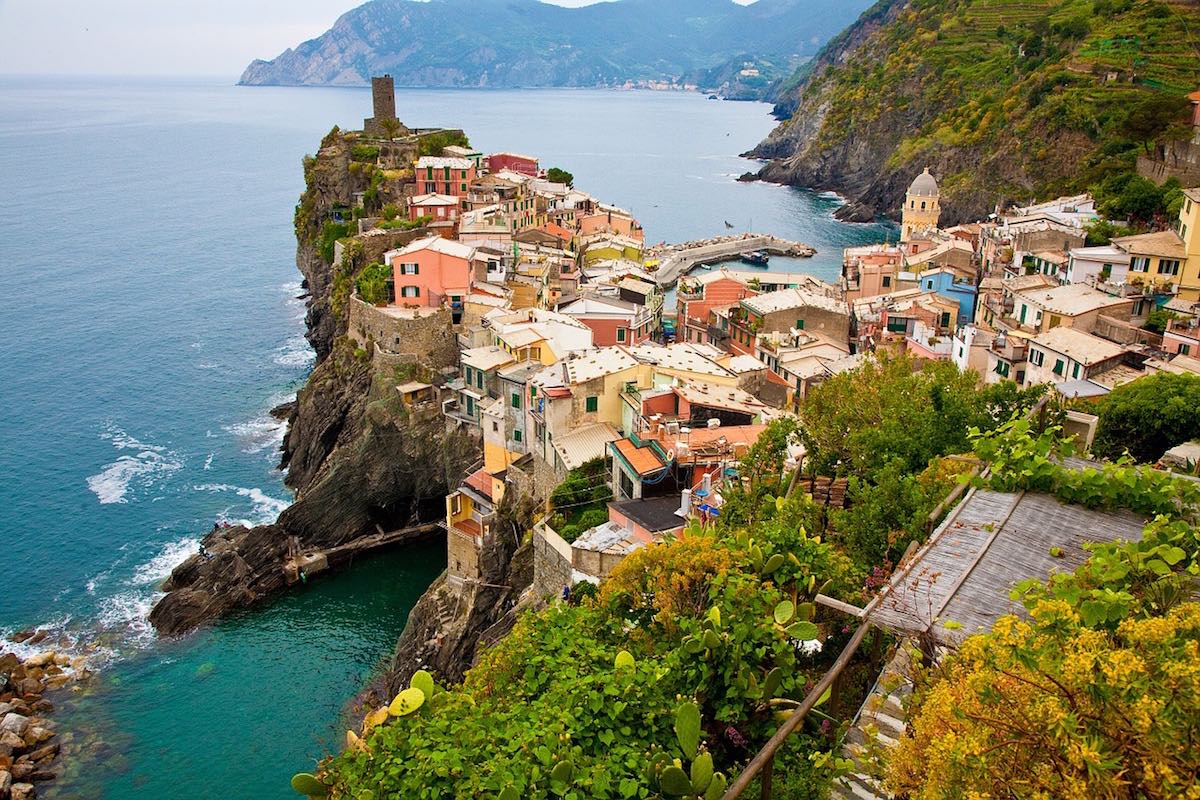 And the best part about an Italy road trip? The freedom! You don't have to stick to the obvious routes. While I've created an Italy itinerary on the maps below, I'd encourage veering off course from time to time. That's when you'll find the hidden gems, the towns the tourists don't know about, and no doubt some delicious Italian food too.
It's also worth remembering that some of the interior parts of the country are as pretty as the coasts, with vineyards, sunflower fields and gorgeous hilltop towns. Going on a road trip means you're pretty much guaranteed to see some of the most beautiful landscapes in Italy too.
So, rather than create one epic Italian road trip, I've divided it into a northern Italy road trip and a southern Italy road trip. That way you can just pick one and break the country up into manageable chunks. Got a while? Join the two up and continue down the coast from Rome to Milan.
Click through to take a look at each itinerary, and figure out which one is right for you…
The Ultimate Italy Road Trip Itinerary
From driving along the Amalfi Coast and enjoying traditional pasta in Puglia, to enjoying lake views in northern Italy and the incredible canals of Venice, it's time to plan the ultimate Italy road trip!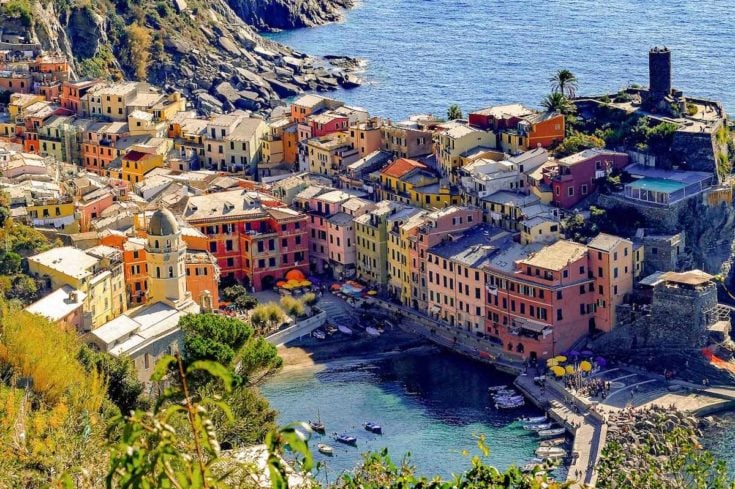 The Ultimate Northern Italy Road Trip: Routes, Sights, Guides, Maps And More
From the stunning scenery of Lake Como, dramatic coastlines of Cinque Terre and the canals of Venice, to the culture, art and beauty of Milan, Florence and Rome, it's time to plan the ultimate northern Italy road trip!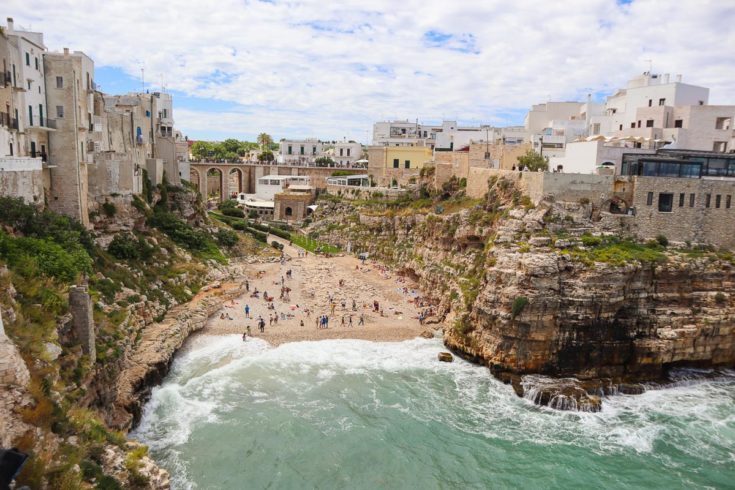 The Ultimate Southern Italy Road Trip: Routes, Sights, Guides, Maps And More
From the vibrant city of Naples and the awe inspiring views of the Amalfi Coast, to the traditional Italian towns of Puglia and Sicily's beaches, volcanoes and cuisine, it's time to plan the ultimate southern Italy road trip!
When Is The Best Time To Visit Italy?
Italy has a Mediterranean climate and is a lovely destination to visit all year round.
Temperatures vary by region, but as a quick example, you can expect average temperatures of around 0°C in around Cortina (a ski resort in the mountains) in January, and as high as 37°C in July in cities such as Milan and Venice. Temperatures in the south remain mild in winter, making destinations like Puglia and Sicily great options for a winter holiday.
If you're wondering when is the best time to visit Italy, I'd suggest planning a trip between April and June, or in September or October, just after the peak summer season.
The weather tends to be consistent in these months, but isn't too hot. Plus, as you're missing peak season, you should benefit from lower prices and fewer people.
What to pack for your road trip
If you're wondering what to pack for your trip, this guide to road trip essentials has you covered. From portable chargers to ways to stay entertained on long journeys, it'll help you create your road trip packing list.
I hope you've enjoyed checking out my Italy road trip itineraries! Let me know where you decide to go and what your highlights are…
Enjoyed this post? Pin it for later…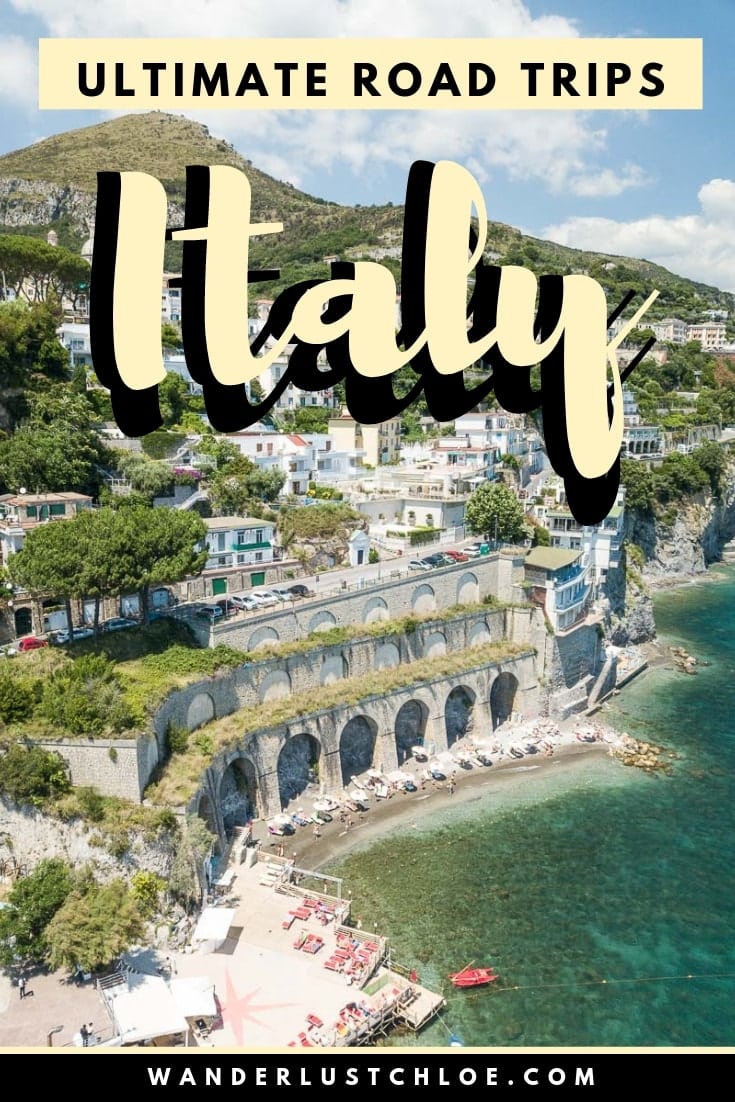 Chloe Gunning
With a passion for food, fun and adventure, Chloe is the content creator behind one of the UK's top travel blogs Wanderlust Chloe. From volcano boarding in Nicaragua, to sailing around Sicily and eating her way around Japan, her travels have taken her to some of the coolest spots on the planet. Named Travel Influencer of the Year in 2022, Chloe regularly works with a number of tourism boards, producing inspirational travel content across multiple platforms. Find out more about Chloe here.
2 thoughts on "The Ultimate Italy Road Trip Itineraries: Routes, Sights, Guides, Maps And More"
I am obsessed with Italy! I really want to visit Milan and Lake Como so I think that will be my next trip! xoxo Jess
Hey Jess – that's a great route to take and super easy! I've just got back from Trentino which is also stunning!
Leave a comment Cancel reply
Brand Collaborations
Awards and Accolades

Vatican City
Andhra Pradesh
Jammu and Kashmir/ Ladakh
Who are we?
Hopping Miles in Media
Why Hopping Miles?
Privacy Policy
Driving Tips
Our Italy Road trip Itinerary – Self drive in Italy
Table of Contents
Our Italy itinerary is what pushed us into taking a major decision that we would be doing a self-drive Road trip in Italy. Our Italy driving holiday itinerary had an equal share of big and famous cities and the less visited yet well-known places. Though Italy has a good network of trains – It would have been difficult to travel by train to all the places marked in our Italy Road trip Itinerary.
Italy Road Trip Planner:
After I wrote this post about ' Things to know before you self-drive in Italy ' , I got a lot of questions about places we traveled across Italy on our road trip. So, I decided to write this post which help your road trip through Italy. Be it 1 week or 10 days, this itinerary will help you while driving around Italy. This itinerary covers most of the beautiful and famous spots in Italy making it one of the best road trips in Italy.
We didn't always hire a car for all the days we were in Italy, but did it strategically, which we will explain in the due course of this article. While exploring cities, we used local transport like Metro, trams and bus. When feasible, we took intercity trains. We hired a car only when we felt an absolute need of doing so.
And being avid road trippers, we enjoyed taking on Italian roads – sometimes driving in between choppy cliffs and deep blue ocean, sometimes cruising along state-of-the-art highway, sometimes creeping under tunnels that don't seem to end, sometimes stuck in weekend highway jam, sometimes slowing down in countryside roads to see the hay bales neatly rolled up, sometimes driving along the coast for hundreds of miles but never to drive for the sake of it!
With such a pleasing experience , I would recommend that everyone should go road trippin in Italy at least once in a lifetime! Assisting you in your road trip adventure is your travel buddy – Hopping Miles. So, here it is – Road trip in Italy.
Road trip preparation for self drive holiday:
Well, for a good road trip, what do we need? A reliable and cost effective car and a comfortable place to rest for the day after a long day on the road. Right? I know you are nodding your head there. Let me ease this process for you by listing a couple of websites which we always use on our travels.
We booked the car from this website which compares different vendors , so that we can select the car that matches our taste and budget. Check prices now by entering the place in the search box below.
Accomodation
With so many booking sites and hundreds of hotels and apartments, its indeed difficult to choose the place which suits our taste. That is where this site comes into picture. We always check the prices of hotels/apartment from this website and compare prices offered by different booking sites and book the accommodation from the one that offers the best price. Compare hotels by checking in this search box below !
Self drive Italy itinerary
I will list some places you can visit on your self drive holiday in Italy. And for our exact itinerary, you can check the next section.
Amalfi coast
Alberobello
Cinque Terre
Our Italian Road trip Itinerary
In the first leg of the journey, we did Rome – Vatican City – Caserta – Sorrento – Capri – Amalfi Coast – Alberobello – Bari
Lets look at each stop and see what we did there!
We flew into Rome and flew out of Rome to Bangalore, India. We spent 3 days in Rome – roaming around the city in hop-on hop-off bus and explored the World's smallest country – Vatican city too!
Hop-on Hop-off bus  is the absolute best way to explore Rome. We get a bus pass which we can flash to the driver and hop onto the bus and hop off at any stop and this cycle continues. We did this and loved the convenience and frequency of  buses available. We bought our tickets from this link here:  Rome Hop-on Hop-off Bus Ticket. 
You can also buy a Roma Pass which covers entrance fee to major tourist attractions in Rome:  Roma Pass: 48-Hour City Card
After blissful 3 days of roaming in Rome, we hopped onto Vatican city for a day, which was just next door to Rome.
Vatican City:
Often known as the World's smallest country, Vatican city is just a road away from Rome. There is no passport stamping required to enter and exit Vatican city. Vatican is known for its rich art collection and one whole day is needed to explore this gem. Have a look at this post to know how to 'Explore Vatican City in a Day'
After exploring Rome and Vatican City, we picked up a pre-booked rental car, thus flagging off our Italian road trip! We got the best deal for our car rental from this website here. Our initial plan was to drive down to Pompeii and Naples before checking into our lovely room in Sorrento in Amalfi Coast. As luck would have it, we had a delay due to a situation and could start from Rome only in the second half of the day, so we changed our plan and drove to Sorrento with a small detour at Caserta.
The highlight of Caserta is definitely the ' Palace of Caserta '. This UNESCO Heritage site sprawls over 60 acres with a 5 floors and 1200 rooms!!! Apart from the place itself which is impressive, vast gardens take away all the credit of being stunning with beautifully curated plants and water fountains at regular intervals. Though Palace of Caserta was under renovation at that time we had been there – it didn't fail to amaze us!
Traffic jam on the way to Sorrento. We were stuck in jam inside the city too!
After a mesmerizing evening drive along the plunging Amalfi coastline as the sun retired for the day, we got stuck in the narrow lanes of Sorrento city. Traffic pile up due to road restrictions come into effect after sundown, this resulted in us getting struck in a traffic jam inside the city. We got lost at many places and google maps weren't of any help but the locals were really helpful and guided us very well in spite of  having the language barrier.
Next morning, we strolled around Sorrento town and decided to hop on to Capri Island and indulge in the unique experience of Blue Grotto! So, off we were to Capri in a high-speed ferry from Sorrento!
Book a tour –  From Sorrento: Full-Day Capri and Anacapri Boat Tour
Surreal waters of Blue Grotto, Capri
Capri was a pleasant surprise. From the time the ferry approached the island, until our way back to Sorrento – Capri captivated us! Jagged cliffs rising high from the deep blue Tyrrhenian Sea underneath – in this small island off Italy's Eastern Coast. In spite of thousands of tourist inflow every day, much of Capri's natural beauty is preserved to retain its charm. The proof of which are the narrow roads just enough to pass only 1 vehicle on either side. Nature's bounty has been preserved and not given way to modernisation!
More on Capri and things to do here: Things to do in Capri
Amalfi Coast:
After a refreshing day in Capri, we were back on the road. How eager were we to drive in this piece of land! We took it easy while driving the Amalfi Coast by not rushing it. We rolled down the windows and breathed the fresh air of Amalfi Coast – sinking it all into the skin. The warm air rising from the sea blends with the fragrance of flowers slopped in every corner together with the scent of Citrus which grows here in abundance. Roads that snake all the way along the plunging coastline coupled with stunning views makes Amalfi Coast one of the scenic routes to drive in the world!
In case you aren't doing a self guided driving trip and still want to experience the thrill of a road trip then try this tour or this one .
Check out my Amalfi coast video below: 
Alberobello:
After Italy surprised us with Amalfi coast drive, we had another visual treat waiting for us in Alberobello. Entire town with whitewashed houses called Trulli awaited us in Alberobello. The Trulli of Alberobello is a hut made of traditional Apulian drystone mainly consisting of hard limestone. The roof of Trullo is conical shape with stones stacked tightly on each other. If you fancy staying in a Trullo – you can as well do it. There are many BnBs and boutique Trullo stays in Alberobello. Check the prices now by entering your dates below.
We stayed in a small town called Eboli before traveling to Alberobello. Pizzas here are yumm!
The drive from Alberobello to Bari was all along Italy's southern coastline. The main reason for us to drive to Bari was to return our rental car which we hired in Rome. That said, DON'T be fooled into thinking that our Italian road trip is over!
Rental cars which we returned in Bari. We were a family of 12. So we hired 3 cars!!
Back to Italy again for yet another road trip!
We returned the car in Bari  and took an overnight ferry to Croatia.  Read about our experience in Jadrolinija ferry from Bari to Dubrovnik in this article here . We explored Croatia, Bosnia and Herzegovina, Montenegro and Slovenia.  We returned to Italy through Slovenia via road and settled down in Venice for the day!
Some pics of our road trip in Croatia and Slovenia.
Plitvice Lakes Croatia
Lake Bled, Slovenia
You might want to read:
Heavenly Plitvice Lakes, Croatia
Fairytale town – Lake Bled, Slovenia
We roamed around Venice , hopping numerous bridges in the Venice Water bus or the 'Vaporetto' with a day pass. Watching gondolas pass by, hearing barcaroles sung by gondoliers who sway the gondola from under one bridge to another – Venice was all about life and history in a water land. If you are in Venice, do not miss the Gondola ride!
Book now –  Venice  Gondola Ride
Also, a must visit is the next door, Burano and Murano islands. Check out this tour here, this is such a bargain for money –  Boat Trip: Glimpse of Murano, Torcello & Burano Islands
After spending time to our heart's content in Venice – It was time to move on. This time around, we did not hire a car. Remember what I had told earlier, rent a car only when necessary. As we were to stay in Milan for the next couple of days – we didn't really need a car to go around – so, we took an intercity train from Venice to Milan – Italy's fashion destination!
We went to see the 'Duomo di Milan' but ended up attending a concert!
Wandering in the streets of Milan, getting in and getting out of several metro trains – I wondered about one thing – How women are dressed up so beautifully with full makeup even at 5.30 AM! 😀
You can also do a day trip from Milan to Lake Como – Details here.
This wouldn't be any ordinary morning – this would be a special one. A morning that showed us a light of day like no other morning. Sun rays piercing through the plump mountains, gliding though Lake Como before hitting the glass window of the train from Milan to Tirano.
The day could be called a Train day. Our train journey started in Milan at 5.30AM in the morning and ended at 9PM the same day in Milan. Why do I call it the train day? That's because we spent the major chunk of the day in train. From Tirano, we ascended the legendary Bernina express. The rest was sequences just like dream.
Tirano town
You can save the hassle we had of booking several train tickets by simply going this tour, where they take care of all the round trip transfers to and fro Milan and also the Bernina Express tickets –  Bernina Express & St.Moritz Day Tour from Milan
Bernina Express:
Was I dreaming? Maybe, Yes – but certainly, No! As the train chugged away from Tirano, we scaled altitude by slowly climbing various bridges and passing through gloomy tunnels. Scenes distinctly vary from tiny villages puddled in lush green valley down below to glaciers melting to form electric blue lake. We alighted in St.Moritz town in Switzerland – spent 2-3 hours before getting back to Bernina Express to return to our temporary home in Milan.
It was time to get back on the road. We hired a car from Milan and drove to the land of Ferrari – Maranello!
As we curved into Maranello, roaring horses welcomed us into the world of Ferrari. Rest of the day was spent in gawking at these mean machines and lusting to own one! Read more about Maranello – Ferrari land Maranello, Italy
We drove from Maranello to Pisa through Florence with vineyards for company. Driving in the Tuscany region was another dream come true.
The entire region is sprinkled with acres of vineyards brimming with grape-bearing vines. Roads rise and fall at changing intervals – giving us elated views of the landscapes filled with different coloured flowers at each interval! See the colours of views we saw from the highway – here in this post!
Standing tall , leaning for centuries is the 'Leaning tower of Pisa'. There is something charming about Pisa. That white tall leaning structure, the green grass around it, the blue skies – everything makes it photogenic! This wonder of the world and UNESCO Heritage site had to be visited and thus was!
While in Pisa, a must thing do is to go inside the 'Leaning Tower of Pisa' and climb all the way up and get a bird's eye view from the top! It is sure inundating but is very exciting at the same time. We were running short of time as we had to drive to Rome and return the car, but wanted to go to the top of Leaning tower too. The lines for the ticket was long and we gave it a chance and finally did it. So, its a wise thing to book tickets in advance.
Book your  Timed Entrance Ticket to Leaning Tower of Pisa & Cathedral
We drove back to 'Leonardo da Vinci–Fiumicino Airport' in Rome and returned our rental car that showed us some surreal sights for over 2 days.
I know we have left out many other beautiful spots and cities in Italy. We knew about some but couldn't manage to do it – Florence, Siena, Naples, Pompeii, Sicily, San Marino, Gradara . Some we regret not knowing about, during the planning stage like the 'The Great Dolomite Road'. But, there's always a next time!
Our Italy Road trip Map:
Italy self drive road trip – leg 1.
Rome – Vatican City – Caserta – Sorrento – Capri – Amalfi Coast – Alberobello – Bari
Italy Self drive road trip – Leg 2
Venice – Milan – Tirano – Milan – Maranello – Florence – Pisa – Rome
You might also want to read :
17 cities and towns not to miss in Italy!
14 things to know before you self drive in Italy
Hope you have liked our itinerary and all geared up to prepare yours!
Let us know in the comment box below if you have been to the places we have been and share your experiences about that place with our readers!
If you have liked this post, show us some love and pat us on our backs! Like us on Facebook , follow us on Twitter  and Instagram  and subscribe to our Youtube channel !
45 comments
Beautiful photographs and interesting narration!
Great.. useful info
Nice inspiration! Thanks for a great road trip itinerary 🙂 we are planning to do one in the North of Italy soon with my husband
Nice to know that Lisa! Have a great trip!! 🙂
Hi, Great trip and great photos. I would like to ask can you plz tell hidden gems, non touristic places in italy, moreover budget living in italy. Thanks. Ss
Thanks Sumira. I shall write a post on that soon 🙂
Good one guys.. It is very helpful for planning our road trip.. Cheers and thanks for putting this up!!
Thanks Dilip! 🙂
Great info and pic! I'm planning on a roadtrip to Italy too, so wondering how long did it take for your first and second leg and Croatia?
Thanks Elly. Our trip was for 17 days in total 🙂
I really enjoyed the post you shared with us, last Year visited Bari, next holiday to visit Italy
This is a amazing article (along with the other one – things to know before self drive in Italy). Can you please share few more details (if possible) on the places (hotels/B&Bs/Lodges etc) where you stayed for the night. Thanks.
Sure Kiran. Doing that post was on my mind from a long time. Now that you asked for it, I shall write it soon 🙂 And I'm glad that you found my articles helpful 🙂
Glad to see your article, the journey & itinerary looks fantastic as well great collection of pictures.
Thank you 🙂
Hey amazing itinerary. I wanted to know if you needed international driving licence or just the indian driving licence worked? Also which company did you hire the self-drive car from?
Thanks. For Italy, International driving license is mandatory but you need to carry the original Indian driving license with you too. We booked the company which offered the best price from rentalcars.com
WOW, This is a really great post. I like your post information because I love to travel. When I read your article I get more information about Italy. Thank you for sharing a very helpful and tips post.
Hey great read..i am off to a roadtrip from venice to south italy from 19 march for over a month long..I was wondering if i should hire a care throughout? is that a good idea..venice, florence, pompeii, matera, calabria,and then sicily. IS preebooking necessary or should i just land and book one? i will fly from catania (sicily to rome) as i fly out from rome to mumbai.
Also wanted to check how expensive does it get fuel wise? we are 2 people with 2 bags.
A car isn't required to travel inside the cities and it is best to use local transport when exploring the cities. I'd recommend self drive after you get out of cities. Maybe you can do Venice-Florence in train and hire a car from Florence and drive down to Rome and Pompeii. Do not miss the Amalfi coast drive – its heavenly 🙂 Prebooking saves last minute hassle and we get time to book the cheap and best car rental.
Hi , Awesome blog on travel. Great pics. We are traveling to Italy in April end and planning to self drive around Tuscany for two days. We will be arriving in Florence from Rome by train and will be there for three days. We hope to spend two days in Tuscany country-side and want to hire a self drive car for the same. It will be great if you can suggest some thing. Since its a Sunday when we arrive in Florence, not sure if we can find an agency open on that day.
Thanks Anmol. Renting a car and driving through Tuscany is a really good idea. I'm sure you will love it, just like we did. Check this website for comparision between different rental cars and choose the one that suits you. We too booked from this site:)
http://www.rentalcars.com/CityLandingPage.do?countryCode=it&place=florence&affiliateCode=hoppingmi&preflang=en&adcamp=Florence&adplat=Comment
This is a brilliant find ! Love the information shared here and will definitely redefine my itinerary as I plan 🙂 Thanks for sharing your experience with the cool photos .
Thanks Dora 🙂
I love road trips. For me it is the best way to travel. And Italy looks more perfect by a drive-off. There is the Lake Como and Amalfi Coast is like my dream location to see. Plus these pictures looks so good. Look like you had fun in your vacation.
Yes Moumita. We did. Thanks 🙂
So glad I stumbled upon this post, very useful. If I may ask you which were your fav top 3 places that are an absolute must visits. Also, which self drive would suggest – Amalfi coast or Tuscany? Thanks in advance.
My Top 3 in Italy: Amalfi Coast, Capri and Alberobello 🙂
If given a choice between the two, I'd choose Amalfi. That said, at some stretches in Amalfi coast is narrow and winding – attempt this if the driver is confident enough 🙂 We could do it though it was our first self drive experience abroad. Choice is yours. We booked our car from this website. It has good choices and pricing options.
Thanks for the list of suggested road trips.
I'll be traveling soon, so this is going to help me a great deal.
Thanks 🙂 Glad it helped you 🙂
Hi! Thanks for this share. What about parking in amalfi / and around? Was it pricey? I'm planning Como to Amalfi (1 day in Capri) and Milan and Naples on the way to Italy and when leaving. Debating getting a car or just train and ferry?
We drove by Amalfi and stopped by parking lay byes to soak in some lovely views. And as for choosing the mode of transport, see what works out for you the best. We are always inclined towards road trips, so it was natural for us to choose the self drive option 🙂
Realy some awesome trip in Italy, I used to live here, and my family was return after three weeks in this summer.
wow this is awesome stuff lots of value . i never visited italy bt your article eager to go there. thanks ASHWINI for sharing with us.
Hi, It is a nice explanation of the trip. I am planning as well but just planning to do a self drive in Tuscany region, but bit scared that as how easy or difficult will it be do drive left side of the care. Please do let me know if it was fine. Another query, how difficult was the parking in different places like Pisa, Florence, etc
Thanks, Sumit
Tuscany has good roads and amazing landscapes. So, self drive is safe there 🙂
We didn't enter Florence with our rental car but Pisa was not difficult for parking.
What would be your suggestion for a main town to fly into and out of in Italy? we want to fly in hire a car do the road trip and then fly out of a different city without having to retrace any of our travels.
Start with Rome and do an anticlockwise trip and end it in Florence or vice versa
Hi! This was perfect information for us. We are planning our honeymoon and want to cruise around Italy. We are thinking to fly into Naples and self drive up through Rome, Florence and Tuscany, then to Venice and end our trip with a new nights down in Amalfi. Do you suggest we drive the whole time? Or should we drive up and fly back down to be in Amalfi? We didn't feel we needed a car in Amalfi, so we were thinking to use public transportation there. We are looking to explore and take our time along with stay at AirBnbs along the way.
Good idea Heather. You don't need a car in Amalfi unless you have plans to drive along without any stops. As you are staying for 2 days in Amalfi, car isn't a good idea because towns are small and parking is a hassle.
Hey nicely described, well informed and amazing instructions!! Just one thing i wanted to know was how many days did it take you to complete leg 1 and leg 2 separately?
4 and 5 days respectively
So how many days was this entire trip? And would you recommend this type of travel with a 2 year old?
The trip was for 17 days and easily doable with a 2 year old
Leave a Reply Cancel reply
Your email address will not be published. Required fields are marked *
This site uses Akismet to reduce spam. Learn how your comment data is processed .
Recent posts
Rental cars Iceland reviews – Real reviews from World Travelers
14 Kick-ass Christmas gifts for Travel Enthusiasts (That they'll actually use)
SMART tips to buy perfect Gloves for Iceland Winter + Summer
How to Book Flight Itinerary and Hotel Bookings for Schengen Visa Application Process
Best whale watching in Iceland – Season, cheap tours, everything you need to know!
Search for any destination on our site
Follow us on social media, our best posts.
1 International Hops , Italy , Our Hops , Slovenia , Visa Schengen Visa Cover Letter Format with sample and common mistakes
2 Europe , International Hops , Italy Schengen VISA Italy for India Citizens – Ultimate guide
3 Domestic Hops , Driving Tips , Europe , International Hops , Italy , Our Hops Our Italy Road trip Itinerary – Self drive in Italy
4 Africa , International Hops , Mauritius Travel Hack : 7 money saving tips when on a Mauritius Holiday
5 Europe , International Hops , Italy Day trip to Capri, Italy – Things to do and Must see
Read previous post:
Haldighati – A Beautiful detour from Udaipur
"Detours are the best thing that can happen to a road trip – Hopping Miles" Waking up to the beautiful...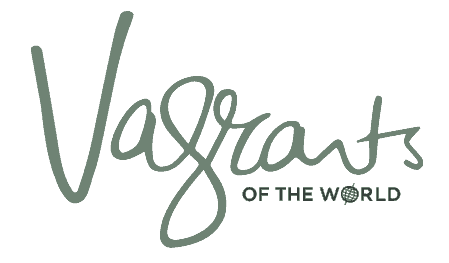 15 Incredible Italy Road Trip Itineraries (with Driving Tips)
By: Author Kate O'Malley
Posted on Last updated: June 3, 2023
Home >> Europe >> Italy Travel Guide >> 15 Incredible Italy Road Trip Itineraries (with Driving Tips)
A road trip through Italy is the trip of a lifetime. We have enjoyed numerous Italian road trips and never tire of exploring one of Europe's most charismatic countries by car.
Italy offers glorious road trip possibilities with beautiful historic cities, stunning countryside, majestic lakes and mountain regions, and quaint coastal towns and islands. And, of course, such varied regional cultures and cuisines to explore.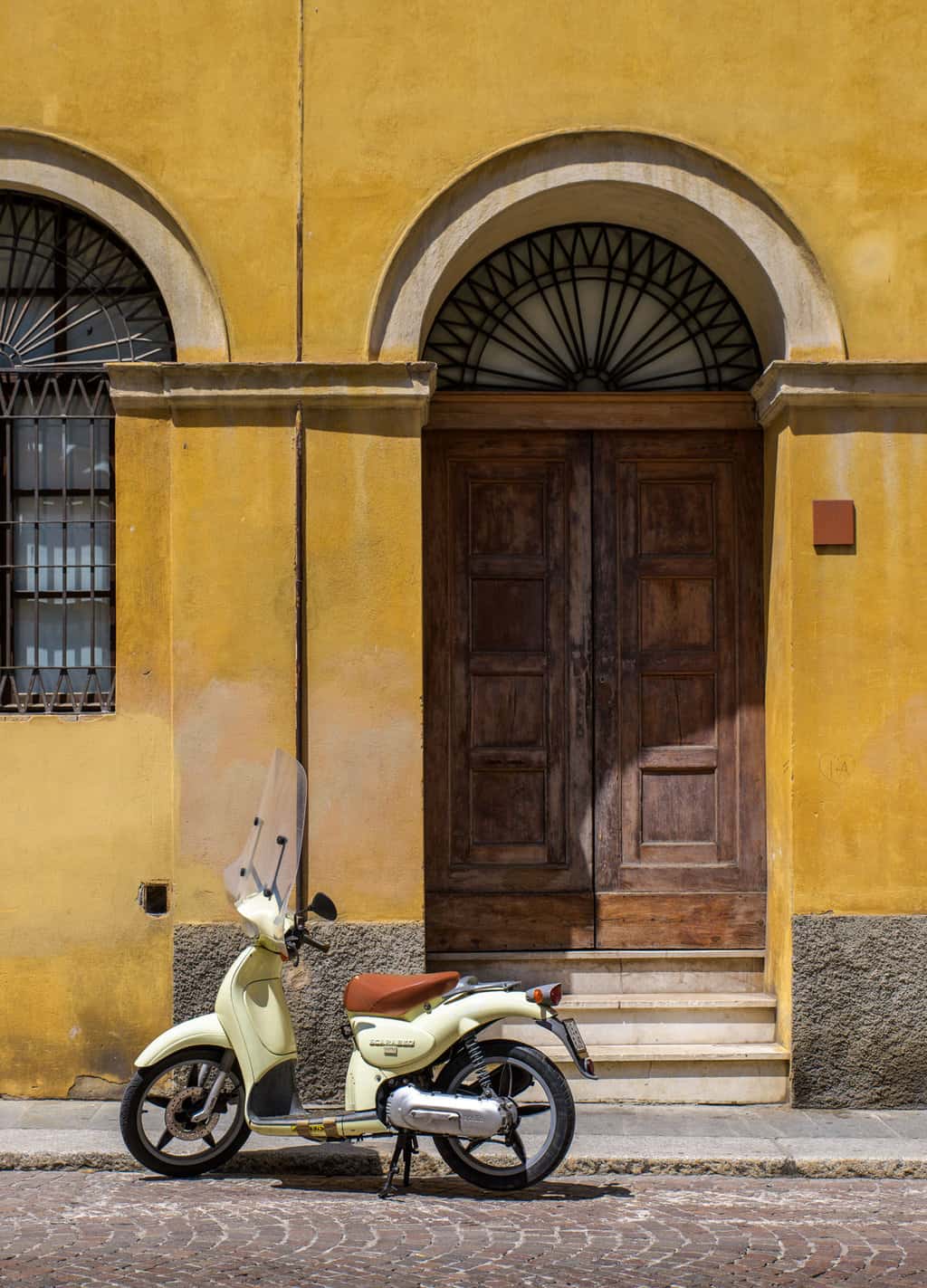 Whether it's an extended road trip from north to south or one region of Italy, we've rounded up some fabulous itineraries for each area – from a few days to four weeks to help you plan the perfect Italian road trip.
Table of Contents
Tips for Renting a Car and Driving in Italy
Always take photos when you pick up your rental and when returning it. Some agencies may try to accuse you of damaging the vehicle after you have returned it.
Read your rental contract, and be aware of the excess fees and type of insurance.
If possible, rent a small car . Streets can be narrow in small towns, and parking garages in cities and larger towns can be very tight.
Collecting your rental car from an airport is always less stressful than in a city.
Download the Parclick App to pre-reserve parking all over Italy (and Europe). It can save you up to 50% on parking fees . Select the garage that suits you, book for the required days, and show your reservation (or use the license plate recognition) on arrival. You can come and go from the garage as much as you like during your booked time. We have used it all over Europe and saved ourselves so much stress and money when parking in cities and larger towns.
Be careful not to drive into any restricted zones in historical centers . They are called ZTL zones (Limited Traffic Zones) and are monitored with cameras. You can check for the zones online before arriving in a city. Unauthorized vehicles will automatically be issued hefty fines.
When it comes to speed limits in Italy, while many people don't seem to respect them, you can get hefty fines if caught on camera, and there are a lot of speed cameras in Italy.
The same goes for parking. It can be difficult to work out where you can or can't park sometimes but never risk it – In Italy; you will either get a huge fine or worse – they just tow you away. Always look for the ticket machine or park in a paid garage.
Find the Best Car Rental Deals for Italy
When we travel, we always use Discover Cars for car rental as they aggregate the best local deals, have no hidden fees, and offer free cancellation.
Tip: Always check if you have car rental insurance included on your travel insurance or with your credit card company before paying any additional to the rental car company.
Search for the Best Car Rental Deals in Italy .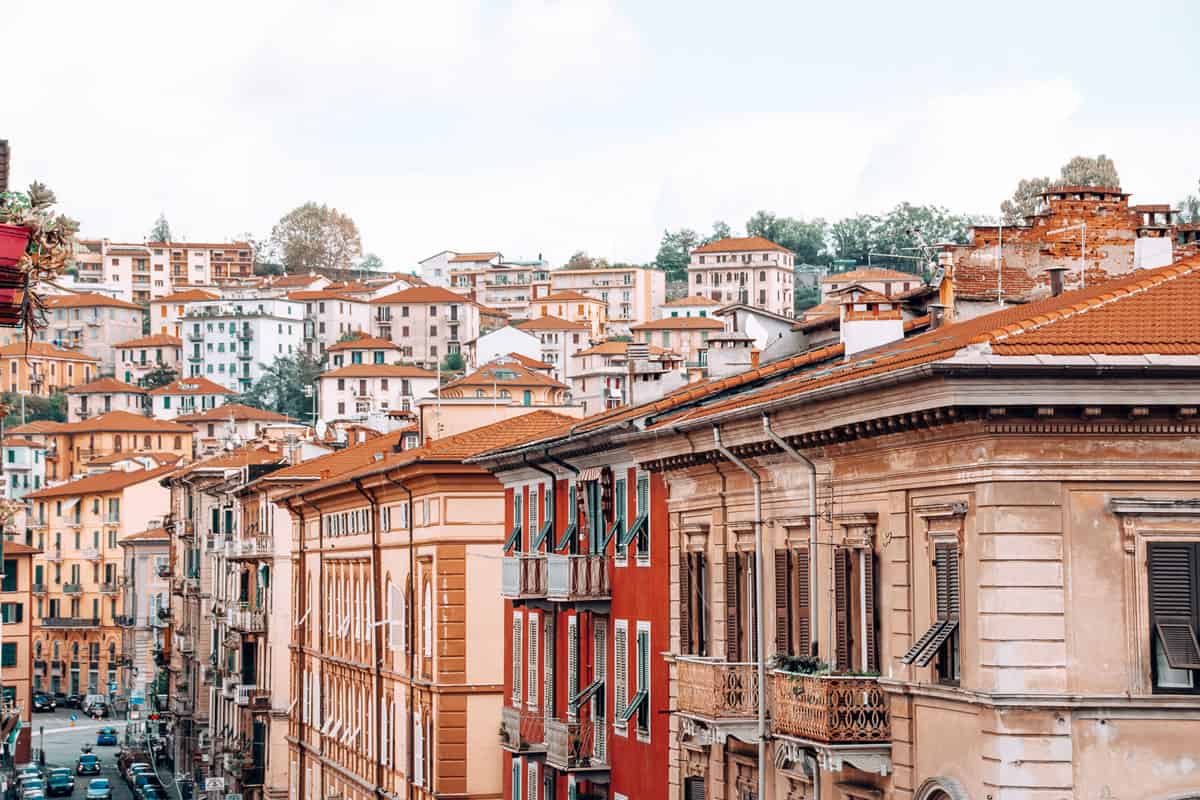 16 Fabulous Italian Road Trip Ideas
Northern italy to southern italy-south tyrol to bari.
Recommended Duration : 3-4 Weeks
Distance : Over 1400 Kilometres
Destinations : South Tyrol – Venice – Bologna – Brisighella – San Marino – Perugia – Sorrento – Amalfi Coast – Naples – Capri – Pompeii – Ischia – Matera – Bari
For the ultimate Italy road trip, head from north to south. This Italian road trip itinerary starts at the border with Austria, visiting South Tyrol and ending in Bari in the south, where it is possible to head over to Croatia if you choose.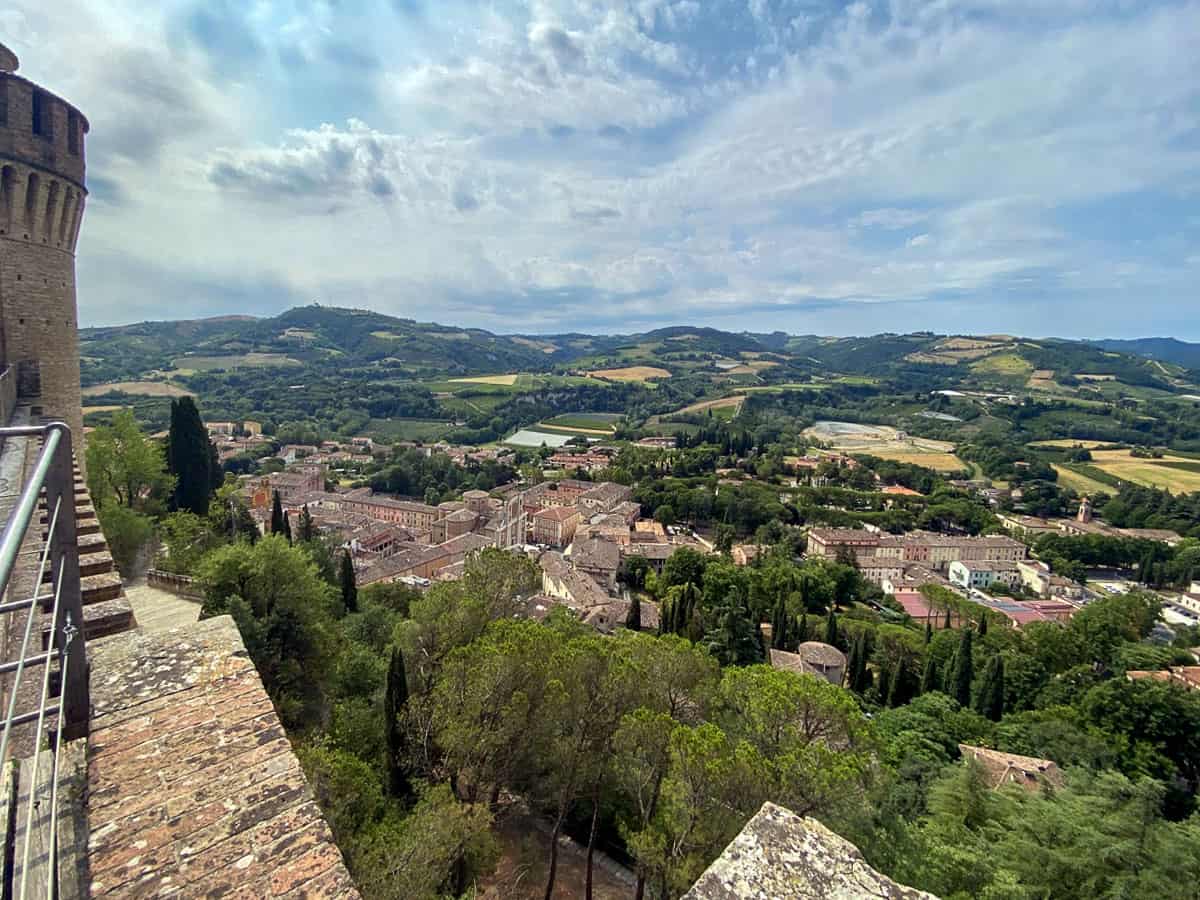 Covering over 1400 kilometers and traveling through many regions of Italy, you need to allow 3-4 weeks for the optimal experience.
The best time of year is spring – May/June and autumn – September/October for great weather without the summer crowds. However, this itinerary is great at any time – winter is especially good in South Tyrol for skiers.
Suggested Itinerary
Start in South Tyrol for stunning mountain scenery and a mixture of Austrian and Italian culture. The German-speaking towns add a very different feel to this slice of Italy. Hike Lago do Baies to see the best of this area.
Next, head to Venice for the quintessential Italian bucket list experience. Take a gondola ride, walk over the Rialto Bridge, and experience the unique ambiance of Venice. We have a fabulous Venice itinerary if you can allow at least a few days in the magical city.
On your way south, stop in at Bologna . Bologna is renowned for its fantastic food, so indulge in the region's typical dishes while exploring the atmospheric Old Town.
Brisighella is the perfect rural stop to enjoy the Italian countryside. This gorgeous town has the must-visit Rocco Manfrediana fortress.
Pop out of Italy for a moment with a stop on your way south at San Marino . One of the world's ten smallest countries at 61 sq km, this tiny republic is the world's oldest surviving sovereign state with glorious views and a beautifully preserved medieval walled town.
Soak in the history of Perugia. The center is gorgeous, with interesting museums and many historic churches.
Next up is Rome . There is so much to do in Rome (we have a great 3-Day Rome Itinerary to help you plan your stay). From the Colosseum, Pantheon, Trevi Fountain, and Vatican City , Rome is a highlight on any Italian itinerary. If you need a budget-friendly Rome itinerary, there are many great things to do in Rome for free .
It's now time for southern Italy with a week in the Sorrento/Amalfi coast area – one of the most romantic places in Italy for couples . Make a day trip to Naples and Capri , explore the towns of the Amalfi coast by sea, and head to Pompeii and Ischia . There is so much to do in this region, so spend as much time as you can spare. For those that like walking and hiking, see our Amalfi Coast hiking guide .
Finish up with a final stop at Matera before getting to Bari . Matera is famous for its cave dwellings which have been inhabited for 9,000 years. It's amazing to walk around.
Recommended by Sharon Gourlay – Dive Into Germany
Northern Italy Road Trip Itineraries
Road trip through piedmont italy.
Recommended Duration : 7-10 days
Distance : 290 Kilometres
Destinations : Turin – Bra – Barolo – Alba – Asti – Biella – The Sanctuary of Oropa
The Piedmont region of Italy is situated in northwest Italy, bordering France and Switzerland. Backdropped by the majestic Swiss Alps, its rolling hills and vineyards eventually give way south to the Ligurian sea.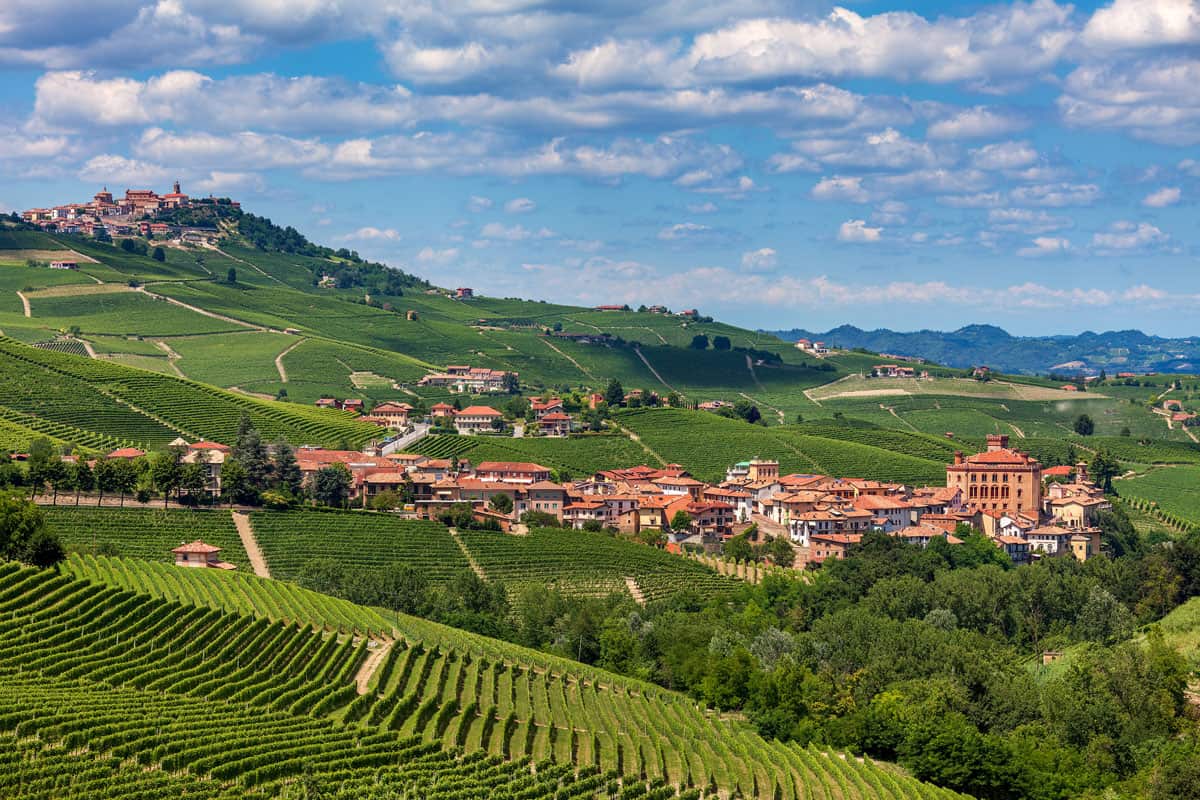 Piedmont has everything a traveler could want, from welcoming small towns, unique cuisine, and amazing wine, the most famous of which is Barolo, the King of wine.
Highlights of the Trip:
Turin, the Imperial capital of Piedmont
Bra – Birthplace of the Slow Food movement
Barolo – Taste Barolo wine and local cuisine
Alba – Home of the rare white truffle
Asti – Much more than Spumante wine
Biella – Famous wool town supplying the fashion capital of Milan
The Sanctuary of Oropa
Start your 290 km road trip in Turin , a large but walkable city with dozens of Savoy Royal Palaces to tour, loads of historical attractions, decadent chocolate, and the outstanding Egyptian Museum.
Drive 74 km south of Turin to Monforte d'Alba , a hilltop town with many enotecas, restaurants, and historic sites. It's a perfect base to explore the surrounding wine towns of Bra, Barolo, and Alba .
Spend a day in Asti drinking the sweet Moscato wines for which the town is named, then head north to Biella , 125 km north of Asti.
Biella is known for producing wool and exquisite cashmere, surrounded by rambling rivers and mountain scenery. Be sure and visit the Sanctuary of Oropa , one of the many sacred mountains in the region.
Sixty kilometers north of Biella on the eastern shore of Lake Orta is the quaint medieval village of Orta San Giulio and a great place to end your road trip. Tour the Sacre Monte of Orta and Isola San Giulio just offshore. You can stay at the centrally located Hotel Rocco San Giulio and walk anywhere in town.
Travel to Piedmont in late Spring through Fall to avoid wintery road conditions.
Recommended by Lori Sorrentino – Travlinmad
Northern Italy's lakes
Recommended Duration : 10 days or more
Distance : 700 Kilometres. Circular route starting and finishing in Milan.
Destinations : Milan – Lake Garda – Lake Como -Lake Maggiore – Cannobio – Lake Orta
An easy circular route from Milan's airport, a road trip through northern Italy's lakes is a must-try bucket list experience. You'll cover approximately 700 km in one week, though extending the itinerary to 10 days or more is easy.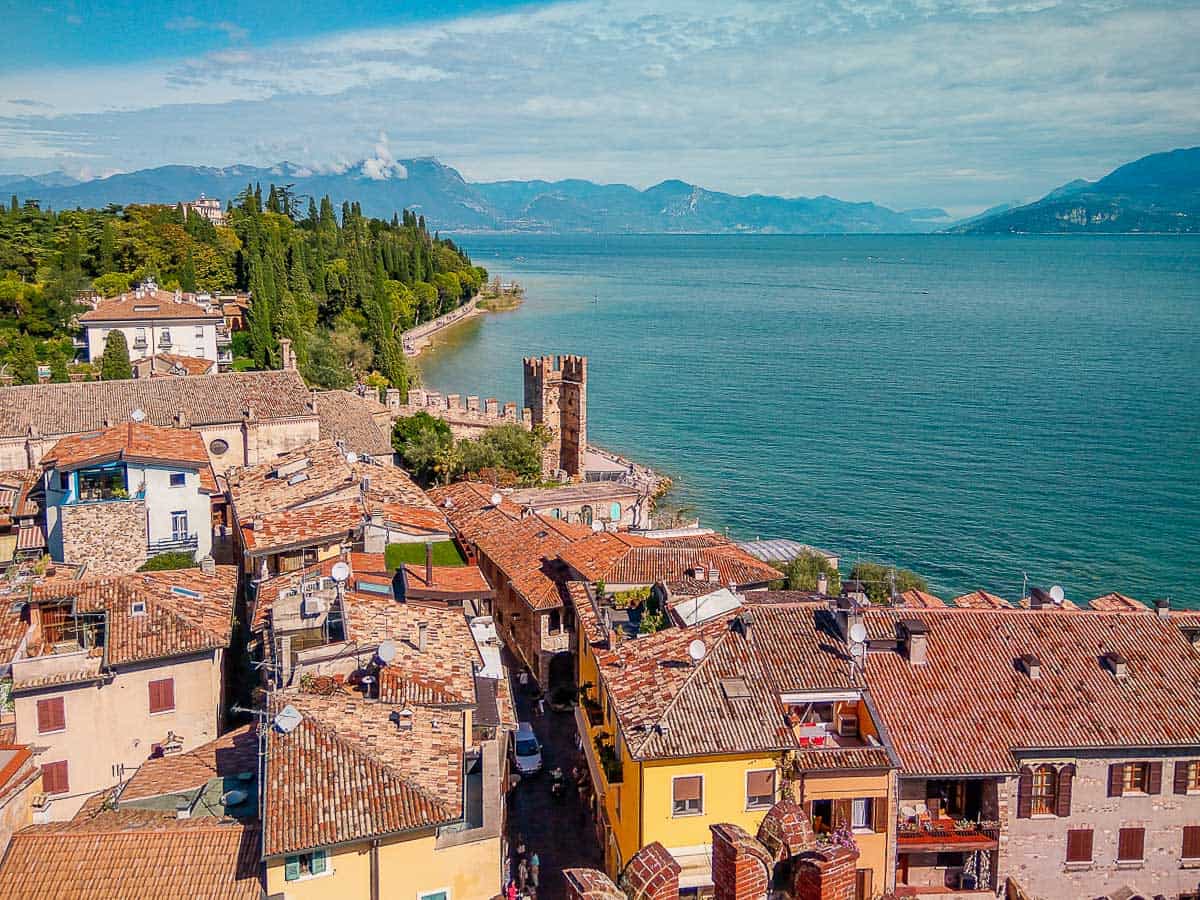 The first four days must be dedicated to Lake Garda , the largest lake in Italy. Boasting enchanting coastal towns and beautiful natural scenery, you'll want to stay forever.
Focus each day on another part of the lake – visit the unique Lemon orchard of Limonaia del Castèl in Limone sul Garda, take a morning stroll around the turquoise Lake Tenno, roam the colorful Malcesine, enjoy wine tasting near Bardolino, climb the Scaligero Castle in Sirmione.
Continue to the luxurious Lake Como for one day. Visit the picturesque towns of Varenna and Bellagio and the stunning Gardens of Villa Melzi.
Next, spend a day on the lovely Lake Maggiore . Base yourself in the city of Stresa , and opt for a boat tour to the nearby Borromean Islands, one of the most beautiful islands in Italy . See the picture-perfect centuries-old villas and gardens still owned by the noble Borromeo family.
Have a relaxed last day with a visit to the serene town of Cannobio and a final cup of coffee in the medieval Orta San Giulio on Lake Orta before returning the car to Milan.
Late spring or early fall are the ideal times for this road trip in terms of weather and crowds. Also, many attractions in the area are only open from April to October.
Recommended by Or – My Path in the World
Emilia-Romagna, Lombardy, and Piedmont. Bologna to Milan and Turin
Recommended Duration : 7 -14 days
Distance : 370 Kilometres.
Destinations : Bologna – Modena – Parma – Milan – Turin
This fantastic road trip through historic Northern Italy is perfect if you want to taste some of the best ingredients and dishes produced in the country.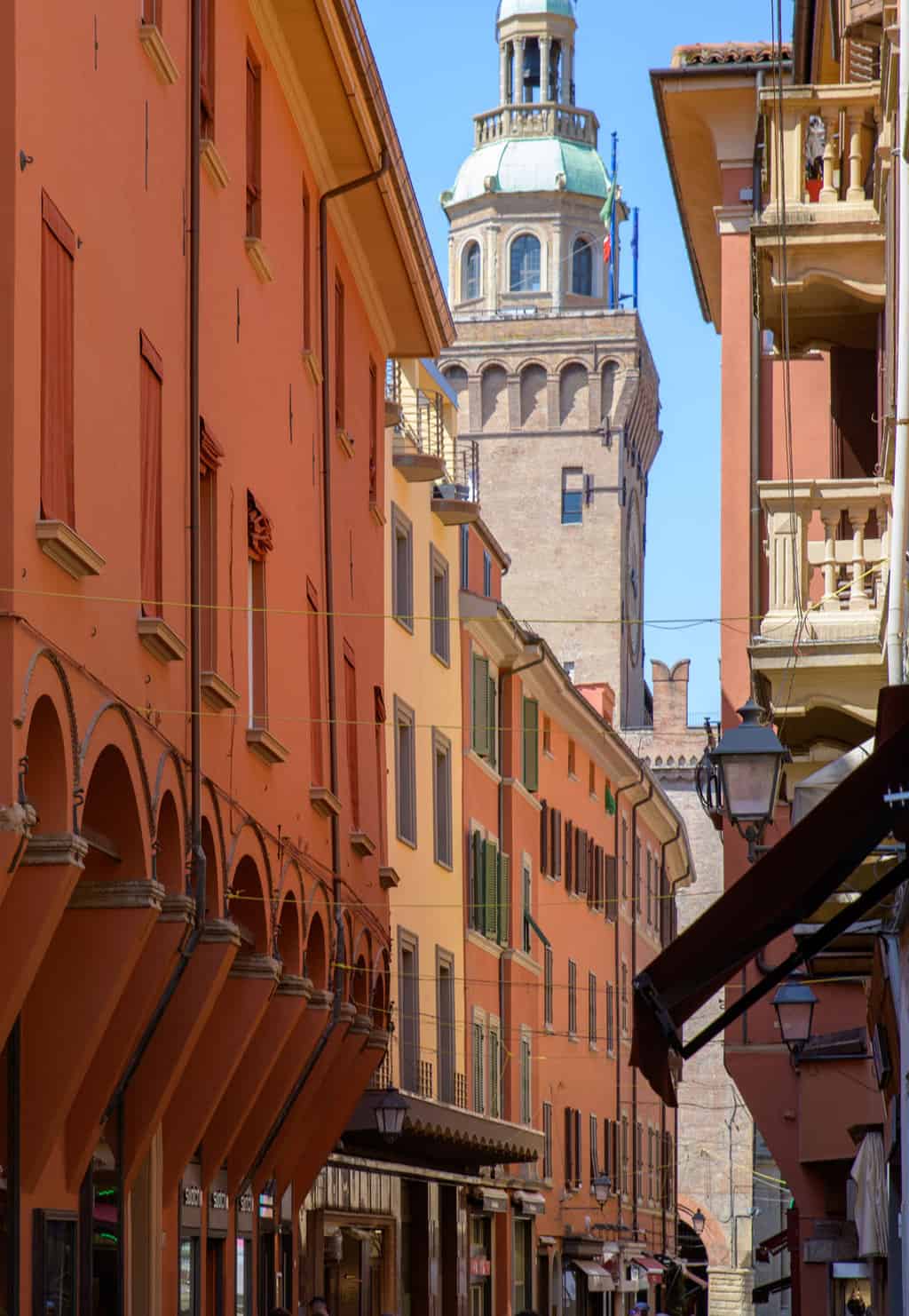 The entire distance of this Italian road trip itinerary is only 371 Kilometers, which means you will have plenty of time for small side adventures if you spread it out over two weeks. You could, of course, stay to the major stops and complete it comfortably in a week.
One thing is certain; there is no way you will finish this road trip hungry. You will wish you had just a bit more time to try just one more dish.
The trip starts in Emilia Romagna, where you will make stops in Bologna, Modena, and Parma for a whirlwind culinary tour of the region.
Some must-experience stops include learning how Parmigiano Reggiano is made in Parma and tasting 100-year-old Balsamic in Modena .
Bologna is a highlight of the road trip, with historic sites like the Piazza Maggiore, its Renaissance buildings, the city's incredible food scene, and charming cafes.
From Emilia Romagna, head northwest toward the Lombardy region for a stop in Milan , the world's fashion capital and home to the famous Risotto Milanese.
The road trip then continues to the city of Turin in the heart of the Piedmont region . You will want to take some time to go truffle hunting or take a day to taste some Barolo or Barbaresco.
The best time for a road trip through these regions is during truffle season in the late fall – you will experience fewer crowds and accommodation, and car rental prices are lower. It is also a great time of year for food festivals after the harvest season.
Recommended by Gabriel – Chef Travel Guide
Pisa to Genoa
Recommended Duration : 2-7 days
Distance : 330 Kilometres.
Destinations : Pisa – La Spezia – Cinque Terre – Portofino – Genoa
One of Italy's best coastal road trips is from Pisa to Genoa. This road trip starts in Pisa in the region of Tuscany, tracing the Ligurian Coast to the capital of Liguria, Genoa.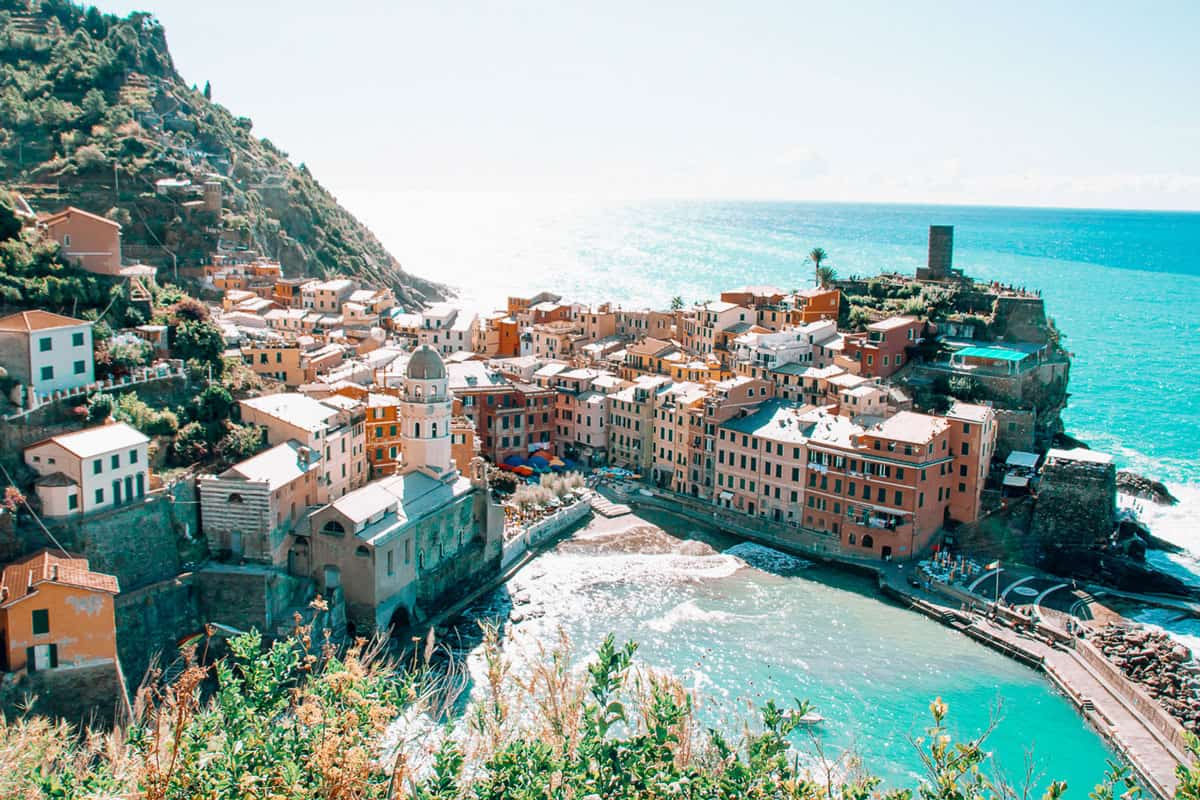 It is possible to complete this road trip in two days, with an overnight stop in one of the Cinque Terre Villages.
However, this itinerary would be lovely spread over a week, allowing for at least one night at each destination between Pisa and Genoa. We have a fantastic two-night Cinque Terre itinerary to help you plan extra time in the famous five villages.
See the Leaning Tower of Pisa and climb to the top
Visit the Technical Naval Museum in La Spezia
Enjoy the viewpoints and Instagrammable places in Cinque Terre .
Go to Castello Brown in Portofino
Taste focaccia in Genoa
On the first day, you'll discover Pisa and the remarkable monuments in the so-called "Square of Miracles, including the iconic leaning tower.
Head to La Spezia , the second largest city in Liguria and the gateway to the famous Five Villages. The pretty coastal city of La Spezia is also home to a major Italian naval base and the Technical Naval Museum.
Head north to Cinque Terre to stay in one of the five villages for a night or two. Make sure you try tasty bruschetta at Nessun Dorma in Manarola and catch the sunset from one of the villages.
Visit one of the prettiest fishing towns on the Italian Riviera, where the colorful village clusters around a small harbor. Since the late 19th century, Portofino has attracted European aristocracy and the celebrity jet set to its pristine shores, high-end restaurants, and glitzy boutiques. You never know who you might see in Portofino.
You can spend an evening (or two) in Portofino or head directly to the final destination, the capital of Liguria, Genoa .
This road trip is best in the shoulder seasons to avoid summer traffic and crowds. However, if you plan to take advantage of the stunning coastal beaches, try for early or late summer. Avoid August if possible.
Recommended by: Dymphe Mensink – Dymabroad
Sanremo to Cinque Terre
Recommended Duration : 3-5 days
Distance : 260 Kilometres.
Embark on a memorable Italian road trip from Sanremo to Cinque Terre. Enjoy the breathtaking views of the Italian Riviera as you drive along the Mediterranean Sea. This road trip itinerary can be completed in as little as 2-3 days or stretched over a week.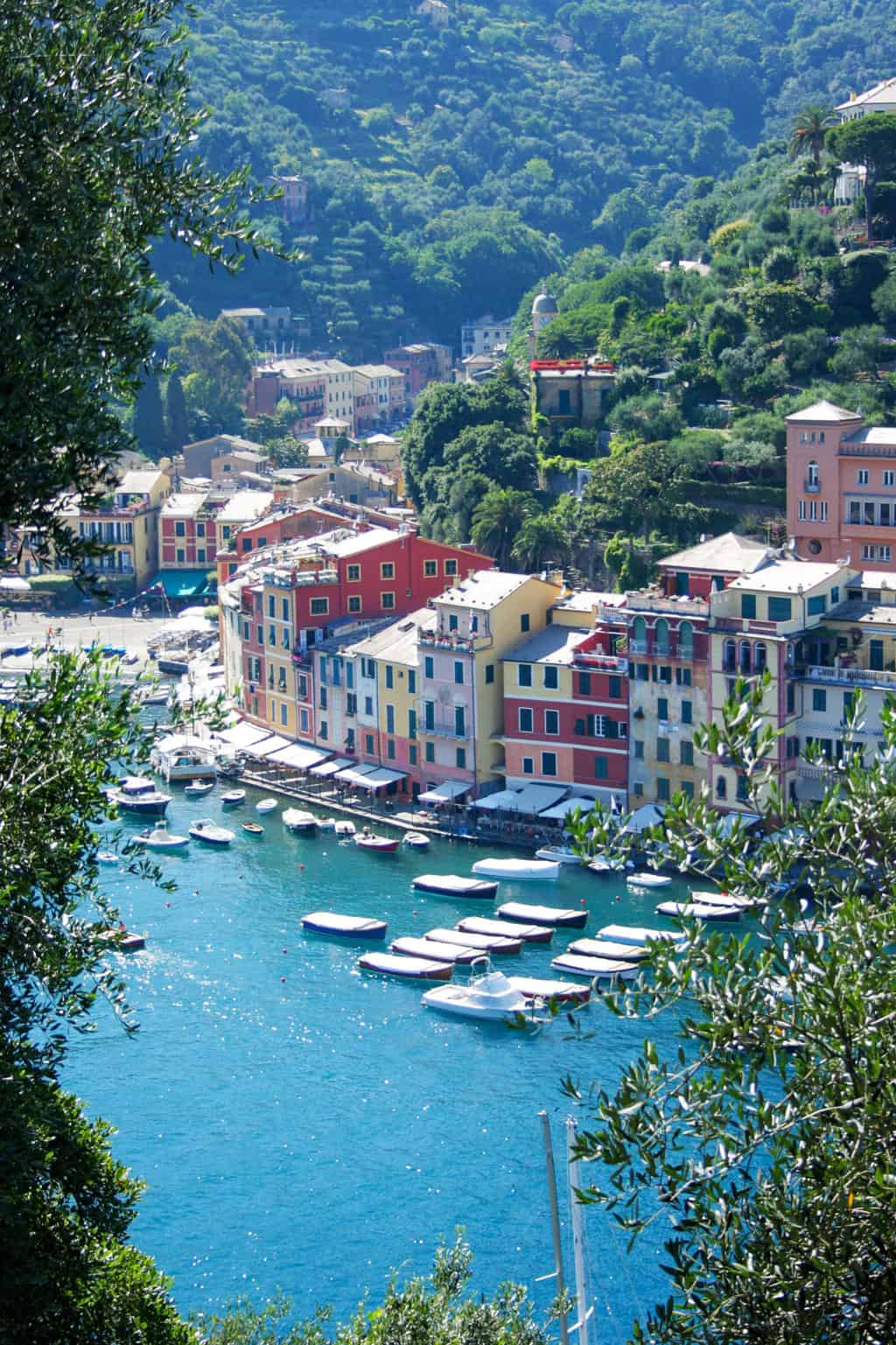 Sanremo is a charming and animated town right next to the French border. It's a perfect starting point for an Italian road trip after exploring the south of France . You will find good restaurants and bars to get a first taste of the culinary talent and kindness of the locals.
Drive along the Ligurian Coast from Sanremo for two hours until you reach Genoa , the capital of Liguria. Spend the afternoon visiting the Royal Palace Museum, Piazza De Ferrari, or Cattedrale di San Lorenzo.
For the second day of your road trip, head to the marvelous Portofino, less than one hour from Genoa. You will be mesmerized by the colorful waterfront houses that line the harbor of the beautiful coastal town.
You can spend the rest of the day (or overnight) in Portofino or head to the world-famous cliff-side fishing villages of Cinque Terre .
You should spend at least two days in Cinque Terre to see it all. Explore each colorful village, from Monterosso al Mare to Riomaggiore, making unforgettable holiday memories while savoring some of Italy's best seafood dishes.
Recommended by: Soline Le Page – On the Road Diary
Central Italy Road Trip Itineraries
Rome to pisa along the tyrrhenian coast.
Distance : 350 Kilometres.
Destinations : Rome – Cerveteri – Santa Severa Beach – The Tarot Garden – Argentario Peninsula – Elba Island – Pisa
A road trip along the Tyrrhenian Coast from Rome to Pisa is especially pleasant in summer. Traveling between the cities along the ancient consular road Aurelia allows you to discover beautiful beaches and small villages off the beaten path.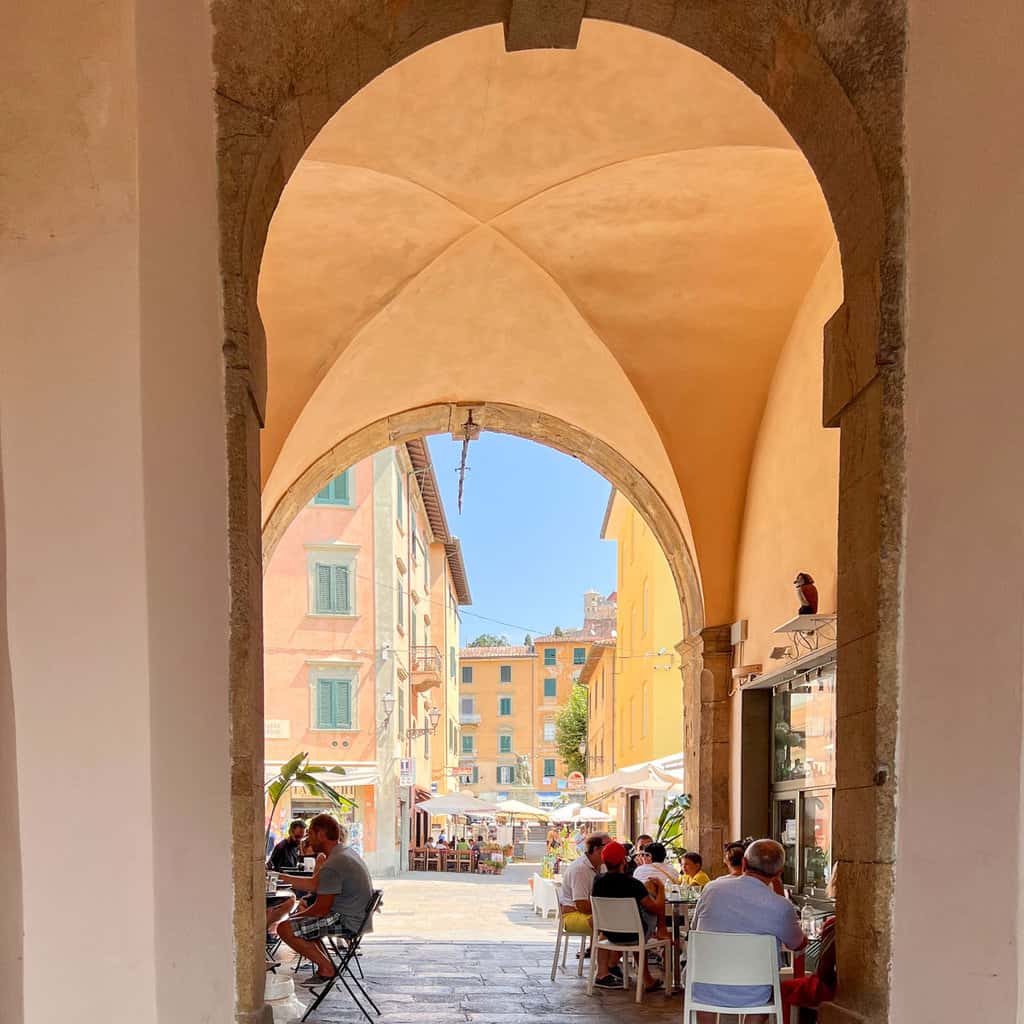 Start in Rome, where the city's historic center is dense with things to see. Aside from the main attractions – the Colosseum and the Trevi Fountain, there are wonderful piazzas, such as Piazza Navona and Piazza del Popolo, to explore.
From Rome, head to Cerveteri . One of Rome's most popular day trips , it is home to a UNESCO World Heritage archaeological site, the Etruscan Necropolis of Cerveteri—a fascinating city of the dead with thousands of tombs carved into the rock.
Santa Severa Beach is the most beautiful beach near Rome. The beach is home to a well-preserved medieval castle and is washed by a clear sea.
The Tarot Garden is a contemporary art park a few kilometers from the town of Capalbio . The park is home to 22 fascinating sculptures representing the tarot's major arcana. The creator is French-American contemporary artist Niki De Saint-Phalle .
Visit the peculiar Argentario Peninsula linked to the mainland by three narrow strips of land. The perimeter of the Argentario peninsula hides small bays bathed by crystal-clear sea, accessible by fairly steep walking paths. Cala Gesso is the most picturesque of these bays.
Visit the largest island in the Tuscan Archipelago National Park, Elba Island . Take one of the regular ferries from the port of Piombino to explore the island's unique and glorious beaches, such as Fetovaia Beach, and discover Elba's rich history and the legacy of its most famous resident, Napolean Bonaparte.
Finish in Pisa . The small city full of artistic treasures can be toured in a day. Its heart is the Piazza del Duomo, which houses the Leaning Tower, the Cathedral, and the Baptistery.
Tip: Pay attention to the speed limits along Aurelia road, as there are many speed cameras.
Recommended by Lisa – Travel Connect Experience
Siena Region of Tuscany
Recommended Duration : 2-3 days
Distance : 70 Kilometres. Siena and Florence are the possible start and finishing points.
Destinations : Montalcino – Pienza – Montepulciano – Cortona
One of the quintessential Italian experiences is a Tuscany road trip. The Tuscan region of Siena borders the province of Florence in the north, the province of Arezzo to the northeast, Umbria and Lazio to the south, and Pisa to the west.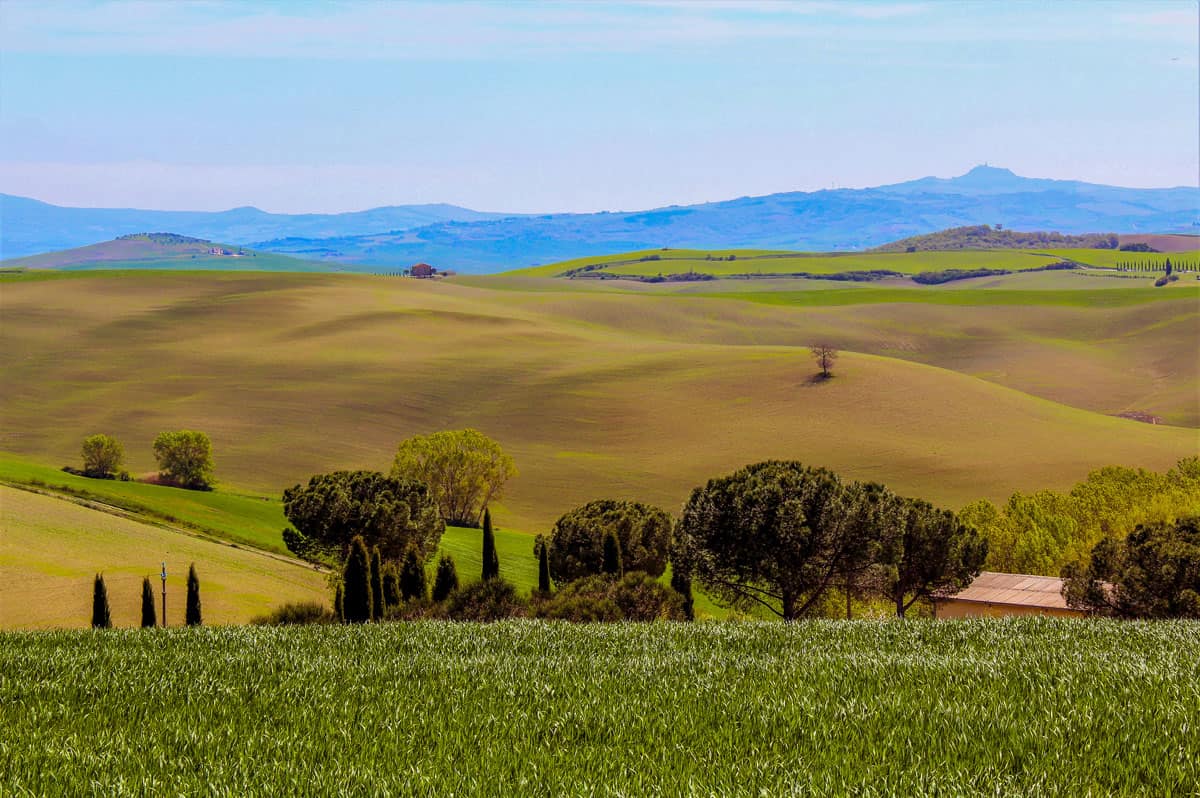 You can complete this road trip as a loop, starting and finishing in Siena. Or as this region is one of the most popular and accessible day trips from Florence , you could start or finish in Florence.
You can start from either Siena or Florence.
First, head for the tiny hilltop village of Montalcino , famous for its delicious Brunello wine. Visit the wine-tasting room in the fortress of Montalcino, where you can sample most of the local producers in one place.
Next, head to Pienza , the hilltop UNESCO-designated town, arriving through the sublime landscape of cypress trees and gently rolling hills. On the way, stop at Cipressi di San Quirico d'Orcia, a scenic viewpoint. Pienza, known for its Pecorino cheese, is a well-preserved Renaissance town that has remained untouched since the 15th century. Linger over a long meal at La Terrazza del Choistro or Osteria Sette di Vino.
Visit the pretty village of Montepulciano . Sip on some of the village's finest wine in one of the cozy wine-tasting cellars dotted throughout the town.
The last stop is Cortona , the town made famous by the book Under the Tuscan Sun by Francis Mayes and the subsequent movie. The town's buildings span the 11th to 15 centuries. Grab a gelato from the delicious Gelateria Snoopy and lose yourself in Cortona's endless winding alleyways and epic views of the Tuscan countryside.
Return to either Siena or Florence.
For a relaxing road trip to this part of Tuscany, plan for 2 to 3 days and enjoy a lovely stay at Siena House , a charming boutique B&B or explore some of Tuscany's best wine hotels in the region.
Recommended by Renee – Dream Plan Experience
Tuscany-Round Trip from Florence
Recommended Duration : 7 days
Distance : 471 Kilometres. Starting and finishing in Florence
Destinations : Florence – Lucca – Pisa- Siena – Cortona – Arezzo – Val d'Orcia – Chianti
A road trip through one of Italy's most famous regions, starting and finishing in one of Italy's most beautiful cities, Florence.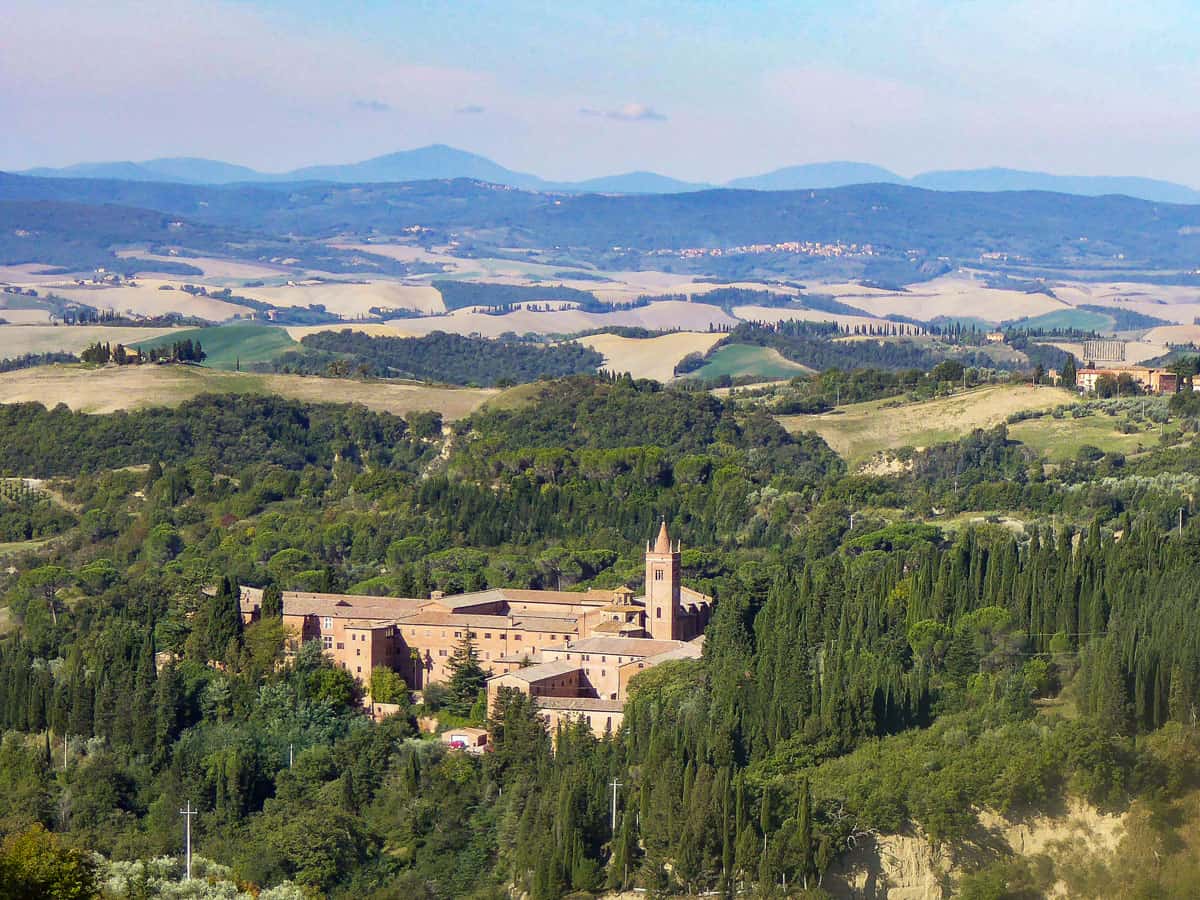 Spring, summer, and fall are particularly beautiful in Tuscany. The hills will be green in the spring, and poppies will bloom in the countryside. In the summer, sunflower fields are a draw, and the golden, bare rolling hills look stunning after the autumn harvest.
From a weather perspective, spring and fall offer the most pleasant temperatures, with fewer crowds than in the summer.
Highlights of a road trip through Tuscany include:
Charming hilltop towns that offer historical landmarks, local cuisine and culture, and charming ambiance.
See the world-famous art in Florence.
Wine tasting at some of the renowned wine-growing areas in the region, including Chianti and the Val d'Orcia.
The opportunity to photograph one of the most picturesque regions in Italy, with its rolling hills, stately cypress rows, and picturesque farmhouses.
Taste the region's cuisine with its pasta, cheeses, meats, and the famous ribollita soup.
Driving in a loop, you'll start and end this Tuscany road trip in Florence. You can find our guide on what to do in Florence here .
Head west of Florence to the city of Lucca , famous for its well-preserved Renaissance walls encircling the cobbled maze of the historic city center.
On to Pisa , a small city best known for its leaning tower in the Piazza del Duomo. The so-called "Square of Miracles" is a treasure trove of remarkable landmarks, including the cathedral, baptistery, and the camposanto (cemetery).
Make your way south toward the stunning medieval city of Siena to explore the city's 17 historic districts that extend outward from the unique fan-shaped central square, Piazza del Campo. Visit Palazzo Pubblico, the Gothic town hall, and the 14th-century Torre del Mangia for sweeping views of the city.
Continue on to the Val d' Orcia region for stunning landscapes and local wine – Plan some tastings in Montepulciano and Montalcino in the Val d'Orcia, where you can also taste the local pecorino.
Head east to visit Cortona . The walled hilltop town, one of Tuscany's prettiest towns, is famous for its beautiful medieval center and the Etruscan museum.
Continue on to Arezzo in the east, an elegant city with an easy-going atmosphere often bypassed by tourists . Yet, the beautiful city is rich with monuments, parks, archaeological remains, churches, and historic squares.
Make your last stop in the famed wine region of Chianti just south of Florence before heading back to the city.
If you have more time, you can add many small picturesque towns along the route to your itinerary.
Make sure you book at least one stay at an agriturismo. They capture the region's essence and allow you to appreciate the countryside.
Recommended by Dhara – It's Not About the Miles
Chianti Region Tuscany
Distance : 100-150 Kilometres.
Destinations : Montefioralle – Monteriggioni – San Gimignano – Radda in Chianti
One of Italy's finest short road trips is a 2-3 day drive around the Chianti region of Tuscany. Chianti is situated between the tourist hotbed of Florence and the stunning medieval city of Siena .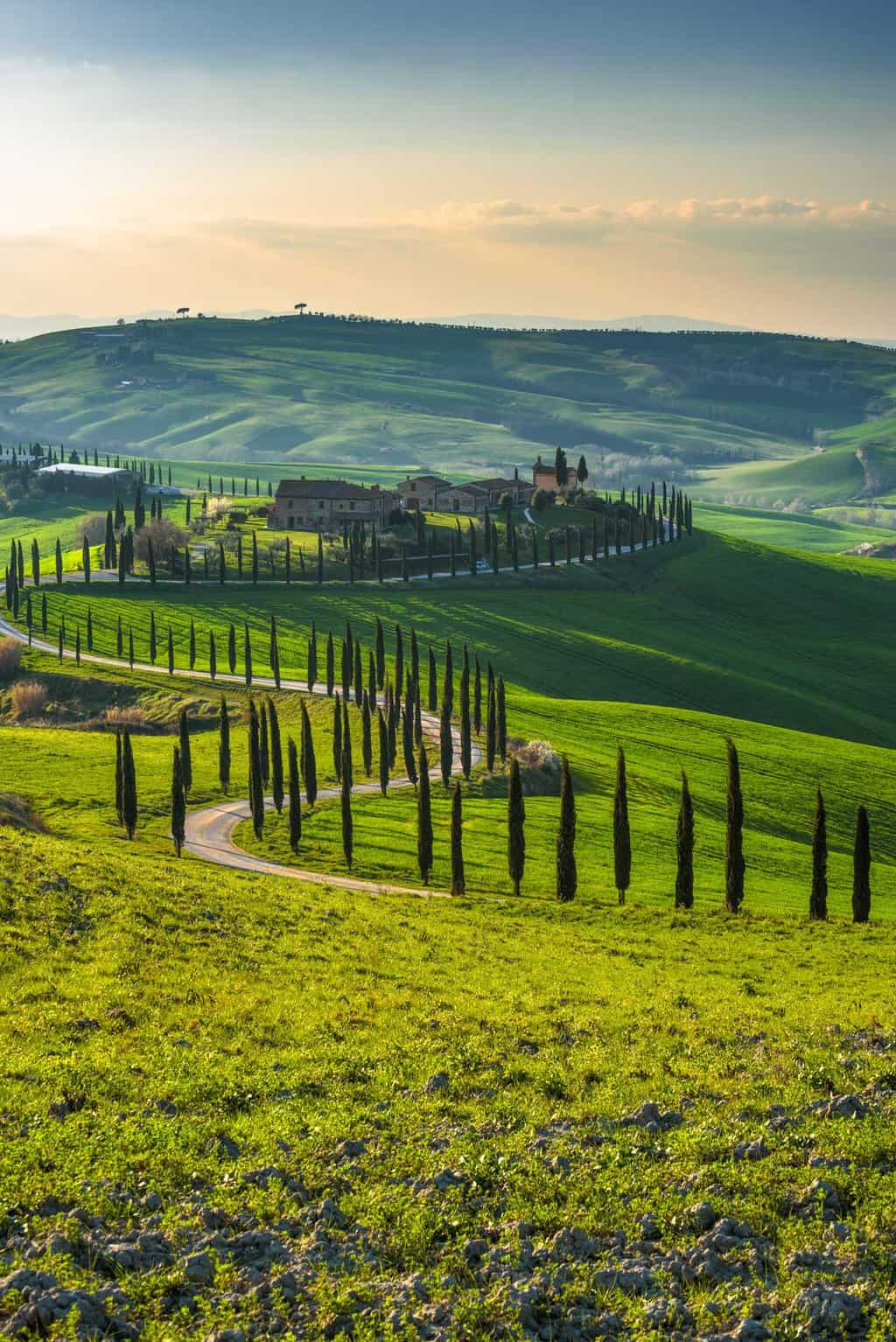 A road trip between the two cities through Chianti only covers about 100-150 km, but there are so many beautiful places to see along the way that you won't want to cover more ground.
A region of rolling hills covered in vineyards and stone masonry villas, Chianti is what many people think of when they imagine Tuscany.
Chianti is mostly known for its wine. The region produces some of the finest wines in the world, especially the local specialty Chianti Classico . Vineyards are scattered throughout the region, mixed in with fairy-tale Tuscan villages and ancient castles.
Plan your road trip to avoid the motorways. While driving the winding back roads, be sure to include the following towns and villages in your itinerary:
Montefioralle
Monteriggioni
San Gimignano
Radda in Chianti
Most importantly, stop by some of Italy's best wineries. Just be sure there is a sober driver in the group, as the local wineries can be generous with the pours.
Some of the top picks for Chianti region wineries are:
Castello di Verrazzano
Pogglio Amorelli
Azienda Agricola Campocorto
Fattoria di Montemaggio
Be sure to contact the wineries before visiting to arrange tours or tastings. Most of the more popular wineries require reservations. For a true Tuscan experience, spend the night at a castle vineyard like Castello Vicchiomaggio .
A road trip through Chianti will leave you longing for more time in the Tuscan hills.
Recommended by: Chris Heckmann – Around the World with Me
Val d'Orcia Tuscany
Recommended Duration : 4-7 days
Distance : 350 Kilometres Starting in Florence or Siena.
Destinations : Florence or Siena – Pienza – Montepulciano – Monticchiello – Bagni San Filippo thermal baths
The charming Val d'Orcia in Italy is a true jewel of Tuscany and a fantastic Italian road trip destination.
Most start their tour in Florence (approximately 1.5 hrs from Val d'Orcia), but you can also start or finish in Sienna (approximately 1.20 hrs from Val d'Orcia). You can plan around 350 kilometers for the entire route and 4-7 days.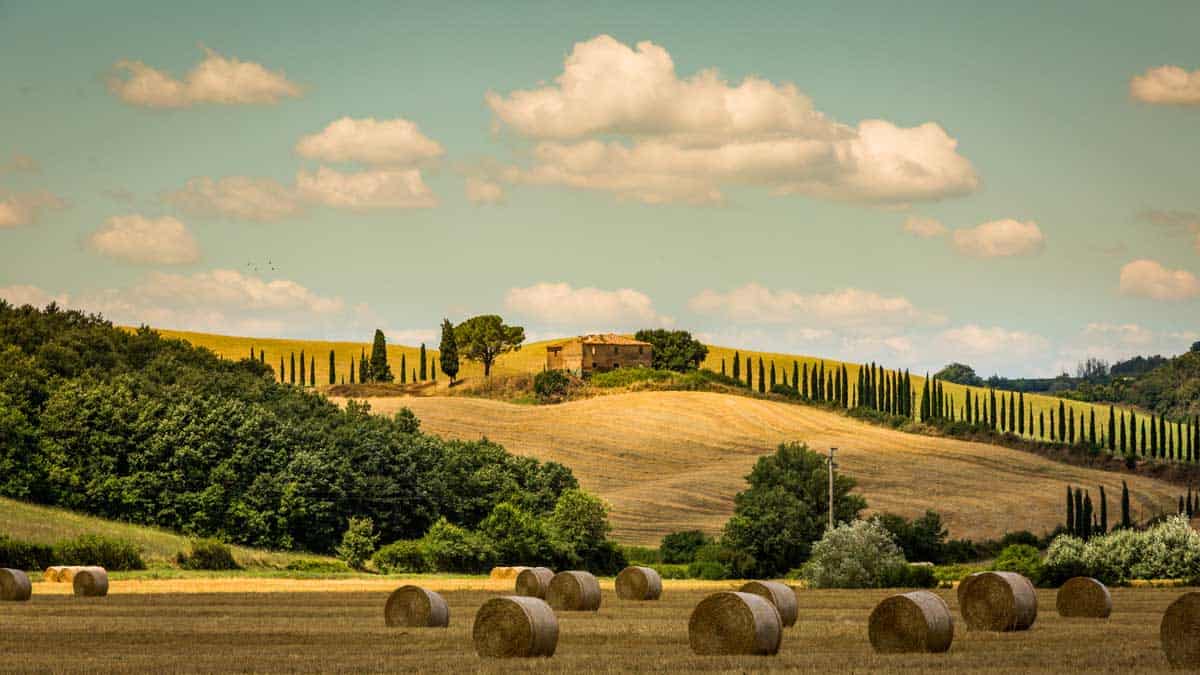 On a road trip through Val d'Orcia, you will discover Tuscany you only know from movies. Endless hilly landscapes, breathtaking viewpoints along the panoramic roads, and the typical cypress avenues conjure up a picture-perfect ambiance.
The stunning landscape dotted with small medieval villages and Renaissance towns is considered so unique it was given UNESCO World Heritage status in 2014.
Explore the numerous small, charming Renaissance villages, where you can stroll through medieval alleys and discover Tuscany from its most beautiful side.
Pienza is considered the cradle of the Renaissance. Make sure you try the local pecorino di Pienza cheese.
The medieval walled town of San Quirico d'Orcia is considered one of the prettiest villages in Tuscany.
Montepulciano . The stunning medieval hilltop town is a paradise for wine lovers. Make sure to try the delicious local red Vino Nobile di Montepulciano.
Montalcino is another beautiful town for wine lovers. The town's vineyards produce some of Italy's most famous and delicious wines, Rosso di Montalcino and Brunello di Montalcino.
The beautiful village of Monticchiello, with its famous winding road, becomes an open-air theatre in summer with performances by the local inhabitants.
For the onward journey, it is best to choose the Strada Provinciale 146 between Pienza and San Quirico , considered one of the most beautiful panoramic roads in the region with its numerous viewpoints.
visit the Bagni San Filippo thermal baths – beautiful natural hot springs in a peaceful forest setting. The water is loaded with calcium, giving the water a milky blue/white color like milk, and leaves white calcium deposits on the rocks, creating a stunning setting to bathe in.
You will find lots of lovely agrotourism accommodations to stay overnight, which will add to the Tuscan experience. A road trip through Val d'Orcia is a wonderful mix of landscape, culture, and wine, which should not be missed on any trip to Tuscany.
Recommended by Martina – PlacesofJuma
Southern Italy Road Trip Itineraries
Puglia road trip.
Distance : 580 Kilometres.
Destinations : Bari – Manopoli and Polignano a Mare – Alberobello – Locorotondo – Ostuni – Lecce
A Puglia road trip is the best way to explore one of Italy's most charming regions. The ideal time for this road trip is around seven days in spring, early summer, or early autumn.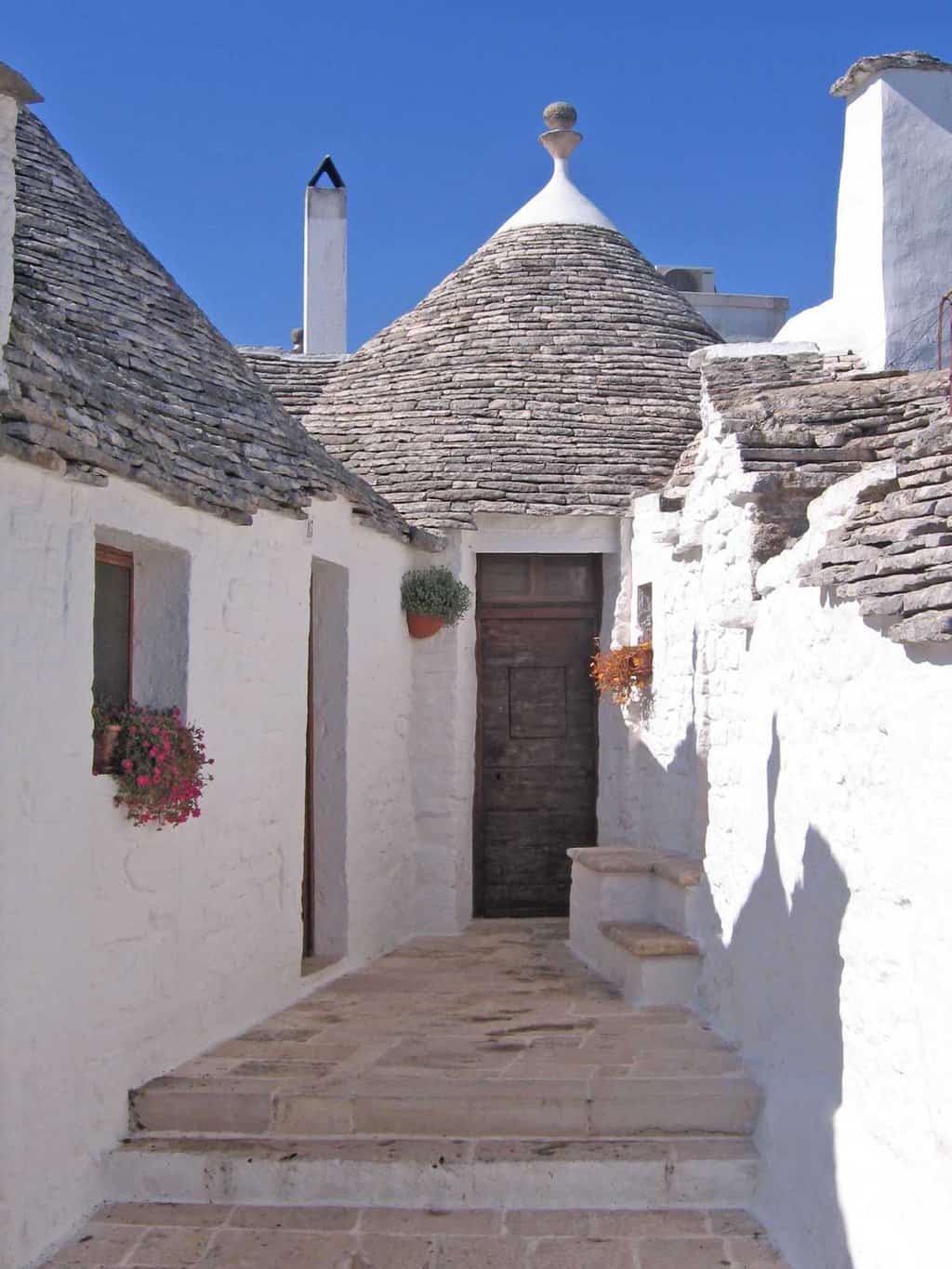 Visiting Puglia, you can fly into one of two airports, Bari or Brindisi (in the South). Both airports have car rental options to begin your 580 km road trip around Puglia's best sights.
Suggested Itinerary for Puglia
It's worthwhile beginning your Puglia road trip in the historic city of Bari , Puglia's capital. Bari has beautiful architectural sights, including the Basilica San Nicolo and Bari Cathedral.
From Bari, head to Manopoli and Polignano a Mare , where you will find the region's best beaches.
Head inland to see the famous trulli houses of Alberobello . The white cone-shaped houses of Alberobello are a recognized Unesco World Heritage Site.
Locorotondo , a picture-perfect town (often missed by tourists), is a real treat. Visit during holidays such as Easter and Christmas when the locals adorn the town in traditional decor.
The white city of Ostuni is a maze of white-washed buildings, sitting below a hill-topped citadel with ancient fortified walls.
Before heading back to Bari, if your Puglia road trip itinerary allows, stop at Lecce , known as the 'Florence of the South,' with exquisite baroque architecture, including the Piazza del Duomo.
It's also worth stopping in Gallipoli : an old fishing village with a stunning port backed by ancient walls and pretty beaches.
Recommended by: Jasmine – The Life of a Social Butterfly
Calabria in the Toe of Italy's Boot
Recommended Duration : 7-9 days
Distance : 153 Kilometres.
Destinations : Costa degli Dei and Costa Viola – Pizzo – Zambrone – Marinella – Michelino – Tropea – Costa Viola – Bagnara Calabra
Often overlooked by visitors to Italy, Calabria is a fabulous region in Italy's south. If the idea of visiting picturesque villages perched in the Pennine mountains, the glowing sun, and relaxing at the beach sounds like your type of road trip, Calabria is perfect.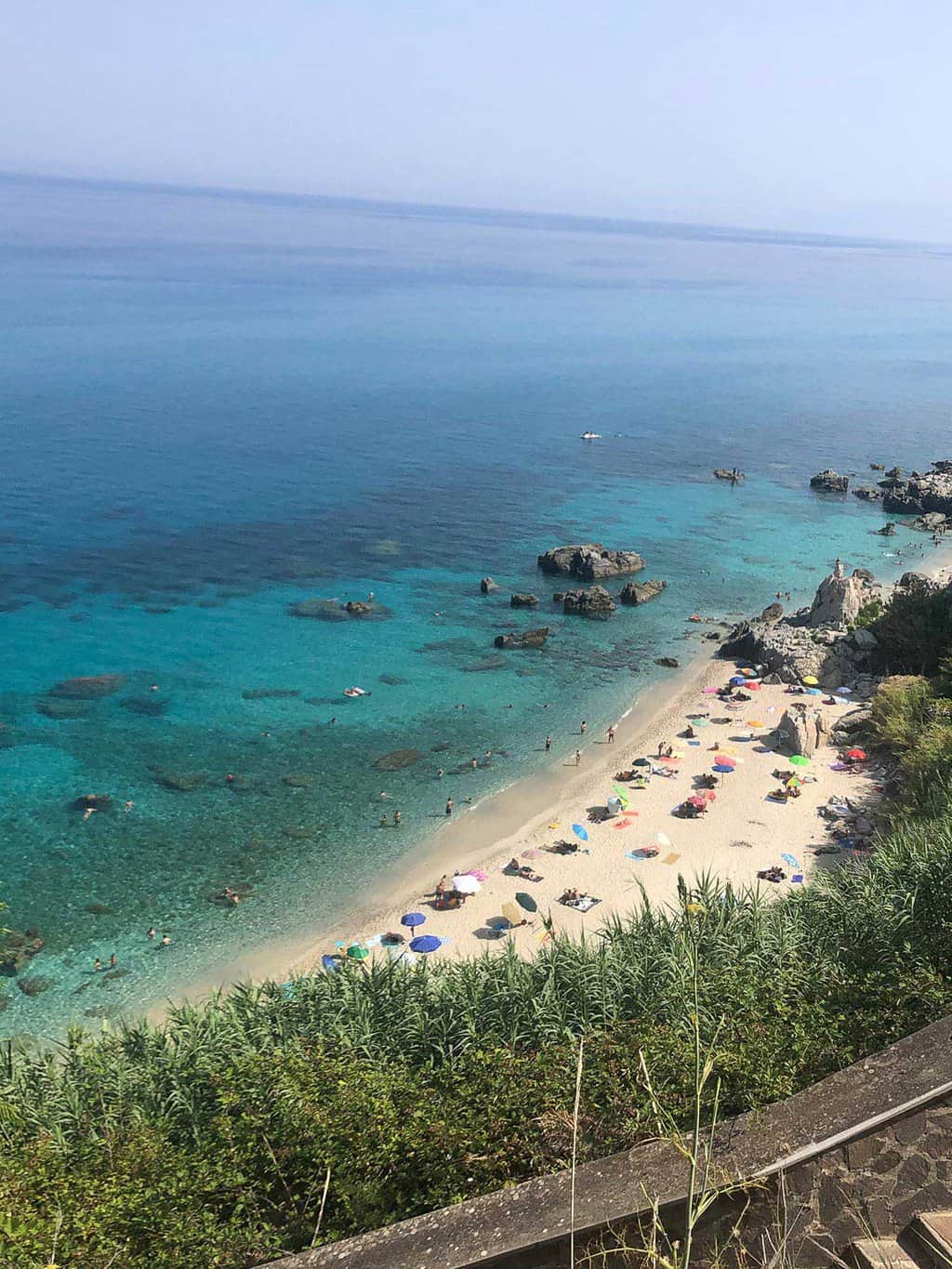 If you find yourself in cities such as Venice or Rome, you can take an internal flight to Lamezia Terme Airport. Your road trip will start from here and ends in Scilla.
Taking between seven and nine days, you can drive 153 kilometers down the Costa degli Dei and Costa Viola.
First, stop in Pizzo , where you can taste the delicious Tartufo (a gelato based dessert).
Visit the beaches in Zambrone, Marinella, and Michelino, then the last stop along the Coast of the Gods, Tropea. The tourist town of Tropea is worth visiting for its lovely old city set on high cliffs overlooking the sea. Don't miss trying the typical Calabrian pasta dish, Fileja alla Tropeana, when in Tropea.
Continue towards the Costa Viola with Bagnara Calabra, known for its long stretch of sandy beach and Scilla.
In Scilla , you can spend some time snorkeling in some of Italy's most crystal clear waters and visit Chianalea , the charming fishing village. Make sure you try a swordfish sandwich in Scilla.
The best time of year to be in Calabria is in June or July, right before it gets too busy in August.
This Calabria road trip is an alternative way to explore the Tyrrhenian coast and includes popular places and lesser-known villages.
Recommended by: Maddalena Visentin – Venice Travel Tips
Recommended Duration : 2 weeks
Distance : 600 Kilometres.
Destinations : Cagliari – Villasimius- Cala Goloritze – Gorrupu – Orgosolo – Cala Luna – Cala Brandinchi – Olbia – La Maddalena – Alghero – Bosa
A Mediterranean island road trip through Sardinia offers some of the world's finest beaches, picturesque hikes, breathtaking natural beauty, and charming towns.
A trip to Sardinia is an incredible Italian road trip experience.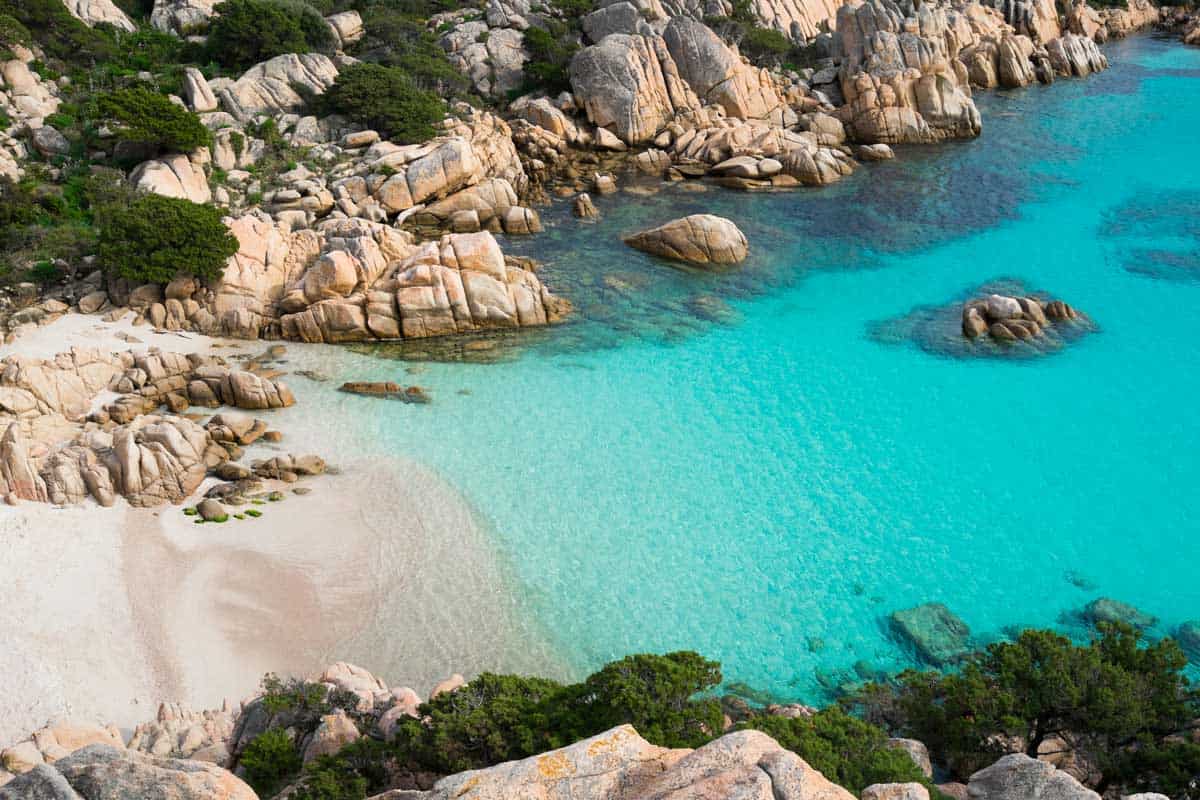 A suggested 600 km, two-week itinerary would be to start in the capital city of Cagliari and end in Bosa. The best stops are Villasimius, Cala Goloritze, Gorrupu, Orgosolo, Cala Luna, Cala Brandinchi, Olbia, La Maddalena, and Alghero.
Once you have explored the capital Cagliari , drive along the coast to Villasimius , where you can enjoy the famous Sardinian beaches.
Another must-see spot is Cala Goloritze , where a hike leads to one of the island's most spectacular beaches with crystal-clear water.
Gorropu , an impressive canyon, is a reminder that Sardinia has more to offer than just beaches. Inland villages such as Orgosolo , known for its street art and political graffiti, also provide a glimpse into the "real Sardinia."
Another highlight includes the stunning La Maddalena Island . While there, visit Caprera Island, Cala Coticcio, the Garibaldi Museum, and Cala Napoletana.
Finally, back on the mainland, visit the charming city of Alghero, Neptune's Grotto, and the colorful town of Bosa.
The best time for a road trip around Sardinia to avoid the crowds and enjoy milder weather is the shoulder season from May to June and September to October. It is still warm enough to go to the beach, but there are fewer crowds to battle – Sardinia is extremely busy in the summer months. See here for more tips on visiting Sardinia .
Recommended by: Rachel – Average Lives
Western Sicily
Recommended Duration : 10-12 days
Distance : 580 Kilometres. Starting and finishing in Palermo
Destinations : Palermo – San Vito Lo Capo – Trapani – Marsala – Caltabellotta – Agrigento – Enna – the Parco delle Madonie.
Sicily is the ideal setting for an Italian road trip. This efficient itinerary starts and ends in Palermo and makes a tidy loop around the western part of the island.
We also have a 10 day Sicily road trip looping the entire island.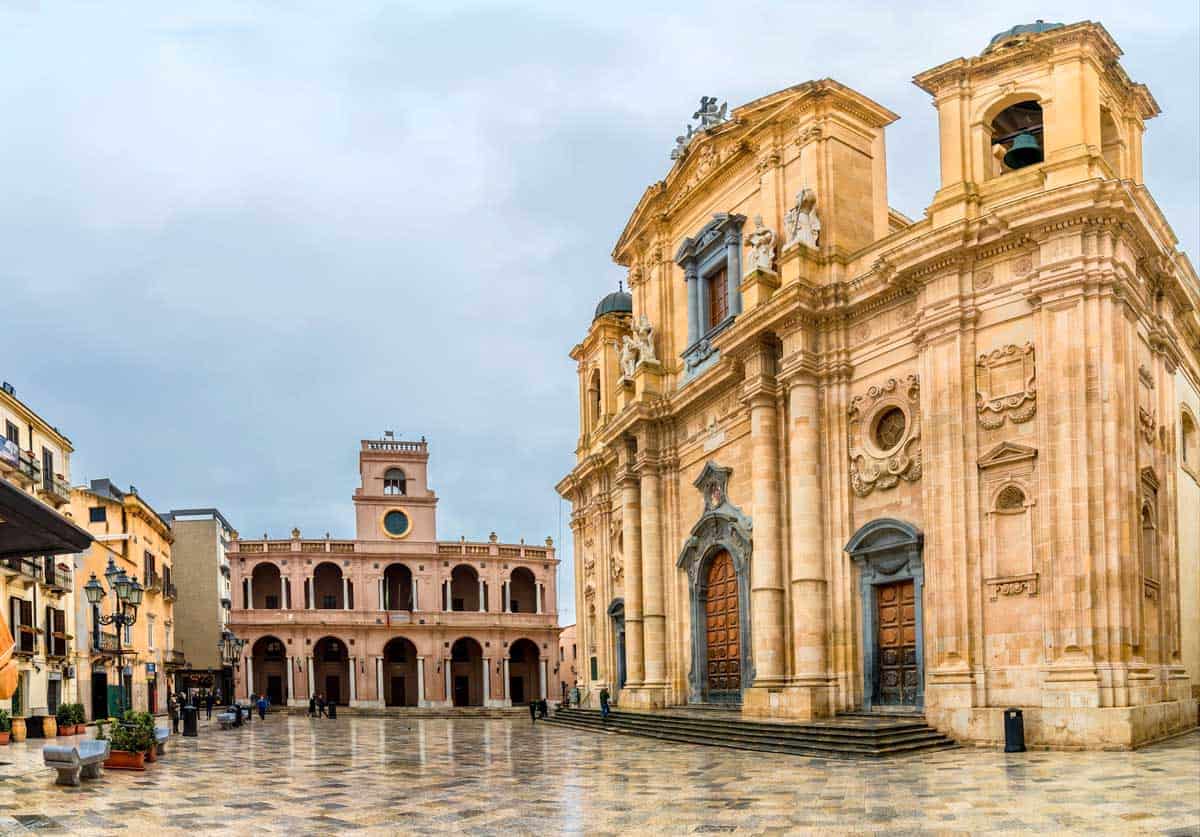 Covering both the coast and the lush interior, stops include San Vito Lo Capo, Trapani, Marsala, Caltabellotta, Agrigento, Enna, and the Parco delle Madonie.
This road trip covers a distance of approximately 580 km and requires a minimum of 10-12 days to complete.
The best time of year to explore this part of Italy is early autumn when temperatures are pleasant, the summer crowds have dissipated, and harvest festivities sweep through the vineyards.
Embarking on a street food tour of Palermo
Swimming and snorkeling at San Vito Lo Capo
Exploring the salt flats near Trapani
Shopping for traditional Sicilian souvenirs at the carpet ateliers in Erice
Doing a fortified wine tasting in Marsala
Getting lost in the ancient streets of Caltabellotta
Visiting the UNESCO World Heritage-listed Valley of the Temples
Touring the incredible Cathedral of Enna
Hiking in the Madonie Regional Natural Park
After a few days in Sicily's biggest city, pick up your car and depart Palermo . Follow the coastal road to San Vito Lo Capo, where gorgeous white-sand beaches and ultramarine waters await.
Continue along the coast to Trapani , the 'City of Salt and Sail', to explore the crystal pans before continuing to Marsala , a picturesque city of honey-colored stone known for its fortified wines. For a unique experience, tour the cellars at Cantine Florio.
Detour inland to spend a night in the tiny village of Caltabellotta before making your way down to Agrigento , the departure point for exploring one of Sicily's most important archaeological sites, the Valley of the Temples.
Turning inland, make a quick stop in medieval Enna before spending a few nights on the fringe of Madonie Regional Natural Park , where you can enjoy the area's hiking trails before returning to Palermo.
Recommended by Emily – Wander-Lush
Italy is such an incredible country to explore leisurely by road. With so many incredible and diverse experiences, it's hard to choose just one Italy road trip itinerary.
How to travel around Italy: everything you need to know about driving, cycling and public transport
May 30, 2023 • 14 min read
A rented scooter can help you cut through traffic in Italy's busy cities © Ben Pipe Photography / Cultura RM Exclusive / Getty Images
Italy has more must-see sights than you could squeeze into a lifetime. From the exceptionally well-preserved Roman ruins of the capital to the blissful Mediterranean landscapes of Sicily and Sardinia, roaming around the boot-shaped peninsula is a journey of discovery that never fails to astonish.
With so much to see and do, it's only natural to think that Italy must have set up an optimally functioning public-transportation system to make roaming around easy for the millions of visitors that travel to the country each year. Think twice. While major hotspots are well connected, getting off the beaten track can be tricky without your own vehicle and some planning.
With this article, we'll guide you through all there is to know to get around Italy, from navigating the twisting roads of the rural countryside to booking a high-speed train ticket at the cheapest price. Whether you have your heart set on touring Tuscany , time-traveling in Rome or eating your way around Emilia-Romagna , here's what you need to know about touring Italy independently.
How to get around Italy without a car: understanding the public transport system
Ranging from snow-capped Alpine peaks surpassing 4,000m in altitude to wild Mediterranean archipelagos, the diverse geography of the Italian peninsula doesn't allow for one single mode of transport to move people around the country. Trains, buses, ships and ferries all contribute to helping you reach your destination.
Travel by train for views of the stunning Italian countryside
Italy boasts an extensive rail network spanning the length of the country, meaning most major cities – including Rome , Florence , Naples , Bologna and Palermo – are connected by regular train services. Best of all, you can sit back and soak in the gorgeous scenery in between them.
The vast majority of trains are run by Trenitalia , Italy's national train operator, while a handful of high-velocity services are handled by privately owned Italo . Routes are well integrated into the Europe-wide Interrail and Eurail rail-pass system. Trains in Italy broadly fall into three main categories:
Regionale: the slowest and cheapest trains, generally stopping at all or most stations en route
InterCity (IC): faster services operating between major cities (their international counterparts are called EuroCity)
Alta Velocità (AV): modern, high-velocity Frecciarossa, Frecciargento, Frecciabianca (operated by Trenitalia) and Italo trains, with speeds of up to 300km/h and good connections between major cities.
How do you book tickets? 
Tickets can be reserved on the Trenitalia and Italo websites (which are now available in English as well as Italian), at railway station counters and at self-service ticketing machines, as well as through travel agents.
Note that when buying a paper ticket for regional and Intercity trains directly at the station – either at the ticket office or at the ticketing machines – it should be validated before entering the train, as these types of tickets are not date specific. When buying online, you can just jump on board without worrying about validation.
Do you have to book in advance? 
You don't need to worry about booking regional trains in advance – the price doesn't change and seats are not numbered. While regional trains traveling to and from major cities can be packed during peak hours (from 7am to 9am and 5pm to 7pm) as commuters travel to and from work, outside such times they hardly fill up and allow for spontaneous adventures.
Tickets for high-speed trains can also be purchased on the same day of travel, although it is well worth booking in advance to get access to offers and discounts.
How much does it cost? 
Ticket prices in Italy tend to be in line, if not slightly cheaper than, other Western European nations, and vary depending on train type and class. Most Italian trains have 1st- and 2nd-class seating, with a 1st-class ticket typically costing from a third to half more than 2nd-class.
How do you find discount fares?
Both Trenitalia and Italo offer decent discounts on advance purchases. Generally, the earlier you book, the greater the savings – though refunds and changes on such tickets are highly restricted. By signing up to Italo's newsletter you'll receive discount codes in your inbox when special offers are available (which happens frequently).
Trenitalia regularly offers discounts on its tickets to tourists. For instance, if you plan to travel over the weekend it is worth considering the Weekend Return Offer , which grants you a 40% discount on Intercity tickets. The Italia in Tour ticket allows for unlimited travel on regional trains for three or five consecutive days at a fixed price of €29 or €49.
Are you allowed to bring bikes onboard?
It is possible to take bicycles on many Italian trains by paying a small surcharge. When booking your ticket online, look out for the bicycle icon to know whether the train has a dedicated carriage for bikes.
Which trains offer the best views?
If it's classic Italian scenery you're after, plan your trip around some of Italy's dramatic mountain railway journeys.
The trip on the cute red Bernina Express train between Tirano and Chur, St Moritz or Davos in Switzerland is one of the best rail rides in the Alps. The " Italian Trans-Siberian " is a historic railway running from Sulmona to Isernia across the lower Apennines in Abruzzo and Molise, through spectacular mountainous landscapes. If you'd like to match nature with history and literature, you can travel on the Treno di Dante between Florence and Ravenna, in the footsteps of the great Tuscan poet.
Buses are the inexpensive way to explore Italy
Italy's rail network does reach far and wide, but many areas are still not accessible by train. Suburban buses cover the distance between towns that are either too small or too remote to have a train station.
The public suburban bus network is typically managed on a regional level, meaning that there is no centralized website for purchasing tickets. Google is fairly reliable these days when it comes to schedules, together with the Moovit app. Intercity bus tickets can be bought in advance at newsagents and tobacconists.
Long-distance coaches are mostly managed by private companies, such as Flixbus , Itabus , Marinobus and Marozzi . Though slower than trains, coaches are a cheaper form of transport in Italy, with a web of routes that stretches to all corners of the country. Tickets can be purchased online through bus company websites.
Alternatively, in larger cities, most intercity bus companies have ticket offices (usually at or near the main bus station) or sell tickets through travel agencies. In villages and smaller towns, tickets are sold in bars or on the bus. Advanced booking is not generally required, though it is advisable for overnight or long-haul trips in high season.
Boats zip along the coast and out to the islands
Navi (large ferries) sail to Sicily and Sardinia, while traghetti (smaller ferries) and aliscafi (hydrofoils) serve the smaller islands. Most ferries carry vehicles, but hydrofoils do not. On long-haul ferries, travelers can usually book a two- to four-person cabin or a poltrona , an airline-style armchair. Deck class (which allows you to sit/sleep in lounge areas or on deck) is available only on some ferries.
The primary embarkation points for Sicily and Sardinia are Genoa , Livorno , Civitavecchia (near Rome) and Naples and involve a comfortable overnight trip across the Tyrrhenian Sea. Passenger tickets are cheap during the low season – a trip from Livorno to Olbia can cost as little as €25 – but rise in the summer. Taking your car onboard can be costly during the holiday season.
Ferries for Sicily also leave from Villa San Giovanni and Reggio Calabria . Main arrival points in Sardinia are Cagliari , Arbatax, Olbia and Porto Torres; in Sicily, Palermo, Catania , Trapani and Messina .
Local transport is inexpensive and efficient in urban areas
Most towns and cities have efficient local bus services, and some larger cities, such as Milan, Rome, and Naples, also have extensive metro networks. In Venice , water taxis, gondolas and vaporetti (small passenger ferries) perform the same role.
It's usually possible to reach nearby villages fairly easily by local bus. Bus tickets are sold at newsagents and tobacconists (stores marked with a T sign) and usually cost under €2. Buying tickets directly from the driver is possible, but it will incur a surcharge.
Taxis can be found around bus and train stations. If you call for a radio taxi by phone, the meter will usually start running when you place the call, not when you are picked up. Taxi drivers in major tourist destinations do not have a great reputation; make sure to ask in advance about the price and whether you can pay by card, and check that the meter is turned on.
Rideshares are limited in Italy. At the moment, services like Uber cannot legally operate in Italy as they do in many other European countries. Uber Black, used by licenced taxi drivers only, works in major cities.
Getting around by car, motorcycle or Vespa means maximum freedom
Unless you are planning to stick to art cities, having a private vehicle in Italy means you can travel at your own pace and visit regions with minimal public transport. This is particularly handy in the mountains, on the islands and in the rural countryside, where running buses are few and far between.
Driving your own car will allow you to sleep in isolated agriturismi (farm houses) and take all the time you need to admire the hilly scenery of the country's interior. Car-hire companies operate throughout the country, allowing you to pick up and drop off vehicles in most major cities. Operators include Avis , Europcar , Hertz and Italy by Car , among others. Consider hiring a small compact car, as doing so will reduce your fuel expenses and make it easier to negotiate narrow city lanes and tight parking spaces.
In the past couple of years some of the regions that see a large influx of tourists during the summer – Sardinia and Tuscany, for instance – have experienced a shortage of rental cars. Much of that is a result of the pandemic: rental companies sold many of their vehicles as travel stopped, while people got increasingly used to relying on private rather than public transportation. As a consequence, prices skyrocket in the high season, so if you're planning to rent a car in the summer, book one in advance.
Who can rent a vehicle in Italy? 
Renters must generally be 21 or over, with a credit card and home-country driving license or International Driving Permit. To drive a vehicle in Italy you must have insurance against personal and material damage. All car rental companies offer optional (but recommended) "kasko" coverage, a comprehensive insurance that covers all forms of damage, regardless of who caused it.
How much does it cost to rent a scooter? 
Agencies throughout Italy rent motorcycles and scooters, ranging from small Vespas to large touring bikes. Prices start at around €35/150 per day/week for a small 50cc scooter and rise to more than €80/400 per day/week for a 650cc motorcycle. A license is required to ride a scooter – a car license will do for bikes up to 125cc; for anything over 125cc, you'll need a motorcycle license.
What rules do you need to know?  
It's obligatory to wear seat belts (front and rear), to drive with your headlights on outside built-up areas, and to carry a warning triangle and fluorescent waistcoat in case of breakdown. Wearing a helmet is compulsory on all two-wheeled vehicles.
How are the driving conditions in Italy?
Road conditions are generally good, but lax maintenance in some areas means you should be prepared for potholes and rough, bumpy surfaces, particularly on smaller secondary roads. Local driving conditions can also take some getting used to. Roads can be narrow and traffic congestion is common. Parking can also be hard to find in urban areas (one reason for the huge popularity of scooters), and local drivers have a reputation for being impatient and quick to use their horns.
What do you need to know about the roads? 
It is important to know where you can and cannot drive. Roads in Italy are split into three main categories: roads referred to as strada normale are those that run through urban centers and have a speed limit ranging between 30 and 70km/h. All vehicles can drive here.
A superstrada is a free, multi-lane state road marked by blue signs, with a speed limit of 90km/h. Scooters and bicycles are not allowed to enter such roads and doing so by mistake can be dangerous. The same goes for the autostrada, a toll motorway connecting major centers, where the speed limit reaches 130km/h.
When driving in historic centers you should also keep an eye out for the ZTL signs. A zona a traffico limitato is an area where non-residents are not allowed to enter with a car. Such areas are common, although typically only active during the day. Entering a ZTL translates into a guaranteed fine.
Internal flights are best reserved for longer trips
With Italy's train and bus network being both cheap and reliable (and much more environmentally friendly) , flying is usually not the most convenient way to travel domestically in Italy. However, if you need to get from one part of the country to the other as quickly as possible, then air services are available, and most major cities have airports.
Italy's beleaguered flag carrier, Alitalia, was replaced in 2021 by a new state-backed airline called ITA Airways , with flights to cities across the Italian mainland and to Sardinia and Sicily . Several low-cost airlines also operate domestic flights, including easyJet and Ryanair . It's cheaper to buy tickets in advance of travel.
Cycling is a great way to explore the countryside in Italy
Road cycling has long been a popular sport in Italy, but in recent years many regions have invested in building bike paths and itineraries to make this form of sustainable travel accessible to more people. The spread of electric bikes has also contributed to getting people to tour on two wheels – Italy's hilly and mountainous countryside is no longer an obstacle, thanks to technology.
Northern Italy, especially the Alps and Dolomites , is at the forefront of this shift toward green mobility, offering endless routes for every level of fitness that can be tackled during summer months. But the rest of the country is catching up quickly.
Flat, enjoyable cycling paths run through much of the coast of Liguria . Abruzzo has recently inaugurated its Via Verde – a 40km green lane running parallel to its Costa dei Trabocchi – and the 60km path encircling Umbria's Lago Trasimeno was completed in 2023. In various parts of Italy, discontinued rail tracks have been converted into mountain-biking routes.
River banks offer the perfect conditions for cycling. Rome, known for its infamous traffic, has a 32km-long path for cyclists, running along the Tiber river through the city center. Tuscany is slowly completing its Ciclovia dell'Arno, which will follow the region's largest river East to West across 270km, and the VENTO project – aiming to connect Venice with Turin via a 705km path along the Po river – has been in the works for more than a decade.
Bikes are prohibited on motorways, but they can be carried on some ferries and on regional trains displaying the bicycle logo, where you'll need to purchase a separate ticket known as a supplemento bici . Bikes are available for hire in most Italian towns from €12 per day. E-bikes start around €35 per day.
Accessible transportation in Italy
Italy is not an easy country for travelers with disabilities. Cobblestone streets and pavements blocked by parked cars and scooters make getting around difficult for wheelchair users. And while many buildings have lifts, they are not always wide enough for wheelchairs. Not a lot has been done to make life easier for hearing- or vision-impaired travelers either, though awareness of accessibility issues and a culture of inclusion are steadily growing.
If traveling by train, you can arrange assistance through SalaBlu online or by calling 800 90 60 60 (from a landline) or 02 32 32 32 (from a landline or mobile). You can also see the full list of services and details of barrier-free stations on the Rete Ferroviaria Italiana 's accessible travel information page.
Many urban buses are wheelchair-accessible, though some of the stops may not be – check before you board. Some taxis are equipped to carry passengers in wheelchairs; ask for a taxi for a sedia a rotelle (wheelchair).
Two good online resources for disabled travelers are Village for All , which performs on-site audits of tourist facilities (namely accommodation providers) in Italy and San Marino, and Fondazione Cesare Serono , which provides a list (in Italian) of accessible beaches. For more information, download Lonely Planet's free Accessible Travel guide .
This article was first published May 2021 and updated May 2023
Buy Experience Italy
Lonely Planet's Experience Italy is your guide to unforgettable experiences and local surprises. Learn to voga in Venice, explore the palaces of Turin, and discover hidden beaches and lush islands on the Amalfi Coast - all guided by local experts with fresh perspectives.
Explore related stories
Nov 17, 2023 • 5 min read
Start 2024 with epic adventures, cultural experiences, foodie forays and wildlife encounters. Here are the best places to visit in January.
Oct 25, 2023 • 19 min read
Aug 10, 2023 • 3 min read
Jun 29, 2023 • 8 min read
May 19, 2023 • 6 min read
Apr 28, 2023 • 5 min read
Apr 24, 2023 • 3 min read
Apr 20, 2023 • 6 min read
Apr 19, 2023 • 7 min read
Apr 16, 2023 • 5 min read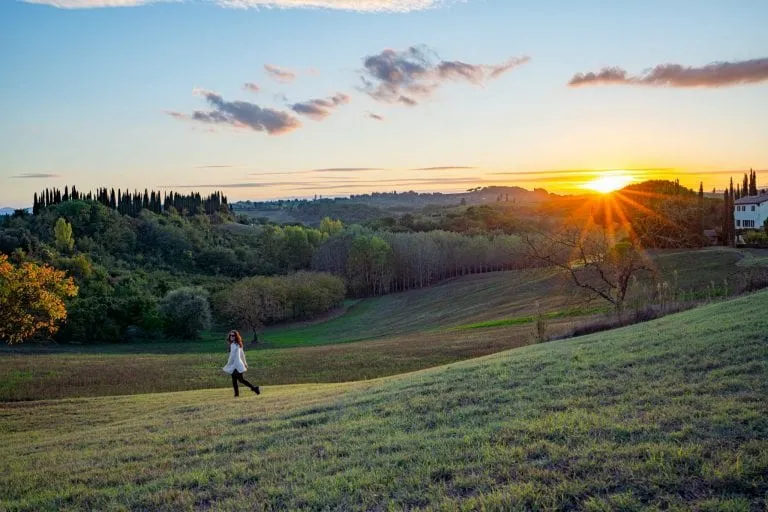 7 Phenomenal Italy Road Trip Ideas (+ Driving Tips!)
There's a lot to love about taking an Italy road trip, from admiring beautiful countryside views along the open road during the day to stopping at whatever hilltop village or seaside vista looks lovely, to spending evenings in small countryside inns or perhaps even a Tuscan farmhouse.
This guide will show you where to find the best road trips in Italy to help make those dreams a reality, while also providing plenty of practical advice along the way.
It's no secret that Italy is one of our absolute favorite countries to explore, nor that we have taken more road trips in Italy than in any other country that isn't our own–but at the same time, we fully believe that most popular, first-time-in-Italy itineraries are not best experienced as a road trip.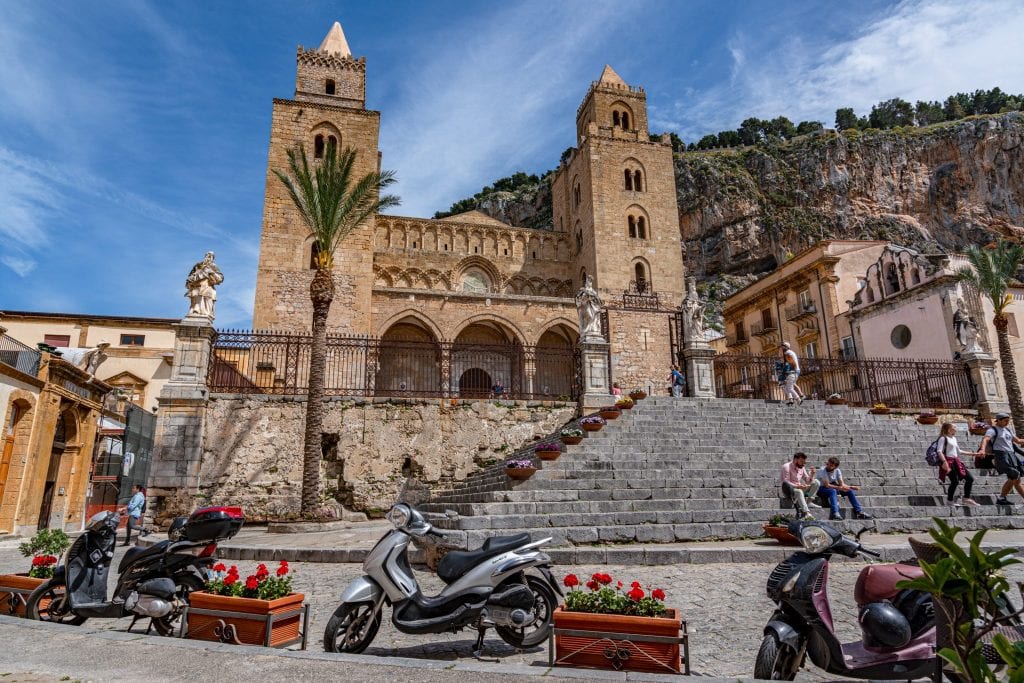 Some links in this post may be affiliate links. If you make a purchase through one of these links, we may earn a small commission at no extra cost to you. Please see our disclosure policy for more detail.
While traveling in Italy is absolutely amazing, most of Italy's most popular tourist destinations–Rome, Florence, Venice, Cinque Terre, and Milan, just to name a few–are not well suited to an Italy road trip.
On the contrary, if you ask us, a rental car is more of a liability than an asset in every single one of those destinations!
But that being said, there are some truly phenomenal road trips in Italy that are easily among the best in the world.
If you're looking to plan an Italy road trip, here's what–and where–we recommend.
Table of Contents
Is a Road Trip in Italy Right for You?
Renting a car for your road trip, the best italy road trip destinations, italy road trip tips.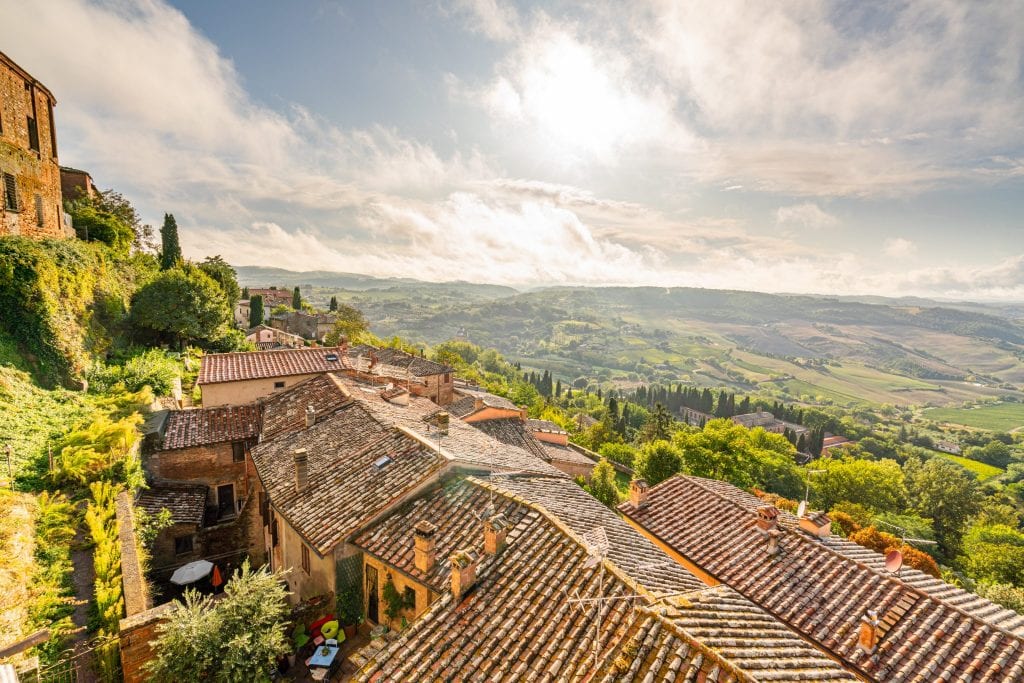 Italy is home to some fantastic road trips, but whether or not a road trip is right for you depends a lot on both your personal travel style and what your dream trip to Italy looks like.
If you decide a road trip isn't right for you, we highly recommend checking out some of our more classic Italy itineraries instead– this 2 week itinerary is a great introduction to the country, and this one week guide is packed full of Italy trip ideas!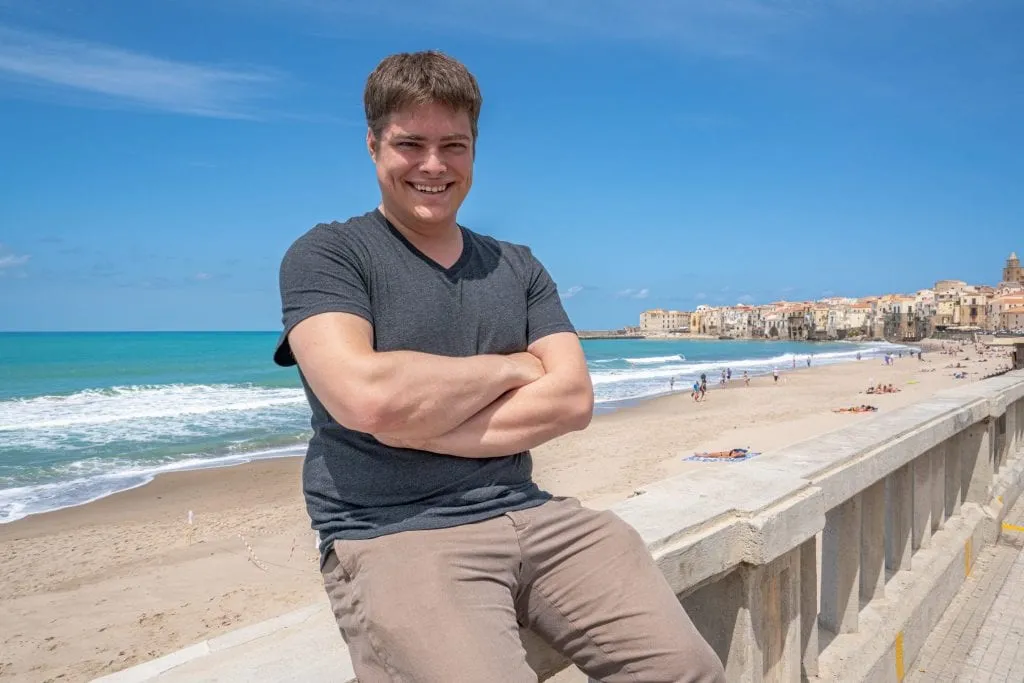 An Italy road trip might be the right choice for you if…
… you're hoping to focus on small towns and countryside destinations..
As I mentioned above, Italy's biggest cities, while absolutely fantastic places to visit, are not well-suited for road trips.
If your dream Italy trip looks something like Rome, Florence, Venice, and Cinque Terre, you're bound to have an amazing time–and you definitely shouldn't experience it as a road trip.
This 2 week itinerary will get you started on your planning, though!
… you're not intimidated by driving in a foreign country.
While driving in Italy is far from impossible, it does have an intimidating reputation for a reason: if you're not a regular driver and/or are not confident behind the wheel, you may want to reconsider driving in Italy, or at the very least, be very careful to choose an easier road trip destination.
… you want to maintain maximum flexibility.
Want to duck into roadside cafes, randomly detour to check out a small town you spotted on the map, and wake up each morning unsure of what adventures it will hold?
If so, an Italy road trip might be the right vacation for you!
… you're willing to trade a few logistical challenges for a chance to get off the beaten path.
From finding the right parking spot to keeping an eye out for toll booths to getting lost along the way, taking a road trip in Italy definitely comes with its own set of challenges–but if that sounds like a worthy trade for an open-ended adventure and a chance to see a side of Italy that most of its visitors don't, then it's absolutely worth it.
For most people, of course, taking an Italy road trip will require renting a car.
We'll cover some tips and tricks for renting a car later in this blog post, but here's the short version: we recommend renting a small car in Italy through Discover Cars , which will allow you to compare prices and inclusions of multiple companies at the same time and choose the best car for you from there.
We've rented a car in Italy more times than we can count, and we've used a different rental car company almost every time: the variations in prices depending on time of year, availability, and rental inclusions will vary dramatically, and you'll want to make sure you arrange for the best combination of price and inclusions before arriving to start your road trip in Italy.
Check rates & book your rental car with Discover Cars today!
The Italy road trips outlined here aren't just destinations that are doable as road trips–they're destinations ideally experienced as one!
The freedom of the open road, beauty of the countryside, and delights of traveling Italy independently are all easily felt on these sublime Italy road trips.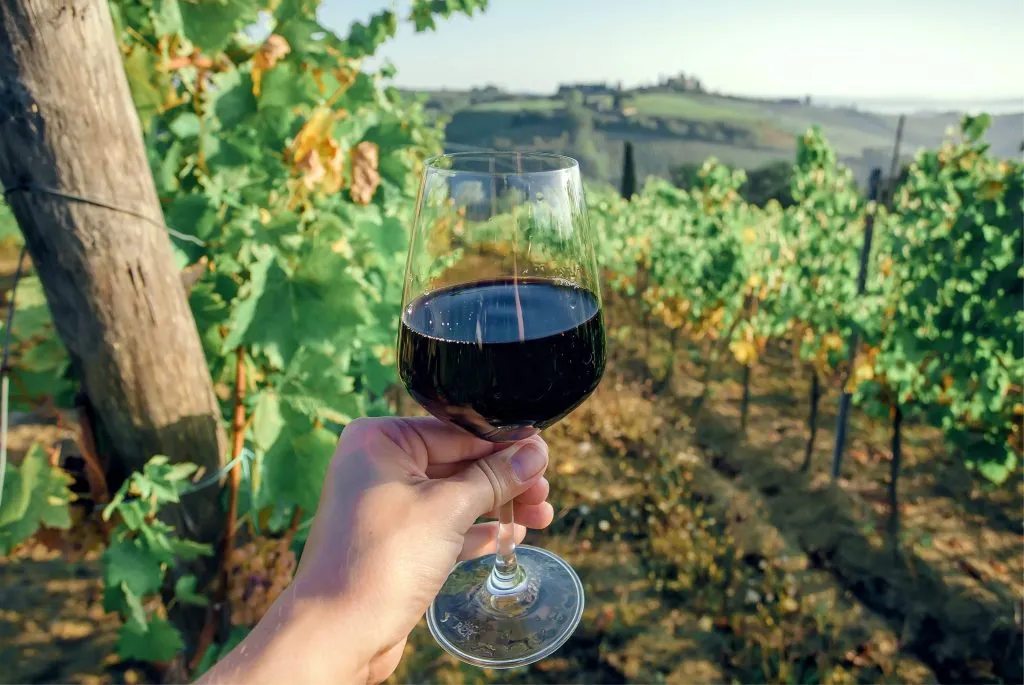 Arguably the most classic Italy road trip of them all, the idyllic Tuscan countryside lives up to expectations!
From the beautiful hilltop villages to the seemingly endless rows of grapevines and olive trees, from the delights of Tuscan hot springs to the majestic beauty of Brunelleschi's Dome erupting from the center of Florence's skyline, the reality of Tuscany definitely lives up to the legend.
Consider starting your road trip from Florence (though you won't need to pick up your rental car until you're ready to leave the region's capital), and visiting charming Lucca , stunning Siena, and famous Pisa along the way.
Of course, since half the fun of a road trip is going where the trains can't easily reach, you'll want to mix in even smaller towns as well– Volterra , Cortona, Montepulciano , and San Gimignano are all excellent options.
Be sure to visit the famous Val d'Orcia for those classic Tuscan views, and if you've ever wanted to stay in an Italian villa or at a vineyard, a Tuscany road trip is definitely an excellent opportunity to do so!
You can check out our full guide to taking a Tuscany road trip here .
Suggested Road Trip Length
A roughly 10-day road trip, plus a couple of days spent in Florence at the beginning and/or end of the trip, will provide an excellent overview of Tuscany while still leaving plenty of stones left unturned that will have you already dreaming of your next trip back by the time you say goodbye.
However, Tuscany is also well-suited for a mini road trip, so if you only have 3 days or so to spare, you can still get a delightful taste of Italy by car!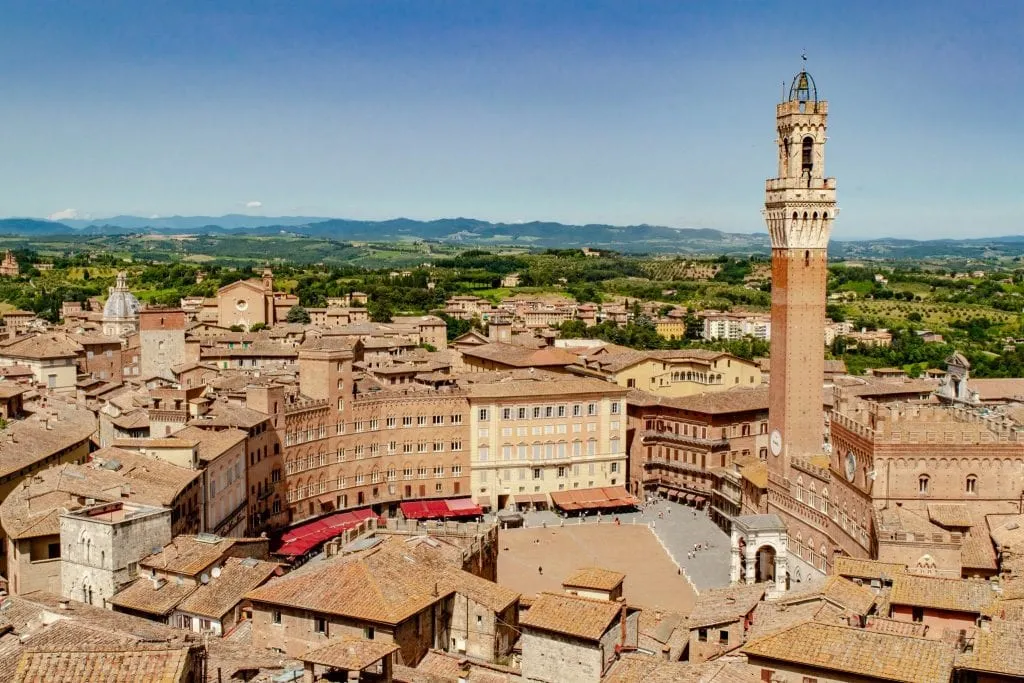 The Amalfi Coast
Despite being a mere 43 miles long, the dramatically curving road along the Amalfi Coast just may be the most famous–and challenging–Italy road trip of them all!
There's no denying that the views of the Amalfi Coast along the drive are absolutely sublime and deserve their status as one of the most picturesque places on the planet.
From the shimmering sea visible far beyond the opulent villas of Ravello to the colorful houses climbing improbably up the cliff in Positano, the Amalfi Coast is positively packed with beauty at every turn.
Road tripping the Amalfi Coast has distinct advantages over a more traditional visit, including a chance to escape the crowds, discover offbeat vistas and coves, explore lesser-visited villages, and find (comparatively) inexpensive lodging by staying outside of the most popular towns.
On the flip side, though, the driving is intense: an Amalfi Coast road trip will take you along a very narrow road, perched on a very steep cliff, and demand that you repeatedly navigate around gigantic tour buses that have very little patience with cars clogging up the road–in other words, it's quite challenging!
If you are a confident driver, there's no reason to skip it–the Amalfi Coast truly is home to one of the most scenic road trips in Italy–but if you aren't comfortable behind the wheel, it may be best to pick a different road trip (or simply visit the Amalfi Coast without driving, which is very doable!).
While you can easily drive the Amalfi Coast itself in less than a day, we recommend spending roughly 3-5 days in the area.
You won't necessarily want (or need) to change accommodation each day, but you can take incredible day trips via car each day along the Amalfi Coast.
If you'd like, you could also add on a (long) day trip to Pompeii, Herculaneum, and/or Mount Vesuvius by car as well!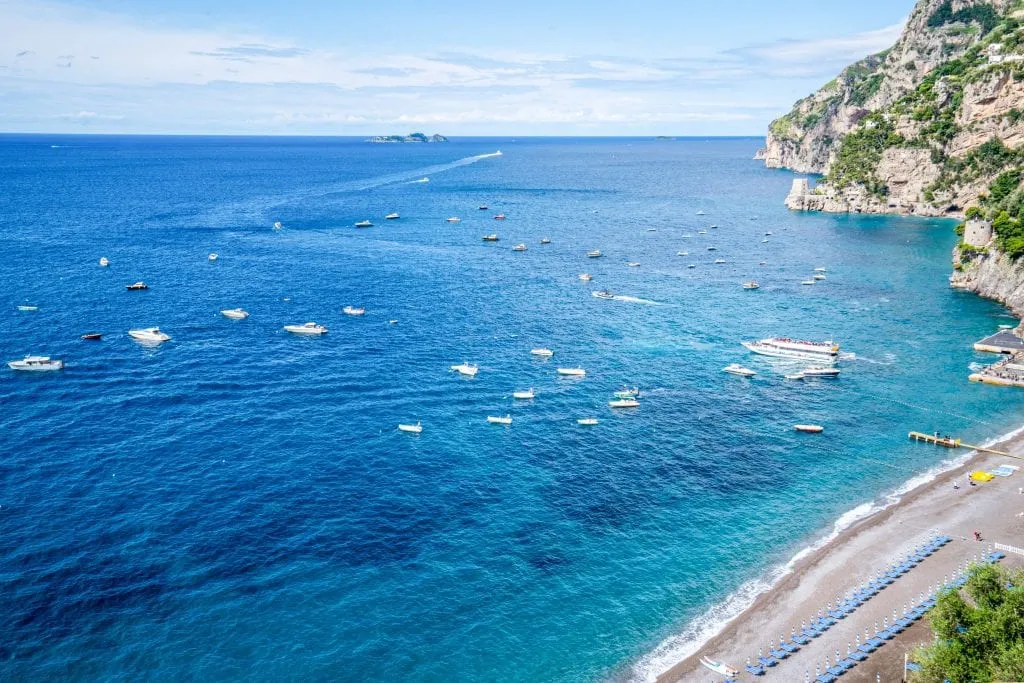 The Great Dolomites Road
The Great Dolomites Road–in Italian, the Grande Strada della Dolomiti–runs from Bolzano in South Tyrol to Cortina d'Ampezzo in Veneto, offering positively jaw-dropping views of the Dolomites along the way.
If you're looking for one-of-a-kind mountain vistas, sweeping valleys, epic lakes , and charming villages that leave you a bit uncertain as to whether you're actually in Italy at all or if you accidentally wandered into Austria, then this is the Italian road trip for you.
Be sure to leave plenty of time in your road trip itinerary to stop and check out Carezza Lake and the vistas along the Passo Pordoi!
Although not technically part of the route, nearby popular stops in the Dolomites include Sella Pass and Passo Gardena, and you can easily expand your Italy road trip to include the ever-popular Seceda and Val di Funes as well.
While summer is the most popular time for a Dolomites road trip, if you're visiting in September or October, you can enjoy not only the grape harvest but also memorable local events like Almabtrieb .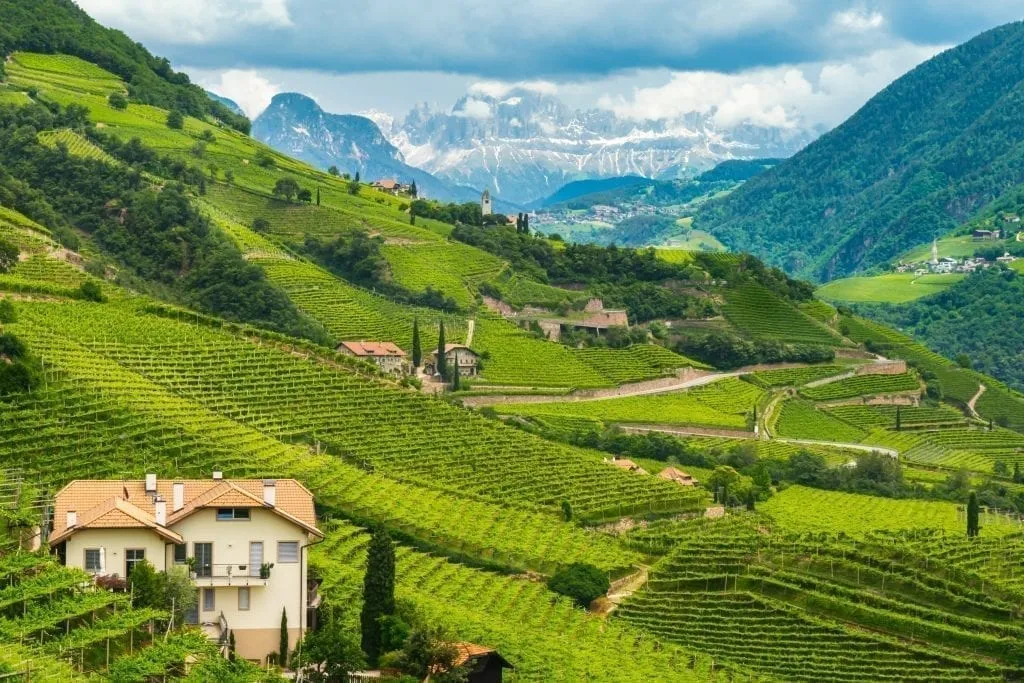 The Great Dolomites Road can easily be driven in a day, but we recommend taking your time and soaking up the views–this isn't a region you'll want to rush through.
For the bulk of your time in the Dolomites, you can easily base yourself in either Bolzano or Cortina d'Ampezzo (both offer excellent nearby mountain hikes and villages to explore as part of your trip to the Dolomites), but you can also choose to spend part of your time at one of the countryside hotels that exist along this Italy road trip.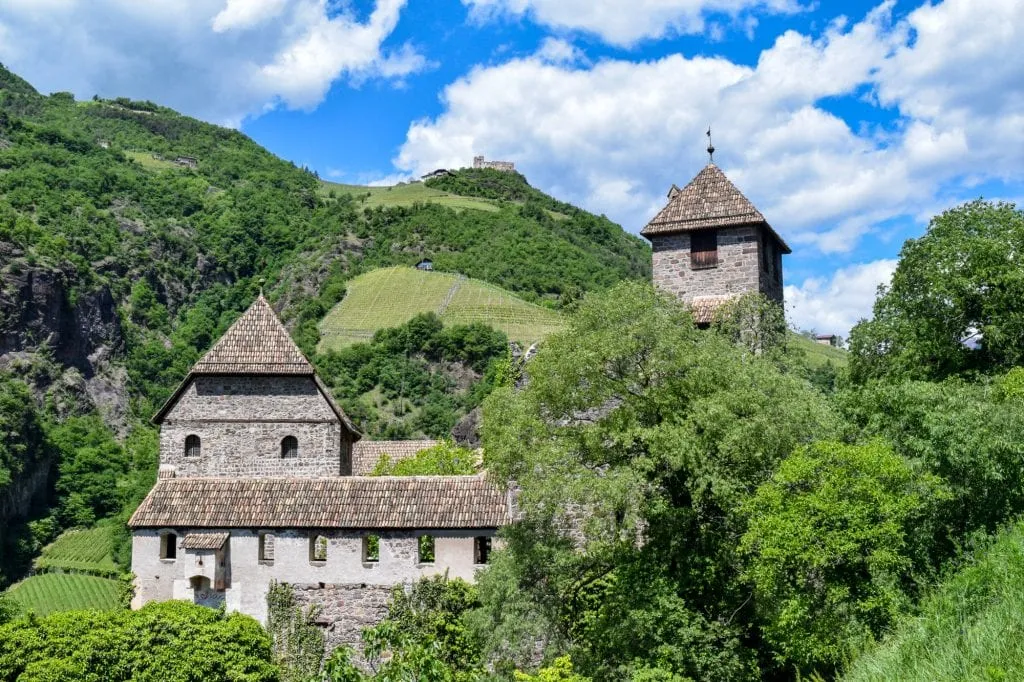 The largest island in the Mediterranean has long been a source of mystery and intrigue: loomed over by the enormous Mount Etna and covered in the scattered remnants of a half-dozen empires, from the Ancient Greeks to the Byzantines to the Moors to the Normans and beyond, Sicily an intensely beautiful and historically fascinating island, and easily one of the best places for an Italy road trip!
While exploring Sicily, be sure to visit the incredible Mount Etna, take in the views from Taormina, enjoy the phenomenal beach towns (we're partial to Cefalu, but there are plenty to choose from!), admire the Baroque towns of the Val di Noto, and check out the incredibly well-preserved Greek ruins at Agrigento's Valley of the Temples.
And, of course, I have to acknowledge that if driving in Italy has a reputation for being challenging, Sicily has a reputation for being home to the most challenging driving of all.
Our opinion is only one among many, but I will say that after driving all over Europe and Italy both, we didn't find the driving in Sicily to be significantly different.
We have lots of region-specific driving tips in our detailed Sicily road trip guide .
Roughly 10 days to 2 weeks in Sicily will give you a chance to hit up most of the island's highlights, but you'll need to move quickly!
If you have 5 days or less in Sicily, we recommend concentrating on only one portion of the island–the east coast, from Taormina to Syracuse, with a possible detour over to the Val di Noto, is a great option.
Emilia-Romagna
Emilia-Romagna is often overlooked in favor of Tuscany when it comes to planning a road trip in Italy, but Tuscany's less-famous next-door neighbor also makes for an incredible road trip destination!
The region is the original home of many of the most beloved foods of Italian cuisine, including Parmigiano-Reggiano , tagliatelle al ragu (what's known outside of Italy as spaghetti bolognese), mortadella (also known as bologna), and traditional (and decadent) balsamic vinegar, just to name a few!
A road trip in Emilia-Romagna will mean a chance to explore each of these cuisines in their natural settings.
In addition to the region's capital city of Bologna , Parma and Modena should both be on your radar, as well as unique features of the region like Ravenna's 1500-year-old mosaics and Rimini's laid-back beaches.
Visiting Emilia-Romagna via car also provides an opportunity to visit a unique destination that's technically not even in Italy at all!
T he stunningly beautiful country of San Marino is entirely surrounded by Italy and is easily accessible as part of a road trip in Emilia-Romagna.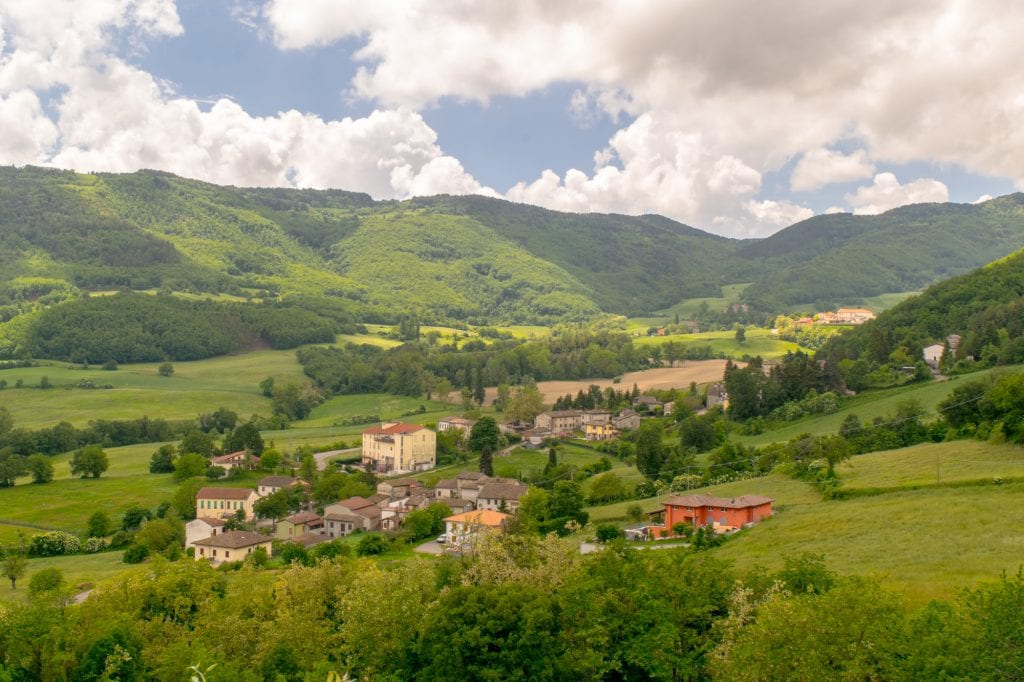 A week-long road trip in Emilia-Romagna can cover a lot of what makes the region special.
If possible, we highly recommend adding a couple of days in Bologna, the capital of the region, to one end of your road trip!
The Lakes of Northern Italy
Northern Italy is positively packed with stunning Alpine lakes that are a delight to visit, and a northern Italy road trip is the perfect way to experience them!
Most lake-focused Italy road trips focus on some combination of the large and beautiful lakes of Como, Garda, and Maggiore, mixing in stops and lakeside small towns, along beautiful hiking trails, and sometimes in nearby cities like gorgeous Verona.
By visiting this part of Italy by car, you'll be able to avoid crowds of day-trippers at hotspots like Bellagio, instead concentrating your days on harder-to-reach corners while saving the most popular places for the beautiful (and less crowded) evenings.
If you'd like to visit all three lakes, possibly mixing in lesser-known spots like Lake Iseo along the way, we recommend setting aside 7-10 days for this Italy road trip.
However, if you'd like a taste of exploring Italy's beautiful lakes by car but only have a couple of days to spare, you could also have a fantastic trip by narrowing in on just one lake.
If you'd like to significantly extend this trip, you could head west to the beautiful (and comparatively less touristy) northwestern corner of Italy to explore Piedmont (its major city, Turin , is beautiful but off the beaten path), or even into France!
In the southeast corner of Italy–or, more colloquially, in the heel of Italy's boot–sits the region of Puglia, a beautiful place laden with white-washed Italian beach towns , craggy cliffs, unique architecture, tasty seafood, and plenty of sunshine.
If you'd like to get off the beaten path on your Italy road trip while focusing on the sun and sea, Puglia is the perfect place to land: while it has a growing tourism scene and is popular with Europeans, Puglia is still a bit under-the-radar for those of us coming from further afield, and it feels miles apart from the crowds of, say, the Amalfi Coast.
While you're there, be sure to check out the unique trulli houses of Alberobello (these unique cone-shaped buildings can be found throughout the region, but are most highly concentrated in this village), the stunning beach at Polignano al Mare, and the gorgeous villages of Ostuni and Otranto .
Though not technically in Puglia, as it's located in the region of Basilicata to the west, the ancient hilltop city of Matera definitely belongs on any Puglia road trip itinerary !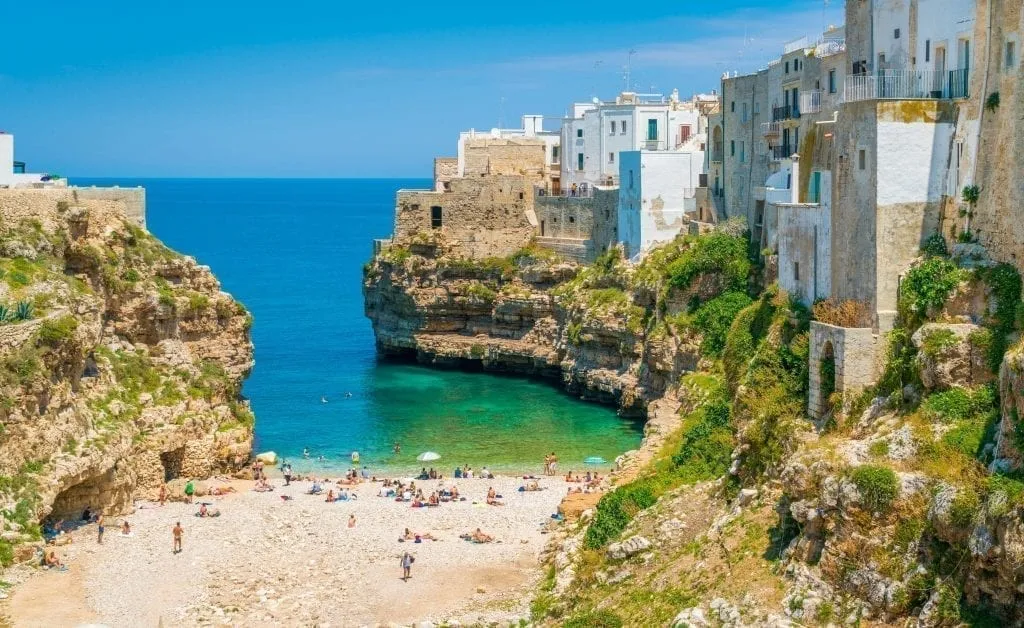 You can see the biggest highlights of Puglia in under a week, but as a destination that is more about ambiance than sightseeing, you can also easily extend it–especially if you'd like to include several beach days as part of your road trip in Italy.
Consider picking a base or two and traveling from there.
Just because you're on a road trip doesn't mean you need to move hotels every day!
Some of our favorite road trip experiences in Italy have been renting a villa in Tuscany for a week with family and then driving throughout the region to different nearby destinations each day.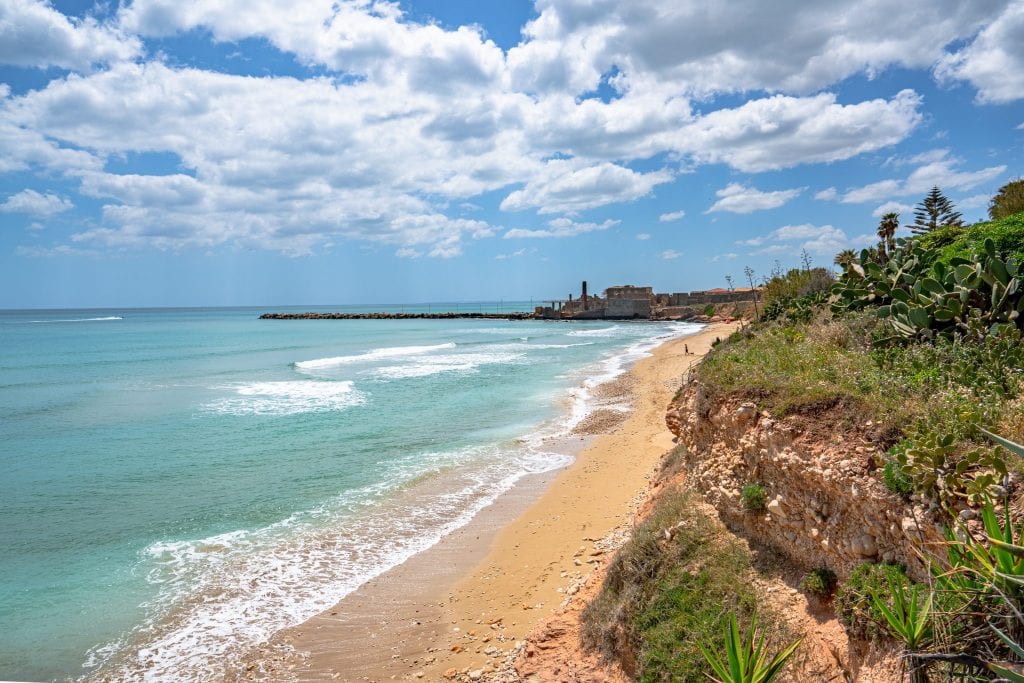 Take advantage of agriturismos and rental homes during your Italy road trip.
Part of the joy of taking a road trip in Italy is experiencing the countryside–so take advantage of it!
Agriturismos–essentially Italian farms that operate as small inn-and-restaurant combos in the countryside–are incredibly fun to experience, and there is no shortage to the number of hotels and villa rentals available.
Not only can you often find better prices than in the cities, waking up in the morning to watch the sunrise over the Italian countryside without another soul in sight is definitely a bucket-list-worthy experience.
Stick to 1-2 regions at a time.
Driving large swaths of Italy may be tempting when looking at a map, but large, sterile highways pretty much look the same wherever you go–that's not where you'll find the best Italy road trip experiences.
By narrowing your focus and sticking to a smaller geographic region, you'll end spending far less time looking out the window at generic highways and far more time discovering the quiet corners that make traveling in Italy so very special.
Don't feel like your Italy road trip has to last the length of your vacation.
Want to take a Tuscany road trip, but also to spend some time in Florence? Want to cruise the Amalfi Coast, but also spend several days in Rome?
No worries–that's actually an incredibly fun way to structure a trip!
Don't fall into the trap of feeling like you need to pick up a rental car at the airport the second you land: there are rental agencies all over Italy's cities and towns, and there's no reason you can't spend part of your vacation on a road trip in Italy and another part focused on its incredible cities.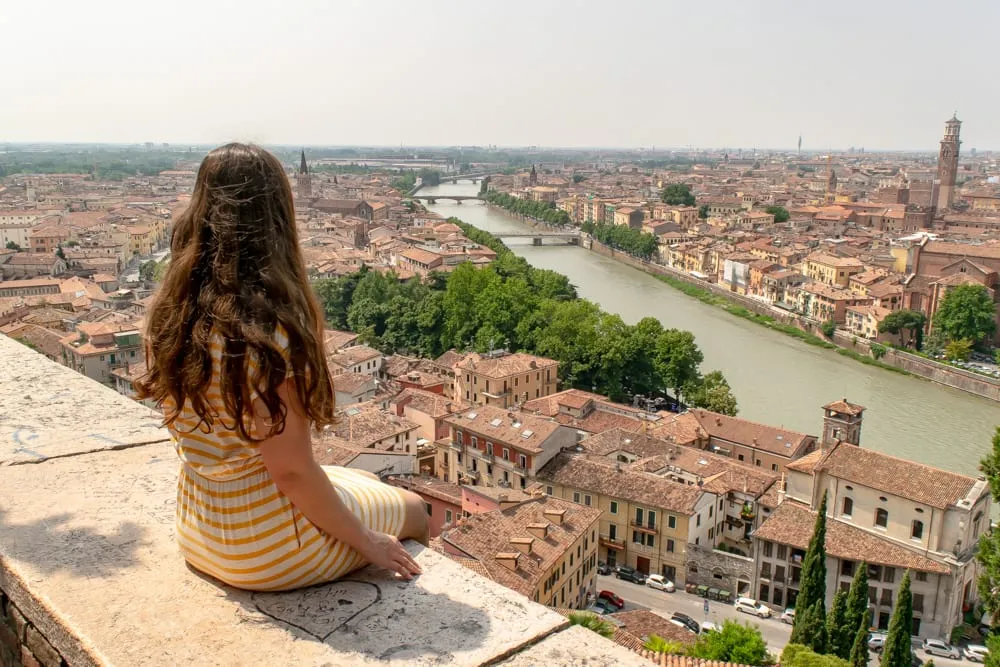 Make sure you have access to a GPS for your Italy road trip.
This is absolutely imperative, in our opinion, and can make the difference between an extremely stressful road trip and a fairly laid-back one.
Whether you purchase an international cell phone plan through your carrier before leaving for Tuscany or you purchase an Italian SIM card on the ground, you'll 100% want to make sure you have cell phone data–and therefore GPS–with you as you drive.
Buy the extra insurance–you won't regret it.
Ultimately, this is up to you–I know some people prefer not to buy additional CDW insurance (aka the insurance that covers damages to the actual car you're driving, as opposed to your liability to anyone else) on trips–but we buy it every. single. time. when driving in Italy and have no regrets.
I don't want to overstate things, because driving in Italy isn't exactly like driving in the Wild West–but let's just say that the roads are often tiny, the buildings very close, the parking lots cramped, and the other tourists' rental cars parked nearby are frequently scratched and dinged in a way that while not horrendously damaging, is definitely something a car rental company would love to charge you for if it happened on your watch.
The peace of mind is absolutely worth it to us–you can price it for yourself when shopping on Discover Cars , or purchase a travel insurance policy that includes car rental insurance (but be sure to double-check the policy, because only some policies cover it).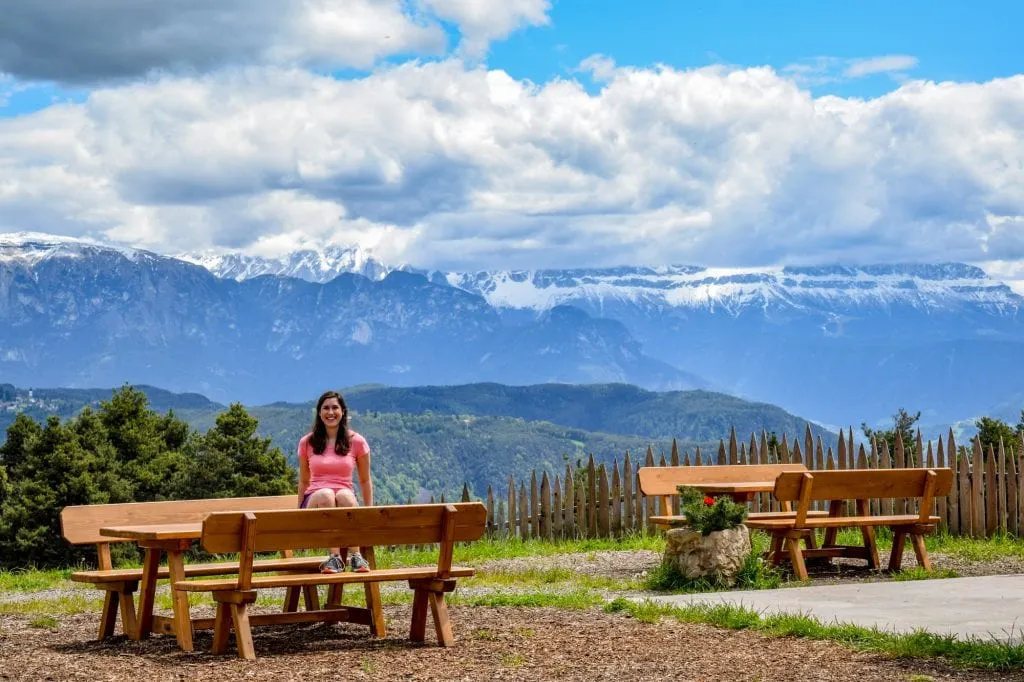 … and note that your typical car insurance may not cover your rental car in Italy.
Be sure to double-check what coverages you have, if any, before renting a car–and make sure that they cover Italy specifically, not just Europe.
You'll need an international driving permit to rent a car in Italy.
Technically, you always need an international driving permit to rent a car in Italy.
You can pick this up before you leave home from AAA, and it's very easy and cheap to do–just a bit annoying, as it's one more thing to add to your to-do list before leaving for your Italy road trip.
Now, that being said–will your rental agency always ask for it? No. Will the police always ask for it? No.
Is it worth the risk of being refused a rental car or getting a ticket over what amounts to $25 USD and a bit of hassle? Not in our opinion.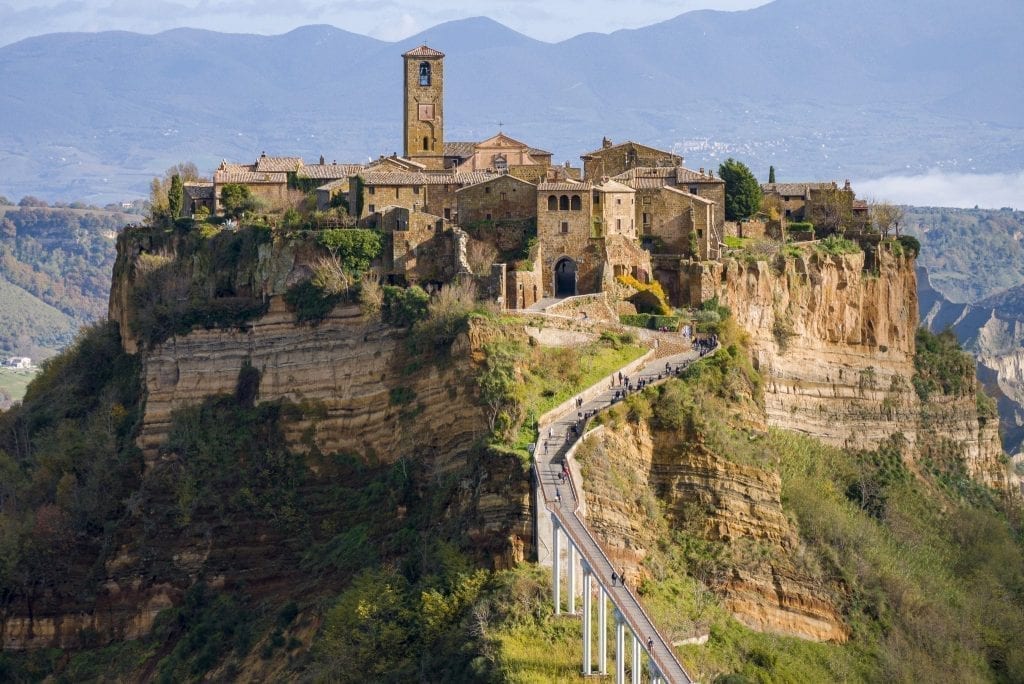 Rent the smallest car you can.
Not only is it cheaper, which is always excellent, but a smaller car is also much easier to drive in Italy.
While the highways in Italy are pretty standard, this-could-be-anywhere highways, the small country roads, parking lots near villages, and dirt roads leading to vineyards and villas can be incredibly narrow.
However, this naturally does not stop them from being used for two-way traffic (you'll probably end up pulling over to let someone maneuver past you at least a couple of times during your Italy road trip).
Be sure to account for how much space you'll need for luggage, especially if you have three or more people in your group, but other than that–the smaller, the better.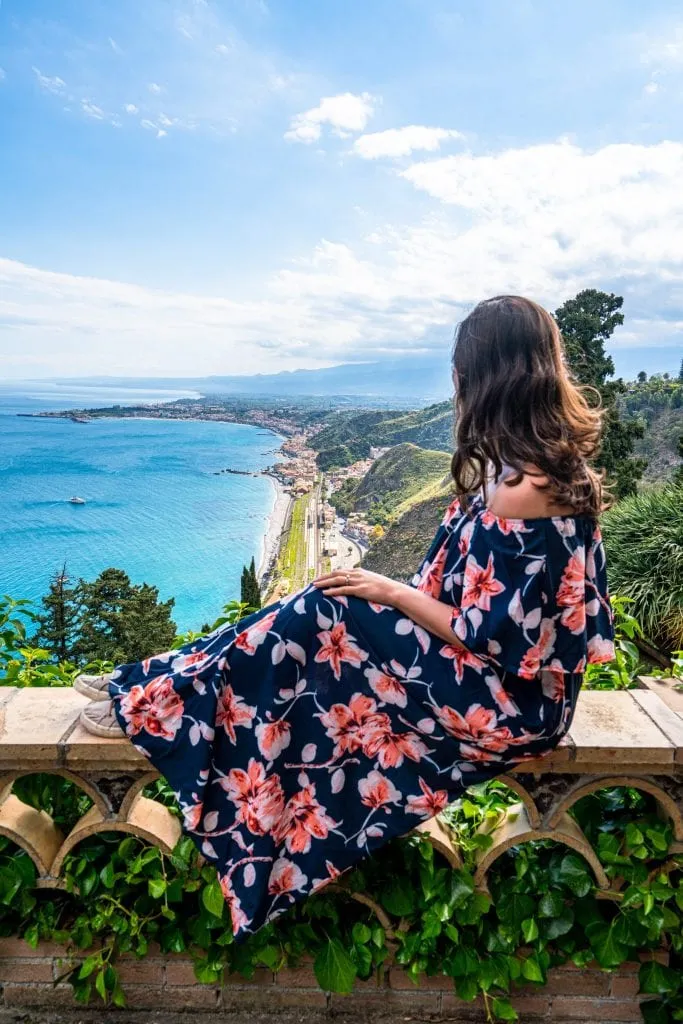 Be militant about avoiding ZTL zones.
ZTL zones are restricted access zones that dot most of Italy's historic city centers, including both world-famous cities and smaller towns.
If you drive into one, even accidentally, you're risking a big ticket (and we've definitely had to call tiny Tuscan police stations to help some of our family members pay them off months after the fact).
Avoid them by parking on the outskirts of historical centers and by doing your research on where to park ahead of time.
You will encounter toll roads, so carry cash.
Most toll roads in Italy do take credit cards, but it's always best to have a little cash on you–just in case.
Most cars in Italy are manuals.
Rental car agencies do tend to keep a few automatics on hand for tourists, but you'll likely pay less and have more selection when renting a car for your Italy road trip if you can drive a manual instead!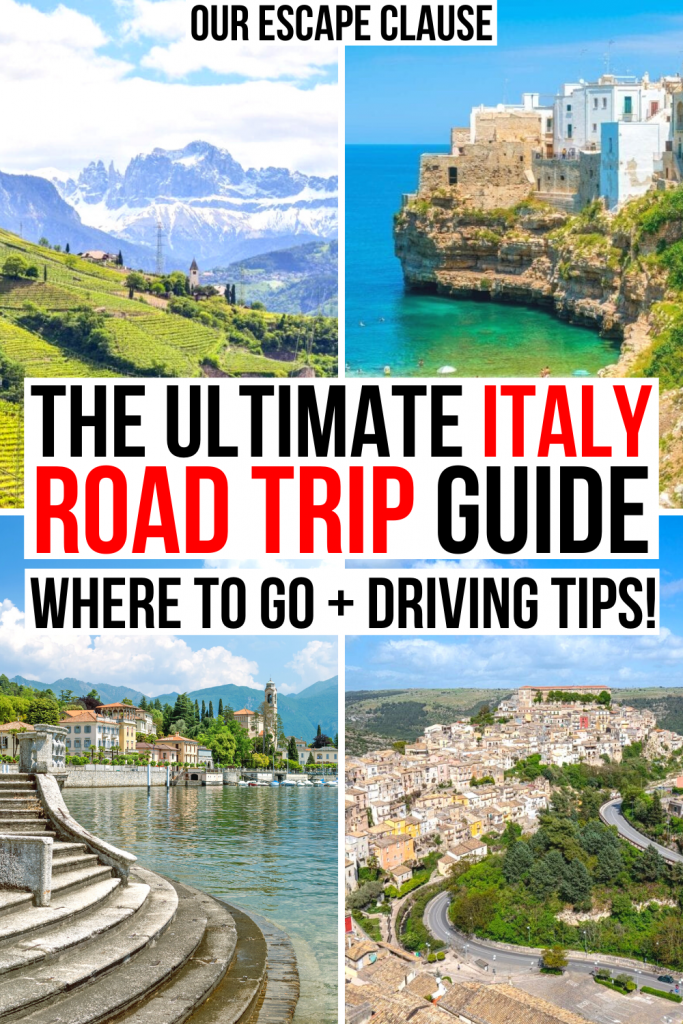 About Kate Storm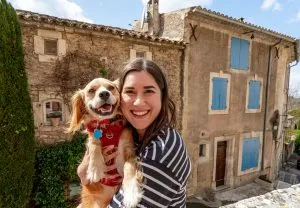 In May 2016, I left my suburban life in the USA and became a full-time traveler. Since then, I have visited 50+ countries on 5 continents and lived in Portugal, developing a special love of traveling in Europe (especially Italy) along the way. Today, along with my husband Jeremy and dog Ranger, I'm working toward my eventual goal of splitting my life between Europe and the USA.
9 thoughts on "7 Phenomenal Italy Road Trip Ideas (+ Driving Tips!)"
Thank you for your amazing posts – wonderful details! We are headed to Italy in Sept/Oct 2023 and want to finish our trip with a 2 or 3 day driving tour of tuscany. Would you stay in one town and make day trips, say from Siena? Or move every night to a new town as we make our way back to Rome?
Ah, the perfect time of year to be in Italy. 🙂 You guys will have an amazing time!
I'd definitely recommend picking one town and making day trips from there. Since you'll have a car, you may even want to consider staying at an agriturismo just outside of a town for easier parking and then driving to various towns/cities each day.
I would love to talk to you about making a special trip to my great grandfather's hometown of Bagnaturo, and Pratola Peligna, near Sulmona in the Abruzzo region. I know it's off the beaten path, and want to know the best way to get there. It is a trip of a lifetime.
Sounds like a wonderful trip!
We haven't been there, but you're definitely on the right track with taking a road trip. GPS directions are reasonably reliable in Italy, so I'd recommend renting a GPS if you don't want to use the one on your phone.
And, while it's definitely far off the beaten path, you're also less than a 2 hour drive from Rome, so I'd recommend starting there unless you're already going to be visiting somewhere else in Italy.
Hi Kate, my wife and I will be traveling to Italy in October of this year for two weeks. it is our first time and we will be spending time in Rome, then Sorrento, The Tuscany, Florence and then the Rome Airport. I will be renting a car for the Tuscany part of the trip and taking high speeds trains from Rome to Naples and then Naples to Florence what suggestions do You have for the trip?…We will be staying in B&B's and Botique hotels and a Tuscan Villa for the two weeks….We want to see as much as possible but we also want to enjoy it as a vacation as well.
Sounds like you guys have a wonderful itinerary outlined!
From Sorrento, of course you'll be able to reach Pompeii, Herculaneum, Mount Vesuvius, Capri, the Amalfi Coast, etc. I definitely recommend a guide at Pompeii–we didn't use one the first time we visited and I regretted it.
I'm not sure how long you'll be in Tuscany, but here's our recommended road trip (it can of course be shortened and adapted): https://www.ourescapeclause.com/tuscany-road-trip-itinerary/
I have quite a few driving tips in there, too.
If you have even an afternoon to set aside for Naples itself, it's a very memorable place. Get a pizza (L'Antica Pizzeria da Michele is the most famous, and Pizzeria Brandi is another favorite of ours), a coffee and sfogliatella from Cafe Gambrinus, and enjoy the chaos.
Hope you guys have an incredible time in Italy! October is probably our favorite month to be there. 🙂
Thanks so much for your help Kate….stay safe in your travels.
Kate Can you suggest any places to stay south of Rome as we road trip down to Taormina for the Bocelli concert on Sept 2 ? We land in Rome on the 27th of August and will head to cassino and the where would you suggest ? When we Taormina on the 5th we thought we would hang out in Sicily and then make our way back to Rome for sept 9 to our departure day of sept 12. We have seen Rome on a cruise 11 years ago but want to see a bit more. Any suggestions for accomodation in Rome . It is just 2 of us btw Thank you for your help Pattie
Sounds like quite the journey! I'm assuming you're choosing this route because you're confident drivers and want the adventure of the journey–if not, you may want to consider other options, as you don't really need a car in either Rome or Taormina.
As far as the journey, though, you'll be passing close to many incredible places along the way, including Naples, Pompeii, if you're open to going out of the way, of course the Amalfi Coast. None of those are the easiest places to drive in Italy, but they're all worth visiting!
Paestum, a lesser-known but incredible Greek ruin site, is a short detour as well.
Further south, the resort town of Tropea isn't too far out of your way.
As far as accommodation in Rome, we have several suggestions in our itinerary posts: https://www.ourescapeclause.com/4-days-in-rome-itinerary/
Enjoy the drive!
Leave a Comment Cancel reply
The Road Trip Guy
Find The Best Road Trips Around The world!
Italy Road Trip – The Best Italian Road Trip Itinerary For Your Next Holiday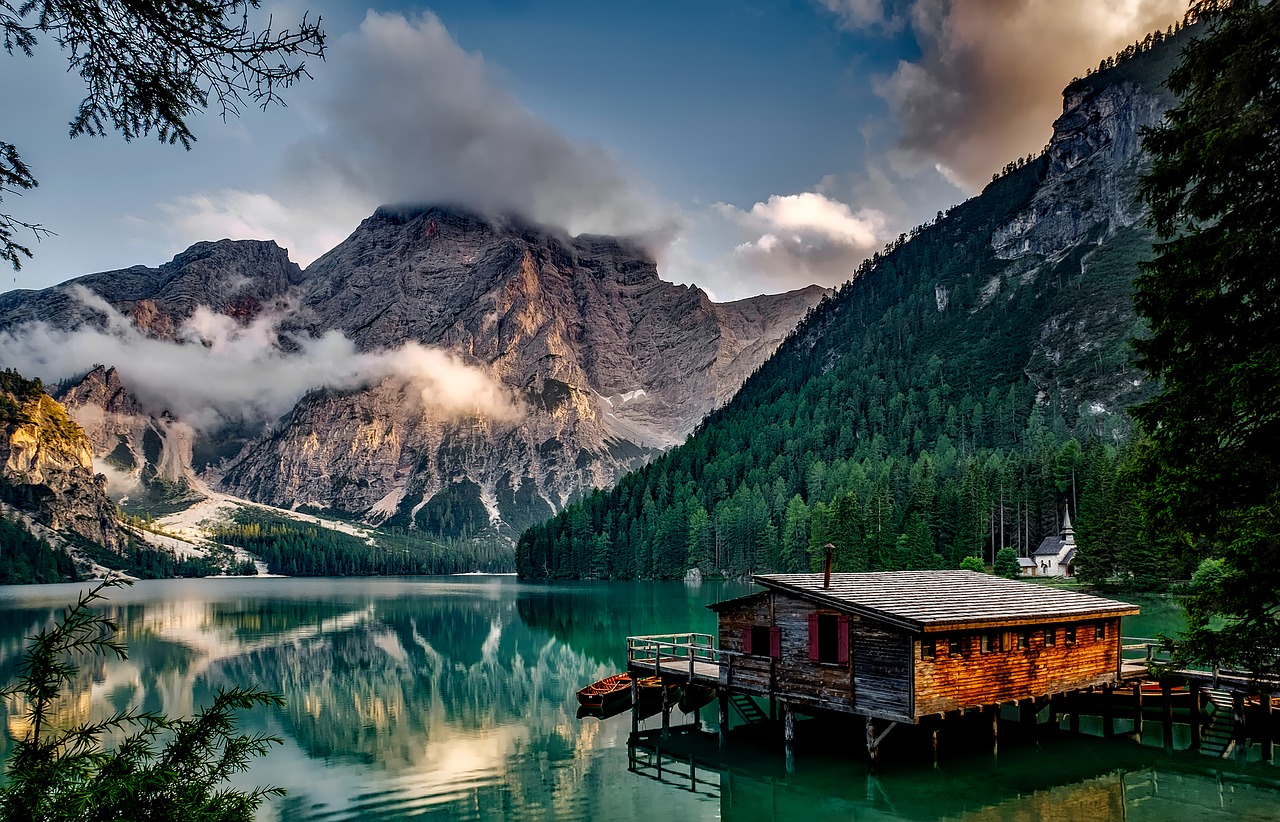 Table of Contents
Best Italian Road Trip Itinerary For Your Next Holiday
During my 30,000 Km . road trip through 41 European countries , I finally arrived in the beautiful country of Italy .
Making my way through the stunning Swiss Alps and racing the famous St. Gotthard pass was definitely a great warm-up for what I was about the experience on my Italy road trip. It does not matter if you are doing the road trip Milan to Venice or the road trip Venice to Rome.
When people ask: " What is the best way to travel through Italy? "
I say 3 words: Road trip in "Italia"!!
Have fun! 😉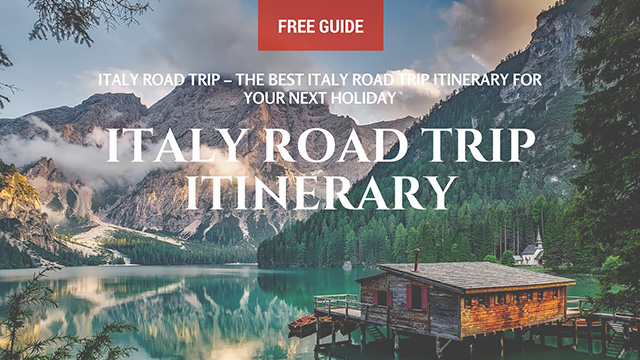 Italy Road Trip – Best Road to Drive in Italy
When people ask: "How long to drive around Italy and see everything?"
My answer would be: a year!
But of course I understand that it is not possible for everybody, therefore I will show you how to enjoy the famous italian roads in just 2 weeks with my Italy road trip guide.
The road trip would start at the beautiful lake Como & Como City  whilst slowly driving to the fashion capital of the world: Milan! After that I visited the famous romantic city of Venice and did I end up in one of the smallest countries in the world, called San Marino.
Of course, I could not miss  the capital Rome and the beautiful city of Naples.
On my way up back North, I drove through Tuscany and finally ended up visiting the famous tower of Pisa.
Only in Rome and Venice did I take a metro and/or bus to get to the city center. I would park the car just outside of the city as traffic can be a nightmare in these cities. Yes indeed, driving in Italy surely is a great adventure!
Driving your car in Italy
Renting a car in italy.
Renting a car in Italy is not complicated, but you need to follow a few basic steps. First of all, it is important that your driver's license is a valid EU license. This can either be a European drivers license or an international drivers license if you are from the America's or Canada.
At the airport you will find all  the international car rental companies . If you arrive by plane you can start your road trip adventure from almost any large city.
Click on the city you wish to start your road trip from and get the best car rental deals and prices: 
Milan ,  Florence ,  Rome  or  Venice
Traffic rules
Driving a car in Italy can be a very interesting experience. Although the traffic rules are overall the same as in the rest of Europe, there are a few exceptions that you need to follow.
In italy almost all the mayor highways are toll roads. Therefore, you will need to pay at each crossing with either your creditcard or by cash. When you want to pay with card make sure you enter the line that states "Cartasi" or "Carte" .
Another option is paying by VIA-card. This special card can be bought at all gas stations and is magnetic card that allows you the pass each toll passage quickly. You can buy them with a 25 Euro or 50 Euro credit. Each time you make a pass, the payment will be deducted automatically from your deposit. This card is not valid on Sicili
If you do not pay your toll there is a big chance you will get a fine. This will be done by mail to the address on which the license plate is registered. It has to go through the  European Municipality Outsourcing  (EMO), therefore it can take several months before you are notified of your traffic valuation.
The fine can be paid on :   emo.nivi.it
Visiting Lake Como
Lake Como is located a few kilometer next to the Swiss border. This famous lake is 46 km long from north to south and has a surface area of 142 km2. It is the third largest lake in Italy and has been used in many Hollywood movies, like: StarWars Episode 2 – Attack of the Clones (2002) , James Bond – Casino Royale (2006) and Ocean's Twelve (2004) with George Clooney and Brad Pitt.
They also say that George Clooney owns a villa here, but unfortunate I did not run into him! If you are interested in staying the night, make sure to check out this blog post on best places to stay in Lake Como .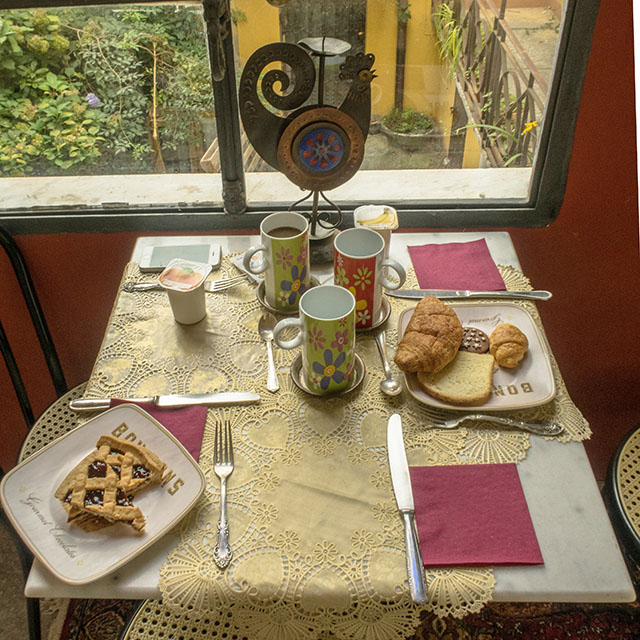 It takes about a full day to drive around the whole lake, but I recommend you go early as possible.
I arrived at 10 AM and the roads were full. This is a very touristic destination, therefore keep in mind that the prices or much higher in the restaurants and café.
Best Tours at Lake Como
Click Here To Find The Latest Deals & Best Prices for Hotels, Campings and Apartments at Lake Como!
A Day in Milan
I did not know much about Milan when visiting the city. I only associated the city with being the fashion capital of the world and that all the luxury fashion chains would be present here.
Thankfully, it was that and much more. Milan is a clean and trendy city and spending a few summer days was not a problem at all.
I recommend visiting the Gothic Duomo Di Milano Cathedral and if you have time " The Last Supper " of Leonardo da Vinci.
Parking in Milan is an absolute nightmare. I parked my Volkswagen Beetle at Borromeo Parking and it is the perfect location as it just a 10-minute walk to the city centre. Unfortunately, I paid close to 4,50 Euro per hour, which is considered cheap in Milan!
Galleria Vittorio Emanuele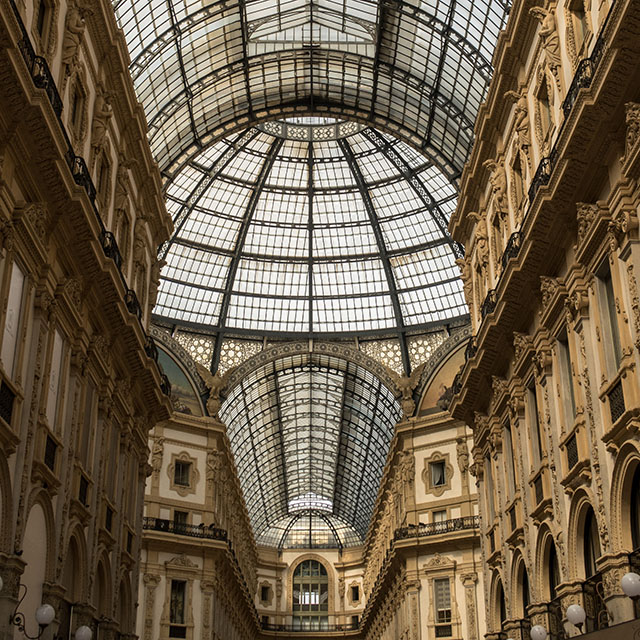 This famous indoor shopping mall is the number one tourist attraction in Milan. It is a display of stunning architecture, art and a lot of very expensive designer stores. A great place for photography and to max out your creditcard!
Nex to shopping you can also enjoy the finest cuisines and cafes and there is even a 7-star hotel.
How to get there?
Walking:  Piazza Duomo or Piazza della Scala By Taxi:  Piazza del Duomo or Piazza della Scala Metro:  M1 (red line) – M3 (yellow line), station "Duomo" Bus:  line 61 Tram:  line 1 & 2
Top 3 Best & Cheapest Tours in Milan
Click Here To Find The Latest Deals & Best Prices for Hotels, Campings and Apartments in Milan!
The busy streets of Venice
Venice.. the city of love.. the city of Casanova and its romantic little channels. This beautiful municipality is divided by 118 small islands and is definitely a must-see when you are doing a Italy road trip.
The downside? It gets so busy that it will be impossible for you to get even close to the city by car. But let's be honest here, you should not explore the stunning architecture by car, but by boat of course!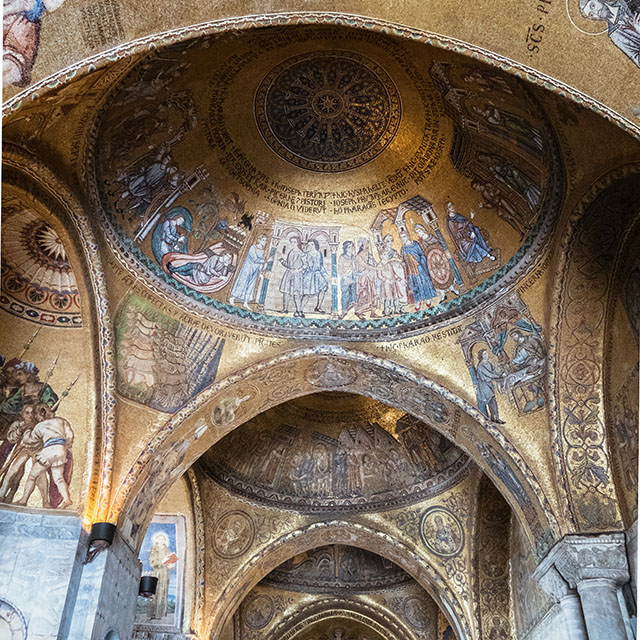 Parking in Venice
Therefore, I recommend you either park you car by the Garage Communal AVM. Cost for parking are just 25 Euro for the whole day   and it is located about 5 minutes from the first ferry point: Pe. Le Roma.
Ferry Services in Venice
Buy a one-way ferry ticket from this point to San Marco Church (30 minutes) for just 12 Euro and you are good to go. This ferry will show you the most amazing buildings in Venice and is cheaper compared to the gondola tours.
Private Gondola tours
The private Gondola tours start at 80 Euro (daytime) to 100 Euro (nighttime) for 2 persons for 30-40 minutes. Just do not expect any romantic privacy, as the channels are absolutly flooded with them.
If you do want so privacy, make sure you pay some extra cash and for sure he will take you to more non-touristic route. I also recommend you make a reservation beforehand, because the prices are much more expensive when you buy a ticket on the spot. You can save up to 40% by ordering online!
Click Here to Order Your Gondola Tour Online With A Discount!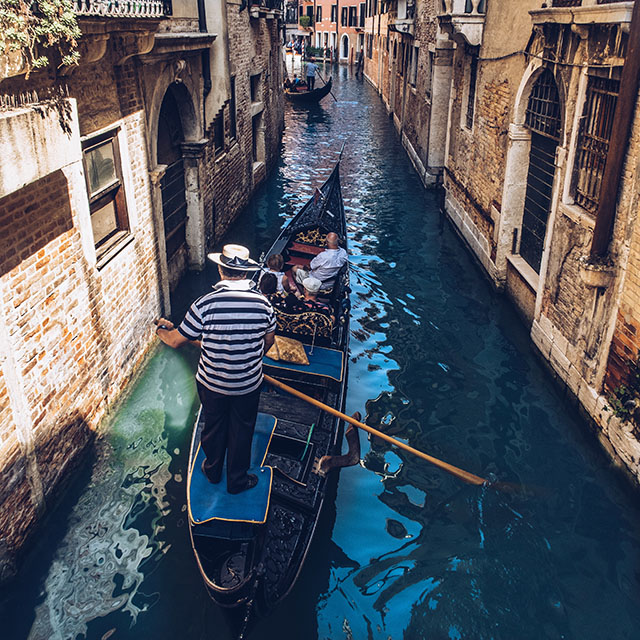 Free Walking Tour Venice
The Venice free walking tour team will walk you through the history of Venice, from its legendary foundation on several muddy islands of the lagoon to becoming the most important trading city in Europe.
I took my tour at 4.00 PM, and it is was worth every second of it. The guide was amazing and showed us all the hidden gems of the north part of the city. I highly recommend booking a free tour and afterwards you can always leave a donation if you are happy with guide and quality of the tour.
Most popular tours in Venice
Click Here To Find The Latest Deals & Best Prices for Hotels, Campings and Apartments in Venice!
Relaxing in Rimini
After several busy days in the big city it was time to relax in the beach-town of Rimini . I did not stay down-town as I knew it would be busy, but the beach of Rimini stretches all the way into the suburbs.
Here I found a small little family guesthouse for just 25 Euro per night (including breakfast) and free parking. It was located just 100 meter from the beach. Ah.. Just the way I like it! And my neighbour and I had something in common. Our passion for Volkswagen!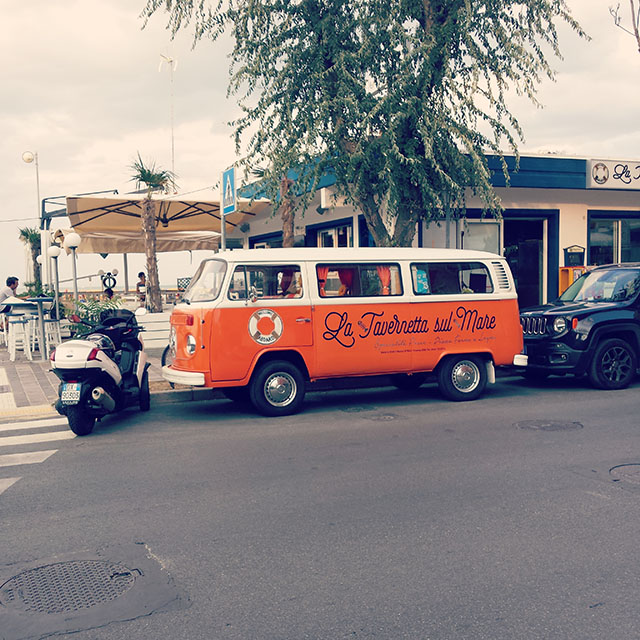 Click Here To Find The Latest Deals & Best Prices for Hotels, Campings and Apartments in Rimini!
One of the smallest countries in the world: San Marino
After spending several days working on my tan it was time to hit the road and visit one of the smallest countries in the world: San Marino ! This little country is located nearby Rimini and it will take you less than an hour to get there.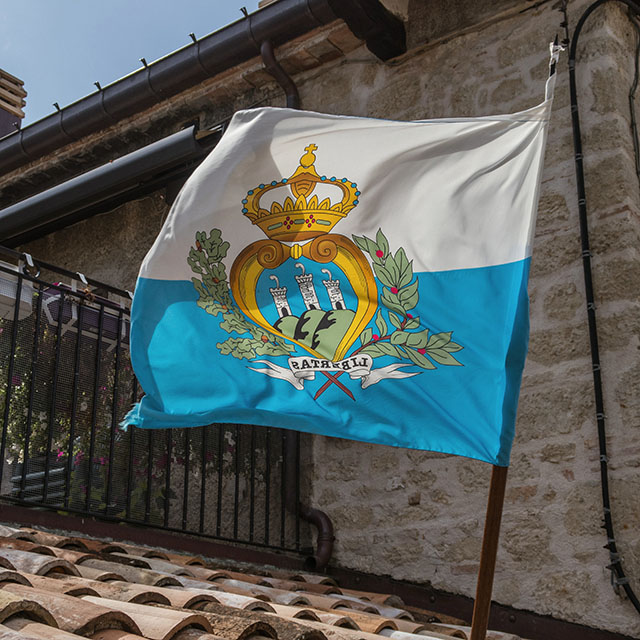 Castle Tours in San Marino
Three towers of san marino.
San Marino is a so-called "microstate" in the middle of Italy. It inhabits 33,562 people and has the smallest population in Europe. It receives about 2 million tourists a year, which mostly visit the popular " Three Towers of San Marino " on top of the mountain.
This famous attraction can be visited for free, but you do pay a small fee to get in to each tower. Parking the car is very cheap and I paid 1,50 Euro per hour.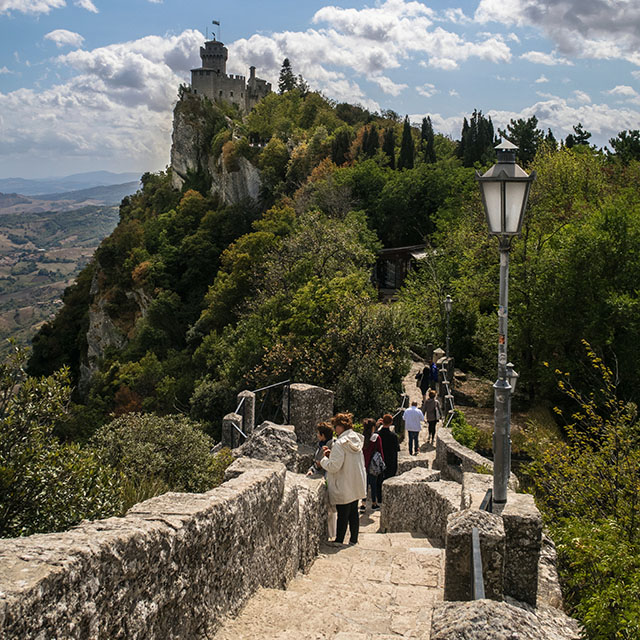 Back in time in Rome
Rome is a whole different story when it comes to driving your car. It is absolutely true that Italians drive like crazy people, but in Rome they seem to take it to whole new level. Thankfully, I was prepared and decided to park my car at a small family owned parking business called: Garage Central Rome.
This parking location is the best I have encountered. The owner and his son are very friendly and they explained all about how we should visit Rome and what tourist traps we should avoid.
Travel by Metro in Rome
The Valle Aurelia Metro Station is a 5-minute walk from the garage park. There you can buy a one-way ticket for 3 Euro per person to the city center. Take the exit "Termini" and from there start exploring the beautiful city center. From there you can walk down the busy main-street towards the "Altar of the Fatherland". The walk is about 25 minutes.
My route: Altare della Patria, Colosseum and the metro again to the Trevi fountain and ended the day with a visit to Vatican City.
Altare della Patria (Altar of the Fatherland)
The 'Altar of the Fatherland' (Altare della Patria) is the largest national monument in Italy. This stunning piece of architecture was built for King Vittorio Emanuele II of Savoy. It received its name, because the kind was known as Gentleman King' and the 'Father of the Nation' , therefore the monument dedicated to honor his time as king.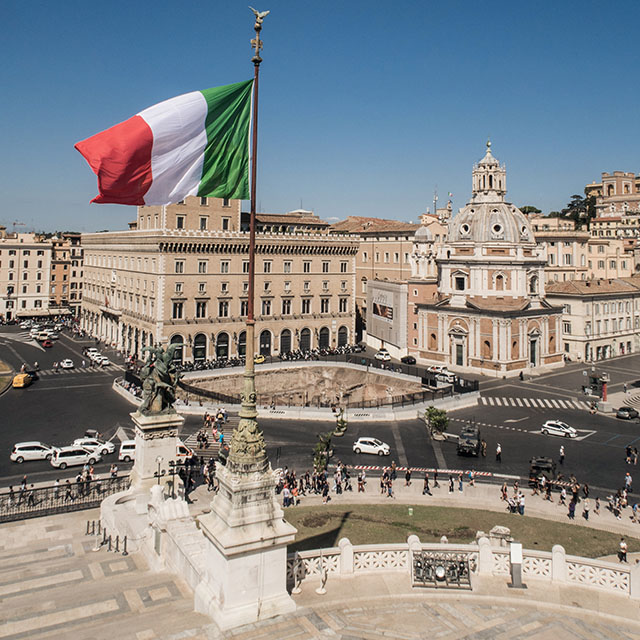 The entrance is for free, but there are some rules you need to follow. You are not allowed to sit on the big stairs or any other section and of course it is not allowed to climb on any of the moments. Common sense really, but you would be surprised how many tourists still "ignore" these rules to get that perfect selfie.
The next stop is the famous Colosseum. There is no introduction needed for this beauty and you can literally buy your tickets at any place. Just keep in mind that you buy it from a kiosk, shop or official ticket office and not from an "African Gentleman" who offers you his "special price"!
Ticket prices range from 20 Euro for groups tours to 55 Euro for small private tours. All prices are per person and a tour takes about 3 hours.
Tip: Check out this amazing blog post:  Where to eat in Rome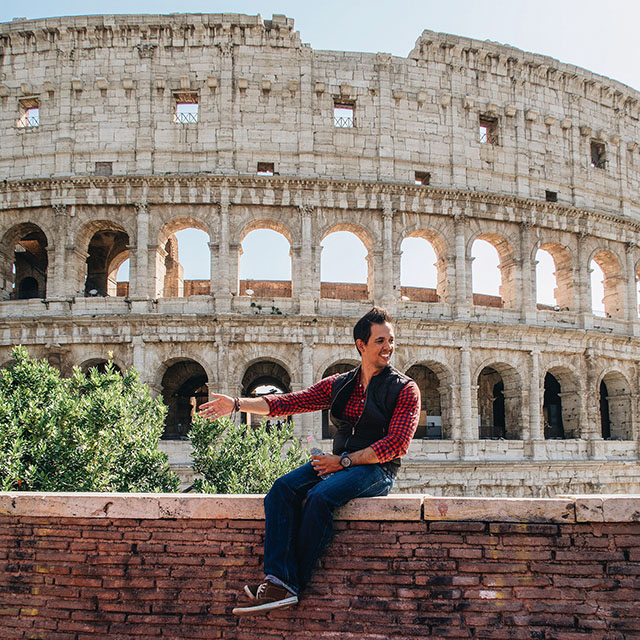 Trevi Fountain
The Fontana di Trevi – or Trevi Fountain in English -is a fountain in Rome, Italy. It is the largest Baroque fountain in the city and the most beautiful in the world.
A traditional legend holds that if visitors throw a coin into the fountain, they are ensured a return to Rome.
The fountain is worldwide famous but many people do not know the history and the secrets hidden behind its construction. It is time to do justice to this extraordinary masterpiece of Italian art.
What about the nightlife?
Thankfully, my colleagues at A Taste For Travel wrote a great blog post about the nightlife in Rome . Make sure to check it out!
Amazing Tours in Rome – Book Today!
(Related:  Unusual Vatican City Tours )
Eating Pizza in Naples
Naples is the second largest city of Italy and is famous for its amazing architecture. I made a short visit to the Teatro di San Carlo and even thought there was no performance I still got a sneak peek in this beautiful place. The pizza's are amazing but there are many other delicious Italian dices that you must try! Check out this blog post on what to eat when visiting Naples !
It helps having a travel blog and one the managers was a big fan. Next stop was the  Catacombe di San Gennaro as I had my fair share of fancy buildings already in Rome.
The catacombs were built with three different types of tombs. Based on your wealth and social class you could decide in which section you would be buried.
Basically, if you were poor you would be buried at the floor tombs, whilst the middle classes were a level above that. The beautiful chambers were very the rich and important political figures.
In the evening I finally enjoyed a real pizza from Naples. It tastes really amazing, but you will have to find a good restaurant outside of the city centre.
In the centre you will notice that most restaurants are not traditional ones, but run and operated by Indian and Chinese managers. Of course, there is nothing wrong with that, but if you want a real Italian chef you need to look around a bit outside of old-town.
If you have time and want to make some extra miles, I recommend a cool Puglia road trip ! You will not regret it. 😉
Road Trip Tuscany : On the movie-set of Gladiator!
Visiting two large cities really take a lot of energy from you and it was time to enjoy the country-side of Italy. What better way to do this than a visit to the beautiful Tuscany region and stay the most luxury hotels in Italy . I wrote a separate blog post about my road trip in Tuscany as it was just too much fun.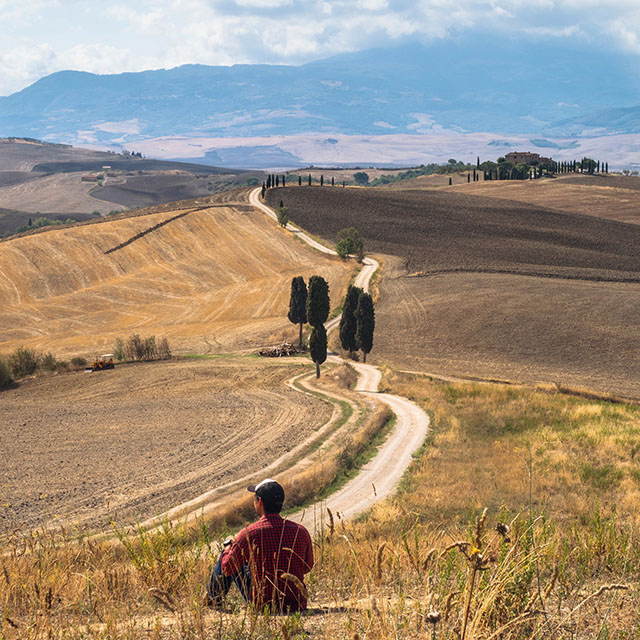 The Tower of Pisa
My road trip in Italy had come to an end. My final stop would be at the famous leaning toward of Pisa. Thankfully, I bought my ticket beforehand as it was already so busy that I even had to wait 45 minutes in line to use the restroom!
The square itself is not very big and if you are not interested to wait for 2 hours in line, you can actually see the whole square in under an hour.
But if you are planning to go inside like I did, buy that ticket beforehand! Trust me, you do not want to wait that long outside. 🙂 I purchased the combi-ticket for the Tower & Cathedral and it was totally worth it!
It was a great sight to see and of course everybody was making their original "pushing against the tower" photo. I just kept it with at a big smile, because I was very happy I had such an amazing Italian road trip.
Final Words
After the town of Pisa, I came across Cinque Terre. I planned a hike using this amazing guide:  Hiking the Cinque Terre paths . Unfortunately, I had 3 days of very bad-weather and decided to continue my journey to Monaco, France. My Italy Road trip was an amazing experience and I highly recommend traveling through this amazing country by car!
Related Posts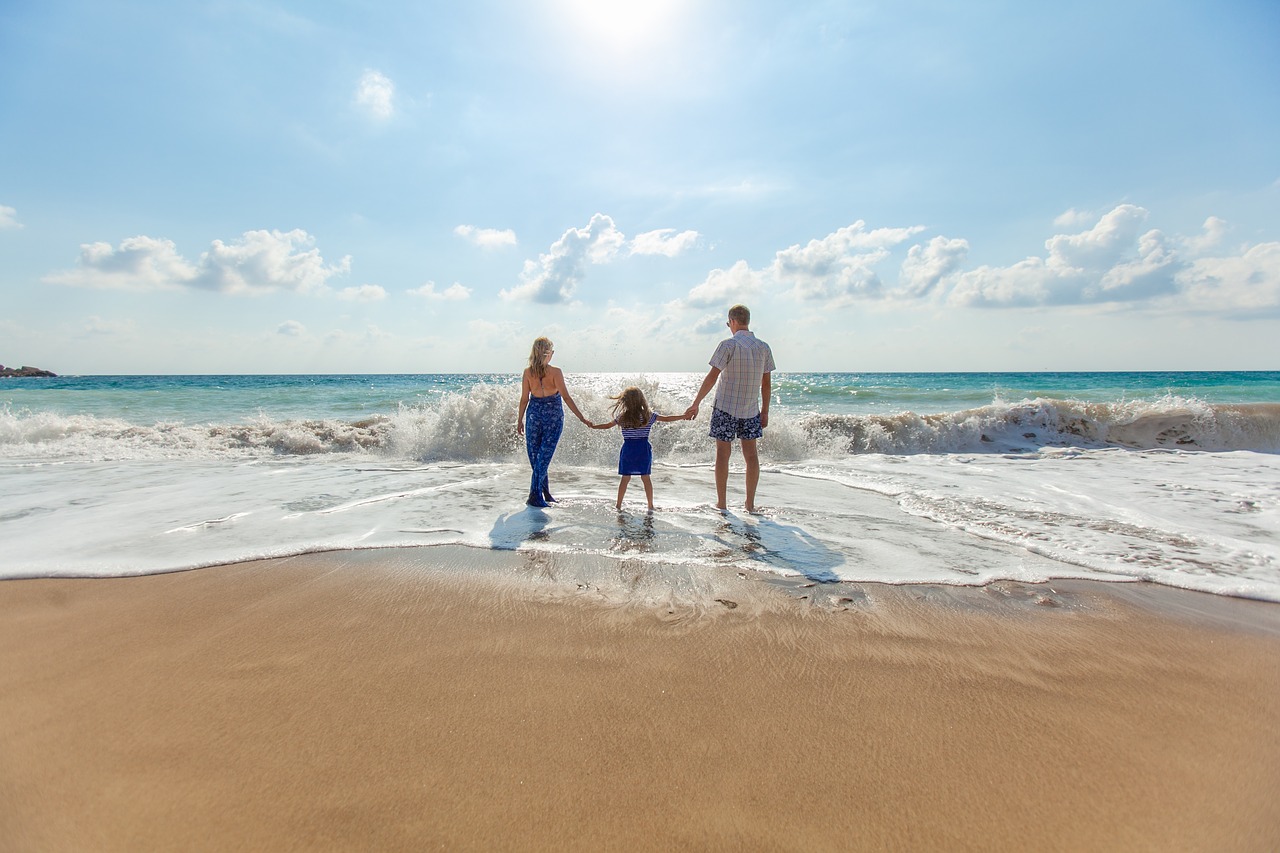 ​Exploring The 7 Best Family Hotels In Gran Canaria – Something For Everyone
Table of Contents ​Exploring The 7 Best Family Hotels In Gran Canaria – Something For Everyone Whether you just want…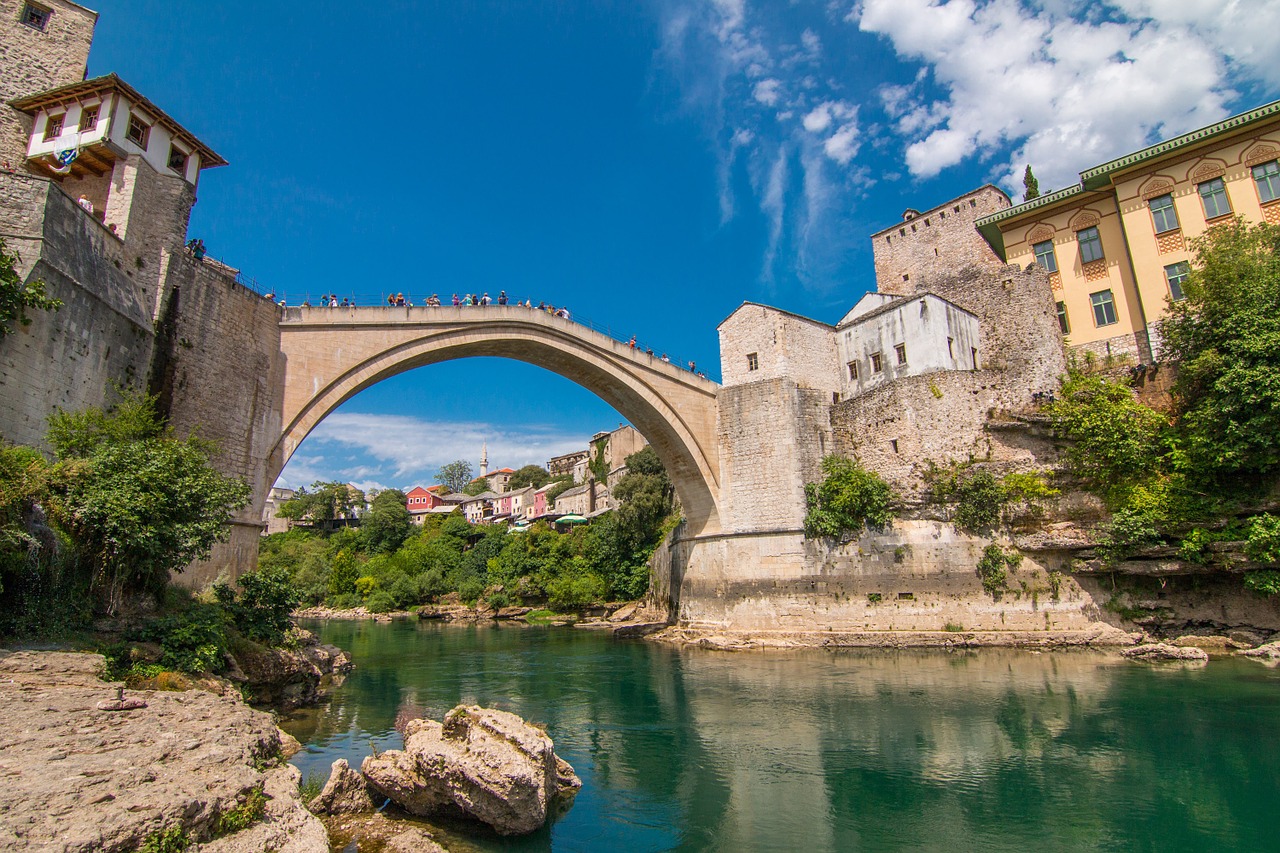 Road trip Bosnia & Herzegovina – Mostar, Blagaj Tekke & The Kravica Waterfalls
Table of Contents Road trip Bosnia & Herzegovina – Mostar & The Kravica Waterfalls During my travels through Croatia, I actually…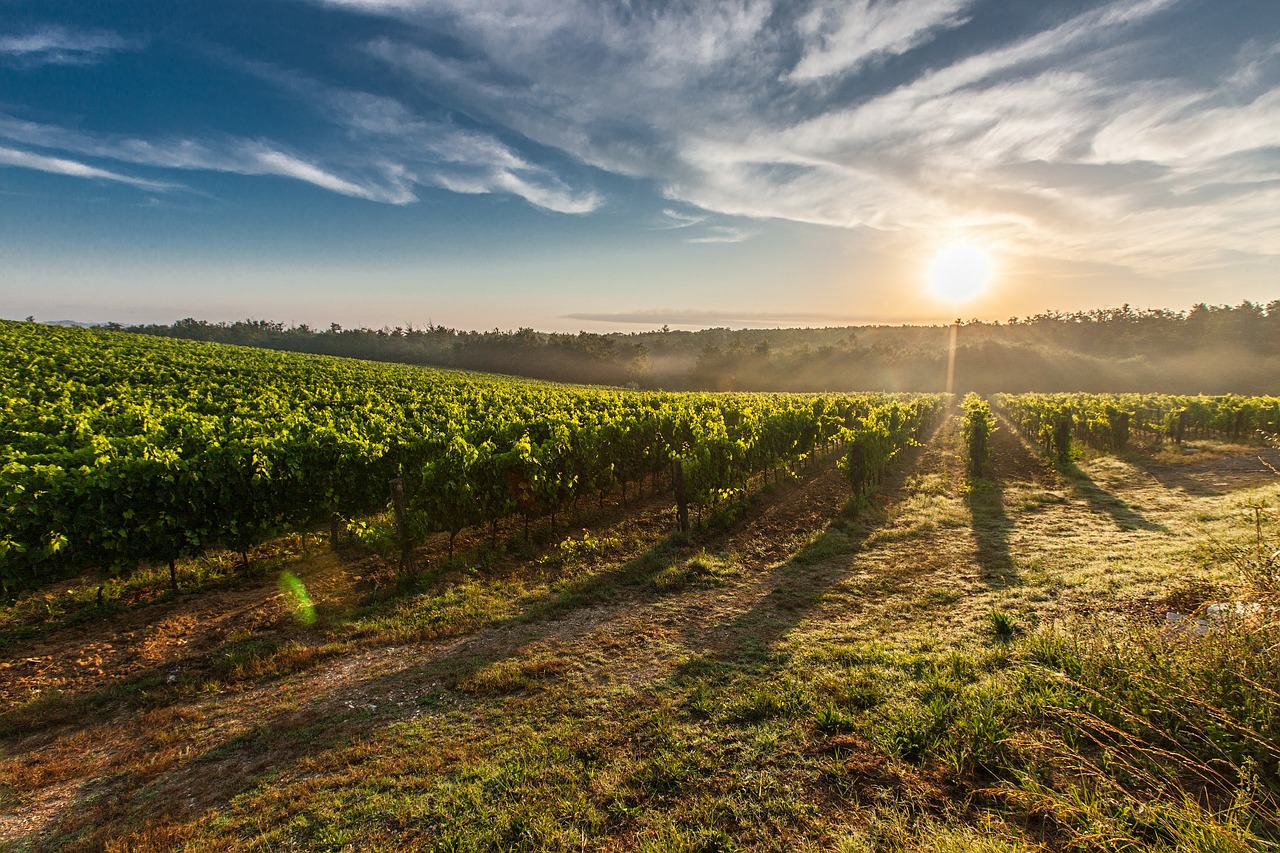 My Road Trip in Tuscany
What is the first thing you think about when you hear the name: Italy? Let me guess, Rome, Venice and…
ABOUT | PRESS | FAQs | CONTACT | VIDEOS | GALLERIES
SOUTH AFRICA
ZAMBIA-VICTORIA FALLS
PHILIPPINES
NEW ZEALAND
SARDINIA PAGE
THINGS I LOVE!
Work With Me
ITALY ROAD TRIP: Two Weeks Itinerary By a Local!
In BLOG , EMILIA ROMAGNA , ITALY , ROME , TRIPS IDEAS AND TIPS , TUSCANY , USEFUL GUIDES by Clelia Mattana 1 July, 2022 103 Comments
Contents - Open To Read
Are you planning on visiting Italy? Then you can't miss this excellent two-week itinerary for your Italy Road trip, created by a local Italian! You'll love it, I promise!
Ah, Italy… my country, my pride, my love! Being Italian is truly a privilege, so let me transfer some of my knowledge to you with some fantastic tips to have the best Italian road trip experience of your life!
Starting from Rome , my favorite city in the world, through the famous green hills surrounding all the Tuscany and Umbria regions, not to mention the jaw-dropping view provided by the Cinque Terre – What more can you ask from a country? Italy is simply magnificent!
If you want a truly unique Italian experience: Road trip is the main word! Nothing beats a road trip in Italy, trust me . I took my driving license in Rome (crazy, I know!), and from there, I discovered every region by car. Slowly, savoring the panoramic scenery that only my beautiful country can offer. Using the train is also a great option, but nothing beats driving around Italy!
Video of this two weeks Italian Road trip itinerary!
The main cities are well connected, but I suggest you take as many detours from the highway as possible because it's driving across the countryside that you will find the real hidden gems of Italy!
Pro Tip: You might want to see as much as possible of Italy during your epic road trip, but in my opinion is better to pick 3-max 4 cities or villages. You don't want to miss any reason and leave the rest as a last-minute choice.
TWO WEEKS IN ITALY ROAD TRIP: CONTENT
Click to check the relevant chapter
Day 1 – 2 |Rome Itinerary and Vatican City
Day 3 | Lazio -Roman Castles
Day 4 | Tuscany – Montepulciano
Day 5 | Tuscany – San Gimignano
Day 6 |Tuscany – Pisa
Day 7 |Tuscany – San Miniato
SECOND WEEK + BONUS TIP TO SAVE MONEY!
Day 8 – 9 | Tuscany trip – Florence
Day 10 | Emilia Romagna – Bologna
Day 11 – 12| Liguria-Tour Cinque Terre
Day 13 | Piemonte – Turin
Day 14 – 15 | Milan and Lake Como
How to save money when booking your hotels!
What is The best Italian road trip itinerary for 2 weeks?
-I will give you some great recommendations on where to stay and how to save A LOT on accommodation fees later-
I'm Italian, and before leaving my beautiful country to travel indefinitely, I explored it by car, discovering every Italian region, so we can safely say that you are in good hands here! From Rome to Milan, ending in the enchanting setting of Lake Como for a 15-day epic journey that you'll never forget. I promise!
In This 2 weeks Italy Road Trip Article You Will Discover:
— the best places you should include in your trip to italy —, — the most interesting things to do and see in italy —, — cool tours or experiences you can book directly online —, — my recommended hotels/b&b that are perfect for your tour of italy —, — how to use a genius (free) tool to save money on your hotel bookings — .
Without further ado, here are the breathless places you must include on your Italian road trip.
The Italian Road Trip Itinerary Map
Click to enlarge the image
An article about a road trip in Italy wouldn't be complete without showing you the map of the itinerary with the starting point, stops on the way, and ending point of this incredible trip around Italy.
Depending on what kind of flights you find, you can obviously do it in reverse, starting from Milan, with a little detour up north to Lake Como and back.
It's just 1 hour and 30 minutes to get to Varenna, on a lovely route as well) and then go back to Milan and start your Italian Tour heading south and departing from Rome Fiumicino airport.
Either way, you'll see spectacular landscapes along the road, don't forget that on a trip like this, moving from one place to another is a massive part of it, so enjoy it , drive safely and slowly and let the beauty of Italy sink in! -Map data ©2022 Google-
2 WEEKS ITALY ITINERARY DAY 1 – 2 | ROME & VATICAN
Ah, Rome – It always makes me wonder: Is there a way to describe this city without using clichè words? I lived in the eternal city for more than 3 years, and I love it (and hate it) to pieces 🙂 Even if Rome is the most predictable stop on this itinerary, a trip to Italy wouldn't be complete without a stop in its Capital, right? It would be like spending 15 days in the UK and not visiting London. Well, for as much as I love London too, Rome is … Rome! Yes, being Italian, I'm biased, but not without reason.
Is it possible to have a glimpse of the beauty of Rome in one day ? Definitely yes! I could even see the main attractions in the center, rushing a bit of course, in just 5 hours one time! I always find the time for a quick pit stop to Rome, and every time I discover something new!
WHAT TO SEE IN ROME IN ONE DAY:
Stroll around the historic center of Rome : It is a must! Driving can be challenging or better put: you must be fearless to drive in Rome, so park up and walk or take the buses, or metro. Use public transport while you're there. Remember to stamp your bus tickets once you get on the bus or subway, especially if you take the train! (more on valuable tips for your first time in Italy in a post coming soon!) 😉
Most Famous Things To Do In Rome:
Saint Peter's Church and Dome
Piazza Di Spagna /Pincio Terrace
Piazza Navona
Fontana di Trevi
Colosseum and Via Dei Fori Imperiali (at night is a must!)
Lungotevere Castel Sant'Angelo (At sunrise, I did it: Best experience in Rome ever)
Pincio Terrace (At sunset, for the best view of Rome)
Trastevere (For dinner, obviously!)
WHAT TO SEE IN VATICAN CITY IN ONE DAY:
I took two days to explore the inner part of the city – which gave me ample time to include a day in the Vatican City. Enclaved in the town of Rome, Vatican City is officially the smallest recognized state in the whole world . Home to the Pope, the Vatican is the beautifully preserved state of the Catholic Church. It is definitely worth a visit!
Most Famous Things to do and see in Vatican City:
Visit the Musei Vaticani.
Take a tour of The Sistine Chapel.
Visit the Vatican's beautiful gardens.
Admire the view from the top of St Peter's Dome!
Helpful Info : As with most famous sights, just remember to buy your tickets early or online. Otherwise, be prepared for a few hours waiting around peak times (still worth it if you ask me!)
RECOMMENDED BEST HOTELS IN ROME:
RESIDENZA MONFY
I could say it's one of the best places to stay on a road trip to Rome. Gianluca, the owner, is helpful and will give you all the info you'll need to have the best time in Rome.
Everything is clean and well arranged, and the location (Via Veneto, in the center) is perfect for public transport or walking around the main attractions. Most importantly, it has a parking option. Trust me: in Rome, you WANT to have that option. Finding a parking spot is a nightmare for everyone living or visiting Rome. Click to Check the Hotel out!
RECOMMENDED BEST TOURS IN ROME:
Beautiful Castel Sant'Angelo, another spot (among the endless landmarks in the eternal city) you can't miss! Tips: Go there at sunrise… trust me, I did it, and it was SURREAL, to say the least!
Do you think you don't have enough time to see it all and/or are not keen on walking all day with the risk of missing something important? Then an organized tour is what you need to set your mind at peace . Below are the ones I recommend the most:
Hop On-Hop Off Ticket:
Super Touristy, I know, but when you don't have much time is so worth it! I remember hating that red bus, and I ended up loving it when I had only one day in Warsaw, and I managed to see it all (at my own pace, but they don't miss the important spots). Check it out!
Three Hours evening Walking tour:
As Suggested, Rome is even more magical at sunset, so this Tour will take you to the main attractions and to the Pincio Terrace right at sunset (I love that spot, you'll see!). Highly recommended as the guides are usually locals. Check it out!
Other Tours in Rome:
There are a million tours I could recommend, but you can check them out here or below (click for more tours on the list) and see if something strikes your attention. I love this website, and it's the one I use the most when I have to book my tours online . Super convenient and hassle-free. I don't like to spend my precious time waiting to buy my tickets, especially in touristy cities like Rome!
The "Skip the lines" tickets are exceptional, and you won't regret buying them as they will save you SO MUCH TIME!
ITALY ITINERARY DAY 3 | ROMAN CASTLES
Rome itself has many sites to see even just outside the city itself! Roman Castles (or as we call it "Castelli Romani") are an opportunity to leave the metropolis and immerse yourself in the natural and artistic beauty of the small medieval villages outside Rome.
WHAT TO SEE AT THE ROMAN CASTLES:
Leaving Rome, you can drive by the ruins of the Baths of Caracalla and onto the Ancient Via Appia by the Church of Domine Quo Vadis . This Tour of the Roman Castles will take you along the 'Road of the Lakes' through one of the hilly areas of volcanic origin that characterize the outskirts of Rome, the Colli Albani, with its many growing villages.
Most Famous Things to do and see in The Roman Castles:
Castel Gandolfo: On the shores of a volcanic lake, this is the village where the Pope has his summer residence. You'll enjoy a stunning view over the Lake and a great but tranquil atmosphere.
Rocca di Papa and Grottaferrata: They are fascinating villages to visit in the Roman Castles area. Both are known for their culture, sights, and gastronomic delicacies, including the traditional "porchetta."
Frascati : Towards the northern part of the Colli Albani , you can reach Frascati, popular with visitors for its beauty and wine production. Here you can stop for a taste of local wine and products in a local tavern and absorb the flavor of the authentic village life in the Lazio region.
RECOMMENDED BEST HOTELS IN CASTELLI ROMANI:
ATLANTIS INN
A lovely central hotel with fantastic views over the Lake, the owner Francesco is friendly, like most people from Rome and surroundings! Breakfast is included, and a parking space is available too , mandatory for a stress-free Italy road trip, right? 🙂 Click to Check the Hotel out!
ITALY 2 WEEKS ITINERARY DAY 4 | MONTEPULCIANO
I'd like to take credit for "finding'" this town, but I accidentally stumbled across Montepulciano, the medieval town in lovely Tuscany hills by complete accident. It was a ridiculously beautiful town to stumble upon, providing a welcome opportunity to fill up on some fresh Bresaola and a little wine (for the non-drivers of course).
WHAT TO SEE AND DO IN MONTEPULCIANO:
This lovely town is all about strolling around slowly admiring its beautiful historical buildings and the old medieval atmosphere, so take your time to enjoy it, find an excellent trattoria to eat, drink espresso and take it "the Italian way" = EASY & SLOW 🙂
Things To Do in Montepulciano:
The Main Square: The lovely fountain on the side, the Duomo and Palazzo Tarugi, and Palazzo Contucci.
Palazzo del Comune Tower: Do you want to admire the incredible views of the Tuscany Hills surrounding this lovely village? Climb the Tower, and you won't be disappointed!
Gate Porta del Prato and Corso street: Almost every medieval village in Italy has a main gate to the town. Cross "La Porta del Prato" and stroll around the "Corso street," with its lovely shops, elegant palaces and renaissance buildings, the church of Sant'Agostino, and the Palazzo Cervini.
RECOMMENDED BEST HOTELS IN MONTEPULCIANO:
ALBERGO IL MARZOCCO
Located within the medieval walls of Montepulciano, this hotel is quite remarkable! Built in the 16th century, it is the oldest hotel in town. It has a bar, free Wi-Fi, rooms with views of Lake Trasimeno or the town, and free parking 🙂 Click to Check the Hotel out!
RECOMMENDED TOURS IN MONTEPULCIANO:
Being a tiny town, after you have admired its historical center, there are many activities you can book for an even more memorable experience!
Montepulciano Terme: Wellness & Wine Experience: Honestly? In my view, this is an absolute must (I'm a SPA and wine lover). After driving and walking for hours, you deserve a bit of relaxation! Check out this fantastic experience here .
Montalcino/Pienza/Montepulciano Full day wine tour: This is one of the best-selling tours in the area and within reason! If you want to relax 100% and see 3 lovely villages instead of one (while tasting the best wines in the region), this is it! Check out all the details here .
TWO WEEKS ITALY ITINERARY DAY 5 | SAN GIMIGNANO
While many visit San Gimignano, the town declared by UNESCO to be part of the World's Architectural Heritage , for a very short time, there is plenty to do to keep you busy an entire day if not more!
How do you pronounce/spell "San Gimignano"?! Maybe the most challenging part is genuinely pronouncing its name correctly. Well then, I'm Italian, and I will help you out once and for all: San Gimignano pronunciation sounds like: San jee mee NYAH noh . Try to repeat it a few times faster, and that's it! 😉
THINGS TO SEE AND DO IN SAN GIMIGNANO:
I had the luck to discover the town I have declared the loveliest of the entire Tuscany Region during a Road trip from Rome to Florence. It was a super dark and rainy day, but my first reaction when I left the car in the spacious parking lot just before the town walls was: WOW, WHAT IS THIS PLACE?
As soon as you enter San Gimignano, you will feel like time has stopped, and you are either back to the medieval era or in a lovely fairy tale!
Things to do in San Gimignano:
A stroll down the entire town is required, as well as a visit to the Duomo di San Gimignano and the Palazzo Comunale to view the Pinacoteca of Medieval art.
Torre Grossa views: C limb to the very top of the Torre Grossa, the tallest tower in town to enjoy the best view of San Gimignano ever. The green hills and spectacular Tuscany landscape will make it worth the effort!
Enjoy the food in Piazza della Cisterna: From gelato to die for to a delicious lunch or dinner at the many restaurants specializing in Tuscan cuisine. I still remember the cute little restaurant in one of the small alleys, where I tasted the best spaghetti with clams (10 years ago!)
Montestaffoli Fortress: Climbing up to the remains of the Montestaffoli fortress and lots of tastings of the local white wine, Vernaccia di San Gimignano, will round up your unforgettable visit to San Gimignano. You will fall in love with the town, I promise!
WHERE TO STAY IN SAN GIMIGNANO:
HOTEL BEL SOGGIORNO
One of the best hotels in San Gimignano! You'll have everything at your doorstep: public parking just 50mt away, breathtaking views from the windows, and a superb location, right in the city center. This hotel will be the cherry on top of your fantastic experience in San Gimignano! Click to Check the Hotel out!
RECOMMENDED TOURS IN SAN GIMIGNANO:
There are many tours, but they depart from other cities like Siena to visit San Gimignano, but since you are on your epic road trip, you don't need those! The only one I feel I can recommend is actually a "detour" or a secondary option to your itinerary.
Visit Pisa and Lucca (and climb the lining Tower): Your next stop on the map should be Pisa, but what if you want to slow down and stay a day more in San Giminiano? after all the beauty of these road trips is that you can change your itinerary on a whim.
With this Tour, you'll see both Pisa and Lucca; climb the famous leaning tower, and return to San Giminiano for another fabulous night before resuming driving the next day, heading to Florence via San Miniato. If you like this alternative itinerary, check out the detail of the Tour here .
14 DAYS ITALY TINERARY DAY 6 | PISA
An obvious choice for any visitor to Italy! Pisa and its famous leaning tower has become a symbolic representation of Italy across the globe.
WHAT TO SEE IN PISA IN ONE DAY:
Pisa's historic town is relatively small and can be explored in as little as one day. It's the perfect place to stop en route between Cinque Terre and Florence. You can stop here for food and explore the Pisa Baptistry, The Leaning Tower in Piazza Dei Miracoli, and San Sisto. Don't forget to strike "that cheesy pose" when you're there! 🙂
Yes, I did it too… so why I didn't put it in here? Because when I went there, digital cameras didn't exist yet, so we used the whole film to try and be in the right position for the photo. Only one had the right angle, but it was super blurry!
RECOMMENDED HOTELS IN PISA:
HOTEL DI STEFANO
If you want to rest up and spend the night in Pisa, this is the perfect hotel for you; right in the city center, a mere 5-minute walk from the leaning Tower, it provides a parking space on-site, buffet breakfast, and has excellent reviews 🙂 Click to Check the Hotel out!
ITALY ITINERARY FOR 2 WEEKS DAY 7 | SAN MINIATO
San Miniato is a gracious small town which is perfect as a quick (or long, it's up to you!) pit stop on your way to Florence.
WHY YOU SHOULD SEE/STOP IN SAN MINIATO:
San Miniato has always given a warm welcome to (friendly) travelers! Hence why you should go! 🙂 As the main town was a major thoroughfare for medieval traders between Rome and the rest of Europe, San Miniato became shaped by its constantly changing population and exchange of exotic and sought-after goods.
Nowadays, the town still welcomes travelers from all over the world with stunning sites like The Duomo, The Tower of Frederick, and the medieval precinct of the town . You can spend the whole afternoon here filling up on local olives! Isn't that a good enough reason for you to stop in there? I know it would be for me 🙂
RECOMMENDED HOTELS IN SAN MINIATO:
HOTEL SAN MINIATO
Since this is YOUR road trip, you might decide to spend the night in San Miniato. In this case, I highly recommend this hotel, located in a former convent; it offers free parking space and even a SPA and wellness center to recharge your batteries 🙂 Pisa and Florence are only 45 min away by car! Click to Check the Hotel out!
14 DAYS ITALY TINERARY DAY 8 | FLORENCE
I love visiting certain cities more than once, and Florence is one of my favorites for this purpose. I was 20 when one lazy afternoon my friends and I decided to hop on the first train available from Turin (I was studying at University then) to visit this glorious city!
It was a rather cold October weekend, and we slept without a tent at Piazzale Michelangelo, an amazing spot with amazing city views from the hill. Florence may be an obvious choice to include on a road trip to Italy, but don't let its popularity stop you from visiting . In fact, it's never stopped me. Each time is completely different and unique.
WHAT TO SEE AND DO IN FLORENCE IN ONE/TWO DAYS:
This beautiful Tuscan city with its super friendly people has SO MUCH to offer that two days should be the minimum to fully enjoy it.
Best Things to do and see in Florence:
Oh my…where do I even start? Just like Rome, Florence is packed with unforgettable experiences and sights. I will try to give you a glimpse of what it can offer.
The Uffizi: If you love Renaissance art, a stop at the Uffizi is mandatory. Obviously, the lines to get in are insane, but once inside, your jaw will drop from all the beautiful paintings by Botticelli, the statues, and the whole atmosphere.
Piazzale Michelangelo: It will give you the most incredible view of Florence from above, especially at sunset. Perfect for photography lovers. If you go there, think about me sleeping with only a blanket on the ground. What an epic trip!
Giardini di Boboli: We spent a whole afternoon there, and you can't miss these gardens for anything in the world; the main word here is GREEN. So many green fountains, groomed trees, statues, and hidden caves. Go there and … RELAX!
OTHER THINGS TO DO IN FLORENCE:
Visit the "Duomo: Famous for its red-tiled dome, colored marble facade & the Giotto tower. A beauty for the eye and impossible to miss when strolling around the beautiful historic center.
Santa Croce Church: Its gothic facade and the vast plaza are well-known landmarks in Florence, famous for being the final resting place of Galileo and Michelangelo. You can visit their tombs in Santa Croce.
Ponte Vecchio: The oldest and more peculiar bridge in Florence, it still houses many jewelry shops and buildings, a typical practice back in the day. It is very suggestive to walk by the bridge or over the Arno river banks, especially at sunset, to admire it from the "outside."
Ponte Vecchio at sunset. Such a peculiar and beautiful bridge. You won't see anything like this anymore in Italy.
WHERE TO STAY IN FLORENCE:
HOTEL PITTI PALACE AL PONTE VECCHIO
This hotel has the most perfect location. It is easy to find at the very end of the famous Ponte Vecchio bridge. The hotel is spotless; it has a parking space available, and rooms have a super view of the entrance to the bridge . Breakfast is served on the terrace on the 6th floor offers a lovely view of the Duomo and Florence skyline. What more can you ask for? Click to Check the Hotel!
RECOMMENDED BEST TOURS IN FLORENCE:
If you stay for two days in this magnificent city, you will have some spare time to choose from some of the most incredible tours. Since there are so many to choose from, I put some of my favorites below, and you can check out more tours by clicking on the whole list .
One I strongly recommend? The "Fast line" ticket to enter the Uffizi Gallery ! You don't want to waste your precious time waiting in an endless line, which will make you skip it, allowing you to discover much more of Florence.
14 DAYS ITALIAN ITINERARY DAY 10 | BOLOGNA
Often neglected on travel itineraries in favor of Italy's more famous hotspots, Bologna has plenty to offer tourists , from food (ah, the food guys!!) to art and hidden secrets.
Bologna is known in the Italian language as "la Dotta, la Rossa e la Grassa": " the educated one" in a nod to its University, Europe's oldest; "the red one," about the terracotta hues of its buildings and the city's historic communist leanings; and most importantly, "the fat one," about the delicious food.
THINGS TO DO IN BOLOGNA IN ONE/TWO DAYS:
I will give you one day in Bologna /Emilia Romagna only because I have to stay within the 2 weeks Italy Road trip Itinerary. If you are free to change your plans a little (or are lucky to have more time), I would strongly recommend discovering Bologna and Emilia Romagna for at least 3-4 days .
Check out my article "What to do in Bologna and Emilia Romagna." I'm sure you'll love it, I tried so many things, and the pictures speak for themselves!
Best Things to do in Bologna:
The Markets: The markets in the center are great for fresh fruit and pastries. Via del Pratello is an excellent spot for lunch, and the student area near Via Zamboni has plenty of options for a filling "aperitivo" – but you can't go far wrong wherever you choose to eat.
The Two Towers: Believe it or not, Bologna's leaning tower would put Pisa's one to shame! The Two Towers are an iconic symbol of the city, and the shorter one, the Garisenda Tower, leans much more dramatically than Pisa's leaning tower. It is well known (in Italy) that Dante Alighieri invoked this tower in his "Divina Commedia", so look out for the plaque with the quote.
Giardini Margherita: One of my favorites spot in Bologna to chill and relax to end the day after walking its gorgeous streets! You will find mostly local people, and there are so many hidden spots for a nice picnic while seeing the turtles in one of the ponds inside. Highly recommended (and easy to get there by bus too.
OTHER THINGS TO DO IN BOLOGNA AND EMILIA ROMAGNA:
Visit Ravenna: Lovely city easily reachable by train for a one-day trip and famous for Dante's remainings and the many stunning churches.
Explore the Apennines: Definitely, a must if you have some more time; it was the highlight of my trip to Emilia Romagna. Lake Baccio and Lake Santo are amongst the most beautiful places I've ever seen in Italy (and not a tourist in sight either!)
The beauty of the Apennines in Emilia Romagna. The tranquil landscape you can admire at Lake Baccio!
WHERE TO STAY IN BOLOGNA:
HOTEL CORONA D'ORO
An excellent centrally located hotel with a private garage in a restricted traffic area, a great feature to have (since you're in the middle of your Italian Road trip!). Friendly staff and great reviews. Abundant breakfast with lots of choices. The rooms are nice and clean, with comfortable beds, crisp linens, and many amenities. Check this Hotel!
RECOMMENDED TOURS IN BOLOGNA:
As usual, in the most beautiful Italian cities (and Bologna is definitely one of them!), you will have plenty of choices if you want to book a tour online. What I recommend is going for the food tours . Bologna and Emilia Romagna are the top in terms of delicious dishes, so you can't go wrong! Below are a few tour options, but click the button to see more and enjoy the experience 🙂
2 WEEKS ITALY TINERARY DAY 11 – 12 | CINQUE TERRE
One of my favorite coastlines in Italy and a must-see on any road trip around Italy, Cinque Terre national park is an area around 1.5 – 2 hours' drive north of Pisa. The region is characterized by its dramatic, rugged landscape and of course, its 5 picturesque terraced towns that only beg to be explored (from North to South):
MONTEROSSO AL MARE | VERNAZZA | CORNIGLIA | MANAROLA | RIOMAGGIORE
Even if not all the 5 villages show on this map, the train stops in each one of them. The road in white you see behind the red line is the road you should use my car, and it takes around 2 hours drive. Image credit: Map data ©2022 Google
One of the best tips I've learned is to leave the car at La Spezia city and take the train between these 5 towns . It's usually the easiest way to discover them without the issue of finding a parking spot (unless you decide to choose one of the villages to stay in for the night).
THE 5 VILLAGES TO SEE IN CINQUE TERRE IN 2 DAYS:
Obviously the main attractions of the Cinque Terre National Park are the famous villages, so let's check them out in detail to see what distinguishes one from the other, they are all marvelous and unique!
From the top: Riomaggiore, Manarola, Corniglia
1) RIOMAGGIORE: The most southern village of Cinque Terre, Riomaggiore is a beautiful town to sit back and enjoy your afternoon. Grab some local food (especially fried calamari) from the street vendors and head for the rocky harbor front. Helpful tip: spend a good few hours dipping your feet and legs into the sea! This town is a fabulous place to watch the sunset, and why not take a swim and cool down after a day under the scorching Italian sun.
2) MANAROLA: Arguably one of the most photographed towns in Cinque Terre, Manarola is a beautiful place to explore and, of course, grab a bite to eat! Every time I visit Manarola, I put on 4kg in weight! The gelato, the calamari, the wine … it's all just too good!
3) CORNIGLIA: Unlike the other four villages of the Cinque Terre, Corniglia is not perched on the seafront but at about 100 meters high on the top of a cliff. Warning: Trying to walk in the scorching midday heat is not the greatest idea – you could end up sweaty, hot, dehydrated, and no doubt looking a bit messy 🙂 you can use the connecting shuttle bus from the train station instead. It takes about 5 minutes to reach Corniglia. A perfect place to enjoy the views of this magnificent area!
Top: Vernazza – Bottom: Monterosso al Mare
4) VERNAZZA: Dating back nearly 1000 years, the iconic Vernazza is still standing to show you a beautiful piece of historic Italian charm – that I fall in love with every time. This city really stole my heart! Don't forget to see the Church of Santa Margherita and the hidden Vernazza beach just off Piazza Marconi.
5) MONTEROSSO AL MARE: The westernmost of all the Cinque Terre villages is Monterosso al Mare, famous for its wider beach and for the many open spaces compared to other countries. What I love most about Cinque Terre is that it feels like a "personality test." Everyone has their favorite village for very specific reasons. Monterosso al Mare is my least favorite town in the Cinque Terre, but that's because my heart has already been stolen from Vernazza's colorful houses (I love colorful houses) 🙂
BEST HOTELS IN CINQUETERRE AND LA SPEZIA:
LEVANTE RESIDENCE
Just minutes from La Spezia center. Clean, spacious rooms with kitchen. A good option is to have a base there for your La Spezia Gulf or Cinque Terre trips. Safe, private parking and simple breakfast. The train station is within walking distance, and free parking is a plus. Highly recommended. Check out this Hotel!
BEST TOURS IN CINQUE TERRE:
When you visit the Cinque Terre villages, you can take your time and explore them on your own or book a guided tour to discover the secret places, best restaurants, and panoramic views.
One of the best ones is definitely from Florence to Cinque Terre and it's most suitable if you are flexible with your dates and are on an Italy road trip, coming from the south and ending in the northern part of the country, like in this case.
Depending on your budget, some of these tours, especially the boat ones, are worth the money . They will provide you with a completely different experience. As usual … it's up to you to decide! Sometimes I like to opt for a tour, other times I prefer to discover an area on my own.
ITALIAN 2 WEEKS ITINERARY DAY 13 | TURIN
I lived in Turin for 8 years while studying at the University, and not only do I know the city well, but I love it pieces! Unfortunately, the city is one of the least known and appreciated by tourists. While most of those visiting Italy head for the Rome-Florence-Venice triptych, Turin remains off the tourist radar. What a shame.
Maybe is because the city has always been associated with Agnelli and his automotive empire (Fiat). However, people forget that another dynasty, not industrial but royal, chose Turin as its capital eight decades earlier.
Nineteenth-century Turin was also a favorite of intellectuals and artists such as Nietzsche, who loved the city for its austere elegance, atmosphere, literary cafes, and food. So, this seething city should definitely be on your wish list for your Italian road trip.
THINGS TO DO IN TURIN IN ONE DAY:
The beauty of Turin, compared to other Italian cities, is that it is easy to get around on foot and public transport is excellent . I have never used a car in 8 years, and I know every street as it is easy to walk to the city center and some of the most beautiful palaces and squares.
The beautiful Mole Antonellliana by night
Best Things to do in Turin:
Il Quadrilatero Romano: One of my favorite places in Turin for its many restaurants, aperitif bars, and lovely streets filled with history from the Roman empire. Great for an exciting night out in Turin!
La Gran Madre Church: The "Gran Madre" is a Neoclassic-style church located in front of Piazza Vittorio. Straightforward to reach by foot from Piazza Castello through via Po (famous for its many shops, bars, and restaurants), it's stunning at night.
Piazza Castello/Via Garibaldi: Turin's central square is lined with museums, theatres, and cafes. Dominating it is the part-medieval, part-baroque Palazzo Madama, the original seat of the Italian parliament. To the north is the beautiful facade of the Palazzo Reale, "The Royal Palace" built for Carlo Emanuele II in the mid-1600s. If you are up for some shopping, on the left of Palazzo Reale, you will reach Via Garibaldi, packed with high-end and budget shops (I used to live in the student house in that area!) 😉
OTHER THINGS TO DO AND SEE IN TURIN
Il Castello /Parco Del Valentino: My favorite spot in town, a massive park with botanical gardens, statues, and, of course, the iconic castle. Perfect for a romantic walk or just to chill during the hot summer days. You can admire the spectacular views of the Valentino Castel by night just by crossing one of the bridges over the river PO. Highly recommended!
La Reggia di Venaria: Declared UNESCO Heritage Site, the Reggia di Venaria is a spot you can't miss. The palace is marvelous, and during summertime, you can enjoy a wide array of events, from artists performing accompanied by relaxing music to video-mapping shows.
Basilica di Superga: Another fantastic place to visit in Turin! The church is on a hill where you can admire the city from above. Perfect at sunset to see the city lights and chill after visiting the inside of the beautiful Basilica.
The beautiful Castello del Valentino in the "Parco Del Valentino (Valentine's Park). One of my most precious places in Turin. Day or night it is truly marvelous!
Museo Egizio: An excellent place for people passionate about Egyptian History, this museum is the most important one in Italy as it preserves some rare mummified human remains and several Egyptian statues.
Palazzo Reale (Royal Palace): Located in Piazza Castello; if you visit it, I promise that the inside will leave you totally speechless. I still remember the first time I saw it, admiring the beautiful dancing room, statues, paintings, and seemingly never-ending luxurious rooms in awe. No wonder it was included in the list of World Heritage sites in 1997. Totally worth it!
The beauty of Turin at sunset: Ponte Isabella over the River Po that divides the city in two.
WHERE TO STAY IN TURIN – BEST HOTELS :
HOTEL URBANI
Excellent location to head off in any direction and explore. The hotel itself is lovely. Accommodating and friendly reception staff. Delicious breakfast, charming rooms, and parking space. The perfect mix to set you up for the day and relax once back from your strolling in Turin. Check out this Hotel!
14 DAYS TALY ITINERARY DAY 14-15 | MILAN & LAKE COMO
DISCOVER MILAN:
Milan is one of the trendiest cities in Italy . It is the city of fashion and the economic capital of Italy. Both traits are clearly visible when you're walking around the city. Modern and trendy skyscrapers scattered here and there, surrounded by beautiful historical buildings throughout the city center.
Many of Milan's most exciting sights and attractions are not readily apparent, so you'll need to dig deeper to discover the gems that make the city unique.
Luckily, Milan is surprisingly walkable and, at times, feels more like a compact town than a major European metropolis. And once you start chipping away at its foreboding exterior, you'll find untold treasures below the surface: priceless works of art, beautiful eccentric buildings, world-class restaurants, and oases of calm. Explore the best things to do in Milan and remember: appearances aren't everything.
DISCOVER LAKE COMO:
Como is filled with luxury Villas you can visit, like Villa Balbianello here, a perfect setting even for weddings!
The itinerary for your Italy Road trip started in the glorious city of Rome, and it couldn't end less gloriously in the fantastic Lake Como setting. Relax in the shade of a tree in front of the lake, admire its beautiful views … and, who knows? You might even spot George Clooney (owner of one of the most beautiful villas in Lake Como), his buddy Brad Pitt, Tom Cruise, or any other A-list celebrity, but there's so much more to this destination than its famed visitors.
The glacial Lake Como is a mere 1.5-hour drive north of Milan and only 30 minutes or so from the border of Switzerland. The biggest draw to Lake Como is its natural beauty – especially the scenic mountainous region that always leaves me in awe.
Hop on the ferries that cross the lake; it's a perfect way to explore the beautiful little towns surrounding it like Menaggio, Bellagio, and Varenna, to mention but a few of my favorites.
THINGS TO DO IN MILAN IN ONE DAY:
In Milan, as previously stated, it is super easy to get around by walking a bit or via their efficient public services (the underground system is excellent). This way you can do quite a lot in one day.
The most famous things to do in Milan are:
The famous Duomo di Milano: The symbol of the city.
Galleria Vittorio Emanuele II (on the left of the Duomo)
Sforza Castle for a bit of history
Parco Sempione to end your day in total relaxation!
THINGS TO DO IN LAKE COMO IN ONE DAY:
Honestly? If it was for me (personal taste!) I would spend just half a day in Milan and aim straight to Lake Como, but the itinerary is yours, so maybe you are a fashion addict and want to spend a whole afternoon shopping in Milan 🙂 Either way, Lake Como would deserve at least 2 days of exploring.
So, what to do and see in Lake Como?
Visit Varenna, a lovely village with great views of the lake.
Take the ferry! You'll discover the hidden spots as well as the more popular sights.
Visit Villa del Balbianello
Discover Castello di Vezio for awesome views
Villa Del Balbianello, Lake Como
Best Things to do and see in Milan:
Il Duomo Di Milano: Do I really need to tell you why you should visit it? There is so much information online, and the pictures speak for themselves. It goes without saying that this should be your first stop in Milan, no question about it. And it's as beautiful as in the pictures. My only tip: go there early in the morning; you will make the most of the experience!
Castello Sforzesco: Nearby the Parco Sempione, the Castello Sforzesco (Sforza Castel) is a mandatory stop on your visit to Milan; apart from its famous towers, it hosts several museums from the Ancient Arts to the Pinacoteca and the Egyptian museum, just to name a few. If you love history, this is a great place to visit.
Galleria Vittorio Emanuele II: Just on the left side of the Duomo di Milano, its architecture (especially the roof) will leave you in awe. You'll find many shops, from luxury ones to nice cafes where to sip an espresso and relax, bookstores, restaurants, and more. Since it's in Piazza Duomo, you can easily make it your second stop in Milan.
Best Things to do and see in Lake Como:
Villa Del Balbianello: Located on the left wing of the Lake, near the village of Lenno, it is a must-see. Beautiful views of the Lake and the Villa with its terrace garden are genuinely out of this world! One of the best spots to admire Lake Como's mighty beauty. It's undoubtedly one of the most touristy and popular Villas to visit.
Villa Carlotta: Just a few kilometers away from Villa Del Balbianello (heading north of Lenno), it's a true gem with its botanical gardens, museums, the staircase, and the stunning entrance to the Lake. Not to be missed! (I will write an article just for the villas to visit around Lake Como as they are jaw-dropping!)
Take the ferry: One of the best ways to enjoy Lake Como is by Ferry. There are both public and private ferries. The public one is relatively cheap, but obviously, it doesn't let you hop off to explore what you want. You can either find the private companies online looking for "private ferry lake Como" or, as I suggest below, I'd recommend the Tour from Milan without the hassle of driving there and back.
MORE THINGS TO DO AND SEE IN MILAN
I Navigli Di Milano: A system of canals running in the heart of Milan, surrounded by lovely cocktail bars, are the perfect location to spend your dinner and after-dinner time, not to be missed for an excellent aperitif. Great for a romantic walk at sunset as well. It's easy to reach by public transport, which is always a bonus!
Parco Sempione: Located in the heart of Milan, Parco Sempione is a lovely park where you can relax, chill and visit the Sforza Castel and the Arch of peace, two of the most famous landmark in Milan.
Via Montenapoleone: If you are in Milan and love fashion, via Montenapoleone is the place you want to be! Filled with luxury shops, whatever brand you are looking for, you will find it there! Splurge as much as you want and enjoy!
The famous Navigli Di Milano, great for the nightlife and the peculiar atmosphere
MORE THINGS TO DO AND SEE IN LAKE COMO
Trekking/hiking Lake Como: If you have some time or, during your Italy Road trip planning, you decide to skip a place or two, this is one of the best and more rewarding activities to do, with breathtaking views over the lake. The most famous walks/hikes are the Greenway Del Lago and Spina Verde (suitable for everyone, they will take you to the top spots like Villa del Balbianello). For more advanced trekking and hiking, organizing with private companies is better.
Castello di Vezio: Located in the middle of Lake Como, with an overview of Varenna village, it is a lovely spot for jaw-dropping sights of the lake and its history. It was built over a thousand years ago. Don't forget to climb its famous tower to enjoy even more incredible panoramic views!
The stunning views you can admire at Lake Como are endless!
WHERE TO STAY IN MILAN AND LAKE COMO :
HOTEL BELLAGIO (LAKE COMO)
In the city center, accessed directly from Bellagio's main square by 38 cobblestone steps, Hotel Bellagio is within walking distance of the town's shops, cafés, and restaurants. Parking is available, free cancellation, and incredible views of the Lake. Check out this Hotel! If you prefer to take a day tour to Lake Como and base yourself in Milan, check out the NH PORTA NUOVA hotel, which is convenient and well located.
BEST TOURS IN LAKE COMO :
Given the proximity of Lake Como to Milan, you can opt for booking one of the grand tours from the Lombardy Capital instead of spending money (and time) using your car. Many people choose this option, and they can enjoy a full day in Lake Como without stress and see all the top sights stated above.
Usually, when talking about the tours, my advice is to decide which option is more suitable for you (car or tour) but in this case, the day trips from Milan are genuinely the best option, also money-wise. Highly recommended!
THE TAKEAWAY OF THIS ITALY ROAD TRIP ITINERARY
As you might have noticed, I tried to fit in as many "pit stops" as possible for your 15 days on the road in Italy. I know many people would rather rush a bit to see as many beautiful spots as possible.
That said, If you want to travel slower and stay more in one place, you can easily rearrange this itinerary by skipping a few places, no problem!
I hope you enjoyed my article and that you will be inspired to visit my beautiful Italy, loving my country as much as I do!
If you have any questions or locations you have visited that you particularly liked, shoot me a message in the comments below, I'd love to hear your experience!
Images credits/attributions: Shutterstock.com (except for Emilia Romagna)
SAVE IT FOR LATER, PIN IT!
I like your blog! It is awesome! You give many information about travel! It's really great! Also, Italy trip is great! I think We should travel to Italy.
I'm a foreigner living in Rome, and I must say that it is the greatest city in the world. The pros of living there are just too many, but one has to look for them. If you're the kind of person that just wants a smooth, predictable life – let's say 9 to 5 job, reaching home at 6 by train and finding your parcel delivered at the doorstep – then it's not your kind of place. Rome is instead for the kind of people who like adventure, going out and having fun. You do your morning walk among the ancient ruins. You spend a lot of time in the bar with friends. You go to swim in the sea during summers, and to ski in the mountains during winters. You face day-to-day inconveniences, but in that situation you help each other, knowing that they'd help you too.
My personal take is that the things which distinguishes Rome and Italy from other parts of the developed world is that for better and for worse, there's no "consumer" culture over there. The mentality is centered doing the bare minimum needed for survival, and not on getting the maximum output as is the norm elsewhere nowadays. Overall I wouldn't say that Italians are (stereotypical) lazy, but just not hardworking and with generally modest expectations from life.
Hi Nicole, thanks for your insights! I agree with a lot of what you said and Rome no matter what will always be my favorite city in the world, with all its imperfections too. What I had to think about more is the work ethic and expectations. I would put it differently but I understand what you are expressing. The idea of us being stereotypically lazy is like everyone else thinking that in the US people are only driven by work and goals and can't appreciate life. We don't know if people don't appreciate life there for real, this is our idea. Same with Italians (and you also need to do a big distinction between northern Italy and southern Italy) people might be thinking they have high expectations for their lives, also money wise but maybe compared to your personal experience we are not, and so on. So what I'm trying to say s that things are VERY relative and I try not no generalize a country (altough I know first hand how difficutl it can be) . Enjoy my beautiful Rome!!
VERY INFORMATIVE!! KEEP POSTING THESE ARTICLES!!!
Hey, thanks for sharing this fantastic information with us. Can't wait to book our holiday to Italy! Thank you and please continue to share blog posts about Italy, they are very useful, especially coming from a local!
quite impressive
Thank you for a very interesting article. I greatly appreciate the time you take to do all the research to put together your posts. I especially enjoyed this one!!
What a great article! I have to say I did a bicycle trip in northern Sardinia, from Olbia to Santa Teresa passing by Maddallena. I have been to many many beaches in my life but I have never seen so beautiful beaches like in Maddalena. The colors of the sea was absolutely stunning! And the scenery in North Sardinia is unique, almost lunar.
This being said, we did a road trip in France from Nice to to Bordeaux avoiding the highways and going through the little villages. Back country road trip. In our mind, the road is as important as the destination. We prefer B&Bs (I think you call them agroturismo in Italy) where we can talk with the hosts and guests and get their ideas about the nicest places in their corner of the country..
So……we are planning a 3 weeks road trip in Italy, September 9 to 30, 2022 more or less. Probably from Venice to Rome and maybe going down to Sorento. We were planning to go to most of the places you mentioned in your article except for Milan and Torino which I've already been and not so keen to visit twice. So, adding a week to your 2 weeks itinerary, I was wondering if you have any suggestions for those additional days.
Thank you so much and keep on your good work!
Hey Stephan, wow I'm envious just reading all you will see on your road trip in my beautiful Italy! If you have 2 more weeks I would definitely go : 1) Val D'orcia in Tuscany, it's BREATHTAKING, I want to make a photo post with the photo I shoot. Just that will convince you. I stayed in a lovely home rented in Castiglione D'orcia and it has been one of the best road trips ever. 2) South of Rome I'd go to Sorrento, Capri, and all the Costiera Amalfitana. It's mainstream clearly but you can't miss it! This would deserve a full week to fully explore all the little corners of this beautiful place.
There will be so many places I can add but I don't want to overwhelm you. If I had these 2 additional weeks I would explore more of Tuscany in general, and the Val D'Orcia area in particular, and all the Costiera Amalfitana. It will make for a fabulous Italy Road trip!! Plus the time of the year is perfect, still warm but with fewer tourists. What can I add if not… Enjoy Italy!! 🙂
Cheers Clelia
Thanks for reaching out! We will definitely put Val D'orcia on our itinerary. Can you let us know what was the lovely home you stayed there? Always nice to go somewhere recommended by some one who stayed there. So 2 weeks from Venice to Rome and one week in the costiera Amalfitana, Right?
Hi Stephan, yes I'd say 1 week in the Costiera Amalfitana, not less… and the remaining 2 weeks you go from Venice to Rome. Oh, I envy you right now 🙂 Let me check the name of the place! I booked it with booking.com I remember so it still should be in my records 🙂 Ok, after a while I found it! It's the lovely home called " La Cantina di P " I hope you didn't book anything yet because this was a truly lovely place, especially the location was so amazing! Let me know if you need any more help and enjoy your road trip to Italy!
Fantastic! Thanks for the valuable information and we will definitaly book there, Covid permitting. Keep on the great work! Grazie
Thanks Stephan! I'm so glad you liked my Italy road trip itinerary, I'm supposed to create the second part, from Rome to … Sardinia because I had to leave out so much. Two weeks are not nearly enough to enjoy the beauty of Italy and everything it has to offer 🙂 Fingers crossed about the Covid yeah. We had some small trips in Italy so it's not super bad but in winter it's always a bit worse. With the proper precautions, I believe we will be able to have a sort of "normal" life again soon.
Wow what a wonderful article, spectacular pics. Italy's a beautiful country and everyone should know this. I have been twice and looking forward to visiting it after the pandemic. Thanks for sharing with us this fab post.
Italy is Indeed a good place to visit in the world. Being a travel enthusiast I learn that Italy is a place where every city is beautiful as well as historical. You will find the different kind of travellers in Italy and its the place where you can meet new peoples and interact with them. Thanks for sharing this post with us.
Great pics and information. This is my dream destination, I would like to visit here someday. Hope to hear more from you. Thank you.
Very nice information thank you for sharing! We can't travel to Italy right now but this will be a huge help for when we will be able to visit!
You should work for the Italian tourism department, they are in dire need of people like you. Unlike France and Spain who have done a great job in marketing themselves, in Italy international tourism is unfortunately restricted only to some areas of the country (city of Rome, Veneto, Lombardia, Liguria, Tuscany and maybe Sardinia). Nice to see that you mentioned Piedmont and Emilia-Romagna here. Then there is central Italy outside of Rome, and especially "Mezzogiorno" that I think is super underrated (I'm from Puglia and in my own biased eyes, it's the closest thing to Paradise on Earth). Also, as much as I love Rome, my favorite city in the world will always be Napoli, which I would recommend to every visitor in Italy.
Ciao Gianmarco, thanks for your kind words, I sadly must agree with you about how we promote certain parts of Italy and completely disregards other parts, and actually this article is just part 1 of another than covers all the regions in Southern Italy. I have been to Puglia and LOVED IT!! (and it's obviously included in the second article that Iìm going to publish). I'm from Sardinia so we can both say we are very lucky! Interesting about you loving Napoli so much! Why ? Mine is Rome (I have lived there for years) but also Napoli is beautiful for sure!
Napoli is just another city that has no equivalent in the world. First of all, it has the most beautiful landscape in all of Italy, if not the world (try searching "panorama più bello del mondo"). The city has the largest historic center in whole Europe, and just like Rome, it is full of castles, churches and ancient ruins (have you been to the underground areas). Despite everyone in the world consuming pizza these days, all others are fake except Neapolitan one. While the city center still retains it's ancient vibe with narrow, chaotic streets full of people, some of the most beautiful metro stations of the world are located just below it, highlighting that Neapolitans and Italians in general continue to be great innovators of contemporary times, even if we are obsessed with with our past and aren't obsessed with becoming "successful" by contemporary definition. Than of course the surrounding areas (Pompei, Amalifi, Capri, Amalfi, Sorrento) are also among some of the most breathtaking places. Overall, I find Rome and Napoli are very similar both in their good and bad aspects, except that Rome is less dense and more spread out. While I won't trade Rome for any other city in the world, I give Naples the edge over it because of metro, surrounding areas and the overall vibe and sheer passion of the city.
I might say that Italy the most beautiful country in Europe and the world, considering that I've traveled to at least ten different locations in Italy, and that you have managed to mention so many amazing places despite touching only a quarter of whole Italy. But as a Frenchman, some things in Italy are really frustrating. Relying on public transport is a real pain, especially if you want to travel to smaller towns. Even if it is available, trains are poorly maintained and always late. Many places are dirty and not taken care of. And it gets crazier as you go southwards with Sicily being the worst, despite still being stunning and soon I'll be there again. My Neapolitan friend jokes "To drive on roads of Naples, you must have the special ability to pray for San Gennaro". And he's so right. Sometimes, it really feels like the vehicles are there to hit you and traffic rules are meek requests. I think this can be said of almost all Italian cities. I do love Italy but I don't see why Italians don't acknowledge the clear superiority of the French.
I'm Spaniard and I'm a big fan of Italy. In Spain, Italy is seen as a dream girlfriend that drives you crazy yet you can't stop loving her. Personally, my favourite Italian regions are the Alps, Veneto, Tuscany and Campania – but the country is very beautiful almost everywhere and there is no city or region in Italy that isn't worth visiting.
Thanks Lucas, it means a lot especially now. I hope people will start to visit Italy again very soon. Be well!
I wish the same for Spain too. Just like Italy, we choose to ignore the warnings and go on with the fests and parties, and now we are in an even worse situation. Us Mediterraneans are too similar I think.
Indeed we are… I have no idea when this nightmare will be over. I hope people won't fear traveling to our beautiful countries when all this will be over.
Great post. However, I would like to add my two cents. First of all, I think Milan and Turin, while fantastic, are probably the least breathtaking cities in Italy. Southern Italy and the two islands certainly feel less developed, yet they have an older and more exotic vibe, with better beaches. Finally, I think that something like a planned Italian road trip doesn't exist. In Italy, you are always close to a centuries old streets and buildings. gorgeous landscape or beach. Apart from some must visit cities that are well known, one can simply drive anywhere between Bolzano and Reggio Calabria and easily discover a lot of magnificent yet unspoiled places all around the country.
Hi Clelia Thank you for your excellent road trip guide . We are travelling from Rome to Lake Como . We have booked most of the hotels you have suggested . We are doing a slight detour. Only concern i have is driving from Rome airport to Hotel Monfy in Rome. I know from visiting Rome previously the roads can be extremely dangerous if you are not a local. Thank you for your help.
Hi Paul! Glad you found my guide useful… As someone who actually took her driving license in Rome, I can relate with your concerns 🙂 I'm not going to lie, driving in Rome is an adventure! Dangerous, I wouldn't say that maybe you will have to be super careful and prepared before you drive. Meaning knowing exactly your route, but these days using google maps as a navigator will do the trick. You have to be careful with the scooters driving around you but other than that, if someone like me with no driving license could take it and drive safely for 3 years in Rome, I think you won't have a problem (and I didn't even have any google maps navigator, at the time!)
Let me know if you need some more help! Cheers Clelia
I love Italy. It is, in many ways, a unique country where you can always find something amazing nearby regardless of the region where you are. From my experience with Italians in UK and Italy, I must say that they are group of humble, outgoing and loving people who are masters of enjoying life. What I don't like about them is that most of them don't value rules, work ethic and public property. But my general perception about Italians is quite positive.
I love Italy. It is, in many ways, a unique country where you can always find something amazing nearby regards of the region where you are. From my experience with Italians in UK and Italy, I must say that they are group of humble, outgoing and loving people who are masters of enjoying life. What I don't like about them is that most of them don't value rules, work ethic and public property. But my general perception about them is quite positive.
Hey Andre, thanks for your comment and point of view about Italy and Italian people. Just one thing (being Italian I might understand the dynamics a bit) 🙂 Many people think our work ethic is not good but it's actually not entirely true. Sure there are "lazy" people everywhere and in Italy, we might seem lazy but we are not. We have simply a different approach when it comes to this part of our life, and when we are working we give 110% most of the time. Otherwise, we wouldn't be able to be masters of "enjoying life" as you mentioned! Regarding the rules, yes you are right we don't like them especially when they are stupid but also when they are ok. We tend to disregard them more but not in bad faith, we just give the rules less importance I guess. Right, wrong? It really depends on the situation I think. I remember when I first arrived in London people wanted to kill me because I didn't know I had to stay on the right side of the escalator, while in Italy we just stay wherever we want, and funny enough, after a few years living in the UK, once back in Italy I was like "why people don't stay on the right!!" so we are just laid back for a few things I guess. I'm sure you'll find my next article coming soon about Italian culture quite entertaining then.
One of my favourite itineraries and absolutely right about staying at least 3-4 days in each location. Drives me mad to see people racing from photo op to photo op without taking the time to at least get a flavour of the locale…
Exactly my philosophy Gary, I understand that people want to squeeze as much as possible from their Italian Itinerary but going slowly is much more rewarding…
Hi Clelia, My husband and I have just decided to take a trip to Italy in May this year. We were not sure how we were going to travel thru the country but I found your blog and am convinced a road trip is the answer. I have read thru the itinerary and only wanted to know if in addition to the sites you highlight, are there any places that have recently become a no miss which you have not mentioned. We are travelling for 15 days. Thanks
Hi Lori! I'm so glad to hear that you're taking a road trip to Italy because you read my article! (it took me forever to put it together so at least I know it's useful) 🙂 As for your question…
oh my! I left out so much from this itinerary already because of the limited time but recently I visited a place where I left a piece of my heart: The "Val D'Orcia" and in particular the village of Castiglione D'Orcia where I stayed in a lovely house in the center behind the small piazza for one week. It's out of this world. Not only the village but also the surrounding areas.
There are so many of the typical "Casali" with the famous Tuscan landscape and trees, I even spotted the gates of the house where the movie "The Gladiator" was shot and saw one of the best sunsets of my life. I usually never do this, but to give you an idea you can check this picture I took and put on Instagram and this other one which has a truly lovely story behind it. I even made a few Instagram stories of that place. I think I'm going to add this to the itinerary because I'm obsessed 😀
So yes, please Go to Castiglione D'Orcia ! If you want some advice about the accommodation, the place I obviously recommend is where I stayed LA CANTINA DI PI , cheap and lovely, everything was at walking distance and you can park the car for free in the parking lot at 5 min walk.
I hope you can make it and if you have time also visit Montalcino and, nearby Castiglione, also go to the (completely free) Terme called "Bagni di San Filippo" at just 10 min by car and super easy to reach. You'll love it! If you need more info about it, given that I still have to write an article about my stay, feel free to ask in here!
Cheers! Clelia
Hi Clelia – thank you for the excellent information! I'm returning to Italy in May with friends and family for a 10 year anniversary trip and was hoping you might be able to help me. We are renting cars in Rome FCO and will be driving directly to a villa near San Miniato in the late afternoon 5/6pm. What would you suggest is the easiest route to take? We will not be making many stops or are concerned about scenery at this point – mainly just about getting there quickly and easily. Any suggestions?
Hi Aimee, glad that you liked my Italian guide! And what a lovely choice going nearby San Miniato, you'll going to love it! As for your question, the easiest route is without a doubt to go towards Viterbo (the signs pointing to the E35/a1 towards Florence). before finding that road you'll need to get into the Grande Raccordo anulare first and find the right exit. But If you have even google maps, you can put your point of departure and destination and let it guide you. But if it gives you more than one choice, you go with the E35.
It might be a bit tricky on the Raccordo Anulare, there are so many lanes and exits but if you drive carefully and study the indications on Google maps, you should be fine. Once you're on the E35 you will go straight for at least 1+ hour, then you'll have to stay alert again for the right exit (which depends on where you are heading exactly). The total time spent to get to San Miniato city is about 2:30 min with no stops, I'd say 3 hours with one stop and counting the traffic in the Raccordo Anulare.
Recently I took that road to get to a village in Tuscany but from Civitavecchia ferries port and it was a very pleasant ride even if you're not looking for particular scenery. You still will find it quite nice!
I hope it helps and if you never drove in the Raccordo anulare, be careful because there are some crazy drivers in there so go at your own pace and everything will be fine! (I lived in Rome for years so I know the raccordo and the nearby roads quite well)
Italy is a fantastic country – I don't think any other country can offer so much variety (natural, historical and cultural) in such a small area. But I must say that my favorite area in Italy is the south. I personally think that it is the most beautiful part of Italy, and as of now it is quite undiscovered, unspoiled and authentic. I also love people of that region – who have a "I don't really care" attitude for most aspects of life, and seem to enjoy their lives in their secret paradise without having any ambition for the future. Apart from having been to the mainstream cities (such as Florence and Venice), I've enjoyed road trips from Naples to Reggio Calabria and Salento and it was fantastic to travel across the hilly countryside, beaches and old, magnificent towns.
Hey Oliver thanks for stopping by and saying so many beautiful things about my country! I agree the south is more relaxed (but hey we have ambitions, we are just not obsessed by them) 😉 You've been to awesome paces but you're missing one…. my fabulous island Sardinia! I know I know, it might seem biased but trust me, not only we are also Italians but our culture and beaches are incredible! Cheers from Paradise!
Apart from so many great things, it needs to be said that Italy can surely improve infrastructures, customer service and cleanliness of public places (it isn't bad, but not "top notch"). That prevents many potential northern European visitors who prefer Spain and France instead. But despite its flaws, I love Italy. It isn't a place with a giant hotel in front of beaches, gentrified or renovated historic centers, fake friendliness just to please the visitor. In other words, it seems like a place which hasn't sold it's soul just to become richer. I'll consider Sardinia in near future, for sure.
Oh you're totally right. We are not that great when it comes to Infrastructures in Italy, in a way it's bad, I reckon, but you know what? If it's just a bit messy sometimes it's because we are simply … ITALIANS 😀 We are chaotic, messy, chill out and we should clean up a bit more yes! Italy doesn't even need to sell its sowl, there are so many beautiful places that we don't need to overdo it! And if you complain about infrastructures in Italy, wait till you come to Sardinia… being an Island we are a bit behind and the public transports also are less than ideal, but when you see the beauty you tend to forget everything about it!
I totally get your point. And I won't say it is as bad as some people say (Italians complain all the time). The worst, however are the large cities (Rome and Naples). I remember my first experience in Rome and it was a shock for me coming from Geneva. I learnt a few lessons : expect at least half an hour delay of any mode of transport, you DON'T really need to buy a ticket for getting into a bus, the concept of personal space doesn't exist, don't expect vehicles to stop for crossing the road, no one will mind you if you throw trash on roadside and that you may take three hours to reach your destination (but you'll still be there before your Italian friends). I do get that the culture of Italy is different and organisation isn't something to expect there. And as far beauty is concerned, no one can deny it.
How couldn't agree with you? We are like this, some places like you mentioned more than others are affected by this. And you forgot to mention that for us there are no rules in the escalators. I discovered that in Europe is different the very first day I moved to London, innocently stayed on my left only to be hit by the rage of the English people saying that I was an animal basically 😀 I was in shock and didn't understand why they were so mad at me. Then I realized that it's just in Italy that we stay wherever we want 😀 The beauty and the irony of it is that after 6 years living in the UK, when I went back to Italy and used an elevator I felt our behavior was outrageous ahahahah, I've been civilized I think 🙂 Thanks for all these inputs, I should write a post about it!
Many good reviews here, we thoroughly enjoyed ourselves. Meeting up at the coach 'station' was a little disorganised but it worked and we had a great day out. Siena was beautiful, although we didnt read the small print – Cathedral guide not included. San Gimignano very pretty, the wine tasting was fun too, although with wine at 30 or 60 euros a bottle we didnt buy any. A good day out.
Glad that despite little not so perfect details, you had a good time in Italy! Cheers
Hi Clelia, your blog on road trip to Italy is just vividly marvelous. Further, I appreciate the pride you take in your country and I feel like visiting your fascinating nation very soon. Thanks a ton for your itinerary.
Thanks Albert! Indeed I am very proud of being Italian! Our country has so much beauty to be discovered, from north to South. A southern Italian Itinerary is coming soon (I couldn't include that because of lack of time to visit everything of course). Italy is pretty big and even if people would love to have a taste of the north and the south on the same trip, if they use a car and don't have at least one month or more, it is impossible.
Loved your blog, but what you have touched is barely the tip of an iceberg, and if Venice is added to the list, they are the places that are frequented the most by foreigners. Italy is SO MUCH more. Must visit places in the north include Alto Adige, Valle d'aosta and Trieste, all of which have a unique culture, even for a country as diverse as Italy. As you have not covered any part of Southern Italy (which, by any means, is NOT a region that can be left out), I must add that it is a region that is as worthy of visiting as the the places mentioned in this blog. As a Calabrese, I'll say that it is arguably more beautiful, because the weather is better, cuisine is better and more diversified, beaches are much better than the north, the number of historical sites is higher (because of rich historical background) and people in general are very hospitable. Must visit places in South include Naples (a city that has probably no equivalent in Europe or World) and its surroundings (Sorrento, Costiera Amalfitana, Pompei, Caserta), Palermo, Catania, Siracusa, Reggio Calabria, Tropea, Pizzo Calabro, Matera, Ostuni, Alberobello, Brindisi and Lecce.
Hey Antonio, Thanks for your comment and of course I only touched the tip of the Iceberg! This was a specific Itinerary (and even a very crammed one to be honest) to include most of the popular sights, but I have another post or two coming for the rest of Italy, including the south (with all the places you have mentioned) and also another one for the mountain lovers. There is so much to see and do in Italy! By the way, I'm Sardinian and I visited Calabria more than once and loved it! We are very lucky indeed 🙂
Hi. I found your Blog by chance cause I'm searching for help with a road trip I'm taking with my husband and 10year old twins from Calabria to Puglia (excluding the heel) up to the whole east coast of Italy. Then cross quickly to Genoa to get the ferry down back to sicily. We have in total 28 days to discover and enjoy the East Coast. Whenever I search for tips, this area of Italy is hardly ever mentioned by travellers. Our trip starts soon, on the 1st August 2019, this is a short notice, but such an opportunity came up and we're grabbing it. Do you have some recommendations of the NOT To MISS places and fun activities with kids?
THANK YOU Lorraine
Hi Lorraine, Thanks for stopping by! There are not much info about the east coast because the sea is not exactly nice for our Italian standards. I personally prefer the west coast with the exception of some places in Calabria and Puglia (not sure what u mean by not covering the hill as Puglia is definitely on it ). If you can, don't miss Rossano Calabro, and in Puglia, the Gargano (and the national park of course), the "Trulli" and I also suggest to also take a day or two were you don't plan and take the car exploring the little coastal villages along the way. I remember in Rossano Calabro there is a massive aqua park your kid would love, it's called Odissea 2000, that could be a great place for you to relax and the kids have some fun! Unfortunately, it's been a while since I last visited Calabria and if it weren't last minute, most of my friends are from Calabria and Puglia so they could give you the real local insights, if you reply to this, tell me so I might try to contact them and ask for more precise info! Cheers Clelia
Your article was really helpful, 16 Day Itinerary Italy looks different and so amazing in this article. It was such a good read. Thank you.
Very nice, thanks for sharing! A very good overview of how to explore the north/northwestern part of Italy!
Thanks David!
HOW COME U DINT TOUCH UP ON VENICE?? AND AMALFI COAST
Good question! Italy has so much to offer that if I had made an Itinerary covering from north to south I would have needed to write a book 🙂 A second article with an Itinerary from Rome to Campania Puglia and Basilicata (including the Amalfi coast) is coming up soon! As for Venice, believe it or not, I've never been there and I am not planning on going because I see it as a trap for tourists. My friends who used to live close to the city can confirm that. Venice is like Disneyland to me, nothing truly authentic has remained. It's certainly beautiful judging from the pictures but as an Italian giving advice to tourists, first I wouldn't recommend a place I've never visited myself in Italy and second, I'd rather say what I think and then leave the last decision to you guys! Which means that if you don't mind Venice being not the real Italy, by any means, go on and visit it! 🙂
Great info, Clelia, Gracie! Your country is my favourite country in the World (and I have been to a lot of places).. I am of Indian origin but have lived in the UK for 25 years. I agree. I have been to most places in Italy including Sardinia and Sicily. My favourite so far is Puglia- we cycled for 8 days around Puglia last year, ! Sardinia (again cycling !) is my next favourite!. We are planning to drive to Tuscany in our new camper van from the UK (with our bikes), in August 2019. This information will really help us.
We don't want to rush it.. We want to spend two weeks in the region covering Florence, Pisa, Siena, Cinque Terre and maybe Genoa or Turin on the way in or back from the UK..
The villages of Italy,the country side, the food, the beaches would take up most of our time. We'll spend hardly any time in tourist traps – though there are unfortunately must -do's on most itineraries – Pisa, Siena, Florence ! Most Italian cities like Venice are now groaning under the pressure of mass-tourism.which is sad. Head away from the crowds, experience the lovely people of Italy and cover once region at a time -come back often, . – for a life time… that's our plan !
Hello Clelia, these itineraries are just amazing for a traveler. Is it budget friendly for a solo traveler or its better to be with a group tour?
Hi Lydia, Thanks for your comment! To be honest with you, it really depends! As a general rule (and solo traveler myself) it is always slightly convenient to travel with friends or as a couple, if only just to share the hotel room bill, car rental etc. But this doesn't mean that you can't go on the cheap by yourself. I have done both and the freedom of just deciding where and when to go is so amazing!
Italy can be super expensive but also very cheap, you just need to research a bit beforehand for the best hotels or hostels if you are flexible, train or buses instead of cars and you are in business! I was able to have a great holiday in Sardinia (which is well known for being quite expensive) when I was a penniless student!
As for the tours, I recently came back from an amazing trip to Australia and generally I prefer to go by myself because I like the freedom of decision but due to Australia being soooo expensive and other practical reasons, in the end, I decided to go by tour for a few things I wanted to see and it was AMAZING. If you travel solo you also have the opportunity to meet new fun friends and exchange life experiences along the way. So if you think a tour around Italy is better for you, by all means, book that if it's your cheapest option!
If you need some advice about tours, let me know! Being Italian I can guide you to the ones I think are the best value for money! Cheers Clelia
Lovely Post. Italy such a wonderful place to visit. All the photos are very good. This is an informative post. Thank you so much for sharing the list. I would like to share with my friends.
Thanks Gary, feel free to share the beauty of Italy and try it for yourself of course! 🙂
I have been reading your posts regularly.I need to say that you are doing a fantastic job by posting information regarding Italian beautiful and tour places.I will bookmark your site Please keep up the great work.
Please note that as per my comments guidelines I had to remove the name of your business and the link. Thanks for your understanding. Kind Regards Clelia
Amazing photos and information. thanks for sharing this! Love Italy!
Thanks Gabbar!
Oh man what a post! Lake Como, the italian tastes, the eye-candy accommodation… Have mercy!
Ahahaha I know, right! I was drooling over MY OWN COUNTRY while writing this post! Italy is just so beautiful 🙂
Never thought about a road trip round Europe but this looks amazing. I would want to take in San Marino for sure.
Hey Craig! Thanks for stopping by! Just for the records… San Marino is truly beautiful and it's not on this list just because even being in Italian territory it is a state of his own, not politically part of Italy, just like the Vatican is. I mentioned the Vatican just because it's basically inglobated in the city of Rome, but I should point out that it's also a state of its own 🙂
Great list of things to do, really loved Florence and can't wait to get to Venice
I also loved Florence, a marvelous city full of art!
Went to Italy in 2016, was one of our favorite countries to visit, need to get back ASAP!
Sounds a great way of giving a treat to myself and my wife for our anniversary! thanks for sharing this post, Italy is really very amazing and awesome, I can't wait to visit one day!!
Italy is always a treat for every occasion I guess 🙂
Love this article! Going to Europe for a 2 month road trip this summer. This Italy road trip will fit in perfectly with my plan. Thank you!
Thank you! Glad you enjoyed it and I hope you'll have a fantastic trip to Italy! 😉
Thank you for the article. We are going to visit this country with my wife. Hotels and cars have already booked. It remains only to have a good time
Hey Dylan, if you have everything sorted out, I'm pretty sure you'll have a wonderful time! I have a friend now on a trip to Italy and he is having the time of his life apparently 🙂
I've mostly been a UK and France traveler, but the more I see and read about Italy, especially the ancient cities … ! Thanks for a great post. Your photos are amazing! I'm off to see what airfare looks like for next season!
Hey Phill, being Italian myself I might be biased but a friend of mine is currently traveling around Italy and he is sending me pictures of everything he sees in absolute wonder, you have to put it on your bucket list!! 🙂
Thanks for an informative post, Clelia! It is very well-written, as well. I love how you included a video to teach your readers on how they can make use of Pruvo. Italy has always been a place to visit and explore for me but have not gotten the chance to fulfill at this time. It's also nice that lots of airlines these days are getting better with air travel services and amenities. Kudos!
Thanks Elizabeth! I hope you will be able to take an epic road trip to italy very soon, you will not be disappointed! 🙂
This was a really interesting post, thanks for sharing your travel experience.
Italy is the perfect place to visit and I would love to explore it more. You captured awesome pictures on your travel trip. Thank you so much for sharing this post.. Loved this!!
Thanks Samy! Italy is indeed a beautiful country and I'm a very lucky girl!
Wow! This post sounds amazing.. Italy looks awesome to explore. There are so many things to do. Love your post. I will be definitely adding to my bucket list. Keep posting!
Thanks Sammy! Italy should be in everyone's bucket list and a road trip to Italy even more! 🙂
I think everyone would like Venice in Italy. Venice was my favorite place where I would like to hang out with friends.
I can't talk about Venice as it is one of the few places in Italy I haven't visited. Mostly on purpose as I see it as a place that has no real locals but just tourists. The pictures are surely nice and the atmosphere and views too, but somehow it never was on top of my list of places to see in Italy! Maybe one day I will. Just to see if I was right or wrong about my feelings towards Venice.
Extremely informative and well written. 🙂
Thanks! A lot of work went into it! Now on with the second part… the beautiful southern Italy, soon to be published (soon can mean 1 week to a month!) lol
It's obvious by the quality that much effort was exerted to produce the article. I look forward to what part two offers..
The second part will also be a hell of a job but so worth it as it will cover some of the best parts of southern Italy like the Amalfi coast, Puglia, and other lovely places!
Italy sounds different and so appealing in this post. Loved the detailing! It was such a good read. Thank you.
Thanks Reshmaty!
I appreciate your blog post, Thanks for sharing. Air travel gets easier with airline sophistication. Its invention has revolutionized the entire travel arena.
Not sure how talking about airlines is relevant on a road trip article… but thanks for stopping by anyway!
Italy is a perfect place to travel as every city is to beatiful and historical. My favorite was Florence from the very well known ones but as I prefer less touristic destinations I enjoyed Bologna too for the students vibe.
Yes, Italy is beautiful no matter where you go you will always find something special! I also loved Florence and Bologna, they are less overwhelming than Rome and Milan for sure (even if my heart will forever stay with the eternal city!). Not sure if you have visited San Gimignano and Lake Como but they are seriously jaw-dropping locations! Now I'm preparing the southern road trip from Rome to the Amalfi coast, super excited as I love that part too 🙂
You did a lot of work to make this post. Italy is very beautiful, especially if you travell alone, without any excursion groups.
Thanks Jenny, Italy is beautiful no matter how you decide to visit it. Some people like you love to discover it without any guide but in certain circumstances, I recommend the tours (or at least using the services to skip the lines) as if you don't have much time they can truly save a lot of time and some guided tours are also worth it because being the guide Italian you will have a fun experience and you will not miss the best parts or waste time to find them 🙂 to each its own! The most important thing is to just pack up and come to Italy no matter how you decide to discover it, it's just too beautiful 🙂
Leave a Comment Cancel reply
The Perfect 10 Day Italy Road Trip Itinerary
Road trips can be a really cost-effective way to travel in a country and you get to set your own pace which is awesome. Many people don't think right away of a Europe road trip , but it's a great way to experience a country and get to know even better. Here is the 10-day Italy road trip itinerary I used for my summer trip.
Italy is one of my absolute favorite places in the world. I love the history, food, and nature in this country. It's impossible to see everything in ten days and this road trip was actually my second time visiting.
· Overview of your Italy Road Trip
· 10 Day Italy Road Trip Itinerary
· Day 1: Day in Rome
· Day 2: Pisa and Hot Springs to La Spezia/Cinque Terre
· Day 3/4: Cinque Terre
· Day 4 Driving
· Day 5: Florence
· Day 5 Driving
· Day 7 - 9 Amalfi Coast
· Day in Capri $80 per person
· Day in Sorrento
· Day in Amalfi/Positano
· Day 10 Fly Home
· Ideas for Extending your Italy Road Trip:
This 10 day Italy road trip itinerary is a trip I took after a few different visits with a friend who had never been. We wanted a great mix of exploring and relaxing, making this my favorite trip to Italy I've taken.
When I visited in high school, I got the chance to see most of the important historical places in Italy and so when I started thinking about planning a trip this past summer, I wanted to visit some of the more picturesque places in Italy and discover the unique places I had heard others love. That's how this Italy road trip idea came to be.
There's so much to see and do while in Italy, you'll need some tips for Italy and some help along the way. I'm lucky enough to have friends who love to travel and she definitely helped me plan this one out. One of the reasons this trip was so much fun is because I got to go with a good friend of mine from here in DC. Traveling is always fun when you've got a good friend by your side! Thanks , Elissa for coming with me and putting up with all my craziness.
Flight : $410
Car Rental : $180 ($90 per person)
Hotels : $845 ($422.45 per person)
Food: ~$30 a day per person (~$210)
Activities: ~$300 per person
Total Per Person: $1473
Overview of your Italy Road Trip
Day 1: Day in Rome stay in Rome
Day 2: Pisa and Hot Springs stay in La Spezia
Day 3-4: Cinque Terre stay in La Spezia
Day 5: Florence stay in Florence
Day 6: Tuscany stay in Sorrento
Day 7- 9: Amalfi Coast stay in Sorrento
Day 10: Fly Home
10 Day Italy Road Trip Itinerary
Day 1: day in rome.
Tour $50 – $150 USD or pay individually for entry $80
We spent one night in Rome at Colosseo Apartments which gave us a great view of the Colosseum from our room. You could walk to the Colosseum in less than 5 minutes. Parking was a little tricky, but the location was perfect and once we found a spot (we had to drive around a few times to find one) and we didn't have to drive while in Rome again. We were close to everything and could walk all around the historical sites even at night. It was pretty ideal in that sense!
Rome has so much to do and see. If it's your first trip to Italy, you'll want to spend more than one day in Rome. I had already seen the Vatican, St. Peter's Bascilica, Spanish Steps, Trevi Fountain, Pantheon, and museums in Rome. I did not get to go into the Colosseum or Forum when I was there previously so I spent the day exploring the Colosseum and Forum with Walks and saw the things I missed.
I highly recommend their tours whether it's your first time there or third. It was a fun way to spend the day and I got all the insider tips/skipped the lines. When you're only in a city for a few days these things are key!
If this is your first time in Italy, consider spending two days in Rome instead of two days in Cinque Terre. My friend arrived a day before me so she could spend a day exploring more of Rome and not miss the must see spots. Even two days is a short amount of time, but you can make it happen if you are prepared to do lots of walking. Most of the historical things in Rome are in two main areas – near the Vatican and near the Colosseum.
If you are strapped for time though, and just have a day, Walks offers a Rome in a Day Tour that will let you see all of the major sites I listed above. I actually just went on this full day tour with my boyfriend and it was an amazing and effortless experience. We got to see the Colosseum, Roman Forum, Trevi Fountain, Pantheon, Vatican, and more. They took care of everything on the tour and we skipped the line for everything so no time was wasted. If you have just one day and want to see the major sites, this is the tour for you.
Don't forget to spend some time walking around Rome after dark. This is a city that seems to always have something going on and dinner is done late in the city, usually after 8:30. So the city stays alive after dark! There's lots to do in Rome at night that you won't want to miss.
Pro-tip: It's super cheap to rent a car in Europe but you'll need an international driver's permit in Italy if you are coming from the US or many other countries. They are super easy to get at AAA or another similar service. Check your country's rules before booking a car! We used Expedia to book our car and it was pretty seamless. Look up companies before booking because many listed are actually partnered with American companies so you need to be careful when you book.
Day 2: Pisa and Hot Springs to La Spezia/Cinque Terre
5 hour drive total
We took our rental car and got out of the city. We made a stop at some really awesome hot springs in Saturnia. Parking and entry are free which makes it really easy to walk around! Saturnia can get extremely crowded during the day.
People get incredible pictures who go really early in the morning, but the experience is the same whether there is a crowd or not. We found that most people were not tourists or were very relaxed there. We saw very few kids and just relaxed along the really interesting terraces.
Pro-tip: The ground is tough to walk on around Saturnia. If you can bring water shoes – do it! Your feet will thank you.
After this stop, we kept driving and made it to Pisa. We found parking very close to the leaning tower and cathedral just in time for sunset. It was absolutely stunning and a great way to experience the city.
Pro-tip 2: If you want to go inside the leaning tower and cathedral, you'll need to get there earlier in the day. We arrived around 5:30 and things were already closing. We only got to walk around.
Day 3/4: Cinque Terre
We spent three nights and two full days in Cinque Terre and it was just incredible. We had the cutest little AirBnB with the nicest host that I just couldn't recommend enough. The view was beautiful and our host left us limoncello and pastries to try. It was such a great spot!
Cinque Terre is probably my favorite place that we visited when I was in Italy this past time. It was so beautiful and unique. It offers everything that you could want – history, beautiful buildings, beaches, adventure, and delicious food.
We drove from Pisa to La Spezia that evening and spent time walking around town and grabbing a late dinner after we arrived. We chose to stay in La Spezia instead of in one of the five Cinque Terre towns for a few different reasons.
La Spezia is cheaper to stay in than towns in Cinque Terre. It's also easier to park a car in. It's basically impossible to park in any of the five towns in Cinque Terre. It provides a good starting point for your trip and there is a train that takes you into town.
If you are there over the summer, you can park at the school near the train for free or in the commuter parking in town. If you are there during the school year, you'll have to park in a garage or along the street. Street parking was just $6 for the day so it really is not a big expense! The garage would be about $20.
While in Cinque Terre, there is tons to do! I've got a two posts about Cinque Terre where I go into more depth about everything you need to know . Spending two days here was awesome. A lot of people spend one day here as a day trip from Florence, but with a car, we felt there was more time we could spend here and I think it's a great idea to take more time to enjoy this beautiful area.
Things to do in Cinque Terre include the famous Cinque Terre hike, cliff jumping, kayaking, visiting cathedrals, snorkeling, boat rides, and more. It was my favorite part of the road trip for sure!
Pro-tip: Getting a Cinque Terre pass is the best way to easily get around Cinque Terre. Trains run until 10 pm back to La Spezia so you don't have to feel like you are rushed even if you don't stay in one of the five towns of Cinque Terre.
Day 4 Driving
You will drive from La Spezia to Florence, a 2 hour drive.
Day 5: Florence
We spent two nights but one full day in Florence. The hotel we chose was about $100 a night and included breakfast but not parking. We chose it because it had a more central location making it easier to walk around and we didn't even have to take public transit.
The hotel was definitely outdated and while it was fine, we paid far less for other hotels on our stay and found them to be much nicer. Book far in advance for hotels in Florence. I'm choosing not to link it here as I do not think it is worth staying at honestly!
As I said, I've been to Florence before and so this was a recap for me. If this is your first trip to Italy, I highly recommend spending another day here if you can and cutting a day possibly from Cinque Terre or Amalfi Coast .
Florence is known for all the museums and some of the most famous painters in the world residing there.There's tons to do in Florence so below I'll list some of the must visit things to do that I really loved!
If you have been like me, consider skipping some things that have long lines and spend more time wandering the streets. One of the best things about this city is that they recently outlawed cars in many downtown areas unless you have special permits. This means that there are no cars on the roads as you walk through the historic renaissance streets. It's pretty magical!
On my one day I went to Pitti Palace, the Duomo, Uffizi Gallery, and Ponte Vecchio. Below you'll find all the top things to do.
Some of the must see spots in Florence include the Florence Cathedral, Uffizi Gallery,Piazza della Signoria (open air gallery), Galleria dell'Accademia, Cattedrale di Santa Maria del Fiore (known simply as the Duomo), Pitti Palace and Boboli gardens, and Ponte Vecchio Bridge. We didn't have to drive once while in Florence! Everything is so close together and easy to get to. You also can't go wrong and should just enjoy this city!
Planning out what to do in Florence is important because there's so much to see! I definitely recommend booking things you want to do in advance and being prepared to stand in lines quite a bit!
PS did you know there are a ton of amazing outlets in Italy ? Many are located right near Florence and with your car, easy to get to. If you're a fashionista , then you'll want to add this stop.
Day 5 Driving
Drive from Florence to Amalfi Coast on Day 6, a 6 hour drive
Pro-tip: There are tons of new road closures in Florence because of high tourism volume. All of the road closures in Florence are not listed on Google maps yet. This means that you've got to plan ahead and ask your hotel for specific directions if you plan to drive. We ended up driving around for over an hour trying to figure out how to get to our hotels because Google kept telling us to go down illegal roads!
Drive Through Tuscany to Amalfi Coast
This is the longest driving day so it's important you build in a few stops! There are tons of things to see in Tuscany – mostly awesome wineries. We chose to spend a day enjoying Tuscany on our way back down past Rome on the longest drive of the trip. What is a good road trip if you don't get to spend some time enjoying the country side?! We loved seeing the amazing rolling hills of Tuscany and all the cute little towns you go through.
We drove along some really awesome and windy roads as we went through the country side. The Chianti reason felt like the best place to stop because that's one of our favorite types of wine. Chianti is just one of the regions you can visit in Tuscany along your drive back. If you have a specific type of Italian wine you love make sure you look it up!
Visiting wineries in Italy is different from the US and some other countries. You cannot go up to most wineries and simply enjoy a wine tasting. Most tastings must be booked in advance and reserved space is limited. It will typically include tastings of several wines, a tour of the winery, and light food to accompany the wines. They do sell out and most do not have wine tastings on a Sunday. It takes some planning and research to figure things out.
If you want beautiful views, consider more time on a road trip through Tuscany.
Initially, we thought we would just find a winery to go to, but after looking some more, we realized we couldn't actually visit one with that method. We even looked some up online that said you don't need a reservation and tried to go to one only to find out it was closed. Long story short, book in advance!
Reach out to wineries before you go. Some take a while to get back to you as they are mostly family owned businesses. We were messaging wineries up to the last-minute and got lucky finding one that would take us the day before and almost completely missed out on the experience.
Fattoria Veticcio is a family owned winery with beautiful scenery overlooking the town of Greve. It was $40 for the tasting, tour, and light food. Our GPS took us around the back causing us to get lost for a bit, but after a phone call to the winery, we found it with ease. They were so kind and helpful.
I imagine that it would be amazing to stay at this winery because there are two awesome pools there and several tasting rooms. The wine was so good we ended up buying three bottles each to bring back to the US with us! I haven't gotten the courage to again drink this wine yet because I don't want to waste it!
Day 7 – 9 Amalfi Coast
Amalfi Coast is one of those places that I heard so much about before visiting. I had really high expectations and wanted to love it. That being said, I did really like it but it didn't live up to expectations. It was crowded, overpriced, and the driving was really scary! Also, I do not recommend driving past Sorrento unless you are an extremely confident driver. It can be really difficult to drive along the winding roads.
Pro-tip: The closest thing I can think to driving in Amalfi Coast is driving Route 1 in California . It's a drive with beautiful views, but will cause the average driver anxiety. I chose to drive slow and careful despite many people whizzing past me. Be confident and careful on the roads and you will be fine!
Day in Capri $80 per person
This was my favorite part of Amalfi Coast! The whole day was incredible and I see it as a must if you're headed this way. We chose to do a full day trip with a boating/snorkel experience around the entire island. We did this because while there are affordable ways to get to Capri, they won't take you all the way around the island and are still 30 Euros a person. Also, food on Capri can be very pricey and we wanted to make sure we got there and really relaxed.
We chose the first day of our time in Amalfi Coast to do a day trip to Capri because we didn't want to be rushed when we got back or try to drive after spending all day in the sun and on a boat. It ended up being the best decision!
We got up the next day whenever we wanted and we enjoyed Capri stress-free . The only complaint I have about the tour was us trying to find it. The directions were not clear and it was very difficult to get there. We never got a confirmation from them or an email.
We ended up calling them multiple times before we were able to speak to someone. It was not ideal. The harbor we met them in was in Sorrento and it was easy once we were there to know what to do. We drove to Marina Grande and were able to park for $12 for the day. When there, we asked where tour companies were and immediately were directed to the right place. We just didn't hear from the company to know if we were going the right way.
Day in Sorrento
Sorrento is a really awesome city with lots to do. I was surprised how much we loved our little hotel and place along the water. We stayed at Purple and I was so impressed! For just $80 a night we had a great breakfast, free parking (on the street), and an awesome view from our hotel. Seriously worth staying here with everything it has to offer at the price.
Start by visiting a limoncello factory, I Giardini di Cataldo. Sorrento is known for its giant lemons, they are used to make all types of delicious lemon infused things! Limoncello is a classic and the factory does free tastings! Out back you'll find tons of lemon trees that make a perfect setting if you decide to buy some and want a place to enjoy a drink. Walkthrough the cute streets and enjoy your time looking into the many shops that are found throughout the town.
Pro-tip: You will find lemon flavored things all over Amalfi Coast. They almost all sell the same products or type of products. Try getting something from the factory if you want it to be the freshest !
From there we went to spend our afternoon at one of the famous docks located on the water. We chose to hang out at one of the many decks /restaurants that are in the small port in downtown Sorrento called Delphino. The food was delicious and the view was perfect!
Eating lunch there gets you access to their deck where you get lounge chairs, changing stations , and places to jump in the ocean. Unfortunately, while we were there the deck area was closed due to high winds. Instead, we hung out on the beach and rented chairs for just 4 Euros. It was cheap and lots of fun to hang out there!
From here, we went back to our hotel and headed off to Amalfi for a fancy day on the coast.
1 1/2 hour drive to Amalfi
We arrived around 5 pm in Amalfi. We stayed at a hotel with a beautiful view called Holiday House Le Palme . While it had an awesome view, it was not ideal. You had to drive up a cliff side for over 1 1/2 from Sorrento to get there. Then once there, you have to park along the side of the cliff and walk down 300 stairs to get to the place. There is no food there and the closest place to walk to is 30 minutes away.
Otherwise, you have to drive back down the cliff for about 2o minutes to get to town and try to find parking. The hotel was beautiful, but there were tons of mosquitos. Also, there was loud music all night long and roosters woke us up early in the morning. It was the worst night sleep of the whole trip!
We went to dinner here from our hotel on Amalfi and spent an evening relaxing in Atrani, mostly because the place we were staying at would drive us there and I could handle no more driving those tiny streets that day. They have a huge beach area that is cheap to rent a chair from if you have time during the day. This town is quieter than others.
Pro-tip: There are ferries that go between all of the towns on Amalfi Coast. They are an easy and hassle way to get from town to town. They also give you great views of every town. I actually recommend staying in just Sorrento if you can and taking ferries instead of doing a night in Amalfi or Positano for a road trip. The driving was stressful and what you can get for even $250 a night is not ideal.
Day in Amalfi/Positano
We started off the day by spending the morning in Amalfi. It is actually a town as well as the name of the region. This confused me when I looked it up at first! It is a really gorgeous town and has a very resort feel to it. The beaches are long and there are two large harbor areas where boats are docked. There is also an incredible cathedral located in the middle of town that you can see.
From Amalfi, we took a ferry to Positano for 20 Euros round trip (16 if you visit Amalfi in the fall ). It was the perfect way to see Positano because it's not a cheap city! We walked from the lower part of town to the top to get the iconic view and grab lunch. In the afternoon, we walked around and spent some time on the beach.
I saw more pictures of Positano than anywhere else along Amalfi Coast. Positano is a beautiful and picturesque town, but is overpriced. While here, eat some awesome food and enjoy the incredibly cute streets! Walking around the small streets, exploring shops, and seeing the cutest spots was worth it.
The private beach areas were much more expensive here than other areas. There were spots almost taking up the entire beach there with chairs. You'll pay 24 Euros for the day (compared to the free ones we had on Capri and 4 Euro chairs we had in Sorrento) and that won't even get you an umbrella or towel. The beach area here was not impressive and I feel like there are spots that are a better choice.
Day 10 Fly Home
(I flew on to Lisbon !)
This day speaks for itself a little bit but just know that this drive is a little scary and much faster if you do not take the coast. It's about a 2 hour drive back to Rome and you'll want to plan for traffic depending on what time you leave. Give yourself plenty of time as you get back into the city!
Ideas for Extending your Italy Road Trip:
Venice – there's so much to do in Venice
Milan – the cathedral there is gorgeous
The Dolomites and explore the mountains
Lake Como is beautiful and would be an excellent addition
Continue your drive through Southern Italy for gorgeous towns and beaches
This 10 day Italy road trip is still one of my favorite trips I have ever taken. Seriously, Italy – you are my favorite! If you're wondering what to pack for Europe , don't fear there's plenty of ideas to help you out. How do you feel about Italy? Let me know in the comments below!
#roadtrip #italy #roadtripitaly #italytravel
Related Posts
2 Days in Rome: Itinerary for First Time Visitors
The Best Time to Visit Amalfi Coast
Cinque Terre Tips: Everything You Need to Know

The 7 Best Road Trips in Italy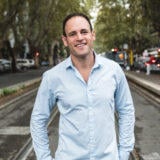 While many travelers enjoy a tour of Italy's most famous monuments (or indeed a walking food tour of one of its most culinary neighborhoods), one of the best ways to get to know Italy and to make the most of your trip is to explore the beautiful Italian countryside by car. Auto Europe – a car rental company which has been matching travelers with affordable cars in Italy for over 60 years – has assembled a terrific list of Italy driving itineraries , and we thought we'd highlight these 7 classic Italian drives in the event you choose to enjoy one of these routes on your upcoming trip.
Why Take a Road Trip Through Italy
Perhaps you are in need of a vacation that will sweep you off your feet; then an Italy road trip should be at the top of your list. Driving here takes patience, but perhaps its because you should take your time so you can soak in the views and the culture.  It is a country filled with everything you could want, from history to food to scenic views. The drive through Italy itself is breathtaking, with winding roads leading through rolling hills dotted with quaint little towns, giving you ample opportunities to explore Italy's rich culture, and you can stop and explore anywhere you want. Each stop on your journey will take you back in time to a different era and give you an experience you'll never forget. Take a dip in the crystal clear waters of the Amalfi Coast or wander through the vineyards of Tuscany. The sights, smells, and tastes of Italy will stay with you forever. So pack your bags, buckle up, and hit the open road, because this is one adventure that you won't regret!
Amalfi Coast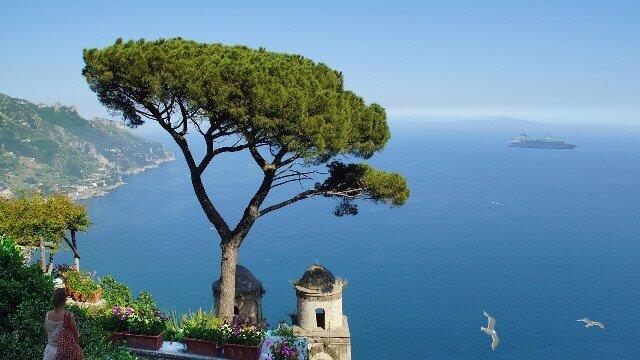 Italy's Sorrento Peninsula offers drivers breathtaking views of crystal-clear water and charming hillside villas. This drive, often called the Blue Highway, can start easily from Naples. Enjoy a scenic cruise around Mt. Vesuvio as you tour Sorrento, Positano, and Salerno. The total driving time for this 4-day trip is about 5 hours (108 miles of jaw-dropping views). Bend after bend in the highway; you'll discover some of the best photo opportunities. Make sure you plan stops to dine and explore in each of these fabulous towns; you'll leave with a deep understanding of and appreciation for Italian life on the Amalfi Coast.
Click here for the full itinerary.
Stelvio Pass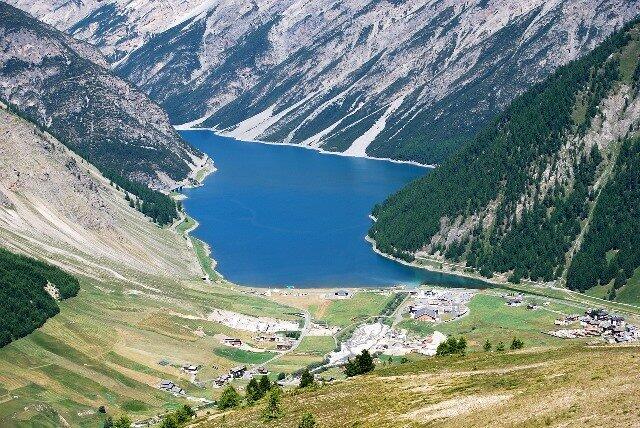 If alpine views are more your style, then the Stelvio Pass driving route offers breathtaking vistas the hairpin turns will delight anyone wanting to see be surrounded by mountains throughout the journey. This itinerary includes stops in Bolzano, Stelvio, Bormio and Livigno. Here, you can stop to enjoy the wine culture, explore medieval towns and fresh mountain air and hiking. Northern Italy offers travelers unique cuisine and the opportunity to explore the stunning Ortler Alps. This might be our favorite road trip for nature lovers, as it offers you the chance to take one-of-a-kind alpine photos which will amaze your friends and family when you return from Italy.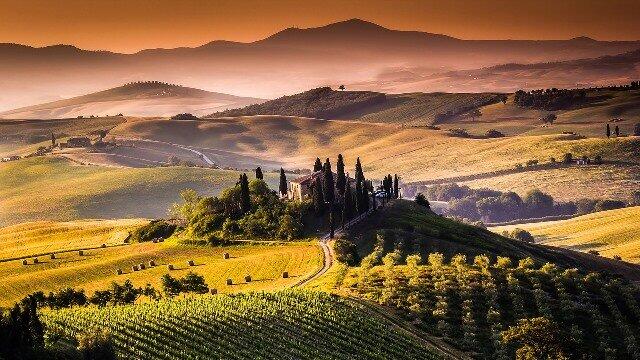 Food and wine lovers will love driving through Italy to see the rolling landscape of Casentino Valley. This drive from Florence through the Tuscan countryside will allow you to pause at wonderful wineries, eateries featuring the fresh, simple, and in-season ingredients that Tuscan food is known for. Stay at a quaint Italian hotel or guest house along the way. This 63-mile trip offers travelers plenty of time to explore, linger and delve into one of Italy's most magical regions. Travel at your own pace while enjoying plenty of inspiring views of the iconic Tuscan countryside. Make sure you take the time to stop for a sunset (or two) and admire that golden light that makes Tuscany so special. While on your Tuscany trip , why not make a short detour to Florence to enjoy a food tour ?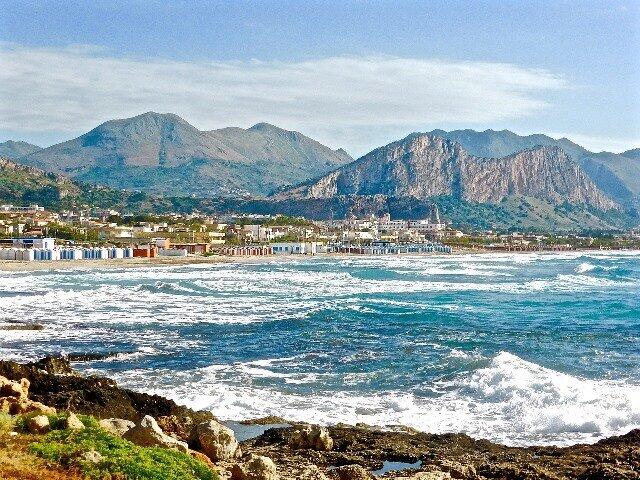 The famous island of Sicily offers travelers gorgeous vistas of the Mediterranean, a unique and storied history and some of the most delicious and interesting seafood cuisine in the world. The itinerary begins in Catania with stops on the slopes of Mount Etna, seaside Taormina and concludes after 87 gorgeous miles in Messina. This 3-day tour of Sicily offers travelers the opportunity to stop and explore roadside shops and cafes, pausing to enjoy your new favorite restaurants and classic monuments and ruins – a truly great part of the island to explore by car.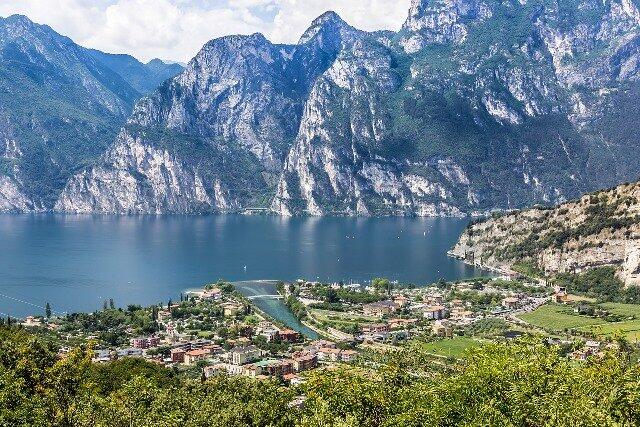 While you may have heard of the glamor of Lake Como's palatial estates, a drive through Italy's Veneto region along the banks of Lake Garda offers savvy travelers equally beautiful vistas. Pause for photos with pastel-colored Italian villas and the lake's crystalline waters as your backdrop, and enjoy the history of Verona, Brescia, Limone sul Garda and Trento on this fabulous drive. One of the longest routes in Auto Europe's Italy road trip guide, the Lake Garda tour doesn't disappoint. Begin in fabulous Verona and leave room in your itinerary for scenic detours. The itinerary also offers numerous restaurant recommendations, sorted by price, so no matter your budget you can find the perfect restaurant or café to leave you satisfied for the next leg of this delicious road trip.
Foothills of Sabina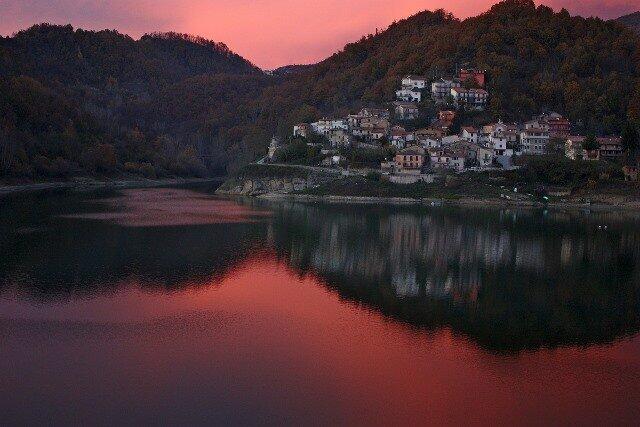 If you're planning a trip to Rome , this charming route which winds its way through the Sabina foothills from Rome to Terni offers you the chance to experience the beauty of the often-overlooked and unspoilt Italian countryside which surrounds this famous city. Here you'll see lush, green hillsides, steep valleys, and hilltop towns. this route is sure to deepen your Italian experience and enhance your understanding of Italian culture. The pace here is much slower and enjoying the outdoor lifestyle and nature is a thing here. Scenic detours include driving around Lake Albano, among other beautiful areas. Continuing on the route, it will take you through the Marcigliani Natural Reserve as you follow the banks of the Tevere River, and we recommend pausing at a roadside stand to sample high-quality olive oils from any of the impressive olive groves in this region. Drive to the summit of Mount Terminillo on your way to Amatrice before enjoying a drive through Lago di Campotosto State Reserve on your way to beautiful Terni. While in Rome, why not join a food tour or culinary class and get to know the region through its cuisine?
The Italian Riviera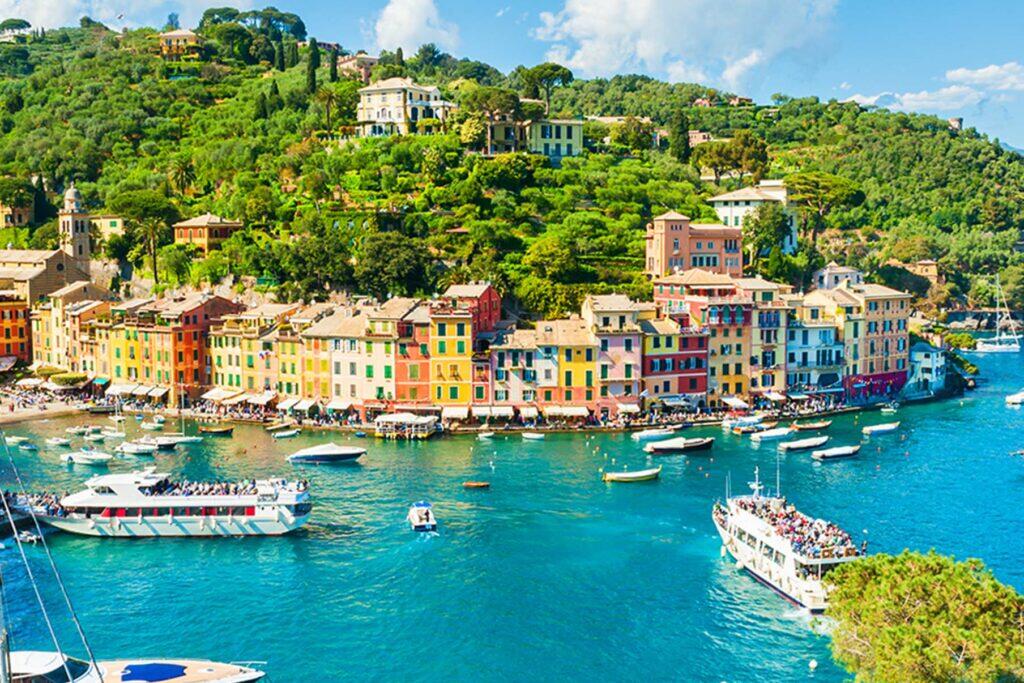 Craving a road trip through Italy on the Italian Riviera? This area is renowned for its idyllic harbours, colourful houses and dramatic coastlines. Discover the beauty of the numerous bays and Italian towns on an iconic road trip. From San Remo, the route takes you to Portofino, often listed as the prettiest harbor in the world. The road passes through Genova, a large city with many historical sights, and then to Cinque Terre, known for its unique five coastal villages. Here you'll want to take a break from the drive and explore the villages by foot to round out your journey.
What Stunning Finds Will You Uncover Driving Through Italy?
Of course, these 7 fantastic driving routes in Italy are only the beginning. There are numerous locales that you can explore by car, all within reach of Italy's major cities. Whether you're planning a day trip or an extended tour of Italy, incorporating our food tours or cooking classes with a driving tour of the Italian countryside is a great way to leave Italy with a deep understanding of what makes this country so special.
Do you have a favorite drive not listed here? Inspired to rent a car and enjoy and Italy road trip for your travel memories? Let us know in the comments!
Like this? Check out Eating Europe on social media!
With more Italian foodie ideas, mouthwatering pics and much more.
This post contains affiliate links to products. We may receive a commission for purchases made through these links.
Exclusive Content
Subscribe to receive the very best Eating Europe stories in your inbox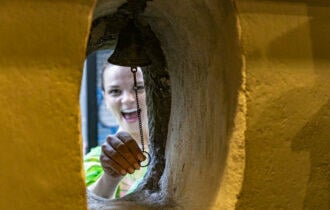 Florence Sunset Food & Wine Tour
An unforgettable evening filled with wines, fresh pasta, cocktails and an exclusive wine cellar experience.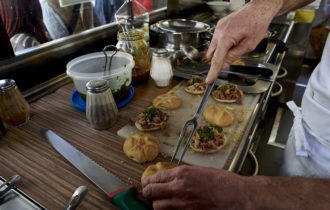 The Other Side of Florence Food Tour
Discover Florence's local favorites & taste what makes Tuscany's cuisine so unique
Tuscany Truffle Hunt
A gourmet culinary adventure with a multi-course meal in the Tuscan countryside.
About Kenny Dunn
Kenny's love for European cuisine was sparked after moving to Rome in 2009. He fell in love with the city's backstreet eateries, and even more with the people and stories behind each dish. Now he's turned his passion into food tours, so  Eating Europe  guests can also share a taste of local life.
Get the best advice and offers on Eating Europe tours
Subscribe to our newsletter for exclusive offers, discounts and the best in food and travel advice across Europe
Related Posts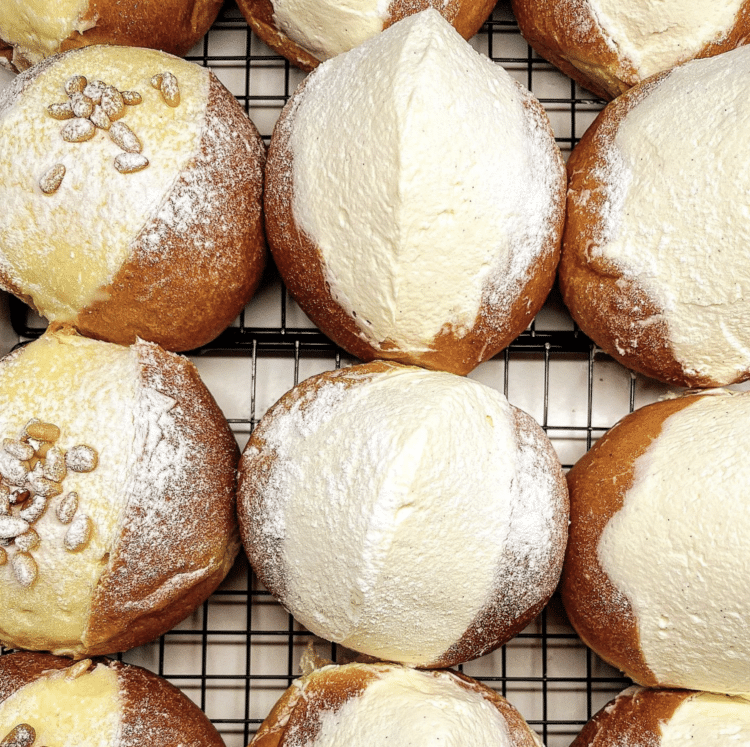 The 7 Best Cafes in Rome That You Must Visit
Living in Rome for over a decade has allowed me to uncover the city's well-guarded secrets, especially when it comes to its hidden cafés. Nestled among...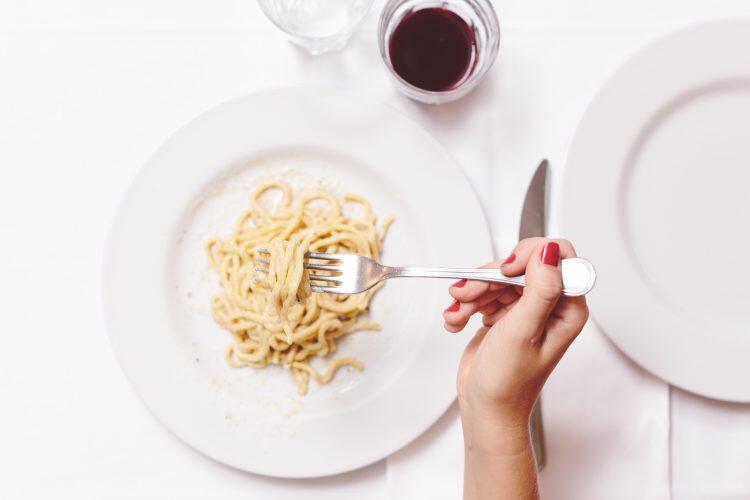 The 6 Best Foods To Try in Rome
Rome really is a foodie's dream. There's nothing better than tucking into a cheesy Tonnarelli Cacio e Pepe with a view of the Colosseum in the ba...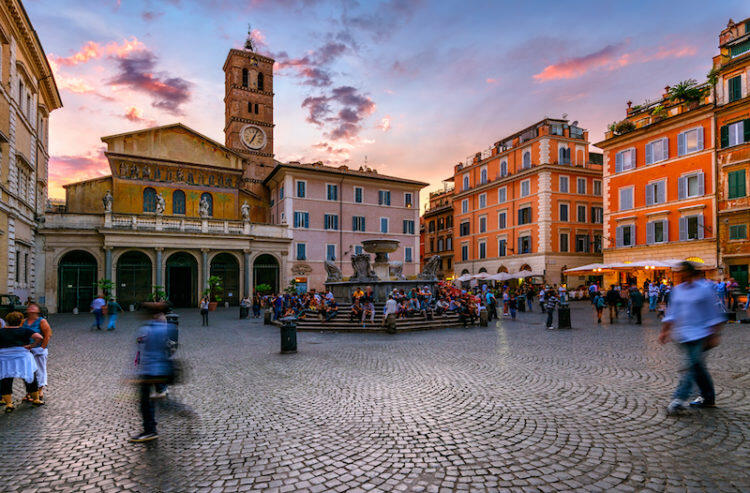 The 7 Best Rome Tours In 2023
The 7 Best Tours In Rome In 2023 When you find yourself in Italy's capital city, the delicious food, endless history, and stunning architecture can sometimes...
Comment on this Article
Czech Wine and Where to Drink it in Prague
Skip to right header navigation
Skip to main content
Skip to primary sidebar
Follow Me Away
Couples Travel & Travel Photography Blog
Middle East
North America
South America
Photography
Travel Tips

The Perfect Italy Road Trip Itinerary You Should Steal
January 16, 2020 // by Follow Me Away // 6 Comments
If you are searching for the ultimate Italy road trip itinerary, you have come to the right place! Planning your road trip in Italy should be fun and exciting, not stressful, which is why we put together this detailed post to show you how exactly how to plan your road trip and where to go!
We have visited Italy multiple times over the years so this road trip itinerary includes some of Italy's most famous sites as well as some lesser-known suggestions that may not be recommended by others.
Planning your trip to Italy last minute?
Make sure to book your hotels and tours in Italy in advance to ensure availability! Here are our top picks for your trip!
Tickets you MUST book in advance:
Vatican Museums And Sistine Chapel (A MUST in advance)
Colosseum Entry Tickets (Another MUST! Book online in advance!)
Michelangelo's David Tickets (Often sells out in Florence)
Skip-The-Line Uffizi Gallery Tickets (Buy online to save time!)
Doge's Palace Entry Ticket (Very busy, can sell out)
Milan Cathedral And Rooftop Tickets (Sells out and a must-see!)
Top picks for places to stay in Italy:
Rome: Hotel Relais Dei Papi (Amazing Vatican location)
Florence: Relais Pizza Signoria (City center location)
Venice: Hotel Carlton Grand Canal (Grand Canal views!)
Dolomites: Parkhotel Laurin (Central location with pool!)
Cinque Terre: Affittacamere Casa Dane' (Affordable location)
Milan: Collini Rooms (Just 10 min from Milan airport!)
We want you to see the best of what Italy has to offer on your road trip and that includes seeing the highlights as well as seeing some mountain towns and seaside villages.
This guide is not created for a specific time frame. That is for you to modify based on the amount of time you can spend on your Italy road trip. You may only have 5 days or you may have 2 weeks. Choose the stops you want to see and modify the ones you don't have time for. Either way, we are confident that you are going to love planning your perfect Italy road trip.
Don't forget to check out our Detailed Road Trip Packing List so you don't forget any essentials for your trip!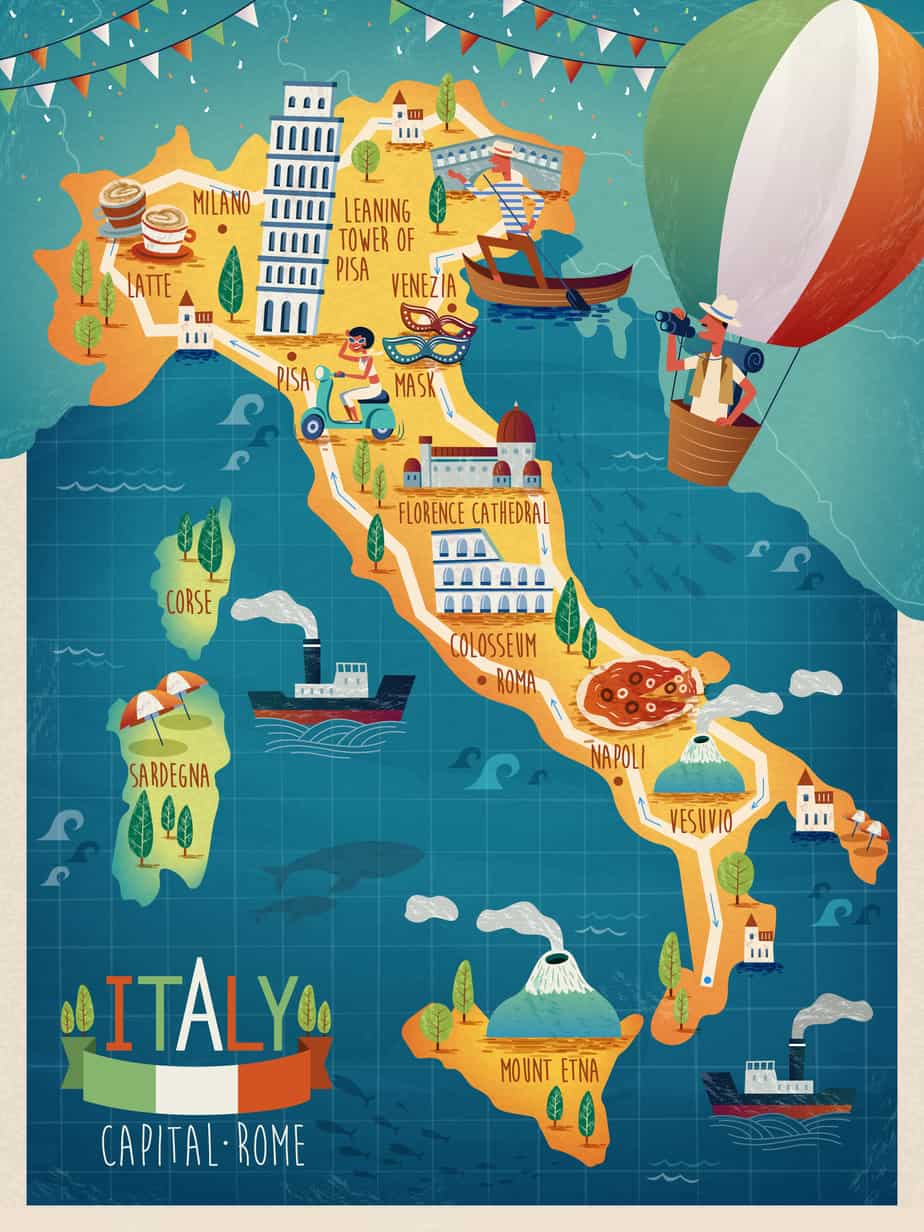 The Ultimate Italy Road Trip Itinerary
Renting a car in italy.
Before you set off on your Italy road trip, the first order of business is renting a car in Italy! We rent from Auto Europe and have had good luck. This is what we personally use and it allows you to compare rates across a variety of popular car rental websites including Hertz, Sixt, Europcar, Alamo, Dollar, Enterprise and more. This way, you can see a bunch of different prices without skipping around through a bunch of different websites. You can also check out our detailed guide on renting a car in Italy before you book.
The detriment about planning an Italy road trip is finding parking in the big cities. It can be a real pain and can be quite stressful. Under each stop, we are going to place a note about parking so you know exactly what to expect when visiting each city.
A note about one-way car rentals
For the sake of this itinerary, you will be renting a car one way in Italy. This is no big deal and happens all the time, but there is usually an added fee because you aren't dropping the car off at the same location you got it from. The added fee will usually be around $50-$100 depending on how long you will be staying in Italy.
If you really do not want to pay the added fee and want to fly round trip, that is okay too. Italy is pretty small when you factor in driving distance. To put this in perspective, this itinerary begins in Rome and ends in Milan. If you don't want to fly into Rome and out of Milan and want to fly round trip into either, you will complete the itinerary as we have put it and then simply drive back to where you started. From Rome to Milan the drive is only around 4 hours so it really is not that bad!
Where To Rent From
In Italy, we recommend renting your car from the airport whenever possible. This will be the cheapest and best way to complete your Italy road trip on a budget. This is why we like Auto Europe because it allows you to compare prices based on location across many companies. If you rent at the airport you can pick up your car and begin immediately. Otherwise, you will have to navigate into the center of town and the rentals are usually more expensive!
Driving In Italy
Most car rentals are manual transmission and they are the cheapest. If you do NOT drive a manual car, now is not the time to learn. This is also not the place to choose a large SUV! Italy is full of narrow streets and it is essential to pick a compact car. When driving, you drive on the right side of the road and the steering wheel is on the left side of the car.
There are MANY toll roads in Italy so make sure to budget some extra money to pay for tolls. Tolls range from a few euros to up to 20 euros apiece depending on where you are. Keep in mind that driving in Italian cities can become quite hectic and congested. We HIGHLY recommend travel insurance if you are planning an Italy road trip and have never driven in Italy before. This is one of the BEST ROAD TRIPS IN EUROPE so you are in for a real treat and a memorable experience!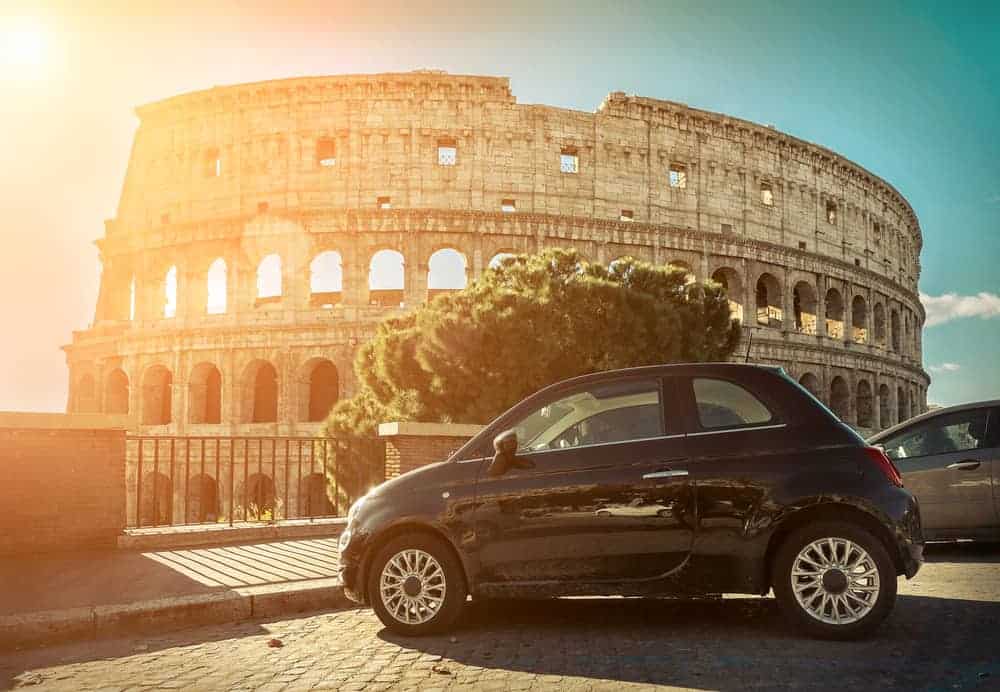 DO NOT Forgo Car Insurance
Okay, you don't HAVE to get car insurance during your Italy road trip, but we HIGHLY HIGHLY recommend it. The streets in Italy are very narrow and the traffic is very bad. We beg you to not travel Italy without car insurance as it is a huge mistake. One ding or dent can set you back hundreds or thousands of dollars. Car rental companies are looking to take your money and will take even the tiniest scratch to do so.
There are two main ways to do this. First and our favorite way and the one we recommend is putting the car rental on a travel credit card with insurance. IMPORTANT!!!!!! Please keep in mind that MANY credit cards DO NOT COVER car insurance in Italy. These are the 5 Credit Cards We Travel With but we recommend the Chase Sapphire Reserve when renting a car for your Italy road trip. As long as you put your Italy car rental on Chase Sapphire Reserve card, you will be covered for collision and theft when driving in Italy up to $75,000. This means if you crack your windshield or get in a fender bender you are covered. All you must do is put the car on your Chase Sapphire Reserve and decline car rental coverage offered through the agency.
We love using a travel credit card because it offers SO many benefits plus you get 3x the points on travel so essentially you are earning a free future trip when you put your Italy trip on Chase Sapphire Reserve . It is so wonderful to know we don't have to pay any foreign transaction fees, get access to lounges, and get car insurance all covered in our credit card! We know that each and every time we rent a car in Italy or any other country, we will be covered and this is huge peace of mind. Remember that MANY travel credit cards do NOT offer coverage in Italy so please keep this in mind when booking your Italy car rental.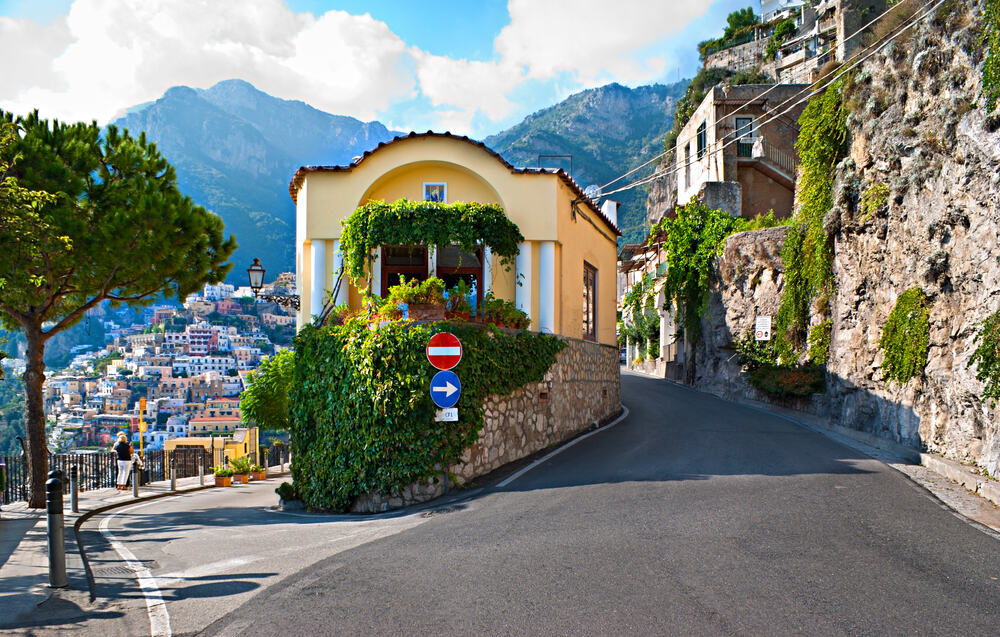 Stop 1: Begin Your Italy Road Trip In Rome
We highly recommend beginning your Italy road trip itinerary in Rome. Rome is the center of Italy and there are any affordable flights that fly in and out of the city each and every day. Budget airlines like Norwegian Air and local European domestic airlines such as Ryanair also frequently fly into Rome. Depending on your interest, we recommend spending either 2 days in Rome or 4 days in Rome and then doing some Rome day trips , but you are free to add more or less time as you see fit.
Parking In Rome
Finding parking in Rome is very difficult. It is impossible to find parking in the historic center so don't even bother! Free parking is a bit hard to come upon as well so ensure you have budgeted money for parking [cash and card] as well as tolls. There is parking near Roma Termini station where you are then able to park and take public transportation around the city. If you are staying at a hotel in Rome, as your hotel if they have on-site parking or recommend where to park. Hotels in Rome are usually quite helpful when it comes to finding this. You can visit this website for more detailed information about parking in Rome.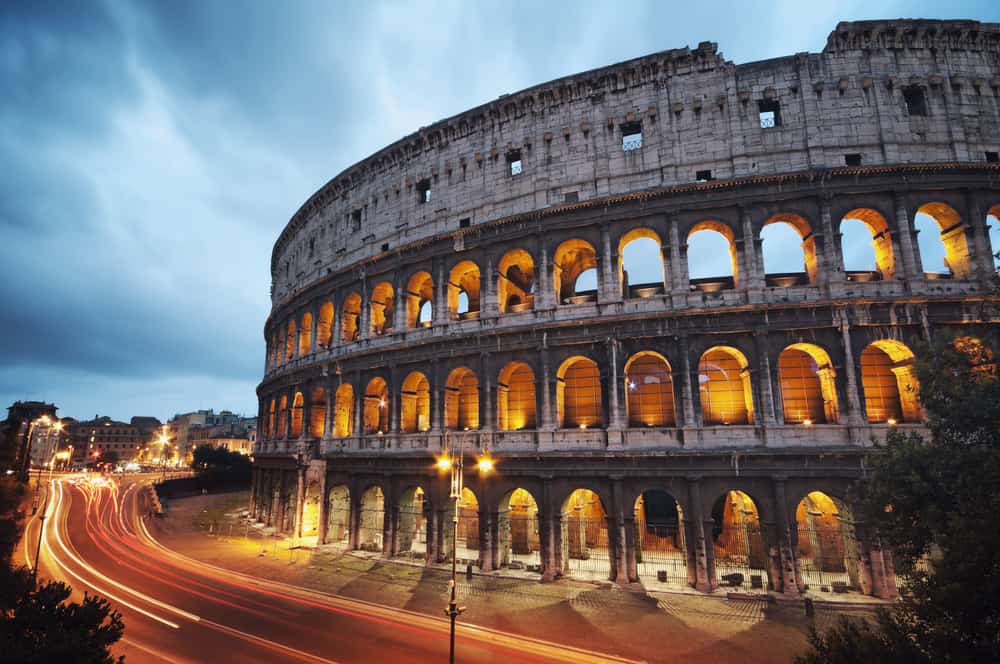 Noteworthy Things To Do In Rome:
Explore the coliseum.
Rome's Coliseum will be one of the most memorable things to do during your time in Italy! You have read about the Coliseum in school or books and now it is your time to step back in history. If you visit during the warmer months, make sure to drink plenty of water. We highly recommend booking your tickets online because the lines can be crazy!
Skip The Line With This Coliseum Tour!
Visit The Vatican
If there is only one thing you can do in Rome during your Italy road trip, make sure to see the Vatican. It is incredibly impressive and well worth the visit. It is still one of our favorite things we have seen in the entire world! There are two main things to do in the Vatican and that Saint Peter's Basilica and the Vatican Museums. If you only have time to do one of these things, we hands down recommend visiting Saint Peter's Basilica.
The Vatican Museums are where you will find lots of art and history as well as the famous Sistine Chapel. You are going to want to buy tickets in advance for the Vatican Museums and you should try to get skip-the-line tickets if possible! You can take an entire day and easily a half-day just exploring the Vatican. It shouldn't be missed!
Recommended Vatican Tours And Resources:
Vatican Museums And Sistine Chapel Fast Track Entry
Sistine Chapel, Vatican Museums, And Saint Peter's Guided Tour
Throw A Coin In The Fontana di Trevi
Rome's Trevi Fountain is one of her most famous landmarks! During your Italy road trip, make sure to stop here and throw a coin into the fountain. This means that one day you will return to Rome! If you are looking to visit the Fontana di Trevi without other tourists, go early in the morning or late at night! This is how people get those dreamy shots that seem like they are photoshopped. Timing!
Climb The Spanish Steps
You have probably seen the Spanish Steps in a movie or two! They are another famous landmark in Rome you should see during your 10 days in Italy itinerary. There are 135 steps so bring your walking shoes!
Take A Cooking Class
For many people, taking a cooking class in Rome is the highlight of their Italy road trip! You can work with a traditional Italian cook to learn how to create some fantastic Roman-Italian dishes!
Cooking class recommendations:
Authentic Roman Cooking Class
Gelato Cooking Class In Rome
From Market To Table: 4 Hour Cooking Class In Rome
Where To Stay In Rome
We have an entire guide about where to stay in Rome! This breaks down our favorite neighborhoods in the city so that you can get a feel and choose where you want to stay based on your own wants and needs. If you don't want that much detailed information, we have a few suggestions for you below!
Near the Vatican: Relais Vatican View Hotel Check Rates: Booking.com | Hotels.com
Authentic Guesthouse: Viale Giulio Cesare Guest House Check Rates: Hotels.com
Mid-Range: Radisson Blu Roma. Check Rates: Booking.com | Hotels.com
Upscale: The Westin Excelsior Rome . Check Rates: Booking.com | Hotels.com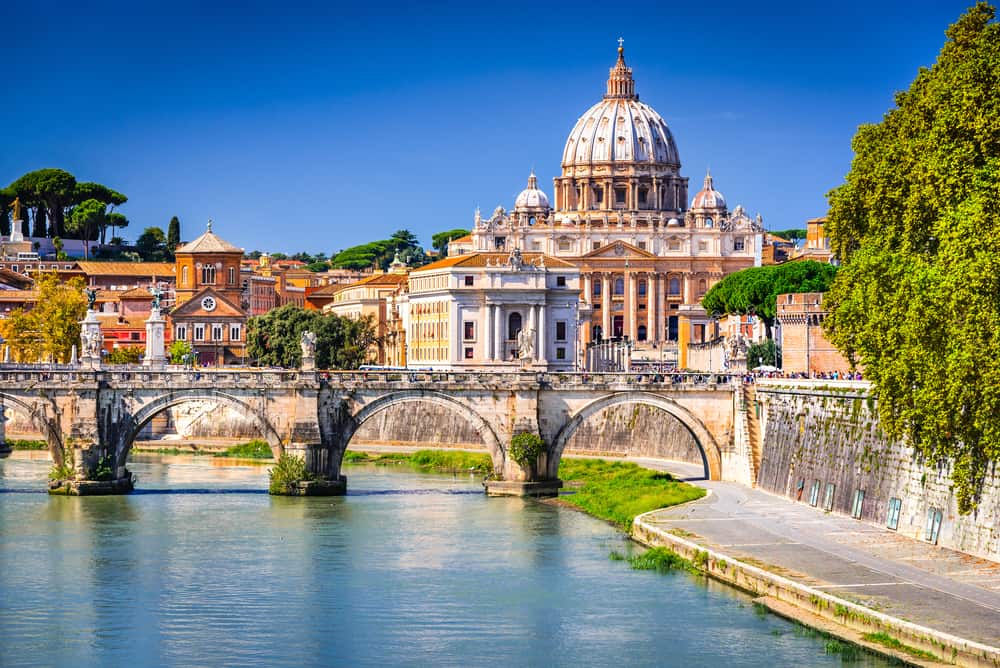 Stop 2: See Rolling Hills In Val d'Orcia
Val d'Orcia is a region of Tuscany that is the most beautiful and famous! It is a UNESCO world heritage site and this is where you go to see the stunning rolling green hills that you see in Tuscany photos. This is going to be one of the best parts of your Italy road trip because the entire point of visiting Val d'Orcia is to drive around and see the cute villages and fantastic sites.
Parking in Val d'Orcia
Luckily, parking in Val d'Orcia is easy to come by and the villages are smaller and less crowded than Rome. This is why we recommend seeing Val d'Orcia on your Italy road trip because it is a relaxed forway into "real" Italy. Some towns may charge for parking so ensure you look into that before you leave your vehicle.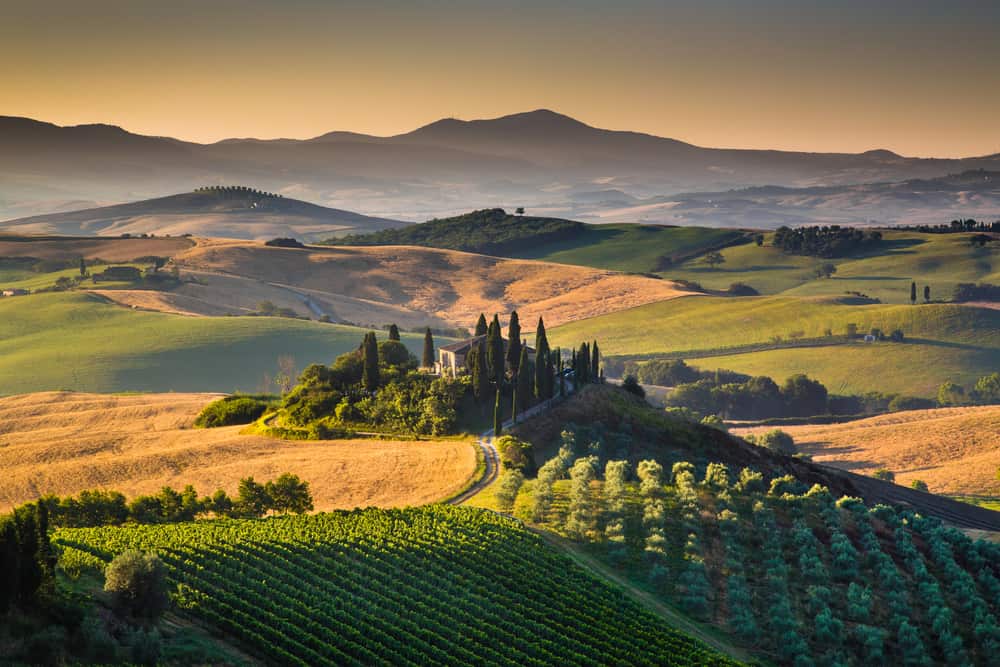 Things To Do In Val d'Orcia
Val d'orcia drive.
There is a circular Val d'Orcia drive that is the highlight of any Italy road trip. You can complete it in a day although you may want to come back for more. The drive runs through the small villages of San Quirico d'Orcia to Rocca d'Orcia and Castiglione d'Orcia south to Vivo d'Orcia and Campiglia d'Orcia. Simply put these towns in your GPS for easy navigation.
Le Crete Senesi Drive
The Le Crete Senesi drive has a different feeling than the above option. Here you will see houses on top of hills and olives galore. It is unique and very popular. The whole point of an Italy road trip is to drive and explore by car, so why not do that in the prettiest area in the region?
You will drive on SS438 to Asciano and the SP451 to Monte Oliveto Maggiore. As with above, simply put these names into your GPS and you will be well on your way. If you are planning your honeymoon in Tuscany , this is such a romantic drive to take!
Soak In Hot Springs
This region of Tuscany is filled with many incredible hot springs that you won't want to miss. Many people don't even know that Italy is home to hot springs and they are right here in Tuscany! Check out the Best Hot Springs In Tuscany so you can soak during your road trip! Even if a hot spring is out of the Val d'Orcia proper, you can still take a slight detour to visit. We promise it is worth it!
Where To Stay In Val d'Orcia
We LOVE Tuscany! We even put together a full guide on where to stay in Tuscany to help you better choose which area and type of accommodation you are interested in! We also have a list of the best Tuscany villas which are honestly way more affordable than you may think!
15th Century Convent. Relais Il Chiostro Di Pienza . Check Rates: Booking.com
Local Feel. Pacifico . Check Rates: Booking.com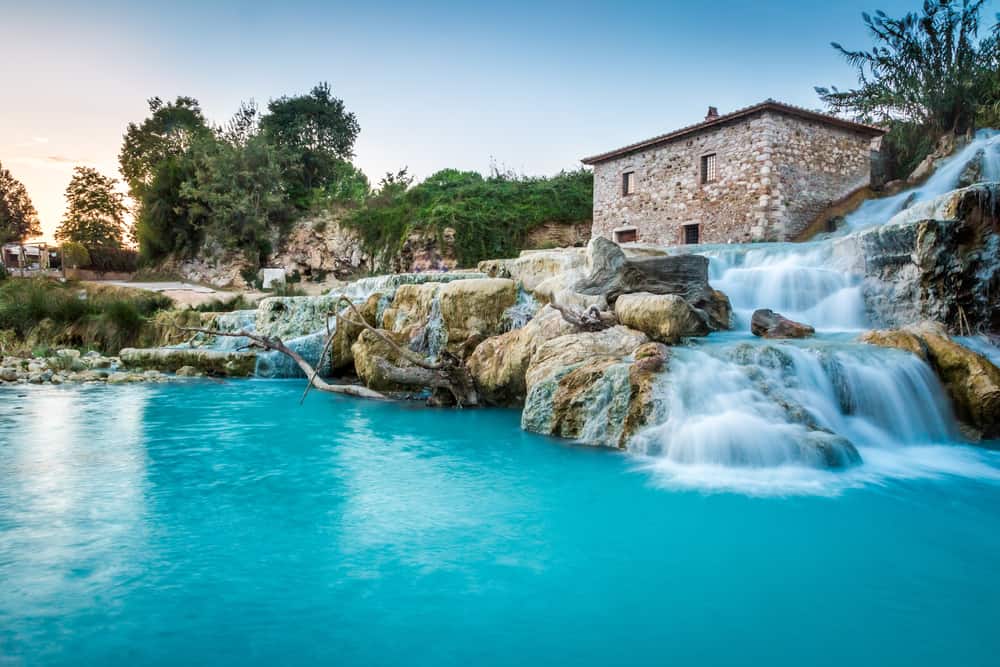 Stop 3: Explore Florence
Florence is the cradle of civilization and one of the best stops on your Italy road trip itinerary. It is less busy than Rome and allows for a more local feel while still having plenty to see and do. If you want to explore Florence in more detail, you can check out our One Day In Florence Itinerary for more detailed information. When visiting Florence, make sure to stop for Gelato as there are many famous shops!
Parking In Florence
It is very difficult to find free parking in Florence during your Italy road trip. The closest parking to the city center is Piazzale Michelangelo but if you are visiting Italy during the summer you will see that it is often used for events and isn't a parking lot at all. The best way to park in Florence is to stay at a downtown hotel that will authorize you to park and drive in the city center.
Driving in the ZTL-zone is authorized to permit holders only and this specific zone is controlled by video cameras so you must follow the law. If you stay in a hotel in the ZTL, ask your hotel with the registration of the license plate number of your car. This is the easiest way to park in Florence.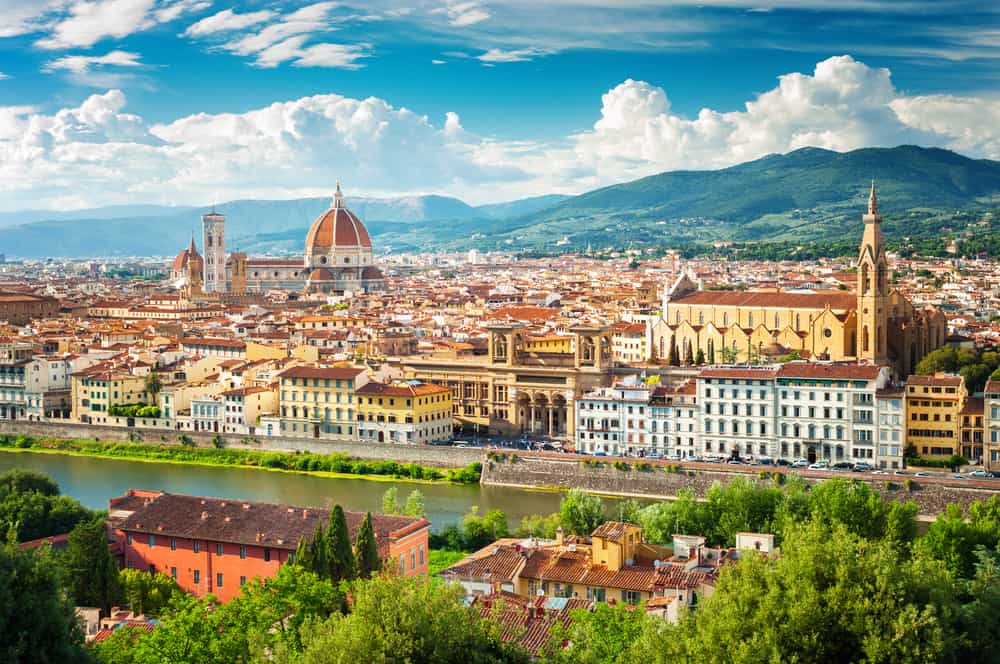 Top Things To Do In Florence
Visit the duomo.
When visiting Florence on your Italy road trip, it is hard to miss the stunning Duomo. This Catholic Church soars over Florence and is the centerpiece for the whole town. You must be completely silent when you enter into this church and must adhere to proper dress code. We recommend taking a tour and buying tickets in advance as it can get very crowded.
Book here: Duomo Skip The Line Tickets And Dome Tour
Walk Across The Ponte Vecchio
This is a popular thing to do in Florence and a great place to easily catch the sunset. Grab a gelato or a drink as you stroll across the famous bridge!
See David At Galleria dell'Accademia On Your Italy Road Trip
Looking to see Michaelangelo's greatest works? Check out the Galleria dell'Accademia during your 10 days in Italy itinerary! If you want to visit the famous "David" statue, this is the time and place to see him with your very own eyes! The Galleria dell'Accademia gets very busy so if you don't want to waste time during your 10 days in Italy, book a timed entrance ticket before you arrive or book a guided tour.
Save Time here: Timed Entrance Ticket For Michaelangelo's David
Where To Stay In Florence
Affordable: Hotel Bavaria. Check Rates: Booking.com
Mid-Range: Globus Urban Hotel . Check Rates: Booking.com | Hotels.com
Upscale: Hotel Garibaldi Blu Check Rates: Booking.com | Hotels.com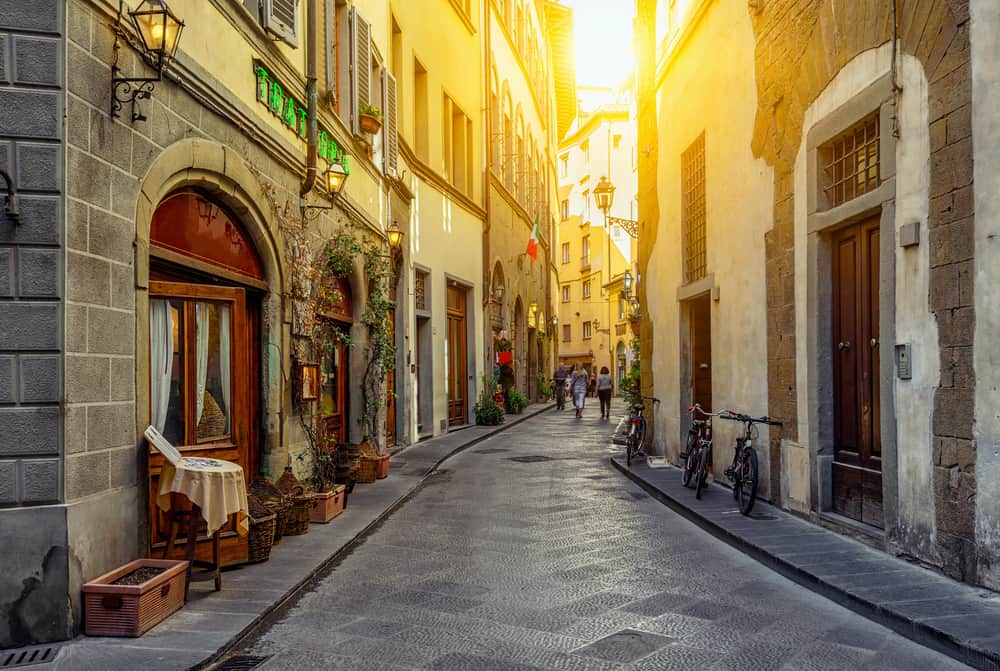 Stop 4: Visit Venice
We are going to be honest, Venice is iconic, but probably one of the more annoying stops to visit on your Italy road trip because unless you are driving a boat, there is no driving in Venice! Not to worry, with the proper preparation, you will be totally fine!
Here is a post we wrote on Exactly How To Get From Florence To Venice which explains all of your transport options!
If you don't do your research and you show up to Venice thinking you just get to drive around at will, you will be in for a rude awakening. Venice is a short drive away from Florence and is a necessary addition to any Italy road trip itinerary. You can discover our One Day In Venice itinerary if you are looking for more detailed information.
Looking to spend a little longer? We also have a 2-day itinerary for Venice you can utilize!
Parking in Venice:
There are tons of parking lots at the entrance of Venice. They cost roughly $30-$35 USD per day. Considering how expensive driving in Italy is, this isn't all that bad! Once you park your car, you will then take a boat public transport to your hotel or accommodation. If you want to visit Venice there is no way to get around the parking fee. Just make sure to know this going in! Autorimessa Comunale, p-europe Autopark Doge, p-europe S.Andrea and p-europe Autorimessa Toderini are the names of some of the more popular parking lots in Venice.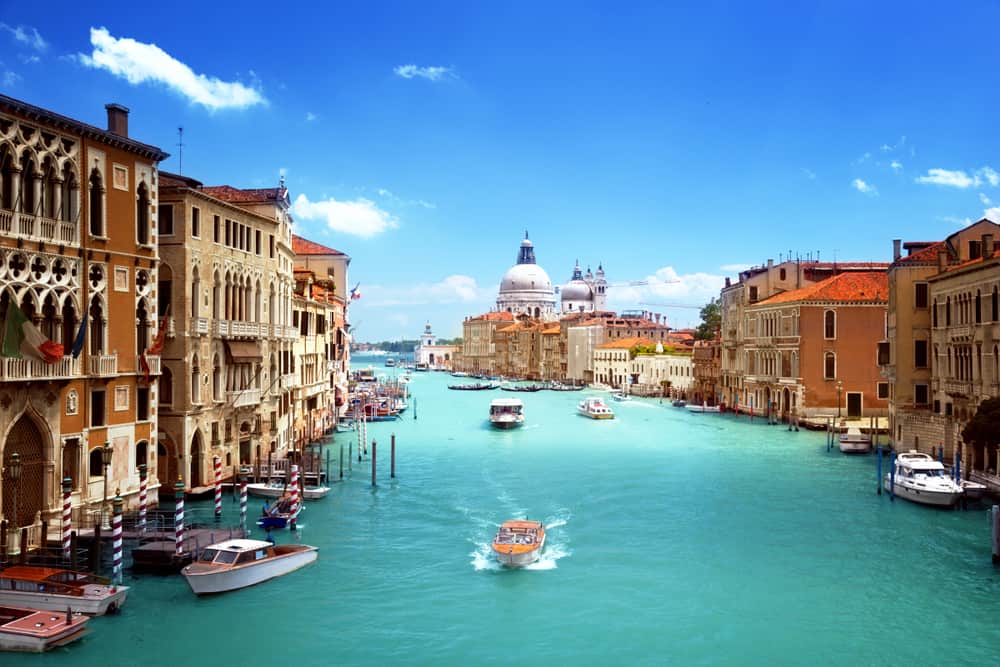 Best Things To Do In Venice
Explore piazza san marco.
Piazza San Marco is also known as Saint Mark's Square and is the most popular square in Venice, and maybe all of Italy! This iconic square was built in the 12 century and the centerpiece of the square is Saint Mark's Basilica which you can also tour. This is where people feed the pigeons so if you love birds, this is your time to get up close and personal with them during your Italy road trip!
Book here: Saint Mark's Basilica Skip The Line Entrance Ticket
Climb The Campanile di San Marco Bell Tower
The Campanile di San Marco is the bell tower that stands tall over Saint Mark's Square. You have seen it in many photos and a replica is even at Walt Disney World! When climbing the Campanile di San Marco you will get one of the best views in all of Venice! Since you are already in the square, this is the next best option so you can see some impressive views over the city!
Book here: Saint Mark's Bell Tower Skip The Line Ticket
Go On A Gondola Ride
What trip to Venice is complete without going on a Gondola Ride? This is such a fun thing to do during your Italy road trip and although no cars are involved and we highly recommend splurging on one!
These tours provide a unique view of Venice that you wouldn't get walking the streets or from other boat tours. If you are looking for a very unique photo spot in Venice , get on a Gondola!
Reserve Here: 20 Minute Gondola Ride
Discover Doge's Palace
Doge's Palace is an ornate gothic place right on the canals of Venice! It is a museum and showroom and one of the most impressive palaces you will see during your Italy road trip. Doge's Palace holds lacework, paintings, sculptures and more and is a real treat for architecture lovers and is a perfect way to beat the elements when visiting Venice in winter.
Book here: Doge's Palace Timed Admission Ticket
Where To Stay In Venice
We put together an entire guide on where to stay in Venice . Personally, we love San Marco if you want to be in the thick of things, but there are PLENTY of other options that you can choose from, depending on your wants and needs! Check out some suggestions below if you are looking for something quick.
City Center: Hotel Casanova . Check Rates: Booking.com | Hotels.com
Mid-Range: Hotel Al Nuovo Teson. Check Rates: Hotels.com
4-Star: Royal San Marco Hotel. Check Rates: Booking.com | Hotels.com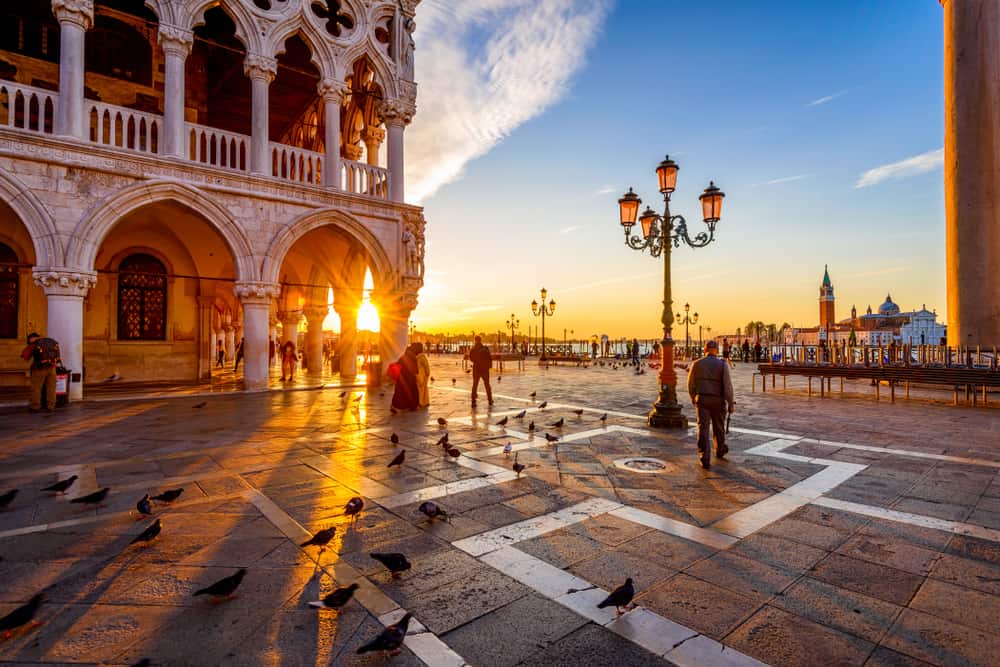 Stop 5: Delight In The Dolomites
Believe it or not, the Dolomites aren't all that far away from Venice! After you walk around on foot or by boat for a few days, you will be ready to continue your Italy road trip up north. This is truly the most breathtaking scenery in the world and you will not be disappointed. The Dolomites span a large region in Northern Italy and we recommend trying to see as much as possible. Make Bolzano your base if you want to be within an hour to all the action, but don't be afraid to stay in more remote villages for a really local feel.
The Dolomites will be one of the best drives on your Italy road trip along with the Tuscany drives. The feels are totally different with jagged mountains instead of rolling hills, but you are truly in for a real treat. If there is one part of Italy not to skip during your road trip, this is truly it. You will not be disappointed. Keep in mind that the best part about visiting the Dolomites is simply getting in your car and driving around and exploring the stunning nature.
We even have a full Northern Italy itinerary if you are interested in exploring this region in more detail. We highly suggest it as it is one of the most beautiful spots in Italy!
Parking in the Dolomites
Luckily, finding parking in the Dolomites region during your Italy road trip is quite easy. This is more of a countryside feel and there aren't as many crazy restrictions like there are in Florence or Rome. It is easy to get around and there are wide stretches of the open road. As always, make sure to pay attention to local signs and laws in the event you are in a "locals only" parking zone. If you are staying in a hotel or local homestay, finding parking should be easy.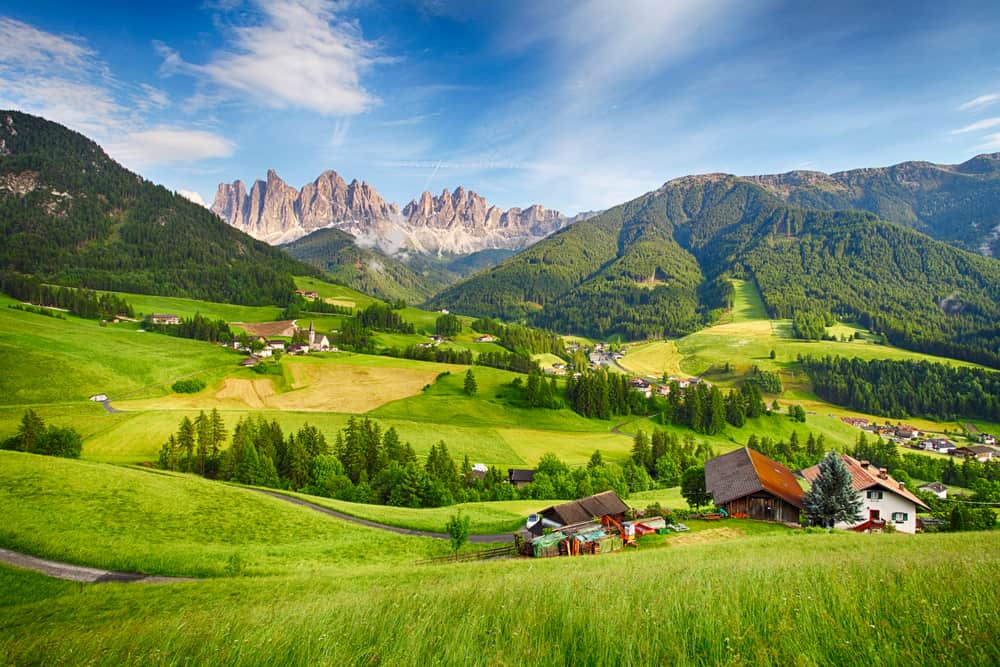 Best Things To See In The Dolomites On Your Italy Road Trip
See the blue water at lago di braies.
Lago di Braies is a stunningly blue alpine lake located in the Dolomites. It is one of the prettiest lakes in Italy and shouldn't be missed! The drive there is lovely and it should top the list of things to see on your Italy road trip.
It is very popular on Instagram and with photographers, but it is famous for a reason. You won't want to miss it as this is one of the prettiest lakes in Italy!
Hike The Seceda Ridgeline
The Seceda ridgeline is easily one of the prettiest views in the Dolomites. The best part? You can take a cable car up to the view so you don't have to walk! This is one of the best things to do in Italy and will take your breath away!
Simply park your car at the cable car station and then ride up. Then you can walk or hike along the ridge of the mountain for as long as you want. If you are visiting in winter or spring, the cable cars will not be open and the only option is hiking up from the town.
Photograph San Giovanni in Ranui
San Giovanni in Ranui is one of the most photogenic churches in Italy. It is located in Santa Maddelena, which happens to be one of the prettiest towns in Italy . The Seceda Ridgeline actually forms the background for the tiny church which makes for an iconic shot. Even if you aren't a photographer, we highly recommend stopping at San Giovanni in Ranui during your Italy road trip as the views are quite impressive.
Pretend You Are Royalty At Castel Roncolo
Castel Roncolo is an impressive castle fortress located just a bit outside of Bolzano! If you love castles and mountain scenes, make sure this stop goes on your Italy road trip itinerary! The Castle is a sight to behold and the mountain vistas don't disappoint. It is located right outside of Bolzano and is an easy drive.
Where To Stay In The Dolomites
Affordable: Residence Fink. Check Rates: Booking.com | Hotels.com
Mid-Range: Gardenhotel Premstaller. Check Rates: Booking.com | Hotels.com
Upscale: Parkhotel Laurin. Check Rates: Booking.com | Hotels.com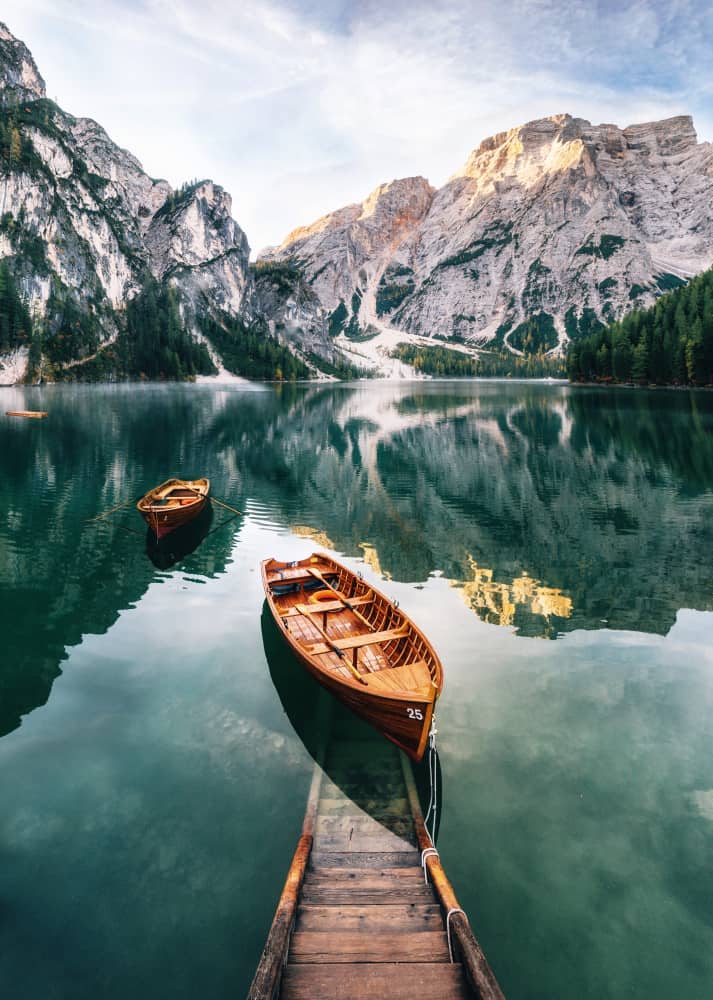 Stop 6: Hit The Coast In Cinque Terre
The drive from the Dolomites to Cinque Terre is about 4 hours and is the longest drive on this Italy road trip itinerary. Compared to the majority of road trips around the world, four hours really isn't that long. The drive to Cinque Terre is filled with tons of fantastic things to see and do. If you want to make stops along the way, stop along Lake Garda, Parma, and Verona. They are some of the best cities and places in Italy to see.
Cinque Terre is kind of a difficult place to visit on your Italy road trip because parking is very hard to come across. We recommend staying out of the Cinque Terre proper area in La Spezia or in Montessero Al Mare which is a more easily accessible Cinque Terre village. Either way, this is a must-see area of your Italy itinerary and the coast will relax you after a long day of driving.
Parking In Cinque Terre
Parking is difficult to find in Cinque Terre. In some villages, you are not allowed to drive at all and you must park about 1-2 km outside of the city and take a shuttle in. For us, this isn't worth the time and struggle as we like having our car nearby during our Italy road trips.
If you are like us, you will want to consider staying in La Spezia where parking is free or very cheap and then taking the train into Cinque Terre. From La Spezia train station to the first Cinque Terre village it is less than a 5-minute train ride. Much better than having to leave your car, but if you must stay in the Cinque Terre villages, pack an overnight bag!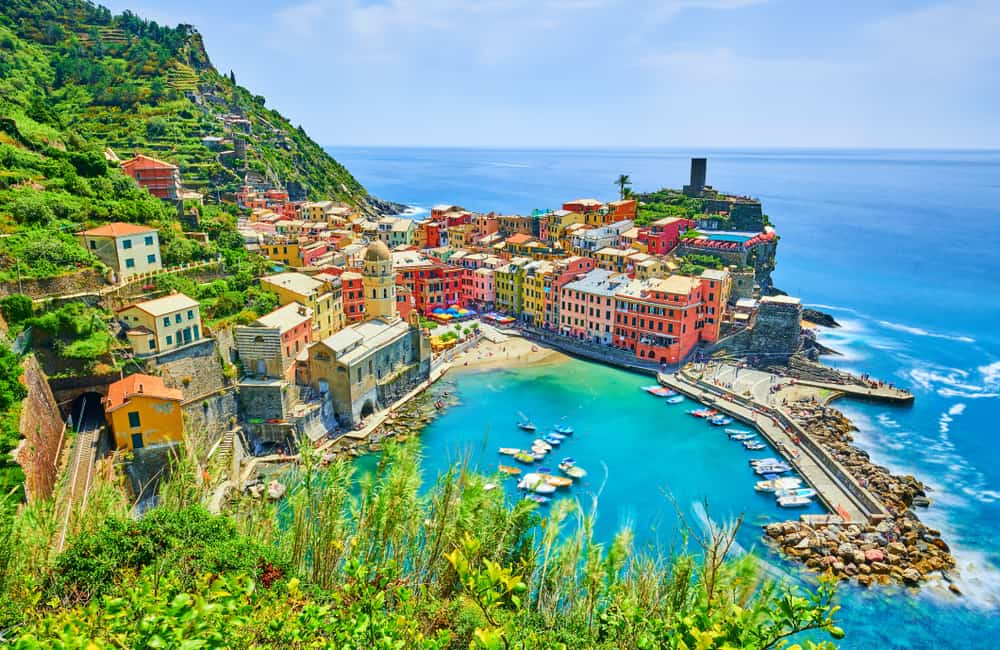 What To Do In Cinque Terre
Hike the monterosso footpath.
The Monterosso footpath connects the towns of Monterosso and Vernazza and provides stunning views of the towns! This hike is a bit challenging as you are going up the coastal cliffs, so budget at least 1-2 hours to complete it. The views are worth the effort, but bring plenty of water, especially if you visit during the summer! This is the perfect hike during your Italy road trip.
Visit Parco Nazionale Cinque Terre
This National Park is one of the smallest in Italy at only 15 square miles but one of the most popular and most beautiful! Parco Nazionale Cinque Terre is one of the most heavily inhabited national parks in Italy and it is easy to see why! A one day pass costs $9 per person to enter the National Park. Parco Nazionale Cinque Terre is also a UNESCO World Heritage Site. Even if you are staying out in La Spezia, you will be close enough to enjoy yet able to enjoy easier parking and driving.
Book here: Cinque Terre Tour And National Park Card
Relax On The Cinque Terre Beaches
During your time in Cinque Terre, ditch your car and head to the beach! Check out the 7 Best Cinque Terre Beaches so that you can discover the best beaches around. They are all easily accessible via train and walking. Some beaches are sandy and some are rocky and some really aren't a beach at all. No worries, they are still pretty awesome and unique. It will be nice to relax after a long Italy road trip driving around the country.
Take A Boat Tour Of Cinque Terre
If you are short on time during your Italy itinerary, consider taking a boat tour of the Cinque Terre villages. A boat tour will allow you to see all of the towns with ease and speed and you won't feel like you missed a thing! A boat tour is an easy and affordable way to add Cinque Terre to your Italy road trip itinerary even if you are short on time because you can see everything by water!
Learn more: Cinque Terre Boat Tour With Lunch
Where To Stay In Cinque Terre
Choosing where to stay in Cinque Terre can be daunting, but it doesn't have to be! That is why we put together this entire post on that very topic. This post has helped thousands of people plan and book where to stay in Cinque Terre and we hope that it helps you as well! If you want a quick pick, check out the suggestions below!
Upscale: The First – Manarola 5 Terre. Check rates: Booking.com | Hotels.com
Beach Location: Locanda Il Maestrale. Check Rates: Booking.com | Hotels.com
Affordable: Locanda Ca Da Iride . Check Rates: Booking.com | Hotels.com
Mid-Range: Arbanella . Check Rates: Booking.com | Hotels.com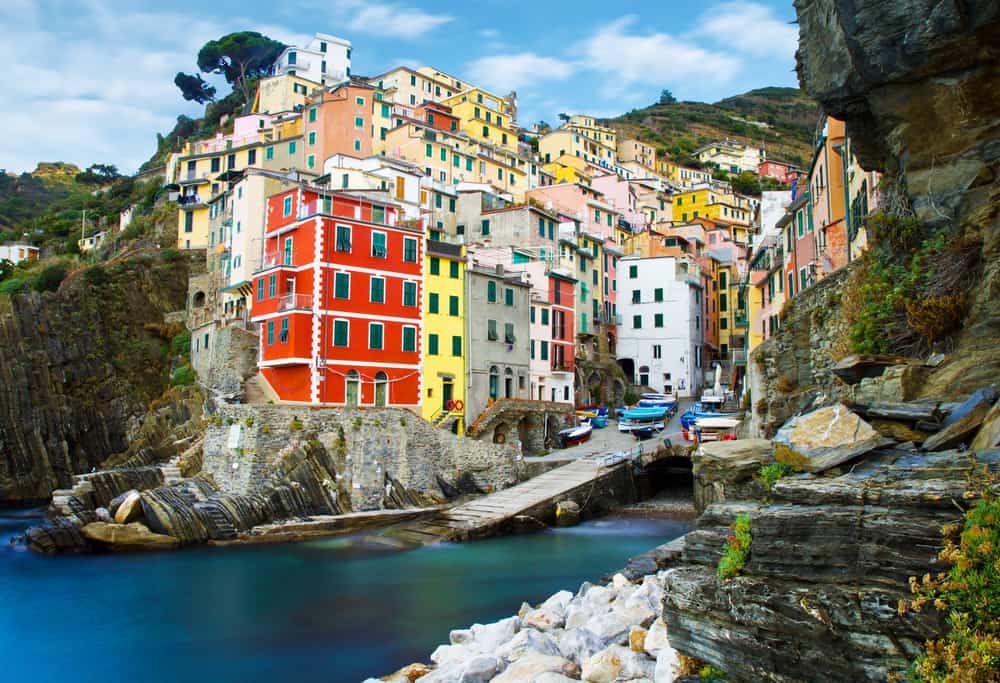 Stop 7: End Your Italy Road Trip In Milan
When you leave Cinque Terre, you will drive back to Milan to end your Italy road trip. We have driven in Milan a few times and it is quite hectic during rush hour. If you are driving in Milan, try to plan your arrival out of these busy times. As usual, if you stay away from the city center, finding parking is easier.
Milan is a very affordable place to rent your car and fly in or out of. If you don't want to do a one-way rental, then enjoy your time in Milan and drive the four hours back to Rome to drop off your car and fly out. Milan is a very underrated Italian city and it is a great way to cap off your wonderful Italy road trip. Don't forget to check out our One Day In Milan Itinerary .
Parking In Milan
Parking for non-residents in Milan can be quite expensive when trying to park near the city center. There are public parking lots in downtown Milan are priced at around $3-$5 an hour. The further you go out of the city center the more affordable the rates get. Driving in Milan isn't that difficult, but you must understand it is a large city with a lot of people. It is a good place to end your Italy road trip! Check out this website for more information on parking in Milan.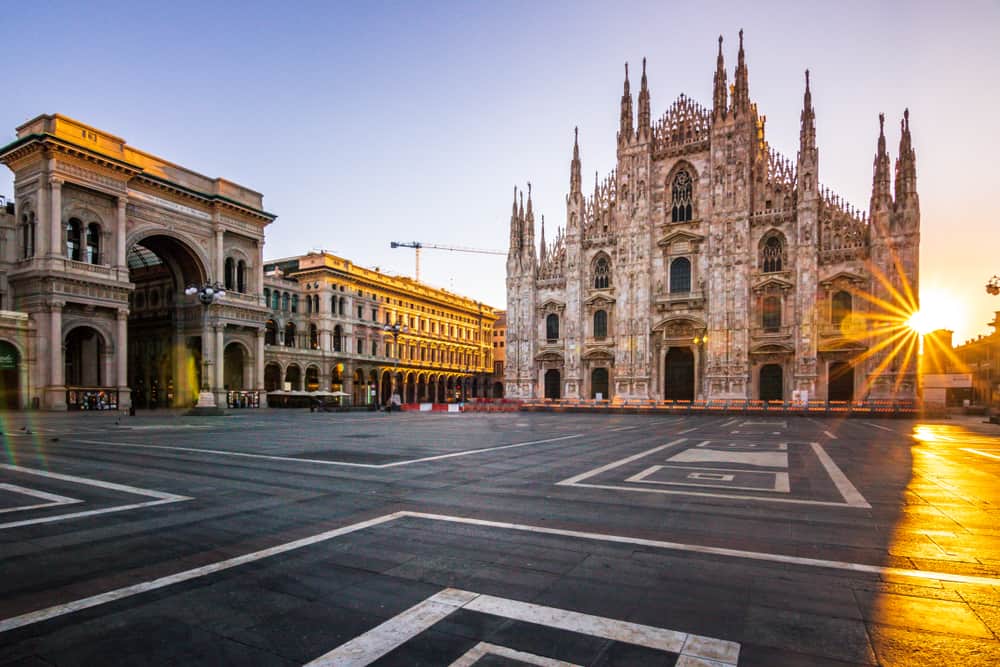 Best Things To Do In Milan
Visit the milan cathedral.
The Milan Cathedral is an architectural wonder and a breathtaking masterpiece! It is so much bigger in real life than it looks in photos, and you must make it a stop during your Italy road trip, even if you are short on time! The Milan Cathedral is also a popular place to feed the pigeons so if you missed them in Venice, now is your chance!
Book here: Milan Cathedral And Rooftop Entrance Tickets
Shop At Galleria Vittorio Emanuele II
Galleria Vittorio Emanuele II is Italy's oldest shopping mall and a hallmark thing to do when visiting Milan! The Galleria Vittorio Emanuele II is housed in a 19th-century glass-covered arcade and is quite the site to behold! If you haven't had time to do much shopping during your Italy road trip, now is the time to take advantage. Even if you don't want to shop, you must stop by to see the glass-covered passageways.
Explore Milan By Bus
If you are short on time but still want to explore Milan during your Italy road trip, a hop-on-hop-off bus tour is the perfect way to quickly see the city! Why drive in Milan when someone else can drive for you? It will provide insider information to some of the most famous sites in Milan and you will easily be able to get off the bus should you want to explore more!
Reserve here: 1-2 day Hop On Hop Off Tickets
Eat Dinner In The Navigli District
This picturesque district is named after the Navigli Canal is famed for its authentic Milanese Cuisine. This is a wonderful part of Milan to cap off a wonderful Italy road trip itinerary because the food is just splendid. After you are done eating, make sure to walk around and enjoy the shops too. There can never be enough shopping in Italy, right?
Where To Stay In Milan
Milan is one of the larger cities in Italy and it pays to know where to stay! This is why we put together this detailed post on where to stay in Milan to help you choose. We have also provided some quick suggestions below!
Mid-Range: Sheraton Milan Airport Hotel. Check Rates: Booking.com | Hotels.com
Affordable: First Hotel Malpensa. Check Rates: Booking.com | Hotels.com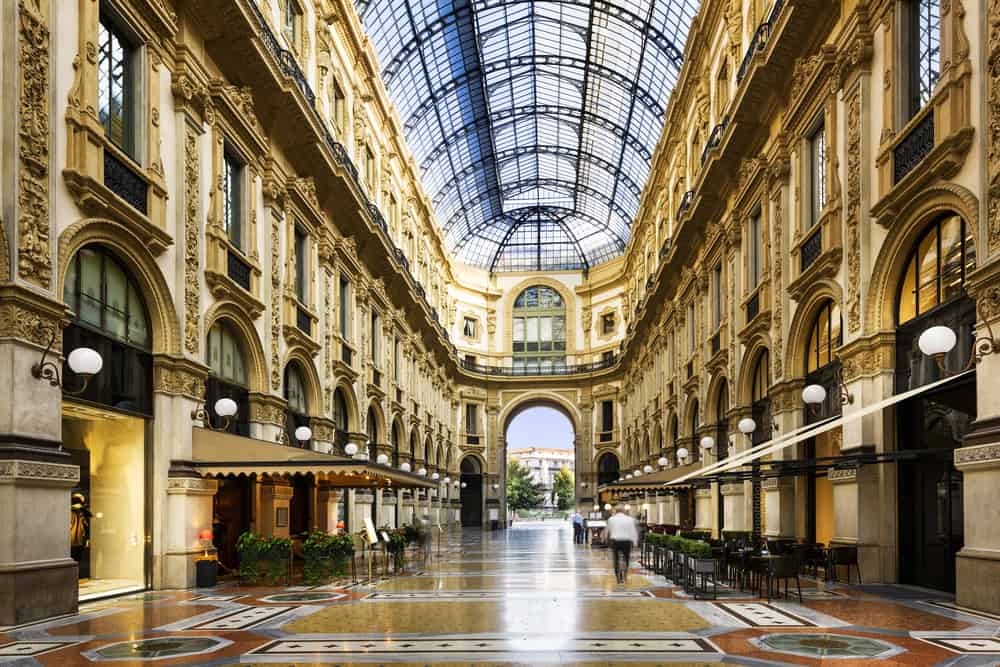 We hope you enjoyed this Italy road trip itinerary. Feel free to modify based on your time and interests. If you could choose only a few places to visit, make sure the drives through Tuscany and the Dolomites stay on your itinerary if possible. The views shouldn't be missed and this is truly the best part of a road trip in Italy. Please let us know if you have any questions about planning your dream Italy road trip and we are more than happy to help in the comments!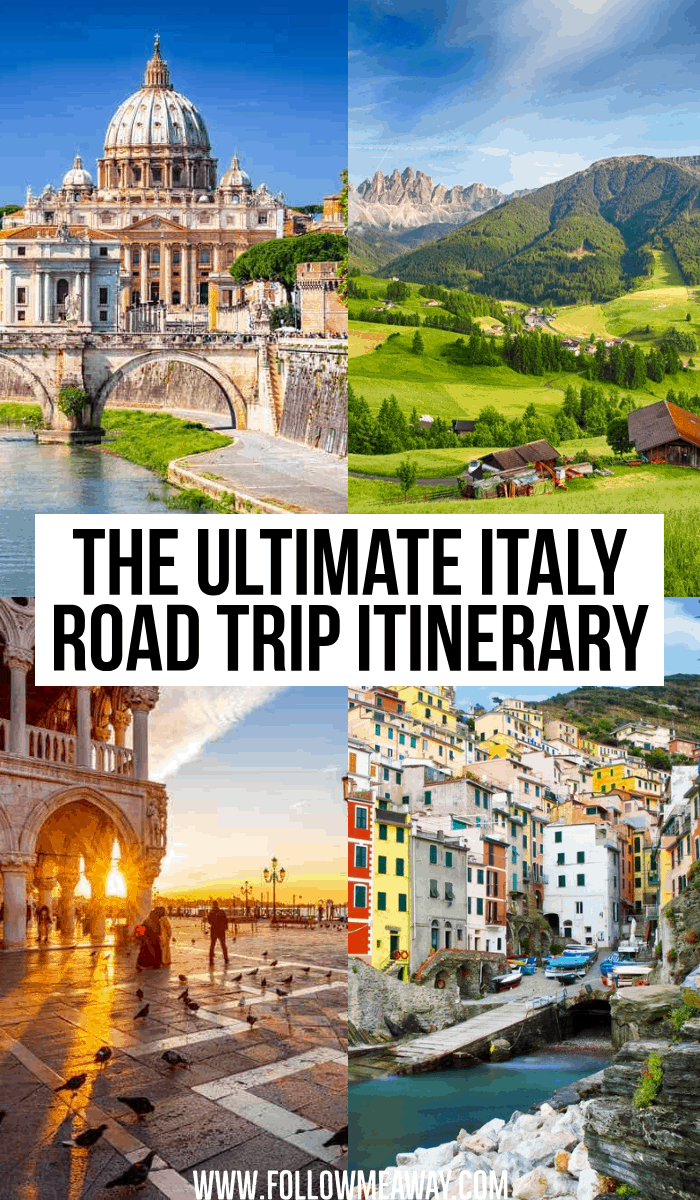 Reader Interactions
April 15, 2022 at 4:50 pm
Hi!! My fiance and I are looking to do a 2 week road trip like this at the end of Oct, beginning of Nov, for our honeymoon. Did you use a travel agent or were y'all able to do this all yourself? Also what would you recommend as a decent budget for this kind of endeavor? We are pretty pretty savvy with traveling on a budget but we also want to keep it realistic.
Thank you for your incredibly helpful article!!!! 🙂
April 16, 2022 at 2:33 pm
Hello Jenna!! Yay!!!! I do not use travel agents, I plan it all myself and I actually have a 2 week italy itinerary here if you want! https://www.followmeaway.com/2-weeks-in-italy/
I also have suggested a budget broken down as well 😀 https://www.followmeaway.com/trip-to-italy-cost/
I hope you have an amazing time! I think you can plan it all yourself especially in lower season which is when you will be!
August 18, 2022 at 10:06 am
Hey there! Do you feel like this road trip would work at the end of May- weather wise? Just thinking of the northern areas. Also, how many days total would we need? Is 4 adults doable in a small car w/ luggage or would we need 2 cars? Thanks in advance!! Love your website and all the info.!
August 19, 2022 at 1:21 pm
Hello!!!!! For the Northern Areas, a lot of the ski lifts will be closed due to snow. That doesn't mean you still can't go and explore, I've done northern Italy in April and it was still fine. Make sure that the lift for places such as Seceda is open, it may not be until Mid June! Check the cubic area of the back/trunk of the car and get a larger SUV. but not in a small car with luggage, no, probably barely in a larger car. If its anything more than 3 people, I have to get another car typically =/ Enjoy!
August 26, 2022 at 4:47 pm
Thank you! Currently breaking this itinerary down and trying to get a simple list of how many days in each location to make this a 10 day road trip. Do you have list by chance? This website is very helpful!! There will be 4 of us so I guess we need an SUV but is that feasible with the roads there?
August 28, 2022 at 3:33 pm
Hello Melissa!! Yes! We have a 10 days in italy itinerary that can also be driven too! just take a look and see what you think! https://www.followmeaway.com/10-days-in-italy-itinerary/
Leave a Reply Cancel reply
Your email address will not be published. Required fields are marked *
Save my name, email, and website in this browser for the next time I comment.
This site uses Akismet to reduce spam. Learn how your comment data is processed .

8 Beautiful Road Trips in Italy – An Italian Road Trip Affair
Travel Travel Inspiration Road Trips Best Road Trips in Italy
Magnificent mountains, scenic routes, crystal clear water bodies and seaside cliffs, countryside cottages, and lip-smacking local delicacies - an Italian road trip is considered to be amongst the best road trips in Europe . Whether you're an adventurous couple or you're planning an all girls trip - Italy's roads and the hidden destinations it leads you to - will not disappoint you! So, rent a car (maybe a vintage one), grab your keys, put together your favourite road trip playlist and Get. Set. Go.
In this article, we've rounded up the top eight road trips in Italy. When hitting the roads it's highly recommended to make as many stops along the scenic routes to make the most of the breathtaking views it has to offer.
1 Under the Tuscan Sun
Florence to orvieto.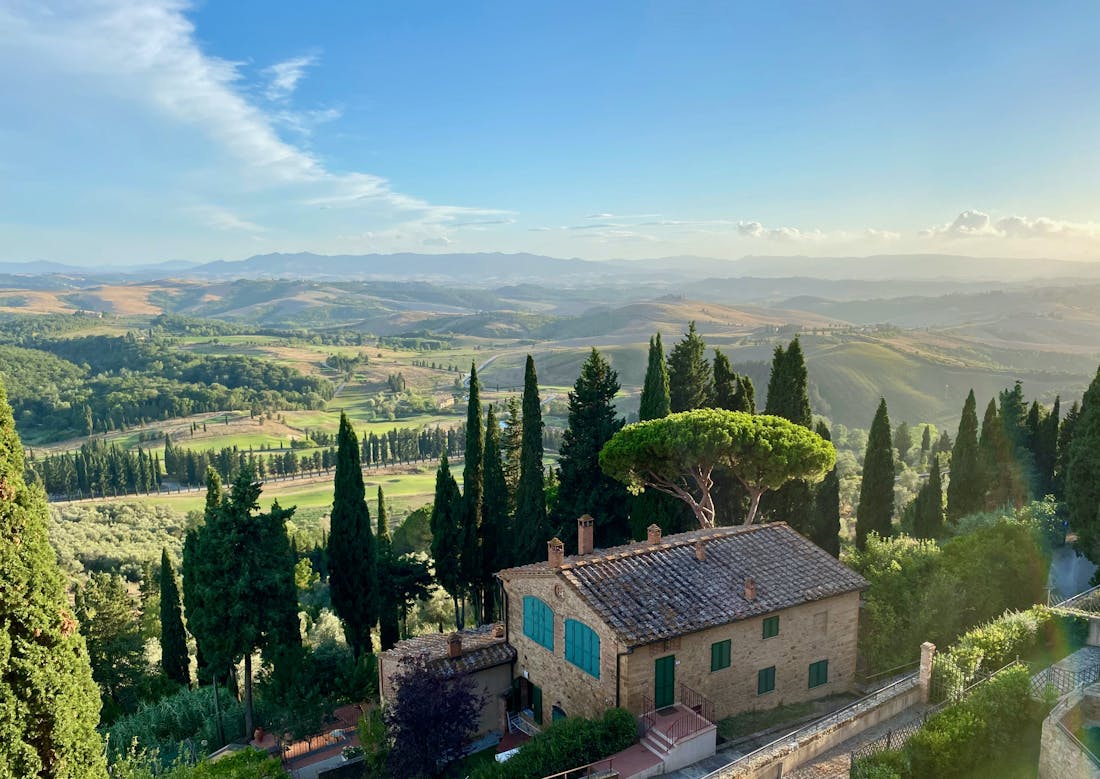 The delightful drive between Florence and Orvieto is the best way to experience the Tuscan countryside best known for its vineyards, medieval aged hamlets and cutesy cafes. When planning a road trip through here, opt for wine tasting sessions, food tours or simply a walk around the local regions. This Italian road trip is a favourite among oenophiles and epicures. Seina is one of the most popular halts between Florence and Orvieto. Approximately one hour from Florence, you can visit the Piazza del Campo (historic and iconic plaza in Italy), visit the iconic and historic churches, pop by one of the many art galleries and go cafe-hopping. Apart from Siena, plan for pit stops at Pistoia, San Gimignano, Cortona or Todi. Map it >
Handy blogs to plan your Tuscan road trip All you need to plan your perfect day trip from Florence to Tuscany 40 best stops between Florence and Orvieto
2 Sicily's Southeast
Catania to ragusa.

One of the largest Medditerrean island, a road trip around Sicily is marked by beautiful beaches, mini-islands, roadside stores, iconic monuments, authentic seafood cuisine and vintage bars. Starting the trip from Catania, you can halt at many a medieval hamlets with rich history and architecture including - Francofonte (popular for red oranges), Vizzini (which is also the oldest hamlet in Sicily) and Chiaramonte Gulfi (popular for churches, museums and local food). Map it >
Handy blogs to plan your Sicily road trip Itinerary for a road trip to Southern Sicily One week in Sicily
3 Coastal Amalfi
Salerno to sorrento.

Claimed to be one the best road trips in Italy, this stretch overlooks an array of pristine beaches and the deep blue Tyrrhenian Sea. Apart from the 'grammable scenic route you can also explore the historic and iconic churches, museums and historical landmarks on the way. Pompeii (a city that was buried by a volcanic eruption in AD 79) is a popular halt between Salerno and Sorrento. Other halts between these two cities are Cava de' Tirreni, Lettere and Blue Grotto. Map it >
Handy blogs to plan your Amalfi road trip Discover The Best Amalfi Coast Day Trips Planning your perfect trip to the Amalfi Coast
4 Catching the Dolomites
Bolzano to cortina d'ampezzo.

Mountain lovers, a drive across the Great Dolomite Road will leave you mesmerised. Starting from Bolzano, make sure you take multiple breaks and halts to make the most of this scenic route. Popular halts along this stretch are Feldthurns, Terenten, Brunico and Misurina. Each of these are tiny countryside hamlets where you can park, grab a quick bite and simply soak in the paradise you're surrounded by. On the way from Bolzano, there's an iconic nature park called Schlern-Rosengarten Nature Park where you can go on adventurous hikes and walk along nature trails. Map it >
Handy blogs to plan your Dolomites road trip See the best of the Italian Dolomites on a one-week road trip itinerary A wonderful Dolomites road trip Dolomites Road Trip Itinerary – The Best of the Italian Dolomites in 7 Days
5 On Lake Como
Como to bergamo.

The road trip between these two Italian cities are marked by quaint lakes and the beautiful southern shoreline. When taking this route, explore the historic museums and stop by the various amusement and theme parks on the way to Bergamo. If you're a fan of The Lord Of The Rings, make time for Casa degli Hobbit, a cutesy Hobbit themed villa that's nestled a few kilometers after Como. Museum buffs, make sure to mark these off on your way to Bergamo - Museum Cozzi Fratelli, Museum of Saronnese Industries and Labor and Rec & Play Museum. Map it >
Handy blogs to plan your Lake Como road trip Discover The Best Lake Como Day Trips Three epic Lake Como drives Take A Road Trip Around Lake Como, Italy
6 Best of Abruzzo
Rome to sulmona.

When taking this route, you'll come across many charming hilltop villages, rich architecture and countryside cafes. Approximately 30 kms from Rome is a picturesque hilltop town called Tivoli you must stop at. It is known for its ancient Roman culture, waterfalls and also houses two UNESCO world heritage sites namely - Villa Adriana and 16th-century Villa d'Este. Make sure to also add the Regional Natural Park Sirente Velino, a natural park known for adventure sports and cultural activities to your road trip itinerary. Map it >
Handy blogs to plan your Abruzzo road trip Road Trip From Rome To Abruzzo Abruzzo Travel Guide
7 Foothills of Sabina
Rome to terni.
Old-bricked monuments, hilltop villas and countryside meadows - it's indeed a pleasant drive from Rome to Terni. This route lets you explore hidden and ancient towns with rich culture and decades-old architecture. Recommended pit stops on this route - Monterotondo, Ponzano Romano, Bufalotta, Fiano Romano, Narni and Amelia. Each of these can be explored real quick and have options for movie theaters, museums, historic landmarks and iconic dining joints. Map it >
Handy blogs to plan your Sabina road trip Taking A Nature-Filled Day Trip From Rome Rome to Terni road trip planner
8 Along Sardinia
Bosa to capo caccia.

Beach babies, this Italian road trip is for you! Experience the best of both the worlds - rocky cliffs on one side and beautiful beaches and lush greenery on the other. The most iconic halt in this trip would be at the Alghero, which is also called 'The Little Barcelona'. Go beach hopping, grab a chilled beer, go surfing or chase the sunset - it's all fun in Little Barcelona. Map it >
Handy blogs to plan your Sabina road trip Sardinia Road Trip: from Olbia to beaches and seaside towns Sardinia Road Trip – A 2 Week Complete Local Guide Sardinia Road Trip Guide – 1 Week Itinerary 2 Weeks in Sardinia: The Perfect 14-15 Days Road Trip Itinerary
Driving in Italy - Quick Things You Must Know
If your driving license is from any other country other than European Union, you must carry an International Driving Permit (IDP).
The speed limit for driving in Italy is 130 kilometer per hour on highways. However, these differ depending on the weather and road. The speed limit to drive within cities is lower i.e. 90 kilometers per hour.
The legal driving age in Italy is 18 years.
A blood-alcohol level of 0.05% (approx 1 to 2 glasses of wine) is the legal alcohol limit in Italy.
Make sure you're not driving in the bike or the bus lane as it's illegal.
Wearing a seat belt while you're driving is mandatory throughout Italy.
Headlights must always be turned on when you're driving - whether it's night or day.
Children under age 12 are not allowed to occupy the first seats of the vehicle.
You cannot talk on your phone or text while driving. If you're caught doing either, you will be slapped with a hefty fine and even suspension of driving privileges.
Violation of any law or rules calls for a strict penalty and a hefty fine.
Lakshmi Menon
Born to parents bit by the wander bug, Lakshmi calls her love for travel "hereditary and habitual". Perpetually ensconced with a book in her hand and a mug of coffee in the other, she has been to over 15 countries in her 23 years of existence and is currently saving miles and money for her solo trip to Iceland. Always hustling towards the least trodden path, she has encountered some wonderful people during her escapades and if you ever meet her, she won't stop gushing about them.

Be a smart traveler
The first to know about trending destinations, travel deals, tips and all things travel.

An Italian Mama's Guide to Italy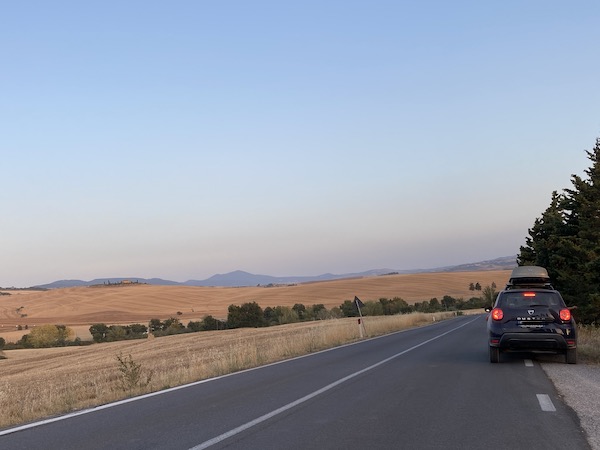 How to get around Italy: transportation guide for all types of travelers
How to get around Italy: Italy transportation guide Learn how to get around Italy by car, train, bus, ferry, uber and private drivers in Italy and more.
When planning a first trip to Italy , one of the biggest decisions to make is how to move from one place to the next.
While not huge, if compared with other counties such as the US, Canada or Australia, distances in Italy can be deceiving.
What seems a short hop may easily be a long, slow drive while longer, intimidating distances may be quickly covered by taking a fast train.
This variety of terrain and transportation option means the best way to get around Italy depends on where you are!
Some regions and areas are best discovered by car, some are much easier by train or ferry.
Some areas require you to drive yourself while others have good offerings of local car services with drivers, which can be good for day tours, winery visits and town hopping.
In this Italy transportation guide, we look at the best way to get around Italy taking into account regional differences and seasons, plus we share tips on our favorite transport options.
Please note: this post contains affiliate links. Should you make a purchase through them, we might make a small commission, at no extra cost to you.
The best way to get around Italy: summary table
The best way to get around italy: by train.
Taking the train is the best way to get around Italy if you are interested in visiting Italy's main cities and areas such as Cinque Terre.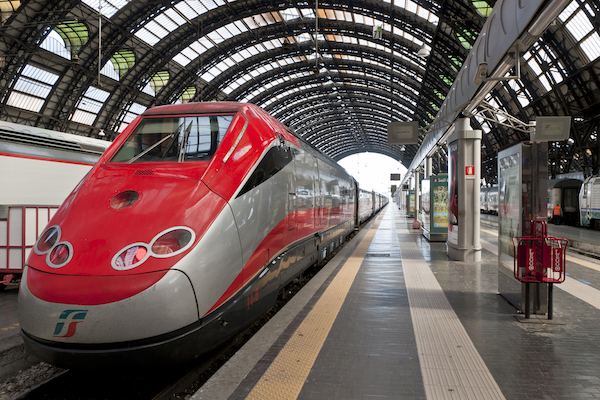 The Italian railway system is extensive and easy to use: fast trains cover long distances and slower, local trains connect smaller towns and, often, villages in an efficient and environmentally friendly way.
However, not all regions have a well-served railway network so traveling around Italy by train is not a viable option everywhere.
The train is the best way to get around Italy in the following cases:
If you are visiting main cities such as Rome, Bologna, Naples, Florence, Venice, Milan etc. In this case, you can use Italy's high-speed trains and find yourself in the center of Italy's main cities in a fast, efficient and stress-free way
If you are visiting Cinque Terre : the famous five towns of Cinque Terre are connected one to another by train, which is a fast and efficient way to see them. The train leaves you in the towns, passes often, and is cheap. It also saves you from driving and parking in the area, which is difficult and expensive, due to the narrow streets of this area and the intense traffic.
You are in a small town that happens to have good train connections such as Lucca, Ravenna, Levanto, Perugia etc.
Due to the lack of infrastructure or direct connections, the train is not as handy to get around Italy if you are planning a country stay in Tuscany (agriturismos and villas are isolated and require the use of a car), if you are going to Sicily, Sardinia or large parts os the South of Italy.
In these cases, getting around by car is a better option.
You can find here >>> our guide to traveling Italy by train <<<
How to get around Italy: by car
Getting around Italy by car is a great option if you want to be free to visit small towns away from the train line, if you are planning on country stays and visit country restaurants and agriturismo, if you are going to the South or to the Dolomites.
The best areas to visit in Italy by car are:
Puglia and the South
Sicily and Sardinia
Tuscany (with exceptions: Florence, Lucca, Pisa are also easily reached by train)
The worst parts of Italy to visit by car are:
Big cities and towns – city centers in Italy are open to permit holders only and, usually, a nightmare for parking and navigation
Cinque Terre – where traffic and parking make driving difficult and pricey, in high season especially
Amalfi Coast (high season) – where intense traffic and parking are tough to deal with, even for locals
Getting around Italy by car – self drive
The easiest and most cost-effective way to drive around Italy is renting a can and driving yourself.
You can find here >>> our guide to renting a car in Italy <<<
Despite potentially scary stories you may have heard about Italian drivers, driving in Italy is much easier than you may expect.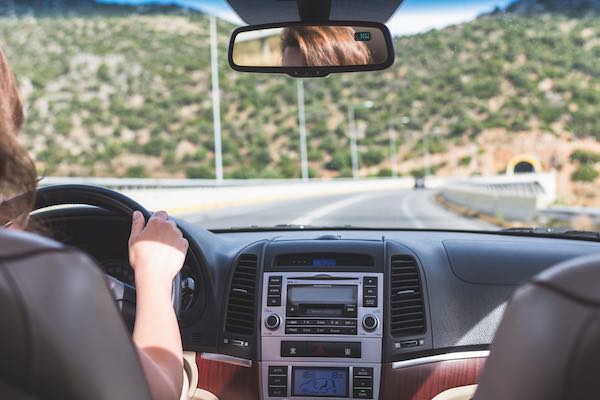 For long distances, you drive on  autostrad e (freeways): they are busy but offer a driving experience similar to that of UK motorways or American highways. 
Smaller roads serve smaller towns and these indeed can be taxing if you are used to motorway driving.
Narrow roads, parallel parking and inpatient drivers are common in Italy and locals will make you feel under pressure by beeping as if their life depended on it.
Usually, all you need for a safe driving experience in Italy is to know what to expect.
Luckily, we have a guide for you!
Find here >>> tips for driving in Italy + need to know <<<
Please note: driving in Italy may require you to obtain an international driving permit. If traveling with small kids, you will also need a car seat matching EU standards. We talk about this and more in the guides above: if in any doubts, check the exact requirements with the car rental agency before committing.
Getting around Italy by car – private drivers, car service and Uber in Italy
If you prefer to avoid driving yourself, it may be tempting to look for a private driver or car service.
The request for car service recommendations in Italy comes up often in my Italy with kids Facebook group as in other parts of the world taxis and private drivers are an easy and cost-effective transport option.
This is not always the case in Italy.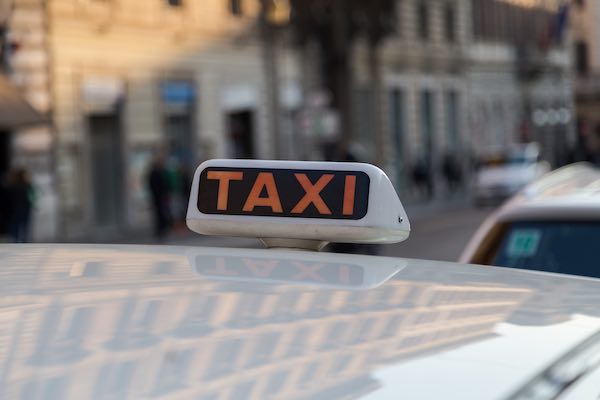 Taxis are an excellent option for inner-city travel in Italy but are very expensive once you ask them to leave the city boundaries.
Since they are local to each municipality getting a taxi from one town to the next usually incurs in very high charges ad the driver also charges you for their way back in an empty car + gas.
If you only need a one-way transport, the best option is to ask your host if they can source a private driver for you or book via a reliable transport company such as Welcome Pickups.
Welcome Pickups  has a fleet of cars and vans to suit the most group, they can pick you up from airports, train stations and more.
In addition, you can get a free online quote instantly, just by adding your dates and needs on their website.
This is fantastic, as you know precisely what you are getting and the price before booking.
Find here >>> Welcome Pickups info, prices and free quote tool <<<
They also offer English-speaking drivers and car seats for kids on request.
Uber in Italy is not widely available and, even where it is, it comes in the form of Uber Black, which usually charges high prices.
Recently, the news reported an agreement between Italian authorities and Uber so things may change. however, at present, uber is not a reliable option.
So, how can you source a private driver in Italy?
My recommendations are:
For airport – accommodation transfer , option for Welcome Pickups or driver/shuttle service offered from your accommodation
For transfers to a local attraction or point of interest , consider a tour with a driver.
For instance, this tour by LivTours allows you to explore Tuscany's wine regions from Florence without having to drive yourself
For transfers in the Amalfi Coast /Pompeii area, I recommend you join this local Sorrento Travel group, where you can find many local drivers, recommendations from members and direct contacts of transfer providers
For any local stretch , I recommend you source the name of a local taxi service from your host who will know hyper-local solutions that will offer the most competent and price-efficient solution
Getting around Italy by ferry
Some areas of Italy are best explored from the water.
Ferries are a scenic and efficient way to travel certain parts of Italy: some cover long distances and may even offer overnight stretches such as Sardinia or Sicily.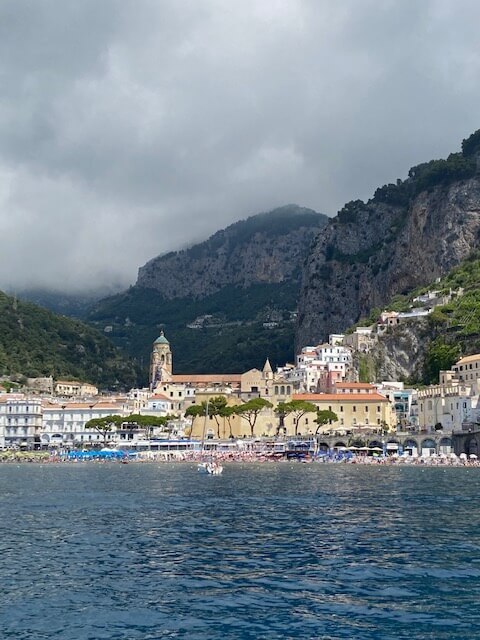 Other ferries are local and operate almost as shuttle services between popular towns.
Examples of these easy to take, shuttle style ferries and hydrofoils are:
Naples/ Sorrento to Capri, Ischia or Ponza
Salerno to Amalfi Coast
Sorrento to Amalfi Coast
Levanto / La Spezia to Cinque Terre
Venice – Venice lagoon islands.
These ferry/hydrofoil services are usually efficient as offered by several companies, which means you can often choose between a vast choice of times and types of service.
It is good to know that ferry services are seasonal and subject to sea conditions.
While main connections are guaranteed year-round, in the heart of winter the number of daily runs diminishes to a handful each day so it is paramount to plan your day with the current ferry schedule in front of you, if going in low season, to avoid issues.
Ferries are also fantastic in the good season to explore lake areas such as Lake Garda or Lake Como.
How to get around Italy by bus
An extensive network of bus services connects areas of Italy not served by the railway.
The bus is a great, cheap way to get around Italy and while it is more tiring than the trains, it offers a great alternative for areas such as Sicily of Abruzzo, where train connections are scarce.
The main issue when it comes to bus transportation in Italy is that you don't have a national service with all schedules but you often have to rely on regional/local ones, which may be hard to source online.
A great way to discover how to get places by bus and is checking on Omio , a trip planner and ticket provider that gathers all the info you may need to plan a trip from A to B by bus, train or plane.
Getting around Italy by plane
Longer distances in Italy can also be covered by plane.
This is a reasonable option if you are short on time and need to cover long stretches, let's say Milan to Sicily. However, domestic air travel in Italy is not always as convenient.
In many cases, Italian airports are far enough from the city center to add a long transport time to/from them. Also, since the service is often offered by budget airlines, delays are possible and the level of service is often low
In most cases, high-speed trains are more convenient than planes so I recommend you check both options before committing.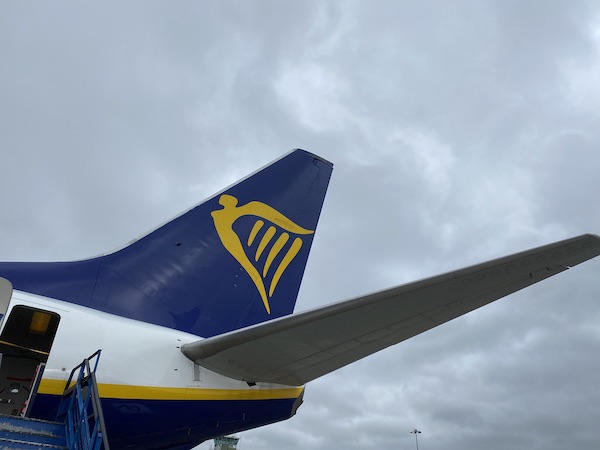 The best way to get around Italy by region
As mentioned above, the best way to get around Italy depends on where you are. At a glance, these are our tips on how to get around Italy by region.
If you are not sure what region your favorite attractions are in, have a look here >>> our guide to the regions of Italy .
Valle D'Aosta: train and car
Piedmont: train, car for vineyards and country stays
Lombardy: train and bus. Milan is best visited on foot.
Veneto: train and bus. Venice is best visitied on foot
Trentino Alto Adige: car, train for bigger centers, bus
Friuli venezia Giulia: train, bus, car
Emilia Romagna: train, bus. Bologna is best visited on foot
Tuscany: car, train for the main city, some coastal towns, Lucca, Pisa
Liguria: train, ferry (summer)
Umbria: car, train on selected routes (Perugia, Orvieto), bus
Abruzzo: car and bus
Le Marche: car and bus
Molise: car and bus
Lazio: train, car, bus. Rome is best visited on foot
Sardinia: car
Sicily: car
Campania: train, ferry, car (low season)
Calabria: car, train in selected areas
Basilicata: car
Puglia: car
More Italy travel tips
Planning a trip to Italy? Don't forget to also check out our 100+ Italy travel tips and our guide to planning a first trip to Italy !
This website has over 200 guides to help you plan tour trip to Italy. You can use the search function at the top to find destinations and topics relevant to your trip.
If you are traveling to Italy with kids, don't forget you can also join our free Facebook Group Travel Italy with kids , where you can connect with me and many other friendly parents for insight and practical tips for your upcoming vacation.
Marta Correale
Marta Correale is an Italian mama of two. Born and raised in Rome, Marta has a passion for travel and especially enjoys showing off Italy to her kids, who are growing up to love it as much as she does! A classics graduate, teacher of Italian as a second language and family travel blogger, Marta launched Mama Loves Italy as a way to inspire, support and help curious visitors to make the most of a trip to Italy and learn about Italian culture on the way.
You May Also Like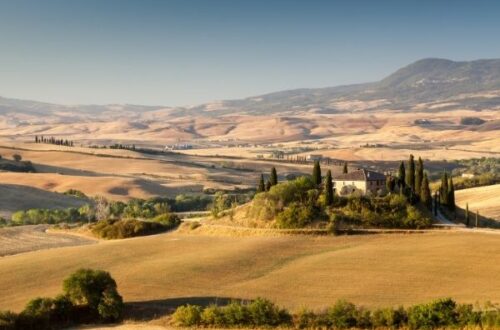 How to choose the best agriturismo for your Italian vacation
Where to see flowers in Italy: Italian flower fields, gardens and villas you'll love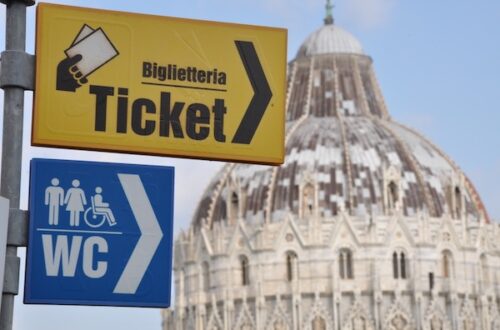 Bathrooms in Italy: all you need to know + tips for using Italian toilets with small kids
Meet the Team
Talk to The Broke Backpacker
Czech Republic
Netherlands
Switzerland
Scandinavia
Philippines
South Korea
New Zealand
South Africa
Budget Travel
Work & Travel
The Broke Backpacker Manifesto
Travel Resources
How to Travel on $10/day
Home » Europe » Italy » Itinerary
Italy Itinerary • MUST READ! (2023)
You are about to embark on the adventure of a lifetime to one the world's most vibrant countries, with an array of attractions and some of the suavest locals in Europe! Every step you take in this fabulous country will be filled with beauty, art, and fresh excitement. Italy is an absolute hub for tourists, and it is easy to see what brings so many people from around the world to this country!
Italy has become known for its luxurious villas, delicious wines, Mediterranean seas, white sand beaches, and genius architecture. There is so much on offer in this country, and so many marvelous places to visit, that it can become difficult to plan your trip to such a country thriving with scenic adventure! It might be easier to ask yourself what not to do, instead of what to do – as every stretch of Italy is inviting and waiting to be explored!
Our Italy trip planner will ease the stress of navigating your way and finding the best spots to enjoy during your travels to this cultural and magnificent part of the world! From ancient temples to luminescent blue seas, you will be spoilt for choice!

Unlock Our GREATEST Travel Secrets!
Sign up for our newsletter and get the best travel tips delivered right to your inbox.
Where To Stay In Italy
Italy itinerary, day 1 itinerary in italy, day 2 itinerary in italy, day 3 and beyond, day trips from italy, staying safe in italy, faq on italy itinerary, best time to visit italy.
When is the best time to visit Italy ? has some of the most welcoming weather in the world! Every season is magnificent for a vacation in Italy , and this is something that makes the country even more beautiful. There are sunny and dry summers that can reach high temperatures, but the cool Mediterranean seashores are just so exquisite, making summer still very enjoyable.
Winters are wet and cool, and the mountain landscapes get lots of snowfall. The Dolomites, as well as the whole of the Alps, become a dream come true to snow-sport lovers. It is the perfect time to visit for one incredibly scenic ski trip!
Some of the best seasons to visit are between April to May, and September to October. During these phases, the sun is out but moderate, making it ideal to chill and sightsee! June to August is the peak visiting season, so prices skyrocket as do the temperatures.
Do check out our Italy packing list which will help you to pack and dress effectively whatever time of year you decide to visit.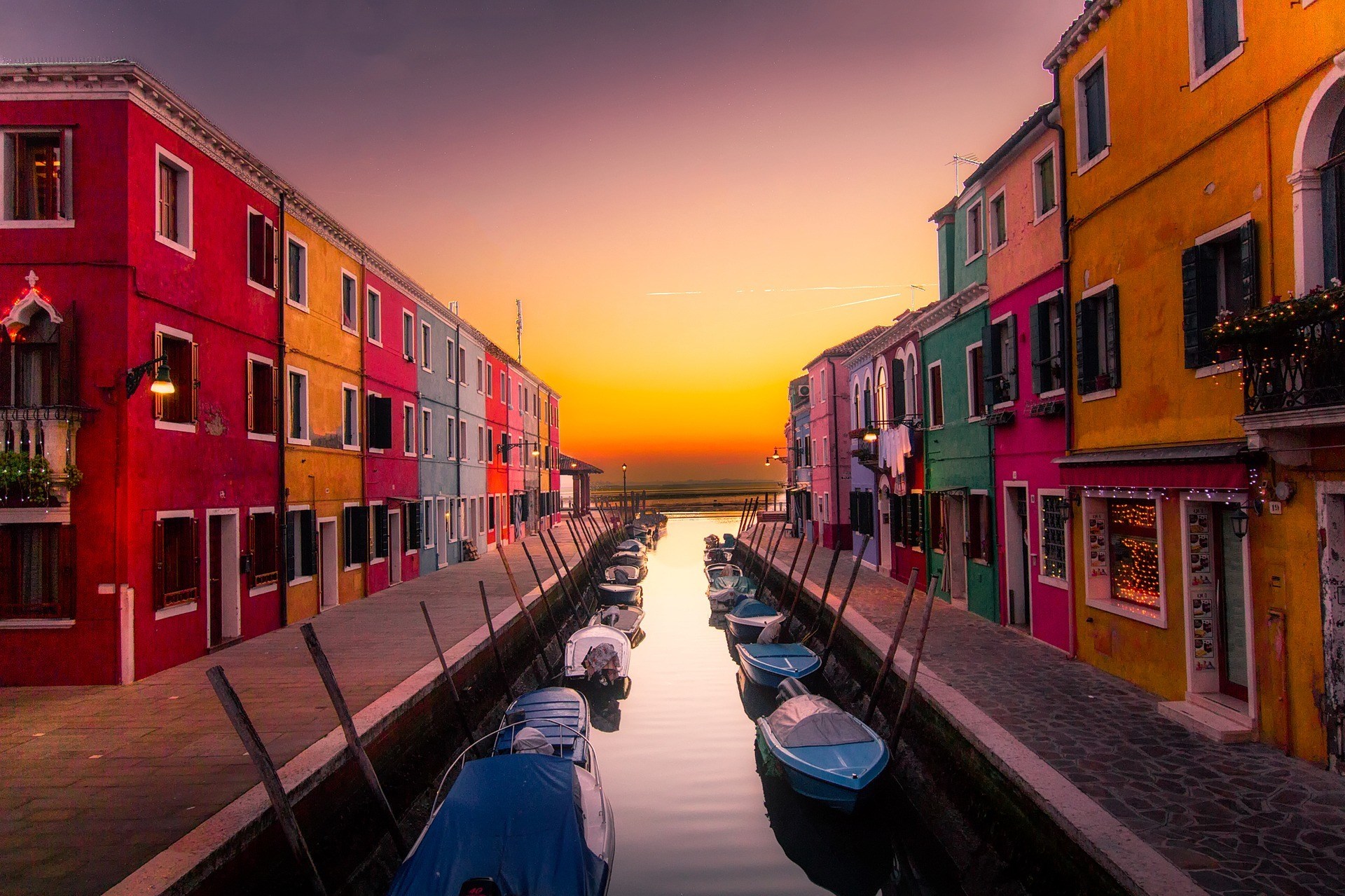 Italy's neighborhoods still encapsulate so much of this country's rich heritage! There are so many upbeat, scenic, and often romantic cities to stay in when you go to Italy. Every neighborhood has something different to offer, but the most common theme is olden-day buildings, unique structures, friendly people, and lots of funky restaurants!
Choosing where to stay in Italy obviously depends on what exactly you want to see.
Trastevere is found in Rome and is a historical city that has become known for having narrow, cobblestone alleyways, as well as beautiful medieval structures. This neighborhood has a calm atmosphere and is found along the banks of the Tiber River. The streets are full of boutiques, old-fashioned stores, eccentric cafes, and breathtaking architecture! Nightlife in this part of Italy is very vibrant and breaks the more relaxed mood of daytime. Rome is home to some of the best festivals in Italy. One of the best historical things to see whilst venturing Trastevere is the famous basilica churches! Some of the best hostels in Rome are found here.
Piazza Delle Erbe is an extremely charming part of fair Verona! Buildings from the Renaissance line this popular neighborhood, and there are many Greek-God statues to be admired during your visit here. If you want to know where life is happening, then you will find your answer in Piazza Delle Erbe's Plaza, where there are shops, restaurants, and plenty of stalls! Here you get the unique opportunity to experience a cup of delicious coffee whilst viewing the 13th-century Madonna Verona in the center of this plaza.
Cannaregio is located in 'the sinking city' of Venice, and is one of the most populated neighborhoods in the city! Here you can walk through Romanesque-style narrow streets, purchase the best-baked goods, enjoy the markets and check out some of the local churches. As Venice was one of the first Jewish ghettos in Europe, it is fascinating to take some time out to see the Museum of Jewish Art and the Judaica shops!
Check out one of the following neighborhood guides for some of our favorite Italian cities!
Cinque Terre
Amalfi Coast
Best Hostel in Italy – Generator Rome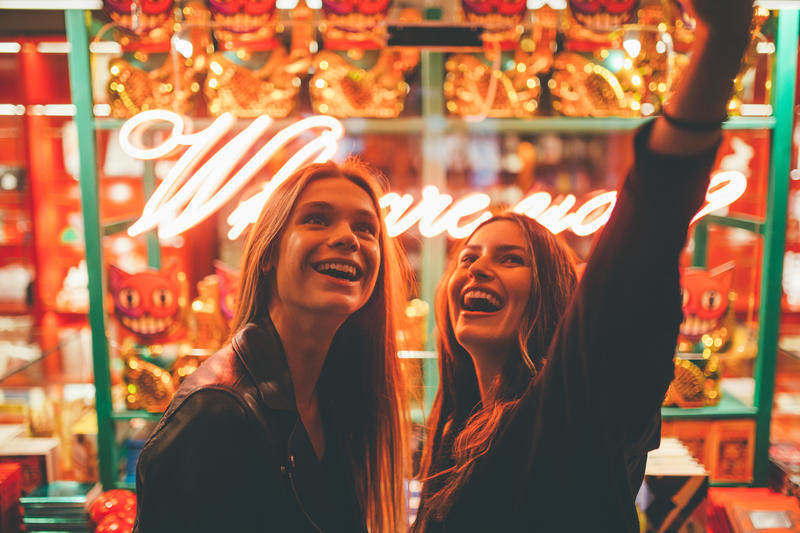 One of the very best hostels in Italy is the Generator Rome. Discovery historical and ancient backstreets, and find yourself close to hubs that offer street culture, art, and amazing food! The Generator Rome is only a short walking distance to the Roma Termini station, as well as one of the best attractions, The Colosseum. The interior design of this hostel is outstanding and adds a special touch to your stay.
Best Budget Hotel in Italy – Camping Village Jolly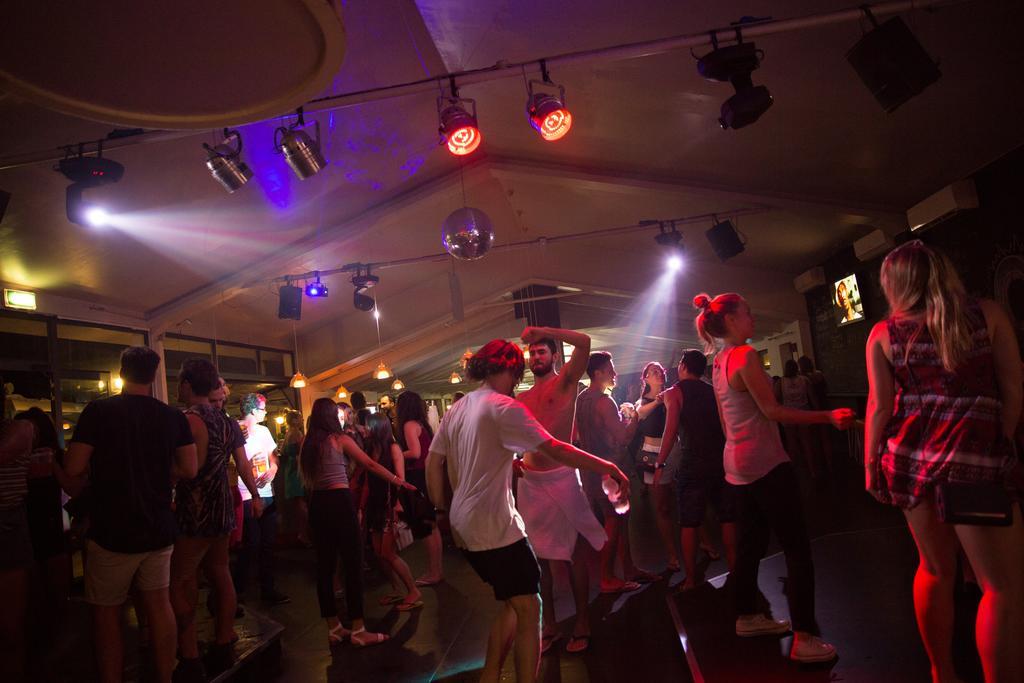 As well as being affordable, this hotel has a swimming pool, and the staff have lots of insider information which they offer at the reception desk. You can buy your fresh groceries at the store on-site, and even lounge for a drink at the bar after a long day or have yourself a tasty ice cream. If you feel peckish at night, then the à la carte restaurant is perfect for you to have an easy dinner!
Best Luxury Hotel in Italy – Belmond Grand Hotel Timeo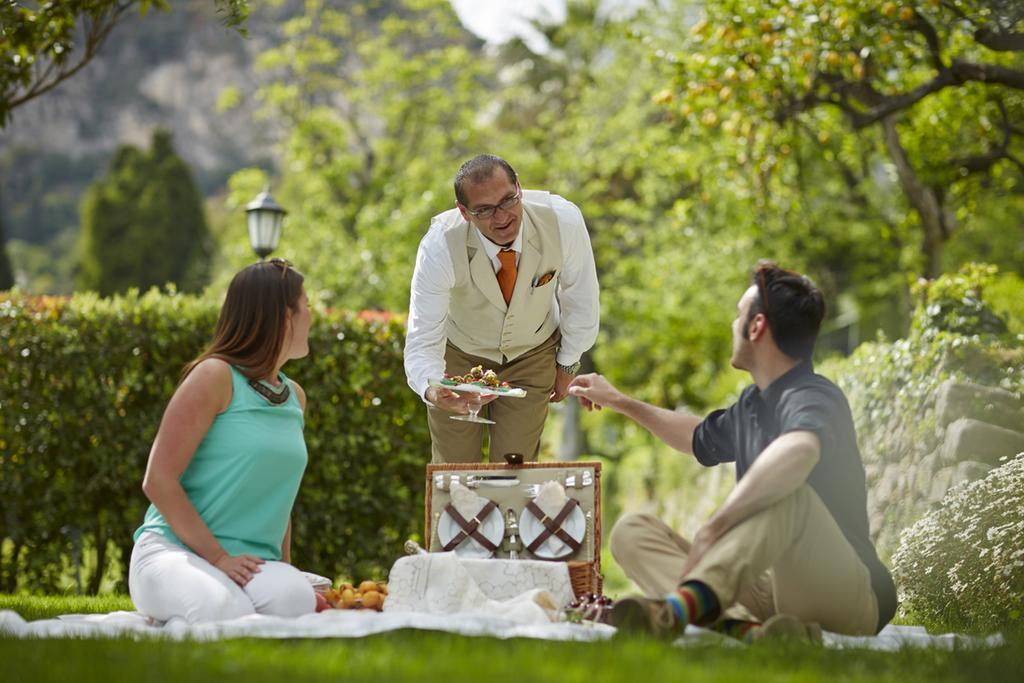 Situated amongst some of the most gorgeous mountain landscapes, and also opposite the Greek Theatre, the Belmond is in one of the most perfect places for a lavish trip! Taormina's Belmond Grand Hotel Timeo has mesmerizing panoramic views of Mount Etna and the Sicilian Coast.
You can also treat yourself at the spa, and sunbathe at the pool. It features an outdoor pool, and spa. Some of the suites also have magnificent views of the sea! Other suites have a view of the hotel gardens so you can capture the essence of paradise whilst looking out at the magnolias, cypress and palm trees. Everything you can dream of is provided here at this 5-star hotel!
Curious to learn more ? You can find epic accommodations in Taormina neighborhoods . You're sure to have the best stay!
Using trains is by far the cheapest and most easy way to travel in Italy, and many of the major cities are connected to one another. Italian high-speed trains are operated by both Trenitalia and Italo. These trains link Turin, Bologna, Florence, Naples, Salerno, Milan, and Rome.
You can also rent a car during your stay. EU driving licences are valid but otherwise, you will need to get your hands on an International Driving Permit, and it's a good idea to keep your original Driver's License with you too. If you want to rent a bike instead, then that's also a good idea and your permit will work for those too!
Considering that Italy is made up of 116,000 square miles, with 20 regions (two of which are islands, Sardinia and Sicily) then flying from either north to south, or south to north is much more time saving and sometimes even cheaper! Air Italy is one of the more affordable flight companies that you can use
When walking around Italy, just be sure to have your camera and comfortable walking shoes. The streets are remarkably scenic, so walking from place to place will be an adventure in itself! This is a really awesome way to enjoy the street stalls and meet locals.
The Sistine Chapel | The Pantheon | The Siena Cathedral | The Leaning Tower of Pisa | The River Arno
OK so this Day 1 itinerary is very ambitious and has been designed for people who are short on time but not on cash. To get this itinerary done you will need to start early and finish late. You will need a personal car to get you from Rome to Sienna to Pisa and will need to pay to skip the line to get to the Sistine Chapel. To complete it, you will need to keep moving.
Ideally, you would split this over 2 days.
Stop 1 – The Sistine Chapel
Why it's awesome: Michelangelo created jaw-dropping paintings on the large ceilings and the tall walls of this Vatican site!
Cost: Entrance Fee is €15 ($17)
Food Recommendation: Get yourself a wonderfully crispy pizza from Alice Pizza! You will get value for money and enjoy premium square slices. As the originators of the phenomenon of pizza, no other country does it better.
The world-famous chapel showcases commissioned art pieces from Pope Julius II, and Michelangelo himself painted the vault of the chapel! The creative genius is responsible for most of the in-depth and awe-inspiring paintings that adorn The Sistine Chapel, and he took years upon years to complete them, from 1508 to 1512 to be exact.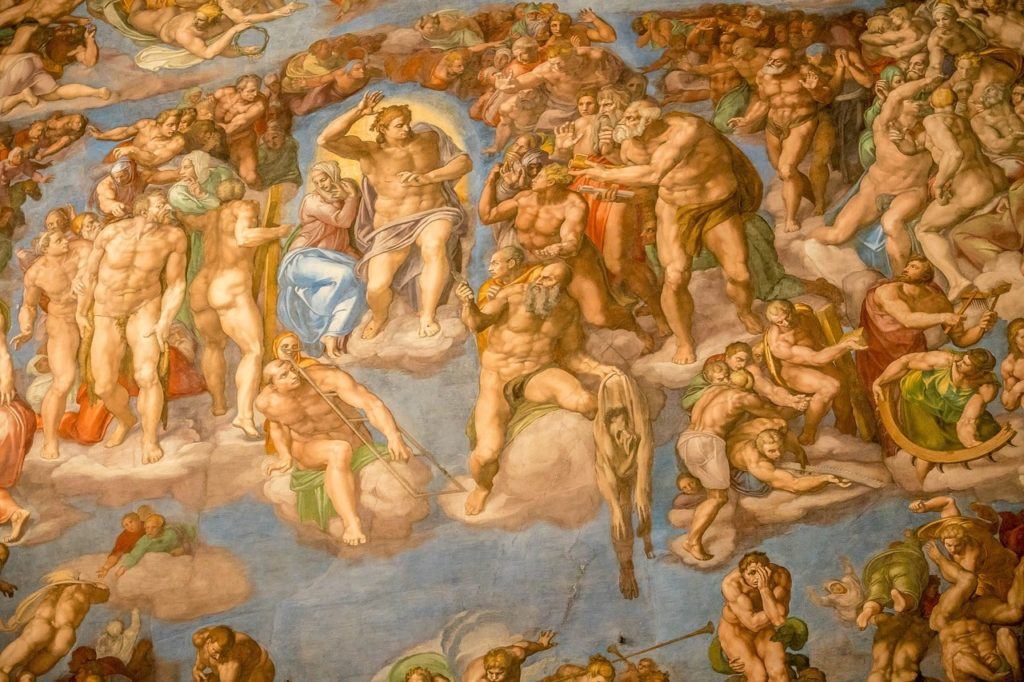 Michelangelo presented original and unprecedented art that understandably revolutionized the world of western art from that day forward! These frescoes are extraordinary and capture the soul of Italy's religious history, whilst beguiling viewers from all over the world! Art critics have declared Michelangelo's iconic work as being one of the top works in the history of painting. The massive size of the figures painted on the ceiling and the challenge of applying paint to a curved surface have made these frescos an astounding and exceptional creation!
High Renaissance artwork, a breathtaking chapel, and insurmountable historical lineage all make The Sistine Chapel a treasure trove of brilliant site seeing and a perfect way to begin your unforgettable journey of Italy!
Day 1/Stop 2 – The Pantheon
Why it's awesome: The Pantheon shows off Rome's most incredible and genius interior architecture!
Cost: Free entrance
Food Recommendation: Have a lovely and hearty meal at The Pantheon Restaurant, Di Rienzo. Sit and relax whilst enjoying a glass of wine, we suggest ordering the Spaghetti with Clams for an authentic taste of Italian flavor!
Roman architecture has been renowned for its ability to withstand the years while maintaining the original structure, and The Pantheon is a prime example of the brilliance of Roman architecture! This monument has been standing for over two thousand years and, despite its ancient age, it is still standing tall – even though the gilded bronze roof tiles were removed by Pope Gregory III to be used for cannons and to create an altar in St Peter's Church!
The Pantheon has also survived a fire in 80 AD and was rebuilt in a way that provides us with an insight into the complex and high technical mastery of Roman builders. The most prevalent feature of The Pantheon is its 43-meter dome, which is a superior accomplishment in Roman interior architecture and is suspended from supports that are hidden inside the walls. Talk about mysterious!
The 9-meter central opening in the dome is The Pantheon's only light source, creating an ambient atmosphere. The Romans created this structure in a way that both the height and the diameter are the same proportion, creating a sort of architectural harmony in the building.
The gardens have been used as a burial place for the Italian kings and other famous Italians, such as the painter Raphael.
You will be immersed in an endless display of ancient Roman beauty and architectural prestige!
Insider Tip: Be careful of the floors when it's been raining, as they get very slippery!
If you need some ideas for accommodation in Rome, consider checking out our guide on the best vacation rentals in Italy .
Day 1/Stop 3 – The Siena Cathedral
Why it's awesome: The Siena Cathedral is a marvel, built entirely of marble and complete with golden touches!
Cost: Entrance fee is €5 – €8 ($6-$9)
Food Recommendation: The Ristorante Numero Unico offers scrumptious meals and scenic settings. Have yourself a meal packed with different flavors, served with a beautiful presentation! The T-bone steak is one of their best and most popular dishes.
A visit to Siena's ancient and gothic cathedral is an adventure in itself! Otherwise known as The Duomo di Siena and this temple has become one of religious fervor to the people of Siena. The interior is breathtaking and covered with incredible works of renaissance-themed artwork. From the roof of The Siena Cathedral, you can experience an awe-inspiring view of Siena!
From The Cathedral Square, the Duomo's presence is imposing and lavishly decorated, dominating the square with its sheer elegance and light! Made entirely from black, white and pink marble, and decorated with the rich golden decor, The Siena Cathedral is a marvel to behold! This building is one of the most important gothic edifices of Italy, and it took over two hundred years to be fully constructed.
The Siena Cathedral is beautiful inside and out, featuring work of Italy's most famous and acclaimed artists from that era, such as Nicola and Giovanni Pisano, Donatello, Pinturicchio, Lorenzo Ghiberti, and Bernini. One of the most famous paintings that are showcased here is the Museo dell'Opera del Duomo. This magnificent cathedral is fascinating and by far one of the most impressive features in Siena!
Day 1/Stop 4 – The Leaning Tower of Pisa
Why it's awesome: This tower was built by a team of different architects over many years, and still stands even though it continues to tilt!
Cost: Entrance fee to walk to the top is €18 ($24)
Food Recommendation: Have a light meal at The Ristoro Pecorino, a quint and local cafe found close by. Their food is delicious and savory. They also happen to serve some of the best-brewed coffee!
The leaning tower of Pisa has gathered attention from the world, and has such an effect that makes this building look like it is defying the very nature of gravity! The 'leaning' has been due to the fact that after the first of the three floors was built by the architect Bonanno Pisano in 1178, the tower has begun to bend 5cm to the southeast.
100 years later, another architect by the name Giovanni di Simone began his attempts to compensate for the inclination of the structure. He built four vertical floors, but unexpectedly the bell tower still bent – and so the construction stopped again!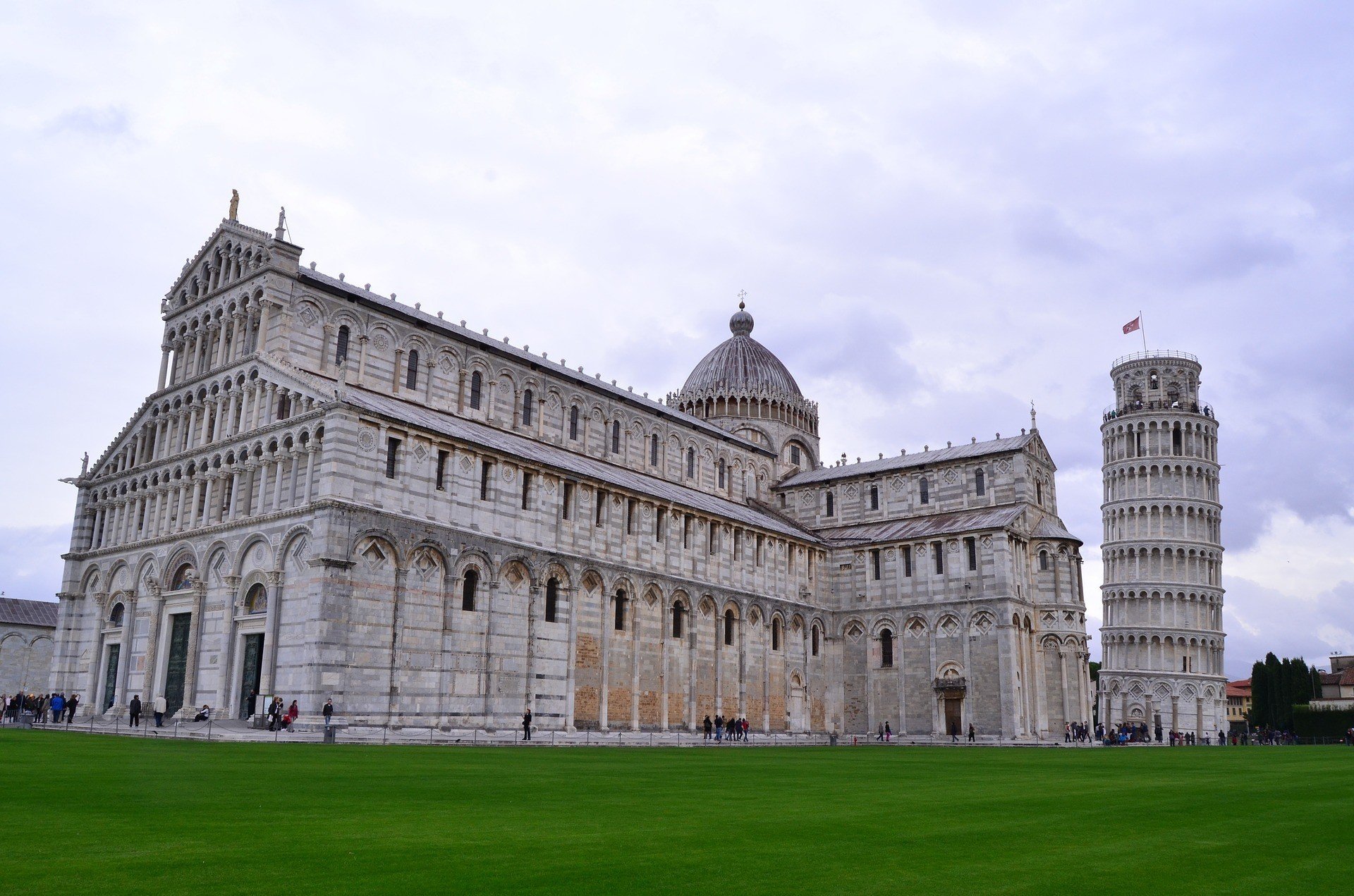 Lastly, came in Tommaso Pisano to complete the work of the bell tower is 1372, despite the continuation of the sideward plummet. A remarkable building expert named Alessandro Gherardesca then made the first restoration of the tower's foundation and replaced it with marble.
Thanks to all of these creative and innovative thinkers, we now have the tremendous Leaning Tower of Pisa! This structure is a spectacle and insanely beautiful on the inside, with marble finishes and white pillars. Explore a building that took years to be completed, and continues to stand even though it tilts about 1 cm every year!
Insider Tip: Lines can be crazy, so make sure to book your ticket in advance!
Day 1/Stop 5 – The River Arno
Why it's awesome: It is one of the primary and most important rivers in the whole of Italy!
Food Recommendation: Caffe Dell Oro (Gold Coffee) is an Italian bistro that specializes in traditional Italian cuisine, so you are in for some really diverse and new meals. We suggest going for the seafood options, especially the grilled sea bass. Whatever your stomach feels like, each meal is cooked to perfection!
The River Arno is one of the main rivers in Italy, even the city of Pisa was built around this waterway! The part of the River Arno that runs through Pisa provides a captivatingly beautiful landscape, and is an amazing place to simply walk along at night! Under the stars, watch as the moonlight reflects off the river surface, along with the lights from cafes and cars driving by.
Five absolutely gorgeous bridges cross over the Arno from central Pisa, and both the Lungarno Mediceo and Galileo Galilei are found parallel to the river. The local old-school houses and renaissance-themed architecture create a marvelous backdrop and this part of Pisa is truly picture perfect!
You will remember the magic from this moment forever, there is no better way to end of your first day traveling in Italy!
Insider tip: Learning some basic Italian, such as Ciao for hello and goodbye, will be incredibly helpful during your trip! The locals are some of the most welcoming people in Europe, and they really appreciate it when tourists show that they have attempted the home language.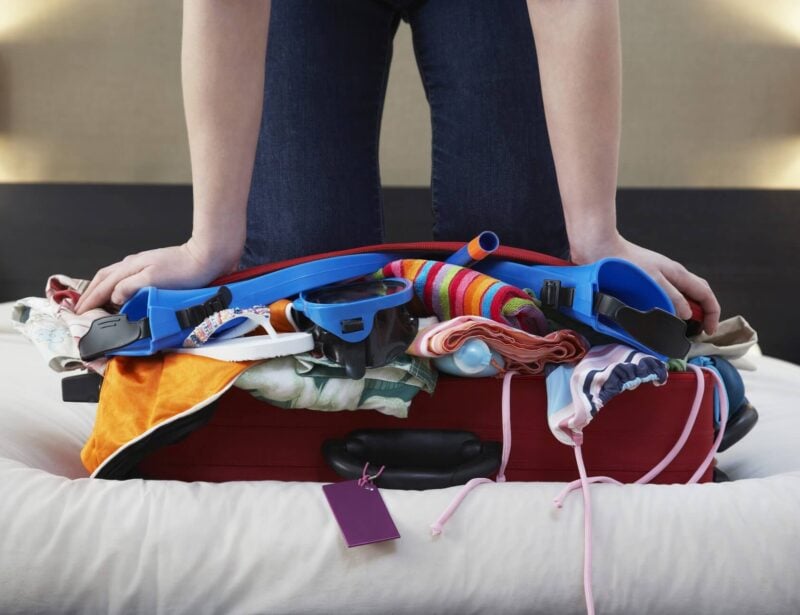 Wanna know how to pack like a pro? Well for a start you need the right gear….
These are packing cubes for the globetrotters and compression sacks for the  real adventurers – these babies are a traveller's best kept secret. They organise yo' packing and minimise volume too so you can pack MORE.
Or, y'know… you can stick to just chucking it all in your backpack…
The Uffizi Gallery in Florence | San Petronio Basilica in Bologna | The Gardens Of Giardino Giusti in Verona | The Grand Canal in Venice | Lido Beachfront in Venice
The day 2 itinerary is just as hectic as day 1. Whilst these 3 cities are relatively close together, traffic congestion can make the journeys longer than we would like. Again, you will need to start very early , have a private car and skip the line at Uffizi. You will have no time to hang around Bologna and may have to cut the gardens of Giardino Giusti.
Stop 1 – The Uffizi Gallery in Florence
Why it's awesome: This gallery hosts the most famous and beautiful artworks all the way from the Middle Ages to the present Modern Day!
Cost: €6 – €12 ($7 – $13)
Food Recommendation: Vinaino Fiorenza offers simple, yet gourmet Tuscan style food, specializing in special bread and rolls. The Panzanella is a great dish to have for a breakfast that is jam-packed with different tastes!
The Uffizi Gallery entirely takes up the first and second floors of a large building constructed between 1560 and 1580, originally designed by Giorgio Vasari. The architecture of the building is art in itself, but when you embark on your adventure inside the gallery you will be lost in a world of fine art and ancient history!
The gallery is famous worldwide for the outstanding collections of ancient sculptures and paintings that it keeps, some that are dated back to the Middle Ages and some from the days we now live.
There is already so much splendor encapsulated from the paintings, but the gallery also prides itself on its collections of priceless ancient statues and busts that decorate the corridors! The Uffizi Gallery is a must-see landmark attraction in Italy. For an in depth review of Florence, read our Florence travel guide.
As this itinerary is intense, you will need be there by 9am to restrict yourself to seeing the masterpeices only. This can be done in 2 hours so you can out and on the road by midday.
Day 2/Stop 2 – San Petronio Basilica in Bologna
Why it's awesome: It is the 10th largest church in the entire world!
Cost: Entrance is free and it is €2 ($3) to take photos
Food Recommendation: Botanica Lab Cafe is the first Bistro in Bologna, and is striving to create healthy meals for a healthy body! Enjoy all of their vegan food and shakes. We recommend tasting one of their fresh croissants.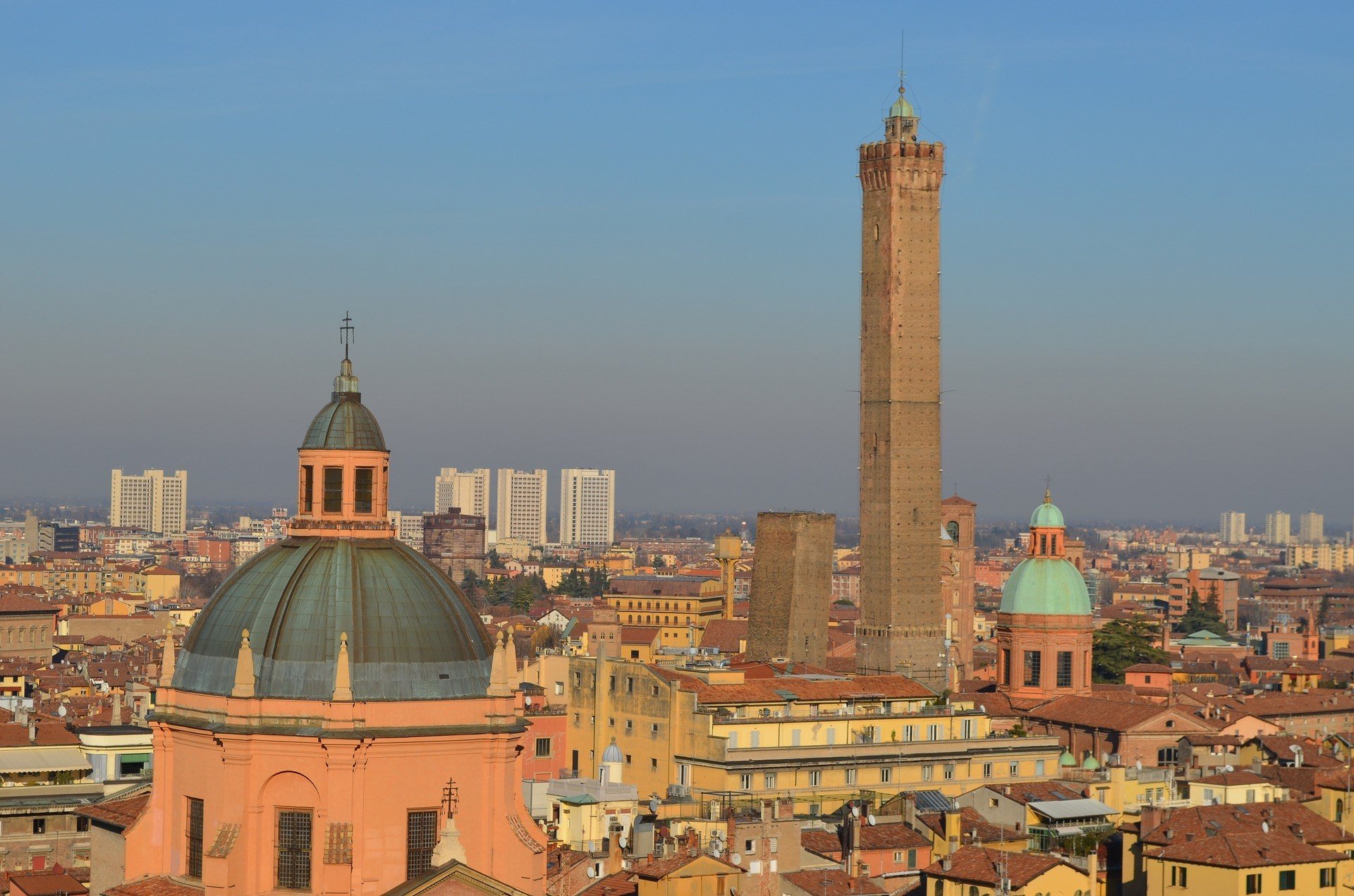 This immense structure stands and presents a domineering presence in the center of the Piazza Maggiore. San Petronio Basilica is dedicated to Saint Petronius, the patron saint of Bologna.
San Petronio Basilica in Bologna, ItalyThis outstandingly beautiful church has a Gothic design, and its most famous features are the sheer enormity of the building and its ancient unfinished front facade. Originally, the church was constructed in 1388 through to 1479, but it has never been truly finished, so the front facade is rather bizarre. The lower half features brilliant colored marble stonework, in contrast to the top half that remains bare and made of exposed brown brickwork.
The church's inside atmosphere is truly epic, with large brick columns that are adorned with decoration and seem to stretch on forever! The San Petronio Basilica's main altar is magnetic and will draw your attention as you walk down the central aisle in wonderment!
Insider Tip: On the weekends you can take an escalator trip to the viewing platform!
Day 2/Stop 3 – The Gardens Of Giardino Giusti in Verona
Why it's awesome: These gardens are those of a famous royal palace in Verona!
Cost: Entrance fee is €8,50 ($10)
Food Recommendation: Enjoy a laid back and fun meal at the Café Carducci! The setting is vintage, and so are the wines. We suggest having a wine and cheese sitting with a light meal.
The Giusti Gardens are professionally designed and landscaped to capture the essence of the Italian Renaissance, and the style in which it does so is magnificent! The gardens are some of the very finest in Verona, providing a stunning contrast to the waves of architecture that is most present in the city!
You will walk along and find yourself feeling like royalty as you enjoy the eight different squares, and each section has its own unique design and theme with a central fountain or sculpted centerpiece! Maintaining a high-class standard, it is easy to see the care and attention put into every inch of this garden.
Rich flowers, bright colors and indigenous bushes decorate these gardens – and you can even find yourself in an iconic hedge maze!
Note that unless you have driven between cities like a stunt driver, the gardens may be closed by the time you arrive. Or, you may be running out of daylight and wanting to get straight to the Canal's and Lido.
Day 2/Stop 4 – The Grand Canal in Venice
Why it's awesome: The Grand Canal is huge, and along the expansive waterways are some of the most outrageously beautiful places in Italy!
Cost: Entrance is free, and the gondola hire is €4,30 ($5)
Food Recommendation: The Restaurant Terrazza Danieli is an upmarket rooftop restaurant on The Grand Canal that has views overlooking the city! The restaurant serves classic Venetian cuisine, and one of the best bets for a tasty meal is the traditional pasta.
What should one know about the Grand Canal? Perhaps, that it the greatest avenue in the world! It may be a little strange considering it is an entire street that is made out of the water, but it is lined with some of the greatest and most beautiful buildings on earth! Riding along the Grand Canal is a truly enchanting adventure.
This used to be "the" prestigious place to live back in Venice's heyday, and it is still one of the most aristocratic addresses on the block! All the merchants that have really 'made it' in the world of business have had a shop on the Grand Canal at some stage. On a humorous note, most of the beautiful buildings along the canal originate from this contest had by the Venetian rich to outdo the neighbor's place next-door – how little things have changed today!
Whimsical and glamorous, the Grand Canal with have you falling in love with the enigmatic nature of Venice!
Insider Tip: Palaces in Venice were literally built to be seen from the water so keep your eyes peeled!
Day 2/Stop 5 – Lido Beachfront in Venice
Why it's awesome: This beach stretch is famously the best in Italy!
Cost: Entrance fee is €22 ($24) for non-residents
Food Recommendation: There is such a vibe at the Essentiale Restaurant & Lounge Bar at Hotel Villa Laguna that it can't be missed! Enjoy 5-star style and fantastically decadent traditional food cooked by world-class chefs. Spot famous Italian actors and musicians whilst having one unforgettable culinary experience!
Lido has some of the very best beaches in Italy, and has a sandbar that elongates over 7 miles long that sits in the Venice Lagoon and the Adriatic Sea! This stretch of beach has the well-earned nickname of "Island of Gold", due to the stunning golden-brown sands and magnificent shores.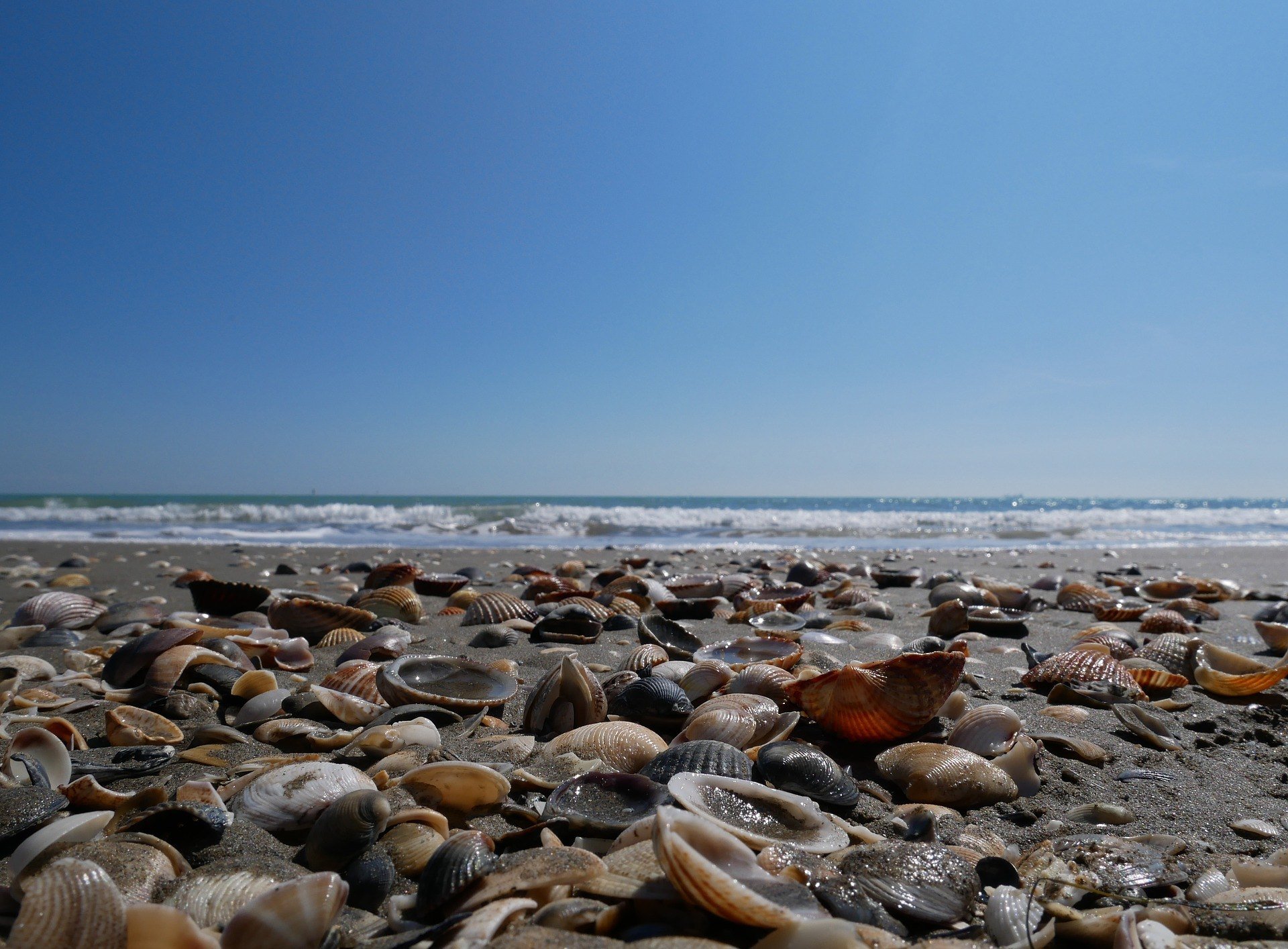 The loveliest beaches are in front of Lido's historically grand hotels, they are lined with thatched beach huts or sporting elegant white cabanas. The beaches are open from May through September for travelers to bask in the Italian sun and enjoy the atmosphere!
In all probability, the sun will have set by the time you arrive. Hopefully, there will be a full moon casting a serene reflection over the water. This is an amazing and remarkably scenic way to end your 2 days in Italy.
You will be tired out by this point so make sure you book one of the best hostels in Venice to ensure a good nights rest.
Generator Rome
One of the very best hostels in Italy is the Generator Rome. Discovery historical and ancient backstreets, and find yourself close to hubs that offer street culture, art, and amazing food!
The Montecassino | The Cinque Terre in Liguria | The Colosseum in Rome | The Roman Forum | The Chianti Wine Route in Tuscany
Our Italy trip planner will give you plenty of fun ways to spend your next few days! Visit ancient sites and historical landmarks all whilst traveling the beauty of this country and learning more about what Italy's heritage is all about. Come with us on this adventure!
The Montecassino
The Montecassino was first built in 529 AD and attracts lots of tourists worldwide due to the significant historical background of the Abbey.
The surrounding gardens are vast and full of indigenous Italian wildflowers!
The entrance to this magnificent site is entirely free, but the monks do accept donations to the monastery.
Italy's steep and rocky hills are home to a rebuilt Monte Cassino Abbey, and it is one of the most popular abbeys in the world! Despite being destroyed during World War II, it has been remade and kept its original structure. This is a unique site that is filled with lots of history from the days of worship and meditation. It is still in use as a religious venue for Christian monks, and it is breathtaking!
The remaining ashes of Saint Benedict, as well as his twin sister Saint Scholastica, are preserved and kept in bronze urns. The urns are found under the basilica's high altar, and you can also admire other relics that are on display in the Chapel of Relics.
If you venture under the church, you will see a16th century crypt, adorned with an endless amount of fine art mosaics, as well as the tomb of St Benedict and his sister.
Monte Cassino used to be the wealthiest known monastery and is filled with old relics from St. Benedict. To see these old paintings, frescoes, and mosaics, you can go into the abbey's museum. This adventure is full of new knowledge and stunning religious artifacts!
The Cinque Terre in Liguria
Cinque Terre is a UNESCO World Heritage Site and has also been designed as a national park. Italy has a bunch of national parks to visit .
The Cinque Terre is nestled in Liguria, and the 'Five Lands' is made up of five prominent villages that are located at the top of the rugged cliffs. overlooking the famous Italian Riviera.
€105 ($119) is the average cost of traveling this famous coastline.
Cinque Terre's villages are all overlooking the famous Italian Riviera, so no matter which of these villages you are in, at any given time you will be astounded by the landscapes!
This popular string of centuries-old seaside villages has 5 distinct towns that each have their own uniquely charming sites – Vernazza, Corniglia, Manarola, Riomaggiore, and Monterosso.
These humble villages are overflowing with marvelous vineyards, vibrantly colored houses, steep terraces, abundant fishing harbors and plenty of local seafood specials. Most of the food here will be served with Liguria's famous sauce, pesto.
The romantic area of Cinque Terra is sprawled between La Spezia and Levanto. It offers olive groves, azure sea views along the long coastline and a bevy of traditional restaurants.
If you want to have a hike, then The Sentiero Azzurro cliffside trail is the best! This hiking trail connects all of the villages and provides some of the most amazing sweeping sea vistas!
The Colosseum in Rome
Pre-book tickets before you come. Lines are very long and sometimes it can take half a day just to get in.
This site is one of the biggest attractions, and when you see how the building still stands and preserves so much of Ancient Rome's splendor, you will understand why!
Entrance fee is €12 ($13,50)
You simply can't visit the ancient city of Rome and not visit this most well known and very famous attraction! The mighty colosseum retains a remarkable stature and captures what it was like in Rome during the empire's day. Walking amongst the wreckage, you can almost feel yourself time traveling to see the gladiators readying themselves for a fight to the death, as the hierarchy watched and eager fans cheered!
This colossal amphitheater was once able to host 50 000 spectators and has now become one of the most important historical relics in the world! The Colosseum still retains a hell of a lot of grandeur, and you can get a very good idea of what it must have looked like in its prime.
This site is both entertaining and reflective, as we realize how far humanity has come from such barbaric times (we now have X Factor….) . The ruins are beautiful, and seeing these broken down structures under the clear skies of Rome is perfection.
Want to learn more about this wonderful country? Head over to our backpacking Italy travel guide for more details all things Italian!
The Roman Forum
The Roman Forum is one of Italy's biggest attractions and lies between the Capitoline and the Palatine hills of Rome.
The Forum was the center of the whole Roman Empire!
Entrance fee is €2 ($2,24)
The Roman Forum is an essential part of any Rome itinerary . It is so big that it can be seen from most terraces in the wider city and enchants everyone who visits with its tall pillars, aged domes and amazingly well-kept structures with infinite detail and depth.
The ruins of The Roman Forum are made up of breathtakingly impressive temples, arches, and houses. This expansive labyrinth of history is home to both The Temple of Saturn and The Via Sia. Walking in the footsteps of Julius Caesar, in these remains you can still feel the power from Italy's most prominent and ancient empire!
A guided tour of the Roman Forum offers you an authentic chance to gain insight into the politics, beliefs, and lives of the Ancient Romans themselves, helping you to understand so much more about this lost civilization!
The Chianti Wine Route in Tuscany
Chianti is the most famous wine estate in Italy and churns some of the best plonk in the world!
Touring this route offers you a very unique view of the landscapes and villages that you won't find on other wine routes or tours.
The route is free to drive or walk through.
The Chianti road connects Florence to Siena, and is probably the most beautiful driving route in Italy! It passes through acres and acres of pristine arable land which has produced some of the best wine ever!
Just like it's wines, Chianti has become more beautiful with time! This route will take you through enchanting old villages, rolling green hills and flowing streams. Stop off to have a wine tasting, or simply even have a picnic in one of the many beautiful spots along the way.
Italy is a strong contributor to the world of wine and this is one of its prime, wine regions . Winelovers simply cannot go to Italy without exploring the magnificently beautiful and expansive vineyards!
You'll also find plenty of Italian yoga retreats in this part of Italy.
Here of some of the best Italian trips for you to enjoy on your journey that will add heaps of zest and fun to your days! Whether you're spending the weekend in Italy or more than 3 days in Italy, we've got your back with these amazing tours.
Book your transport on Bookaway NOW . Get the best price for the best ride… then use those savings to buy the best feed in town!
Capri Boat Trip To Visit The Blue Grotto
This adventure is a true must for those wanting to experience all of the magic that Italy's waterways have to share! The mystical Blue Grotto is an ancient sea cave just off the coast of Capri Island, and the effect that the sunlight has on the cave water is mesmerizing!
The ocean water turns a bright luminescent blue color, and while you are touring through the cave you will not only feel the calmness and fantasy-like essence, but you will also feel as if you are floating on an electric blue wave that lights up the whole underwater cavity! The cave is a true gem, and boating through is a once in a lifetime experience!
Rome: Pompeii Sightseeing Trip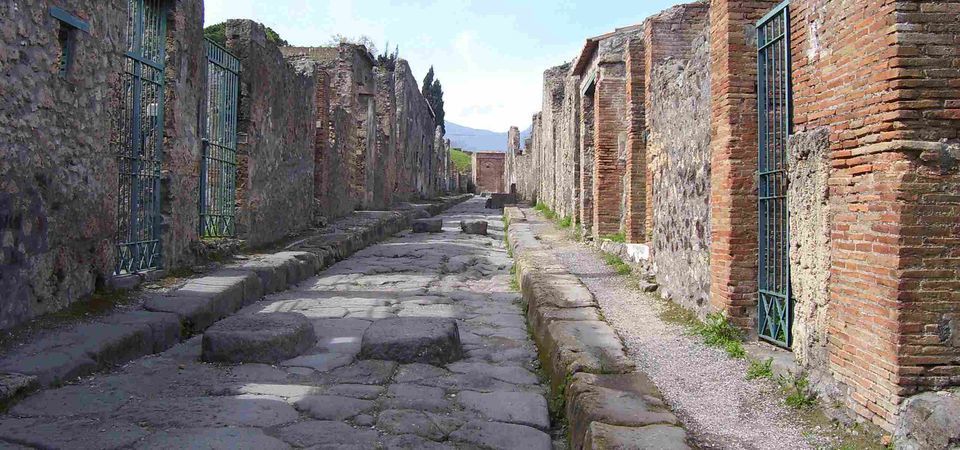 Pompei was famously suddenly and totally destroyed by a volcanic eruption in 79AD. On this group excursion, you will explore these artistic and historical sites, ranging from old bathtubs, halls, and marble statues! Exploring Pompei's history is eerrie and fascinating.
The buildings are surprisingly well-preserved for their age, showing how ingenious Roman architecture was. These ruins are beautiful and have remained standing even after a huge volcanic eruption destroyed most of the castles and temples. Some parts of Pompeii still remain covered in volcanic ash, making these ruins a massive archeological landmark!
Tuscany: Canyoning Adventure Day Trip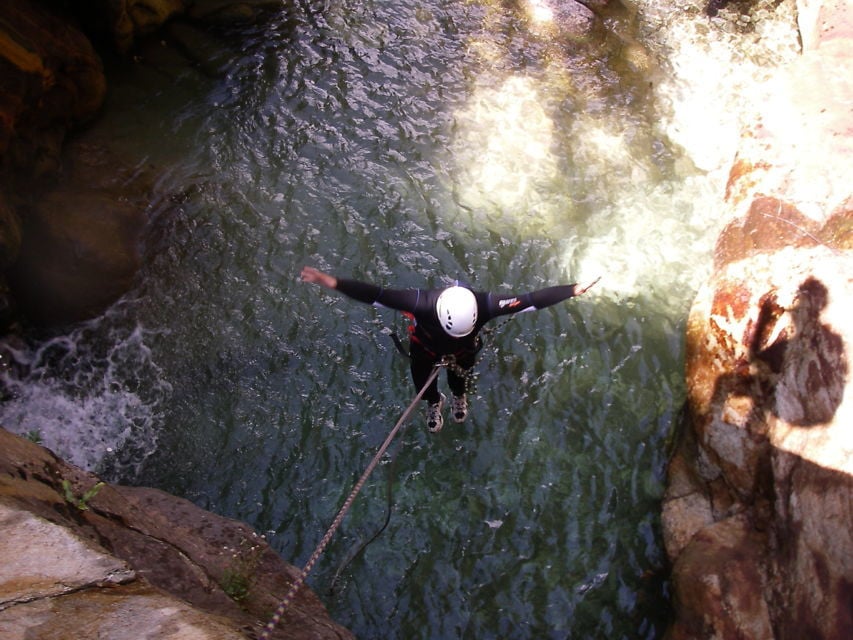 This is a fun day trip that is sure to curb your undying craving for adventure! On this energising excursion, you will have a full day of wet and wild canoeing on the beautifully scenic countryside of Tuscany!
As you navigate the way, you will be immersed in gorgeous waterfalls, and slide down completely natural water slides. Maneuvering on the sometimes tricky Tuscan waterways, you will have a great day learning how to conquer the waves. The whole way is full of gorgeous Renaissance buildings, colorful vegetation, birdlife and views that will make your soul soar!
Naples and Amalfi Coast Full Day Tour from Rome
Having the opportunity to see one stunning place is magnificent enough, but on this tour, you will get to see two in only one day!!
Dirty Naples shows another side to Italy's charecter and yet never fails to charm visitors.
To make your day even more unforgettable, you will be traveling past the exquisite coast of Amalfi . This coastline is lined with colorful old-school villas, fishing villages, stunning cliffs, and rocky shorelines.
Ischia Day Trip with Lunch from Naples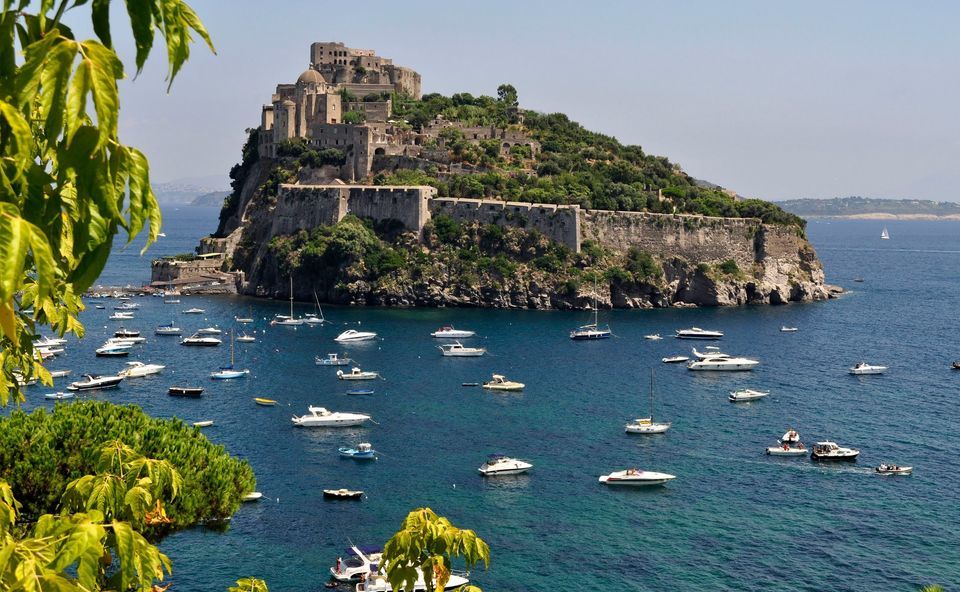 On this day trip from Naples, you will be provided with one otherworldly kind of adventure! Travel from Naples to one of the largest islands in the Gulf of Naples, and lunch with your travel companions. This volcanic island is surrounded by the Mediterranean sea, with ocean views that stretch as far as the eye can see!
The waters are known for being mineral-rich and enjoyably warm for you to have a dip and swim with fish. There are also volcanic natural spas for you to treat yourself to on this alluring island. From the beach of Ischia, you can walk along a stone bridge to the medieval Aragonese Castle. Nearby, you will find the 18th-century Palazzo dell'Orologio that houses the Sea Museum, where you can learn more about the area of Ischia and its fishing tradition.
We've tested countless day packs over the years, and now we've found our absolute favourite: the traveller-approved Osprey Daylite Plus .
Want more deetz on why we love it  so damn much?  Then read our comprehensive review for the inside scoop!
Italy is very safe for travellers and violent crime is rare. However, you do need to take some precautions. Italy is generally safe , we will help prepare you for your visit so that you can keep yourself and your important things safe when in Italy!
Rome, in particular, is known for petty theft and pickpocketing as are other major tourist destinations.
Never travel with your bag out in the open or with an unlocked backpack. Keep your bag in front of you and keep it zipped. For extra precautions, get a handbag with a wire strap, so that it cannot easily be cut and run away with.
In the Metro subways watch for young children who may be working as pickpockes and bag thieves. Stay aware of people wanting to bump or get too close to you, and watch where their hands are going. Pickpocketing happens in the busy lines and within big tourist groups.
Don't Forget Your Travel Insurance for Italy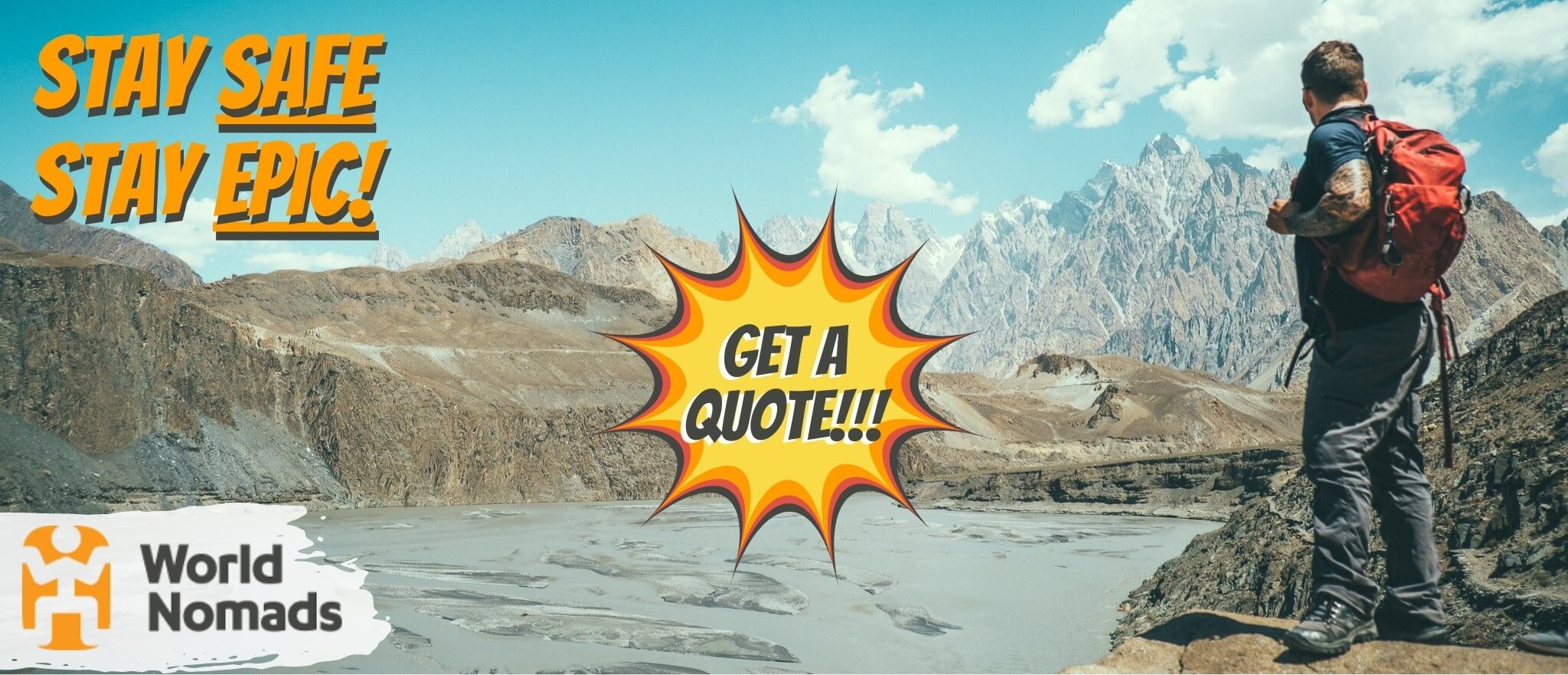 World Nomads ' mission is to support and encourage travellers to explore their boundaries. They offer simple & flexible travel insurance, and safety advice to help you travel confidently.
They've been doing it since 2002 – protecting, connecting, and inspiring independent travellers just like you.
Get a quote below or read our in-depth review!
World Nomads provides travel insurance for travelers in over 100 countries. As an affiliate, we receive a fee when you get a quote from World Nomads using this link. We do not represent World Nomads. This is information only and not a recommendation to buy travel insurance.
Find out what people want to know when planning their Italy itinerary.
How many days do you need for a full Italy itinerary?
If you're keen to explore as much of the country as possible, then you'll need about 2-3 weeks in Italy.
What should you include on a 10 day Italy itinerary?
Make sure to check out these iconic attractions: – The Pantheon & Colosseum, Rome – Siena Cathedral, Siena – The Leaning Tower, Pisa – Grand Canal, Venice
Where should you stay for a honeymoon in Italy?
Positano is our pick for the most romantic place to stay in Italy, while Florence and Venice are also popular options.
What is the best way to travel around Italy?
Train travel is the cheapest and easiest way to travel around Italy. Renting a car would provide more flexibility, while flying can be the quickest option and is often great value!
This complete travel guide will ensure that your days in Italy are well spent! We have covered the best trips for your Italy vacation, where to find the most mouth-watering traditional cuisine, and more! This beautiful country is a favorite, so be prepared to fall in love with the history, culture, and people as you explore endless magic!
This Italy travel itinerary will have you enjoying the best parts of Italy, and soaking up your time in this country to the fullest! Backpacking through Italy can be inexpensive , and truly one of the best adventures you will ever go on. We sing Italy's praises loud and clear!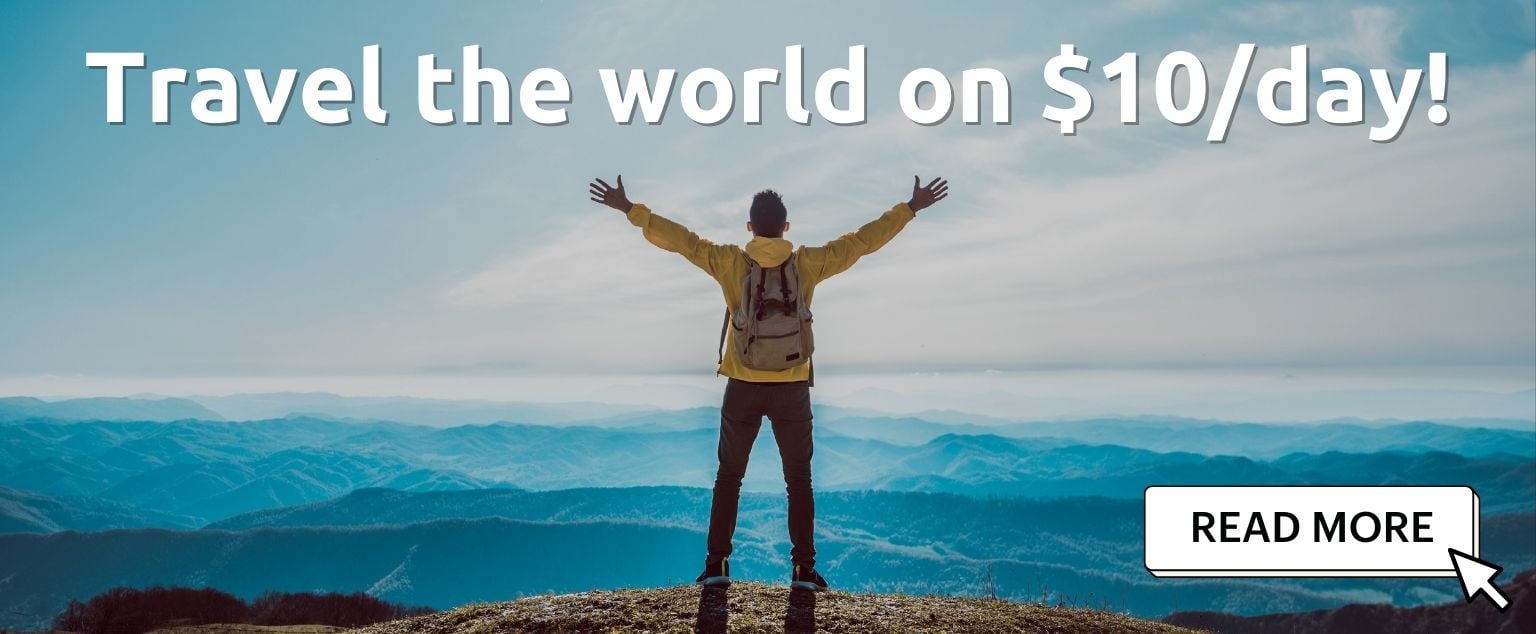 And for transparency's sake, please know that some of the links in our content are affiliate links . That means that if you book your accommodation, buy your gear, or sort your insurance through our link, we earn a small commission (at no extra cost to you). That said, we only link to the gear we trust and never recommend services we don't believe are up to scratch. Again, thank you!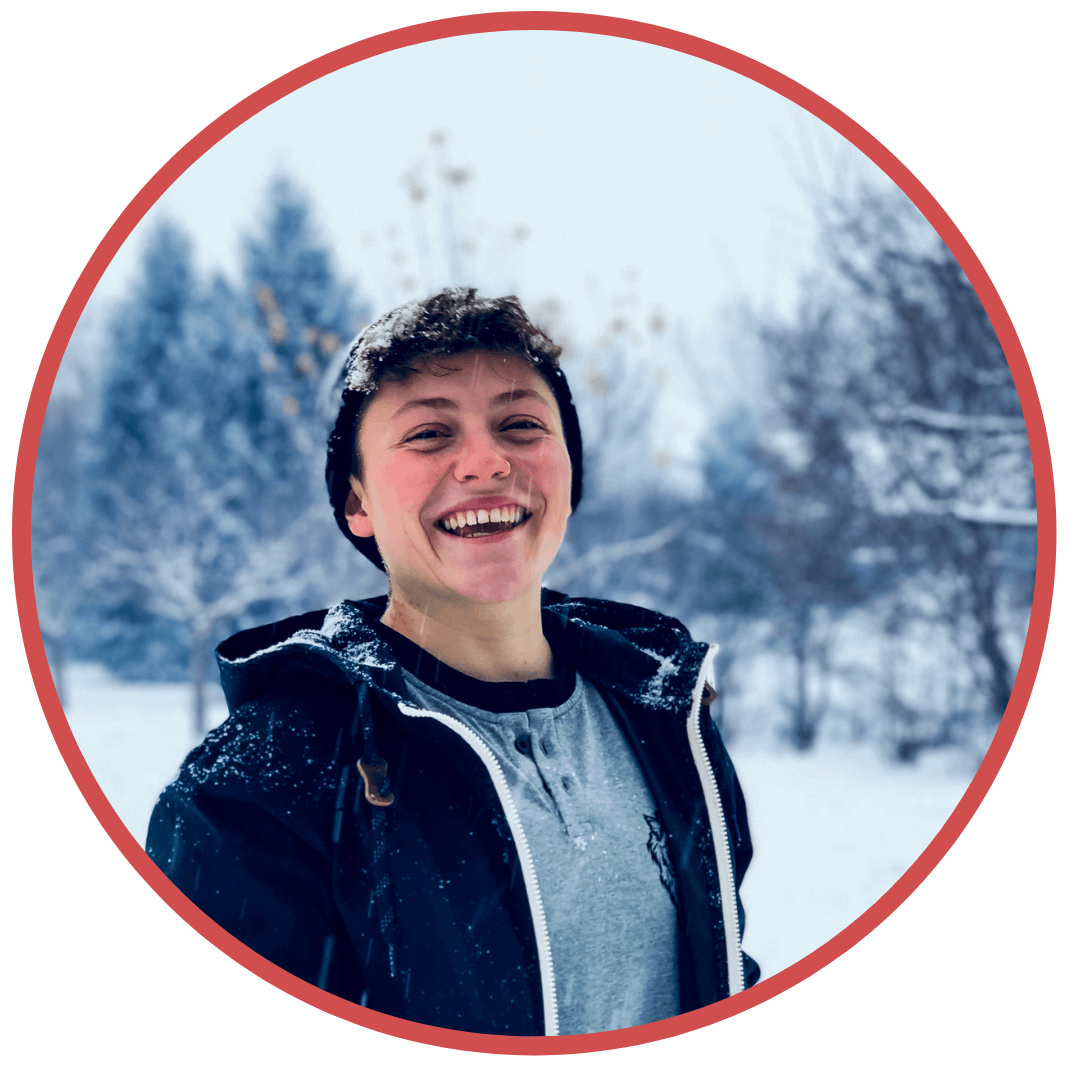 Share or save this post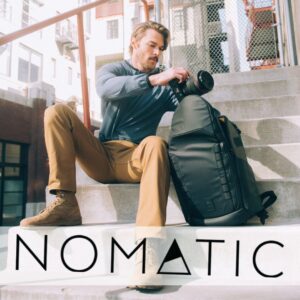 Leave a Reply Cancel reply
Your email address will not be published. Required fields are marked *
Save my name, email, and website in this browser for the next time I comment.
Your Guide to Traveling Around Italy with a Rental Car
Why should you rent a car in italy, when should you go to italy, where should you pick up a car in italy, how easy is it to travel around italy independently, how safe is it to travel around italy by car, what languages are spoken in italy.
Three underrated travel destinations in Italy that you can reach by car
What are the best places to rent a car in Italy?
What about filling up in italy, how expensive is gas in italy, for how long should you rent a car in italy, how much does a rental car cost in italy, which car rental company in italy offers the lowest rates what are some tricks for getting a better deal, which car rental supplier is best for you are the rental conditions important, what else should you keep in mind when renting a car, how can i choose the right insurance for my rental car, what type of rental car is the cheapest in italy, which is the best car rental company in italy, should i go with a local or an international company, what is the process of picking up and dropping off a rental car like, can i add extras for the rental car when booking, what are the traffic rules in italy, what are the speed limits in italy, are there speed cameras in italy, what are the drunk driving laws in italy, are there toll roads in italy.
Most visitors to Italy pick up their rental cars right at the airport. Rome Fiumicino , Milan Malpensa , and Venice Marco Polo are not only the country's busiest airports but also its main car rental hubs. Picking up and dropping off a rental car right at the airport is usually the cheapest option.
Italy gets the largest number of travelers from June to August. While the country is lovely during the summer months, visiting in late spring or early autumn can help to avoid crowds and is usually a more budget-friendly option. This applies especially to southern Italy.
Enjoy having a rental car to the maximum! If you rent a car in Milan, check out Lake Como or Bergamo as well. If you're in Florence , consider day trips to other historic, picturesque cities like Bologna or Perugia . If based in Naples , make sure to also check out Pompeii and the nearby coast .
Italy is not just about culture and cuisine — the country is also home to a large number of national parks, stunning mountains, and awesome beaches for you to enjoy.
Choosing the right rental car supplier is really important. Interrent , Enterprise , and National are the three highest-rated car rental companies in Italy.
Familiarize yourself with the rental conditions such as the mileage and fuel policies before booking a car!
Learn about the traffic rules and speed limits before your trip — they might be different than in your country!
Explore some of the lesser-known parts of the country like the Aosta Valley, Basilicata, Abruzzo, and Marche .
Underrated travel destinations in Italy that you can reach by car:
Full-to-full You are given a car with a full tank of fuel and are expected to also return it with a full tank which means that you need to fill up the tank right before dropping off the car.
Same-to-same You are given a car with a certain amount of fuel and are expected to return the car with the same amount.
Full-to-empty You pay in advance for a full tank of fuel when picking up a car and are allowed to return the car with an empty tank; in these cases, you may or may not be compensated if you return a car with some fuel left in the tank.
The minimum and maximum age of the driver
A potential young or senior driver extra fee for drivers under or over the certain age (e.g. 25 or 65 years old)
Driving experience (e.g., at least two years)
A credit card in the name of the main driver
An international driver's license (might not apply to driver's licenses that are in Latin alphabet)
Meet & Greet . With this type of pickup location, you'll be met by an employee of the car rental company in the arrivals hall of the airport which you normally enter right after leaving the baggage claim area. The employee will usually have a printed sign with your name on it. The employee will take you to the company's office to proceed with signing the rental contract and collecting the car's keys.
In the terminal. In this case, you will have to find your rental car company's desk yourself. The desk will be usually located in the arrivals hall. Once you've found the desk, you can present your documents and continue with the pickup procedure. Do keep in mind that you might have to wait in line.
Shuttle bus. In certain cases, the car rental company's desk might be located outside the airport's terminal. Sometimes you can reach it on foot, but in most cases, you need to take a shuttle bus. For this, you'll need to find the shuttle bus stop inside the airport, the location of which will be given to you when making the booking. Sometimes, the shuttle bus is shared by multiple car rental companies while others have their own shuttle service just for them. Look for the name and the logo of your rental company to make sure you take the right shuttle bus.
Delivery service . This type of pick-up is similar to Meet & Greet but takes even less time to complete as you won't need to go to the car provider's office to sign the agreement.
Car rental center . This means that your car rental company shares its location with other companies. The car rental center is located in the arrivals hall, in another part of the terminal, or in a separate building next to the terminal.
Outside terminal . This pick-up location means that your car rental company has an individual desk located outside the airport's terminal, but within the larger airport complex, that can usually be reached on foot
Italy drives on the right-hand side of the road.
On three-lane highways, the lane on the right is reserved for slower vehicles. At crossings, vehicles approaching from the right always have right of way.
Proof of insurance and the car's documentation needs to be in it whenever you're driving.
If you're the driver, you need to have your passport or ID card with you at all times.
The use of a mobile phone while driving is forbidden by law. Italy has some of the strictest rules in Europe for this offense, with fines up to € 2,000.
The nationwide emergency number, like elsewhere in the European Union, is 112. Police can also be reached by calling 113, the number of fire brigade is 115 and the number of the ambulance - 118.
If you receive a fine for a traffic violation, the car rental supplier will often charge an additional fee for administering it.
Read more about driving in Italy on Italy's national tourism website .
Ibiza , Balearic Islands ( Ibiza Airport ): Cruise along the picturesque coastline, visit charming villages, and enjoy the vibrant nightlife.
Corfu , Greece ( Corfu Airport ): Explore beautiful beaches, ancient ruins, and quaint villages while driving around this stunning Greek island.
Palermo , Sicily ( Palermo Airport ): Experience rich history, delicious cuisine, and diverse landscapes as you road trip across Sicily.
Menorca , Balearic Islands ( Menorca Airport ): Discover hidden coves, historic towns, and scenic mountain roads on this Mediterranean island.
Nice , France ( Nice Airport ): Drive along the French Riviera, soak up the sun on the Promenade des Anglais, and explore charming Provençal villages.
Santorini , Greece ( Santorini Airport ): Enjoy breathtaking sunsets, iconic white-washed architecture, and beautiful beaches on this enchanting island.
Barcelona , Spain ( Barcelona Airport ): Take a coastal road trip from Barcelona to enjoy its vibrant culture, historic sites, and stunning beaches.
Dubrovnik , Croatia ( Dubrovnik Airport ): Drive along the Adriatic coast, explore Dubrovnik's medieval old town, and visit nearby islands.
Athens , Greece ( Athens Airport ): Embark on a cultural journey through ancient history, vibrant neighborhoods, and delicious Greek cuisine.
Marseille , France ( Marseille Airport ): Road trip along the Mediterranean coast, visit picturesque fishing villages, and enjoy fresh seafood.
Valencia , Spain ( Valencia Airport ): Discover modern architecture, sandy beaches, and delicious paella in this vibrant Spanish city.
Bodrum , Turkey ( Bodrum Airport ): Explore ancient ruins, relax on beautiful beaches, and experience Turkish hospitality on the Bodrum Peninsula.
Chania , Crete ( Chania Airport ): Drive through stunning landscapes, visit ancient Minoan sites, and savor local Cretan cuisine.
Split , Croatia ( Split Airport ): Road trip along the Dalmatian coast, explore Diocletian's Palace, and hop between Adriatic islands.
Luqa , Malta ( Malta Airport ): Discover historic forts, charming villages, and crystal-clear waters on this Mediterranean archipelago.
Paphos , Cyprus ( Paphos Airport ): Enjoy a road trip in Paphos to explore ancient archaeological sites, beautiful beaches, and picturesque harbors
Kefalonia , Greece ( Kefalonia Airport ): Experience the natural beauty of Kefalonia with its pristine beaches, lush landscapes, and underground caves.
Alghero , Sardinia ( Alghero Fertilia Airport ): Take a road trip to Alghero to enjoy Catalan culture, scenic coastal drives, and delicious Sardinian cuisine.
Malaga , Spain ( Malaga Airport ): Explore the Costa del Sol and its Mediterranean beaches, historic landmarks, and Andalusian charm during a road trip from Malaga.
Faro , Portugal ( Faro Airport ): Embark on a road trip to Faro, where you can discover stunning beaches, charming towns, and the natural beauty of the Algarve region.
Izmir , Turkey ( Izmir Airport ): Drive along the Turkish coast to Izmir, a city known for its historic sites, vibrant markets, and seaside promenades, making it an ideal road trip destination along the Mediterranean.
Aleksandrs Buraks
Related posts.